Iran ISOICO Shipyard Update
Digital Globe imagery dated September 14, 2015 on left  / April 28, 2015 right
The latest commercial satellite imagery shows some new developments at Iran's ISOICO shipyard near Bostanu. In September, the yard made further progress on the country's soon-to-be largest dry dock. Imagery shows that shipyard workers had moved the dock's caisson in place and pumped water out of the basin for the first time. The dry dock has a length and width of approximately 468 meters and 80 meters, respectively.
If imagery is any indicator, Iran could start building vessels in the dock soon. Space snapshots showed workers continuing to level out the adjacent area, prepping for pavement, so that nearby cranes can access the west side of the dock. Earth carrying barges and moving equipment were also noted nearby.
Iran has been working on the two dry docks at the shipyard since at least 2004, according to historical imagery. The second dry dock (top) has a length of 370 meters. It became operational late last year and remains the country's second largest.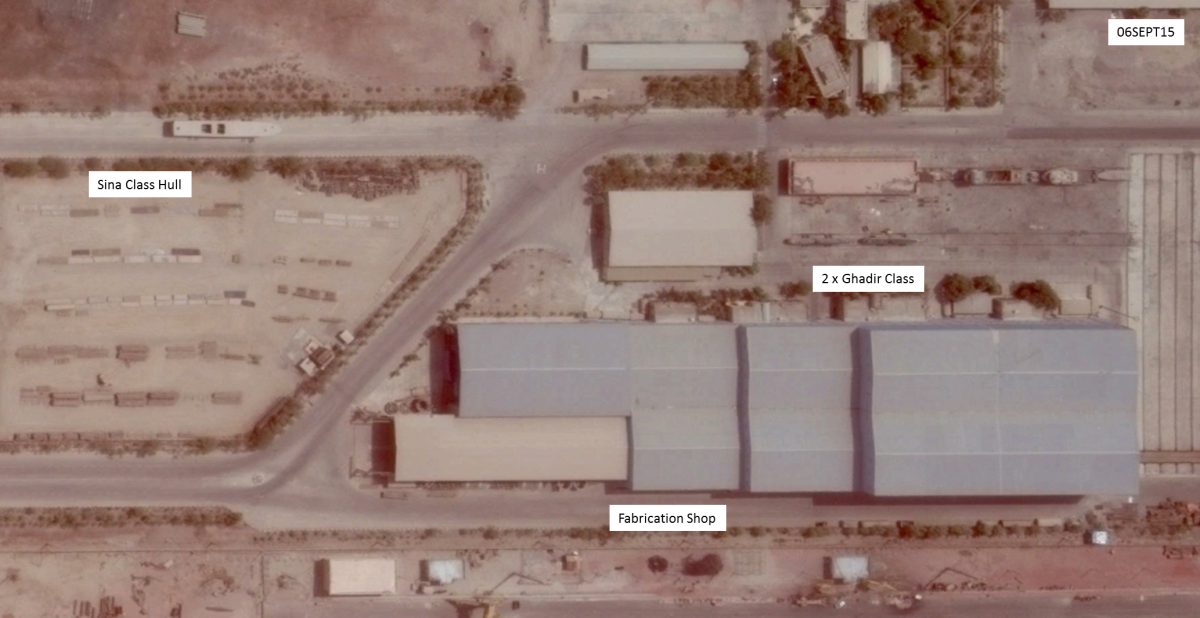 Over by the ship's fabrication shop, one of the hulls of the probable Sina class missile boats appears to have relocated inside the shop, most likely to be fitted out. Two Sina class hulls were built at the shipyard in 2013. Likewise, one of the Ghadir coastal submarines which arrived at the shipyard in August either relocated to the shop for a refit or returned to its duty location after routine maintenance. Typically for routine maintenance Iran has a facility over at Bandar Abbas that it made operational in 2009.
The Kharg (431) replenishment ship, which has been berthed at the shipyard since last November, remained at the yard's floating dry dock. As reported last month, imagery suggests that the ship may be undergoing more extensive maintenance. The Kharg is the largest Iranian military vessel by tonnage.
Lastly, a final note regarding Iran's fabrication prowess. The country's first homegrown tanker that the yard has been building intermittently since 2009 remained at the pier without its deck house.  The tanker measures 178 meters, is capable of carrying 256,000 barrels of oil, and costs around $30 million, according to the Iranian press. For most yards, it typically takes about sixteen months to complete an oil tanker of this size. The boat's prolonged duration at the yard may suggest Iran lacks the expertise to construct this type of vessel.