Investigate TikTok Like A Pro!
TikTok videos have grown increasingly popular over the last few years, with short clips showing people dancing, lip syncing, doing viral challenges, and so on. This relatively new platform lets users share short video clips, and can be looped. It is similar to the now-defunct Vine.
Compared to other video-sharing services, TikTok videos are much shorter — right now, the app supports 15-second and 60-second video options, and while users have the choice to make videos less than 15 or 60 seconds in length, they cannot go over the ultimate 60 second limit — and more focused on jokes and music, such as this viral clip:
Origins And Growth
In September 2016, the Chinese company ByteDance created a video-sharing app called Douyin. The app had great success in China, and within a year already had 100 million users in the country and more than one billion daily views. 
In September 2017, an international variant of Douyin, TikTok, was launched. In 2018, ByteDance purchased Musical.ly, another popular video app in the United States. 
TikTok has been a huge success, and according to data from Sensor Tower, the App has surpassed 1.5 billion downloads in the App Store and Google Play in the last quarter of 2019. Though it is mostly known for its popularity in the West, TikTok was downloaded the most in India and has had success in many countries across the globe.
With so many users around the world, there are a number of opportunities for the open source research community to use the platform in investigations. In this guide, we will both detail the avenues of investigation on TikTok and discuss the platform's limitations.
User Profile Information
When you look at a profile there are a couple of features that attract all the attention, the username and the profile picture. We will have a closer look at the profile picture later on in the guide but it is good to keep in mind that many people on TikTok tend to use their own face on their profile pictures.
A TikTok profile will have the following details, some unique and others not:
Profile photograph/avatar, with the default option being the first letter of the user's name (e.g. J for John Smith)

Unique username (no spaces)

Display name (not unique, can include spaces)

Following, followers, and likes

Biography
The username (enzoknolyt, below) will also be used in the URL of the account. Before April 2020, the smaller name underneath (Enzo Knol) was the user name,  but TikTok changed this in the user interface.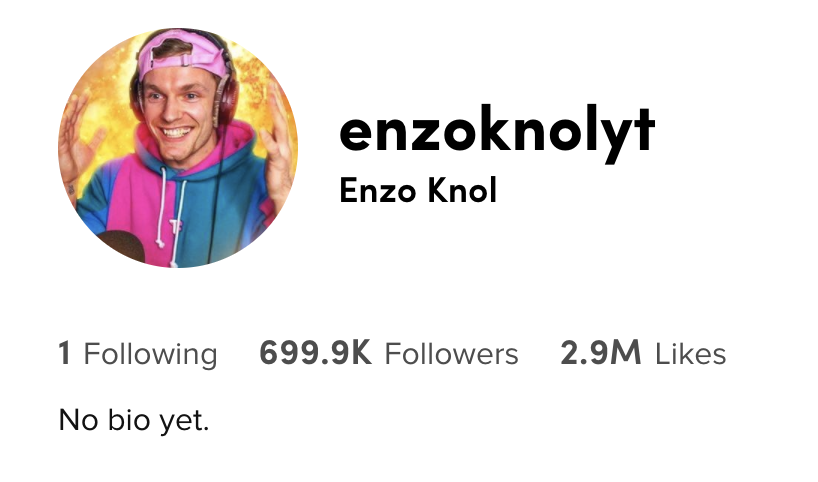 As in the example below, the display name "John Smith" can belong to several different users on TikTok, but there is only one username with "johnsmith."
The amount of followers and the amount of people one is following are also part of a user profile, and so is the amount of likes the user received from other accounts. The last piece of information, that's not always filled in, is a user bio. This information can be viewed without logging in.
Downloading Profile Pictures 
Depending on whether you visit a TikTok profile using a web browser or a mobile device, the platform will let you see different pieces of information and options — notably, this includes search functions and the ability to download profile pictures.
Like with Instagram, a trick we use to download the profile picture in a higher resolution size is through the "Inspect Element" function on your web browser. This trick can be used in Chrome and Firefox without any external websites or tools.
Using a web browser, either Chrome or Firefox, and go to the profile you want to investigate, right click on the profile picture, and choose "Inspect Element" (just "Inspect" on Chrome). The developer window of your browser will open on the right half of your screen,  and you need to look for a specific set of code that should appear. 
Using Chrome, the code you are looking for is 'img src=' and the URL that follows.

Using Firefox, the code will begin with 'img class', and after src= comes the URL that you need.

After you found the URL in the code you can right click on it and pick "open in a new tab."
To get a bigger profile picture you only need to change the number at the end or the URL:

If the picture doesn't change in size, it could be that there just isn't a bigger picture available. It depends on the original size of the picture when it was uploaded.
Downloading Videos
If you want to download a video somebody posted, and you are using the web version of TikTok, you can use the same principle.
Go to the video you want to download and right click on it. Again the developer tool will open and you need to search for the "video src", like in the screenshot below.

Right clicking on the link will give you the option to open the video in a new tab, and right clicking again will give you the option to save the video. 
If you want to make sure a video and the page are saved in the way you found them, you can make a snapshot of the page using the Wayback Machine. While the Wayback Machine is struggling with some social media, it works really well with TikTok.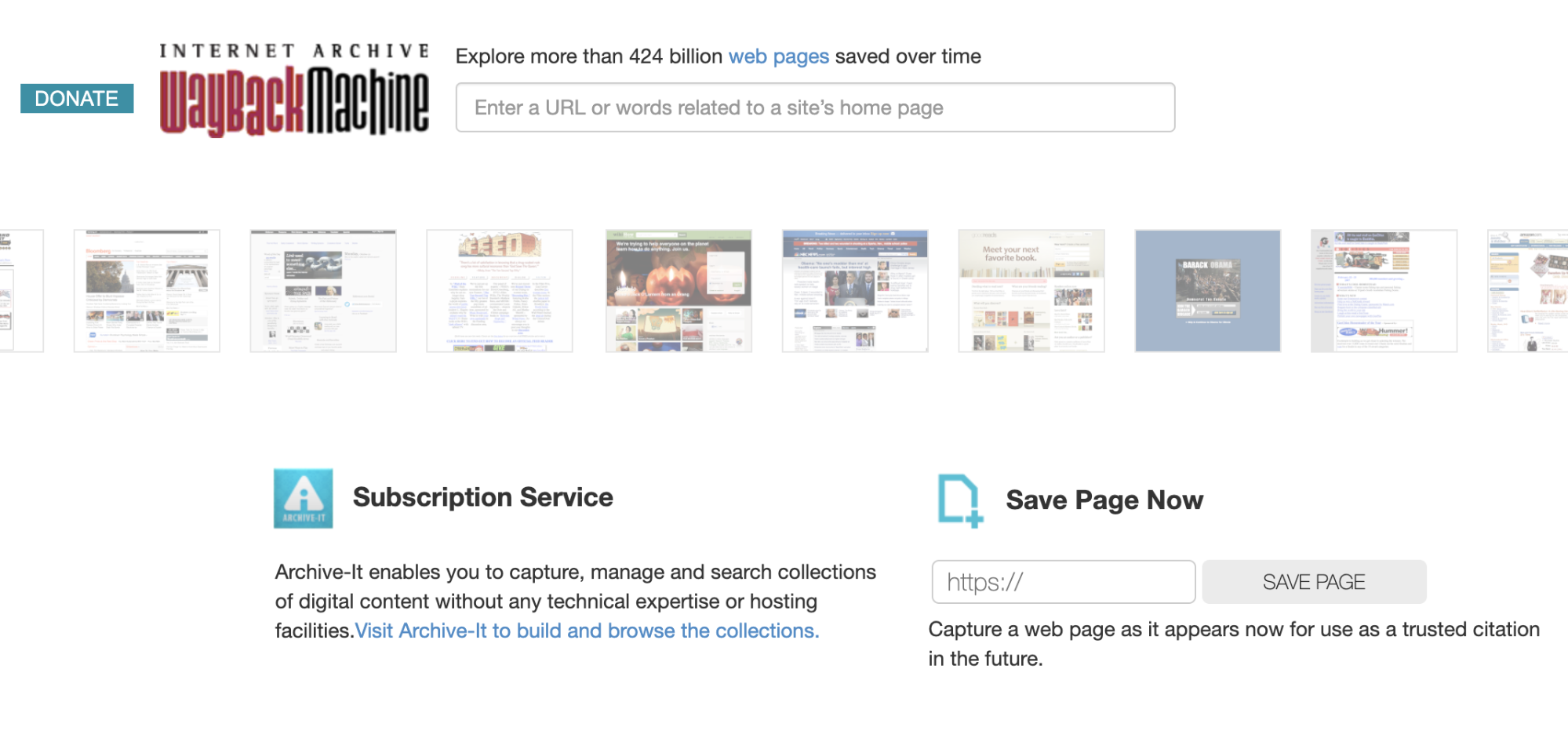 Just copy and paste the URL of the video in the "save page now" section on the website. The page will be saved and will look like this:
https://web.archive.org/web/20200323095239/https://www.tiktok.com/@sebasvisuals/video/6795869283613248773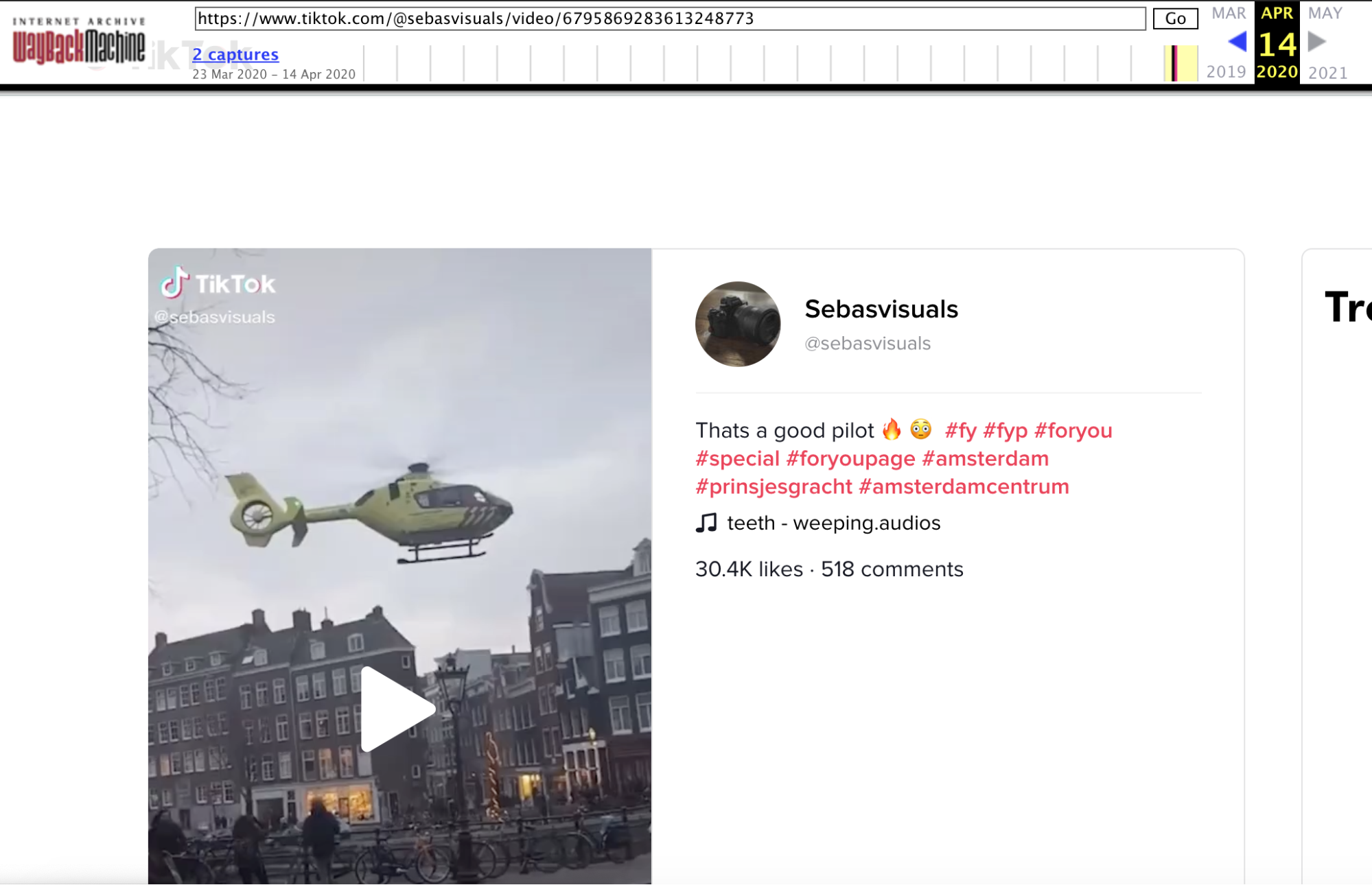 Another option to download videos is by using extensions, but you need to decide for yourself if you want to use a third-party tool. One extension that you can use to download multiple videos at once is Instagram & TikTok downloader, but please note that this extension is only available on Chrome.
Mobile vs Web Browser
Web Browser
TikTok was designed to be a mobile application. Even though you can use a web browser to investigate an account, it will have limited functionality. 
Using a web browser you can see the video, a person's username, unique ID, music used, and the amount of likes and reactions. It is not possible to see what the comments are.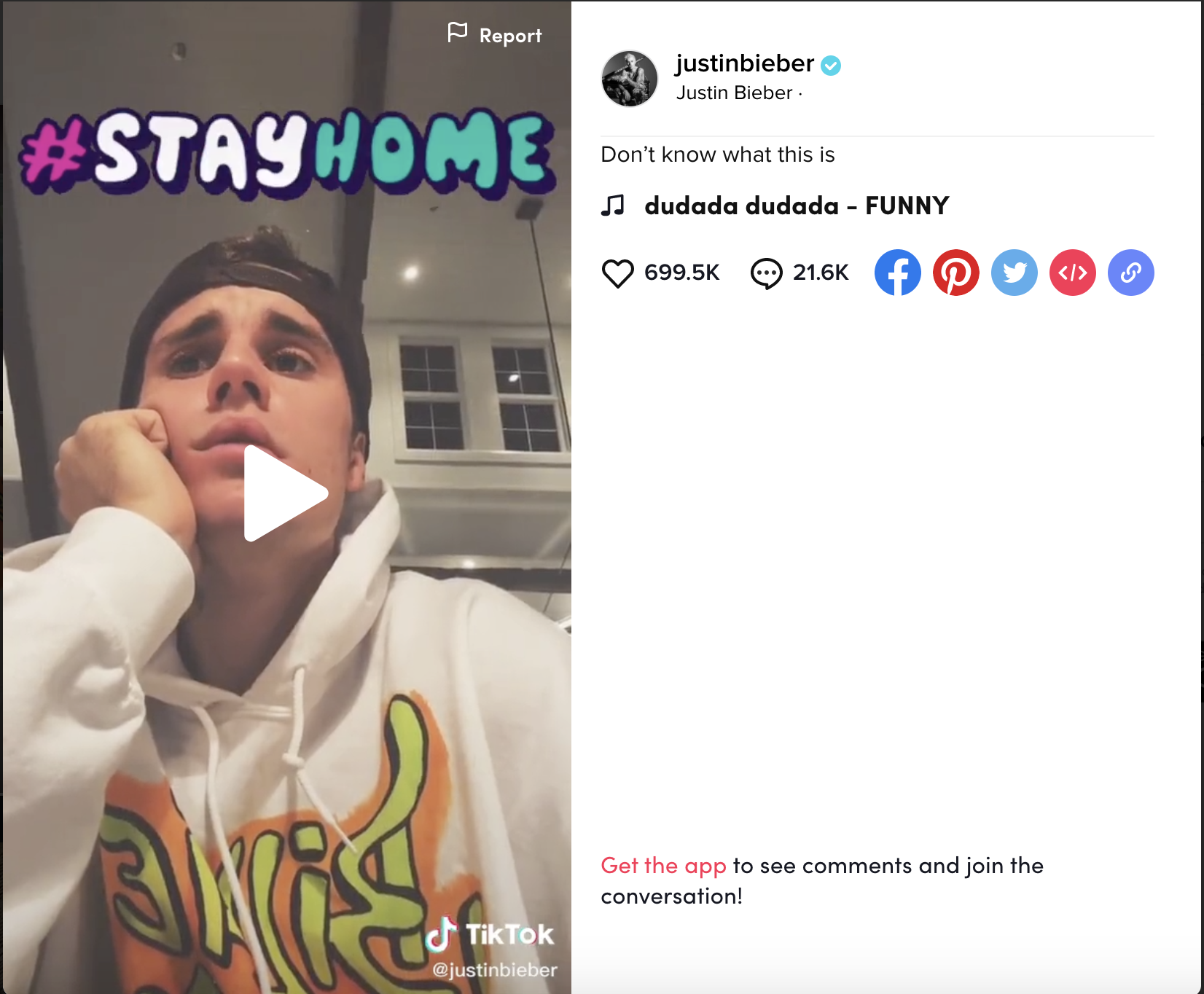 If you log in on your TikTok account using the browser, you can upload videos and can also see the user comments next to a video. This functionality is helpful for investigations, because it can provide you an insight in the discussion around a specific video.
How to search for users or keywords using a search engine is described further down in the article.
Mobile
The mobile application will give you more information to work with, and you need a mobile phone to create an account. 
If you create an account, there are different options to sign up; you can use your mobile number or your email address. You also have the option to use one of your other social media accounts to sign up.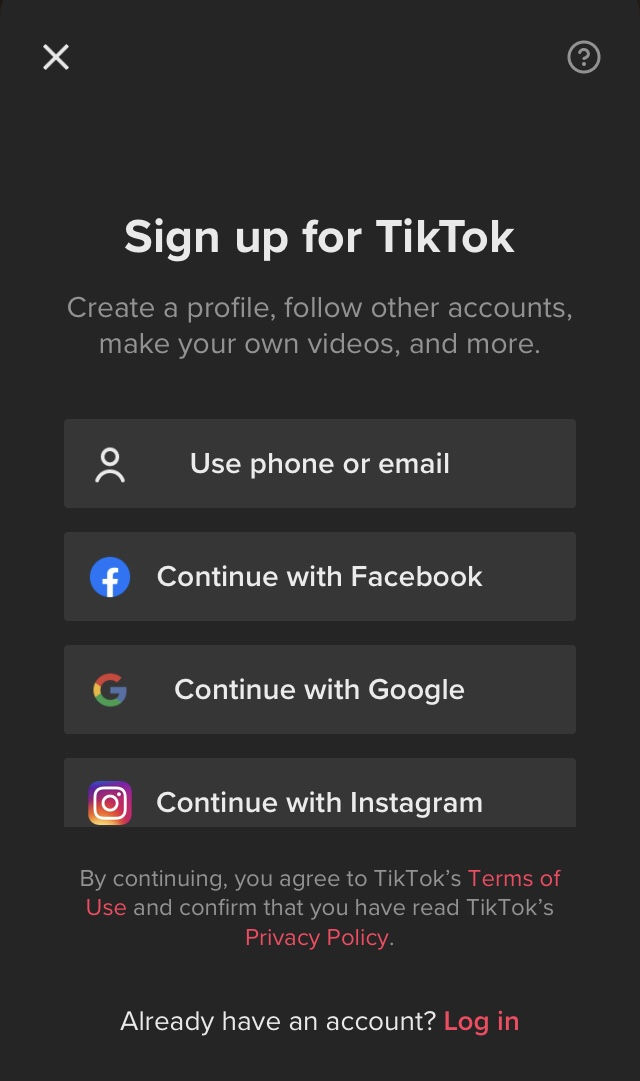 If you use your email address to sign up, you will not be able to contact other users on TikTok without linking your phone number to your account in an additional step. However, if you only want to do searches on the app, an email address will be enough.
Using your mobile phone to look at an account you can see the following information:
The number of likes; 

How many times a video is shared;

Who commented, the date of the comment, and what they said;

Followers: how many and who

Following: how many and who

Likes: total number of likes (not who liked it)

Music

Discover: trending hashtag

Search: top, users, videos, sound, hashtags
Privacy
Once you created an account, you should have a look at TikTok's privacy settings. The platform has been accused of several privacy issues, but as a researcher you might consider creating a dedicated research account anyways.
 In fact, we recommend you to do so, especially because until recently, TikTok had a feature that allowed users to see who visited their profile. This feature seems to have disappeared during TikTok's recent redesigns, but we can not guarantee that it won't come back at some point.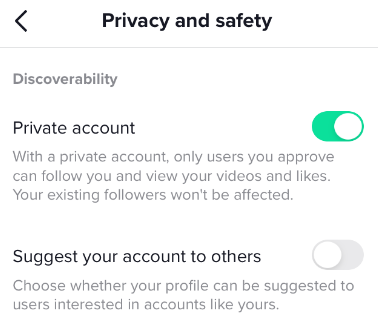 To adapt your privacy settings in the app, click on "me," and then on the three small dots in the right upper corner. Here you will find a section called "Privacy and safety."
If you use your account for investigations only, you can choose to make your account private and turn off "suggest your account to others."
Additional options are available if you scroll down, but they are mostly relevant if you plan to also post your own content to the platform.
Internal Search
The internal search functions within the app gives you the option to search for several things. 
If you press the discover icon on the bottom of your screen, you will see a selection of hashtags. Those are the most popular hashtags at the moment. 

You can start searching for a keyword in the top of the page. After you enter the keyword, TikTok will give you different tabs. 
You start on the "top" page, this is an overview of the top hashtags, videos, and users that are connected to your keyword. 
Next tab is users, here you can search for all the users that use your keyword in their username or unique identity. 
The tab videos provides you with all the videos that have your keyword in their description or were tagged with a hashtag that corresponds to your keyword.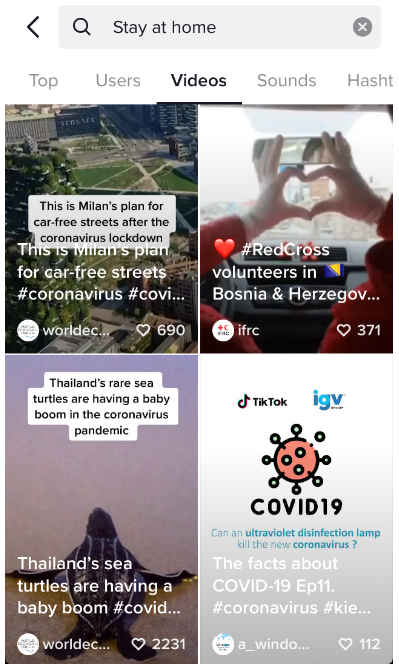 If you click on the video, the app will also give you the option to download it. You can find this option if you click on "share" (the small arrow) and then on "save video":


The tab music shows you the music that corresponds to your keyword and how many times the short music clip is used in videos. If you click on a song, you can see other videos where people used that same music clip.
If you do this, it could be that you see a video tagged with "original," this is the user that made the music clip and used it first.
The last tab is for hashtags and here you'll see the hashtags that contain the keyword you are looking for displayed. The search will give you variations on hashtags. If you use the keyword "fake news," it will provide you with hashtags like #fakenews but also #fake_news or  #nofakenews. 
It will make no difference if you place your keyword within quotation marks. Normally, surrounding your keywords with quotation marks will tell the website that the chosen keywords must appear as an exact phrase.
Later in this guide we will also show you how to search for hashtags by manipulating the URL.
Get Information Without Using The App
If you prefer not to use the TikTok phone app, there are various possibilities of how to go about searching the platform from outside. Compared to other mobile app-focused platforms like Snapchat, TikTok is quite accessible in terms of what type of information you can find when conducting web searches without having an account.
Search For TikTok Content On Social Networks
Many users share TikTok videos on social networks like Facebook or Twitter and we recommend checking those (and potentially also other) social networks in any of your investigations. Let's have a look at the best search methods:
Facebook
To find TikToks on Facebook, type tiktok.com and a keyword into the search box. Then, choose "videos."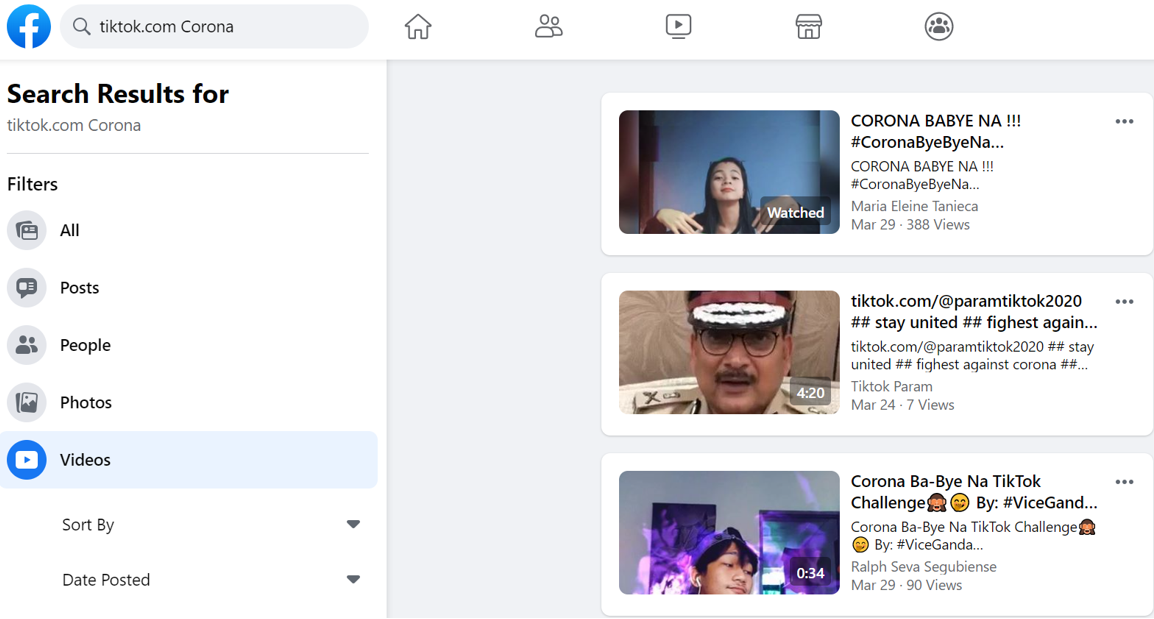 You can even limit the results to a specific time — for instance, "last month" — or sort them by "most recent". However, you might get false positives, in particular when using the "most recent" option. We noticed that we often get results that do not include our keyword when sorting the results by the most recent date.
Instead of searching for tiktok.com, you can also combine your keyword with m.tiktok.com or vm.tiktok.com. Each of those options will give you different results. 
A vm.tiktok.com URL means that a user shared a video from within the TikTok app. They clicked on the "share" button on any TikTok video and chose Facebook, which prompted the Facebook app on their phone to open and to suggest an automatically generated post which could directly be adapted and shared from there. 
However, if a user clicked on "share", chose "copy link" (which is a vm.tiktok.com URL at that point) and went manually to Facebook to post that link into a new post, a m.tiktok.com URL is created. You can see it in the preview of the video: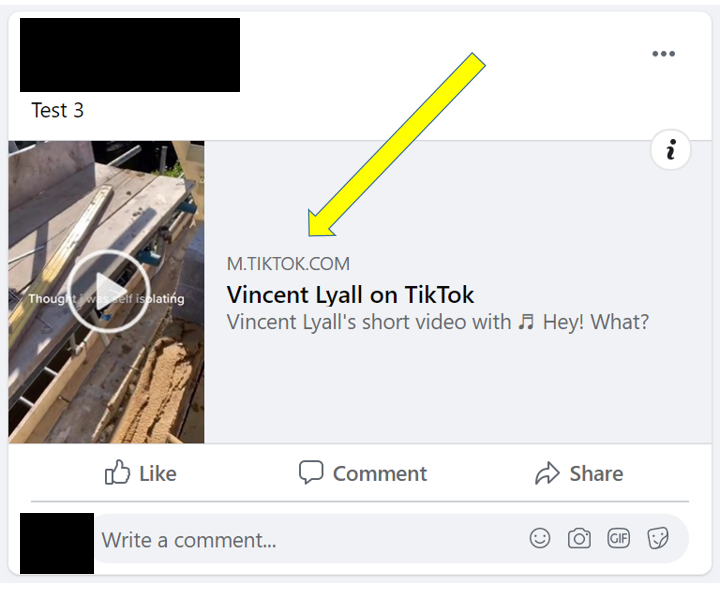 Only in very few cases will you see both the vm.tiktok.com and the m.tiktok.com URLs in one Facebook post: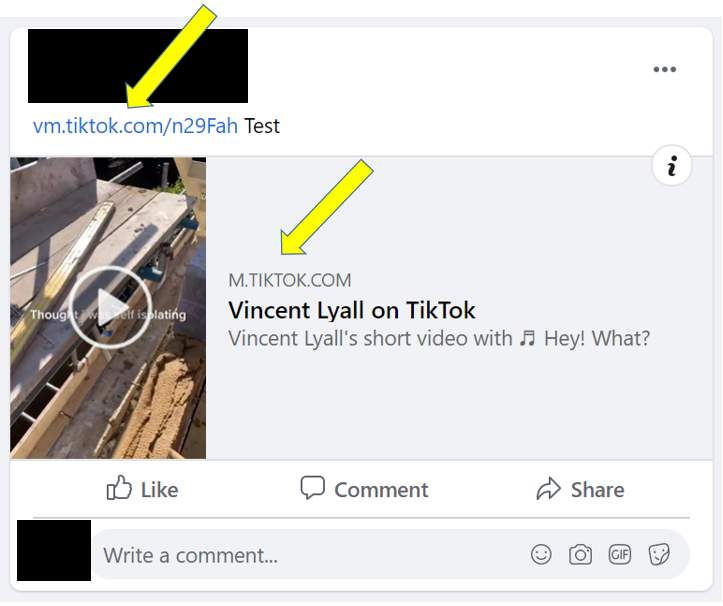 This occurs if a user posts the vm.tiktok URL directly at the beginning of a Facebook post without writing some text first.
By searching for different URL types, you don't just get different results — you also obtain information on how a user shared a TikTok. It is important to note that Facebook tends to show you random TikTok videos if it does not find anything related to your keyword. Simply try another keyword if you don't get any helpful results.
Twitter
Searches on Twitter work in a very similar way. You will find the same tiktok.com, m.tiktok.com and vm.tiktok.com URLs, and you should definitely try out all of them. However, we found that there are less differences in the search results compared to Facebook when using those various options. Sometimes the results are even identical.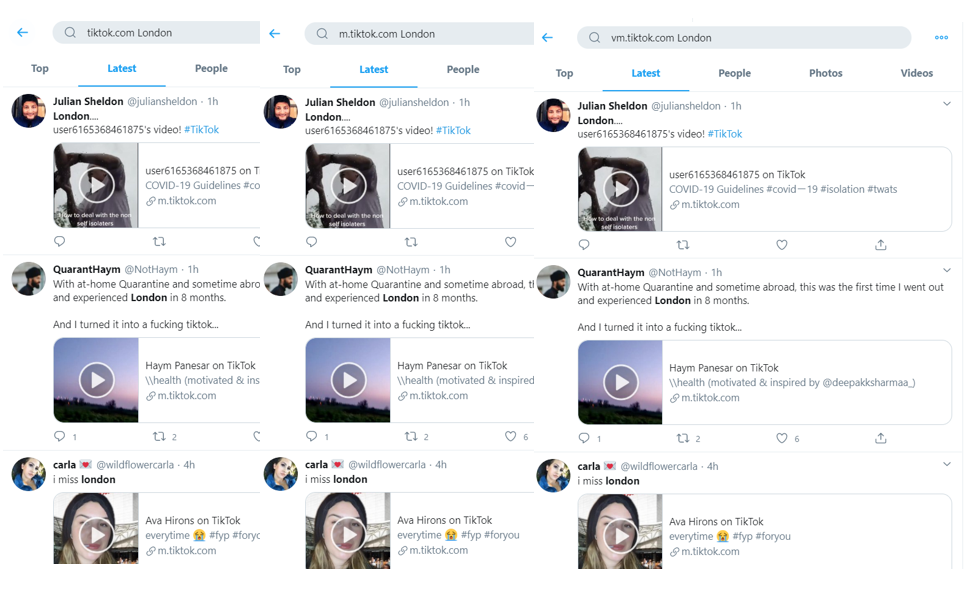 There is another search trick that is specifically helpful on Twitter. If a user decides to share a TikTok on Twitter via the TikTok app, they are presented with a tweet suggestion that looks like this: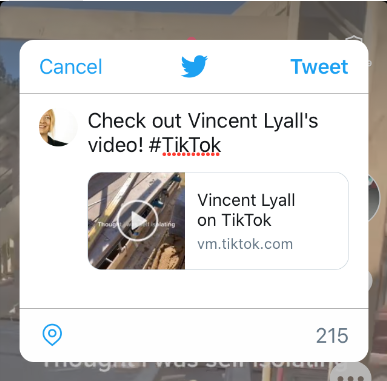 The tweet text can be changed, but many users keep the suggested hashtag. As a consequence, you will find many Tiktok videos on Twitter that include the hashtag #TikTok. When searching on Twitter, you can simply combine that hashtag with your keyword(s), run a search, and choose "videos" to get a list of TikToks for your specific search term.
You can also try this out with  #TikTokviral, #TikTokChallenge, #tiktokexposed, #tiktokhot, or #tiktokers since they are frequently suggested to users when they start editing the #TikTok hashtag.
Identifying Mis- And Disinformation
Another tip which is particularly relevant when investigating mis- and disinformation cases is to always look out for the TikTok logo in videos shared on social networks. 
It happens that users "steal" TikTok videos and share them on other social networks with a completely different context. However, TikTok videos contain the TikTok logo and the unique user name of the person who created the video. Many fakers don't bother to remove that information, especially because it is not placed very prominently within the video and can easily be overlooked. In some cases, this can help you trace back where a viral video originally came from.
Our colleagues, Charlotte Godart and Chantal Verkroost used the same technique in their article, Monitoring And Debunking COVID-19 Panic: The "Haarlem Aldi" Hoax, to find out where a video that had been circulating on Whatsapp might have originated. While there was no TikTok logo in the Whatsapp video they were originally sent, they found the same video on Twitter and this time it contained a TikTok logo and username. This eventually led them to a viral TikTok video. In this case, they had to look very closely to spot the TikTok username "@ihanaids":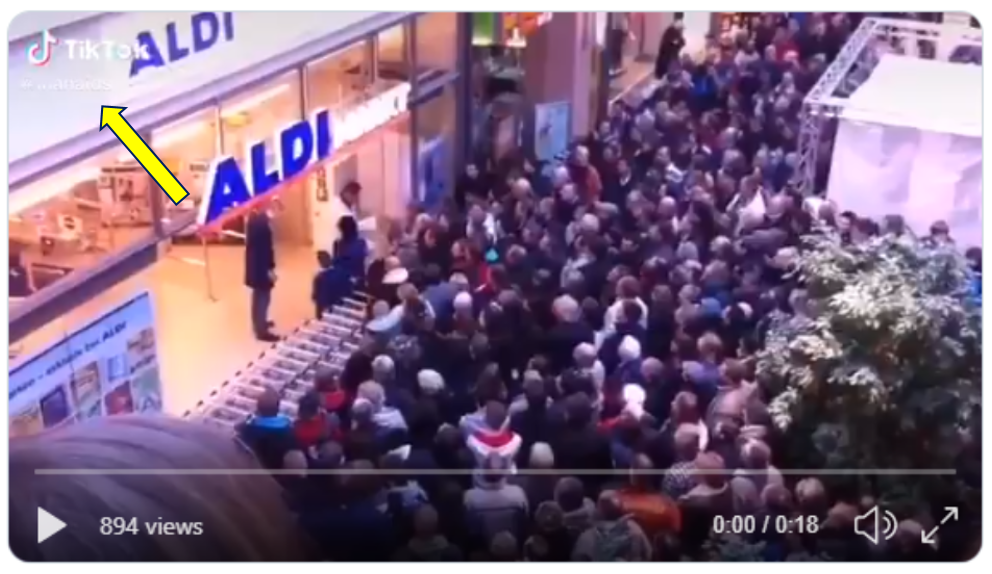 Search For TikTok Content And Users Via Search Engines
Music
There are various ways to find TikTok content via search engines. Let's start with a less obvious one: music.
Songs and sounds play a vital role on the platform. Almost every TikTok contains some sort of sound and if those sounds go viral — which happens frequently — every TikTok user suddenly wants to add that same song as background music to their own video. In March 2020, this was the case for "It's Corona time" which was added to a large number of videos that were showing how the Corona pandemic affected the lives of TikTok users.
The song titles are indicated in each TikTok: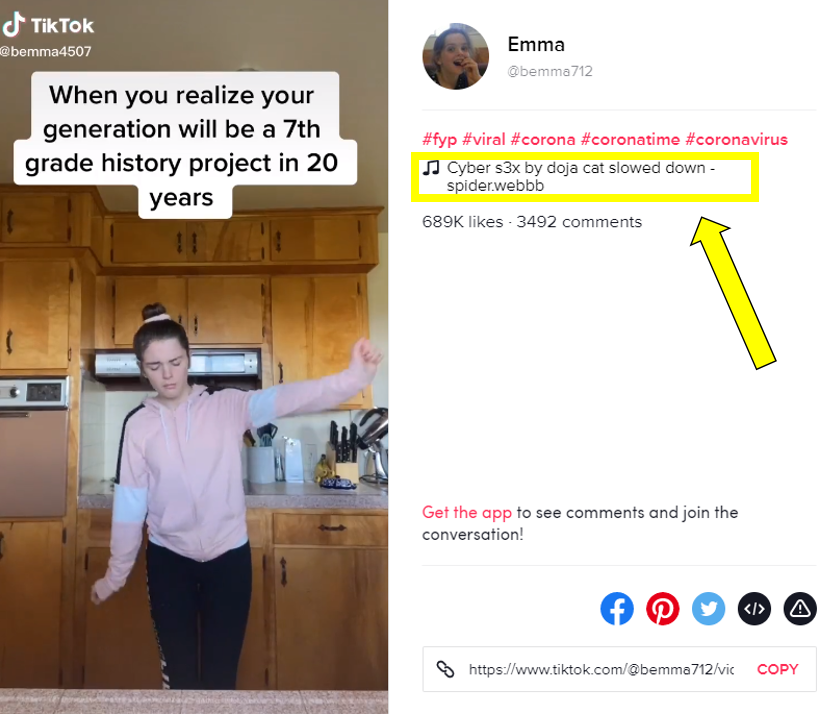 Click on the song title to get to a list of TikToks that are all based on that same song (if you can't see any TikToks it is probably because TikTok is currently in conflict with music companies over copyright issues as detailed in this Financial Times article). Each song has its own URL starting with www.tiktok.com/music.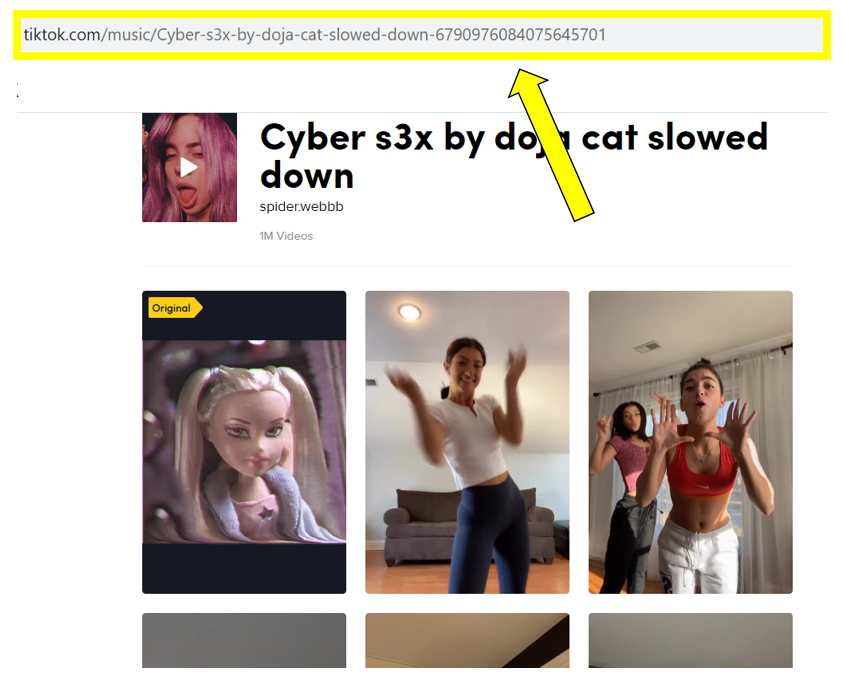 The URL also contains the song title, which is of great help for online investigations, since we can use that pattern to search for TikTok sounds about specific topics. 
To find songs about weed, we searched for the keyword "weed" on Google using the site operator and specified that we only want results that have our keyword within the URL of TikTok music:
site:tiktok.com/music inurl:weed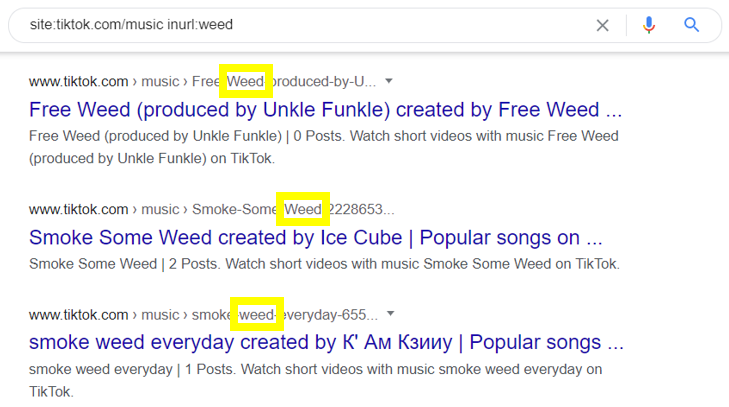 Hashtags
While the best way to search for music is to make the Google commands as specific as possible, the opposite is recommended for hashtag searches.
To find TikToks for a specific hashtag we can simply add that hashtag at the end of the following URL: 
www.tiktok.com/tag/put_any_hashtag_here
For instance, if you want to see TikToks about Donald Trump, you can use:
www.tiktok.com/tag/trump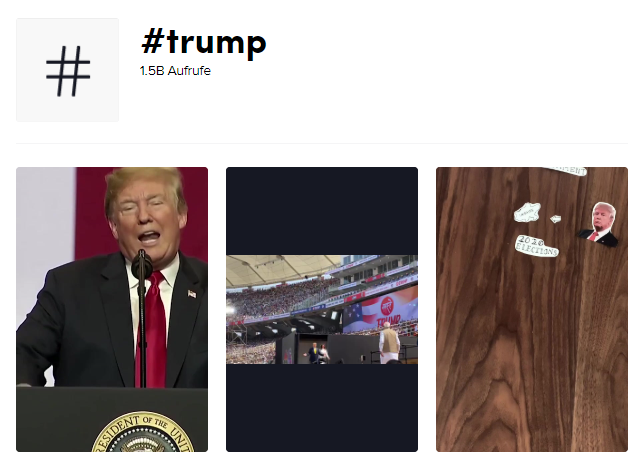 However, when investigating a specific topic, you often know which keywords are relevant to your investigation, but what you don't know is which exact hashtags are common on TikTok. If you are interested in TikToks about Donald Trump it is almost certain that #trump is not the only Trump-related hashtag out there. How can you find out which other hashtags are used?
The trick is to conduct a site operator search limited to tags with the keyword "Trump": 
site:tiktok.com/tag trump
With this search combination you will not only find the hashtag "trump" but also related hashtags like "trump2020", "donaldtrump" or "babytrump":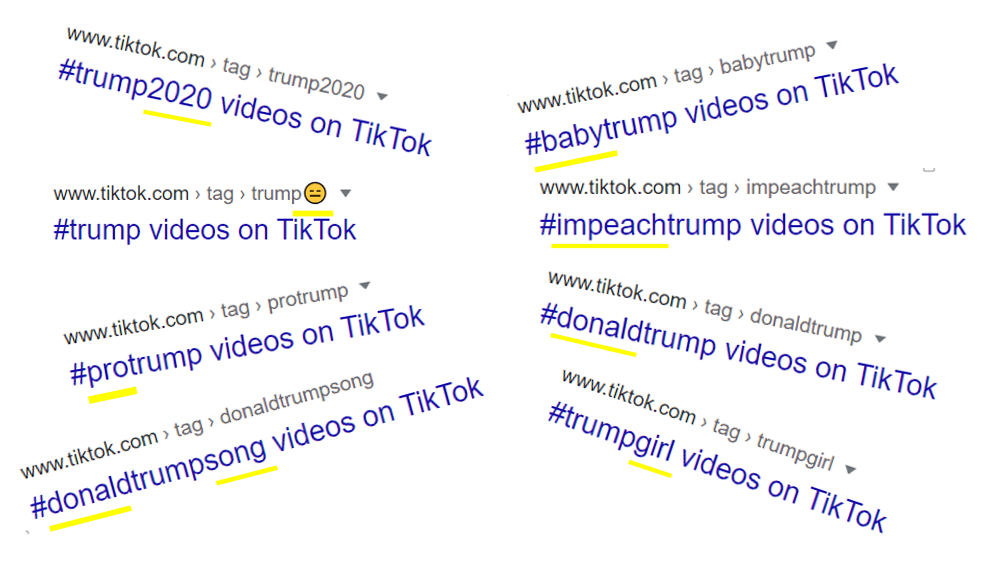 TikTok users tend to get highly creative when choosing hashtags that include emojis. An advantage of using site operator searches for tags is that you will find hashtags with one or several emojis in them, which are otherwise hard to find. Have a look at the variety of emojis that come up when searching for hashtags related to corona:
Content
One of the most crucial questions when investigating TikTok is how to find TikToks that contains specific words or phrases. 
Users can not only add hashtags to their videos, they also have the possibility to write a short text. For instance, in the example below, the text is "protesters in Santiago, Chile", while there are also the hashtags #chile and #protest: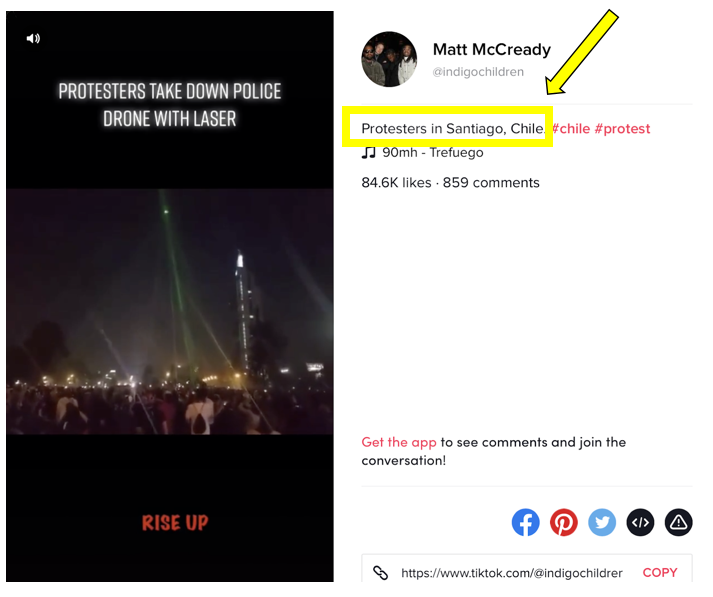 To search for specific keywords or phrases in TikToks, you can use the intext operator. The Google command to find TikToks with the phrase "fly a drone" looks like this:
site:http://tiktok.com intext:"fly a drone"
You can even limit the Google results to a specific time frame by clicking on "tools" and choosing a "custom range."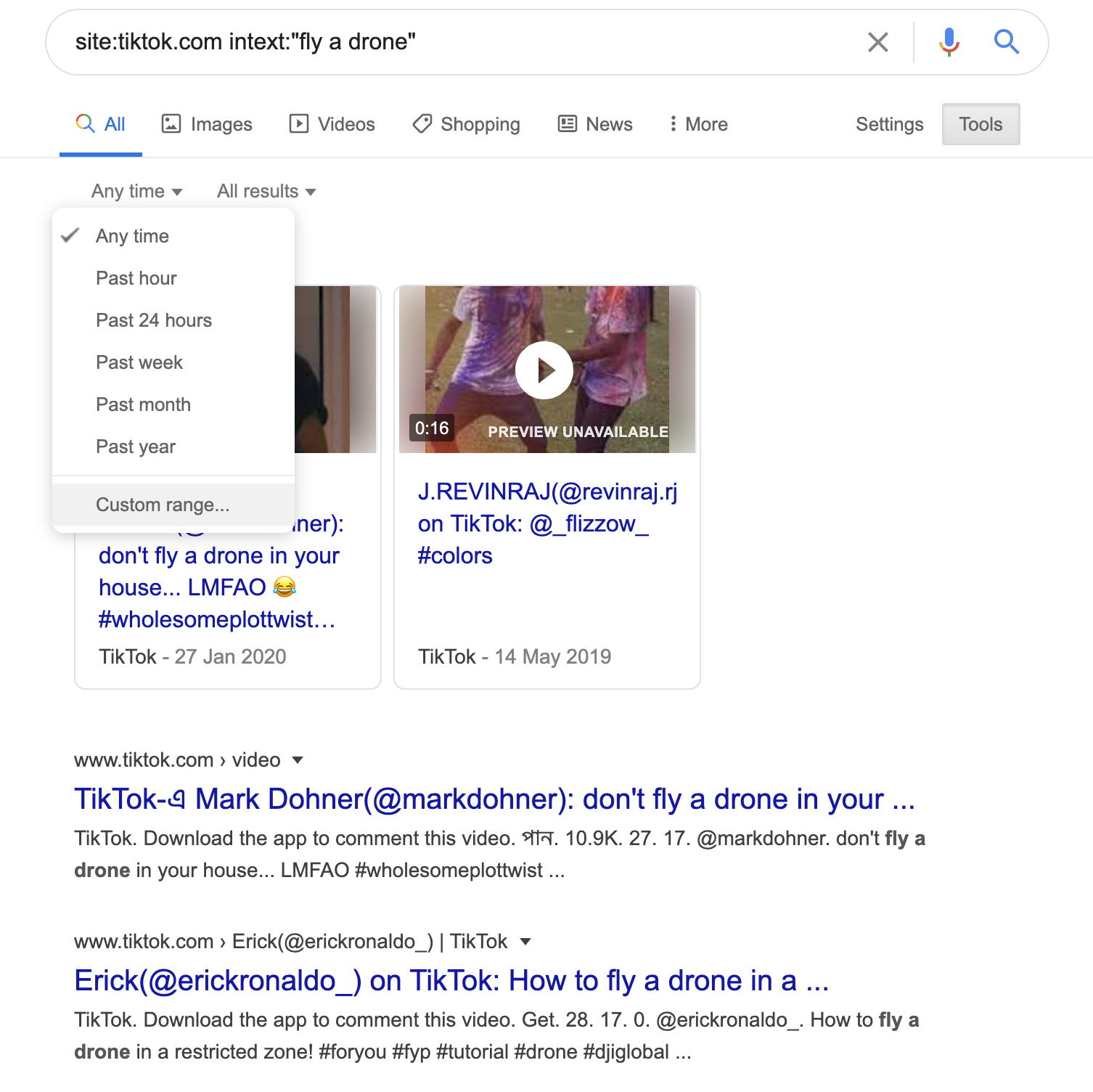 Be aware that search engines do not index all videos published on TikTok. Due to the fact that different search engines index different videos, it is recommended to not only use Google, but also other search engines, and to combine all of the results.
For instance, on DuckDuckGo you can use the exact same operator as on Google:

On Bing, however, the intext operator does not work. There is nevertheless a way to search for TikTok content: The trick is to replace intext with inbody.

Now you can scroll through the results of those different search engines to find social media treasures like this one: A user who explains "how to fly a drone in a restricted zone".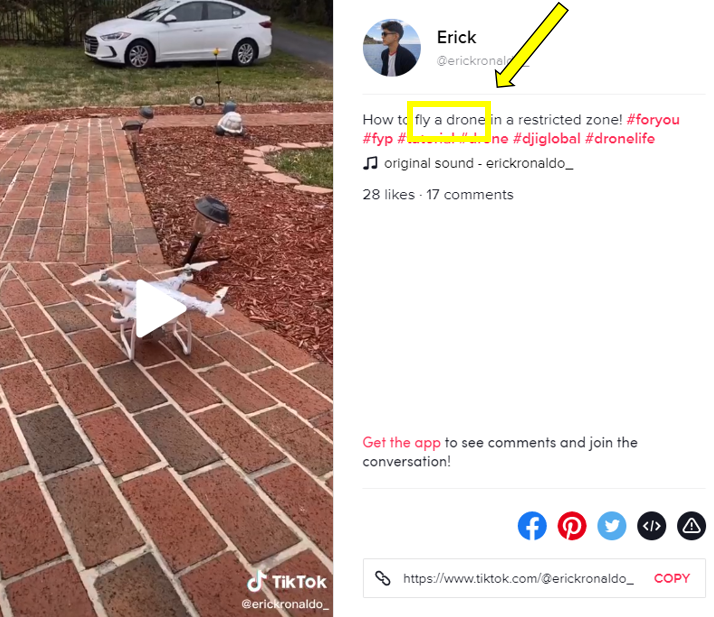 If you are investigating a specific topic over a longer period of time, repeat those searches regularly. Not only does the content on TikTok change, you will also find that search engines index different videos at different points in time.
Users
The most important ingredient of any social network are its users. This is also valid for TikTok — luckily, there are a few ways to find out more about the users during your online investigations. Remember that every user has their own URL, which looks like this:
www.tiktok.com/@username
If you know a person's username, you can simply type it in at the end of the URL and you will be led to the user's profile page.
However, in many cases, you simply don't know the exact username. This is where an idea of Twitter user @petruknisme comes — a suggestion for using the following Google command to provide you with a long list of TikTok names:
inurl:https://m.tiktok.com/h5/share/usr filetype:html
This is particularly helpful if you already know what type of username someone normally uses, but you don't know whether s/he changed this usual username a little bit, for instance by combining it with another word or by adding a number. If you add the suspected username to the Google command, you will receive a list of related usernames, which might lead you to identify the right one. In our example, we get various users with the word "manu" somewhere in their name: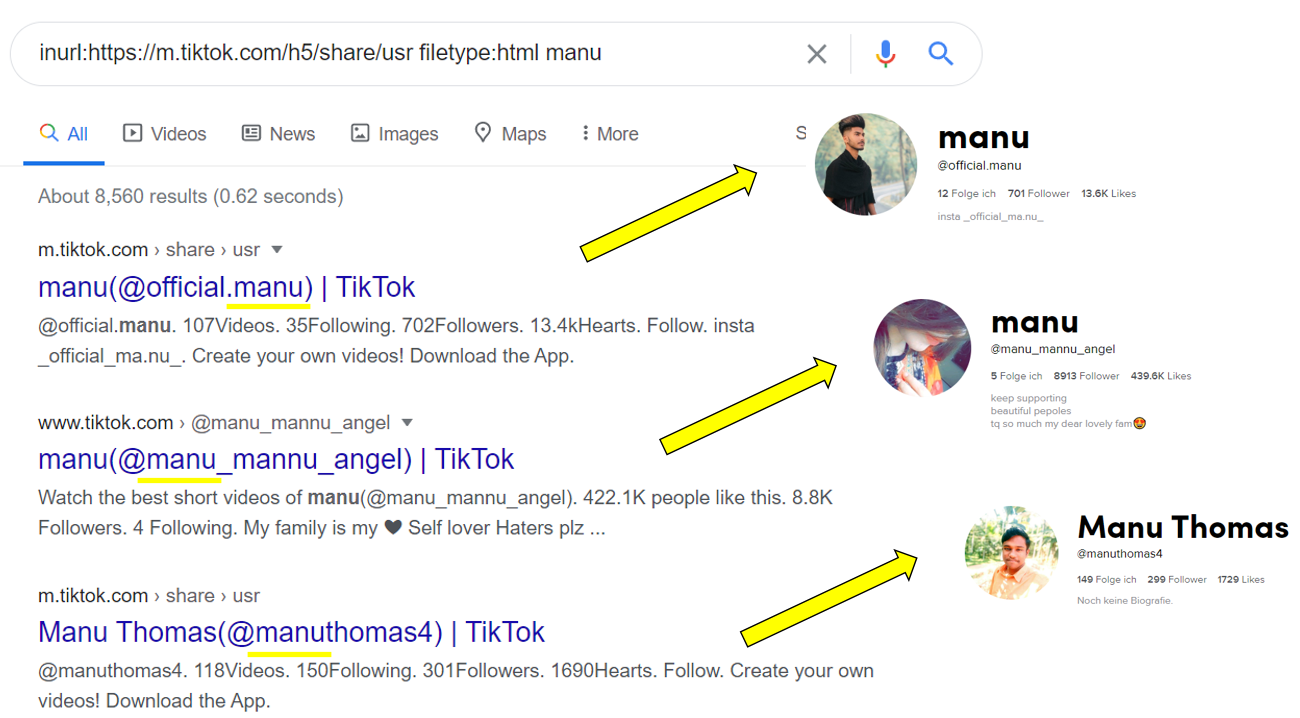 Now, we can simply go through all of their profile pages to check whether the manu username we are interested in is among them.
However, the information on a profile page is not always sufficient to get a satisfactory picture of the respective user. If we want to find out more, we need to widen our search.
For instance, it can be very helpful to find out what other TikTokers think about a specific user of interest. If you want to read what others say about TikTok user @maxdressler, you can use the following search operator combination:
site:tiktok.com intext:@maxdressler -intitle:"maxdressler"
You will get a list of TikTok posts in which user @maxdressler is mentioned in the text area, but which are not from that user himself. This way, we are able to find out that a user called @curlydaddy101 wrote  "@maxdressler is funny":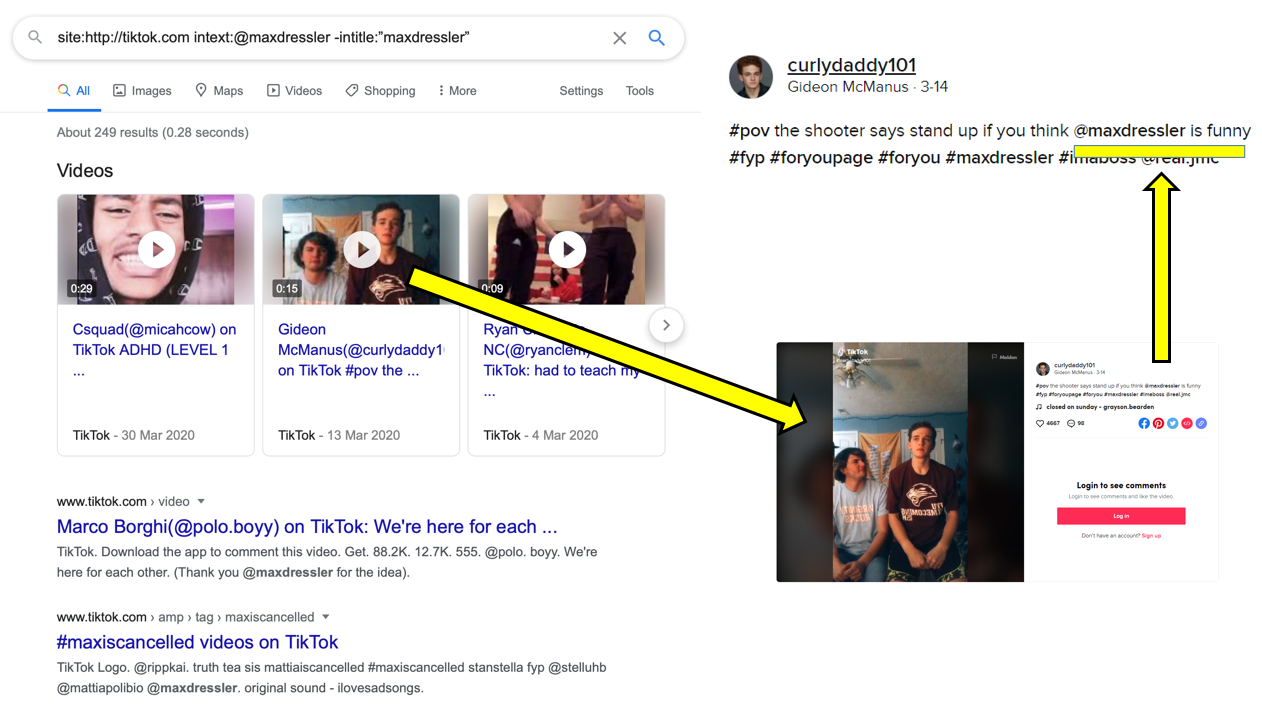 Since @maxdressler has many followers, many of the comments about him are from his fans. However, when investigating a less well-known account, it is likely that some of the users commenting on the person's account might actually know the person in real life. It is therefore recommended to also check whether connections between those same users can be found elsewhere.
The site operator search presented above will even work if the user of interest has a private TikTok account. This means that in some cases, this technique will show you the only snippet of information that is publicly available about a specific user.
Conclusion
We hope our guide has provided you with deeper insights into the search possibilities on this rapidly growing platform and we encourage you to try them out to see where they lead you.
If you prefer working with tools, you can also have a look at the TikTok search tool offered by OSINT Combine which automates some (but not all) of the techniques explained above.
Do you have other TikTok search tips? Let us know in the comments section!