X's Community Notes is Spreading False Information About Taylor Swift's Bodyguard
Social media platform X's Community Notes is spreading false information about Taylor Swift's Bodyguard.
On Tuesday October 17, Israeli newspaper Israel Hayom reported that an Israeli bodyguard who worked for Swift returned to his home country to volunteer as a reservist in the Israeli Defense Forces (IDF) as it prepares for a ground invasion of Gaza.
Two days later, the State of Israel's official X account boasted of his re-enlistment, @-ing the multi-platinum pop superstar with the message, "we promise you'll never find another like him." The account attached two pictures of the bodyguard, one of him in military fatigues and the other of him next to Swift.
But then, X's Community Notes —a tool set up to add context to factually inaccurate and misleading claims on the platform— falsely claimed the bodyguard was never a part of Swift's security detail, adding a note to the State of Israel's tweet.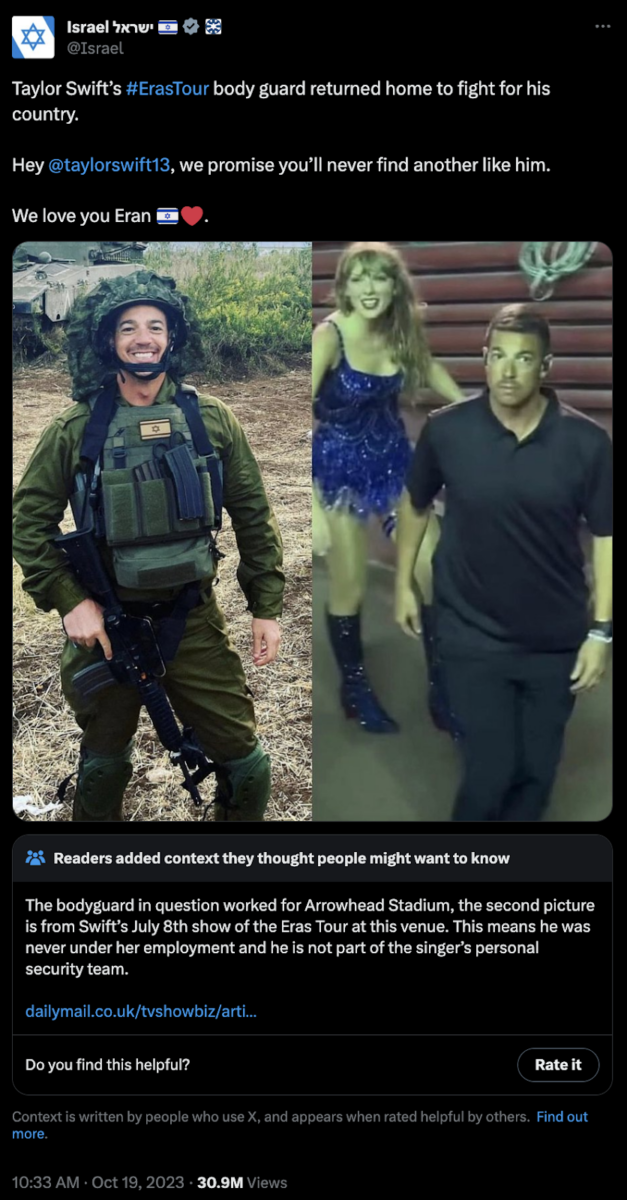 "The bodyguard in question worked for [Kansas City's] Arrowhead Stadium, the second picture is from Swift's 8 July show of the Eras Tour at this venue," read the note. "This means he was never under her employment and he is not part of the singer's personal security team."

The Community Note cited an article from the UK tabloid the Daily Mail as its source.
The problem is that the note's claim appears to be incorrect and easily disprovable. For a start, the Daily Mail article it cites doesn't say that at all — in fact, it makes no mention of Arrowhead Stadium, and does not say anything about the bodyguard working for a venue. In fact, the article does refer to him as "Taylor Swift's bodyguard."
The entertainment industry trade magazine Variety said it had confirmed Israel Hayom's report that the bodyguard has returned to Israel—though both publications noted he requested they do not name him. Bellingcat has not been able to independently verify if he has indeed returned to his reported home country. What can be said with certainty, though, is that he has appeared beside Taylor Swift on multiple occasions and at multiple events between May 2022, and September 2023 and that X's Notes disputing this fact are false. An email to X's press email received the automated reply, "Busy now, please check back later." A representative for Swift did not respond to a request for comment.
As outlined in their Community Notes Guides, X does not choose what shows up in a Community Note nor does it work by majority rules. Instead, they say the program is built to be open-source and transparent and it is based on notes being identified as helpful by a wide variety of people.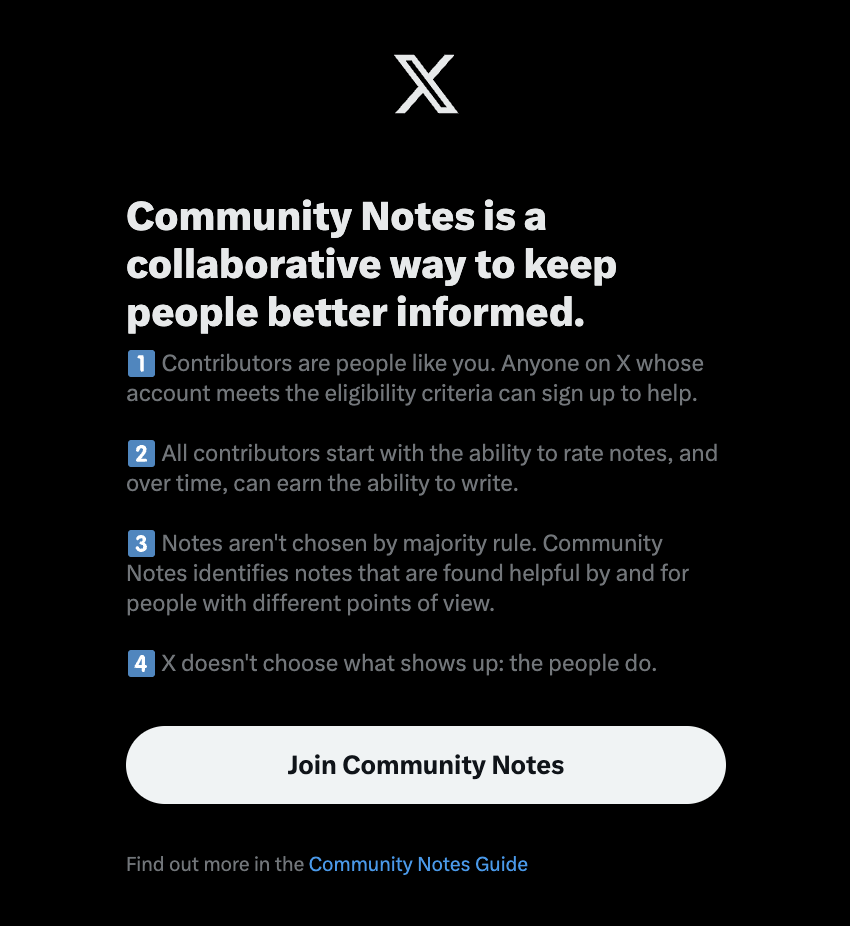 However, this Community Note appears to show how easily a falsehood can be promoted via X's crowdsourced system.
Indeed, when the Community Note containing the false information received enough down ratings to no longer display, some 15 hours after it originally appeared on the Israel account's post, there was already another Community Note repeating the same falsehood with enough positive ratings to take its place.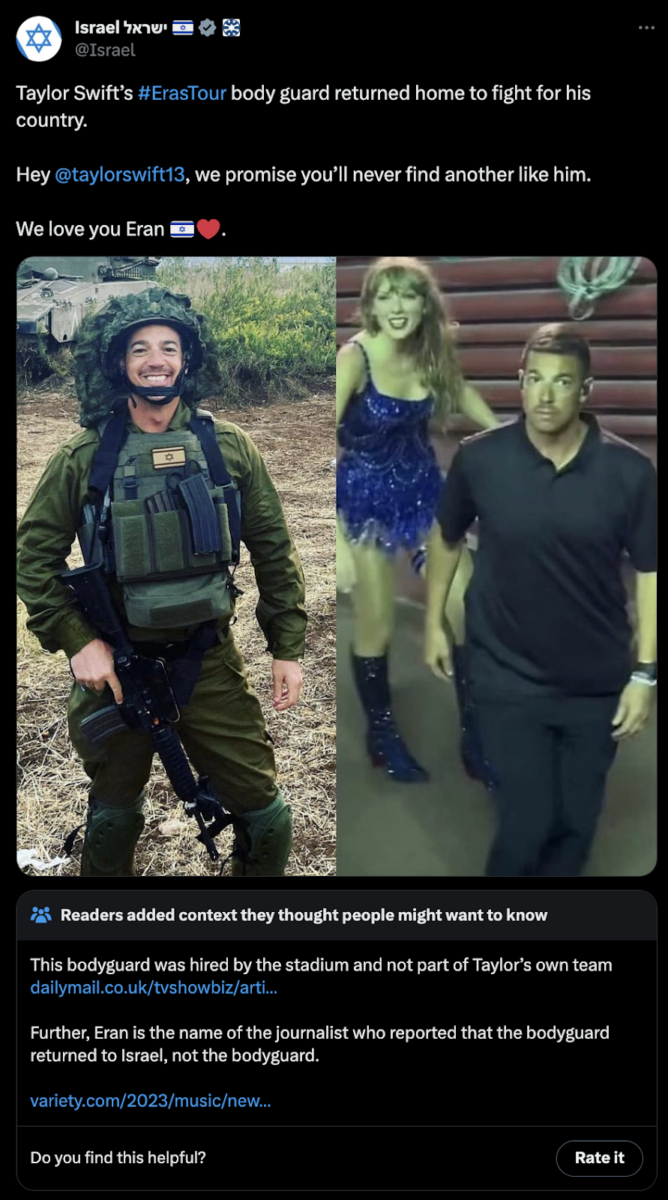 The newer Community Note is also incorrect – it repeats the false claim that the bodyguard was hired by a stadium. It does, at least, note that the Israel account incorrectly named the bodyguard as "Eran" (that is the first name of the Israeli journalist who first reported his reenlistment with the IDF in Israel Hayom). As of publication time, the second Community Note — containing the same false claim and using the same Daily Mail link that doesn't substantiate its assertion — is attached to the State of Israel account's tweet.
[Update: Approximately eleven hours after this story was published, the second Community Note containing false information stopped appearing on the State of Israel account's post. All told, X Community Notes containing false information remained appended to the post for two days.]
The original tweet from the State of Israel's official account has received more than 53 million views. At the time of this writing, the first Community Note containing the false information about Swift's bodyguard had over 650,000 views and the second one, which is still public, has over 1.4 million views. Taken together, this appears to show how lots of people can be shown Community Notes which do not add clarification but, in fact, add falsehoods to a post.
"Sparks Fly" (to London, New York and Toronto)
To demonstrate the inaccuracy of the Community Note about Swift's bodyguard, Bellingcat tracked down images across the internet showing that he appeared to be a regular member of her security detail dating back at least 17 months.
The bodyguard first shot to internet fame in July when a video of him diligently escorting Swift at a concert venue went viral after it was posted by Barstool Sports. But he was well into the job by that point, having appeared with her on both American coasts and on the other side of the Atlantic in the 17 months prior, and would remain with Swift in the months after.
The bodyguard can be seen standing behind Swift in footage of the 2023 MTV Video Music Awards, which took place on 13 September in Newark, New Jersey. At 7:35 in the video, he applauds enthusiastically—although maintains a professional, neutral facial expression—as hip-hop legend LL Cool J introduces hip-hop icon Darryl "DMC" McDaniels during a medley performance.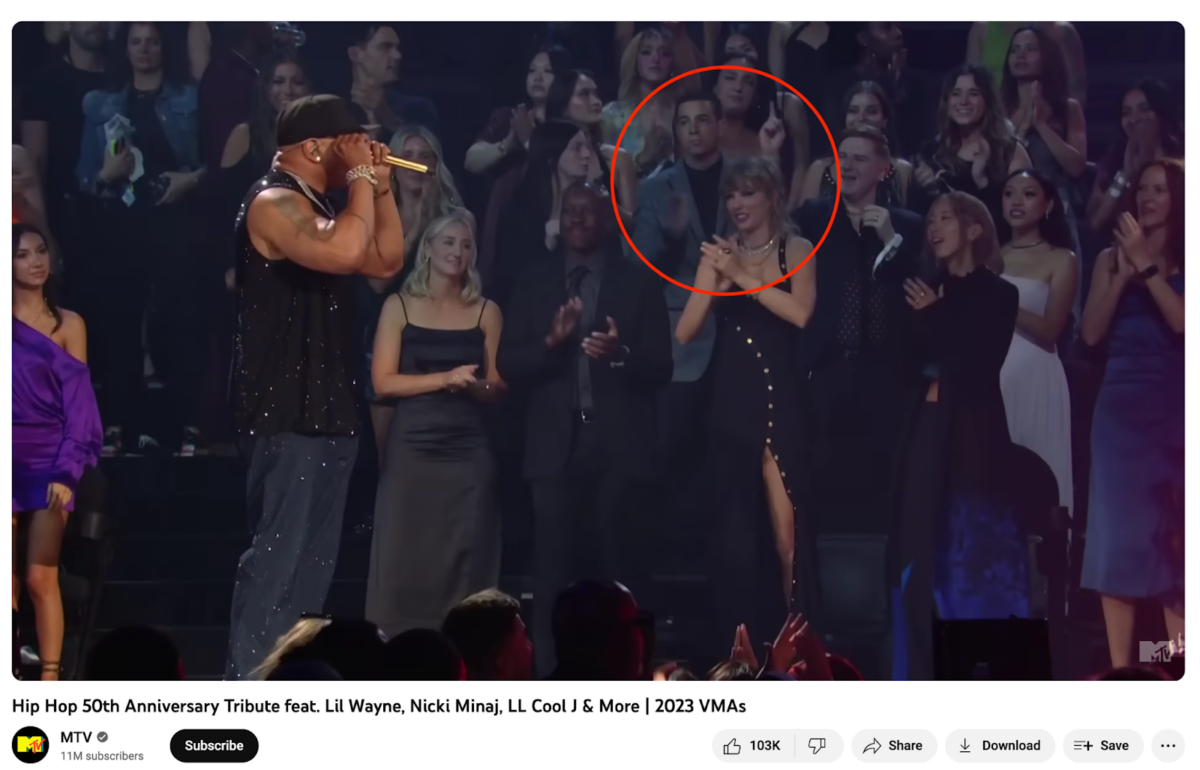 Before that, the bodyguard was with Swift in May in New York City, images posted on the tabloid site Just Jared show. There, he shielded Swift from paparazzi while she hung out with English musician Matty Healy of the band The 1975. Rumours of a relationship between the two kept the tabloids on both sides of the Atlantic busy for several weeks. Video of Swift and Healy exiting a building with the bodyguard blocking off fans and photographers was posted on YouTube by the celebrity news account The Hollywood Fix.
The bodyguard even hopped across the pond to ward off aggressive celebrity photographers from the "Anti-Hero" singer. In January, he obstructed the view of paparazzi when Swift dined in London with the actresses Lena Dunham and Cameron Diaz and the comedian Sacha Baron Cohen, images posted on Just Jared and social media show. To avoid being photographed, Swift stood behind the bodyguard with a closed umbrella over her head and body, according to Just Jared.
A few months earlier in September 2022, the bodyguard was with Swift at the Toronto International Film Festival in Toronto, Canada, where she premiered her debut short All Too Well: The Short Film. He was captured by photographers, such as in the lead image used in this French news report, and in video footage, such as this fan video posted to YouTube that shows Swift greeting fans lined up behind a barricade as the bodyguard walks in advance of her.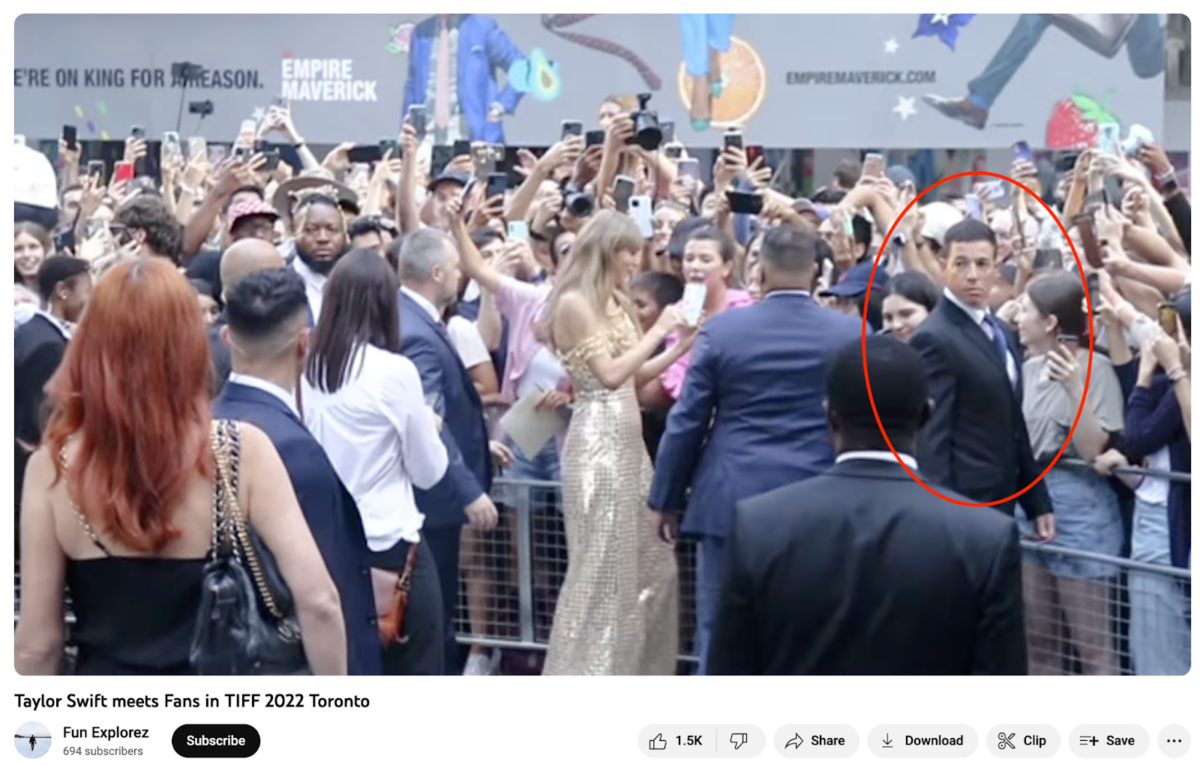 Three months earlier in June 2022, the bodyguard attended another of the world's great cinema events while minding Swift at New York City's Tribeca Film Festival, images from Just Jared show. He was also captured on video guarding a door as Swift exited to the outdoors.
Lastly, the guard was with Swift at the home of the Bronx Bombers in May 2022, watching over her as she received an honourary degree from New York University during a ceremony at Yankee Stadium. An image contained in an article in the UK tabloid Metro shows him walking to her right as the "Welcome To New York" singer waves to the crowd. NYU filmed the proceedings, and the bodyguard can be flanking Swift's position as she walks around the grounds.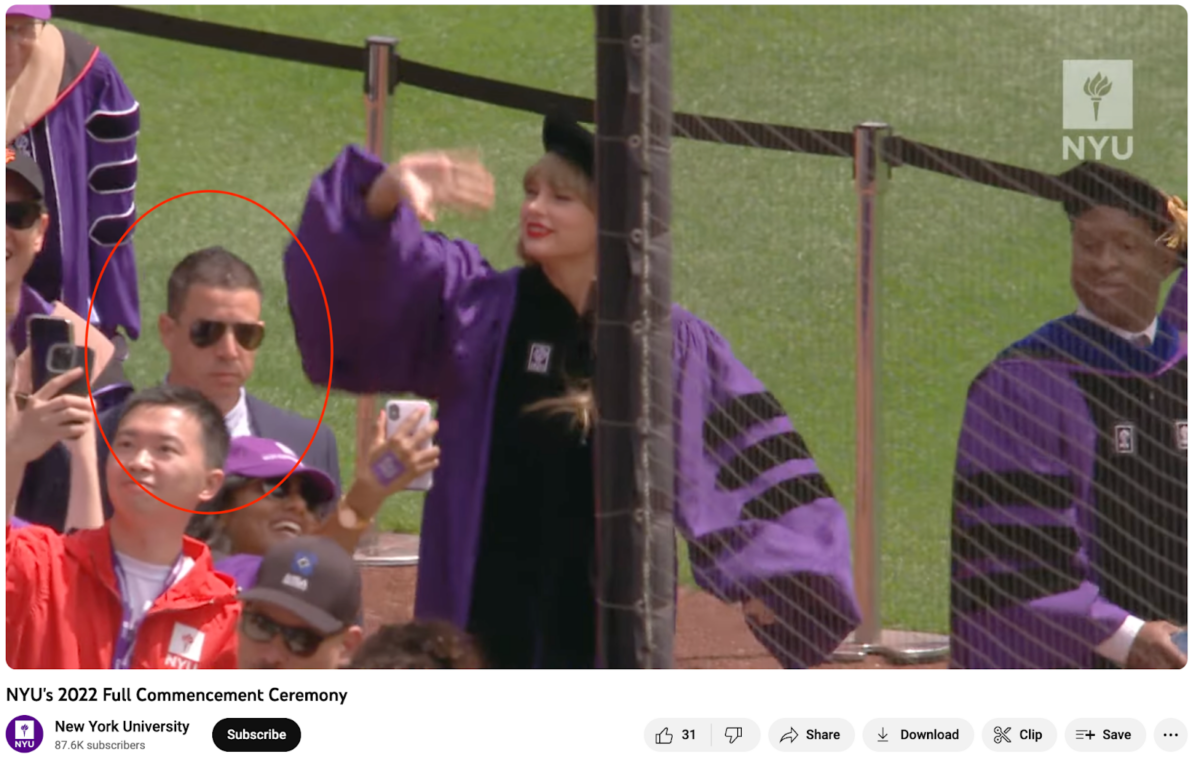 When Variety reported on Israel Hayom's story of the bodyguard's decision to return to Israel, the trade publication said, "It is not clear whether the bodyguard was employed by Swift or the tour stadium, or how closely he worked with the star. Swift's rep did not respond to Variety's request for comment."
The photographic record shows he has been regularly hired by Swift for security work throughout the last 17 months at multiple locations in multiple countries.
---
Kolina Koltai, Logan Williams and Sean Craig contributed research. Disclosure: Koltai worked at X, formerly Twitter in 2022, including on Birdwatch, the predecessor to Community Notes.
Bellingcat is a non-profit and the ability to carry out our work is dependent on the kind support of individual donors. If you would like to support our work, you can do so here. You can also subscribe to our Patreon channel here. Subscribe to our Newsletter and follow us on X here, Instagram here, and Mastodon here.