Revealing Andrew Tate's Secretive War Room "Brothers"
In January 2023, Andrew Tate was alone in a Romanian prison cell. But he hadn't been abandoned.
"THE WAR ROOM Network has my life completely in order while I'm unjustly detained," Tate told his legions of followers in January 2023. "I have brothers on the outside who have taken on my responsibilities," he added.
At the time, the 36-year-old influencer and self-proclaimed misogynist wasn't surrounded by the sports cars, cigars and bikini-clad women that have become a staple of his online content. The British-American Tate, his brother Tristan and two alleged female accomplices had been arrested and detained in December 2022 on suspicion of a number of alleged crimes, including human trafficking, rape and forming an organised crime group.
None of the allegations have yet been proven in a court of law, while the Tate brothers and their representatives have consistently denied the charges against them.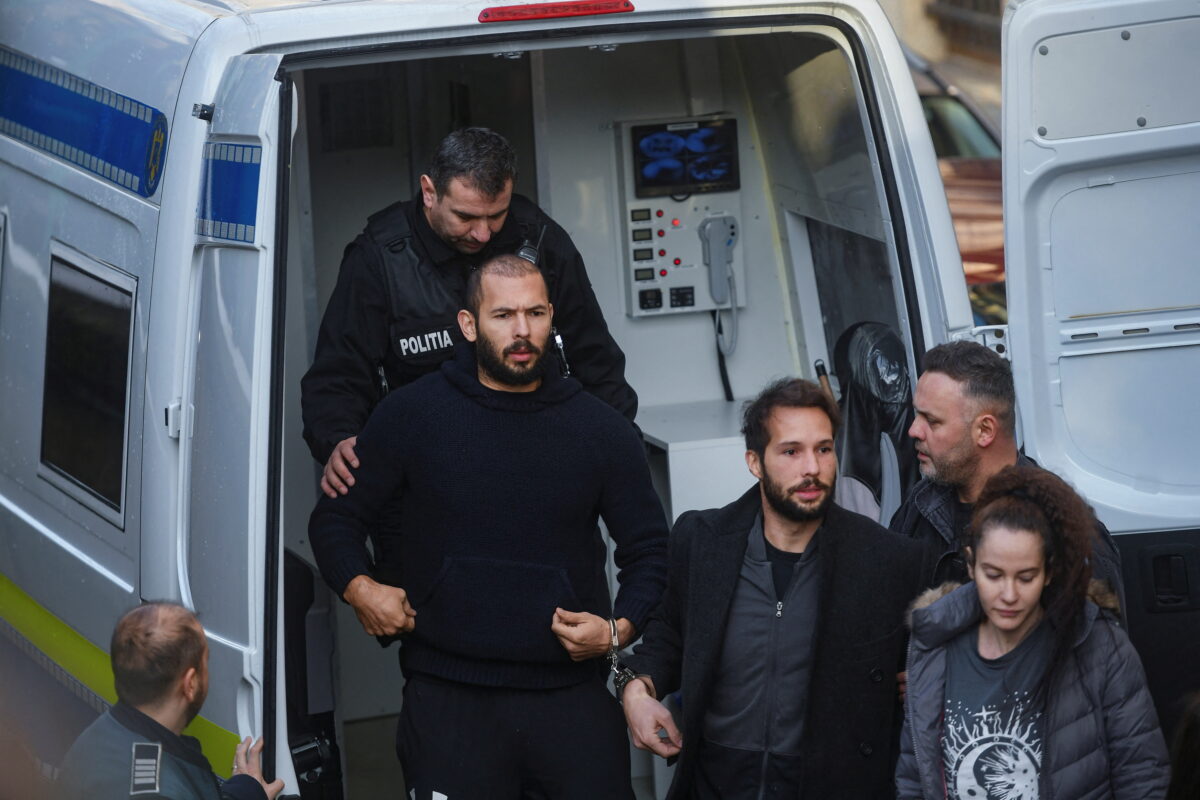 Despite being formally charged in June 2023, Andrew Tate remains hugely popular. From his home just north of Bucharest, where he was under house arrest until August 2023, Tate continues to post online about the War Room and his other businesses. Tens of thousands of men, if not more, have been estimated to sign up for his online money-making courses. A virtual army bombards social media with clips of Tate's videos. Millions of devotees take to social media every day to view his content.
Tate's popularity and influence is a worry to many, including UK educators. Some schools there have provided resources and training to tackle Tate's influence among young men and boys amidst warnings from teachers that some male students "idolise" Tate and have copied his attitudes, catchphrases and behaviours. A 2022 survey by the investment bank, Piper Sandler, found Tate was among the most popular influencers among US teenagers who participated.
Most media coverage of Tate and his brother Tristan has, understandably, focused on the two men themselves. But, as Tate has previously said, "you won't go far alone" — a man, in his view, needs "powerful brothers to call on" because "lone wolves are never champions."
For Tate, some of those 'brothers"' are the senior members of his so-called War Room. As he said on Telegram in January 2023: "THE WAR ROOM Network has my life completely in order while I'm unjustly detained. I have brothers on the outside who have taken on my responsibilities". While there is no evidence these men are involved in any illegal activity – and none are in any way linked to the charges currently laid against the Tate Brothers in Romania – they either promote his ideology, protect his image or appear to participate in some of the activities that make up his personal brand. Several of them have sought to do all this while hiding their real identities.
According to Nina Jankowicz, author of "How to be A Woman Online" and an expert on online abuse, "it is just as important to hold the networks [Tate] built to account as it is to focus on Tate himself" given the influence and following the Tate ideology has gathered in recent years.
Patrik Hermansson, a senior researcher at UK anti-extremism advocacy group Hope Not Hate, said: "We cannot forget that Tate is just one of many people in this sphere." He added: "Some of them are close to him and appear in his videos, they support him and amplify his views to their own followers."
Ensuring the War Room audience remains engaged also appears to be a lucrative business, with reports estimating that Tate's online courses bring him millions of dollars a month. Those who gain access to The War Room, meanwhile, are asked to send US$7,979 (around €7,290 or £6,280) to either a cryptocurrency wallet or a bank account. They are then asked to sign a non disclosure agreement. However, some have spoken out about what they saw there. "The War Room is basically just a bunch of Telegram chats," one former member claimed in May 2023. "There's a chat for business…a chat for girls…for money, a chat for freelance, a chat for fitness, and all that stuff." The same former member said that in-person War Room meetups also took place.
According to several vlog reviews from individuals who say they had access to the War Room, members still need to pay thousands of dollars to be admitted to more 'elite' chat rooms after paying their entry fee.
While there are others who are more open about their association with the War Room, Bellingcat has decided to focus on a small number of individuals who have been more cautious about sharing their true identities.
War Room Leaders in the Shadows
1.

Joule Sullivan/'Sartorial Shooter'
One of the War Room's most prominent representatives is a Dubai-based Australian who goes by the moniker of 'Sartorial Shooter'.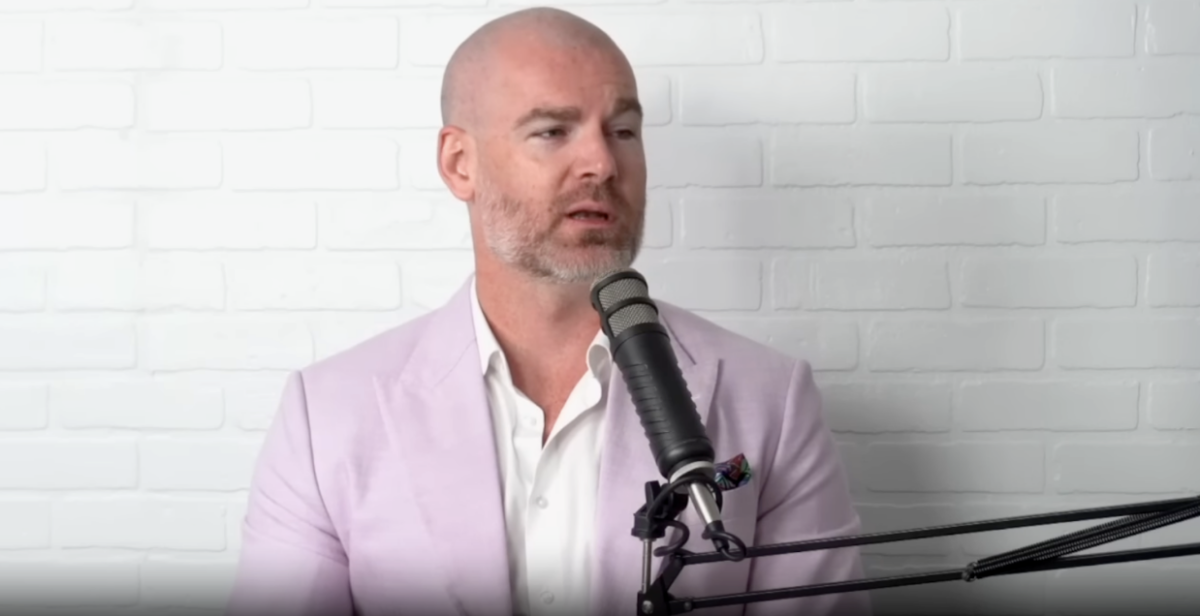 "I'm here to represent the Tate brothers and the War Room," he states at the beginning of a July 2023 YouTube interview. He goes on to describe his background: a soldier in the Australian armed forces who then "went into the intelligence world" who has worked across the Middle East and Africa. He further claims that he met the Tates after Andrew "helped out" with an unnamed task in Romania, and then thanked him by taking him to one of "[his] facilities in Ukraine — I have various weapons and tactics training facilities around the world."
It's easy to find Sartorial Shooter's real name with a simple online search — Joule Sullivan, a former director of international security at a global healthcare company. In several interviews online, including in the above from July 2023, interviewers refer to him by name as 'Joule', and it has been noted as his full name in a broadcast about Tate's arrest by Antena 3, a Romanian news channel.
Some of Sullivan's public comments appear to echo the Tates' worldview. In August 2022, Vice News visited a War Room event in Romania. In the documentary, Sullivan suggests that it's acceptable for Tate to use phrases like "my women" and adds that men "at certain levels" can provide for multiple women at the same time. However he also claimed in the same documentary that misogyny was not what the War Room was about and that if anyone exhibited racist or sexist behaviour they would be "out straight away." In a June 2023 appearance on a popular American podcast — a podcast which just a few weeks later would host a prominent American far-right extremist who openly denied the Holocaust — Sullivan called the Tates "cultural icons leading the fight against wokeism, against modern degeneracy, against all of the perversion we see in western society."
In a reply to questions from Bellingcat, Sullivan confirmed his identity and stated he was "one of the leaders in the War Room", mentoring members and running events and seminars. He described the War Room as "a very positive and supportive community of men" that "focuses on all areas of life from fitness to business to nutrition."
Through the War Room, he said he had "also helped many men come back from very difficult places in their life" and that he had received significant harassment because of his association with Tate. While he acknowledged Tate had made a lot of "negative comments" online, he said he had not seen any indication that he was engaged in any of the crimes alleged against him.
"I am proud of the work that War Room does in supporting men to be the best version of themselves," Sullivan continued, adding that it was "a valuable community of brothers."
2.

Miles Sonkin/'Iggy Semmelweis'
Unlike Sullivan, another senior member in the Vice documentary refused to speak on camera — a grey-bearded self-described hypnotist who called himself 'Iggy Semmelweis,' the name of a 19th-century Hungarian physician.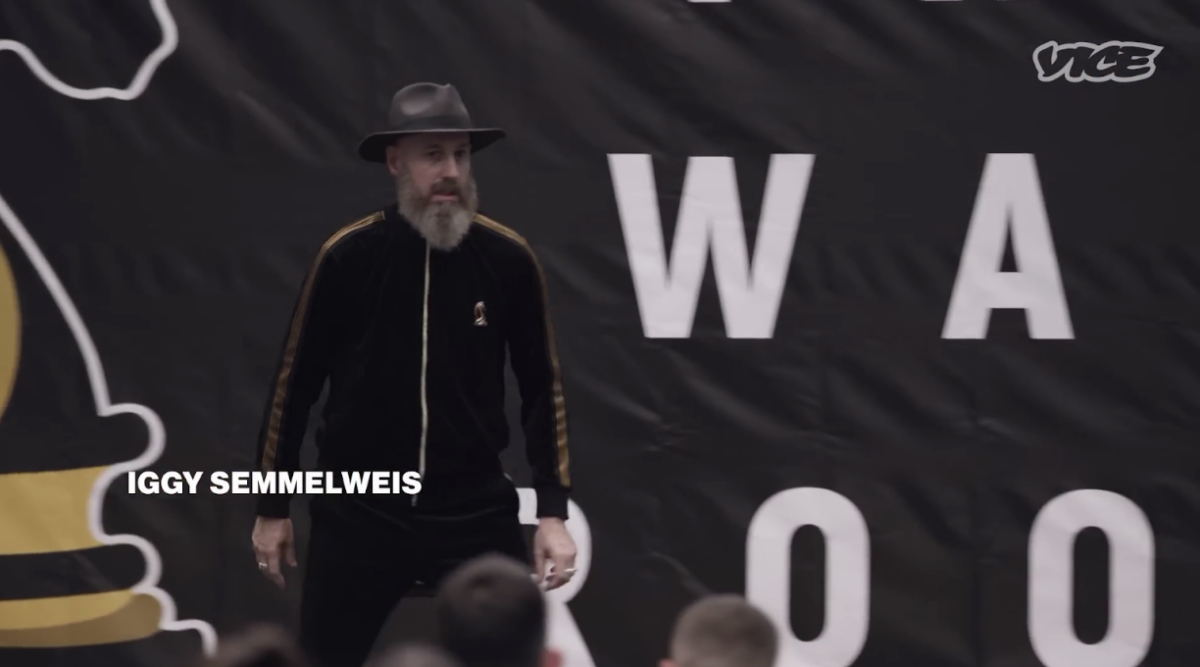 In the documentary, Semmelweis is described as "Andrew's right-hand man" and the "second in command" of the War Room behind Tate himself. On his Twitter account, which has more than 56,000 followers, Semmelweis regularly promotes the War Room, speaks of himself as a senior day-to-day leader, shares content praising the Tates and retweets conspiracist and anti-trans content from prominent far-right Twitter accounts.
"The War Room has never been stronger as it is now," Semmelweis said in a June 2023 tweet. "Our ranks grow daily as we attract the Best and the Brightest Men from around the world."
Semmelweis is no newbie to the Tates or, as a scroll through his Twitter feed makes clear, to their worldview. In 2019, Semmelweis tweeted an endorsement of one of Andrew Tate's 'webcam courses', stating that women "exist as assets to be upgraded by MEN."
In early 2023, anonymous and unverified claims had appeared on Twitter that claimed Semmelweis was actually an American man by the name of Miles Gary Sonkin.
In an effort to verify whether these claims were correct, Bellingcat used several publicly-available, paid and unpaid online search tools to look for the name "Miles Gary Sonkin". This search revealed a number of potential contact details.
Bellingcat's journalist entered potential phone numbers revealed by this search into a mobile phone contact book and then checked common social media apps such as WhatsApp and Signal to see if the numbers were attached to any accounts. One of these numbers was attached to a WhatsApp account with a profile photo of a man strongly resembling Semmelweis, alongside a woman herself strongly resembling a woman who has been seen with Semmelweis in War Room promotional videos.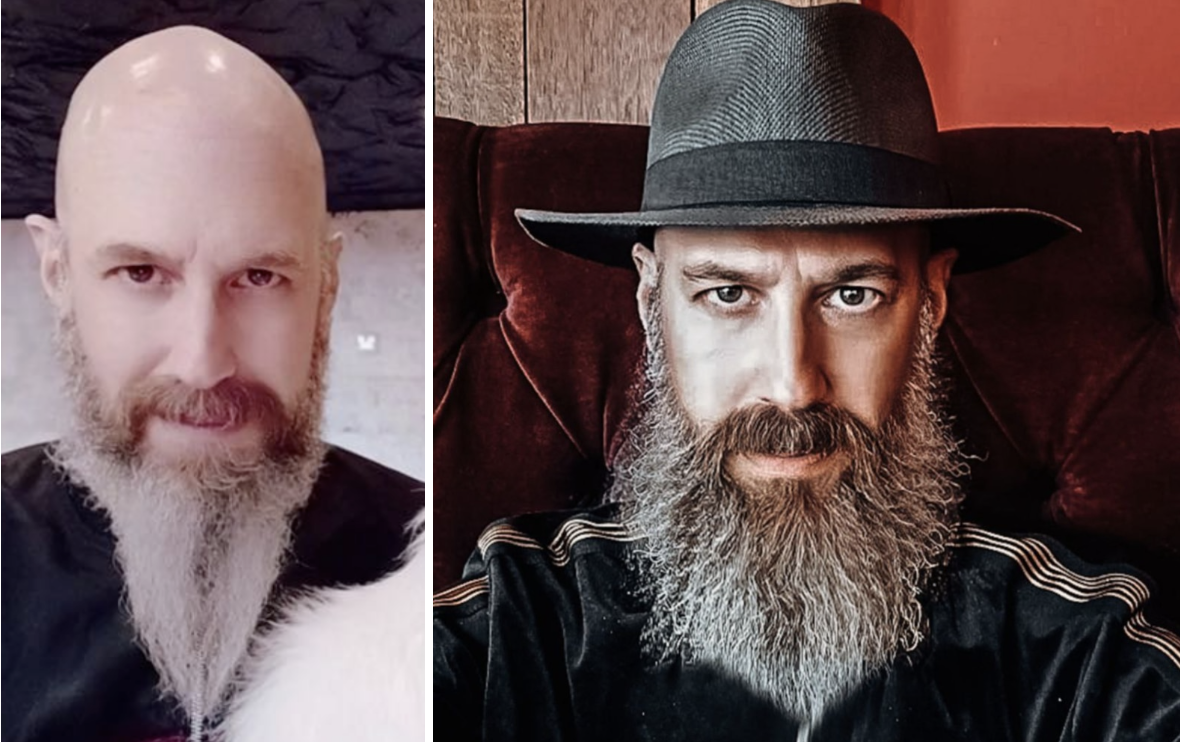 Bellingcat also used TrueCaller, a publicly-available phone contact book app, where users can see who is calling them thanks to shared contact books of other users. We discovered this number was identified on the app as "Miles Sonkin."
Bellingcat contacted Sonkin on WhatsApp and on Telegram, asking him to confirm his identity and his role within the War Room; though the WhatsApp message was viewed, he had not yet replied by publication. Bellingcat further reached out to multiple War Room email accounts, as well as the Telegram account associated with Tristan Tate's Telegram channel, to enquire about Sonkin. Though both Telegram messages were viewed, we received no reply. Bellingcat also left a voicemail with the same phone number that had appeared for Miles Sonkin.
In July 2022, Semmelweis stated on Twitter that an anonymous user with the handle '@1stPriestWudan' had been "my Right Hand since the earliest days of The War Room; making possible much of whatever little I have been able to accomplish," and boasted about how with "the new systems @1stPriestWudan is putting into place The War Room will be capable of serving 10K Men easily".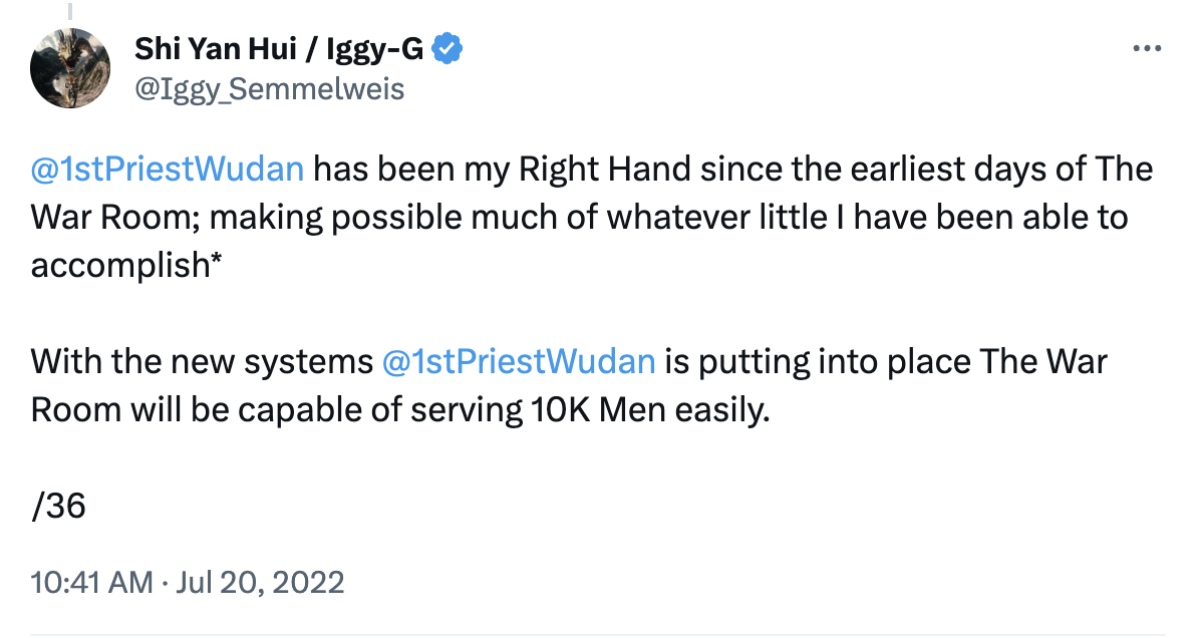 The @1stPriestWudan account, as of July 2023, has barely more than 1,000 followers and only a few hundred tweets, many of which are retweets of Andrew Tate and other content supportive of Tate. The account also isn't shy about sharing misogynistic views. In an exchange with Semmelweis in June 2021, '@1stPriestWudan' mused about why women experiencing menopause were "in the workforce to begin with."
Later in 2021 the same account wrote that the best way to "fix the [United States] military quick" was to "get rid of women." The operator of the account claimed to have military experience, stating they were a pilot and, specifically, an "Antarctic Ice Certified Instructor" in another 2021 tweet.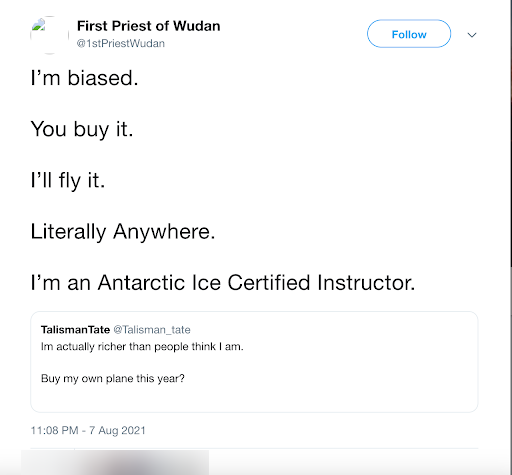 In an attempt to identify who @1stPriestWudan was, we began digging into other potentially useful online content from Tate and his associates.
In the comments to a 2022 Reddit post about Andrew Tate's car collection, a user linked to a fundraising page for an electric motorbike manufacturer, claiming that Andrew Tate as well as a "war room insider" were listed as team members. While there's no mention of either on the current page, an archived version from December 2022 shows that Tate and an individual named Jonathan Bowe listed as team members.
Bowe is described on the archived page as "a former United States Air Force Major…[and] Antarctic Ice Landing Instructor" who "supervises Logistics and Event Planning for Tate Ltd., putting on private events worldwide."
Searching further online for the exact phrase "Antarctic Ice Landing Instructor" revealed another fundraising page for the same manufacturer of electric motorbikes, with both Bowe and Tate mentioned — but, unlike the archived version of the other fundraising page, accompanied by a photo of Bowe.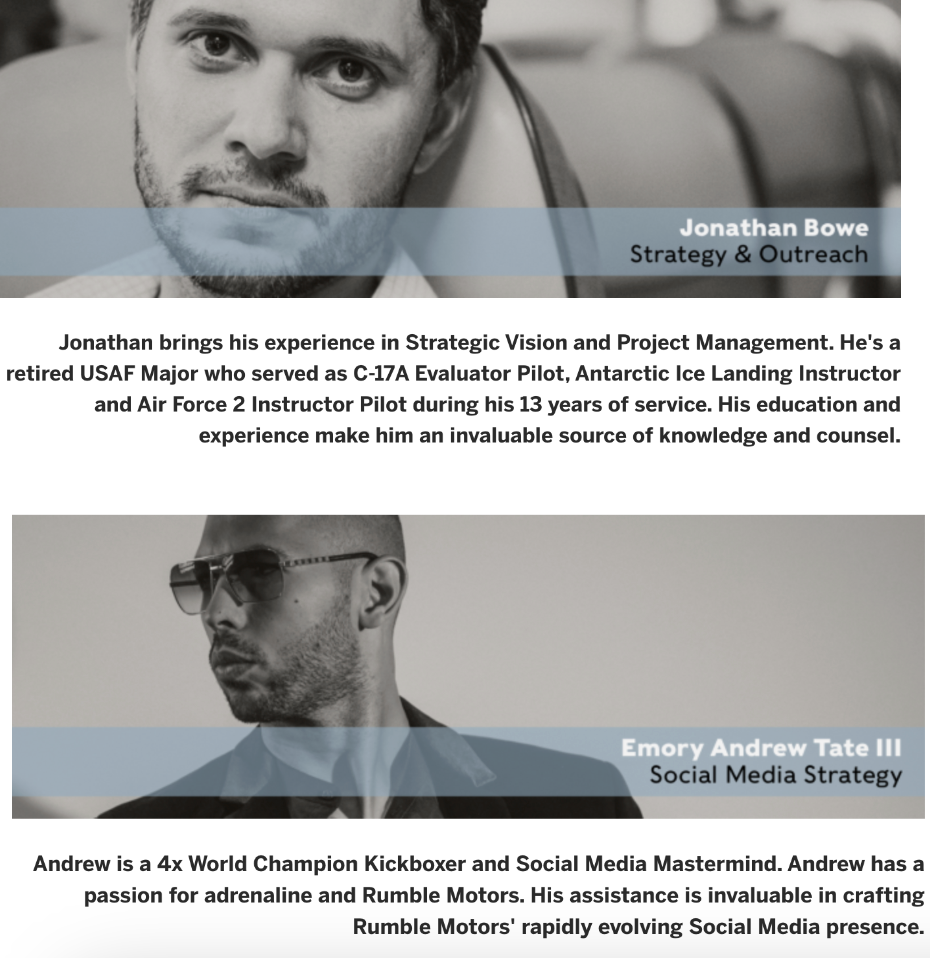 In the 2023 Vice documentary about Tate's War Room, there are several scenes featuring a man next to Tate with his face blurred. In the photo below, this man stands to Tate's right, while Semmelweis stands to Tate's left.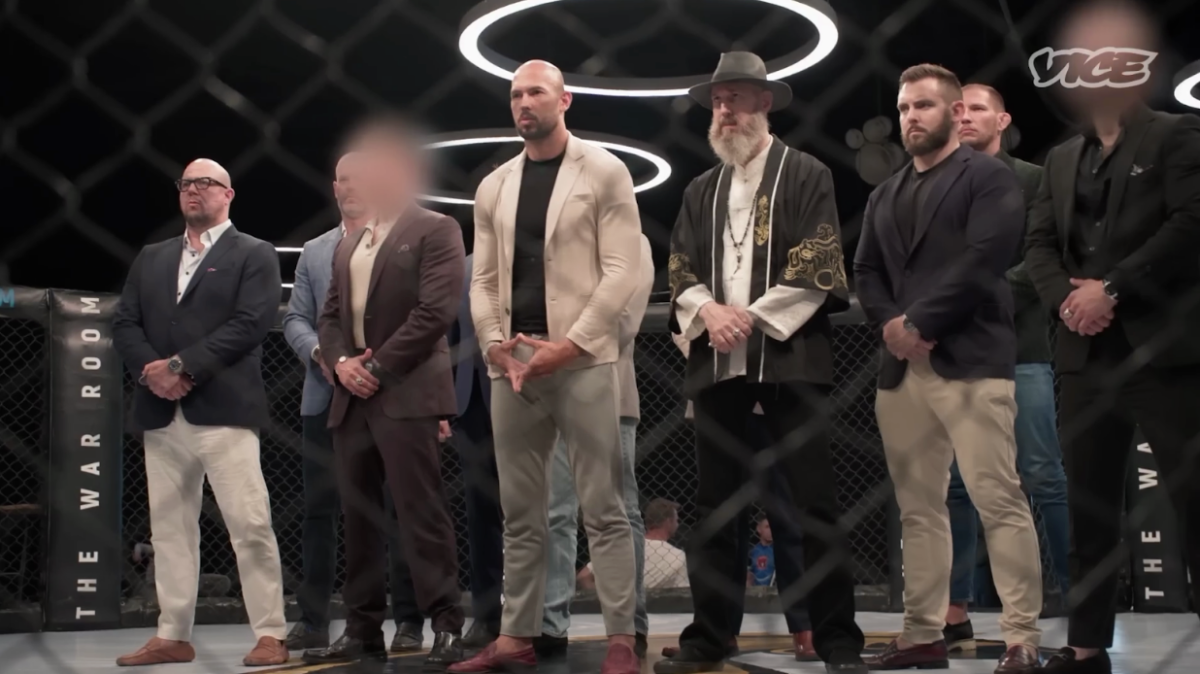 Despite the blurring, it was easy to find an un-blurred photo of the man standing next to Tate — from the War Room's own Twitter account in May 2023 which documented the same event.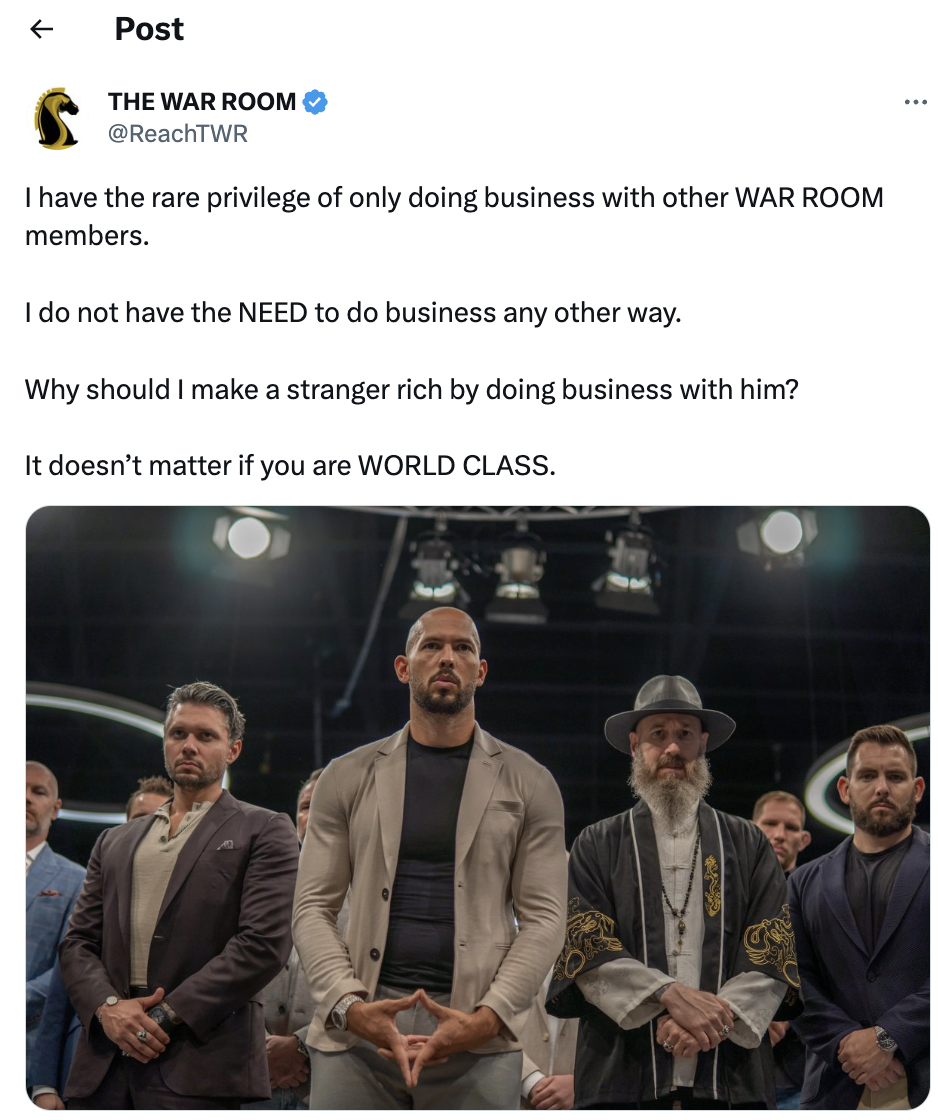 A photograph of a man who looks like Bowe also appears in a 2019 tweet from Semmelweis. "The Man who makes my visions real in this world," he tweeted along with a photo of Bowe. "With him at my side we guide, we protect, we conquer." An archived version of the account tagged by Semmelweis has a profile picture of Bowe, and a description similar to archived versions of '@1stPriestWudan''s account, including referencing themselves as "Hand of Wudan," "Master of Logistics" and "Chief Cam Technologist." It appears likely this is an old handle of Bowe's as the Semmelweis post that included his image was dated to 2019. The new owner of the account set it up in June 2022.
The @1stPriestWudan account, meanwhile, was set up in December 2020. Just five months later, one of Tristan Tate's previous Twitter accounts tagged four of his "friends" in two photos, including the '@1stPriestWudan' account. Clearly identifiable in one of the photos — as are the other three men, who are identifiable and can be matched up by name to their tagged Twitter accounts — is Jonathan Bowe.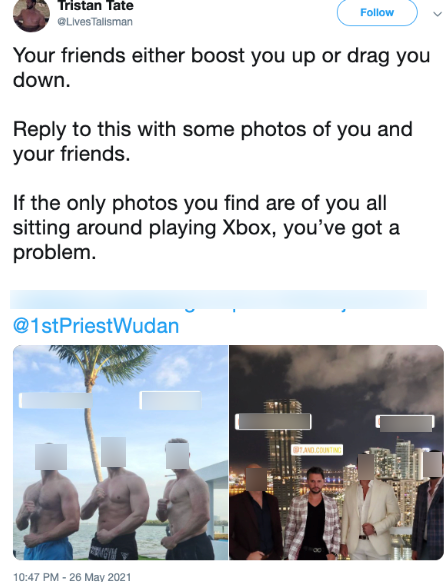 The image itself details an Instagram handle above Bowe's head rather than the @1stPriestWudan Twitter handle. While the Instagram account is private, Bowe is clearly visible in the profile picture. The name Jonathan also adorns the account, while the profile states: "Former USAF C17/757 EP/IP." The C-17 is an aircraft that can make ice landings.
Bellingcat asked Bowe via Telegram (both his personal Telegram account and the War Room's main contact account) as well as via an Instagram message whether he was indeed the owner of the @1stPriestWudan Twitter account, and about his role in the War Room. He did not respond to requests for comment before publication. Bellingcat further reached out to multiple War Room email accounts, as well as the Telegram account associated with Tristan Tate's Telegram channel, to enquire about Bowe, and to ask that he be made aware of our correspondence. Though the message to Tristan Tate's Telegram channel was viewed, we received no reply.
---
Bellingcat is a non-profit and the ability to carry out our work is dependent on the kind support of individual donors. If you would like to support our work, you can do so here. You can also subscribe to our Patreon channel here. Subscribe to our Newsletter and follow us on Instagram here, Twitter here and Mastodon here.