The "Hardcore" Russian Neo-Nazi Group That Calls Ukraine Home
Written by Michael Colborne with contributions from Oleksiy Kuzmenko
They're devoted to a brand of neo-Nazism so blatant, including openly glorifying Hitler, that even its leader admits is too "hardcore" for the public space. 
Wotanjugend, which its founder described in 2016 as an online "mini-university for supporters of right-wing ideology," has praised far-right terrorists like Timothy McVeigh and Anders Breivik as "heroes." Their website shares Russian-language translations and articles; offline they organize neo-Nazi concerts, host classes on "racial theory," give firearms training sessions and even put on private concerts with a very subtle clues of neo-Nazism, such as a framed picture of Adolf Hitler flanked by swastikas on a candlelit altar.
More recently they have become, like much of the global far-right, dedicated fans of the perpetrator of the March terrorist attacks on two mosques in Christchurch, New Zealand. In a post after the attacks, Wotanjugend called the shooter a "vengeful Viking who has definitely earned his place in Valhalla." 
But, as we reported in our previous investigation, Wotanjugend also promoted a Russian-language translation of the Christchurch shooter's manifesto that got more than 25,000 views. However, they quietly removed it from their website after our investigation named them as promoters of the manifesto — and after Ukraine's ambassador to New Zealand, in response to our investigation and subsequent comments from New Zealand's Prime Minister, pledged that Ukraine would prosecute anyone distributing the manifesto. But Wotanjugend has not removed a separate post praising the shooter, nor have they removed the disturbing livestreamed video of the attacks that they had shared.
Wotanjugend was born in Russia, and publishes its online content almost exclusively in Russian. Today the self-described "hammer of National Socialism" is based in Ukraine and, for all intents and purposes, is part of the country's far-right Azov movement that is trying to expand its domestic and international influence.
But Wotanjugend's activities aren't just limited to the web. In 2018 the head of Wotanjugend met with members of violent American neo-Nazi gang Rise Above Movement (RAM) in Kyiv. Wotanjugend also recently hosted a seminar that included lectures on race, firearms training and even a mock knife fight tournament. Moreover, the head of the group, Alexei Levkin, is hopeful he will receive Ukrainian citizenship, and has been a key figure in Azov's public push to get Ukrainian citizenship for far-right friends from abroad who have joined their ranks.
With its message that includes terrorist fanboying and literally worship of Hitler, Wotanjugend continues to operate openly in Ukraine, using the country as a base to grow and to spread its message of hate worldwide.
A self-styled "elite neo-Nazi avant-garde" 
As we wrote in our previous investigation, Wotanjugend has its roots in the early-2000s neo-Nazi music scene in Russia. Its leaders and members, according to the authors of Militant Right-Wing Extremism in Putin's Russia: Legacies, Forms and Threats, "styled themselves as an elite neo-Nazi avant-garde." 
Many Russian far-right nationalists have, perhaps to the surprise of many, been anti-Kremlin and opposed Putin's rule due to their perception of his soft stance on issues like immigration, best seen in the annual "Russian March". While a large portion of the Russian far-right was instrumental in fomenting and fighting in the ongoing war in eastern Ukraine, some factions of the Russian far-right actually supported the protests on Maidan Nezalezhnosti in Kyiv that mushroomed into the February 2014 revolution and have found room to operate within Ukraine. This included two of Wotanjugend's leaders, Ivan Mikheev and Alexey Levkin. 
As Russian and Russian-led forces — including a sizable presence of Russian far-right nationalists, namely through the influence of Konstantin Malofeev and Eduard Limonov — began war in the Donbas in April 2014, some Wotanjugend members were among Russian far-right nationalists who came to Ukraine to fight with far-right pro-Ukrainian forces, including the Azov Battalion. Mikheev and Levkin, along with other Russian neo-Nazis like Roman Zheleznov, came to Ukraine in late 2014; Levkin and others remain in Ukraine five years later. 
Levkin is the most public face of Wotanjugend. In a 2019 interview with a magazine of Greece's neo-Nazi Golden Dawn, Levkin described himself as a "political ideologist" in Azov's National Militia, the paramilitary street wing of the Azov movement that Levkin called the "combat wing" of National Corps, Azov's political party. 
Levkin has a past full of neo-Nazi extremism and violence in his native Russia. In 2006 he was arrested for double murder, but the charges were later dropped; he was also part of a neo-Nazi gang that allegedly took part in vandalism of Jewish and Muslim graves at a cemetery, a number of assaults and at least four murders. Levkin was reportedly detained for compulsory psychiatric treatment and released in 2011. 
Wotanjugend grew out of Levkin's musical activities in Russia, which primarily included fronting the neo-Nazi band M8l8th (М8Л8ТХ in Russian; molot meaning hammer in Russian, with the two 'O's replaced by 8's to form 88, "Heil Hitler" in neo-Nazi numeric code). In a 2016 interview, Levkin stated that "we created our online resource as a mini-university for supporters of right-wing ideology" and "a resource where our readers can obtain exhaustive information on the widest range of topics as far a right-wing worldview is concerned," including what he dubbed "acts of heroism by Europeans."
In an interview in January 2019, Levkin described Wotanjugend as mostly an online entity, one that was "way too hardcore to be represented in the public sphere" as an active physical organization. In its place, Levkin argued that "there's already a movement that deserves support…I'm talking about [Azov's] National Corps and the National Militia as the former's power wing."
As we noted in our previous investigation, Levkin has links with another Azov figure, Olena Semenyaka, the National Corps' 'international secretary' who is responsible for networking and forming relationships with far-right groups in other countries. Semenyaka was recently in Croatia along with other Azov figures to make preparations for an international far-right conference Azov plans to host in Zagreb in the fall of 2019. The two have helped organize a neo-Nazi record label and shop that sells neo-Nazi music and paraphernalia with open Nazi symbolism at the Azov movement's Cossack House in central Kyiv.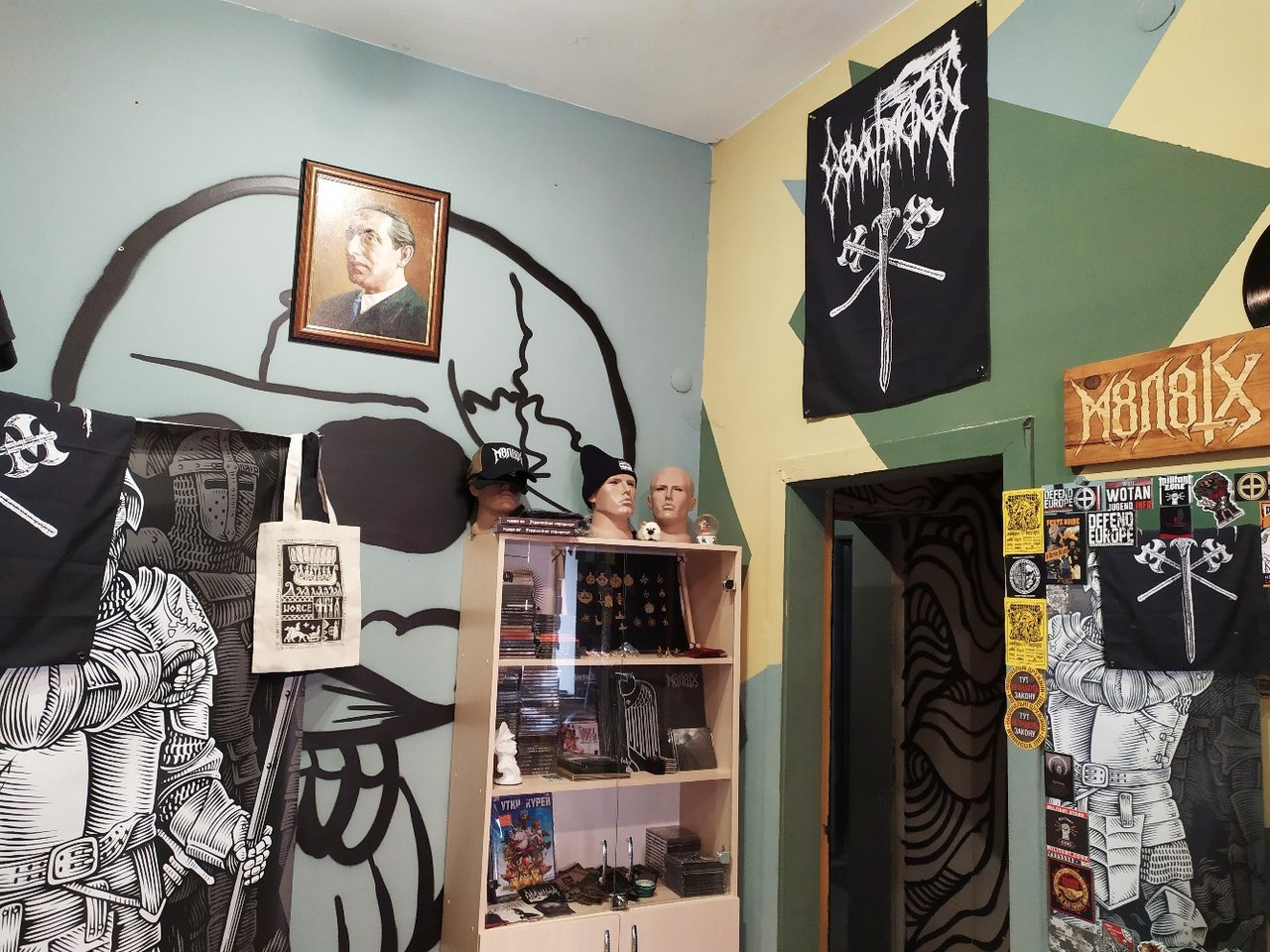 The first batch of tickets for the December Asgardsrei festival, a neo-Nazi music festival founded by Levkin in Russia that now takes place in Kyiv, went on sale last weekend at the Azov movement's "Young Flame" event, an event filled with openly far-right, neo-Nazi rhetoric and imagery. 
Last year's Asgardsrei concert featured neo-Nazi bands from across Europe including infamous Greek neo-Nazi band Der Stürmer, named after the Nazi newspaper, whose songs include "Piles of Pigheads in the Synagogue" and "Dawning Israel's Perdition."
Wotanjugend, however, does more than just host neo-Nazi concerts and post neo-Nazi propaganda online. In August 2019, a claimed 50 participants took part in Wotanjugend's "Thule Signal" event, where they attended lectures on "racial theory," received firearms training and even took part in a mock knife fight tournament filled with Azov chest salutes and Azov handshakes. 
Part of Wotanjugend's event took place at an Azov facility in Kharkiv, a "nationalist hub" whose opening was attended by Andriy Biletsky. 
Levkin has also met with members of the Rise Above Movement (RAM), a violent American white supremacist group. RAM once described themselves as the "premier MMA club of the Alt-Right," and visited Kyiv in 2018 as guests of the Azov movement, meeting with Semenyaka and others. Four of RAM's members were charged in 2018 for violence at rallies in 2017, though a judge dismissed their case on First Amendment grounds in June 2019. 
The 2018 FBI criminal complaint against the organization notes that 2018 Instagram post pictured RAM's leadership meeting with Levkin on their trip to Ukraine. The post, now deleted, stated that "it was an honor to meet the singer and patriot from #m8l8th."
Wotanjugend's links with Ukraine's Azov movement are especially noteworthy as Ukraine's new Cabinet of Ministers was announced in late August, a cabinet that still includes powerful interior minister Arsen Avakov, widely seen as the patron and protector of the Azov movement. Some reports have suggested Avakov kept his post, at least for the short-term, by promising to limit the power and influence of far-right groups like Azov.
Wotanjugend's terrorist "heroes" 
A whole section on Wotanjugend's website is dedicated to "heroes" — articles about famous Nazi-era and neo-Nazi figures, including perpetrators of far-right terrorist acts. 
Some of these "heroes" include Oklahoma City bomber Timothy McVeigh; Wotanjugend called him a "lonely hero" and shared an article praising him on the anniversary of his executions for his 1995 act of terror. The graphic Wotanjugend shared of McVeigh featured the 'life' and 'death' runes formerly used by the SS. 
Anders Breivik, the perpetrator of the 2011 terror attacks in Norway, is another "hero" to Wotanjugend, whom they called "the last Viking of the northern seas." Their website even features a translation part of the rambling speech Breivik gave at his trial in 2012. Wotanjugend also wrote that American neo-Nazi David Lane, who was sentenced to 190 years in prison for a series of crimes that included taking part in the murder of a Jewish talk radio host, was "a hero of our times." Lane was the author of the "14 words," a common white supremacist and neo-Nazi slogan. 
Another "hero," as previously mentioned is the Christchurch shooter. In a post after the attacks Wotanjugend called the shooter a "true Viking," a "vengeful Viking who has definitely earned his place in Valhalla." While Wotanjugend apparently deleted their translation of the shooter's manifesto from their website after our previous investigation, the entire livestreamed video of the attacks is still available in its entirety on its Telegram channel, along with memes praising the shooter.
Literally Hitler
Another one of Wotanjugend's "heroes" is someone whose birthday they called "a joyful and wonderful holiday" — Adolf Hitler. 
Wotanjugend are inspired by what academics and researchers refer to as esoteric Nazism or esoteric Hitlerism, a brand of neo-Nazism that incorporates often bizarre mystical, occult adaptations of Nazi ideology, including venerating Adolf Hitler as a literal godlike figure.
In May 2019, Wotanjugend hosted a private event called "Fuhrernight" in Kyiv, which featured Nazi flags, photos of Adolf Hitler on an altar surrounded by candles. It also featured a reading of hagiographic Hitler poems by another Russian neo-Nazi who teaches yoga at Azov's Cossack House, and has a visible tattoo of esoteric Nazi figure Savitri Devi, who believed that Hitler was an avatar of the Hindu god Vishnu.  
Levkin's own Hitler worship isn't hard to find. Another band of Levkin's is publicly called "AKVLT" — or, Adolfkvlt, as the group's previous releases make clear.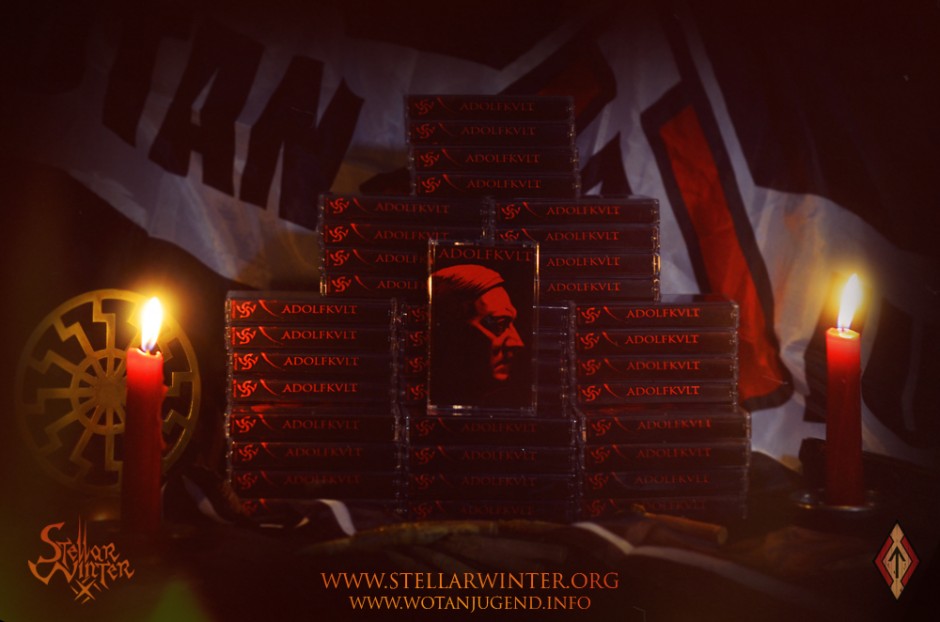 According to social media from the record label and shop affiliated with Wotanjugend, Adolfkvlt will be performing live at Asgardsrei in Kyiv in December 2019. 
"To sing about murder, one has to kill"
Levkin's main neo-Nazi music output is through his band M8l8th. The band is no mere hobby for him; in an interview earlier this year with a magazine of Greece's neo-Nazi Golden Dawn, Levkin spoke about how "all this activity," from working with Azov, organizing Asgardsrei and playing in M8l8th, is part of his ideological mission. 
Lyrics from M8l8th's albums, almost all of which are available for purchase both on Amazon and/or on the Apple iTunes Store, leave no doubt about that mission. Many M8l8th songs are also available on YouTube, where apparent fans from around the globe leave messages of support in the comments.
One M8l8th song available for purchase on both Amazon and Apple's iTunes Store, "The Echo of Future War," features lyrics referencing "the dirty blood of kikes" ("в грязной крови жидов" —  жид, zhid, is an antisemitic slur in Russian) and fighting until "the damned Jew has croaked" ("подох проклятый еврей"). 
Another M8l8th song, available for purchase on Apple's iTunes Store, takes lyrics directly from the Horst Wessel Song, the anthem of the Nazi party from 1930 to 1945, including the line "millions look upon the swastika full of hope."
Another song, available from Apple's iTunes Store, features lyrics like "preachers of Kabbalah, offspring thereof/labour in Death Camps, burn in furnace fire." Another song is called "Buchenwald," a clear reference to the Nazi concentration camp; it's available for purchase on both Amazon and the Apple iTunes Store.
"To sing about war, one has to fight," Levkin told neo-Nazi Golden Dawn's magazine. "To sing about murder, one has to kill."
Quest for Ukrainian citizenship
But Levkin and other Russian far-right, neo-Nazi figures in Ukraine have a common, key goal: gaining Ukrainian citizenship. The Azov movement has long been protesting and pushing for Ukraine's laws to be changed to make it easier to grant citizenship to foreigners who came to Ukraine to defend against Russian and Russian-led forces in the country's east. It is, of course, true that a minority of foreigners who came to fight for Ukraine in 2014-15 were far-right extremists or neo-Nazis; nonetheless, it has been Azov that has pushed the citizenship issue most publicly and directly.
Many of these foreign extremists, like Levkin, were neo-Nazis who came and signed up to fight in far-right forces like the Azov Battalion, and have stayed in Ukraine since. Figures like Levkin and others from Russia, they argue, can't return home because of being "wanted for political reasons," in Levkin's words. Ukrainian citizenship would do more than just make it easier for Russian 'exile' neo-Nazis to stay in Ukraine — it would also grant them visa-free access to the European Union for visits of up to 90 days. 
Azov's efforts have appeared, at least initially, to have yielded fruit: Ukraine's parliament in June passed a law that would streamline the process of granting citizenship to foreigners who came to fight on Ukraine's side. But President Volodymyr Zelenskyy has yet to sign the bill to officially make it law, and there is no guarantee that he will do so. 
Another option available to Levkin and others, in theory, is being granted Ukrainian citizenship by a presidential decree. The most prominent example, Belarusian-Russian neo-Nazi Sergei Korotkikh, was controversially given Ukrainian citizenship by then-president Petro Poroshenko in December 2014. 
More recently, however, a friend of Levkin and other Russian far-right figures in Ukraine was granted the gift of Ukrainian citizenship from Zelenskyy: Nikita Makeev.
Makeev, as Bellingcat wrote in an investigation last year, is a former Azov fighter and Russian citizen who came to Ukraine in 2014; he has been trying to obtain Ukrainian citizenship for years. Makeev has also reportedly been a close associate of National Corps Deputy Head Nazarii Kravchenko, having been seen with him at a number of rallies and events. 
Makeev is also close to Levkin, and is part of the "Russian Center," an organization of Russian far-right 'exiles' in Ukraine whose leadership and activities seem to overlap with Wotanjugend. 
Russian Center has also made efforts to cooperate and form relationships with international far-right groups. A conference in Ukraine in April 2019 featured representatives from far-right, neo-Nazi movements in Hungary, Poland, the Czech Republic and Serbia; they discussed, among other topics, the need to create cross-border "groups of fighters who want to support their European comrades." Also there was Ukrainian neo-Nazi group Karpatska Sich, who in August 2019 urged its members to buy the Ukrainian-language translation of the Christchurch shooter's manifesto. Moreover, In August 2019 a representative from Russian Center attended a far-right conference in the Czech Republic, meeting with representatives of far-right, neo-Nazi groups from the Czech Republic, Germany, Poland, Bulgaria, Hungary and Poland. 
On July 18, 2019, Zelenskyy signed a decree granting Ukrainian citizenship to "nine…foreigners who defended our state," one of whom was Makeev.
A week later, with his Ukrainian citizenship in proverbial tow, Makeev jumped back in the headlines. Makeev was part of a group of individuals who attacked the motorcade of former president Petro Poroshenko. While others in the group allegedly pepper-sprayed and kicked Poroshenko's bodyguards, Makeev jumped onto the hood of the former president's car. He later explained his actions by claiming he wanted to give Poroshenko a bulletproof vest which had been pierced by bullets, and thus "avenge [Poroshenko] for five years of humiliation." Makeev's act is reportedly under investigation as "hooliganism" by Ukrainian law enforcement. 
Levkin has made it clear that he would like to become a Ukrainian citizen, and his bid has received public support from the Azov movement . He was in attendance at Azov's June 2019 protest in front of the Presidential Administration of Ukraine demanding changes in the citizenship law, and has given interviews in the past on the need to grant Ukrainian citizenship to foreign fighters like him. 
When asked in a January 2019 interview if M8l8th concerts might eventually take place outside of Ukraine — in other words, if he was able to receive Ukrainian citizenship and thus travel visa-free to the European Union — Levkin struck a confident tone. 
"I think that in time [concerts outside of Ukraine] will happen," said Levkin. "We all currently await the passage of the law granting citizenship to foreign volunteers. It all depends on that."
But Levkin made it clear that, in the meantime, he is happy to use Kyiv as a meeting point for far-right extremists from Europe and beyond. 
"If we can't make it there, they can easily come here and enjoy glorious Kyiv," said Levkin, "a gathering point for the right of all sorts."