At Ukraine's Asgardsrei, A French Connection
In December 2019, the Ukrainian capital, Kyiv, hosted the neo-Nazi Asgardsrei music festival for the fitfh year in a row. It was there that scores of far-right extremists and sympathizers made their way to attend a concert of National Socialist black metal (NSBM) bands, and take in a mixed martial arts (MMA) fight the evening before the concert. As Bellingcat has previously reported, Asgardsrei has become an important gathering for the transnational far-right and a place where known far-right extremists, including those from the United States, have been able to make themselves at home. 
One of these individuals, however, didn't have to travel quite as far to make it to Asgardsrei. Marc de Cacqueray-Valmenier, also known as Marc "Hassin," is a well-known far-right extremist from France. While in Kyiv, "Hassin" met and networked with members of Ukraine's far-right. The presence of a prominent French far-right figure, as we outline in this investigation, suggests that connections between Ukrainian and French far-right scenes deserve more scrutiny.
The Groupe Union Défense (GUD)
On December 15, 2019, the French far-right Telegram channel "Ouest Casual" (West Casual) shared a picture showing a flag of the "Groupe Union Défense" (GUD) that was held in the crowd at the festival. GUD was a far-right youth group, established in 1968 and disbanded in 2017, known for its violent tactics and frequent clashes with leftist university students.
Although the far right has been growing in France and has been subsequently linked to recent events such as multiple desecrations of Jewish cemeteries (in
February 2019
and
December 2019
, for instance),
the attack of a mosque in Bayonne
that left two injured last October, and
frequent clashes against antifascist groups amidst the Yellow Vest movement
, its militant scene has so far mostly avoided publicly displaying admiration for the Third Reich in fear of political and legal consequences. 
As such, the potential presence of a French far-right militant at an openly Neo-Nazi event in Ukraine should raise eyebrows — does it signal a shift towards a new strategy? In light of the content that has been recently shared on Ouest Casual's Telegram channel, such as a celebration of the anniversary of Hitler's accession to power, this seems plausible.
The fact that the flag waved at Asgardsrei is from GUD is noteworthy. Despite the official dissolution of the organization, its former members have since remained true to the group's so-called "traditions" of open political violence. From that perspective, Ukraine could easily be perceived by such individuals as an ideal training ground, one that could breed young men with some street-fighting experience into hardened battle-ready individuals. Had a French militant with a GUD flag flown across the continent just for a music festival?
Clues From The Source
In addition to the picture shared on Telegram, the GUD flag could also be seen on multiple videos taken at the venue and shared on social media. In this YouTube video, a person can be seen at the center of the crowd carrying the flag on his shoulders while making Nazi salutes as the band begins to play.
On December 15, 2019, the Facebook page for Ouest Casual, linked to the Telegram channel of the same name, published this picture taken on Maidan Nezalezhnosti (Independence Square) in central Kyiv.
Whereas the sticker at the top of the pole referred to a French far-right music band Peste Noire (a band that has played at Asgardsrei before and which has a relationship with Asgardsrei organizers) and the one in the middle simply bore Ouest Casual's logo, the one at the bottom suggested that the French militant who had traveled to Kyiv was likely linked to the group Zouaves Paris. This is a French far-right group which counts among its leaders several former members of the GUD.
Moreover, on December 27, Ouest Casual also published a photo suggesting that militants of Zouaves Paris had trained with members of the Azov movement and young Dynamo Kyiv football hooligans (The Capitals).
Brought together, these clues strongly suggest that if a French far-right militant had indeed traveled to Kyiv, they were also very likely linked to Zouaves Paris.
A Zouaves Paris Match
On the same day, Marc de Cacqueray-Valmenier, known as Marc "Hassin" (a "marcassin" is a baby boar in french), often presented as one of the leaders of the Zouaves Paris and a former member of the GUD, updated his Facebook profile picture. The photo indicated it was taken on October 21, 2019, at a "kick-boxing championship in Ukraine."
Whereas this championship did indeed take place in Kyiv (at the Sportcomplex KPI/Спорткомплекс КПИ), multiple social media posts indicated that it was held from December 20–22, rather than in October, as indicated.
Whether this was a typo or a deliberate decision, Marc "Hassin" was undoubtedly present at this event. He appears in the following picture from the Instagram account of one of the participants.
Additionally, some of the participant's Instagram accounts featured these two pictures, published on December 16 and December 18 respectively, as Instagram stories (i.e. photos and/or video that disappear from the site after 24 hours).
The first photo is the same as the picture posted on Facebook by Ouest Casual on December 27; however, in this case, the faces in the photo are not blurred. Marc "Hassin" can be seen in both pictures, which confirms that he was in Kyiv on December 16 at the latest: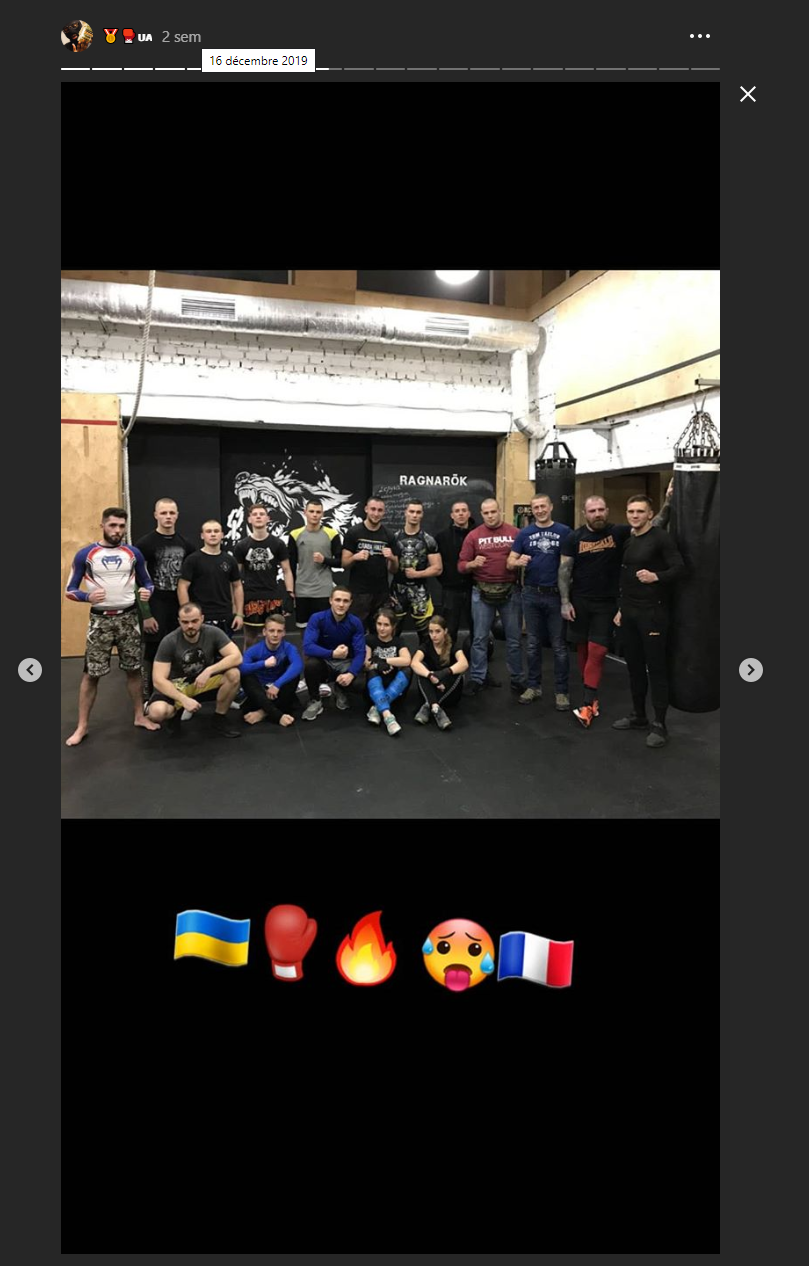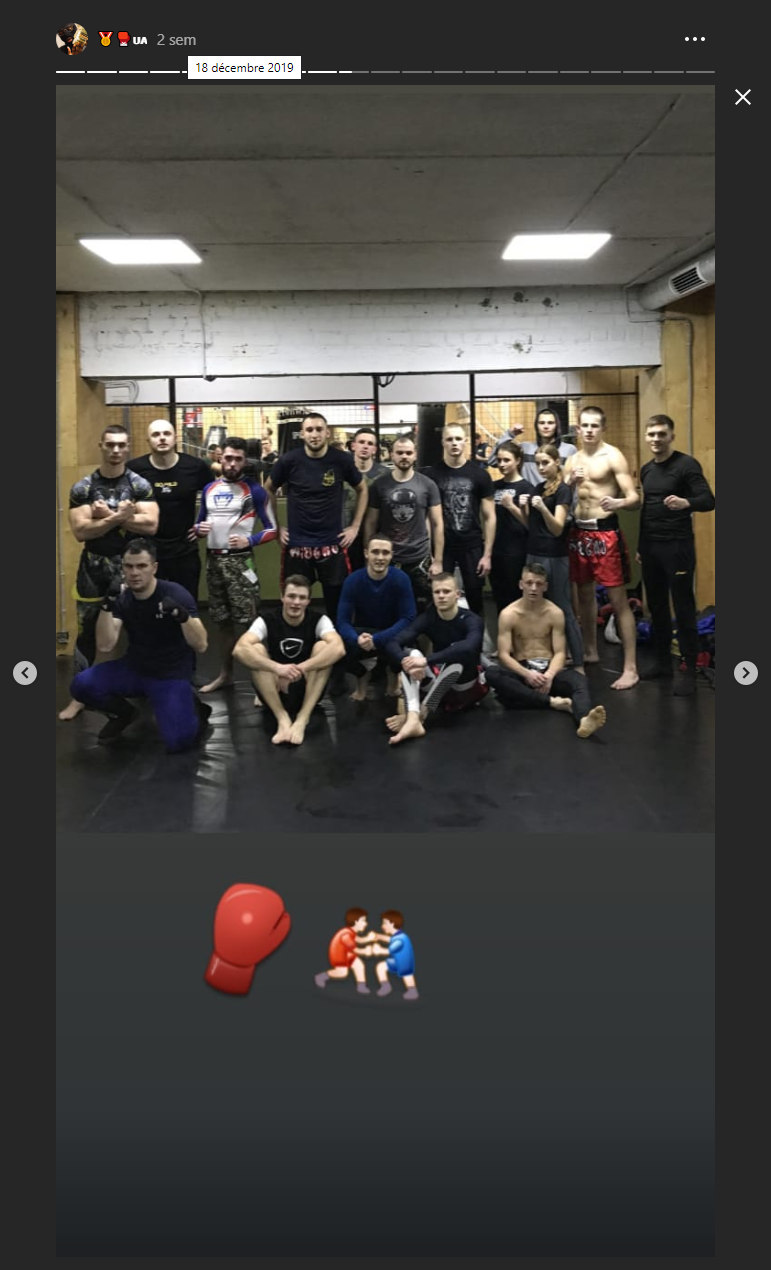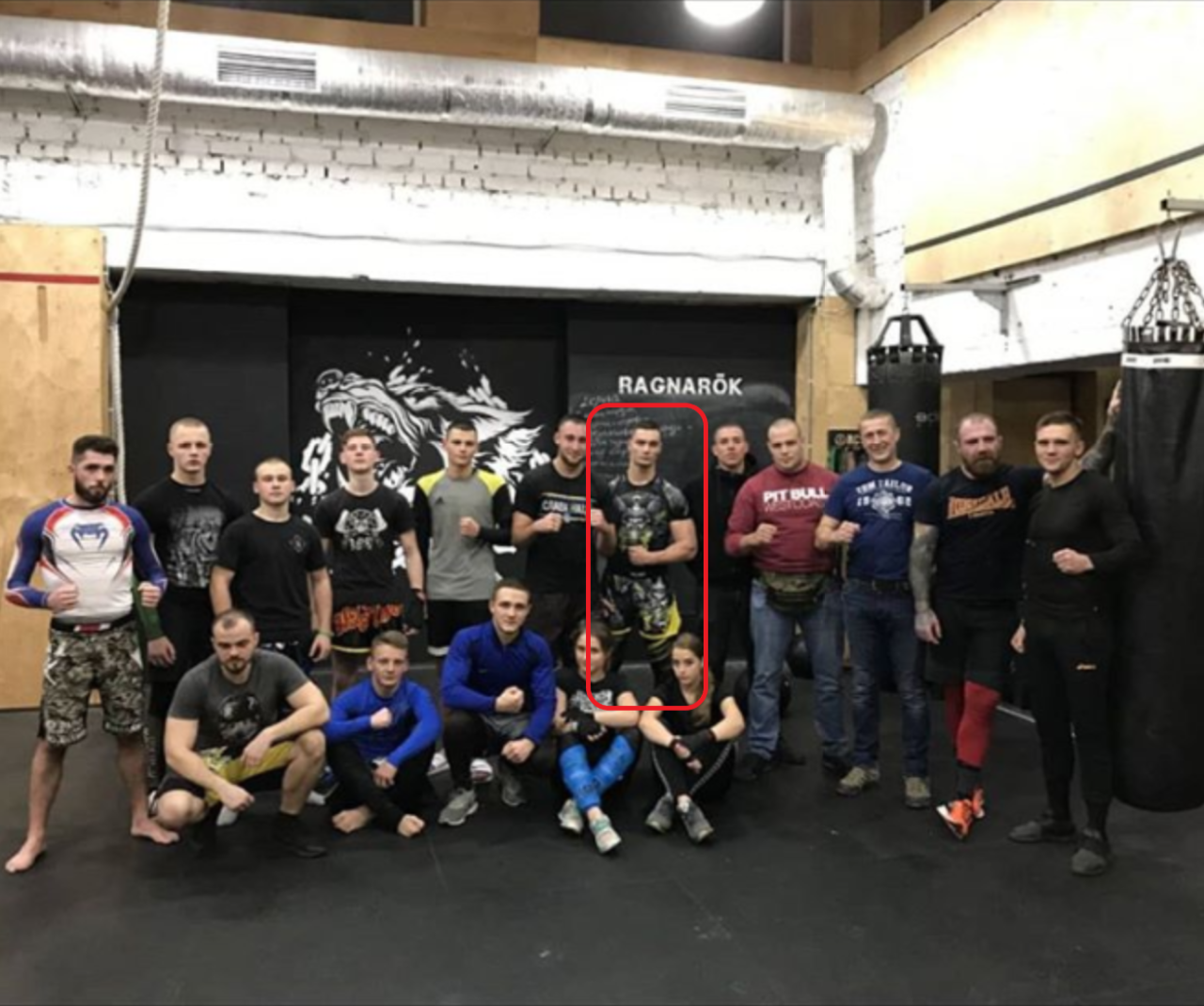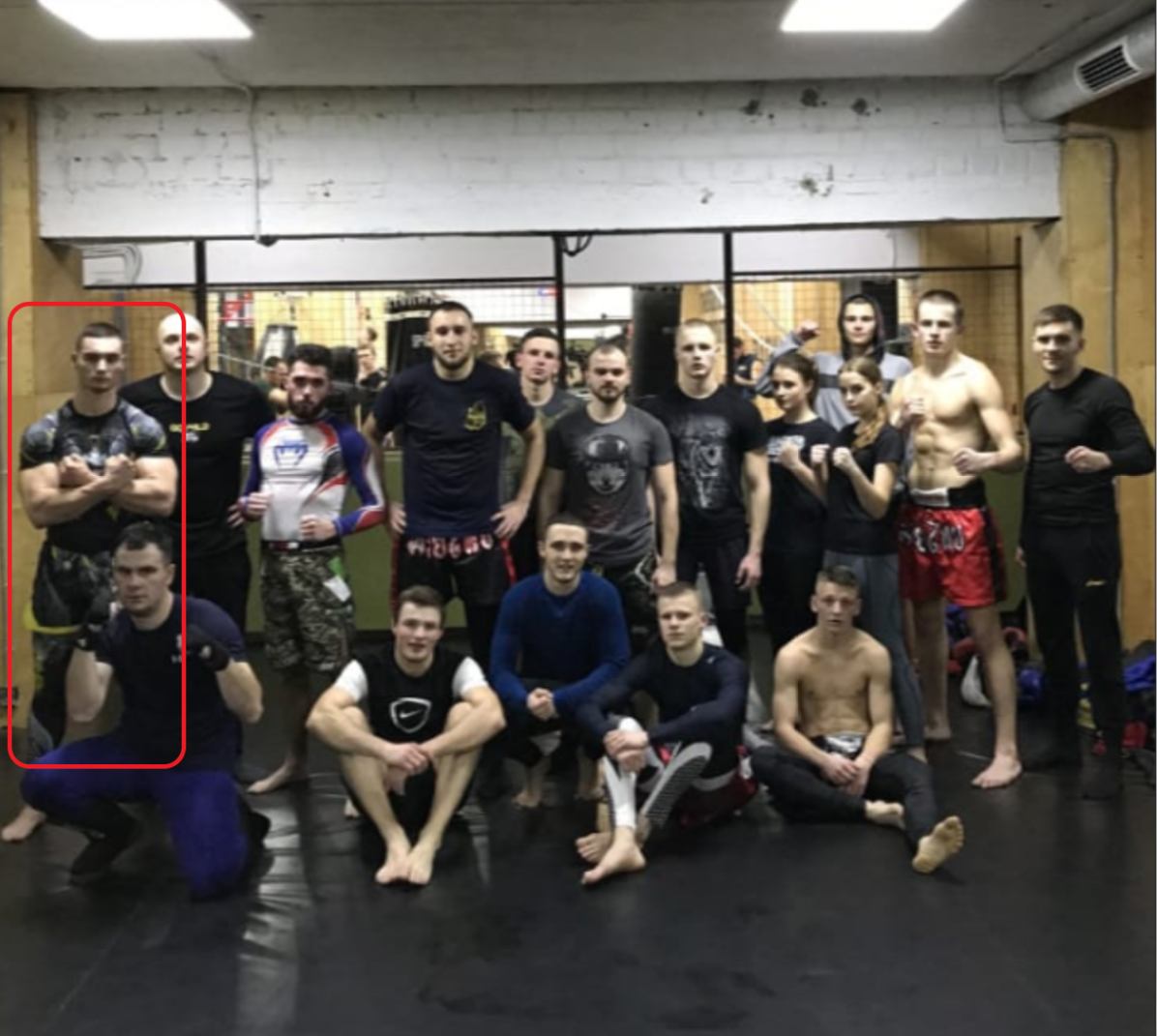 It is noteworthy that the two pictures were taken in the gym of the Atek complex (as mentioned by Ouest Casual), an Azov training base.
In Kyiv, Marc "Hassin" also gave an interview to the National Corps' International Secretary Olena Semenyaka at Azov's Cossack House. Pictures shared on Facebook show him wearing a GUD t-shirt on that occasion.
These are the Facebook posts from National Corps international secretary Olena Semenyaka meeting with Marc "Hassin":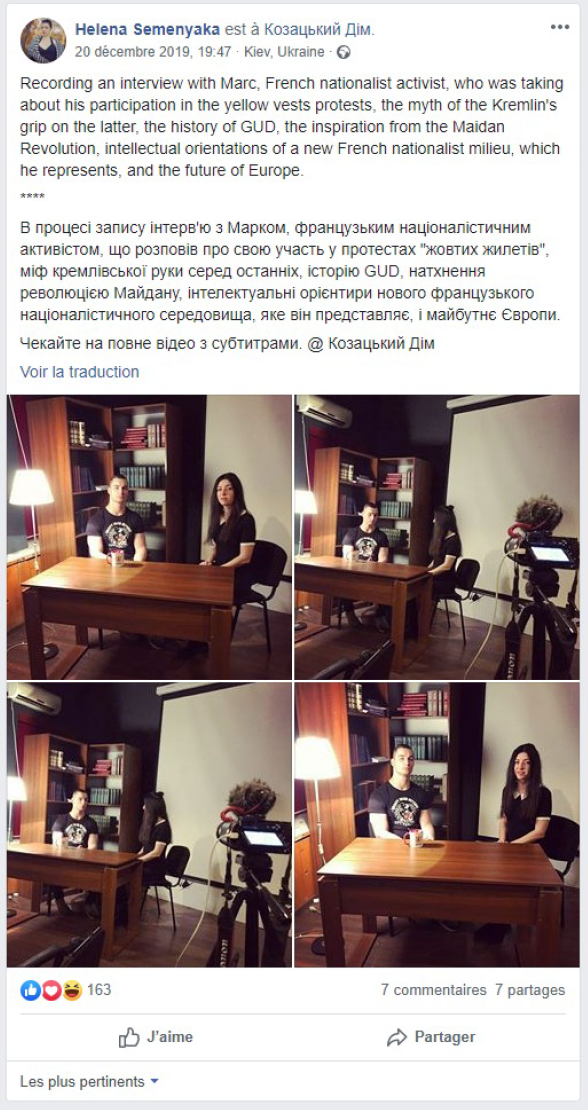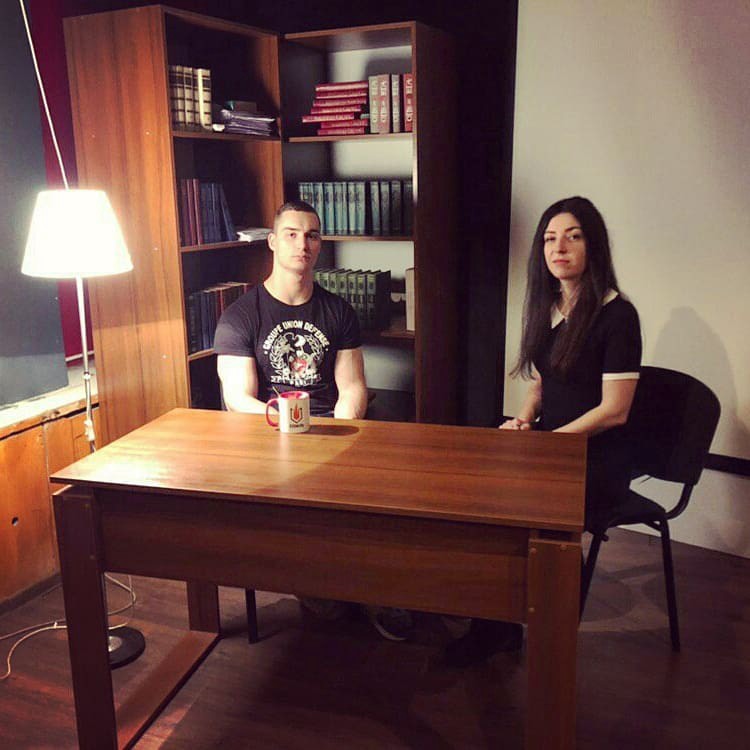 Was Marc "Hassin" The Man Holding The GUD Flag At Asgardsrei?
We have established that Marc "Hassin" was in Kyiv around the time of the Asgardsrei festival and that he met on several occasions with members and representatives of the Azov movement.
Two additional pieces of evidence strongly support the idea that Marc "Hassin" and the man with the flag are indeed the same person.
First of all, Marc "Hassin" can be seen holding the same flag in a photo at the aforementioned kickboxing championship. Both are flags of the GUD's branch in Paris, as indicated by the emblem on the rat's arm. It's extremely unlikely that this is a coincidence: GUD has always been a very small militant group and has never had any sort of official store where one could buy a flag or any affiliated merchandising.
Here are the photos of Marc "Hassin" holding a GUD flag at a kickboxing event in Kyiv, Ukraine: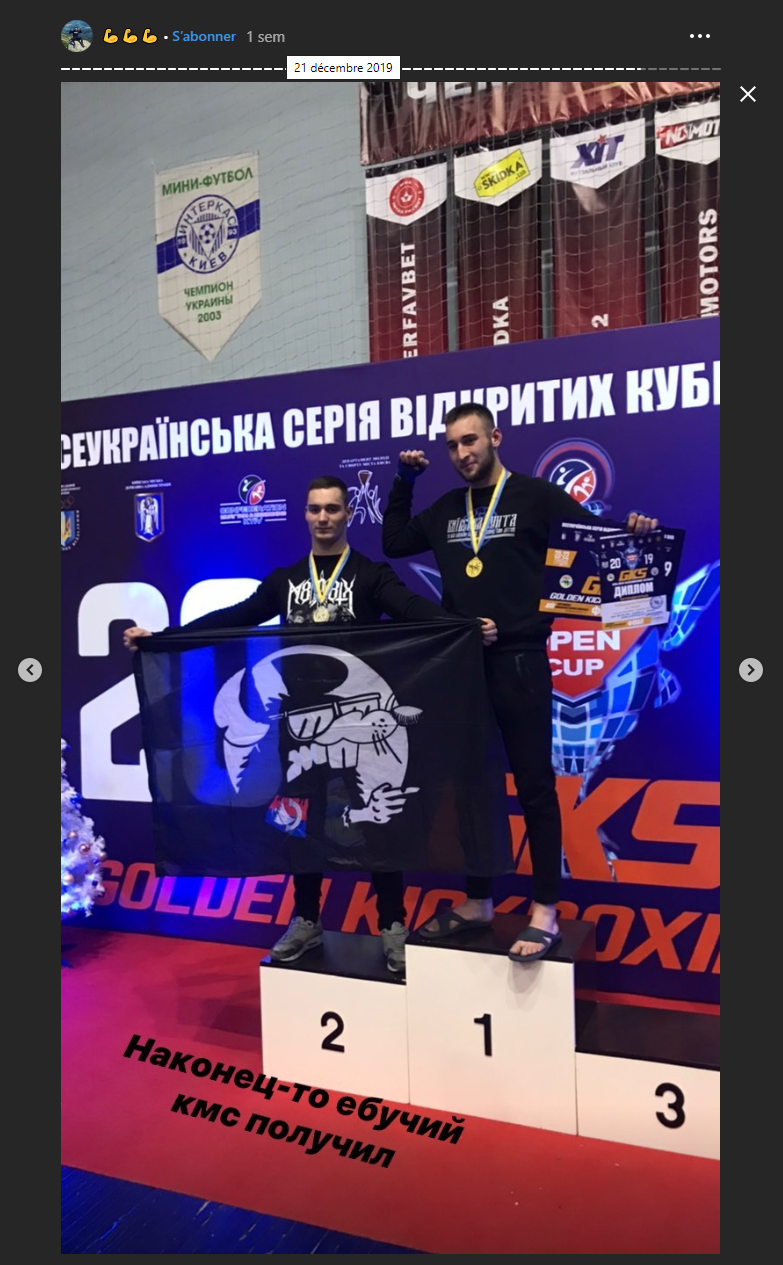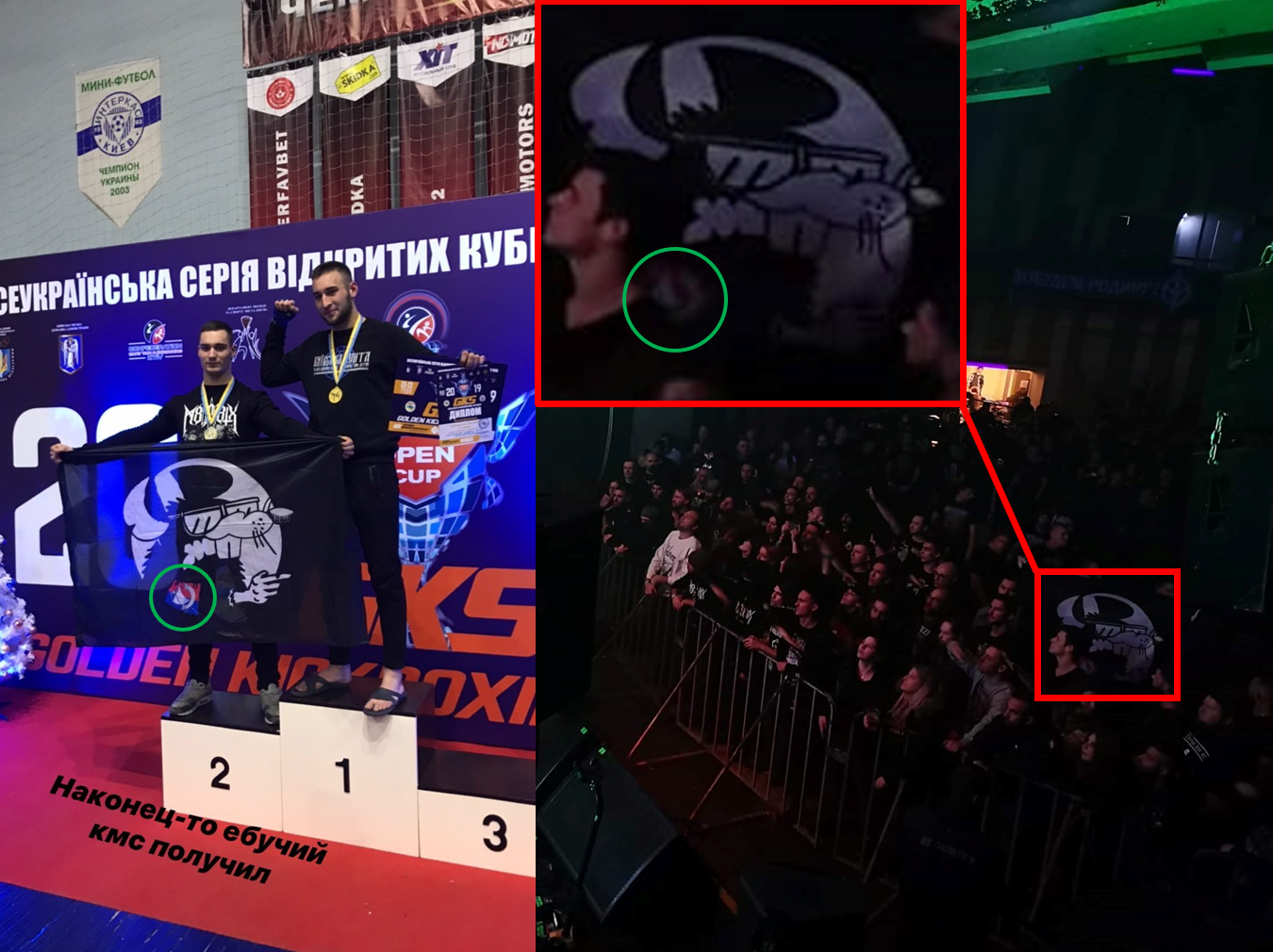 Second of all, the physical appearance of the man filmed at Asgardsrei with the flag matches Marc "Hassin."
In sum:
Marc "Hassin" was photographed in Kyiv on the 16th of December (at the latest).

He had brought a GUD Paris flag with him

Both Marc "Hassin" and the man filmed at Asgardsrei appear to be the same person.
This leaves little doubt that Marc "Hassin" was indeed the French far-right militant holding the GUD flag at the Asgardsrei music festival. This is significant as Marc, being one of the leaders of the Zouaves Paris, plays a key role within the French far-right militant scene.
Meeting Ukrainian Neo-Nazis?
In addition to the social media posts mentioned above, the kick-boxing championship in Kyiv was also advertised on the Telegram channel "AVTONOM.NS". It is linked to a Ukrainian neo-Nazi group that shares blatant antisemitic material as well as footage of its members doing weapons training. On December 21, 2019, they published a photo of a kickboxing event mentioning the victory of "teammates" from Kyiv as well as France.
Right after this message was posted, Marc "Hassin" joined the group's Telegram chat using his usual nickname.
Again, a visual comparison strongly suggests that Marc "Hassin" was among the group that posed behind the AVTONOM.NS flag.
Just Who Are The Zouaves Paris And Marc "Hassin"?
Since they came on to the scene in April of 2018, Zouaves Paris have been active on France's far-right and have been involved in several acts of violence. Among these were attacks against football fans waving Algerian flags in Paris during the 2018 Football World Cup.
On Instagram, Marc "Hassin" has openly bragged about his involvement in these events, joking about how 10 members of the Zouaves Paris could "scour" the entire Champs-Elysées.
Additionally, Zouaves Paris attacked activists of the far-left NPA (Nouveau Parti Anticapitaliste) on January 26, 2019 at a Yellow Vest protest that left several injured. Once again, Marc "Hassin" appears to have been involved.
Moreover, Marc "Hassin" takes part in organized fights opposing rival hooligan groups alongside the Reims "Mes Os". On such occasions, he wears a t-shirt bearing a swastika on his chest.
Unsurprisingly, the Reims "Mes Os" share Marc's passion for neo-Nazi insignias and gestures. One of their stickers features an SS "Totenkopf":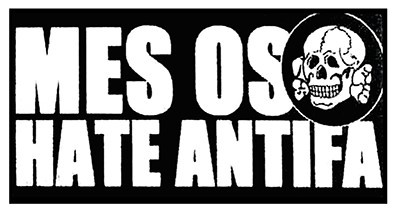 Whilst they frequently join the Zouaves Paris for group photos making Nazi salutes:
Is The French Far Right Making Friends In Ukraine?
Links between the Azov movement and the French far right are not entirely new: intellectual figures of the French New Right (Nouvelle Droite) like Dominique Venner have served as inspiration for Azov; moreover, Azov movement figures had previously developed links with the GUD and its dynamic yet short-lived offspring, Bastion Social, which was banned by French President Emmanuel Macron in 2019 after a series of high-profile acts of violence.
Bastion Social's rapid growth was accompanied by several members' involvement in a series of racist attacks. Although similar structures and groups have since reappeared in cities such as Lyon, Strasbourg or Aix-en-Provence, this decision has forced the French far-right scene to reorganize and move back towards more covert strategies. 
In the midst of this crucial period, Marc's travel to Kyiv and his meetings with local far-right figures could signal the renewal of transnational links between Ukraine and France as well as a shift towards more organized and radical tactics.
Azov has long been trying to make connections with the French far-right. Steven Bissuel, leader of the GUD in the French city of Lyon, and far-right intellectual figure Pascal Lasalle, were invited to the 1st Paneuropa Conference in Kyiv alongside other European far-right figures in April 2017. The event aimed at promoting and building pan-European coordination in between national far-right movements like CasaPound (Italy), the GUD (France), Nordisk Ungdom (Sweden) and, of course, Ukraine's National Corps.
Only a few weeks after that event, however, the GUD announced its dissolution. Its members, led by Bissuel, occupied an abandoned building in Lyon, creating Bastion Social. Inspired by the Italian movement "CasaPound", the new organization quickly gained momentum and was operating six "far-right social centres" throughout France by July 2018.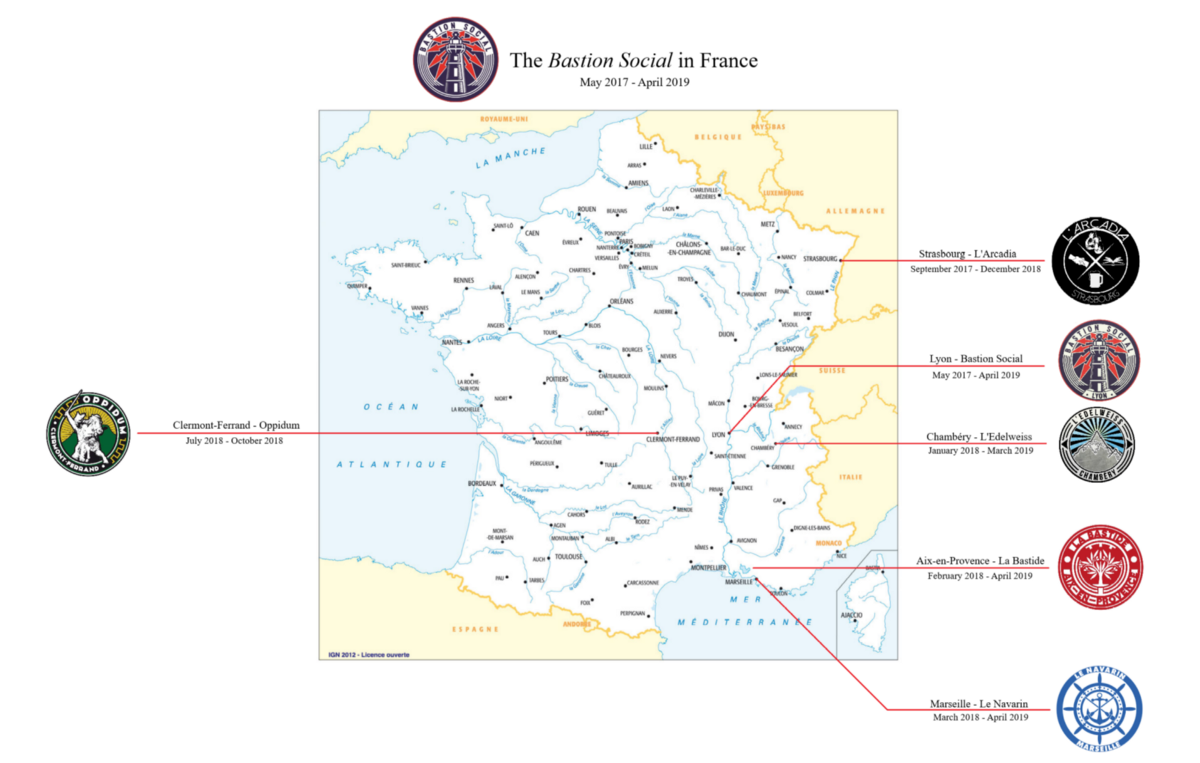 But these groups' common ground with Azov go beyond a shared intellectual background. Whereas large segments of the French far right, spearheaded by Marine Le Pen's National Rally (formerly the National Front), have supported Russia's annexation of Crimea and its subsequent propaganda narrative presenting 2014 revolution as a western-backed coup, youth militants groups such as the Bastion Social and the Zouaves Paris rather perceive the Azov movement and the 2014 revolution as a source of inspiration. 
Inspired by images of Maïdan's barricades and Azov's slick propaganda showing well organized paramilitary parades and fierce battle-hardened volunteers on Ukraine's eastern front, the young French militants seemed to imagine themselves as figures who could replicate Ukraine's revolutionary model in the early days of the Yellow Vest movement. 
In December 2018, a group of about 70 to 80 far-right militants, comprising members of the Bastion Social and the Zouaves Paris, gathered on the Champs-Elysées at a Yellow Vest protest, taking part in the unfolding riots. Six, including Marc "Hassin" were later arrested and put on trial. Amongst the graffiti they acknowledged being responsible for on that day, one read "Maïdan 2018."
Whereas their dreams of turning the Yellow Vest movement into a French Maïdan have not come true, the young far-right militants still remain admirers of the Azov movement and frequently share support messages on their Telegram channels.
Here are some examples of messages reading "Support Azov" alongside footage from the Azov movement shared on Ouest Casual's Telegram channel:
Whether Marc "Hassin" and his time in Kyiv leads to stronger relationships between the French far right and the Ukrainian far right remains to be seen. Nonetheless, it's clear that the French far-right figure's appearance in Kyiv is part of a larger trend of cooperation between the Azov movement and the furthest fringes of France's far-right — one that may well yet see more cooperation, collaboration and travel once the coronavirus pandemic fades and everyone, including neo-Nazis, is free to travel internationally again.