Dispatches From Asgardsrei: Ukraine's Annual Neo-Nazi Music Festival
At one neo-Nazi metal festival in Milan, Italy in April of 2019, cell phones and cameras weren't allowed inside. But that wasn't the case in December 2019 in Kyiv, Ukraine, at the annual Asgardsrei event, which is the neo-Nazi black metal music festival that's made the Ukrainian capital home since 2015.
https://www.instagram.com/p/B6G1f9LpCyd/?utm_source=ig_web_copy_link
This meant that fans of national socialist black metal (NSBM) bands from all over Europe and beyond could get photo and video souvenirs of their favourite Nazi-praising performers in action. Yet by posting and promoting these souvenirs on public social media profiles, especially Instagram, they also gave us a window into Kyiv's Hitler-saluting, Sieg-Heil-ing, Nazi-promoting December tradition that is the Asgardsrei festival.
Asgardsrei And Social Media
Asgardsrei, as this author described in an article for Haaretz before the event, is a festival of national socialist black metal (NSBM) that takes place every December in Kyiv, Ukraine. Started originally in Moscow by Russian far-right extremist Alexey Levkin, Asgardsrei moved with Levkin to Ukraine in 2014 when he left Russia to fight with the Azov Battalion (Levkin remains involved with the Azov movement). This year's festival took place December 13 (Friday) through 15 (Sunday), 2019.
https://www.instagram.com/p/B4xec65Jxvq/
Five years on, Levkin's Asgardsrei is a staple on the far-right musical calendar and an international meetup not just for fans of NSBM, but also a place for international far-right extremists to gather and network in an environment far more open to their presence than in many other countries.
Finding out what Asgardsrei attendees were up to isn't a difficult task. As the event stretched on, many users with public Instagram accounts shared stories — temporary videos or photos that disappear after 24 hours — along with photos and videos of their experiences at Asgardsrei. Over the course of the weekend and in the days after the festival, Bellingcat followed and checked regularly on the hashtags #asgardsrei and #asgardsrei2019, occasionally also looking at hashtags featuring the bands' names (e.g., #goatmoon). We also did the same for the location of the concert event (Kyiv's Bingo Club, the site of many far-right concerts). 
This process meant we were able to download and screenshot almost all public Instagram posts from the event, using simple apps available on mobile phones to download Instagram stories, photos and video before they could be deleted or removed. In addition, to try and capture as many posts as possible that were not hashtagged or tagged with the concert location, we manually checked and looked at the profiles of users who posted from the event or were tagged in posts by other users. Other posts Bellingcat found on public Telegram channels.
"F*ck Those Liberals, You Have My Green Light"
This year's Asgardsrei featured a mixed martial arts (MMA) "fight night" that took place before the concert kicked off. The MMA event took place at Mala Opera, a venue owned by the Kyiv city administration.
Photos and video from the MMA event show the logo of White Rex, a far-right MMA promotion and clothing brand run by Kyiv-based Russian neo-Nazi Denis Nikitin (also known as Kapustin), visible in the middle of the ring.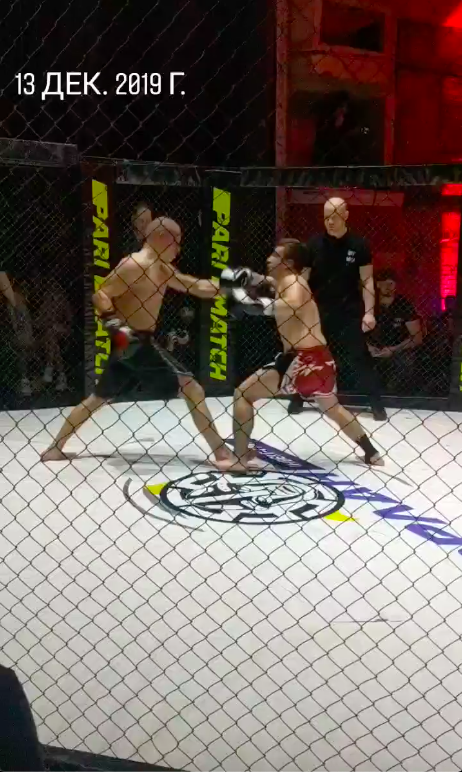 A screenshot from an Instagram story at Asgardsrei's "fightnight" showing the White Rex logo in the middle of the ring and branding from betting promotion Parimatch
Photos and videos also show branding from Parimatch on the ring. Parimatch is the "Official Betting and Wagering Partner" of the UFC (Ultimate Fighting Championship) across continental Europe, the Middle East, and Africa.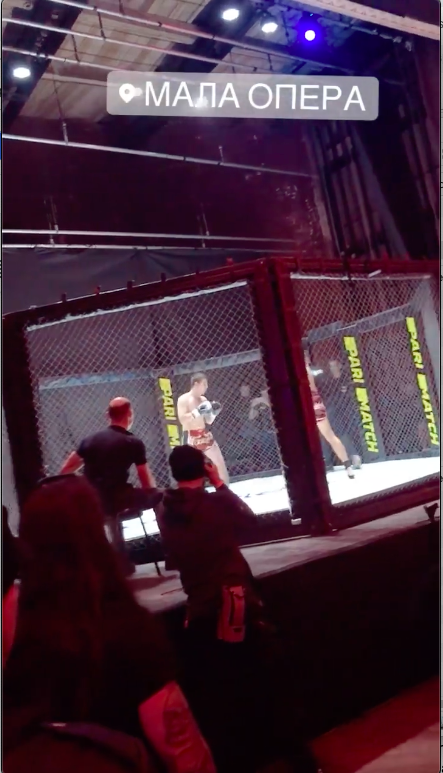 A screenshot from an Instagram story at Asgardsrei's "fight night" showing branding from betting promotion Parimatch
There is no indication that Parimatch sponsored the event in any way or approved their logo being used in this context. However, the appearance of their branding at an event hosted by a far-right group is concerning in terms of helping mainstream a far-right-affiliated event.
There also was apparently no issue with the event being hosted in a venue owned by the Kyiv city administration. In an Instagram post that was soon deleted, the organizers of Asgardsrei claimed that "a foreign journalist was trying really hard to put pressure on the venue" — presumably a reference to the author of this piece who wrote in Haaretz about the fact the venue was state-owned — "but when the guy in the administration heard his story he was like: "F*ck those liberals, you have my green light." It's unclear whether the "administration" referred to is the venue or an individual in Kyiv city administration itself.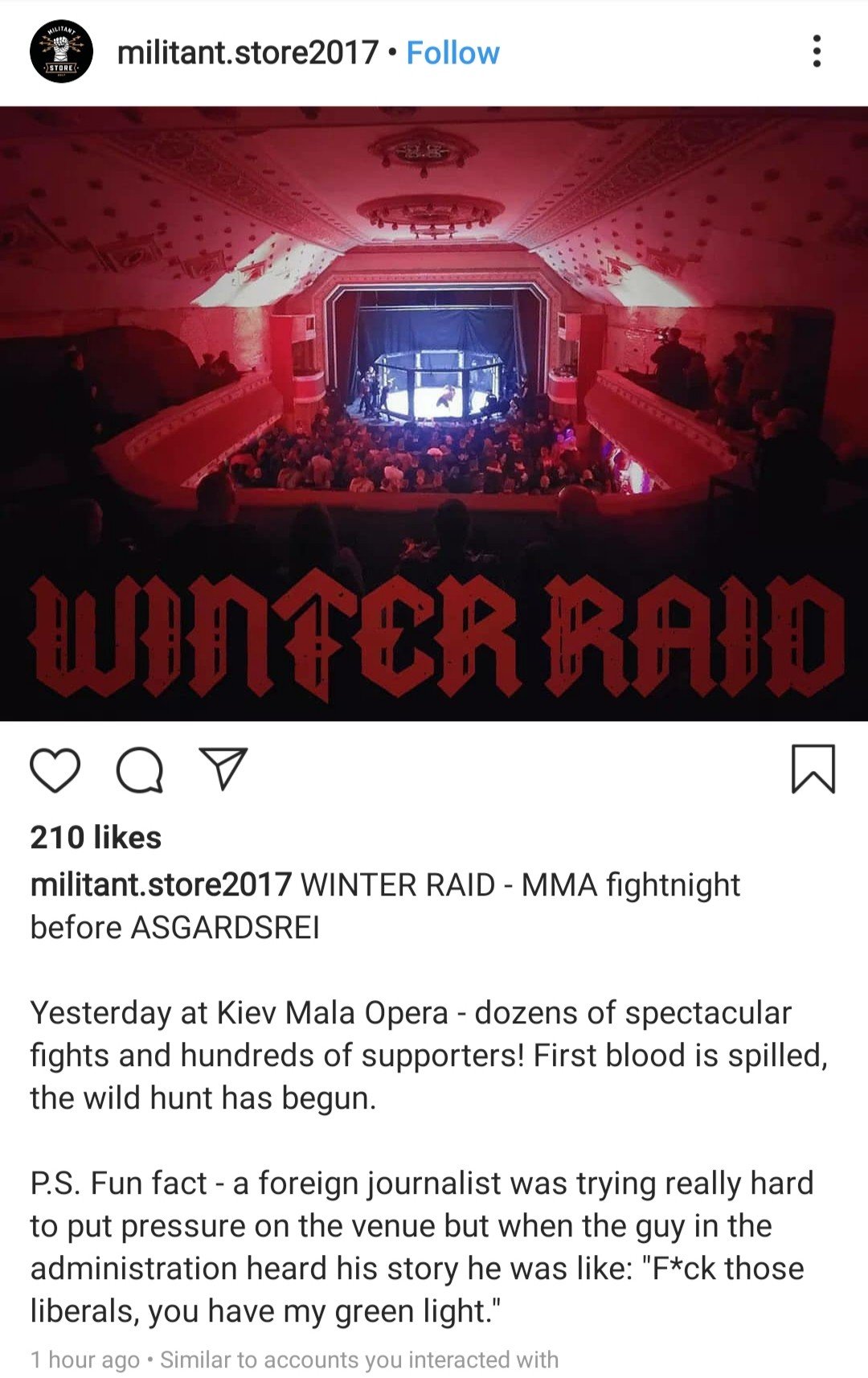 A now-deleted Instagram post from December 14 from Asgardsrei organizers.
There was, apparently, supposed to be more on offer Friday night before the concert. According to a review of Asgardsrei 2019, published on American white nationalist Greg Johnson's website, German neo-Nazi Hendrik Möbus was supposed to give a lecture as he had before at a small conference before Asgardsrei 2018. Möbus, a convicted murderer and founder of the German neo-Nazi band Absurd, was reportedly stopped trying to leave Germany and was not allowed to enter Ukraine. 
In addition, another "review" published December 30 by German neo-Nazi party Der Dritte Weg ("The Third Way"), long friendly with the Azov movement, claimed that "a couple of activists from our party and other nationalists who wanted to travel to Kyiv were detained at the airport" in Germany, and further claimed that some received travel bans from German authorities.
Neo-Nazi Symbols Everywhere, 'Swastika Ban' Or Not
The concert itself featured performances from more than a dozen bands associated with the NSBM scene, from Finland's Goatmoon and Greece's Wodulf to Kyiv-based, Russian-rooted act M8L8TH, fronted by Asgardsrei organizer Alexey Levkin. As detailed in Haaretz, these bands feature openly pro-Nazi, anti-Semitic lyrics, from songs like Goatmoon's "Way of the Holocaust Winds" and Seigneur Voland's "Sur les ruines et les cendres de Sion" ("On the ruins and ashes of Zion") to Selbstmord's "Aryan Voice of Hatred" album with lyrics like "The holy race – war/In the Honour of our White race/Hatred to the enemies, native pride/Aryan blood runs all the time."
Also performing was Levkin's side project "AKVLT" — or, more accurately, Adolfkvlt. The project's demo tape from 2013 features a photo of Hitler on the cover and was limited to 88 copies; 88 is neo-Nazi code for "Heil Hitler."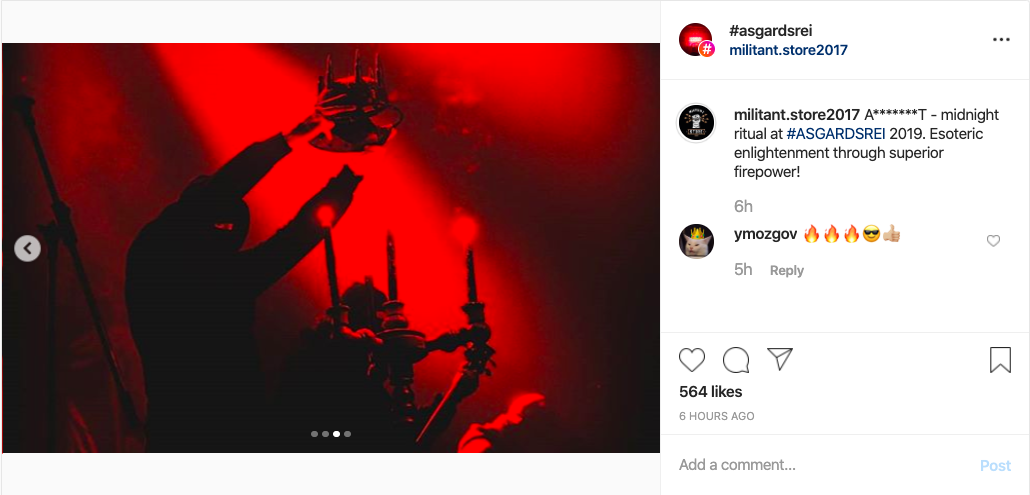 Asgardsrei organizers referring to "Adolfkvlt" as "A*******T" on an Instagram post promoting their performance
"AKVLT" also performed at "Fuhrernacht" in May 2019, a private night of literal Hitler worship.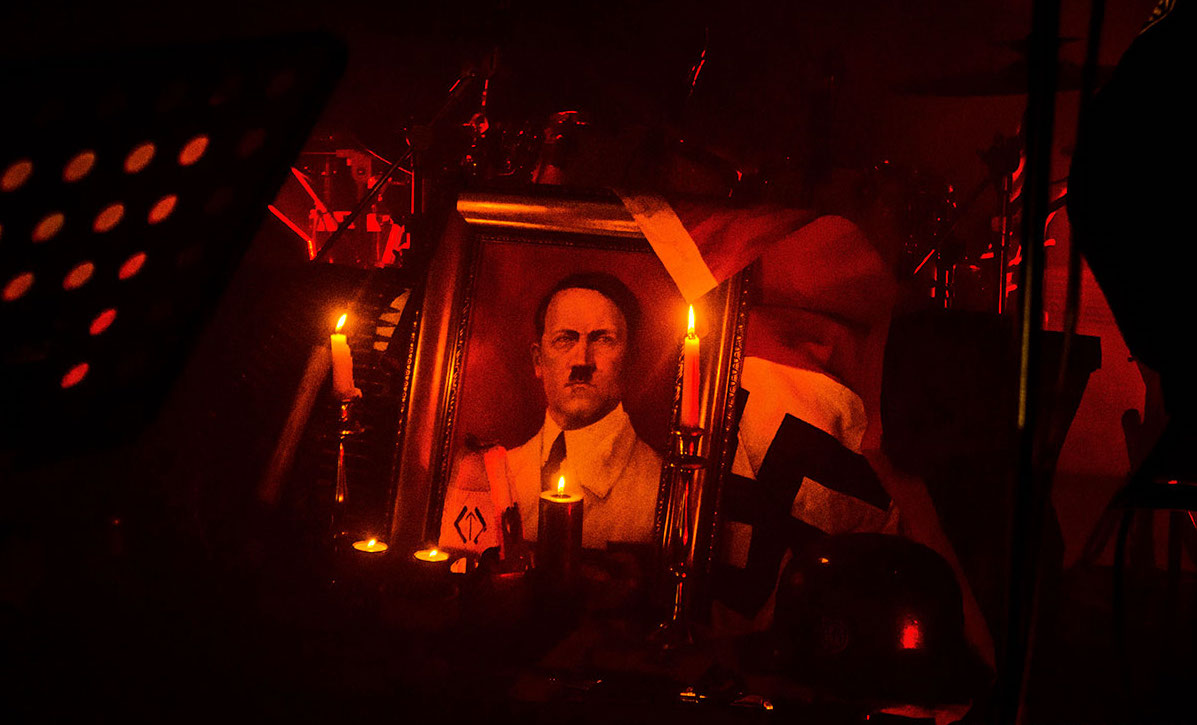 The altar with a photo of Adolf Hitler and a Nazi flag at Wotanjugend's "Fuhrernight" in May 2019
Despite the imagery used by these bands and others, swastika flags are banned at Asgardsrei, concert organizer Alexey Levkin told Haaretz. To that end, Bellingcat did not see any swastika flags in any photos available from Asgardsrei 2019. If Levkin's claim is indeed accurate, this is clearly a new policy for 2019, as during December 2018 this author found and saved multiple now-deleted Instagram photos showing swastika flags, including one posted by a senior member from Azov's literature club.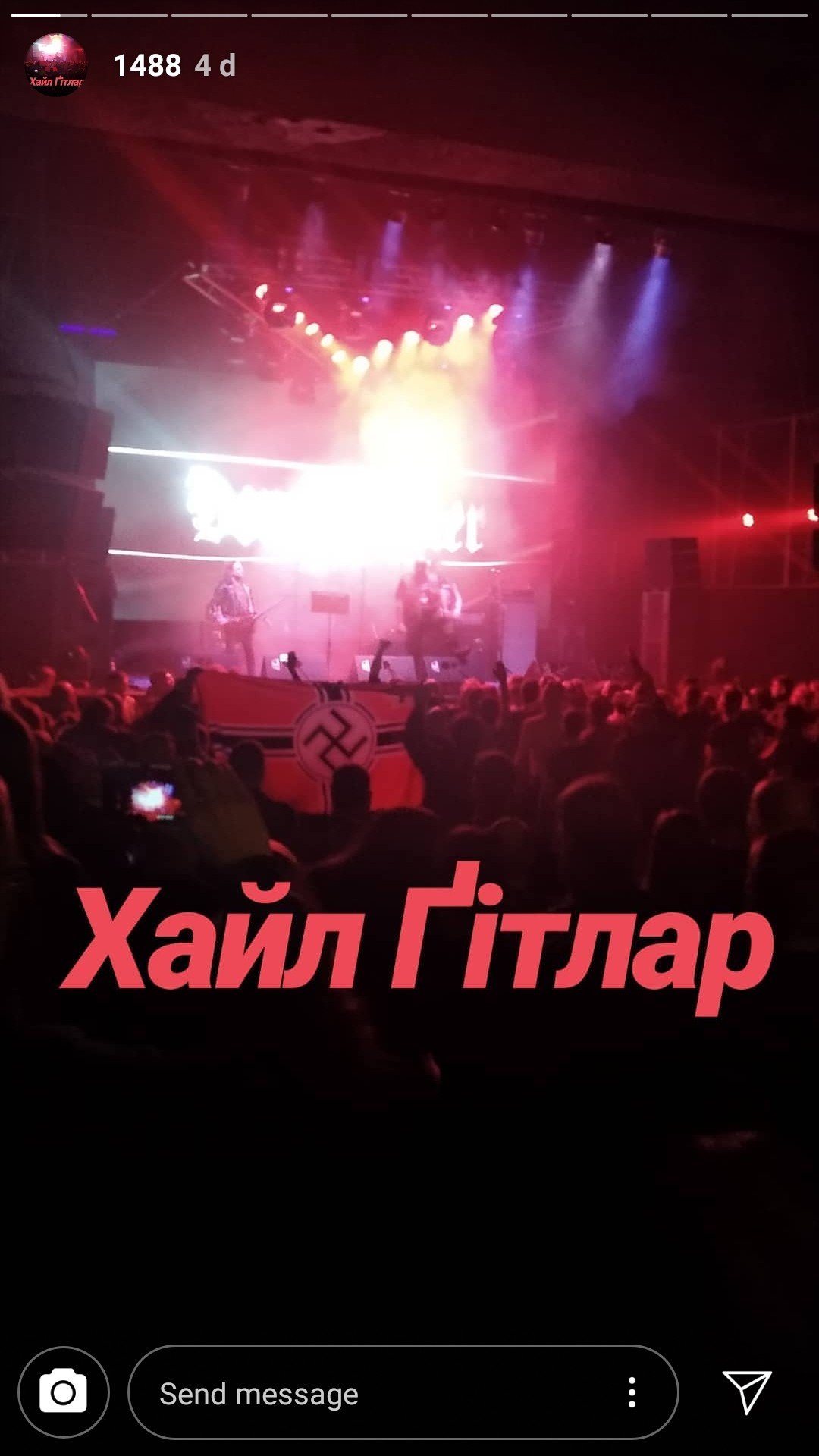 A now-deleted photo from a December 2018 Instagram story from Serhiy Zaikovsky, a senior figure at the Azov movement's literature club, Plomin. The photo is from Asgardsrei 2018. The text reads "Heil Hitler" in deliberately-misspelled Ukrainian ("Gitlar")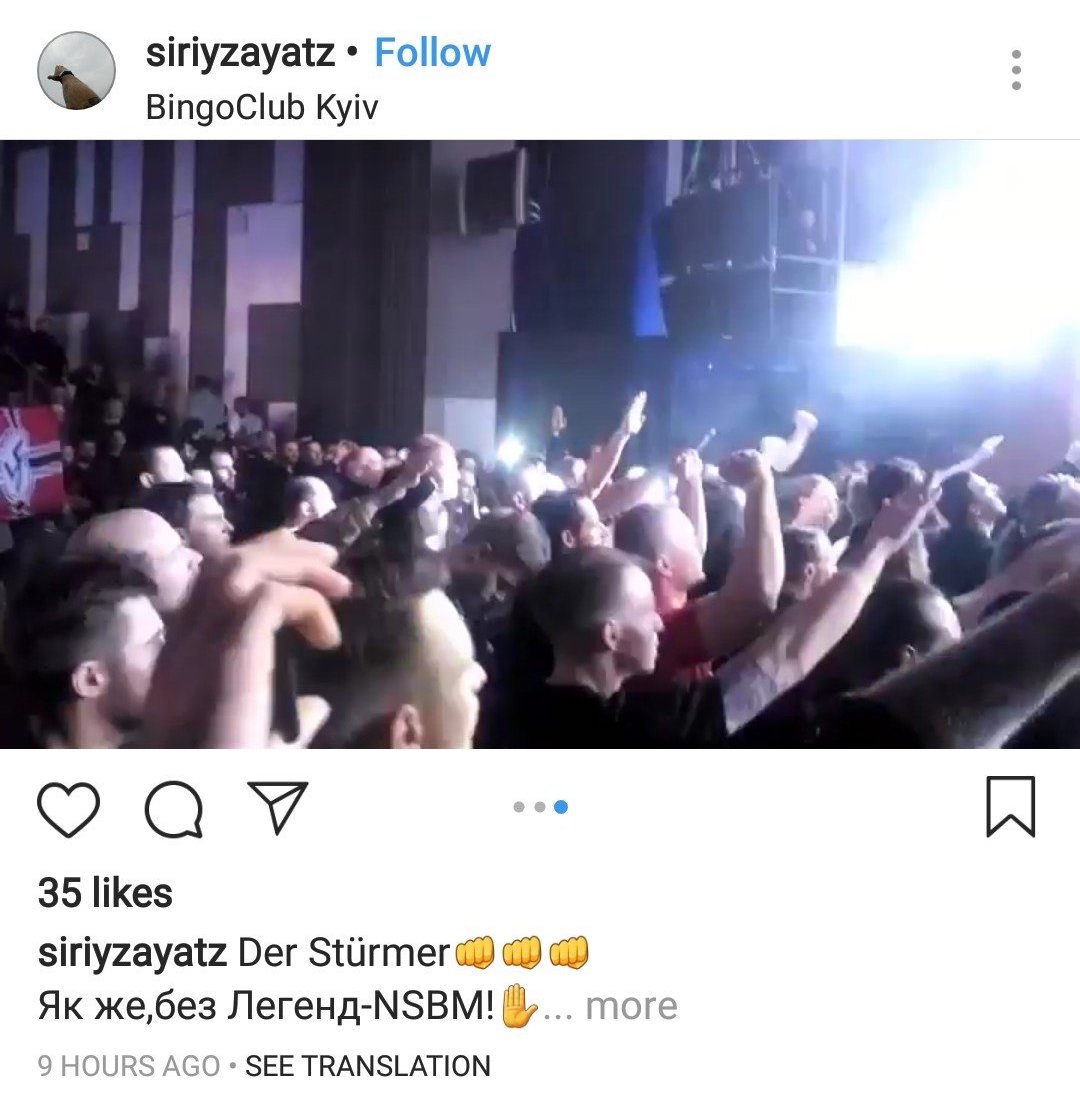 A now-deleted Instagram post from December 2018 showing a swastika flag at Asgardsrei 2018, before an apparent ban on swastika flags was introduced for Asgardsrei 2019
Despite the apparent ban, there was still ample neo-Nazi, white supremacist imagery on display at Asgardsrei, from Celtic crosses, to black suns, and more.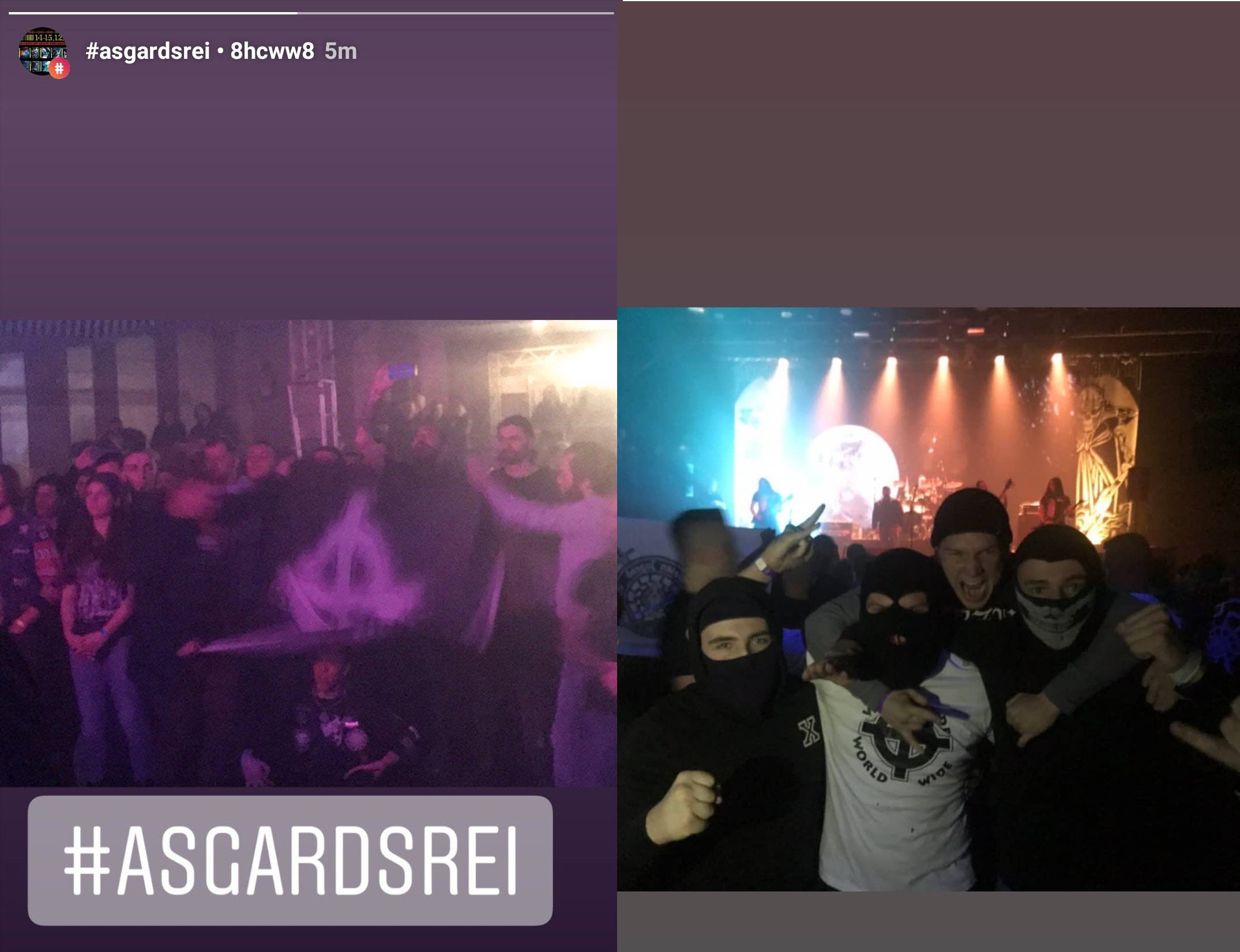 Celtic cross flags and an attendee wearing a shirt with a Celtic cross and the slogan "White Pride World Wide"
The Celtic cross was even visible on official security badges worn by people working for the festival.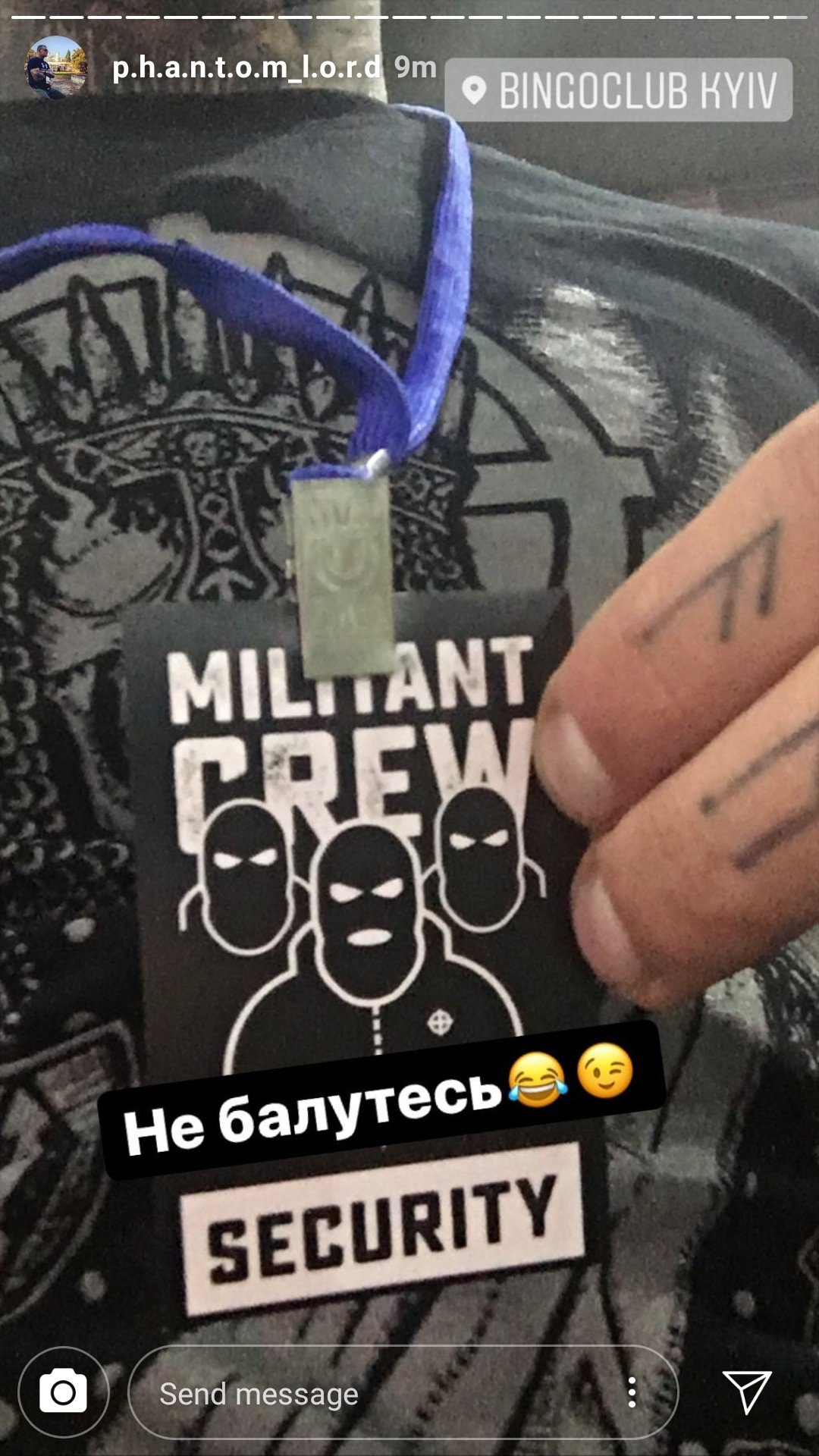 "Don't fool around" An individual working security at Asgardsrei with a badge featuring a Celtic cross, a common white supremacist symbol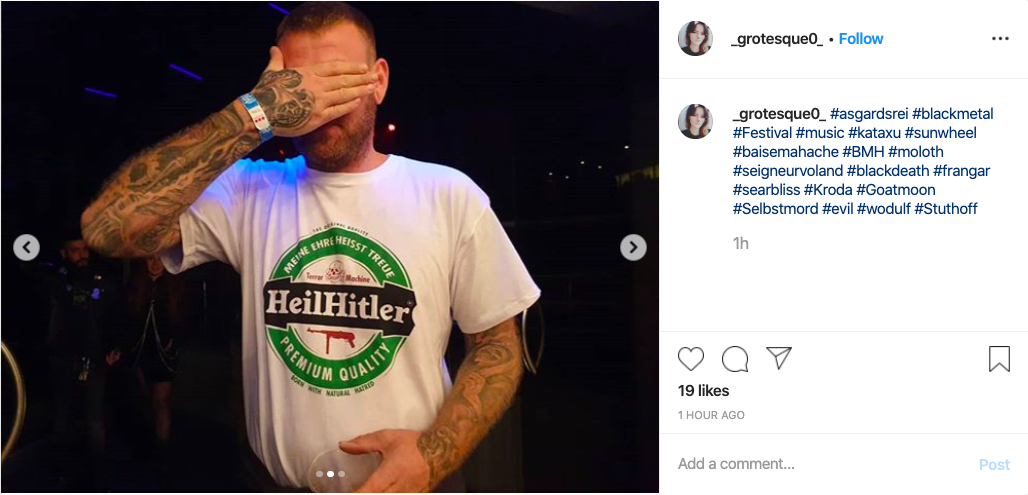 An attendee wearing a "Heil Hitler" t-shirt with the motto of the SS above it
Sokyra Peruna's Arseniy Bilodub, featured in our investigation into the mainstreaming of Ukraine's far right, made an appearance at Asgardsrei, appearing on stage to contribute vocals at one point and also promoting a live album from his band from its performance at another neo-Nazi concert at the same venue in June 2019.
Sokyra Peruna's Arseniy Bilodub (left), who headlined the "Veterans Strong" concert featured in our investigation into Ukraine's far-right and veterans' movements
As well, while swastika flags might be banned, swastika tattoos evidently are not, as Goatmoon's guitarist demonstrated for the second year in a row.
A photo of Goatmoon's performance, showing guitar player (far-right in photo) with a swastika tattoo
Swastikas are also apparently okay at "Militant Zone," the shop and record label run by Levkin and others based at the Azov movement's Cossack House. A post on the Telegram channel of Wotanjugend, a loose neo-Nazi movement of Levkin and others in Ukraine, in August 2019 revealed swastika pendants on display inside what they called the "updated interior" of their shop at Azov's central Kyiv lair. The post has since been deleted.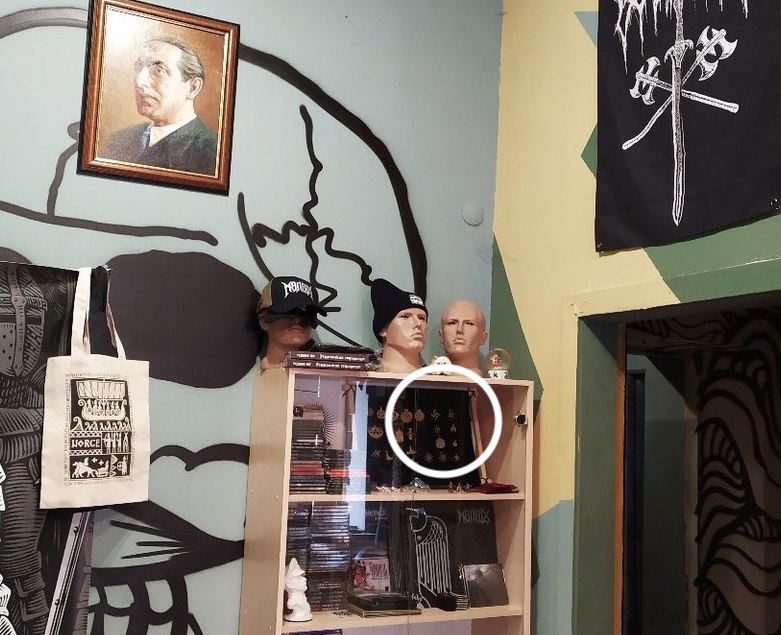 A photo from a post on Wotanjugend's Telegram channel promoting the "Militant Store" inside Azov's Cossack House in central Kyiv, where swastika pendants (in the white circle) are clearly visible
There's more Nazi symbolism in this shop than swastikas, however. In another Telegram post after Asgardsrei, Wotanjugend posted several photos of some post-Asgardsrei items for sale, mostly merchandise promoting bands who played the festival. Also in the photos, however, are two small busts of Rudolf Hess, Adolf Hitler's deputy fuhrer until 1941 and a revered figure among neo-Nazis.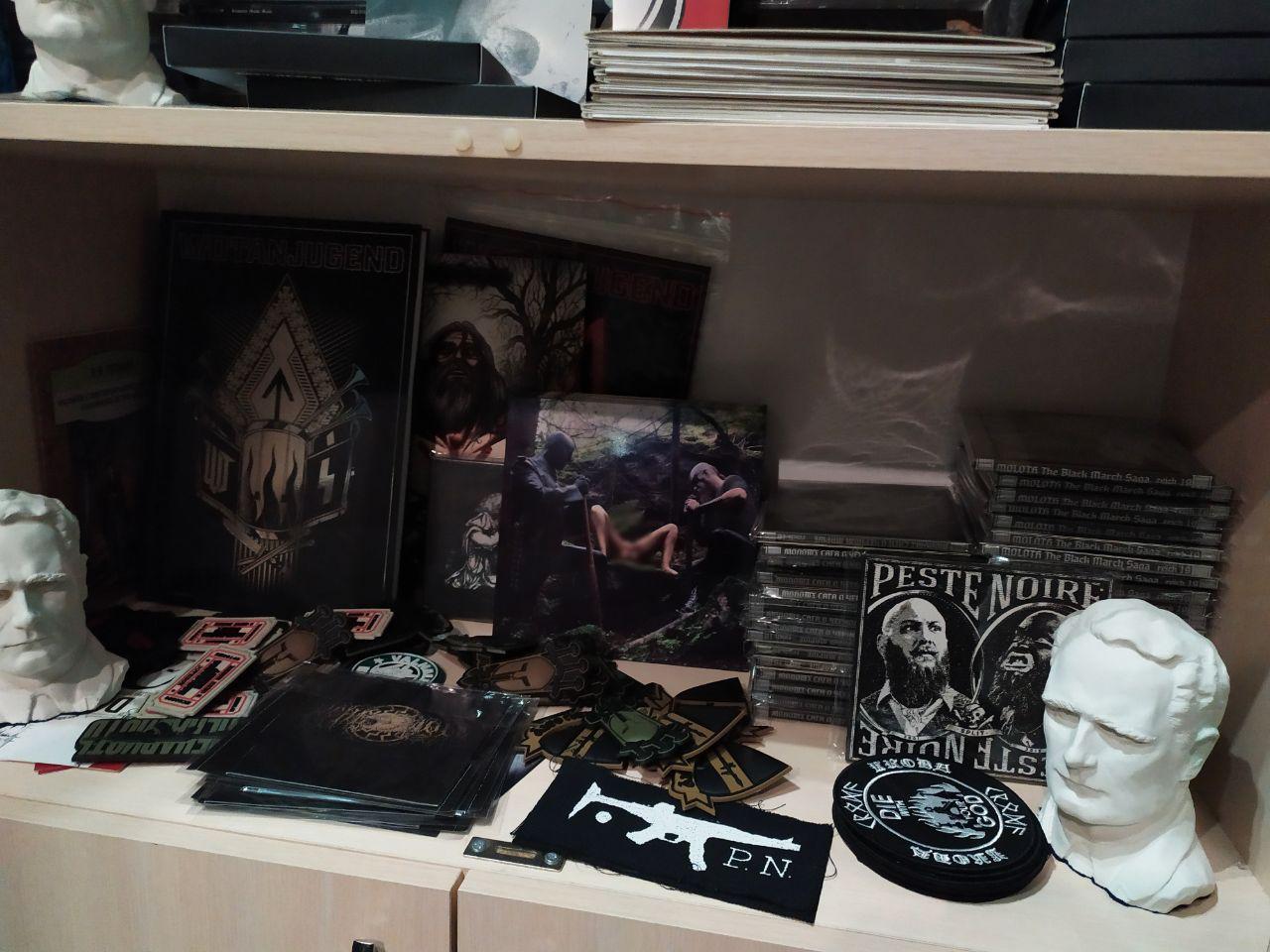 A photo posted by Wotanjugend in December 2019 showing busts of Nazi figure Rudolf Hess inside the "Militant Zone" shop in Azov's Cossack House
Another common neo-Nazi motif is the black sun, used frequently by not only the Azov movement but by the Christchurch shooter, who featured the symbol on the cover of his terrorist manifesto (one that was translated into Ukrainian by, as we discuss below, by an Asgardsrei attendee) It's a symbol commonly used by the far-right and is adapted from a mosaic on the floor on the SS Generals' Hall. It wasn't hard to find at Asgardsrei.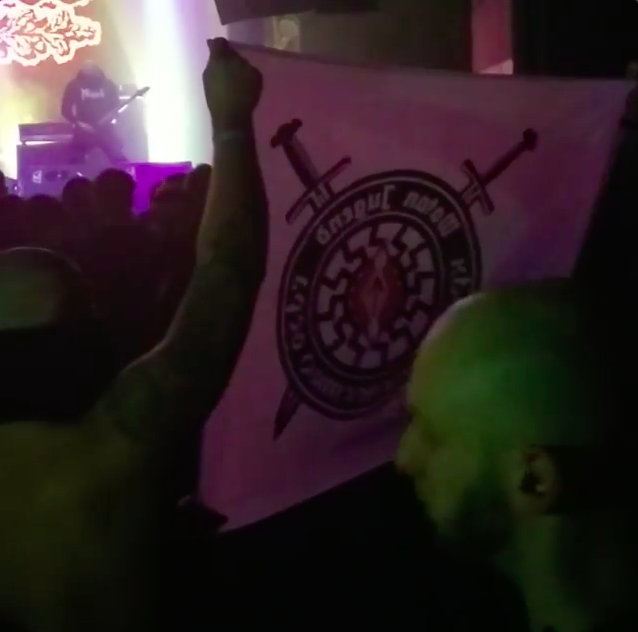 A screenshot from an Instagram video showing attendees holding a Wotanjugend flag with a black sun during M8L8TH's performance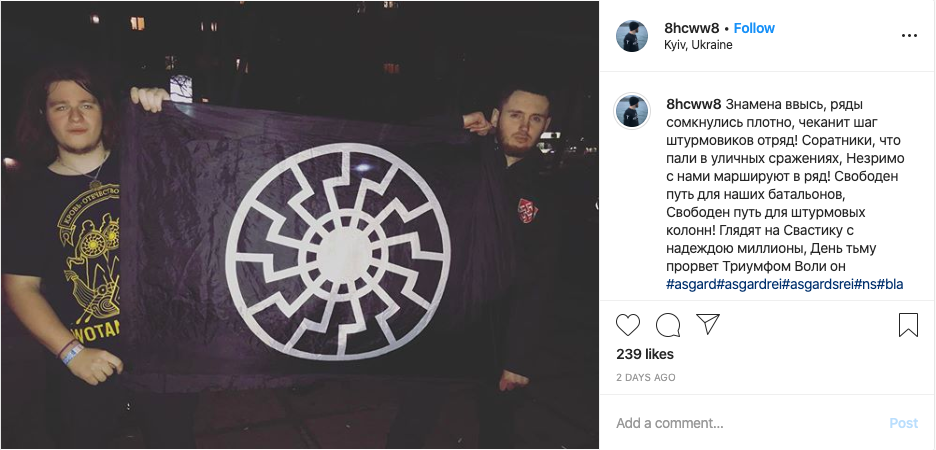 A black sun flag held by two attendees (one wearing a Wotanjugend shirt and the other a sweatshirt from Arseniy Bilodub's "Svastone" far-right fashion brand). The text posted in Russian is a translation of the "Horst-Wessel-Lied," the official Nazi party anthem that features lyrics like "millions are looking upon the swastika full of hope"
Nazi Salutes, And Then More Nazi Salutes
Concert attendees did far more than just sing along to their favourite Nazi tunes. There are numerous photos and videos from Asgardsrei of attendees giving Nazi salutes during performances and outside the concert itself.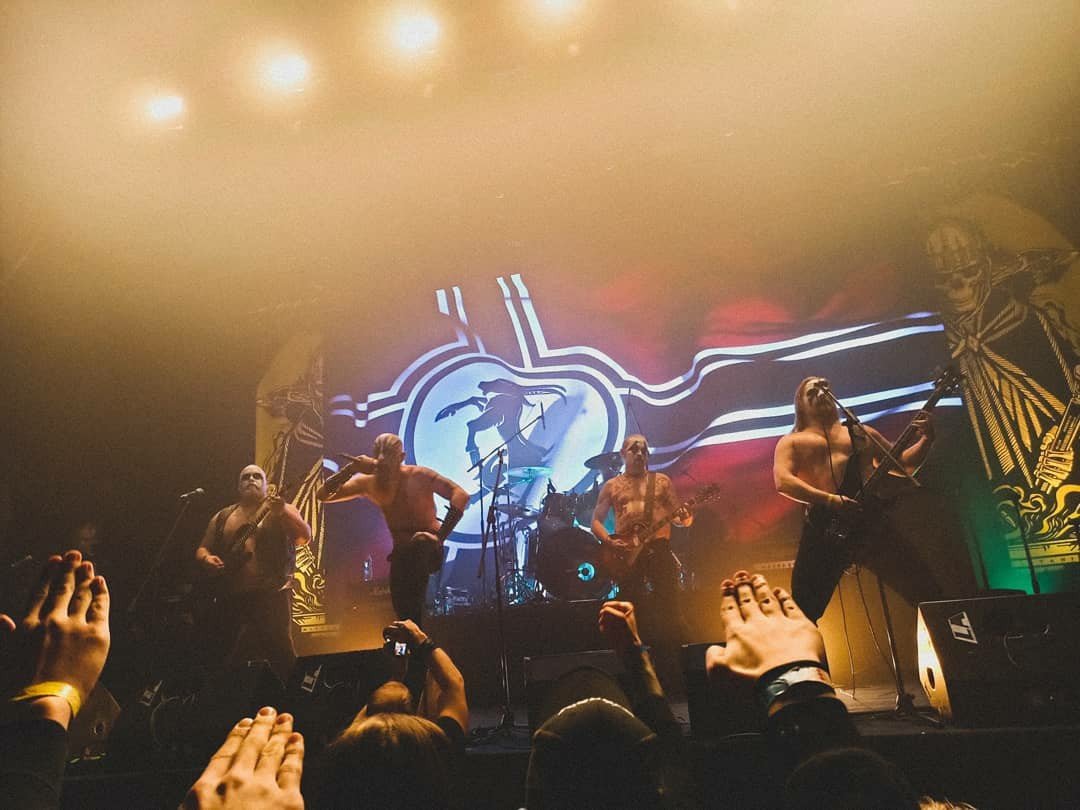 Hitler salutes during Goatmoon's performance, posted on Instagram by user "unholy_witch"
During Goatmoon's performance, attendees chanted "Heil!" at the vocalist's urging.
In one video posted after the first day of Asgardsrei had ended, a number of attendees laugh and give Nazi salutes to someone filming them, all while chanting "Sieg Heil."
Users also posted about their travels in Kyiv during Asgardsrei. Bellingcat found several fans who posted photos from inside the Azov movement's Cossack House, a multi-story "social centre" just off Kyiv's central Maidan Nezalezhnosti (Independence Square).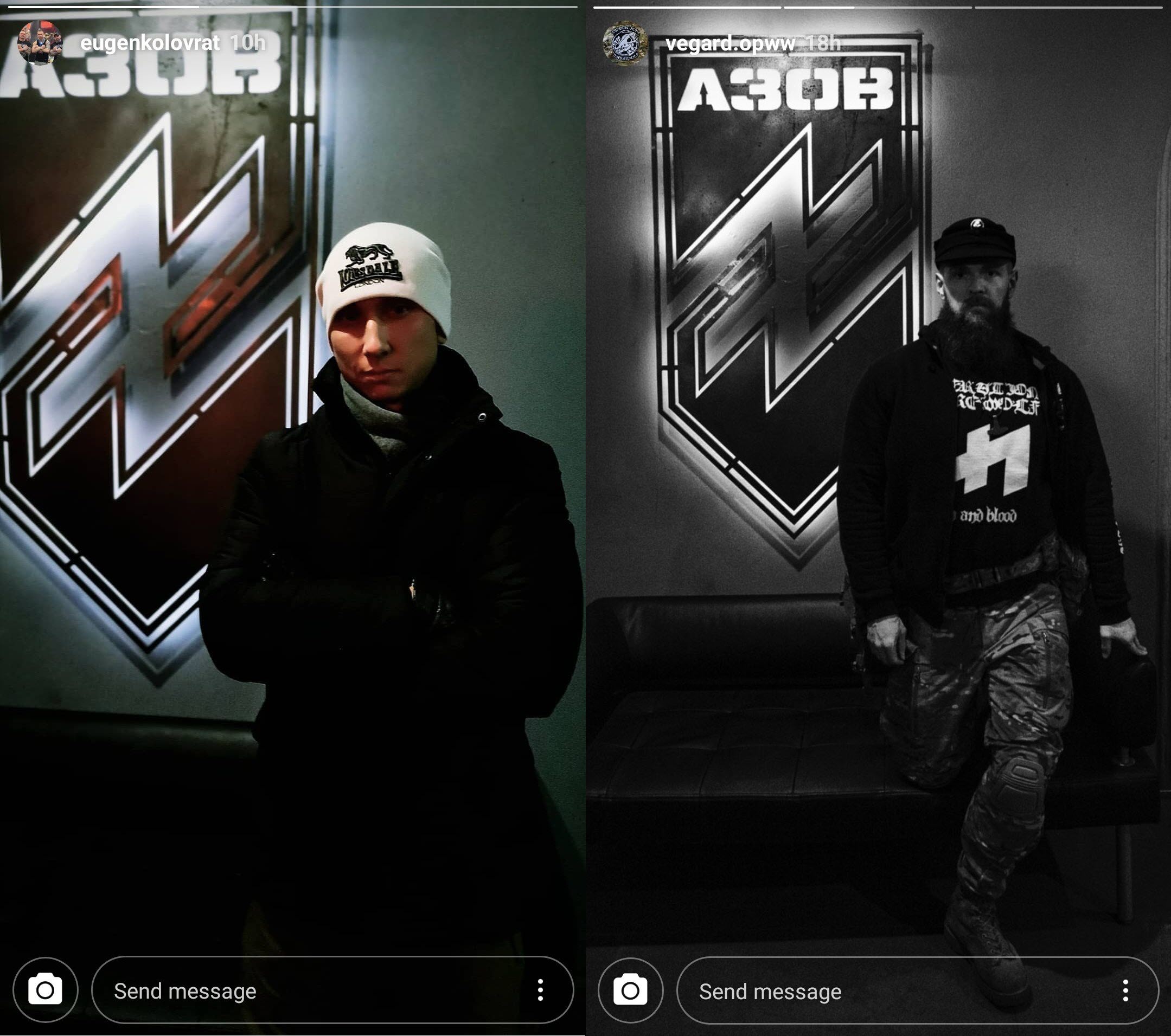 Asgardsrei attendees posting from inside Azov's Cossack House, in the building's lobby. Others who have posted photos of themselves in front of this same lit-up logo include Mark Jones of National Action, the British neo-Nazi group banned as a terrorist organization in the UK since 2016
Another appreciative Asgardsrei attendee was someone who has published multiple death threats directed at Bellingcat staff (we will not name his Telegram channel). A previous Bellingcat investigation showed how the channel administrator had translated and sold bound Ukrainian-language translations of the Christchurch shooter's manifesto. Despite anger from New Zealand Prime Minister Jacinda Ardern and promises from Ukrainian authorities to prosecute anyone selling the manifesto, the channel administrator has since apparently sold out of Ukrainian translations and moved on to sell hardcover Russian-language translations of the manifesto. 
In November 2019, the channel administrator posted photos of their tickets to Asgardsrei and urged channel followers to attend. They added that they were going to "Sieg Heil" to their favorite M8L8TH song, the band fronted by Asgardsrei organizer Alexey Levkin. That song, "Tears of Autumn," praises SS Lieutenant General and organizer of the concentration camp system Theodor Eicke, who died in Ukraine in 1943, and features lyrics like "You are in our hearts, Führer and his Volk." According to the review of Asgardsrei 2019 published on American white nationalist and friend of Azov Greg Johnson's Counter-Currents, M8L8TH indeed played that song during their set.
After Asgardsrei, the channel administrator posted abut the event in Ukrainian and English. "Thanks to everybody who visited Asgardsrei 2019," they wrote on the Monday morning after Asgardsrei. "White brothers from all over the Europe (sic) had an awesome time, made new friends and met old ones, first time in many years."
"Sieg Heil!" the post concludes, along with a thank you to neo-Nazi Wotanjugend for organizing the event.
The Show Goes On
The next event on the international far-right music calendar isn't in Ukraine; there will be concerts in France (February 2020) and Italy (April 2020) before the next big show in Kyiv. In May 2020 Sokyra Peruna's Bilodub will be teaming up with Levkin and company's "Militant Zone" to host the two-day "Fortress Europe" festival.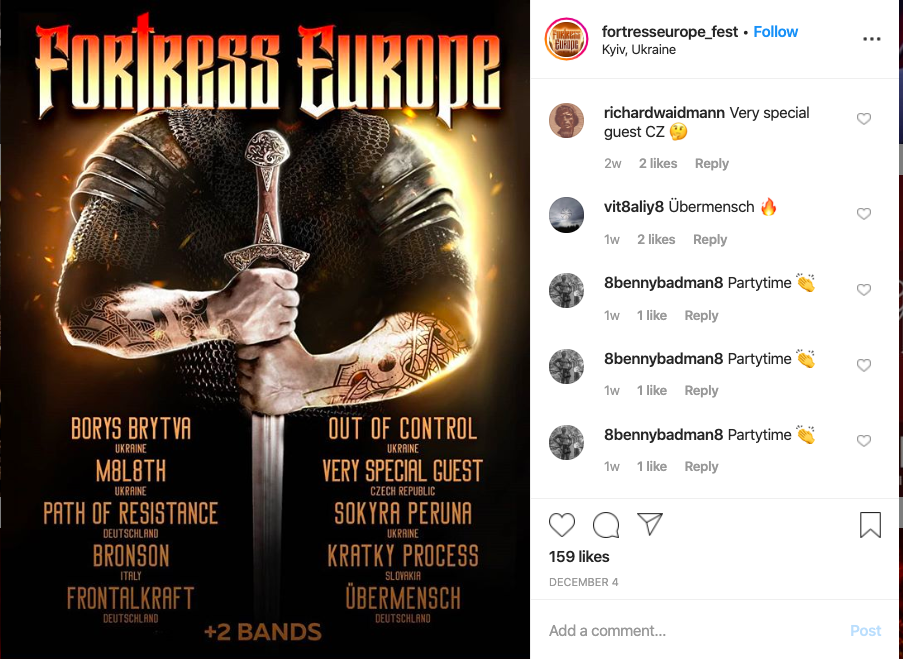 An advertisement for "Fortress Europe" in Kyiv in May 2020, featuring a number of neo-Nazi bands
While the lineup is still incomplete, bands already slated to perform in Kyiv include Italian band Bronson, affiliated with the neo-fascist CasaPound movement, German "National Socialist hardcore" (or hatecore) band Path of Resistance and anti-Semitic Slovak band Krátky Proces, whose former singer ran for far-right extremist Marian Kotleba's party in 2016 elections in Slovakia. Of course, both Bilodub and Levkin's bands, Sokyra Peruna and M8L8TH, will be playing too, and some of the same fans who posted photos from Asgardsrei will likely be doing so from Fortress Europe.
Levkin and others have already started planning next year's Asgardsrei. On their Facebook account they have asked fans to help select the best weekend for the next Asgardsrei in December 2020, and claiming that a "stellar headliner" for Asgardsrei 2020 will be announced in January.