Bellingcat Podcast: MH17, Episode 2 Guide: A Pack of Lies
You can listen to the second episode of the Bellingcat Podcast on the downing of Malaysian Airlines Flight 17 (MH17) by subscribing on any major podcast application by searching "Bellingcat", including at Apple Podcasts, Spotify, Stitcher, and TuneIn. You can manually add the podcast RSS feed to your favorite podcast app with the URL: bellingcat.libsyn.com/rss
If you enjoy the podcast, be sure to check out our Patreon, where we will upload bonus materials from the podcast to our subscribers over next few months.
Episode Description
In the days after the MH17 downing, journalists scour social media for clues. They immediately notice something odd. Roughly 24 hours after the plane came down, 65,000 suspiciously co-ordinated tweets blaming Kyiv, Ukraine for the deaths, flood Twitter.
The Russian Ministry of Defence organises a press conference to lay out their evidence. Eliot and the Bellingcat team pick through each claim, revealing the carefully staged media event to be little more than a pack of lies. From badly photoshopped images of missile launchers, dodgy radar data and tall tales of fictitious Ukrainian fighter jets.
The Russians do not claim to know the answer to who downed MH17, rather they suggest that no one can know the answer. It seems that for them the truth is entirely subjective and negotiable. Eliot and his team at Bellingcat disagree.
Our Guests 
Our guests in episode 2 of the podcast described their experience with reacting to the Kremlin's responses to MH17. Read, hear, and watch some of their reports on this subject:
Robert Van Der Noorda (English): Russia Deployed Its Trolls to Cover Up the Murder of 298 People on MH17 (Daily Beast, 31 May 2019)
Robert Van Der Noorda (Dutch): Het MH17-complot (De Groene Amsterdammer, 29 May 2019)
Max Seddon: "It Wasn't Us!" Russian Generals Scour The Internet For MH17 Theories (BuzzFeed, 21 July 2014)
Jeffrey Lewis: MH17 Anniversary (Arms Control Wonk, 15 July 2016)
David Gleave: British Aviation Expert Says Russian MH17 Claims Highly Unlikely (RFE/RL, by Glenn Kates, 22 July 2014)
Self-Contradictory Theories from the Kremlin
In the week following the downing of MH17, the West had one unified narrative: an anti-aircraft missile system shot down the passenger plane from territory controlled by Russian-led separatist forces. Five years later, this claim has not shifted at all, with mountains of evidence backing it up. However, the official response from the Russian government has been scattershot, to put it mildly — a Ukrainian fighter jet downed MH17. Or, a Ukrainian anti-aircraft missile system did it. Or maybe it was both, at the same time? Oh, and maybe they were trying to shoot down Putin's plane? Five years later, they still don't have their story straight. The most comprehensive treatment of the changes in official Russian narratives regarding MH17 can be found here: The Kremlin's Shifting, Self-Contradicting Narratives on MH17.
The now-infamous July 21st press conference held by the Russian Ministry of Defense can be watched in full below:
Bellingcat's extensive work debunking elements of this press conference can be found below, focusing on the four different primary claims that were all proven to be untrue:
The key images from each of these four claims, as described in Episode Two of the podcast, can be seen below.
Check for Yourself
During the press conference, the Russian Ministry of Defense claimed that a Ukrainian Buk was missing from an anti-aircraft missile defense base north of Donetsk in the village of Spartak. In their satellite image, the Russians modified the area near the Buk, and were sloppy enough to use mis-dated satellite imagery, as seen in the visible vegetation near the base.
If you would like to see the base yourself, download Google Earth Pro (application, not web interface) and load up the program. After that, put in coordinates for the Spartak air base — you can manually enter the coordinates into the Search box on the top-left, 48.098113, 37.75370, as seen below.
After you find the right location, you will need to find the right time, as the default satellite image is the more recent one (June 2018) shows a completely destroyed base. Go to View in the menu bar (in both Windows and Mac), and then choose Historical Imagery.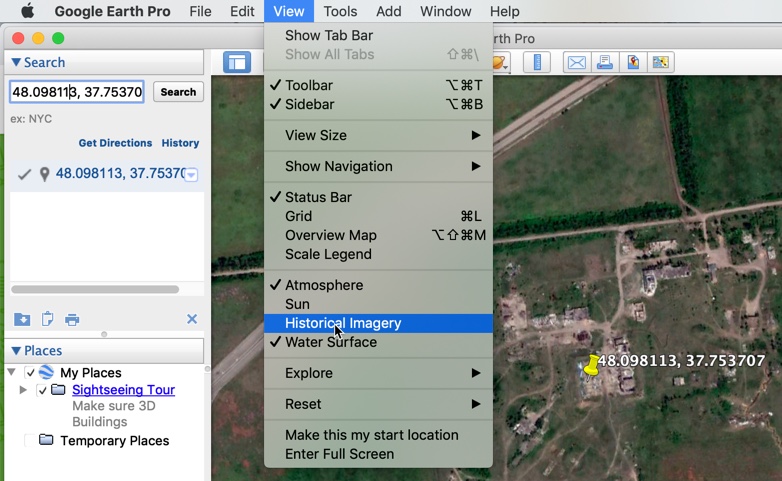 This will create a small timeline on the top-left corner of the image, allowing you to travel through Google's available satellite imagery for this location. If you go back to July 2014, you can find the base as it appeared on 11:08am on July 17, 2014 — just five hours before the downing of MH17. Note that the date may appear as 7/18/2014 for you, depending on what your local time zone is set to and how your Google Earth Pro time is calibrated.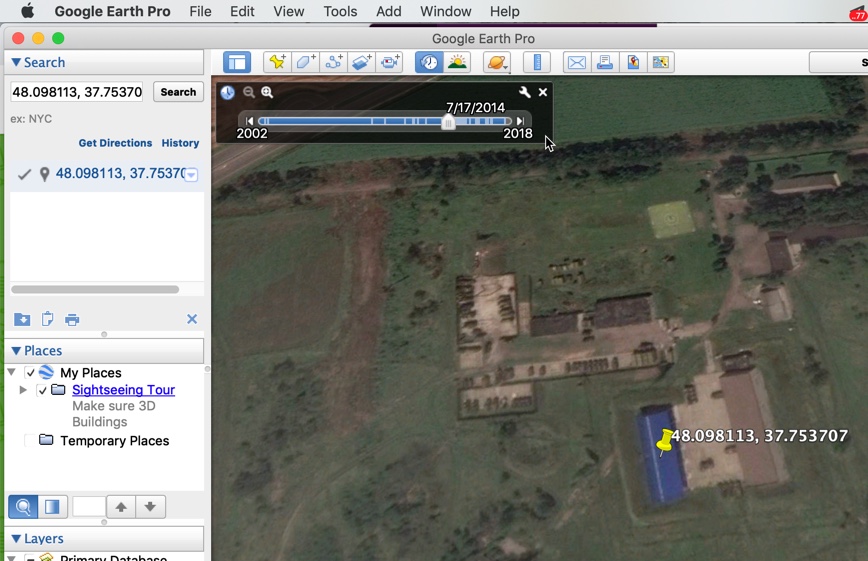 Using the slider below, look for differences between an actual satellite image taken in mid-July 2014 (in color), compared with Russia's misdated or outright fabricated image supposedly taken three days prior to the color one. What are the key differences? Looking at Google Earth's historical satellite imagery, when do you think this satellite image was actually taken?
This satellite image that appears in color above was taken by Digital Globe at 11:08am on July 17, 2014, while Russia's satellite image in Zaroshchenske (the fourth image in the previous section on the Russian Ministry of Defense's July 2014 press conference) was "taken" at 11:32am. Check for yourself how long it would have taken to drive from Spartak, Ukraine to Zaroshchenske, Ukraine on Google or Yandex Maps, under the most favorable conditions.
Preview: Episode 3 Summary
At 14:19 Dutch time, on 17 July 2014, shrapnel tears through the bodies of the two pilots and one crew member, killing them instantly. There's no mayday call. No attempt to manoeuvre. Hear the shocking details of MH17's final moments as it breaks up at 33,000 feet.
Hear from journalist Jeroen Akkemans who visits the crash site and finds shrapnel and missile parts. Independent analysis of one of these pieces of metal reveals part of a serial number written in Cyrillic. Investigators are left with no doubt that this is part of a Russian-made Buk surface to air missile system.
Eliot and his Bellingcat team use their open source investigative techniques to trace a suspicious military convoy containing a Buk heading towards the town of Snizhne, Ukraine. The convoy is traced back to Kursk, Russia.  The Buk is also identified as being part of Russia's 53rd Anti Aircraft Brigade. The evidence suggesting that Russia provided the weapon that ended the lives of the 298 people onboard MH17 is damning.