How to Mainstream Neo-Nazis: A Lesson from Ukraine's New Government
On October 13, photographs started circulating across social media showing a man resembling Ukrainian Prime Minister Oleksiy Honcharuk on stage at the "Veterans Strong" concert event in Kyiv. This was, however, no ordinary concert — it was organized by a far-right figure accused of murder, and headlined by a neo-Nazi band. 
As later posts throughout the evening would show, including the prime minister's own post on Facebook the next day, the politician did indeed attend and take the stage at an event organized by Ukrainian far-right groups. The Prime Minister wasn't the only cabinet member from Ukraine's new government to be there — the Minister of Veteran Affairs, Oksana Koliada, joined Prime Minister Honcharuk at the concert, and even promoted the event in a Facebook post (archive) the day before it took place.
In the week following the event, Honcharuk has defended his appearance at the "Veterans Strong" concert, and has not issued an apology or expressed regret. In his Facebook post, Honcharuk complained about "some media outlets putting forth ambiguous theses" and that "politicization" of the event was "absolutely inappropriate." He added that he didn't support any "hateful ideologies, whether Nazism, fascism or communism." In further comments at a cabinet briefing, Honcharuk added that "many people" are trying to "split [our] society." "They can make any of you into a Nazi fascist," he said.
The episode is a further example of how Ukraine's far-right continues to be normalized by top leaders in the country. Not only are Ukraine's top ministers attending events organized by far-right figures, they have also had a literal seat at the table with Zelenskyy discussing his plans for de-escalating the war in eastern Ukraine. Simultaneously, far-right organizations across Ukraine have taken the lead in organizing "No capitulation!" protests against Zelenskyy's soon-to-be-launched talks with Russia, thus wielding an out sized level of influence in Ukrainian society despite the fact that Ukrainian far-right organizations lack any popular or electoral support.
Who Were The Organizers?
The driving force behind the "Veterans Strong" party was Andriy Medvedko, a leading member of the neo-Nazi C14 organization . Medvedko leads the "Union of Veterans of the War With Russia" (Спілка ветеранів війни з Росією), a group affiliated with C14. 
Medvedko is one of two men charged with the murder of pro-Russian reporter Oles Buzyna in 2015. The trial started almost two years ago and legal proceedings continue to be under pressure and scrutiny from far-right groups,
As we revealed in our previous investigation in July 2019, Medvedko has been linked to an informal C14-linked vigilante group, "Knights of the City" (Лицарі Міста), reportedly involved with incidents of violence aimed at those it deems to be "addicts or alcoholics."
As discussed in our investigation of C14 , the organization hosted a football tournament in 2011 "for white children only" that included the white supremacist "14 words" slogan at the bottom of the post, which is also an element of the name of the organization itself. According to Vyacheslav Likhachev, a researcher of the far-right, this post was written by Medvedko himself.
Medvedko's role in organizing the October 13 event was acknowledged by multiple individuals on social media. C14 leader Yevhen Karas acknowledged Medvedko's role in a Telegram post, while also noting that Prime Minister Honcharuk was in attendance. C14 seemed pleasantly surprised to have Honcharuk there: "The Prime Minister has come to the veterans party," C14's Serhiy Bondar posted on Facebook with the 'scream' emoji. 
In a now-deleted reply to a Facebook post, Medvedko made his appreciation of the headliners, Sokyra Peruna ("Perun's Axe"), clear. In a response to a video of the band's performance, Medvedko posted "88", neo-Nazi code for "Heil Hitler." This comment was made after Medvedko posted a photo of Ukraine's Prime Minister in attendance.
Who Was Playing At The Event?
The headlining band at the event was Sokyra Peruna, led by Arseniy Bilodub (born Klimachev), a man with a long history with Ukraine's neo-Nazi scene. While two other bands played at the event — Komu Vnyz, a band that has played alongside Sokyra Peruna in the past, and FRAM, a mainstream band — it was clear well beforehand that Sokyra Peruna was the main event, as even the event's Facebook page features Bilodub.
Bilodub has been a fixture of Ukraine's neo-Nazi scene since the 1990s. Along with fronting Sokyra Peruna, Bilodub runs the neo-Nazi fashion label Svastone, whose clothes are a common sight at any far-right gathering in Ukraine. The clothing sold by Svastone does not pretend to be anything other than white supremacist, as seen in the "White Baby — The Future of Our Race" shirt below (with a dual brass knuckles – pacifier graphic), selling for $9.
Earlier this year, Bilodub organized the "Fortress Europe" concert in Kyiv, a concert that featured multiple neo-Nazi bands including American band Blue Eyed Devils, whose former guitar player murdered six people in a 2012 hate crime. 
In his Facebook post the day after the event, PM Honcharuk said he had never heard of Sokyra Peruna and didn't know who would be playing at the event. Moreover, he added that it wasn't in his position as prime minister "to dictate to our veterans what songs they should sing."
Looking at what Sokyra Peruna has released over the years, there's no shortage of songs from the band's back catalogue that Honcharuk would probably prefer them not to sing. One of the songs is "Six Million Words of Lies," a song that exhorts listeners to deny the Holocaust and adds that "the time of reckoning, a holy war is coming." Another song is called "ZOGland" — a reference to the "Zionist Occupation Government", an anti-Semitic conspiracy theory — in which Bilodub laments that people have forgotten the "14 Words," a notorious neo-Nazi slogan that, as mentioned above, concert organizer Andriy Medvedko is familiar with as well.  
"Who is guilty, who sold Ukraine? / Jews are walking in the streets / writing laws / ruling the state," Bilodub sings in "ZOGland." This line becomes particularly offensive line when considering how Ukraine's President Volodymyr Zelenskyy is Jewish.
Other lines sung by Sokyra Peruna's Bilodub are no less objectionable: "Forest and fields where Aryans lived / now are Jewish, we can't that forgive (sic)" and "you act like a n*, you dress like a monkey / you'll eat bananas and climb palm trees / are you a white person? it's a disgrace / the race war will begin with you."
It should therefore come as little surprise that Nazi salutes are a common sight at Sokyra Peruna concerts.
And Sokyra Peruna's set? More Nazi salutes, all a short walk from Maidan on a Saturday night. pic.twitter.com/tugOAuf9my

— Michael Colborne (@ColborneMichael) September 14, 2019
At a September concert in central Kyiv, Sokyra Peruna fans give Nazi salutes to Sokyra Peruna front-man Arseniy Bilodub on stage (Instagram)
All Part Of A Trend
The appearances by Prime Minister Oleksiy Honcharuk and fellow cabinet minister Oksana Koliada at an event organized and headlined by known far-right figures are not isolated incidents. As Ukraine's war with Russian and Russian-led forces enters its sixth year, Ukraine's far-right continues to hijack the understandably emotionally-charged issue of veterans fighting in eastern Ukraine to spread their own intolerant rhetoric.
Another example of this trend was on display in early October at a meeting with President Volodymyr Zelenskyy, when members of the far-right (including C14 leader Yevhen Karas) were invited to offer their perspective on the war in eastern Ukraine. Azov was also present, being the largest far-right group in Ukraine that also has a regiment in Ukraine's National Guard.
"Yesterday I met with veterans," Zelenskyy said in early October, "National Corps [the Azov movement's political party], Azov, everyone else." A photo from the meeting shows multiple far-right figures in attendance, including C14's Yevhen Karas and Dmytro Shatrovskyi, head of the Azov-linked "Veterans Brotherhood."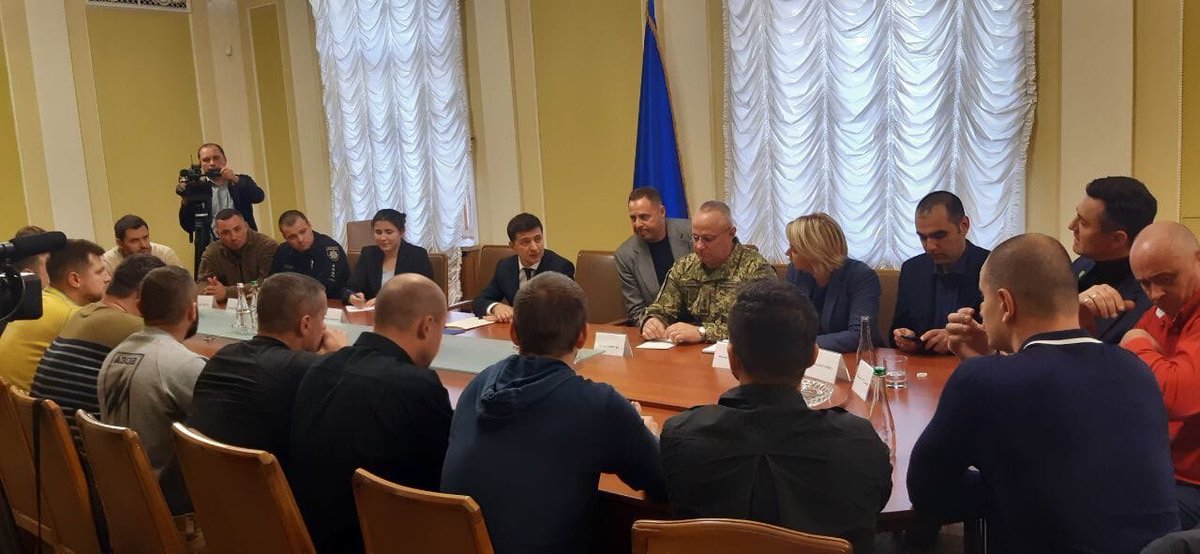 A photo from an October meeting between veterans and Volodymyr Zelenskyy which featured multiple representatives of far-right groups.
Meeting with veterans of the ongoing war in eastern Ukraine is, of course, not only legitimate, but necessary for President Zelenskyy. This is especially true when considering the controversy over the so-called "Steinmeier formula." However, why does Zelenskyy meet with multiple representatives of far-right groups — and, moreover, speak of them simply as "veterans," discounting the vast majority of Ukraine's veterans who have no involvement in extremist organizations? Why are there multiple members of far-right groups, including people who are openly neo-Nazi, on Ukraine's Ministry of Veterans Affairs public oversight council? Despite the fact that these far-right organizations have negligible popular support and virtually nonexistent electoral power, they are over-represented among veterans' rights groups, including in meetings directly with Ukraine's President. As the veterans' concert shows, these issues are symptoms of a much larger problem relating to the far-right's exploitation of veterans' issues as they continue to have success mainstreaming themselves in Ukrainian politics and society.