Ukrainian Tanks in Avdiivka Residential Area
On February 1, Tom Burridge of the BBC shared a video on Twitter showing Ukrainian troops and tanks in what appeared to be a residential area in Avdiivka.
We met Ukrainian troops and tanks in #Avdiivka who seemed ready for action – and we could hear that there is no ceasefire here #Ukraine pic.twitter.com/9HGDrNAkWJ

— Tom Burridge (@TomBurridgebbc) February 1, 2017
This video led to a significant reaction in Russian and pro-separatist news outlets, requiring answers to a few key questions:
What are the official responses to these accusations?
Where were these tanks and soldiers?
When were these tanks deployed in the area?
Were civilians still residing in the apartments near the tanks and soldiers?
Official responses
Initially, a representative from the Ukrainian military refuted reports of tanks near residential areas, saying that it was a "fake." However, soon after, Ukrainian officials stated that the tanks observed in the residential of Avdiivka were not used, and only there as "reserves."
Despite claims from Russian Ministry of Foreign Affairs spokesperson Mariya Zakharova, the OSCE did note the presence of Ukrainian tanks in a residential sector of Avdiivka. In their daily report for February 1, the OSCE SMM to Ukraine noted that they observed "four tanks (T-64) parked behind a building in Avdiivka." Though she claims that the job of the OSCE is to "not notice tanks," a look at the daily OSCE SMM to Ukraine reports shows countless observations of Ukrainian military equipment, including those in violation of the Minsk agreements.
Where?
Tom Burridge was not the only journalists at the location, as it was a popular spot for local and foreign journalists covering the recent escalation.
A fair bit of heavier equipment hanging around #Avdiivka these days #Ukraine pic.twitter.com/Fr1GTy24xw

— Christian Borys (@ItsBorys) February 2, 2017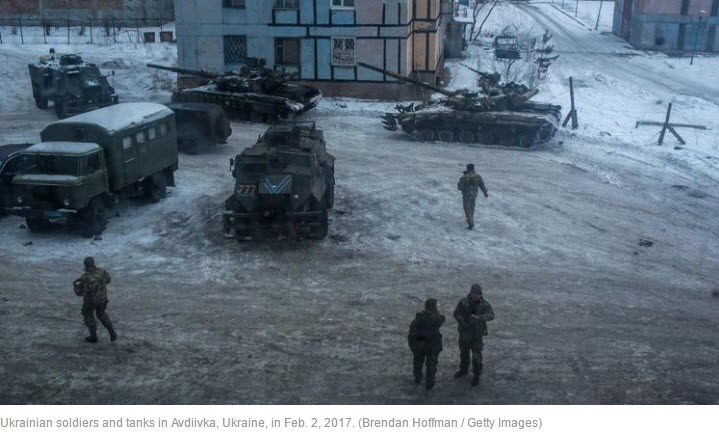 https://www.youtube.com/watch?v=jtNYYl9UXgA
#ЛДНР #Украина #Донецк #Авдеевка

Бронетехника украинской армии в Авдеевки

Украинки танки Т-64БВ и AT105 "Саксон" близ Авдеевской высотки, pic.twitter.com/1zn2LbavHb

— War News Today (@warnewstodayrus) February 3, 2017
Clearly, these tanks and soldiers were stationed in this residential block. Finding the location, on the southern edge of Avdiivka, is not difficult, as these apartments were subject of a highly publicized story from July 2015. This residential area took a direct hit from separatist artillery in July 2015.
We can conclude that the tanks were located near a group of residential buildings on the southern edge of Avdiivka, facing the Donetsk Airport. This area is just east of an area called the 9th Block ("kvartal"), and is positioned in a precarious spot due to its proximity to separatist-controlled territory.
When?
The videos and photographs of the tanks in Avdiivka's southern residential area were taken on February 1 and 2, 2017. Satellite imagery from the previous two weeks show that there were no tanks near the apartment buildings, but two armored vehicles were present in the eastern part of the images. These same vehicles could be seen in a drone photographs on January 29 and February 2, as discussed below.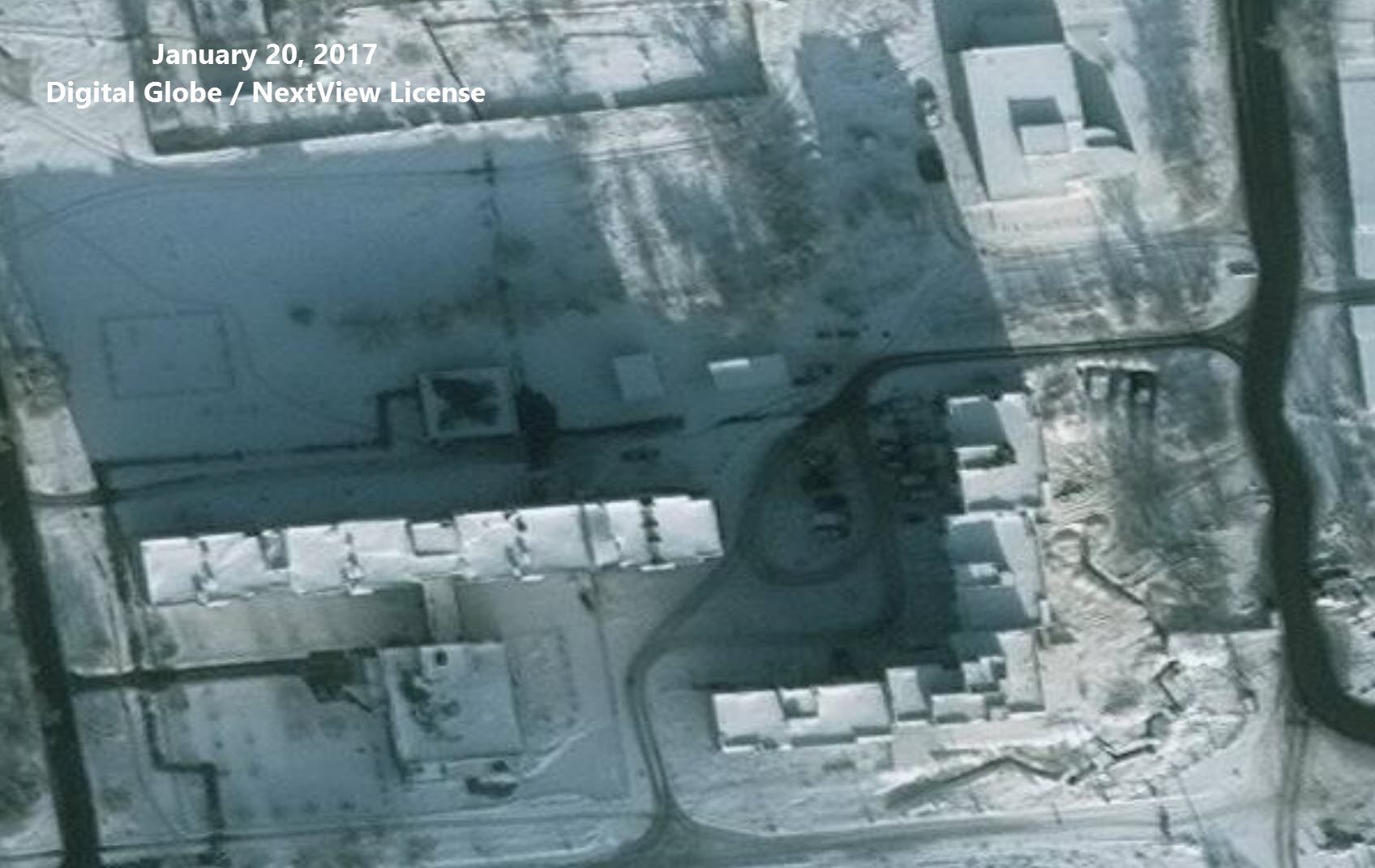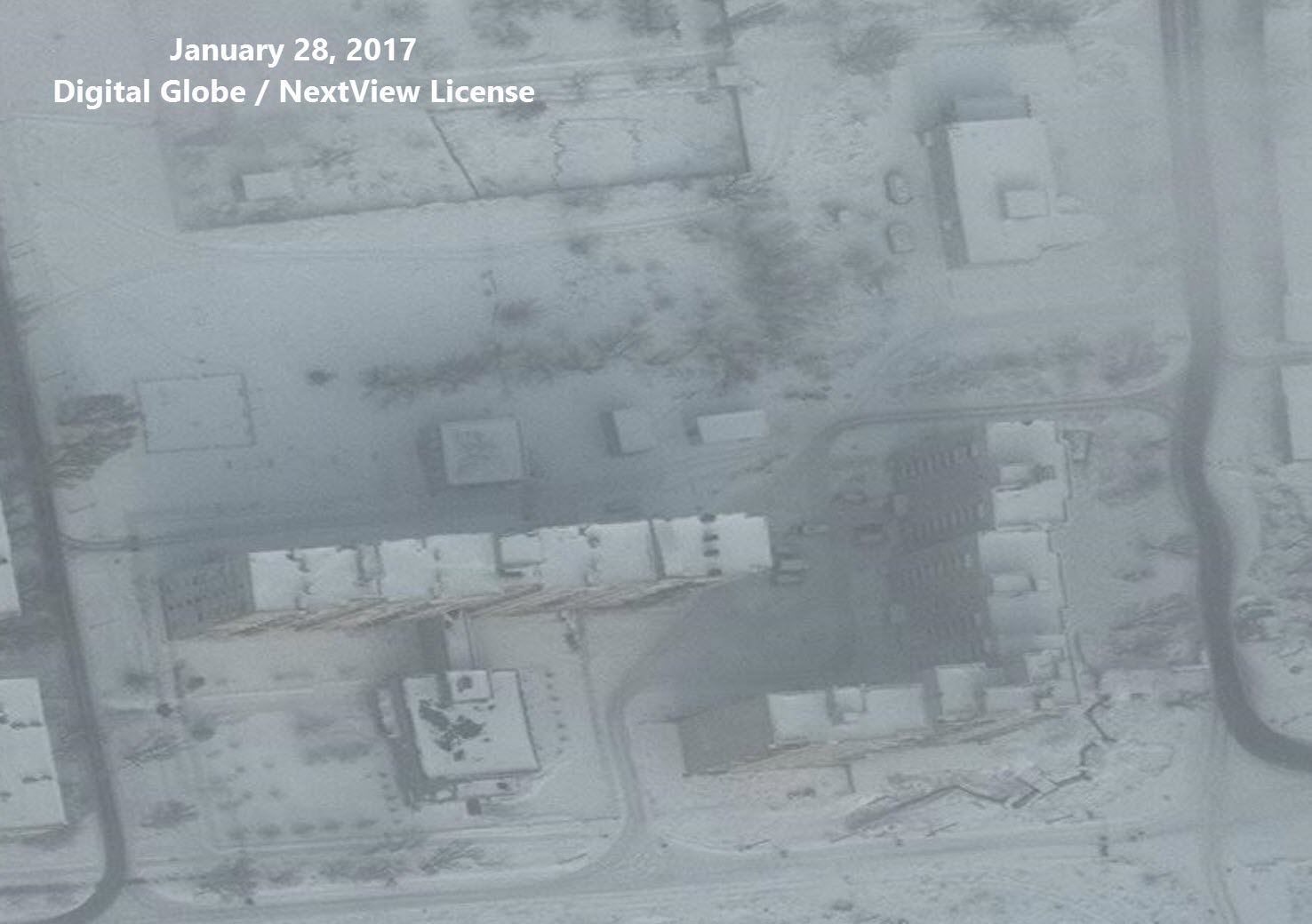 The self-proclaimed Donetsk People's Republic and its commanders provided two images from UAVs that they claim were shot on January 29, 2017 and February 2, 2017. The first image appeared on Strelkov-info.ru, originally from the DNR "Center of Drone Aviation."  The image shows multiple armored vehicles, but no tanks. The location is the same residential block east of the 9th Block, facing south.
On February 2nd, Vostok Battalion commander Aleksandr Khodakovsky shared a drone image of the three tanks parked in the residential area.
The three tanks were recently deployed to the residential block, which has served as a type of headquarters for the Ukrainian Armed Forces. Additional armored vehicles were deployed at least two weeks ago. A trench is visible in the southeast corner of the imagery, showing that it has long been a military position. This trench is observable in satellite imagery going back to 2015, and is not a new development.
There were no artillery systems observed in the area, and no reliable reports of outgoing fire or staged attacks from the Ukrainian Armed Forces from this area.
Who?
Aside from journalists and Ukrainian soldiers, there were also civilians in this residential block. For example, a Reuters photograph from February 1 shows a woman trudging through the nearby residential block with a bag, just meters away from two Ukrainian tanks.
It is unclear how many people still live in these apartment buildings, but they are not completely deserted. The area has been militarized by the Ukrainian Armed Forces, seen in both the presence of armored vehicles & tanks, and the trenches on the southeast corner of the residential block. These actions have made the residential area — and the lives and properties of civilians — more likely to be attacked from separatist artillery fire, especially worrisome with recent unguided Grad missile attacks staged from Donetsk. However, there have been no recent reliable reports indicating that Ukraine has used this area for any outgoing attacks on separatist positions. Nearby apartment buildings, including one at Molodezhnaya 13 just down the road from parked tanks, have been hit by separatist artillery fire this week. There were also reports that the apartment building at Molodezhnaya 19, the neighboring buildilng to the one with Ukrainian tanks parked in the courtyard, sustained a direct hit by separatist artillery fire. Even if the residential buildings surrounding the Ukrainian tanks are not hit by artillery fire, the nearby buildings that may have more civilians still living in them can be struck from inaccurate artillery fire.