Belarus Preps Additional SU-24M Fencer For Export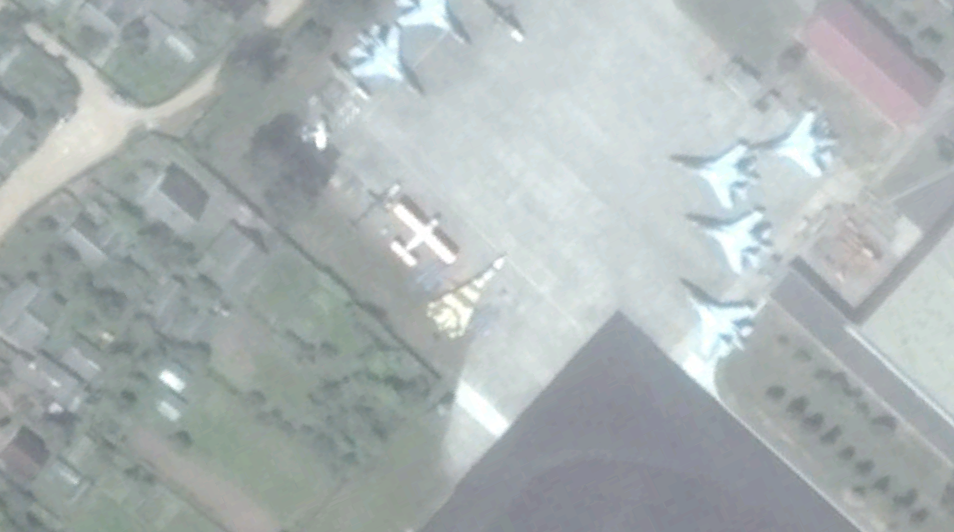 Sudan could soon receive additional SU-24M ground attack aircraft overhauled in Belarus, recently acquired satellite imagery suggests.
Last year workers at Belarus' 558th Aircraft Repair Plant in Baranovichi moved three decommissioned Sukhoi Su-24M Fencer from open storage to the plant's work area. Over at War is Boring, I wrote they were being prepared for overhaul and export.
Satellite imagery acquired earlier this year and available in Google Earth shows the first signs that initial assessments were correct. Space snapshots from February and July show a single swing-wing Sukhoi kitted out in fresh desert camo. The Soviet-era bomber was sitting nearby the 558th's drive-through maintenance hangar at the time of capture.
Currently, we don't have access to enough imagery to know if the Sukhoi is the same aircraft in both sets of imagery or if an earlier Fencer was already exported. But given the color of the camo pattern, we have a good idea where they're headed.
Sudan, long known for its human rights abuses, reportedly ordered twelve of the aircraft from Belarusian BelTechExport a few years back. To date, only three have been confirmed operating from Wadi Sayyidna air base. They were first confirmed on handhelds and satellite imagery in June and August 2013.
Since then, they've been involved with several bombing runs in South Kordofan's Nuba Mountains, helping kill and displace the local Nuba population. Earlier this year, Khartoum's Sudan Armed Forces stepped up their campaign by continuing to arm brutal militias to attack the region. There's even evidence that the regime has employed cluster munitions.
But that's not the only conflict Sudan's Fencer are involved with.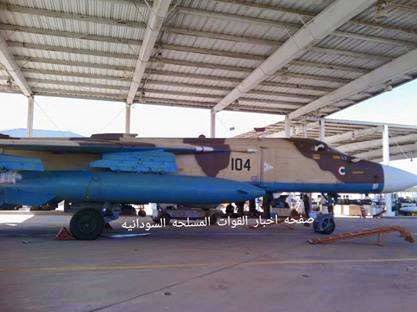 In March, we got our first glimpse of the aircraft over at the Kingdom of Saudi Arabia's King Khalid airbase. There, they deployed in support of Operation Decisive Storm, a Saudi-led campaign to bring Yemen's President Hadi back to power. [1] Video from al-Arabiya helped confirm the deployment. Tail numbers 101 and 104 have been shown in video and handhelds.
Interestingly, media reports conflict as to the number of aircraft deployed by the North African country. Sudanese sources have cited between three and four. To be sure, Sudan did receive four Fencer in 2013 according to UN reports. But that doesn't mean that all four aircraft were operational. A fourth could have been provided for parts. [2]
To reiterate, only three have been confirmed operating on satellite imagery at Wadi Sayyidna. Given our recent imagery of Belarus, a fourth may have arrived from the eastern European country in time for the deployment. Alternatively, Sudan could already have had four operational aircraft. Without further imagery, it's difficult to say.
Bottom line, Belarus remains prepared to bolster the developing world's air arms on the cheap. With conflict on the rise, so are Belarusian arms exports. And for Africa, being able to acquire inexpensive flying hardware means its air arms are becoming increasingly capable. How that translates to the continent's intrastate warfare or regional power projection has yet to be seen.
This post was originally written for Offiziere.ch and is provided here with permission.
Notes
[1] Sudan's deployment is largely seen as an attempt to regain Saudi and Gulf support. In February 2014, Saudi and EU banks suspended operations with the country. Saudi Arabia has pledged fresh investments in Sudan's key agricultural sector since military operations in Yemen began.
[2] Sudan established the Safat Aviation Complex in 2005 which specializes in aircraft maintenance and repair. The center was stood up with the help of local and international firms, particularly from Russia and Ukraine. Russian and Ukrainian advisors have often been noted on site. The complex has received certificates from the Antonov Design Bureau, the MIL Design Bureau as well as the Congolese and Kenyan Civil Aviation Authorities. The complex also has a partnership with the Novosibirsk Aircraft Repair Plant.