Soar Dragon UAVs Deploy to Yishuntun Airbase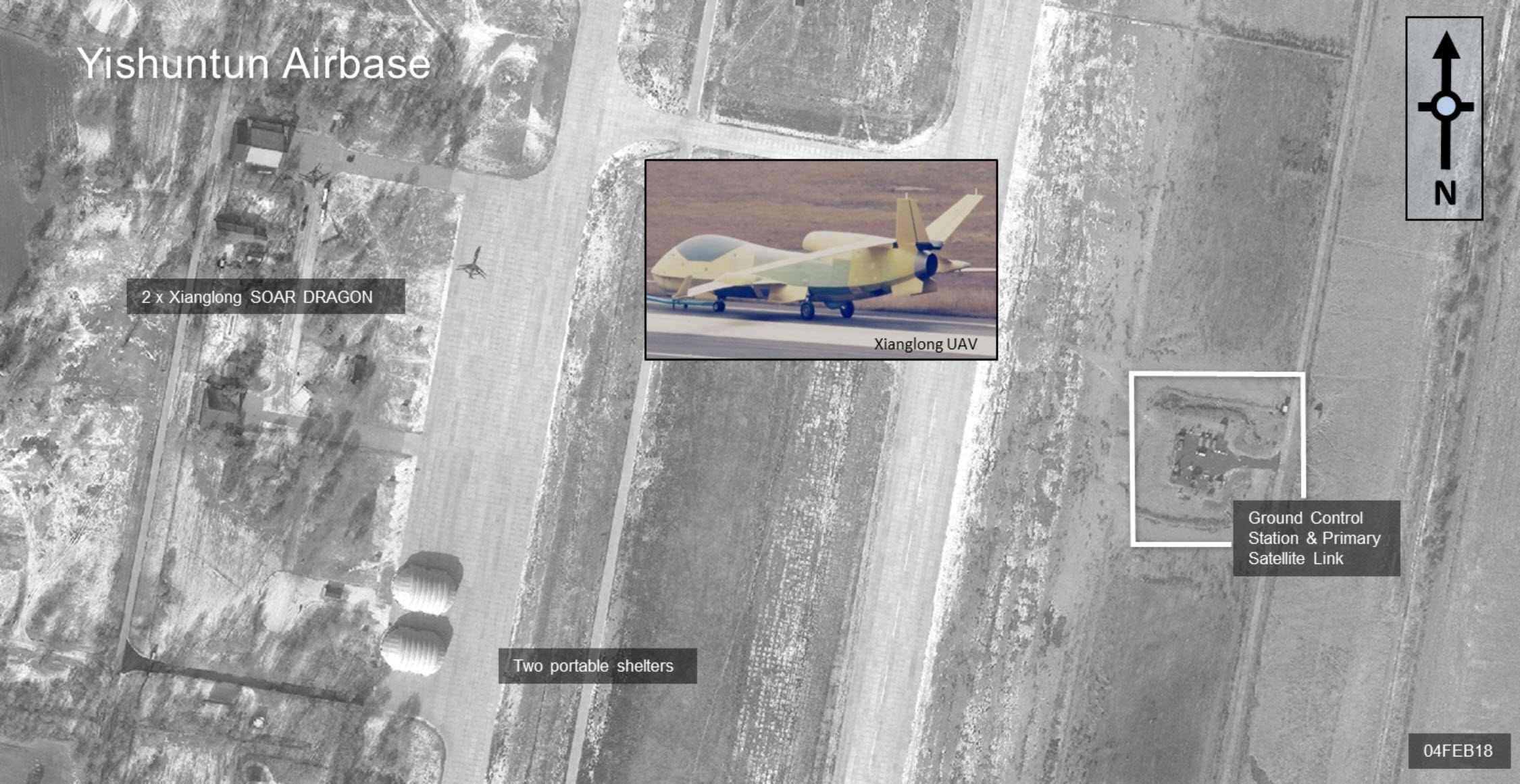 This article was originally published on Offiziere.ch
New satellite imagery acquired on 04FEB2018 by DigitalGlobe shows that China has deployed the Guizhou Aviation Industry Group (GAIG) Xianglong (Soar Dragon) high altitude long endurance (HALE) unmanned aerial vehicle (UAV) to Yishuntun airbase in Jilin province. The platform, identified by its unique box wing design and 'V' shaped vertical stabilizers, is often considered China's answer to the U.S.-built Global Hawk.
Imagery shows two Xianglong parked on the apron not far from two portable aircraft shelters. The mobile support shelters were erected in late December 2017. The platform's associated ground control station and primary satellite link were located east of the runway on a new hardstand.  The UAV are the only aircraft that have been observed at the airfield. According to Jane's Unmanned Aerial Vehicles and Targets, the platform has a cruising speed around 405 kt, an operating altitude of 18,000 m, and a range of 3,780 n miles.
Yishuntun is the third operational location of the multirole UAV after Shigatse in the Tibet Autonomous Region (near the Indo-China Doklam dispute) and Lingshui on Hainan island (near the South China Sea). In total, seven Soar Dragon have been observed at the three locations: three at Shigatse, two at Lingshui and now two at Yishuntun. The first deployment to Tibet occurred 8 months after the China Daily announced that deliveries to the PLA were expected 'soon.'
Since early 2016, Yishuntun has been undergoing maintenance and expansion. Imagery shows a newly paved and lengthened runway (now 2,800 meters in length), an additional link taxi-way, expanded parking aprons and three new equipment hardstands. Immediately to the west, we also noticed an expanded rail transfer point and to the northeast, an expanded garrison. Yishuntun is approximately 200 miles from the DPRK border. The Xianglong could still be observed at the airfield on commercial imagery in March 2018.
Bottom Line –  China has deployed two Xianglong HALE UAV to a recently renovated airfield not far from the border.