Did China Just Build a New Midget Submarine?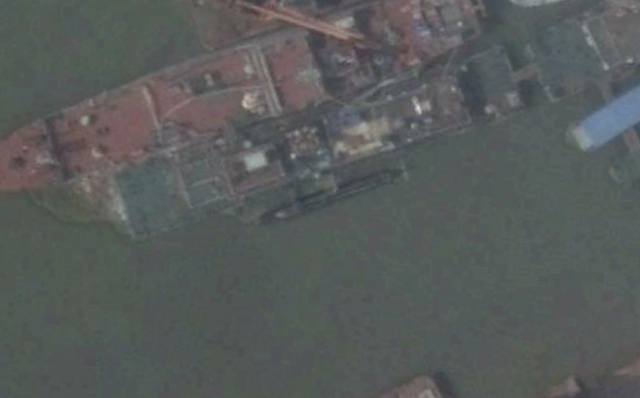 Imagery acquired by commercial satellite firm DigitalGlobe from October 2014 shows what appears to be a new midget submarine at China's Wuchang shipyard.
The space snapshots captured the vessel berthed at the shipyard's fitting out pier. According to imagery measurements, the vessel has a load waterline length of approximately 35 meters and a beam of approximately 3.5 meters. Although Jane's Underwater Warfare Systems reports China fielding midget submarines, I have been unable to locate open source reporting suggesting China is currently building such a vessel. Alternatively, the boat could be for a foreign customer. Few additional details beyond those acquired via imagery are available at this time.
Midget, mini, or sometimes coastal submarines typically weigh below 150 tons and are operated by small teams varying in size. Because of their size they are limited in their endurance, which often means they are operated along side a mother ship. In the past, they've been used for harbour penetration, concealed attacks on individual ships, or for reconnaissance purposes functioning as a swimmer delivery vehicle. Most of our modern examples—of the North Korean and Iranian variety—are commonly armed with torpedoes and mines, fitted either in the nose or detachable side loads.
That said, this vessel should not be confused with recent reports of China building a Type 093T SSN variant. That variant is said to support the Chinese equivalent of a "SEAL Delivery Vehicle" (SDV). The vessel viewed above is not a SDV. Also ignore reports like this.
Wuchang is most well-known for building China's Type 035 Ming Class, Type 039 Song Class and the novel Type 032 Qing class vessels. The shipyard is often photographed but no new handhelds have appeared for this boat as far as I'm aware.
Any additional insight readers can provide is welcome.