Examining CCTV Videos of the Saudi Consulate in Istanbul Connected to Khashoggi's Disappearance
On October 8, a photograph spread throughout WhatsApp showing Jamal Khashoggi, a Saudi journalist living in Turkey, entering the Saudi consulate in Istanbul through a rear entrance. He has not been seen since, with credible reports that he was either murdered or kidnapped by Saudi officials. Later, a video that this photograph was taken from was broadcast on Turkish television, showing that Khashoggi entered the consulate at 1:14 p.m on October 2, assuming the CCTV timestamp is correct. Khashoggi's fiancee has confirmed that the man in the footage is indeed him.
Bellingcat's Christiaan Triebert has geolocated this footage, verifying that it did indeed show the rear entrance of the Saudi consulate in Istanbul.
This picture — spread via WhatsApp — allegedly shows @JKhashoggi walking into the Saudi consulate at 13:14 local time. (H/t @MeKassab/@soltanlife for sharing). Geolocation shows it is indeed the north entrance of the Saudi consulate in Istanbul, #Turkey. https://t.co/8NUYpHxqQ3 pic.twitter.com/5mOkGGnzSC

— Christiaan Triebert (@trbrtc) October 9, 2018
A clearer map showing the location can be found in the New York Times' timeline of Khashoggi's disappearance, highlighting the rear entrance to the consulate.
During this video, a Mercedes Sprinter van is parked near the rear entrance, with a blurry license plate. Bellingcat's Timmi Allen used a number of image analysis tools to determine the license plate number, similar to the methodology he used to identify the license plate of a vehicle near the site of Ukrainian journalist Pavel Sheremet's assassination, as detailed in the documentary "Killing Pavel." The license plate number of this van is 34 CC 2342, which corresponds to the code for Istanbul (34) and vehicles used by consulates (CC).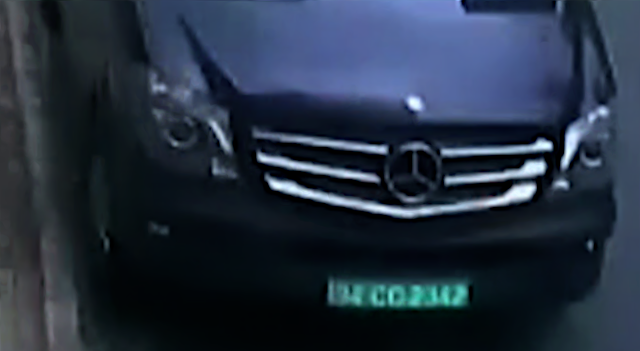 While there has not been any evidence that this vehicle was involved in the disappearance of the Saudi journalist, its license plate further verifies the leaked CCTV video. However, there is another Mercedes vehicle — a Vito — that is allegedly involved with Khashoggi's murder or kidnapping. This Mercedes Vito left the consulate and arrived at about 200 meters away at the Consulate General's residence at 3:09pm, about two hours after Khashoggi entered the Saudi consulate.
The license plate of this second van, the Mercedes Vito, is 34 CC 1865, with the same four digits and letters as the other van, being registered to an Istanbul consulate.
Turkish media reported that this same van "rehearsed" its path between the consulate and Consulate General's residence the day before Khashoggi's disappearance, indicating that this van was used to transport Khashoggi (either alive or dead) or other items related to his possible murder.
With Istanbul being one of the world's largest and connected cities, there is likely undiscovered digital evidence showing these two vans around the time of Khashoggi's disappearance and afterwards. Some of these digital sources include user-generated content (uploaded videos, photographs, and witness accounts from social networks and other sharing platforms), public access photographs and videos (such as webcams or livefeeds of traffic), and, perhaps, even satellite imagery.
There have been a number of successful and interesting crowdsourcing campaigns to gather information on the Khashoggi disappearance, and Bellingcat has been fortunate to have a number of eagle-eyed and creative followers who have uncovered information on other topics, such as with Europol's "Stop Child Abuse" program. If you have findings related to the Khashoggi disappearance — especially with the vans used by the Saudi consulate in Istanbul — tweet at us (here), message us on Facebook (here), or email us (here), and we will amplify and gather contributions across our social media platforms.