Crowdsourcing Europol's "Stop Child Abuse - Trace an Object" Campaign
Europol has recently published a request for help from members of the public to identify objects taken from images of child abuse:
The most innocent clues can sometimes help crack a case. The objects are all taken from the background of an image with sexually explicit material involving minors. For all images below, every other investigative avenue has already been examined. Therefore we are requesting your assistance in identifying the origin of some of these objects. We are convinced that more eyes will lead to more leads and will ultimately help to save these children.

Can you help us recognise the objects? We specifically want to trace their origin (location/country). You can help by clicking on an object you recognise and providing Europol with the information you have on the object. This can be done anonymously. Once the origin of an object is identified, we will inform the competent law enforcement authority of the involved country to further investigate this lead and hopefully speed up the identification of both the offender and the victim.
? #StopChildAbuse webpage https://t.co/e5u0sQioWu
20 objects featured on child abuse materials. Do you recognise them?#TraceAnObject pic.twitter.com/XKfJ4dDkMs

— Europol (@Europol) June 1, 2017
In an attempt to support these efforts Bellingcat has created a project on the crowdsourced verification platform Check, where we hope Bellingcat's audience will identify the objects in the images, harnessing the talent of our open source investigation community, and assisting with Europol's investigation into child abuse images.
How to use Check?
It is easy to use Check. You can make an account to become part of the Bellingcat verification team here. You can join using your email-address, Twitter-, Slack- or Facebook-account. Once registered, we will approve you to our team and you can start discussing the tasks of this specific projects (and feel free to join our other digital sherlocking projects too, like geolocating Coalition and Russian airstrikes in the Middle East).
Once logged in, here is a link to the project. There are 20 images which need to be identified. If you click on an image you will go to the investigation into the specific item shown on the photo.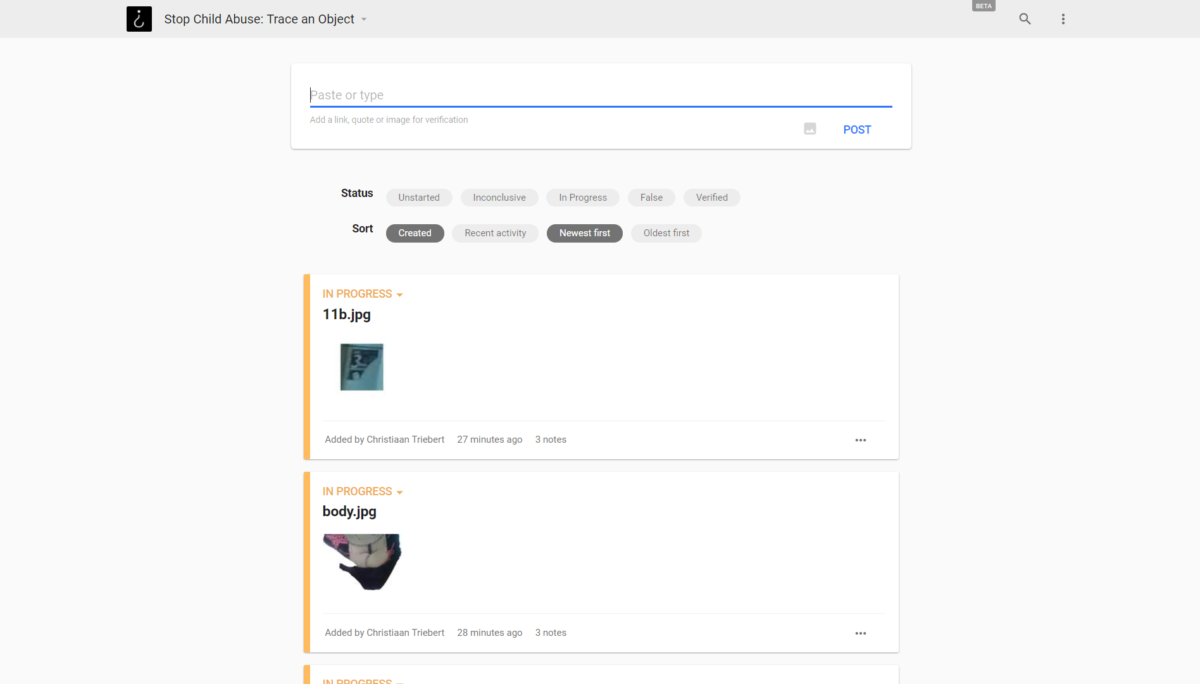 Here is how a page looks for a specific item. You can comment on this specific item if you scroll down and click on 'Add a note about this report'. On the left you can see the image, on the right the verification task. As it the research process is 'In Progress', the background turns yellow. You can comment anything that may be of use under that task.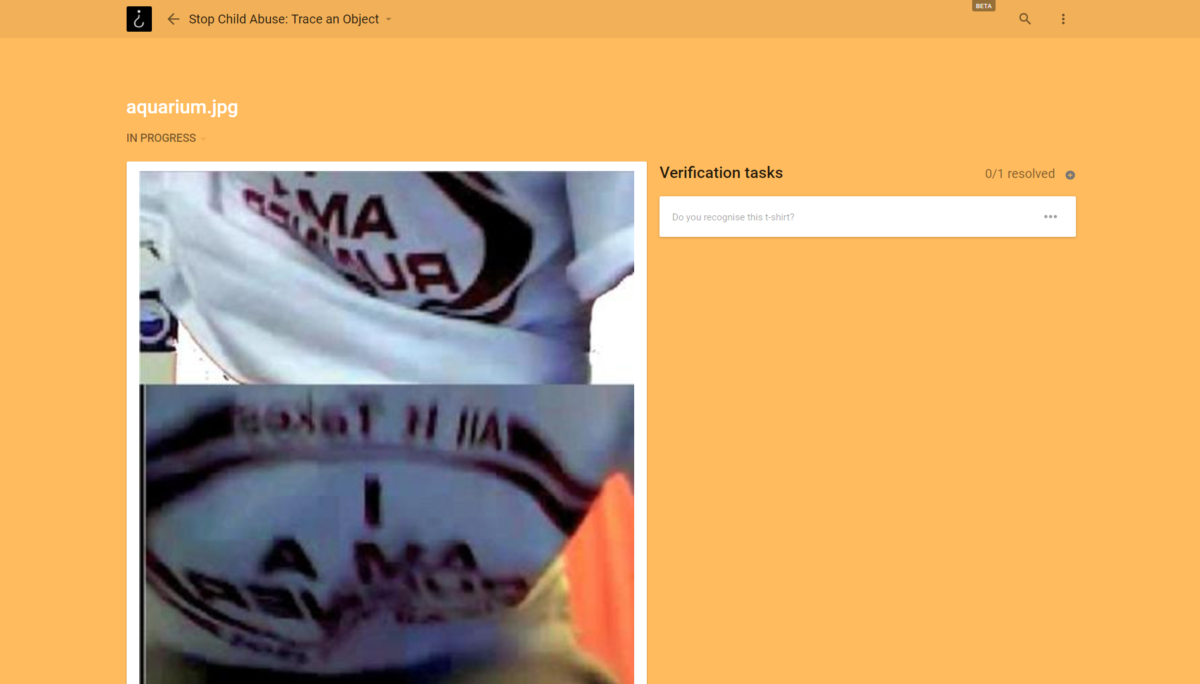 Items that have been identified will be turn green.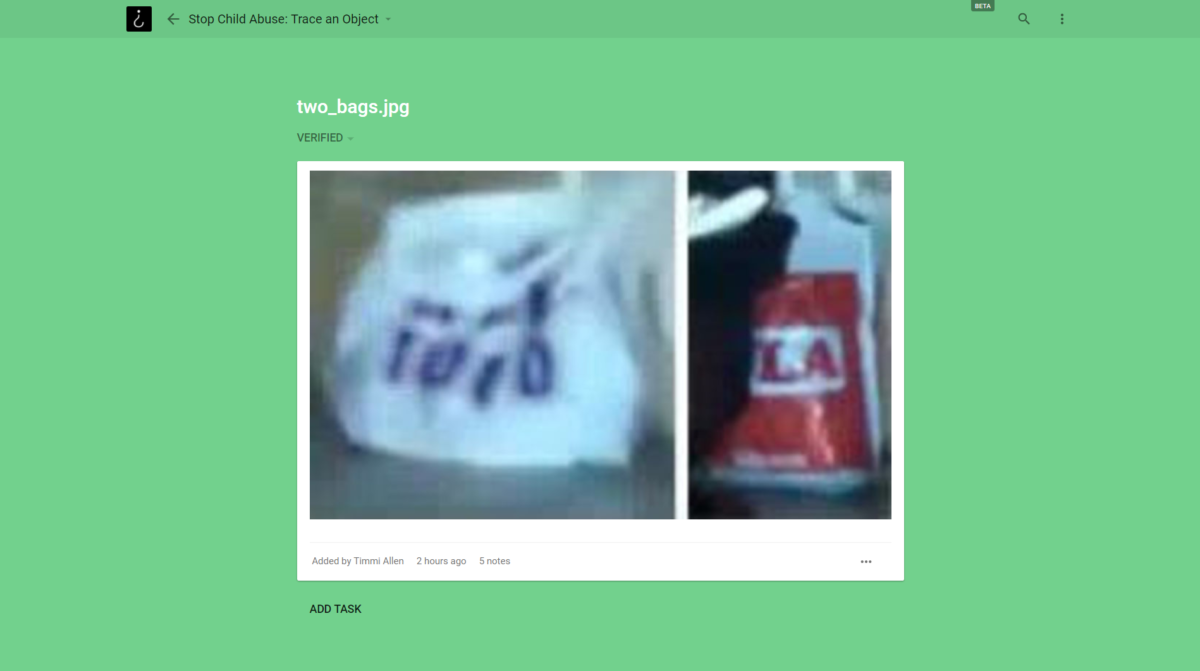 In total, there are 24 images with objects. Many questions are related to the origin of a product, like a school uniform, a calendar, and a pack of cigarettes. There is also a geolocation challenge.
You can tweet possible results with the hashtags #StopChildAbuse and #TraceAnObject. We will monitor the process.