Fifteen Months of Death: Pro-Government Casualties of the Syrian Civil War
This report analyses the 6,627 pro-government combat deaths in the Syrian Civil War that the author recorded between March 20, 2017 and June 30, 2018.
The first half of the report examines the origins of the casualties and where they died while the second half is dedicated to a comprehensive overview of the major offensives and counter-offensives that occurred in this period.
Methodology and Limitations
This project relied exclusively on Facebook in order to accurately track the deaths of pro-government Syrian combatants. There are hundreds of community and fan Facebook pages which post martyrdom announcements for prominent and local Syrians killed while fighting for the government. The majority of these posts include where the fighter is from and where he was killed. Many include a rank, and a few will mention what unit he fought with.
The higher the rank or the more heroic the story, the more frequently a martyrdom announcement is posted across various pages. For example, the death of Mohammad Yusuf Abdalluh, an enlisted soldier in the 41st Brigade, 4th Division, who died during the April 18, 2017 operation that rescued 34 Syrian Arab Army (SAA) prisoners in rebel-held Qaboun, was posted on dozens of pages due to the heroic nature of his death. Conversely, many enlisted men and men with either no family or those from poor families will not have their deaths announced. This is evident by the fact that nearly 38% of the recorded deaths were of officers – an unrealistic enlisted-to-officer ratio even for the top-heavy SAA.
While it is relatively easy to track casualties from certain areas, obtaining accurate data on the exact number of pro-government fighters killed is limited by three factors:
1) As mentioned above, poor or low-level fighters and those with little to no family in their hometowns will not have news of their deaths posted on Facebook.
2) Losses are not publicized by most units, especially non-NDF units like Tiger Forces and the Republican Guard. Instead we have to rely on local communities and militia fan pages sharing martyrdom postings. This makes the data set very regionalized and reliant upon finding reliable pages from each governorate. A martyrdom post for pro-government fighters from the Aleppo, Idlib, Deir Ez Zor, Raqqa, Hasaka, Dara'a, Swuayda, and Quneitra governorates was a rare find.
The aforementioned eight governorates made up approximately 54.16% of Syria's 2011 population. Either government forces do not consist of men from these regions in any substantial number, or many of the martyrs from these governorates were missed in this research and thus the government has suffered many more casualties outside of the data presented.
3) In addition to the pro-government Syrian fighters missing from this data are pro-government foreign fighter deaths which have not been accounted for. Foreign fighter deaths were only recorded when published on loyalist Syrian Facebook pages leading to the omission of the vast majority of foreign combat deaths in this research.
In order to avoid double counting and counting unconfirmed casualties, only those men whose names could be found and confirmed were recorded. Thus, mass burials (accounting for hundreds of dead during the east Homs and Raqqa offensives alone) were ignored. Furthermore, because this research was conducted by one individual, it was not possible to find and record every reported death. Therefore, not only does the data below not represent the totality of government losses, it is not inclusive of all reported government deaths during this 15-month period.
Reported ranks can be used to estimate a more accurate number of government losses. While posthumous promotions and a bloated officer corps are realities that must be taken into consideration, some form of unit structure must exist for any fighting force to be effective. Drawing on enlisted-to-officer killed in action (KIA) ratios from earlier in the war and past conflicts of a similar nature can shed light on the true cost of fighting from March 20, 2017 to June 30, 2018.
The pro-opposition Homs Documentary recorded the names of 5,169 deaths among pro-government forces in Syria between January 1, 2016 and August 31, 2016. Of these there were 540 officers, leading to a ratio of just over 8:1. By the end of Operation Iraqi Freedom, ten enlisted men had died for every one officer. Similarly, in Afghanistan, Operation New Dawn led to nine enlisted deaths for every one officer. Operation Inherent Resolve, launched in the summer of 2014 against IS forces in Iraq and Syria, has a much lower enlisted-to-officer ratio of only 4:1, possibly due to the smaller presence of ground troops and the heavy use of Special Operations Forces which generally include more officers than enlisted ranks.
The higher ratios in Iraq and Afghanistan have been attributed to the increased use of IEDs by insurgents, which tend to inflict heavier tolls on enlisted soldiers. The widespread use of TOW/ATGMs and artillery by rebels can be considered analogous to the increased presence of IEDs in Iraq. While ATGMs can be used to target command groups, there does not appear to be evidence to suggest that ATGMs have been used in any significant number for this purpose in Syria.
Examining a few ratios from Syria in events when most of the deaths were reported provides further insights. On August 29, 2017, one Brigadier General and 19 enlisted died in the Badia (19:1). On November 3, 2017, 21 enlisted and no officers died in Hader, Quneitra (21:0). Throughout December 2017 10 officers and 76 enlisted were reported KIA in Harasta, Damascus (7.6:1). On January 23, 2018, two Lieutenants and 14 enlisted died in reef Latakia (7:1). On January 25, 2018, two Lieutenants and 28 enlisted died in Deir Ez Zor (14:1).
Therefore, a ratio of 8:1 can be considered a cautious estimate of total government losses, both reported and unreported, especially considering the large number of deaths among high ranking officers. For the purpose of this research, high ranking officers are considered any rank of captain or higher, as well as the title of "commander," "group commander," and "field commander" which have all been placed under the heading "group commander." These titles are commonly held among leaders in pro-government militias where military ranks are not applicable, but are analogous to the ranks between 1st Lieutenant and Colonel, depending on the size of command. An important note: mulazam sharif, or junior lieutenants, are not recorded as officers in this data as it is largely a rank given to military school graduates who don't necessarily hold a command and is the most common posthumous promotion given to enlisted men.
A Year in Review
Between March 20, 2017 and June 30, 2018, I recorded 5,986 Syrian and 641 foreign pro-government combat deaths. Nine hundred and seventy-three, 16.2%, of the Syrian deaths were officers (Chart 1). Not listed on the chart are 553 1st Lieutenants, the officer rank above junior lieutenant. Seventy-three Brigadier, Lieutenant, and Major Generals were also killed in this period. Based on the 973 officer deaths I estimate that approximately 8,757 pro-government Syrian combatants died in this period.
Damascus was the deadliest governorate with 30.7% of the deaths, while Hama and Deir Ez Zor tied for second deadliest with just over 16% of reported deaths each (Chart 2). The two coastal governorates of Latakia and Tartous contributed 32.7% of all reported martyrs despite containing only 8.8% of Syria's population in 2011. In fact, every governorate with a majority or large minority of Syria's minority ethnic and religious populations had a larger share of reported deaths than their share of Syria's 2011 population (Chart 3).
Chart 1: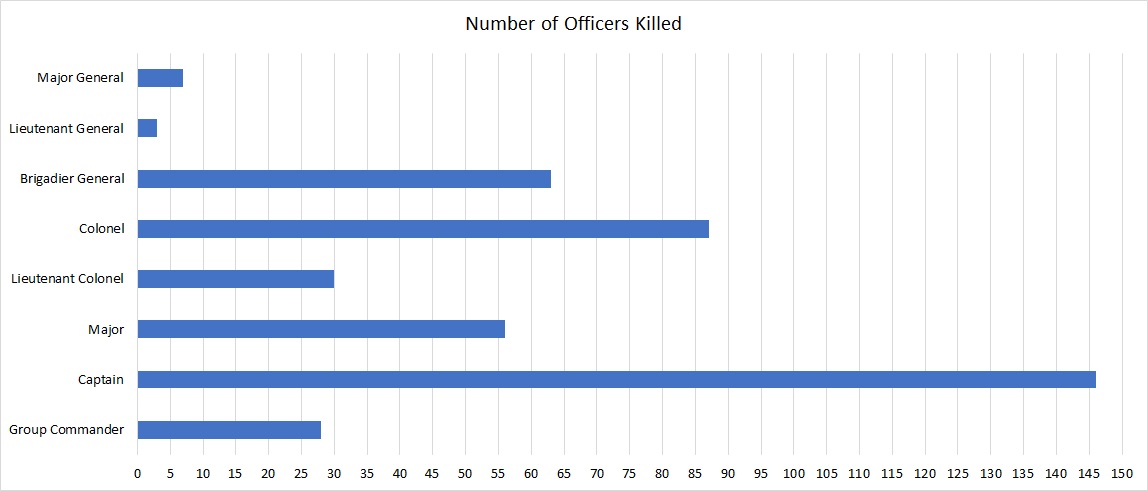 Chart 2: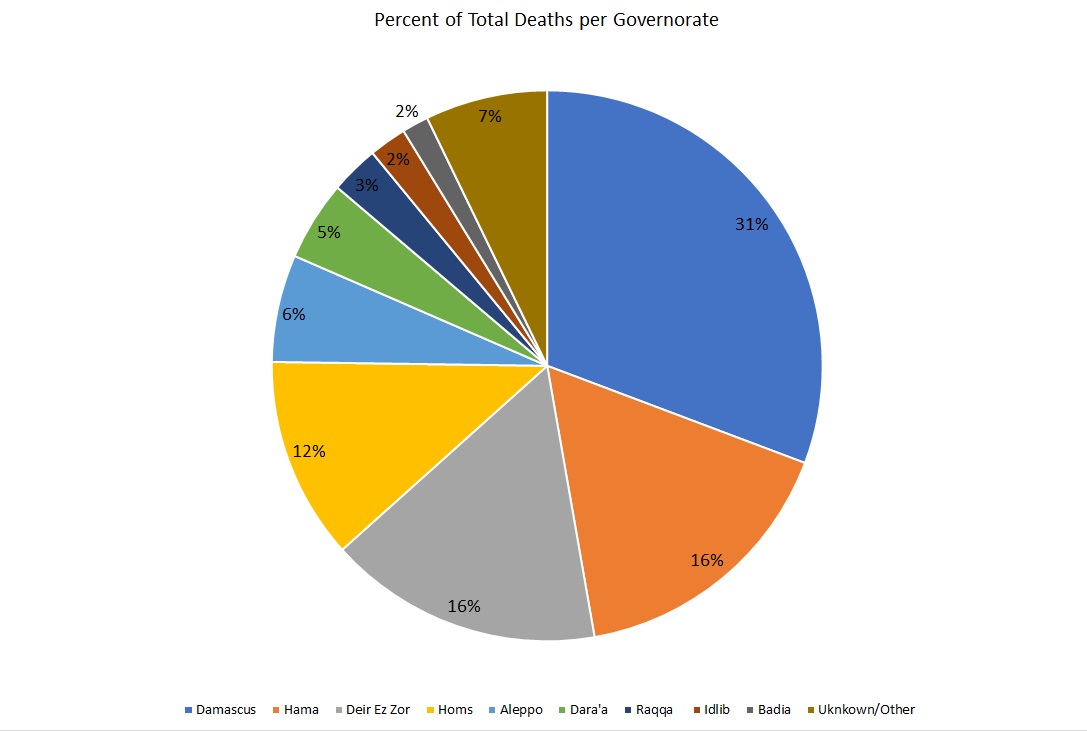 Chart 3: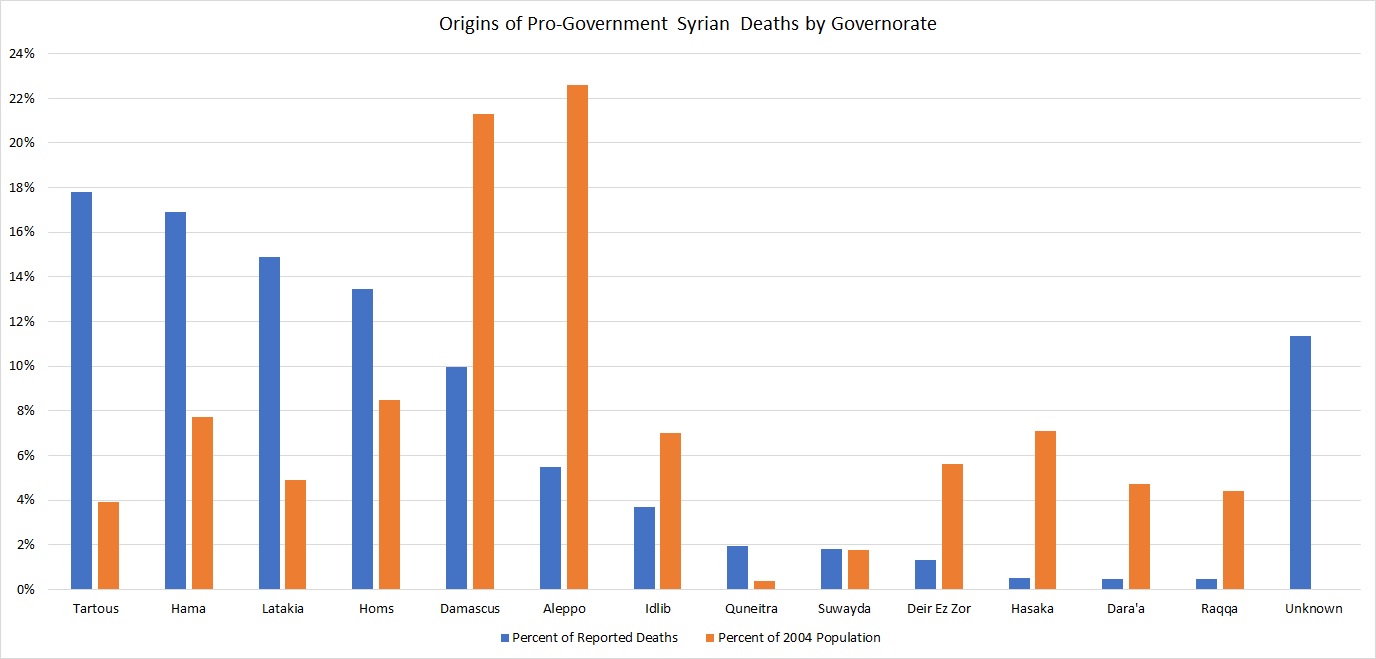 Below is a timeline of reported deaths per week color coded by the governorate in which the men died. Following that is a brief description of each major offensive over the 15-month period.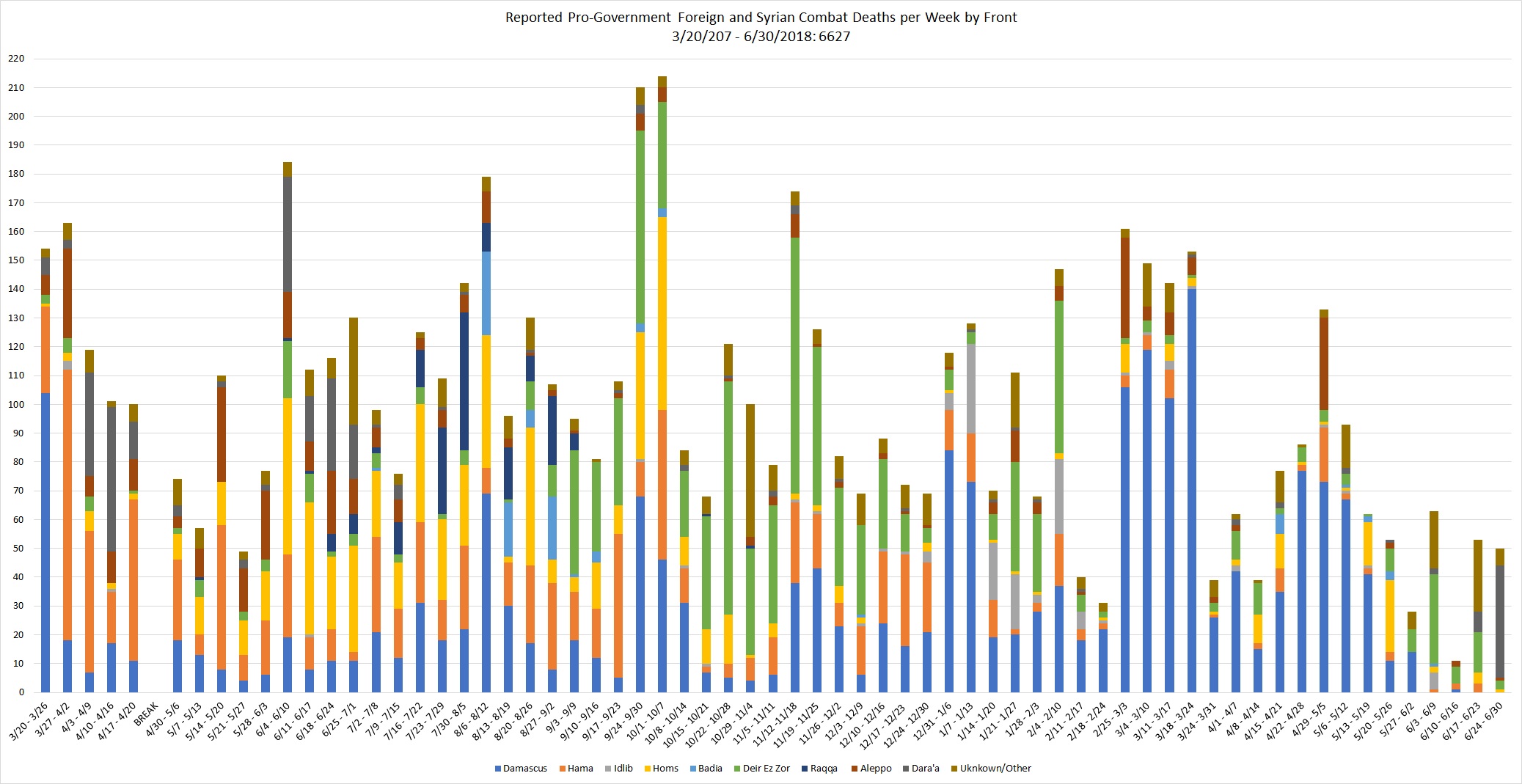 Opposition Jobar offensive
March 19, 2017 to April 2, 2017
Reported Deaths: 116; Estimated Deaths: 189
Officers killed: 2 Brigadiers, 1 Colonel, 1 Major
Opposition forces of Hayat Tahrir al-Sham, Faylaq al-Rahman, and Ahrar al-Sham launched an offensive in the contested Damascus neighborhood of Jobar in an attempt to reach the besieged neighborhoods of Barzeh and Qaboun, which had been defending against a government offensive since February 18. Intense fighting raged with little front-line change for almost two weeks until April 2, when the rebel forces abandoned the offensive after failing to lift the siege and the government offensive of Qaboun and Barzeh renewed. A full timeline of this offensive can be found below.

Opposition North Hama offensive
March 21, 2017 to April 30, 2017
Reported Deaths: 259 (data from April 20 to April 29 is missing); Estimated Deaths: 427
Officers killed: 3 Brigadiers, 2 Colonels, 2 Lieutenant Colonels, 3 Majors, 3 Group Commanders
Opposition forces led by the recently formed Hayat Tahrir al-Sham and including several local Free Syrian Army groups launched a major offensive in North Hama.Rebels initially seized a large swathe of territory, but by April 9 all gains had been reversed with the rebels further losing control of the towns of Halfaya and Tayibat al-Imam. Frontlines began stabilizing after April 30 with only minor skirmishes over the following weeks. The government's defense and subsequent counter offensive saw extensive use of foreign fighters, with 58 Iranian, Afghan, and Pakistani fighters reported killed throughout the offensive, including 3 Iranian Generals. A full timeline of this offensive can be found below.

Government Barzeh-Qaboun offensive (resumed)
April 2, 2017 to May 15, 2017
Reported Deaths: 49 (data from April 20 to April 29 is missing); Estimated Deaths: 54
Officers killed: 1 Lieutenant Colonel
The government's offensive to capture the rebel held neighborhoods of Barzeh and Qaboun in Damascus began on February 18 but paused during the rebel Jobar offensive. Operations renewed on April 2 and ended with the surrender of the towns and forced displacement of nearly 4,000 opposition fighters and their families. Military-aged men that remained were quickly conscripted into the local pro-government Qalamoun Shield Forces and deployed to new frontlines across the country.
Government East Aleppo offensive (resumed)
May 10, 2017 to June 30, 2017
Reported Deaths: 156; Estimated Deaths: 184
Officers killed: 2 Major Generals, 1 Brigadier, 2 Colonels, 2 Lieutenant Colonel, 2 Majors
Following the government's successful defense and counter-offensive in North Hama, units led by the Tiger Forces militias returned to the East Aleppo countryside to resume their offensive against ISIS, which had begun on January 17. Following their capture of Jirah Airbase, government forces worked their way south along highway 4 through the town of Maskanah until they reached the Raqqa governorate on June 13 (see Government Raqqa offensive and ISIS counter). By June 30, the Syrian government reported that ISIS' presence in Aleppo's countryside had been ended. At least three pro-government foreign fighters died in the offensive.
Government Central Syria offensive: Homs, Badia, and Deir Ez Zor
May 23, 2017 to September 27, 2017
Reported Deaths: 678; Estimated Deaths: 999
Officers killed: 2 Major Generals, 7 Brigadier Generals, 10 Colonels, 3 Lieutenant Colonels, 5 Majors
Beginning in early May, the government began operations to retake the desert area in the eastern Damascus countryside and southern Homs. On May 23, the Damascus operations largely ceased as the focus shifted towards ISIS' southern Homs, between Palmyra and the US-controlled Tanf region to the south.
This offensive would continue for four months through several stages as the government asserted more and more control over the expansive desert of central Syria, first securing Sukhnah, then besieging ISIS in Eastern Hama while moving south to secure Arak and advancing towards Humamyah and Abu Kamal along the Syria-Iraq border, and finally lifting the siege on the city of Deir Ez Zor on September 5.
After reaching Deir Ez Zor, government forces advanced north along the Euphrates to capture all of the southern Raqqa countryside, securing this region on September 23 while continuing to fight ISIS within the city of Deir Ez Zor. At least 106 pro-government foreign fighters died in the offensive, with at least 50 of those deaths among Afghans. A full timeline of this offensive can be found below. More about the Badia front can be read here.

Government East Hama offensive
May 31, 2017 to October 4, 2017
Reported Deaths: 322; Estimated Deaths: 300 (Only Homs deaths explicitly from this pocket included, means some Homs deaths are missing)
Officers killed: 2 Brigadiers, 2 Colonels, 2 Lieutenant Colonels, 2 Majors
Pro-government forces officially launched an offensive to secure the town of Oqarybat and clear the East Hama region of ISIS 13 days after a major ISIS attack on frontline towns killed 47 soldiers and dozens of civilians. The offensive went extremely slow and saw a gradual increase in non-local militias as deployed units struggled to gain ground.
After several pauses, operations renewed again on July 28 and continued until October 4, when the East Hama and North Homs pocket was fully recaptured. At least 17 pro-government Afghan fighters and at least three Russians died during the offensive. A partial timeline of this offensive can be found below.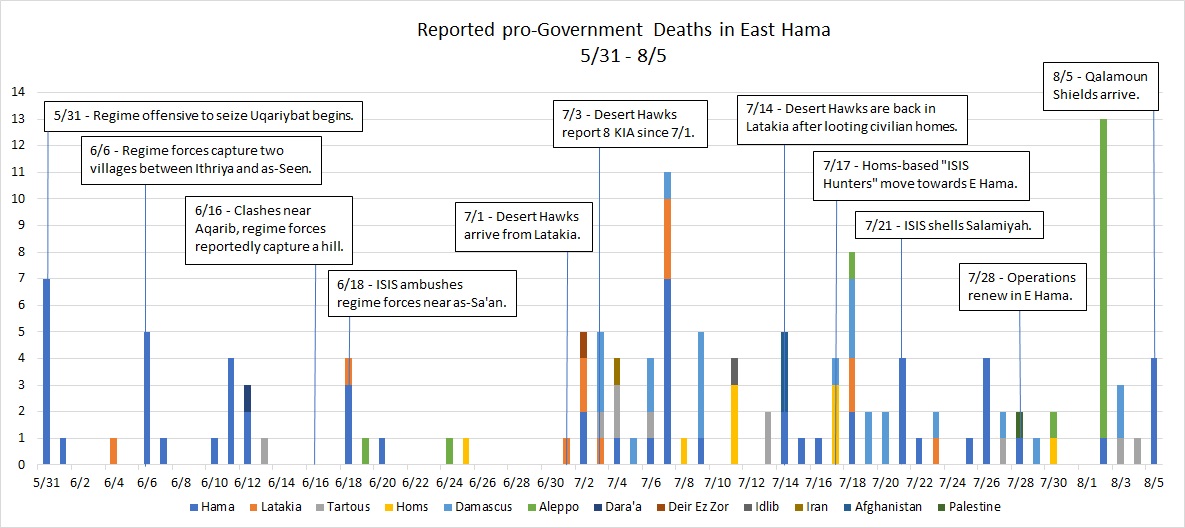 Government Dara'a counter-offensive
June 4, 2017 to July 7, 2017
Reported Deaths: 103; Estimated Deaths: 123
Officers killed: 1 Brigadier, 3 Lieutenant Colonels
After more than three months of opposition advances in the Manshiyah neighborhood of Dara'a, the government mounted a month-long counter-offensive led by the 4th Division, Hezbollah, and 5th Corps focused on the outskirts of the city as well as the Palestinian camp neighborhood. The offensive ultimately failed to gain any ground and ended with a Russian-monitored ceasefire across the region on July 7. Thirty-three pro-government foreign fighters were reported killed in the fighting, including 19 Hezbollah fighters and 10 Afghans.
Government Raqqa offensive and ISIS counter
June 13, 2017 to September 23, 2017
Reported Deaths: 184; Estimated Deaths: 333 (Numbers only for those deaths reported in Raqqa, not in the southern Aleppo countryside)
Officers killed: 3 Brigadiers, 2 Colonels, 2 Lieutenant Colonels
On June 13, pro-government forces led by the Tiger Forces militias and Russian advisers pushed into the Raqqa governorate near the crossroad town of Ruseifa. These forces would continue advancing through the Raqqa countryside to the Euphrates until August 24, when ISIS launched a major counter attack along the northern Euphrates and reversed all of the government's gains from the previous four weeks.
Reports of casualties from this counter-offensive were difficult to track, as many bodies remained in the desert under ISIS control and much of the reports from the region consisted only of mass burials with no names of the buried attached. This new frontline would hold until September 23, when government forces pushed north from the city of Deir Ez Zor and succeeded in capturing ISIS' remaining holdings along the Euphrates river. A full timeline of this offensive can be found below.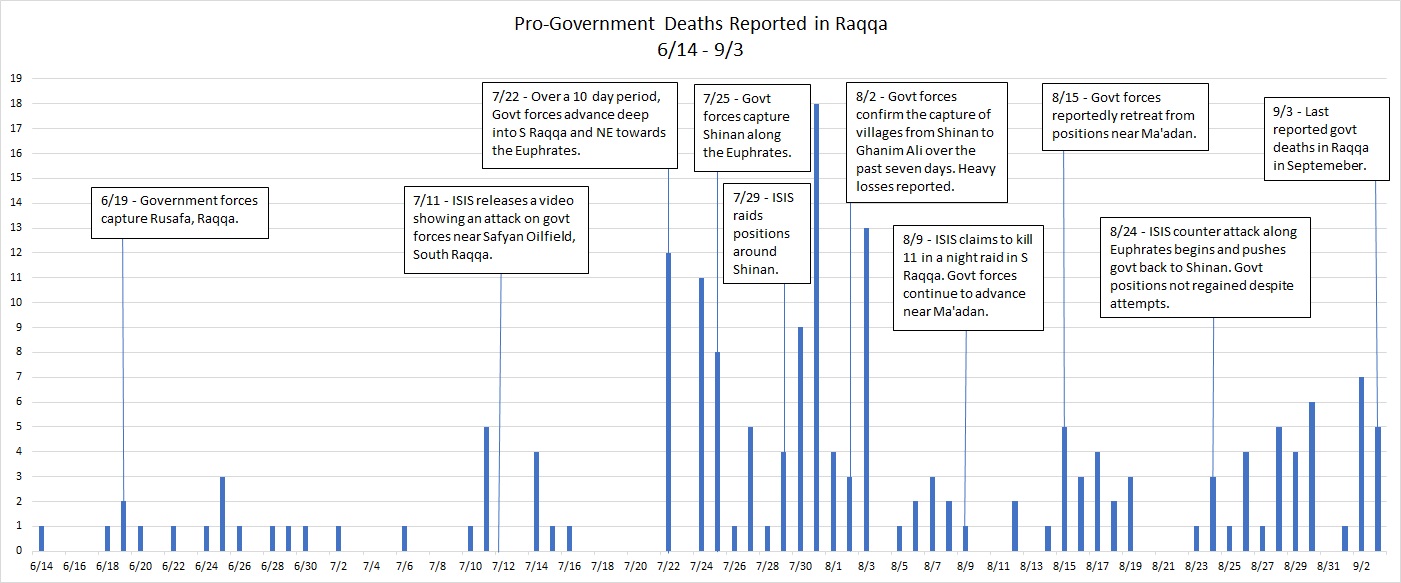 Opposition Quneitra offensive
June 24, 2017 to July 1, 2017
Reported Deaths: 42; Estimated Deaths: 47
Officers killed: 1 Colonel
As the government's Dara'a counter-offensive continued, rebel group Hayat Tahrir al-Sham formed a new operations room called "Jaish Mohammad" with local rebel factions and launched a seven-day assault on Madinat al-Baath in Quneitra. While opposition forces initially captured some parts of the city, the offensive ultimately failed and the frontlines returned to their previous positions. Two pro-government Lebanese foreign fighters died in the fighting.
Government Ayn Terma and Jobar offensives
August 2, 2017 to September 30, 2017
Reported Deaths: 168; Estimated Deaths: 270
Officers killed: 1 Brigadier, 1 Colonel, 1 Lieutenant Colonel, and 4 Majors
On August 2 the government began a largely Republican Guard-led offensive on the Faylaq al-Rahman (FaR) held neighborhood of Ayn Terma on the outskirts of Damascus while simultaneously continuing to clash with FaR in the Jobar front, where activity had been picking up since July. While the government was able to secure some open land along the Ayn Terma river valley, the offensive ultimately stalled along the heavily urban front.
FaR employed numerous devastating tunnel bombs throughout the offensive, including two which killed 13 and 45 government fighters, according to pro-government sources. Likewise, the fighting around Jobar resulted in no significant territorial change.
ISIS al-Adnani offensive in Deir Ez Zor and Homs
September 28, 2017 to October 21, 2017
Reported Deaths: 298; Estimated Deaths: 459
Officers killed: 1 Major General, 4 Brigadiers, 6 Colonels, 1 Lieutenant Colonel, 4 Majors, 3 Group Commanders
On September 28, ISIS launched its last major offensive of the war against government positions across Deir Ez Zor and Homs. In the first days ISIS managed to seize or besiege all major settlements between Palmyra and Deir Ez Zor, including cutting off the crucial town of Sukhna. Fortunately, the government had recently secured the northern Euphrates approach through Raqqa to the town of Deir Ez Zor, ensuring the city was not again besieged.
On October 1, ISIS captured the town of Qaryatayn in eastern Damascus, marking its furthest eastward advance. Government forces would recapture Qaryatayn on October 21, and fully reverse all of ISIS' gains by the first week of October and then continue to advance south along the Euphrates around the city of Mayadeen. Between 79 and 100 pro-government foreign fighters died in the ISIS offensive.
Government Beit Jinn offensive
Late September, 2017 to January 2, 2018
Reported Deaths: 95; Estimated Deaths: 117
Officers killed: 2 Brigadiers, 1 Colonel, 2 Majors, 2 Group Commanders
Clashes began in late September around the opposition-held pocket of Beit Jin straddling the southwest border of reef Damascus and the northern border of Quneitra. The government offensive slowly built over the following two months until November 28 when the government secured its first major advance into the northern edge of the pocket.
On November 3, the Quneitra-based Jaish Mohammad rebel operations room launched the brief "Break the Chains of Hermon" offensive on the Druze town of Hader in an attempt to reach the besieged pocket. While the offensive failed, 23 mostly local government fighters died. The pocket would fully surrender on January 2 with rebel fighters either leaving for opposition-held Dara'a or Idlib or joining the local pro-government Quneitra Hawks or Hermon Regiment.
Government North Hama/Idlib offensive
October 24, 2017 to February 13, 2018
Report Deaths: 418; Estimated Deaths: 522
Officers killed: 2 Brigadiers, 9 Colonels, 3 Majors, 13 Group Commanders
In one of the most complicated offensives of the war, Hayat Tahrir al-Sham, ISIS, and government forces fought for control of Northeast Hama, East Idlib, and Southwest Aleppo for almost four months. Intense fighting raged until the first days of January when HTS' defensive lines collapsed and the group began a steady retreat to the outskirts of Abu Duhur and its adjacent airbase. On January 11, Ahrar al-Sham and a host of Free Syrian Army factions armed with new Turkish-supplied weapons launched the "Repel the Invaders" counter-offensive along the hilly eastern front, preventing any further westward advance of government forces. By February 13, ISIS had been defeated by both the government and rebel forces and the government controlled the Abu Duhur airbase and the Jabal al-Hoss region of southern Aleppo while Turkish forces began establishing ceasefire-monitoring points along the newly created frontline. More than 60,000 civilians were displaced in the fighting.
Opposition Harasta offensive
November 14, 2017 to February 18, 2018
Reported Deaths: 331; Estimated Deaths: 488
Officers killed: 1 Lieutenant General, 6 Brigadiers, 4 Colonels, 2 Lieutenant Colonels, 1 Major, 1 Group Commander
On November 14 Ahrar al-Sham launched the first phase of its "They Were Wronged" offensive with the aim of capturing the Harasta vehicle management base, a heavily defended salient between the opposition-held towns of Harasta and Irbeen on the outskirts of Damascus. Ahrar launched phase two on December 29 and successfully besieged the base two days later. Govt forces partially broke the siege on January 7.
Fighting here would continue until Harasta surrendered to the government following its East Ghouta offensive. The rebel offensive was defined by the high number of generals killed: six Brigadiers and one Lieutenant General died throughout the three-month battle, numbers comparable only to the government's four-month central Syria campaign. A full timeline of this offensive can be found below.

Pro-government forces attack Syrian Democratic Forces near Khusham, Deir Ez Zor
February 8, 2018
Reported Deaths: 43
Officers killed: 1 Brigadier, 1 Lieutenant Colonel, 1 Group Commander
On February 8, a collection of pro-government forces including a significant contingent of Russian mercenaries attacked U.S. and SDF positions near the town of Khusham in Deir Ez Zor. 43 men were reported killed, including 13 Russians and many fighters from the "ISIS Hunters" group and Liwa al-Baqir. U.S. officials claimed more than 200 government fighters died. More details can be found here.
Government East Ghouta Offensive
February 18, 2018 to April 14, 2018
Reported Deaths: 544; Estimated Deaths: 544
Officers killed: 2 Brigadiers, 4 Colonels, 6 Group Commanders
Government forces amassed in Damascus as massive and indiscriminate preliminary shelling of the opposition-held East Ghouta pocket began. One hundred and twenty-seven civilians were killed on February 19 alone, and on February 25 the government began a ground offensive to clear the pocket. Victory over the last rebel holdout of Douma was declared on April 14, six days after a government chemical attack on the city killed at least 70 civilians. A full timeline of this offensive can be found below. More about this offensive can be read here.

Turkish air force bombs Syrian government fighters
March 2, 2018 to March 20, 2018
Reported Deaths: 50
Officers killed: 1 Colonel, 1 Group Commander
Between March 2 and March 20, the Turkish air force bombed Syrian government fighters who had entered Afrin to support the YPG on four occasions, killing at least 50 fighters. Killed fighters came from the Badia NDF, Popular Defense Forces, Military Intelligence, and the Zakaria al-Khalail Battalion of the Nayrab Special Tasks Regiment.
ISIS South Damascus Offensive and Government Counter-Offensive
March 12, 2018 to May 21, 2018
Reported Deaths: 358; Estimated Deaths: 522
Officers killed: 1 Brigadier, 5 Colonels, 2 Majors, 4 Group Commanders
On March 12, ISIS forces in Hajar al-Aswad, South Damascus advanced on opposition positions in the bordering Qadam neighborhood. Two days later, ISIS launched a wide-scale attack on government positions, seizing control over at least 90% of the neighborhood by March 21. Fighting subsided until April 19 when the government launched a massive offensive against ISIS from the Qadam, Tadamon, and Hajar al-Aswad axis of South Damascus.
Government forces included dozens of SAA brigades and battalions, most of the Damascus-based Republican Guard units, Palestinian militias, and the Tiger Forces' Hadi Regiment and Ali Sheli Hawks. The government managed to fully capture the neighborhoods by May 21 in a deal that included bussing the remaining ISIS fighters to the Suweida desert.
Government Suweida Offensive
June 7, 2018 to Ongoing
Reported Deaths: 24 (until June 30); Estimated Deaths: 54
Officers killed: 2 Colonels
Two weeks after the Syrian government bussed ISIS fighters from South Damascus to the badia in northeast Suweida, loyalist forces launched a new offensive against this ISIS pocket. While government forces succeeded in clearing much of the towns and villages dotting the countryside, ISIS maintained a strong presence in the desert and volcanic fields around Safa volcano. On July 25, dozens of ISIS fighters, some armed with suicide belts, infiltrated several Suweida towns killing at least 250 civilians and military personnel. Since this massacre, ISIS and government forces have been fighting in the Safa volcanic field and parts of southern Damascus countryside.
Government Dara'a Offensive
June 18, 2018 to July 31, 2018
Reported Deaths: 56 (until June 30); Estimated Deaths: 108
Officers killed: 2 Colonels, Lieutenant Colonel, 2 Group Commanders
Following reconciliation deals in East Ghouta, East Qalamoun, and Rastan, government forces amassed in southern Syria along the west Suweida, Dara'a, and south Quneitra frontlines. The offensive began on June 18 in the Lajat area of east Dara'a and west Suweida. On July 12 the army and allied militias captured Dara'a City following minimal fighting. Many of the opposition factions put up a limited fight, opting instead to surrender to Russian forces. By July 21, all opposition areas had reconciled and the government forces began fighting ISIS in the Yarmouk Basin.