Reaper Drones Revealed to Be Operating from Jordan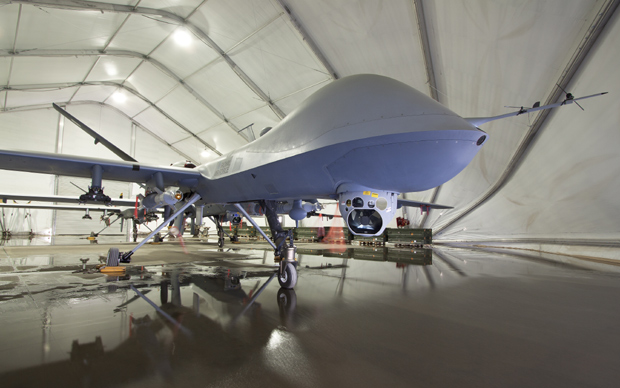 While lawmakers were publicly pushing President Obama to let Jordan borrow drones, U.S. or coalition Reapers were quietly being deployed to the country to track and kill IS.
Satellite imagery shows that Jordan's Muwaffaq airbase is now home to American-made Reaper drones. The Reapers were deployed in March 2015, almost a full four months before Turkey gave the U.S. its okay to bomb IS from its airbases. It's still unclear whether the drones belong to the U.S. or the one of its coalition allies, but their presence underscores Jordan's importance in the U.S.-led coalition's war against the self-proclaimed Islamic State.
Commercial space snapshots confirm the presence of Reapers and their signature clamshell shelters at the airbase, located 33 miles south of the Syrian border. Previously, the Muwaffaq airbase has hosted Eager Lion, an annual two-week military exercise that supports the U.S.-Jordan military relationship. Last year's exercise took place in May and featured a scenario in which a friendly force came to the defense of an ally under threat. Jordanian crews worked closely with their U.S. counterparts to coordinate airstrikes during the exercise.
The deployment of Reapers to Jordan came amidst a drumbeat of criticism from Rep. Duncan Hunter (R-CA), a member of the House Armed Services Committee, who urged the Obama administration to supply Jordan either with Predator XP or MQ-9 Reaper drones in a series of op-eds and letters throughout 2015. Hunter, whose district in San Diego is home to Reaper manufacturer General Atomics, argued that the weapons would increase Jordan's capability in the fight against the Islamic State and deny China another potential customer for its own line of drones. But satellite imagery shows that U.S. or coalition forces had already deployed Reaper UAVs to Muwaffaq airbase in Jordan's Zarqa Governorate by March 2015. Indeed, Google Earth imagery shows that preparations were already underway for a Reaper deployment by the time the congressman sent his first letter to President Obama last February.
"Hitting Tremendous Amounts of Ground Targets"
Jordan has proven to be a key member of the U.S.-led coalition. Amman has provided support to anti-regime rebels in southern Syria, allowed the U.S. and other coalition partners to provide training to rebels on its soil, and served as a staging ground for coalition aircraft. Jordan has also participated in coalition airstrikes (officially named Operation Inherent Resolve) since they were first launched in the summer of 2014. After learning that IS had immolated captured Royal Jordanian Air Force pilot Moaz al-Kasasbeh, Amman drastically increased its bombing campaign against the group last February — the same month preparations for the Reaper shelters can be seen in Google Earth. Having previously limited its missions to two to four at a time, Jordan launched dozens of warplanes to carry out strikes aimed at training camps and ammunition depots in Syria. Jordan then expanded its campaign to IS targets in Iraq, and by day three of the retaliatory response, the head of Jordan's air force would fantastically claim that IS's capabilities had been depleted by 20 percent after carrying out 56 sorties and that 7,000 IS fighters had been killed in Jordanian airstrikes since they began in September 2014.
The pace of Jordanian airstrikes has ebbed significantly in recent months. The New York Times reported last November that Jordan had not conducted an airstrike since September and has instead been devoting resources to the conflict in Yemen, a claim the Jordanian Embassy in Washington denied. Even before U.S. Secretary of Defense Ash Carter chided some coalition members for not doing enough or "doing nothing at all," Jordan's King Abdullah II was asked last month whether his country was adequately contributing to the fight against IS. He maintained that Jordan has been "hitting tremendous amounts of ground targets," and that airstrike figures alone do not take into account the number of air patrols and reconnaissance flights carried out by the kingdom.
Nonetheless, airstrikes by the U.S., Jordan, and other members of the coalition have played a role in helping shift the situation on the ground in Syria and Iraq in the past year, if only slightly. At the start of 2015, the Islamic State's cross-border footing appeared disturbingly secure. Intelligence Community assessed that the terrorist group was fundamentally the same strength as it was the year prior. There was even a public scandal that ensued from the assessment. But recent data compiled by IHS Jane's shows IS losing about 14% of its territory for all of 2015. While no one's claiming victory any time soon—it's unlikely a clear definition even exists—airpower remains the primary source of U.S. and coalition persuasion, absent troops on the ground.
Growing Unmanned Capacity
Airpower in Jordan, especially the unmanned variety, augments other unmanned assets deployed in the region. At Kuwait's Ali Al Salem airbase, Reapers and Predators can be seen in Google Earth as early as November 2014—though the Pentagon relocated around seven Predator combat air patrols to the base in October 2011, according to Air Force sources. At the time, the shipment of 21 Predators from Iraq was considered the largest transfer of unmanned assets to date. Updated imagery from September 2015 in Google Earth continues to show Reaper and additional Ku-band satellite arrays deployed at the airbase.
The larger and more capable Reapers, have become the more important of the two systems and the mainstay of the U.S. war effort. Despite the war weariness of drone operators, the Pentagon announced last February that it planned to increase Reaper numbers in FY 2016, procuring 29 of the armed drones, up from 24 in 2015 and 20 in 2014. They'll be needed as the U.S. continues collecting on and striking targets in Afghanistan and Pakistan. The only catch: the U.S. air arm may be hard-pressed to find pilots.
That could pressure more U.S. allies to deploy their drones in support of strike operations, especially now that Russia deployed their S-400 missile defense system to Latakia and expanded operations to other parts of the country. Of course, they may already have, if the Reapers seen at Muwaffaq aren't American. Of the allies fielding the U.S.-built tech, France, the U.K., and Italy have the Reapers in service. However, only the U.K. and Italy have armed their drones. The U.K. currently has 10 of the remotely piloted aircraft, all forward deployed to fight IS, according to statements from Defence Secretary Michael Fallon. They're operated by 39 Squadron out of RAF Waddington while Italy's six, flown by 28 Squadron from Amendola, are in the process of being armed this year. Italy recently received approval to arm their drones from the U.S. State Department late 2015 after U.S. export policy was revised. The NATO country initially requested the option back in 2011.
Following closely behind, other allies are planning on obtaining the UAV. The Spanish government approved an order of four unarmed Reapers in November 2015 with the first two to be delivered by 2017. Spain joins the Netherlands, whose pending order of four was approved by the State Department earlier last year, and Australia, which is rumored in a forthcoming Defence White Paper to purchase eight. The Netherlands expects to receive their aircraft this year and plans to put them to work supporting national, UN-mandated, and other coalition operations by 2017. While no delivery dates regarding Australian Reapers have surfaced, the country already sent drone pilots and sensor operators to train with their U.S. counterparts. They were even manning ground control stations flying U.S. Air Force Reapers over Syria by August 2015.
With Western partners increasingly willing to expand capacity, the question remains whether Jordan will be the first Middle Eastern country to acquire the coveted tech.
A Longstanding Relationship

The war against IS is only the latest chapter in the U.S.-Jordanian security relationship. While never linked by a formal treaty, the U.S. has provided Jordan with military aid since 1957. Last February, Washington and Amman signed a non-binding memorandum of understanding (MOU) in which the U.S. pledged $1 billion in aid a year for the next three years, contingent on Congress's approval. That MOU followed on the heels of a previous five-year MOU, which promised the kingdom $660 million in aid a year ($3.3 billion total). Congress ended up surpassing that figured by approving an additional $1.453 billion during that five-year period (or $290.6 million annually). Roughly one-third of the foreign assistance requested for fiscal year 2016 takes the form of military aid, including foreign military financing grants that allow the kingdom to build and maintain its conventional weapons systems and enhance Jordan's ability to participate in the coalition efforts against IS. Recent major U.S. arms sales to Jordan include 1,808 Javelin anti-tank guided missiles, 72 M31 Unitary Guided Multiple Launch Rocket Systems, and a $75 million contract for repairing the engines of its F-16 fleet.
Also playing a crucial role in this longstanding security relationship is Jordan's General Intelligence Directorate, arguably the most competent intelligence service in the Middle East next to the Mossad. A key partner to the U.S. intelligence community, the GID has received money, training, and equipment from Washington for decades and were integral to the U.S.'s aggressive counterterrorism efforts following the the September 11 attacks. Jordan served as a hub for the CIA's controversial extraordinary rendition program, drastically stepped up terrorism-related arrests, and helped spur the Sunni Awakening, which helped turn the tide of the Iraq War in 2006 and 2007. Jordan also aggressively pursued Abu Musab al-Zarqawi, the founder of al-Qaeda in Iraq, which would later become IS. The GID reportedly provided the U.S. with a key piece of intelligence regarding Zarqawi's whereabouts, leading to his demise in a U.S. air strike. Nearly 10 years later, the war against Zarqawi's organization rages on, and Jordan may be turning out to be an important hub for drone strikes in the region.