Predators Join Reapers at Jordan's Muwaffaq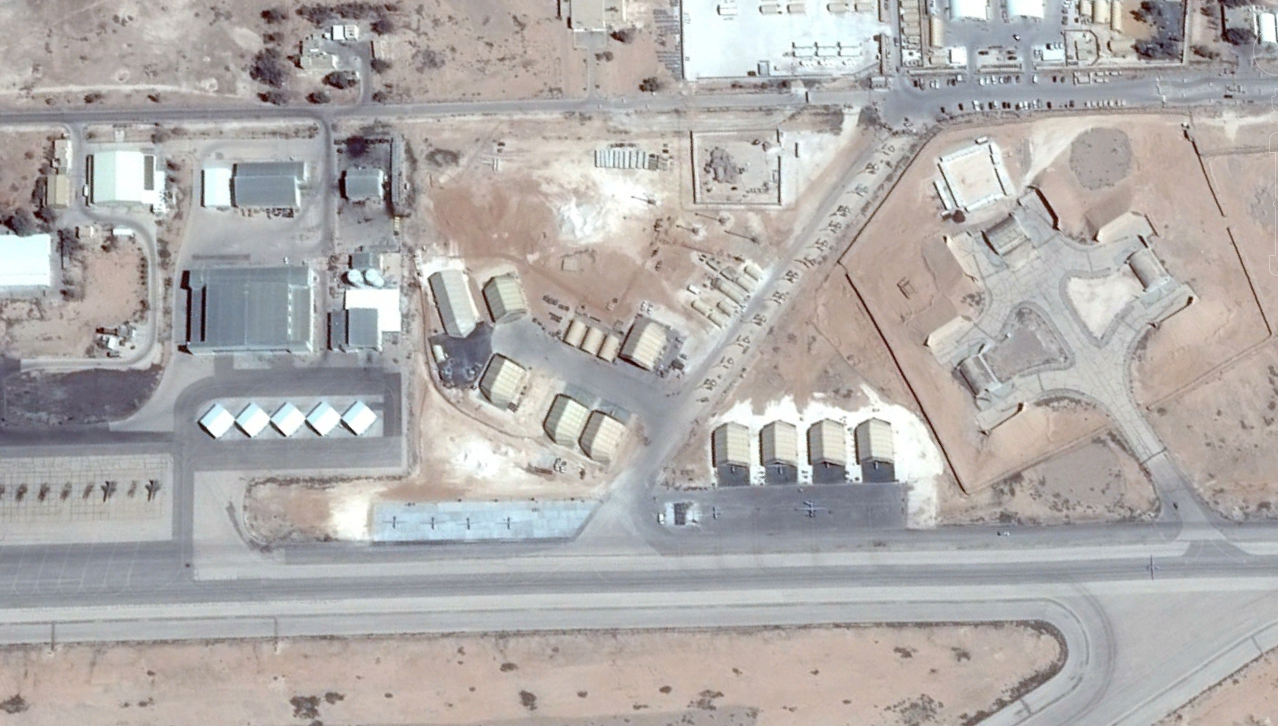 In February of this year, we reported that Jordan had begun quietly hosting a deployment of U.S. or Coalition MQ-9 Reapers at Muwaffaq airbase between February and March 2015. New satellite imagery released in Google Earth shows further developments at the airbase, located 33 miles south of the Syrian border. Newly erected clamshell shelters — often paired with U.S. drone deployments — can be seen in the March 2016 space snapshots, as well as new parking hardstands to support a greater numbers of unmanned aircraft.
The satellite imagery, acquired by  Airbus Defense and Space, confirms that the Reapers were joined by the smaller MQ-1 Predator UAVs. At least six Predators were identified in the new 2016 imagery, which suggests that at least two combat air patrols, comprised of a total of eight drones, were deployed. (A combat air patrol is typically composed of four drones.) Two Reapers are clearly visible in the new imagery, while four other unidentified drones are parked within the clamshell shelters, their bulbous noses protruding. In total, 12 unmanned aircraft are observed not far from their manned counterparts.  No Ku-band satellite links can be seen, which suggests that Muwaffaq remains a launch and recovery site.
The presence of the less capable Predator is notable, as it continues to speak to the growing strain on the U.S. air arm to put eyes in the sky to meet the growing demand for surveillance and strike operations. The U.S. Air Force has postponed the retirement of the platform to 2018, as the U.S. remains involved in troubled hotspots around the globe. Though more advanced than their smaller Predator counterparts, Reapers have struggled with an alarming crash rate. In 2015, at least 10 Reapers were badly damaged or lost due to accidents while 10 other "large drones" sustained at least $2 million dollars in damage, according to a recent Washington Post investigation. With the Reaper accident rate doubling since 2014, the Predator remains an important stop-gap solution.
On March 4, shortly after the publication of our post, Jordan received eight UH-60A Black Hawk helicopters from the U.S. to bolster the Kingdom's Quick Reaction Forces. Speaking anonymously, a U.S. official said the Black Hawks were provided as a "no-cost lease to Jordan." The same official, when asked about the unarmed Predator drones Jordan requested in 2014, said, "there is no request to purchase right now, but there is a request for pricing MK9" (likely a reference to the MQ-9 Reaper).  He added, "this is not an item that we are actually providing." While it may be true that the U.S. is not providing Predators or Reapers to Jordan, the latest satellite imagery makes clear that both UAVs are operating out of Muwaffaq and likely playing a role in the Coalition's fight against the Islamic State.