Is the U.S. Expanding an Airfield in Syria?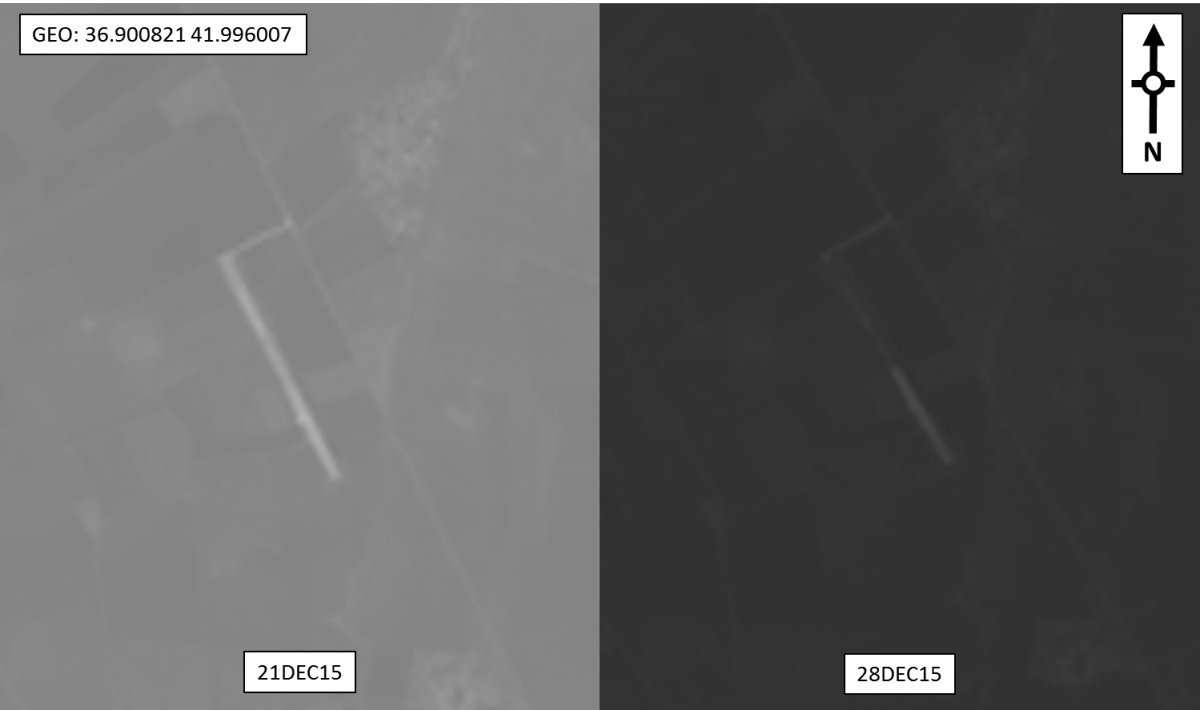 Low resolution Landsat imagery shows new activity at an airfield rumored to support a U.S. military presence in Syria's Al-Hasakah province. The imagery acquired via the U.S. Geological Survey suggests the U.S. could be establishing further supply lines to Kurdish and friendly forces in the region in the effort to fight the Islamic State.
Space snapshots from 12 December show an expanded runway at the airfield since 05 December. Measurements taken on low resolution imagery suggests the total length is nearly 1,350 meters, almost double the original 700 meters.
Rumors reported in the Lebanese press in December suggested the agricultural airfield would reach at least 2,500 meters (al-akhbar) (Now). However, that seems unlikely as probable paving activity appeared to be underway in imagery from 28 December. (This is suggested by the discoloration of the runway).
The airfield, located less than five miles southeast of Rmeilan, is also less than 10 miles northwest of the Yarubiya-Rabia (Tel Kocher) border crossing. It's located in an area that's been under the control of the Kurdish People's Protection Units (YPG) since at least September 2013 when they took the territory from the Islamic State.
Rmeilan, an oil rich area, sits in defense of the Sweidiyeh Oil Field which is located northeast of the town. It's part of territory held by almost 30,000 YPG fighters. Throughout 2015, YPG and associated forces took back major territory in eastern Al-Hasakah clashing with Islamic State. U.S. airstrikes helped support the fighters carrying out the offensive against the terrorist group.
By October, the U.S. began sending small arms and ammunition via airdrops to friendly groups in the region as a part of a new effort to increase the pressure and maintain hard-won gains.
It appears this airfield may be apart of those efforts. Unconfirmed reports from the group "Local Coordination Committees of Syria" suggest two helicopters carrying light ammunition and explosives landed on 17 January 2016 at the now, military airfield.
With a longer runway and improved surfaces, we suspect the airfield could become something more than just a supply point for regional forces. We'll continue to look to future imagery for insight.
More Information
Looking in Google Maps/Earth for the airfield? You can follow the geocoords on the imagery via this link — it shows imagery from 2013, when the length of the airfield was approximately 700m.
In a report by Al Jazeera on 22JAN16, a U.S. Central Command spokesman "denied that US forces have taken control of any airfield in Syria".
On 23JAN16, Agence France-Presse (AFP) reported that nearly 100 US special forces and experts, alongside forces from the Kurdish People's Protection Units (YPG) are setting up an "airbase" at the airfield in Rmeilan, "from where aircraft used to take off to spray pesticides on crops before Syria's war started five years ago". US Central Command spokesman Colonel Pat Ryder said that "[t]here has been no change to the size of mission of the US presence in Syria", but that "US forces in Syria are consistently looking at ways to increase efficiency for logistics and personnel recovery support".