Growing Pains: Accounts of Localized Resistance to ISIS Rule
It's no secret that ISIS exerts an ironclad grip over its subject populace. Its media wing is willing and eager to document and exhibit its highly idiosyncratic of Islamic law, whether through distributing video footage of accused homosexuals being tossed from rooftops or the execution of suspected spies as performed by a child.
Less immediately evident is the widespread discontent that ISIS faces from residents under its control who are elided from the ISIS media narrative. But while their voices are stifled, activist and social media accounts can play an important role in illuminating the forms of resistance, passive and aggressive, that occur on a regular basis in ISIS territory in a bid to undermine their political hegemony.
Such resistance has taken many forms. Most notably, perhaps, was the abortive uprising of the al-Sheitat tribe in Syria, which resulted in the reported execution of hundreds of its members. Activists continue to find mass graves attributed to the massacre. This harsh repression effectively blunted any further resistance from the tribe, and pro-government social media sources reported that a number of its members have since allied with Syrian military forces in Deir Ezzor, opting to exercise resistance against ISIS in this capacity rather than fight on their own.
The emergence of the White Shroud, an enigmatic Deir Ezzor-based vigilante group, underscores the extent to which anonymous members of the public, perhaps former FSA fighters or Islamists, are willing to pursue coordinated armed struggle against ISIS. While its exact nature and composition is subject to debate, activists have attributed several assassinations of ISIS members to the White Shroud, and men claiming to be members of the group even made a cameo video appearance. Similarly, other attacks have been attributed to members of the mostly Sunni pro-government Ba'ath Battalions, who have a declared presence in Raqqa.
Yet such widely organized violence is not the only way in which locals have attempted to assert their own authority in ISIS-held Syria and beyond. While these actions have required a large degree of planning and tactical cohesion, organic resistance has taken root in some areas. According to activist accounts, residents have used several opportunities to fight back, whether through sudden acts of violence against targets of opportunity or in more indirect and surreptitious ways.

Activist sources converge on the basic details of an encounter in the village of Sbeikhan in mid-December in which local men reportedly killed a number of ISIS fighters. The anti-government Tahrir Syria network reported that a deadly fight erupted after ISIS religious police attempted to apprehend a woman in the village, and a pro-government news site also reported a similar version of the event.

Following the confrontation, Tahrir Syria also reported that several men were executed as punishment. A separate pro-government poster on social media seemed to corroborate basic details of the account a few days later.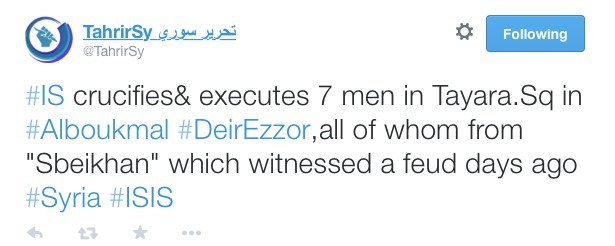 A Syrian journalist from Deir Ezzor reached by Bellingcat was able to confirm the violence in Sbeikhan, saying that three ISIS fighters and seven village residents were killed the fighting. The journalist, a member of the DzGraph activist network, said that although ISIS detained a number of men following the incident, it wound up releasing them.
"There was a small deal between the guys from the village and ISIS to release the arrested," the journalist said. "ISIS was afraid of protests, so they did."
While he did not verify details of the alleged executions, both his account of ISIS brokering deals with locals, as well as social media accounts from opposition and pro-government sources suggesting a local backlash, illustrates the level to which ISIS authority was briefly called into question, forcing the group to either execute villagers fighting against their religious policing or negotiate with residents to stave off further disruption, or some combination thereof.
Likewise, the journalist said that other forms of more passive resistance are endemic throughout ISIS territory. Parents, he said, find schooling alternatives so their children can continue studying science and other subjects prohibited by ISIS' austere and religiously focused curriculum. Indeed, in the stridently theocratic world of ISIS jurisprudence, even smoking can be a form of resistance. As the journalist noted, groups of men in Syria have formed secret smoking clubs to keep their habits alive, preferring to stay in their homes and away from the prying eyes of ISIS religious police.
"Now when you walk in the streets you see only kids, girls with scarves and boys with balls. The women don't leave their houses," he said. "The number of people hating ISIS is increasing day by day."
Al Mayadeen, according to the DzGraph member and other activist sources, has become a hotbed of anti-ISIS resistance.

In one notable example, the journalist said, ISIS drafted a mentally ill man from the city and sent him to his death on the frontline against the Syrian military. He added that stories such as this are common, and that a silent protest movement has begun to build momentum within the country's mosques. Others are reported to be taking more stringent measures.
"Lots of fighters and ex-fighters are preparing themselves for the day they can fight both ISIS and the regime," he said, noting also that some former FSA members chose to join ISIS as a survival tactic when it consolidated its rule in the area, triggering resentment from locals who believe that ISIS uses the men as cannon fodder.
The journalist also said that several men across Deir Ezzor have claimed to be White Shroud members – if only in a bid to gain arms from outside backers, while others have taken to sporadic hit-and-run attacks against foreign ISIS fighters, especially in Al Mayadeen. He added that a Tunisian and another North African fighter were assassinated by unknown gunmen in recent weeks.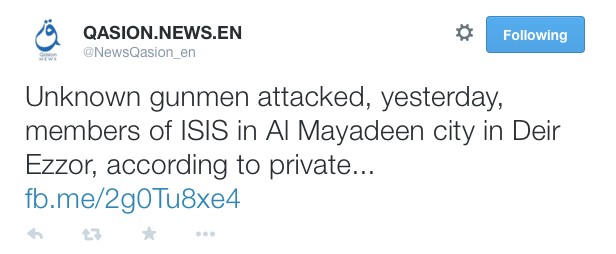 The alleged beheading of an emir in Al Mayadeen– head lopped off, cigarette wedged between his teeth in a morbid display of poetic justice – suggests that the group's harsh disciplinary measures may come to haunt them. Yet activists from DzGraph and the activist network Deir Ezzor Under Fire contacted by Bellingcat treated the story with caution.
"Reporters inside are saying they didn't see or hear something like that," the journalist affiliated with DzGraph said. "It is only the SOHR (Syrian Observatory for Human Rights) who said that."
Nor are social media accounts of resistance against ISIS limited to Deir Ezzor, since activist groups in other regions have reported similar acts of violent and nonviolent resistance.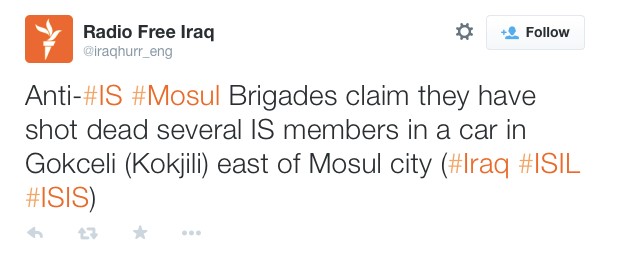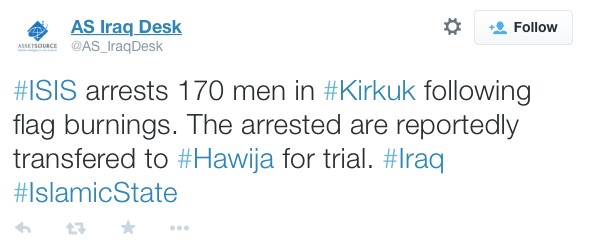 ISIS members themselves have also engaged in very limited forms of resistance against the group, most recently brought to attention when ISIS arrested alleged Azeri "ghulat," or extremists, planning a coup against its upper echelons. Pro-ISIS social media reported the arrests widely after ISIS released a video of the alleged plotters. As preposterous as such a plot seems to both outside observers and undoubtedly to the group's regional and top-tier leadership, the group's willingness to broadcast the arrests illustrates that it takes such threats seriously and is willing to acknowledge their existence as a way of asserting superiority and control.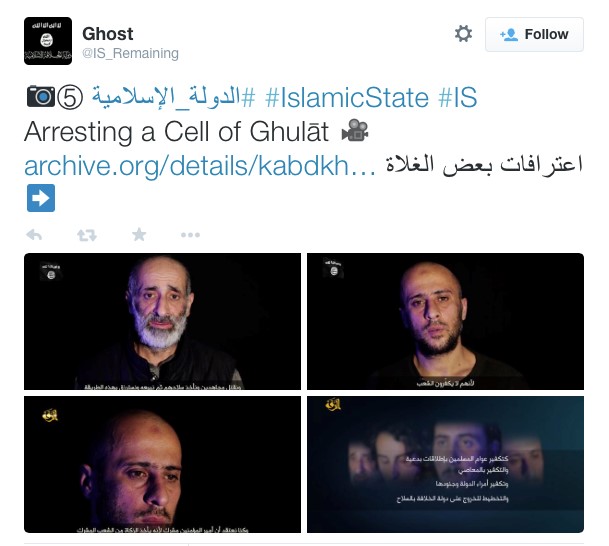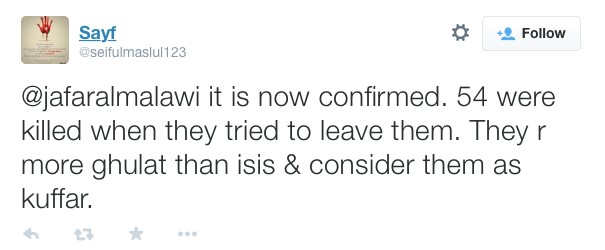 ISIS also exhibited a rare loss of control over its members when revelers flooded Raqqa's central square in early December to celebrate rumors that the Deir Ezzor air base had fallen. Activists reported swift retribution, alleging that the group quickly rounded up those involved on grounds of inappropriate behavior.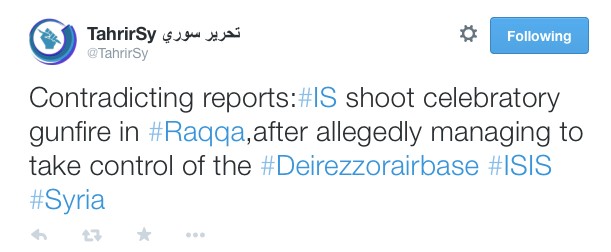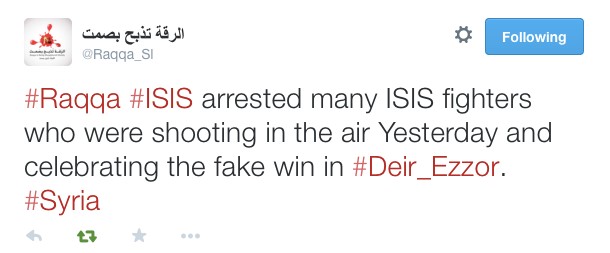 Nor, according to one prominent activist network, has the group been immune from internal fighting within its own ranks.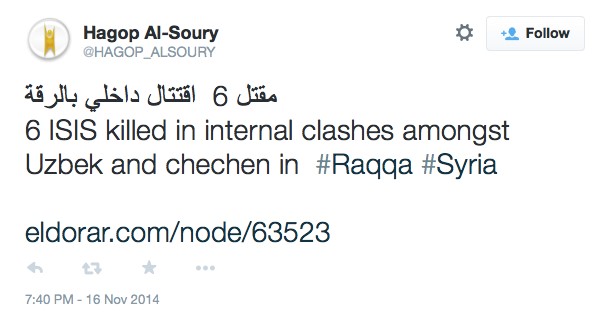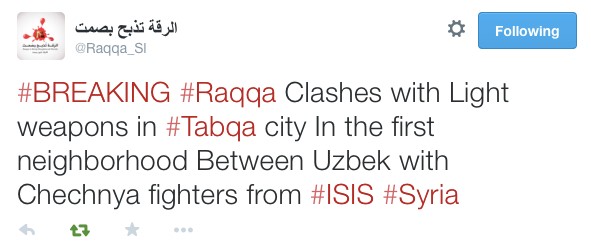 Activist reports must of course be treated cautiously, since they are not immune to fabrication, exaggeration or inaccuracies. Nevertheless, the aggregate body of reports from a multiplicity of sources, which sometimes have competing interests, suggests a populace striking back. And, despite a concerted ISIS propaganda campaign to paint life under its rule in a highly favorable light, a more in-depth account depicts a society slowly tearing at its seams, barely scraping by as the proclaimed caliphate attempts to govern under sustained airstrikes, counteroffensives and shortages as ISIS police in Raqqa go house-to-house in pursuit of those dodging combat duties.
It remains highly unlikely that burning flags or assassinating muhajireen will trigger a collapse, local or otherwise, of ISIS rule, but these varied reports testify to the level of dissatisfaction expressed by some of its subjects, who appear willing to secretly bend their new overlord's stringent rules or engage in guerilla attacks, showing how a number of people are pioneering creative and sometimes lethal ways to subvert ISIS rule and reclaim social space on their own terms.