Evidence of Jabhat al-Nusra Using TOW Anti-Tank Guided Missiles Captured from Vetted Rebel Groups
At the start of November it was reported that Jabhat al-Nusra had captured TOW anti-tank guided missiles (ATGM) from the Syrian opposition groups Harakat Hazm and the Syrian Revolutionary Front. Both were US vetted "moderate" groups who were part of a programme to receive arms and munitions to support their activities in Syria.
Today the following Tweet was posted by a Jabhat al-Nusra linked Twitter account, showing a TOW ATGM being used in fighting in Idlib, Syria.
#جبهة_النصرة | رصد لإحدى آليات النظام النصيري واستهدافها بصاروخ "تاو" #معسكر_وادي_الضيف – #إدلب pic.twitter.com/xVi2JMWCpW

— مراسل إدلب (@Idlib_JN) December 15, 2014
A Dutch Jabhat al-Nusra fighting claimed the following about the origins of the missiles
Remember the TOW missiles that were taken from SRF? #Nusra actually uses them in Idlib instead of SRF sitting on them pic.twitter.com/FN0IZQQ0DM

— Muhajiri Shaam (@AbuMohammed_MS) December 15, 2014
If this claim is true, it's the first evidence of TOW ATGMs provided by the US and its allies reaching the hands of the Al-Qaeda aligned Jabhat al-Nusra, although two alternative scenarios are possible:
1 – The photograph is a fighter from another group in the area using TOW ATGMs. The vetted 13th Brigade is also known to be operating TOW ATGMs in the same region. However, having reviewed footage of the 13th Brigade firing TOW ATGMs it appears that only a handful of men are operators of the 13th Brigade's TOW ATGMs, none of whom are the individual in the photograph.
2 – The TOW pictured is from Lebanon, having been captured by Jabhat al-Nusra in October 2014. The markings on the Lebanese TOWs that would confirm whether or not they were from Lebanon are not visible in the Jabhat al-Nusra photograph.
While the evidence is not definite, it does seem there is good reason to believe that at the very least Jabhat al-Nusra are using TOW ATGMs, and it seems likely that it will be possible to establish their origin as more evidence of their use is shared by Jabhat al-Nusra
Update Jabhat al-Nusra have now posted a video of the fighting showing them setting up the same TOW ATGM featured in the photograph
It's notable that the markings on the rear of the missile tube indicate it's the 71E-1B model, the same type as provided to vetted opposition groups, and the thee stripes on the legs of the launcher are black, not yellow as seen in the photographs of the TOW ATGMs captured by Jabhat al-Nusra from Lebanon, pictured here.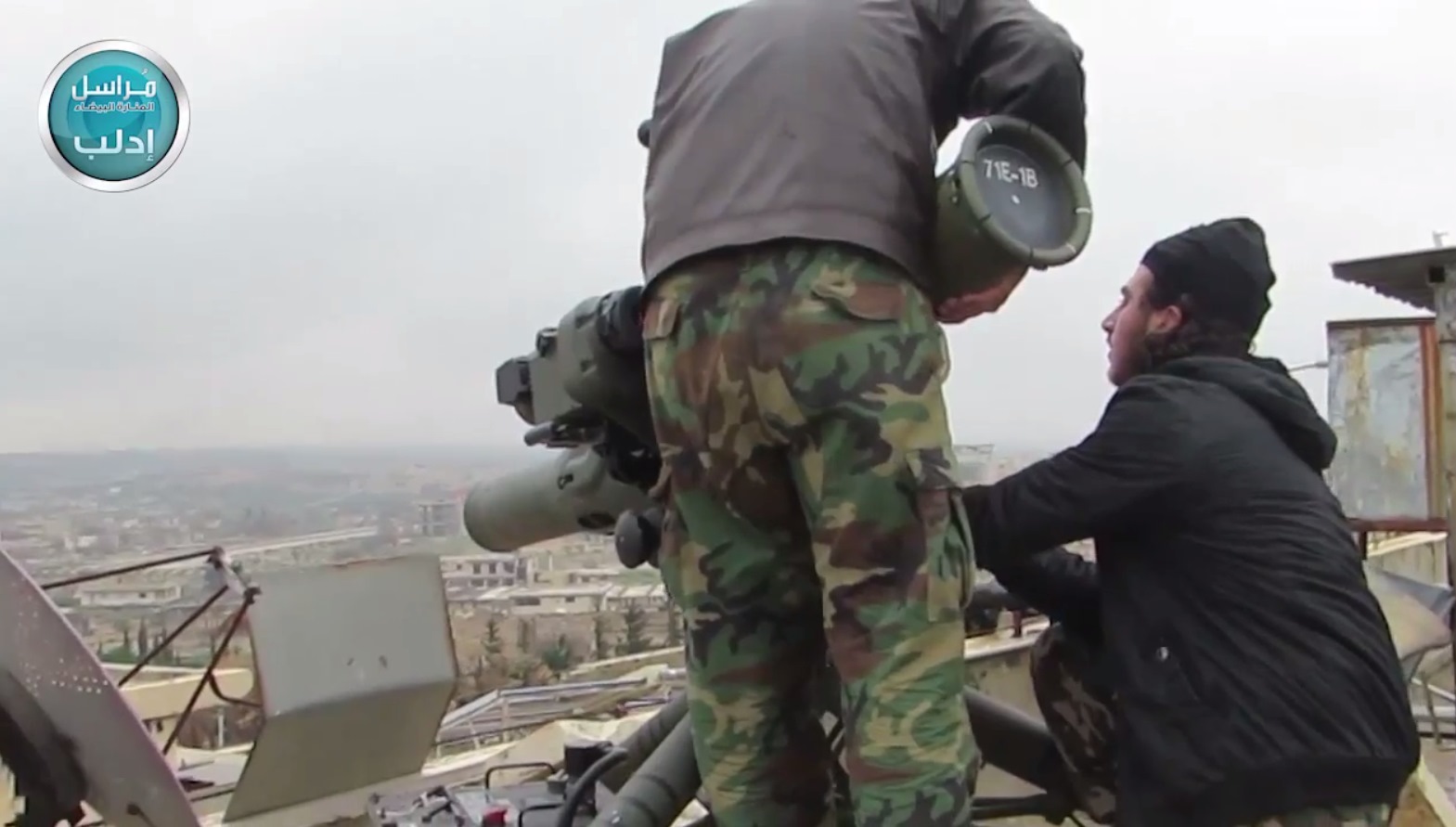 Based on this information it seems likely this is a TOW ATGM captured from a vetted opposition group.