Videos and Photographs Claim to Show Civilians Killed by US Led Air Strikes in Syria
Following last night's air strikes on targets inside Syria by US led forces, a number of claims were made about civilian victims of the air strikes. After 3 years of conflict Syrian opposition groups have already established social media networks that have allowed them to quickly share and disseminate images and reports from the conflict, and this has meant it's been possible to find evidence to support the claims of US led air strikes killing and injuring civilians.
The main allegations come from the small town of Kafar Deryan, in Idlib, and west of Aleppo, where videos and images posted to social media channels have shown rescue efforts after the attacks, victims, and the debris of the munition used.
Reports on the local Facebook page posted around midday details 4 dead and 8 wounded, and includes images of the victims
1 Child Zainab Muhanna Barakat
2 Child Safaa' Muhanna Barakat
3 Child Mahmoud Juma'a Muaz
4 Mother of Mahmoud Juma'a Muaz
The names of the wounded
1 Khansa Juma'a al-Doush
2 Child Ahmad Muhanna Barakat
3 Child Malak Muhanna Barakat
4 Sabha Shaker Taher, Wife of Muhanna Barakat
5 Child girl Wafaa' Muhanna Barakat
6 Child Mahmoud Mohammed Muaz
7 Safwan Yahya Skaff
8 Juma'a Mahmoud Muaz
It also reported 3 women and 3 children were killed who they had not yet identified.
A post a few hours later lists four more dead
1 Abdul Hamid Muhammad Jahjah.
2 His wife Reem Al-Hajji.
3 His daughter Basmalah Jahjah.
4 His son Mohammed Jahjah.
In both reports the deaths and injures are linked to US led air strikes.
Videos of the rescue efforts were posted on the local YouTube channel, as well as on their Facebook page
A video was also posted on their YouTube channel claiming to show the air strikes as they happened, including multiple strikes
Video from the next day shows the destruction done to buildings in the area
Several videos and photographs also show the remains of the munitions used (captions from the original image shared here)
The remains do not match any munition seen in the conflict so far, and a number of specialists have told me these may by the remains of a Tomahawk missile, although due to the heavy damage to the munitions it's currently not possible to be certain. The strike location would also be in the areas defined by today's Pentagon press conference on the air strikes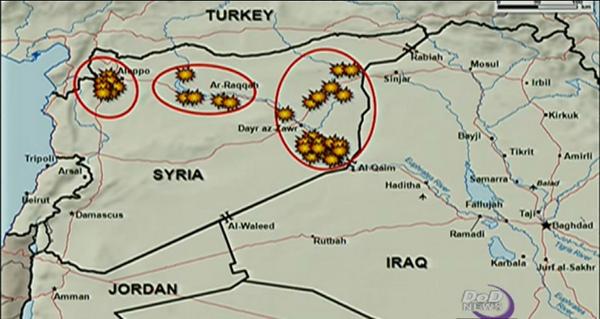 It seems, based on this information, that there's strong evidence that US led air strikes led to the deaths of 11-14 civilians, if local reports are accurate, along with a further 8 being injured in last nights air strikes.
Updates Recent posts by Jabhat al-Nusra linked Twitter implies a presence in the town, with this tweet claiming their HQ in the town was empty and only civilians were kiled. However, the administrator of the Facebook page has denied any JaN or ISIS HQs in the town after we contacted them. Another contact in the town claimed that all of the Jabhat al-Nusra HQs are located on the edge of the town, not inside it, and they had already been emptied of fighters and equipment before the attack. He also claimed all the missiles hit civilian homes and nearly all the victims were civilians. He went on to add
We think the strikes targeted Abu Yousef al-Turki, a prominent trainer on the use of sniper rifles. The nearest JaN HQ is 100 meters away from the town. JaN prevented anyone from approaching their HQs after the attack, so nobody knows exactly how many were killed and injured. However, we are quite certain that a number of JaN fighters were killed in the attack