Florida Trump Flash Mobs Organized by the Russian "Troll Factory"
On September 20, the Daily Beast published a report alleging that a series of flash mobs in support of Donald Trump were orchestrated by the so-called Russian "troll factory." This same Russian operation has organized a number of projects over the years, from hordes of commenters leaving pro-Kremlin messages on news articles and blogs, to operating a number of social media profiles, and even meme-creation and fake news sites. Their new project is apparently operating Facebook pages sympathetic to a handful of issues, such as supporting (then candidate) Trump or disparaging Black Lives Matter.
These events were organized through the Facebook page "Being Patriotic," which has been shut down by Facebook after its ties to the so-called "troll factory" were discovered, and then shared through a number of pro-Trump organizations in the United States. Two weeks ago, the Daily Beast reported that the troll factory-ran Facebook page "Secured Borders" organized an event in Twin Falls, Idaho against immigration; however, the importance of this "scoop" was difficult to assess, as the event was cancelled and there is no indication that the event was ever held. More so, the event garnered next to no attention in the small Idaho town.
In contrast to the Idaho event, a series of pro-Trump flash mobs organized by the "Being Patriotic" page actually turned into real-life results, though we should not exaggerate the impact of these rallies. The turnout for these flash mobs, which were to take place across Florida on August 20, 2016 at 2pm local time, was quite small, and there was little impact felt outside of a very small circle of social media posts.
Traces of the Facebook Event
While the "Being Patriotic" page has been wiped from Facebook, we can still find the event it created on Google's cache–a page that we archived at the site archive.is, which will still be accessible once Google's cache is refreshed. The text for the event can also be found on a Palm Beach Country website, which imported the information (likely from a script) from Facebook. A screenshot of the event page, along with all of the planned flash mobs and some of the organizers, can be found below:

A post from "Being Patriotic" on the event's page (archive) gathered a relatively large number of interactions: 475 likes, 155 comments, and 230 shares.

Turnout at the Flash Mobs
So, did anyone actually go to these flash mobs? Many of the events have actual local organizers, raising the question of how the Russian administrators to the "Being Patriotic" page interacted with these actual, human, American Trump supporters to organize the events. Most likely, "Being Patriotic" called for flash mobs supporting Trump throughout Florida on August 20, and some local organizers stepped up, answering the call.
It is unclear how many of these events actually took place–and it is quite likely that many of these events saw zero or negligible turnout–but some did have actual results on the ground. By searching through Twitter with the keywords "flash mob" and the hashtags #MarchForTrump and #FloridaGoesTrump for August 20, 2016 (the day of the flash mobs), we can find some photographs and videos taken of the events.
One video shot from Pensacola shows eight Trump supporters (plus one behind the camera) on a street corner holding flags. They all enthusiastically (but not quite in harmony) yell "lock her up," about Hillary Clinton.
#FloridaGoesTrump pic.twitter.com/8dp54wsTTr

— NeeNee Love Text Trump to 88022 (@NeeNeeLove4) August 21, 2016
A quick geolocation of the planned rally location in Pensacola (Brent Lane and U.S. Highway 29) gives us a match, with a Walgreens visible across the street and the Trump flash mob set up in a strip mall parking lot.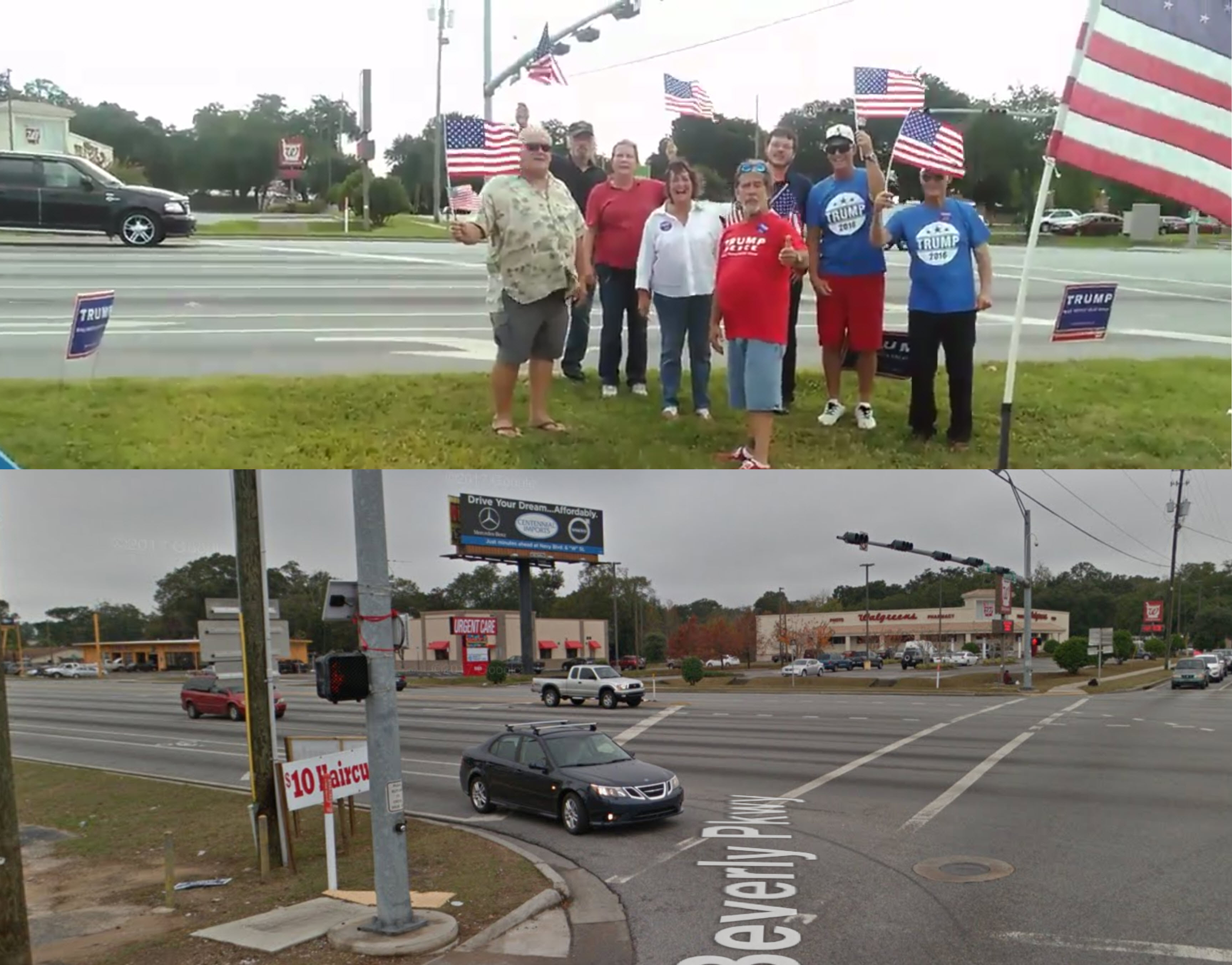 Another rally organized by the Russian troll factory-linked Facebook page was in Fort Myers outside of a Bass Pro Shop. A local Trump supporter shared a video of eight supporters (plus a child, dog, and the camera operator) yelling "southwest Florida for Trump!"
SWFL Trump Rally 2p Sat, 8/20/16 – Fort Myers, FL – Gulf Coast Town Ctr #MARCHFORTRUMP #FloridaGoesTrump pic.twitter.com/Ya95R6GYVp

— Sparklegoddess! (@tiffanyhbeard) August 21, 2016
The Trump supporter posted a series of videos and photographs from the rally, allowing us to again quickly verify that the rallies were taking place in the locations specified by the Russia-ran Facebook page.
SWFLTrumpRally 2p Sat, 8/20/16 – FortMyers GulfCoast TownCtr #MARCHFORTRUMP #FloridaGoesTrump#MakeAmericaGreatAgain pic.twitter.com/LWqCagWtic

— Sparklegoddess! (@tiffanyhbeard) August 21, 2016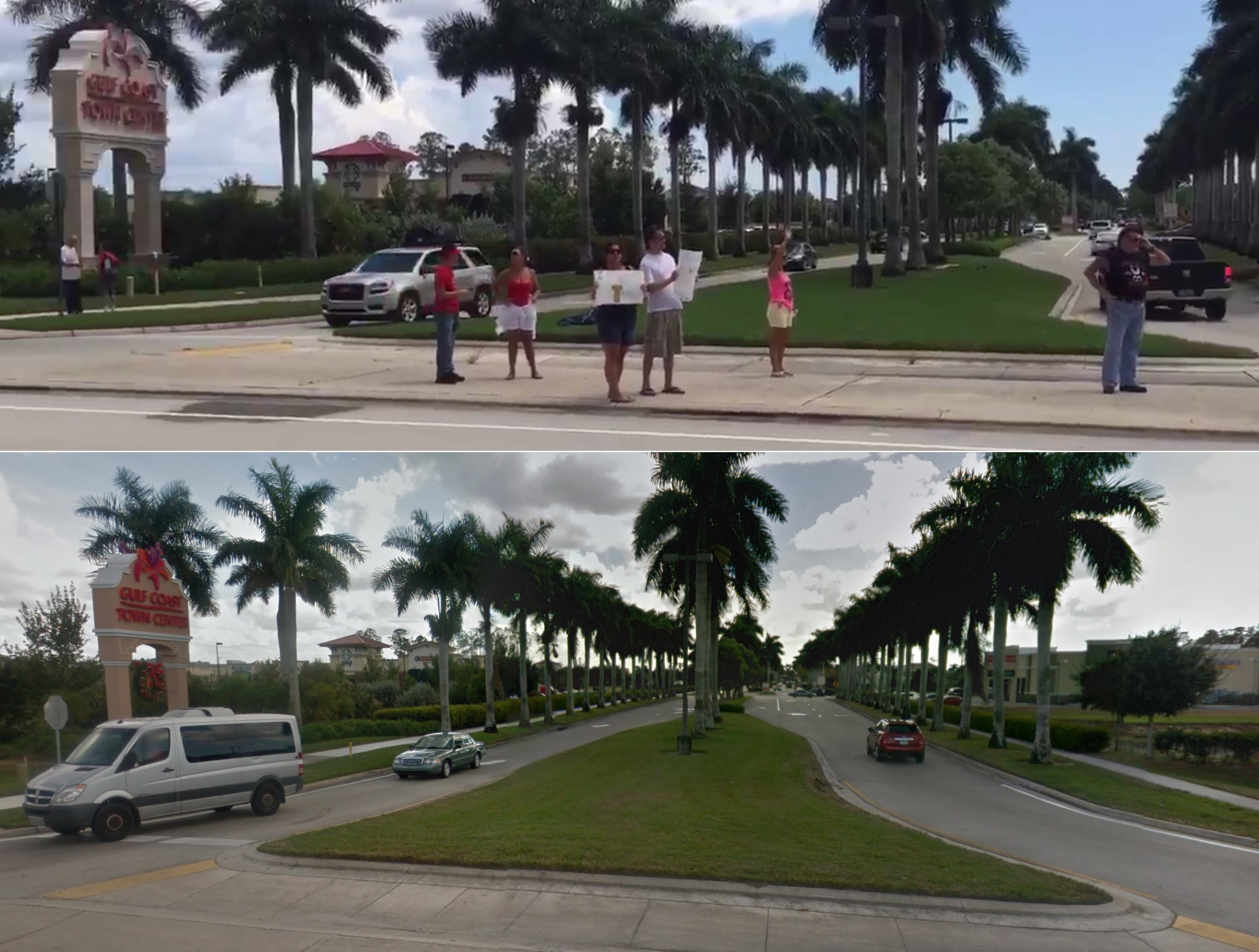 We can also find a photograph of the rally in Spring Hill:
Here's a small part of the Florida Flash Mob in the small town of Spring Hill pic.twitter.com/CV7wx3q5Xh

— Linart6 #MAGA #POTUS (@sunny_granny) August 20, 2016
Yet again, we can geolocate this rally photograph to the place that the Russian Facebook page specified — along Highway 19 and Spring Hill Drive, across the street from a Wal-Mart. Fifteen people, plus the camera operator, are visible.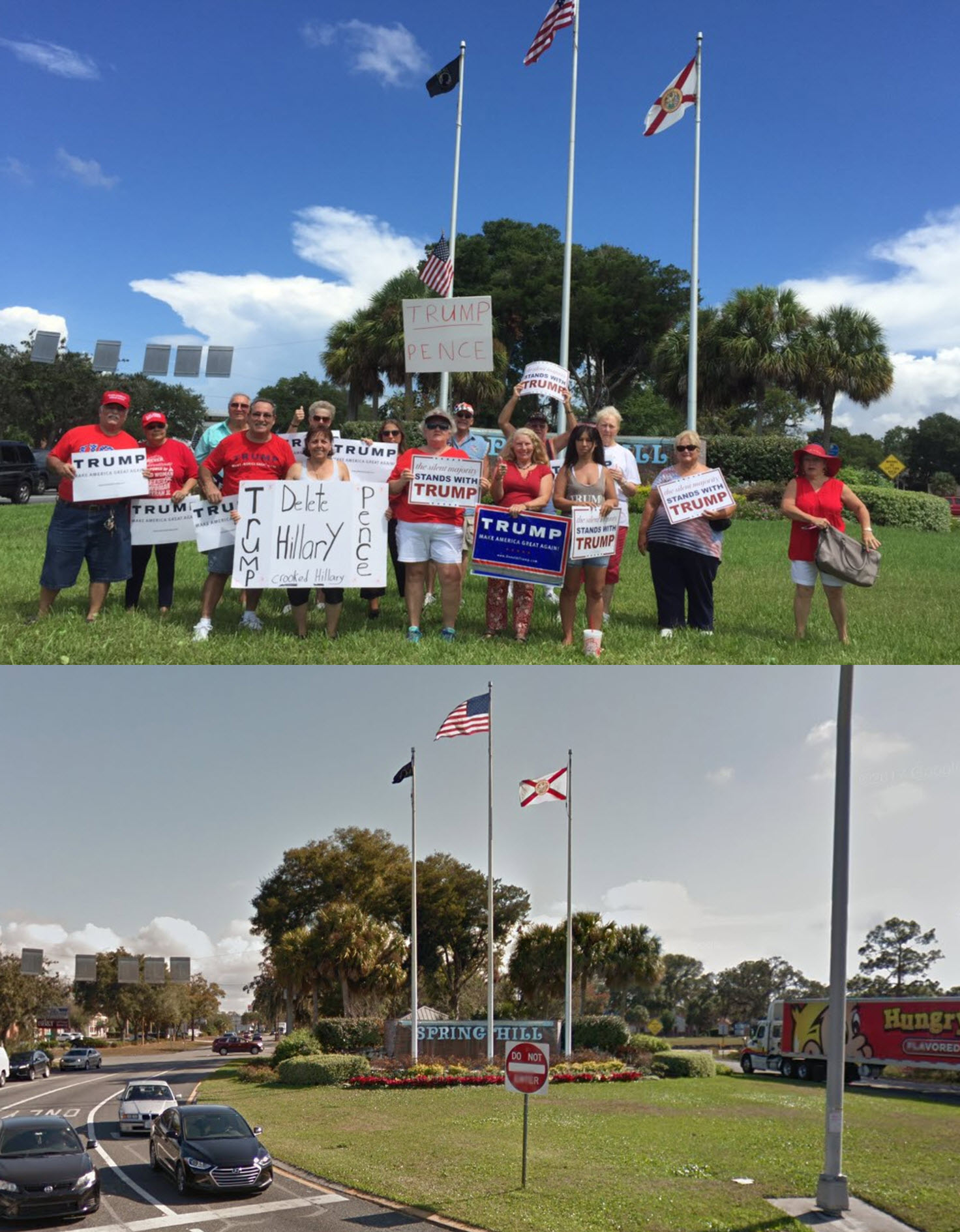 A photograph discovered by @RussiaMonitor is a bit harder to geolocate, but possible with a keen eye.
@March_for_Trump @Miami Rally Florida goes Trump! pic.twitter.com/patF8nUE5U

— Lilia Morraz (@LiliaMorraz) August 20, 2016
With the mention of Miami, we know to look for 8650 SW. 40th Street, mentioned by the "Being Patriotic" page. If we match up the mint/turquoise-colored part of the storefront and the brown/grey building in the left part of the frame, we can match the scene to the address specified by the event page, in front of the La Carreta Cuban restaurant.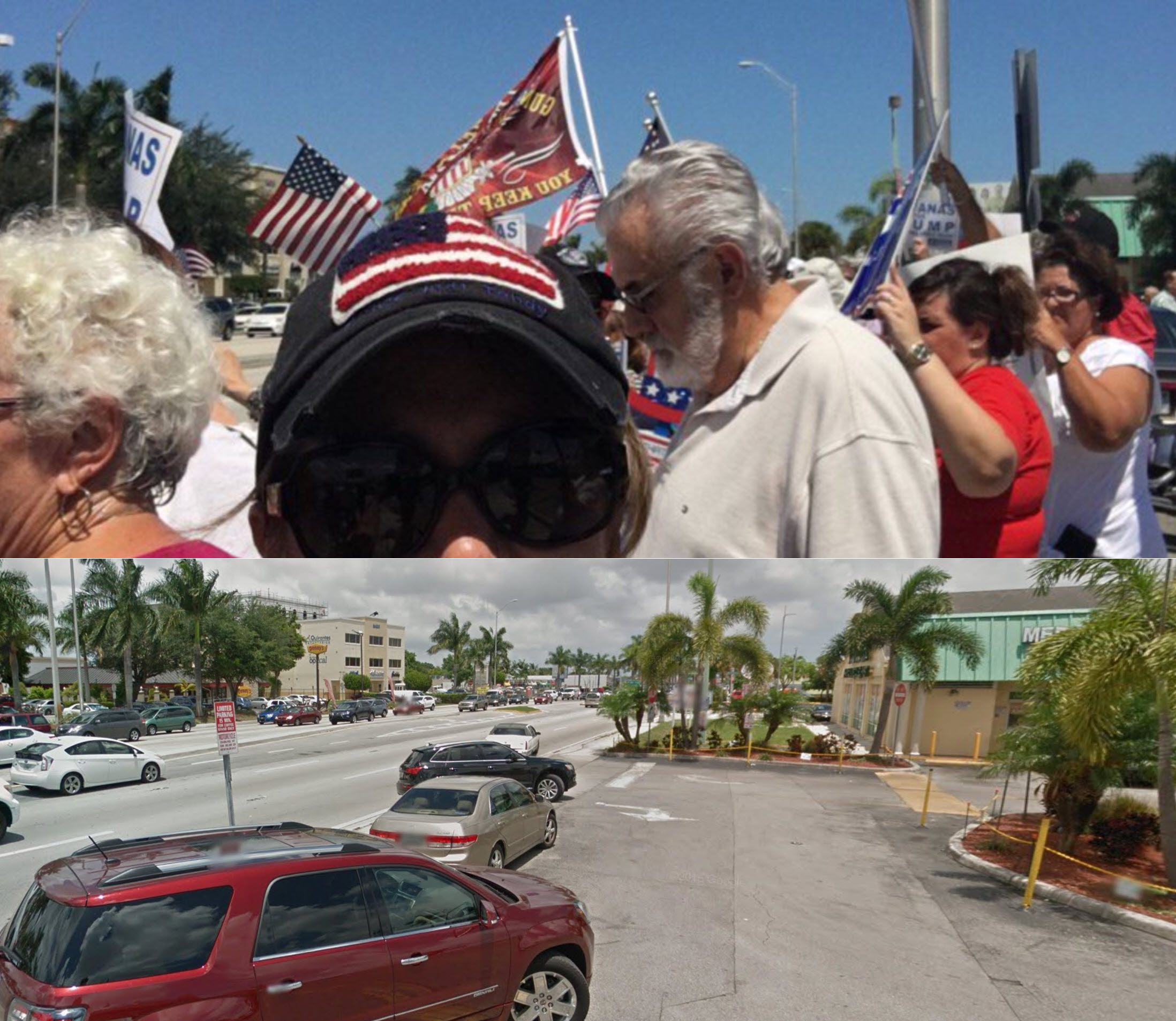 Another post with the #FloridaGoesTrump hashtag from August 20th does not specify a location, but includes four photographs of Trump supporters.
@realDonaldTrump my family for Trump #floridagoestrump pic.twitter.com/ir2mGOFe1n

— Rosie Rodriguez-Ruiz 🇺🇸 (@CubanRepub1231) August 20, 2016
Checking the lineup of stores in one of these photographs shows that these are additional photographs of the Miami rally in front of the La Carreta Cuban restaurant.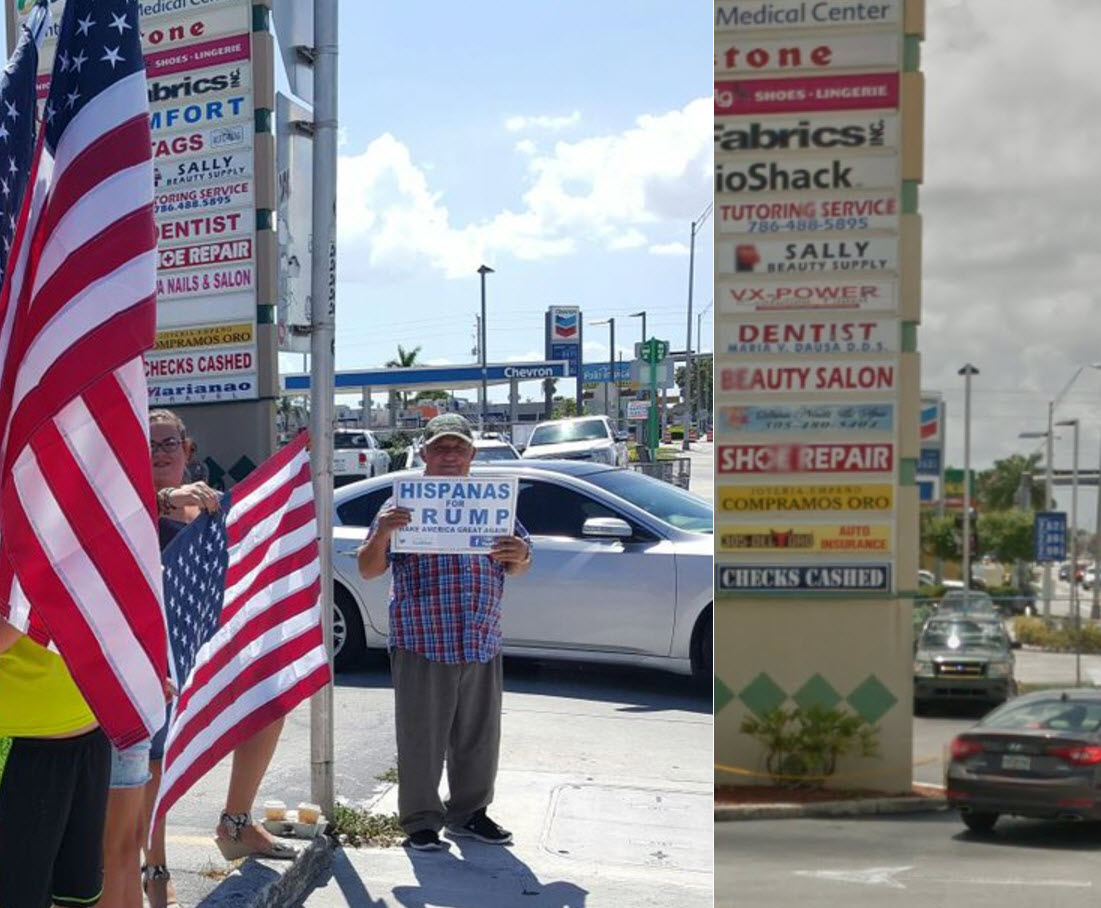 Conclusion
The "Being Patriotic" page succeeded in something that most other Russian troll factory projects have failed in — creating actual, real-world political events. However, as can be seen in the photographs and videos of these rallies, the flash mobs that were spurred by the Russian administrators of "Being Patriotic" failed to gather more than a dozen or so people each. This development of the Russian "troll factory" spurring tangible events in the United States is very interesting, but it is important to keep these events in perspective. Russians starting an event page that leads to real Americans holding a political rally is a capability to keep an eye on, but we should also keep our ear on what was actually produced in the Pensacola flash mob: eight people unable to simultaneously yell an anti-Hillary Clinton slogan, with their voices drowned out by the wind and passing traffic.
Do you know of any other photographs or videos of these August 20 flash mobs? Please leave any links in the comments, or tweet at @bellingcat on Twitter.
Update: Gavin Sheridan located this video from the August 20th Miami rally.
@March_for_Trump @realDonaldTrump pic.twitter.com/o2TGUodAzn

— Lilia Morraz (@LiliaMorraz) August 20, 2016