Recap of Open Source Monitoring of Republican National Convention
This week, Bellingcat conducted its first ever liveblog, in which Nathan Patin and I monitored the situation on the ground of Cleveland during the Republican National Convention from July 18-21. Sourcefabric provided us and First Draft News with the platform, allowing us to embed photographs, videos, and tweets throughout the week. Many members of the U.S. government and media expressed concern about mass unrest this week, with alarmist headlines filling the news: "Cleveland Braces for Possibility of Violence, Mass Arrests Amid RNC," "Cleveland Police Are Gearing Up for Mayhem at the GOP Convention," and so on. In reality, no single demonstration had 1,000 participants, and there were only about two dozen arrests in total. Though the situation in Cleveland was relatively calm compared to expectations, our open source monitoring still produced some interesting findings and analysis. This article will describe new trends observed from the event, attempt to fact-check a particularly popular news item from the event, and consider the possibilities of real-time analysis from the multitude of photographic and video materials on the streets of Cleveland during the RNC.
Live video streams, including from police
One of the most interesting trends of the RNC was the coverage of demonstrations with live videos — including Periscope streams from Cleveland Police. Similar to Occupy and Black Lives Matter demonstrations over the past few years, there were numerous citizen journalists who livestreamed the events, including "Rebelutionary Z" using UStream and the "Unicorn Riot" group using Livestream.com. Along with this, we saw heavy use of Periscope and, most notably, Facebook Live. Numerous news organizations, including Reuters and Fusion, used Facebook Live to show live interviews with activists and provide video footage of marches.
In an especially interesting development, the Cleveland Police were often seen filming demonstrations and the arrests of protesters.
In an interesting development, the Cleveland Police also ran their own Periscope live streams, sharing them on Twitter for the public to watch.
Rumors, yellow journalism, and more rumors
The last week was one filled with paranoia, likely due to the aforementioned expectations being set for unrest from members of the media and U.S. government. In particular, listening to the chatter of the Cleveland police scanner led to numerous rumors, minor panics, and poorly sourced stories. The monitoring of police scanners during crisis (or potential crisis) situations is controversial, but inevitable with widely available internet audio streams. There were two Twitter accounts in particular that were widely followed, as they provided up-to-the-minute updates and transcripts of the Cleveland police scanner: @RNC_Scanner and @CLEPoliceScan. On July 19, both accounts tweeted out chatter from the police scanner regarding demonstrators "throwing urine," and possibly having or using "urine bombs" (water balloons) and squirt guns.
Scanner: "Be advised, they are throwing urine. Be advised, they are throwing urine." #RNCinCLE

— CLE Police Scanner (@CLEPoliceScan) July 19, 2016
Protestors have loaded squirt guns with urine and are spraying. #RNCinCLE

— DNC Scanner (@DNC_Scanner) July 19, 2016
Scanner: "They are looking to throw some urine bombs." #RNCinCLE

— CLE Police Scanner (@CLEPoliceScan) July 19, 2016
These police officers were at Cleveland Public Square, which had dozens, if not hundreds, of media members, outnumbering demonstrators and activists. Not a single photograph or video emerged that showed "urine bombs" or urine-filled squirt guns being used, and no journalists reported witnessing such a thing. However, at least one police officer at the square reported that demonstrators were "throwing urine" — either something that s/he witnessed, or repetition of the chatter on the police scanner.
Whether or not this happened, reports managed to self-multiply, and before long, there was a three-way urine fight between the Ku Klux Klan, the Westboro Baptist Church, and Black Lives Matter activists. It should be noted that there were no confirmed sightings of KKK members at the RNC, and the Westboro Baptist Church (and other religious groups similar to them) were closely monitored and filmed at all times by citizen and traditional journalists.
Despite hundreds of cameras and phones at Cleveland Public Square, there is not one photograph, video, or direct witness account of this scene occurring. While the Washington Post did confirm that an officer searched a man with "three bags of urine in his backpack," there are no direct reports of them being used. It all, in short, came from chatter on the police scanner.
This fact did not deter the local and national media from picking up the story. In every instance, media reports cited either the police scanner chatter, or hedged their statements in words such as "apparently" or "were said to be" to frame the supposed incident.

KPLC TV. There is no mention in the video broadcast accompanying the story that mentions this incident. Originally, their story was titled "WATCH LIVE: Activists from BLM, KKK, Westboro clash during RNC protests, throwing urine at each other," yet the video did not show any such incidents. Their original tweet claiming this was later deleted, but is saved on the Google caches.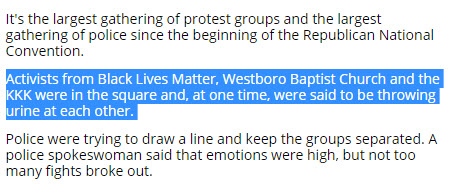 The story found momentum for obvious reasons, and soon became one of the top 10 trending topics on Reddit, found its way on Drudge Report, and gathered thousands of shares on the conservative website The Blaze. Journalists at The Blaze say that a police spokesperson confirmed that "some protesters had filled water guns with urine and were using the guns," but again, there are no witness reports, photographs, or videos of this incident or the presence KKK members. However, there was a confirmed incident about an hour before the "squirt gun" police chatter in which an activist had green water guns, and police later found a water gun nearby.
The timeline and poorly sourced coverage of this incident shows how unconfirmed police chatter over an incident that may have happened (protesters with squirt guns and/or urine) turned into a sensational situation that sounds closer to a set up for a punchline rather than an actual event. The events could have happened exactly as described by the New York Post and others, but the poor sourcing of the story and lack of evidence, especially regarding the participation of the KKK, Black Lives Matter, and Westboro Baptist Church, seriously hinders credibility and places an imbalanced amount of trust into conversations overheard on a police scanner.
Dozens of cameras = instant analysis
Nathan Patin provided analysis on the third day of the RNC regarding the most noteworthy flash point of demonstrations: a group of Revolutionary Communists (RevComs) burning an American flag, leading to over a dozen arrests. Thanks to the scene being surrounded by dozens of cameras and reporters, a variety of angles and perspectives were available for analysis. Nathan took one such video and provided analysis on our live blog of the flag burning incident, including the coordination used by RevComs and the type of crowd control (or, as it turned out, fire control) measures taken by the police.
As seen in the screenshots from our liveblog below, Nathan was able to take the available video footage and reconstruct the signals used by the RevComs to initiate the flag burning.
After these signals, a protester takes out an American flag from a bag, and it is then set on fire. A police officer attempts to spray it, but another activist blocks it, allowing the flag to continue to burn.
There were numerous citations from social media users and media outlets that the police used pepper spray to disperse the crowd during the flag burning.
BREAKING: Arrests at flag burning in Cleveland, police use pepper spray #RNCinCLE https://t.co/TvUfsp68hw pic.twitter.com/XL10BC6oyv

— RT America (@RT_America) July 20, 2016
CLEVELAND: Several people arrested at a flag-burning protest. Police used pepper spray to disperse the crowd. pic.twitter.com/NtRQBXOuvu

— KolHaolam (@KolHaolam) July 20, 2016
However, closer analysis of the video allows us to identify the spray being used was Cold Fire Tactical fire suppressant, not pepper spray, as claimed by RT and others.
@bellingcat It is a tactical fire extinguisher.https://t.co/wwlVHORQyk His pants where on fire (I kid you not) @CLEpolice

— polybore (@polybore) July 21, 2016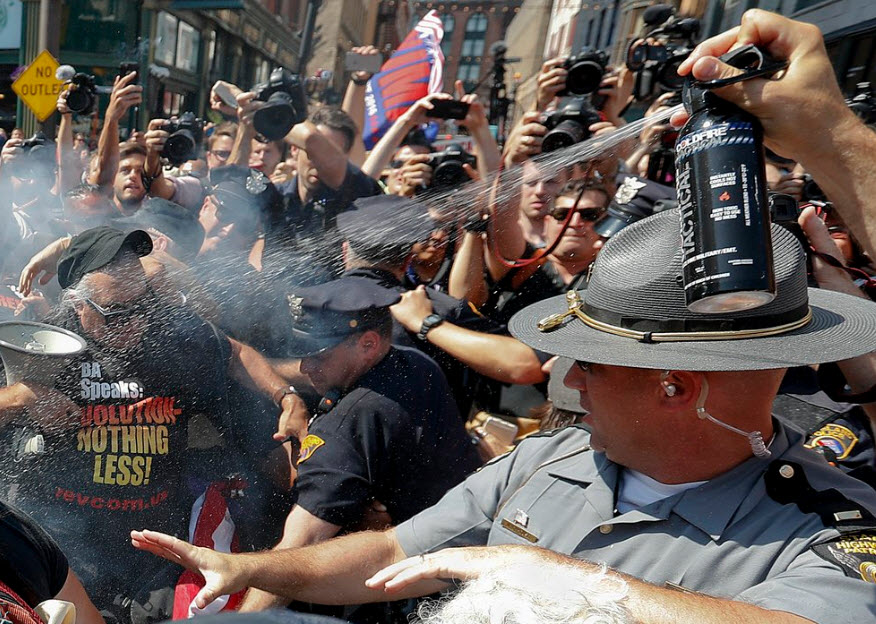 Conclusion
A common refrain from both demonstrators and journalists in Cleveland last week was that there were often more media members present at protests than activists. This observation was largely true except for the most active marches, and allows us to provide nearly complete coverage of the event from multiple perspectives. The deluge of information is overwhelming for the common observer, giving potential to the curator/liveblogger who can interpret the signal from the noise in such an event.