Investigating the MH17 Crash Site with Meedan's Checkdesk
One of the key aims of Bellingcat is not just to show people what tools and techniques are available for investigating open source information, but also to engage people with investigations. Since shortly after the downing of flight MH17 we've been using a tool developed by Meedan to examine the remains of MH17 photographed and filmed on the ground in Ukraine.
The tool, Checkdesk, has allowed us to collaboratively examine and verify images from the crash site in a structured way.  The below Checkdesk report is an example of one of the pieces of debris we've analysed as part of our investigation into the flight deck and nose section of the aircraft
What makes Checkdesk a useful tool for these investigations is it gives us a platform where not only can we bring together information from a variety of sources in an organised way, but we can also track the discussion on a platform that records it for transparency and future reference. In the case of MH17, much of the earlier discussion was taking place on Twitter, with links being shared, then forgotten and lost as time went on. In the case of MH17, one of the people discussing the debris on Twitter, Veli-Pekka Kivimäki, was given permission on the Bellingcat Checkdesk to create "Stories", and add reports (be they links to social media posts, images, video, etc) submitted by other users. Other users were then able to comment on the reports added to the story, which in the case of the MH17 debris were based around pieces of debris and sections of the aircraft.
In the above Checkdesk report we were examining part of the cockpit window frame, apparently damaged by shrapnel, attempting to establish its exact position. Based on other images of different parts of the cockpit windows it appeared there was a great deal of damage to this part of the plane compared to other locations, so we felt it was a priority to establish what parts of the cockpit were visible in photographs and videos, and to confirm their exact position. We used a combination of resources from a variety of places, photographs from RTL's Jeroen Akkermans, an image of 777 cockpit windows during the construction of the aircraft, discussions at the "Professional Pilots Rumour Network" forums, as well as putting together images like this to demonstrate how we came to our conclusions.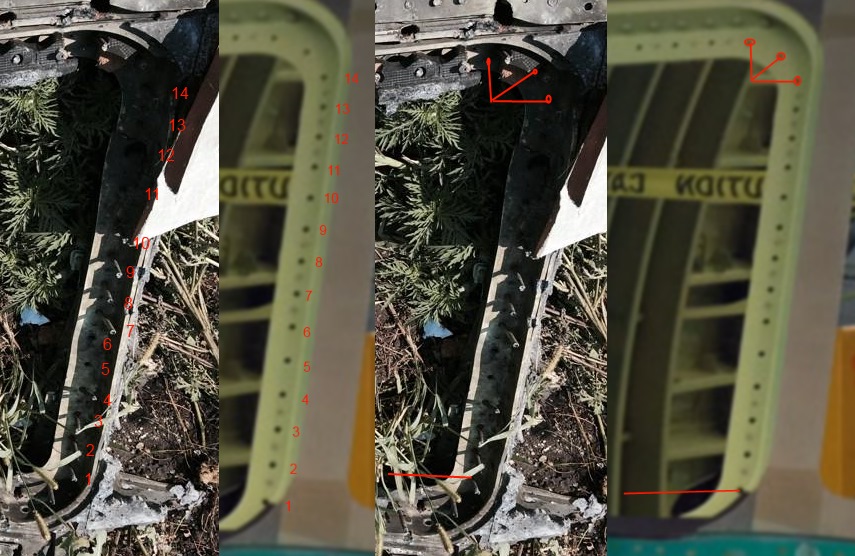 My hope for Bellingcat's Checkdesk is we'll be able to use it as a platform for examining and verifying information from all sorts of situations and events. In the below example we took a look at a photograph from Paris Match showing the Buk Missile Launcher linked to the downing of MH17, and linked to work done by others as part of the verification, making the report a useful reference for anyone who wants to go back and revisit the analysis of the photograph.
Checkdesk is still being refined and tested by Meedan, but as the above examples show, it's already at a point where it can play a big part in verifying content. The biggest factor is people contributing to the verification of content, be it starting their own stories or contributing reports and opinions to those stories that are already posted. If you think you have a story you'd like to take the lead in investigating, then let me know, either by email or via Twitter, and we can discuss what you'd like to do.