Skripal Poisoner Attended GRU Commander Family Wedding
Multiple photographs and videos discovered by Bellingcat and journalists at Radio Svoboda show Anatoliy Chepiga, one of the two GRU intelligence officers accused of carrying out the Skripal poisoning in Salisbury in 2018, at the 2017 wedding of the daughter of Major General Andrey Vladimirovich Averyanov, the commander of the GRU military unit 29155. Bellingcat and our investigative partner The Insider first unmasked Chepiga as an undercover GRU colonel in September 2018. These newly discovered photographs and videos of Chepiga, who claims to be sports nutrition salesman Ruslan Boshirov, provide additional incontrovertible proof of his identity as a decorated GRU officer who, alongside his colleague Alexander Mishkin is the main suspect in the poisoning of Sergey Skripal and his daughter, and in the accidental death of Dawn Sturgess.
Maj. General Andrey Averyanov, whose daughter's wedding was attended by Chepiga, serves as the most senior commander within the GRU unit that has attempted (with varying degrees of success) numerous clandestine operations across Europe, including the poisoning of Sergei Skripal and a failed coup attempt in Montenegro. This article will first detail the structure and activities of unit 29155, then discuss the biography of Averyanov, before detailing the visual evidence showing Chepiga at his boss's daughter's wedding.
Structural Sub-Unit of GRU Military Unit 29155
In its October 8th story, the New York Times reported on the existence of a secretive military unit with the number 29155, part of Russian military intelligence (commonly referred to as the GRU). The report, based on intelligence sources, linked the actions of this group to a number of disruptive Russian operations in Europe, including the Skripal poisonings, the failed coup attempt in Montenegro, and the 2015 poisoning of a Bulgarian arms trader. In fact, the New York Times sources indicated that the elite clandestine GRU unit previously disclosed by Bellingcat is namely unit 29155. There was no doubt that the unit described by the New York Times and the elite team previously disclosed by Bellingcat are in fact the same unit: both the specific clandestine operations and the list of (cover) names published by the Times are a subset of the full list of operations and cover identities monitored by us.
The existence of military unit 29155 has been previously reported on by Radio Svoboda in the context of a mysterious 2012 bonus allocation "for outstanding service achievements". A defense ministry decree from 20 March 2012 refers to a "structural sub-unit of military unit 29155" being entitled to special bonuses, in a package deal with another military unit, 99450. Military unit 99450 is known as the Command Center for Special Operations, and is based at a Spetsnaz training base at the village of Senezh outside Moscow. While there's scant public information on the essence of military unit 29155 proper, discussion on Russian military forums from 2012 suggest that it was set up to serve as a training center for GRU special operations, and has its roots in the reorganization of the Russian central military command structure undertaken in 2009.
The packaging of military units 29155 and 99450 in the 2012 Russian Ministry of Defense decree suggests a close linkage between the two, especially between Unit 99450 and the unidentified "structural sub-unit of Unit 29155" that was subject of the bonus allocation.
Based on our analysis of this and other public documents, we believe that the elite foreign operations team previously identified by Bellingcat is in fact a structural elite sub-unit of the overall "special operations training" military unit 29155. This elite sub-unit is closely integrated with the Command Center for Special Operations in Senezh, i.e. with unit 99450. This conclusion is corroborated by geolocation data obtained on the routine daily movements of a senior member of the elite team: Major General Denis Sergeev, who traveled to London to oversee the Skripal poisoning operation under the alias Sergey Fedotov.
As seen from the distribution of Maj. Gen. Sergeev's cell-phone data of a 3-year period during business hours (2016-2018), he spent a significant amount of his work time at the Senezh base, home to the Command Center, in addition to attending other known GRU-run bases in and around Moscow, including a base in Skhodnya known to belong to unit 29155 . His visits to the Senezh command center intensified in the six-month period prior to the Salisbury operation.
An additional argument for the hypothesis of the linkage between the elite sub-unit of 29155 and the Command Center (99450) can be found in the overlapping tasks of the two. The official summary of the tasks of the Special Operations Center found on Russia's Ministry of Defense defines them as "reconnaissance-sabotage, subversion, , counter-terrorism, counter-intelligence, guerrilla, anti-guerrila and other activities". Several unofficial military blogs are more outspoken about the operational of the Command Center's overseas operations – many of which draw direct parallels of the operations of the elite team previously disclosed by us: "Organization of anti-government actions, rebel and partisan movements for destabilizing countries and removal of governments, intelligence gathering, subversions, deployment and stockpiling of weapons for subsequent wartime operations, distortion or destruction of information or interception in transit, psychological operations, disinformation and overt and covert sabotage of government operations"
The New York Times report ties a number of Russian GRU officers previously unmasked by Bellingcat to Averyanov's GRU (sub) unit. In addition to Anatoliy Chepiga, these are:
Denis Sergeev ("Sergei Fedotov"), a GRU officer who assisted with the Skripal poisonings and was involved in a number of other high-level European operations.
Alexander Mishkin ("Alexander Petrov"), a military doctor who was one of two operatives who carried out the poisoning of Sergei Skripal and his daughter.
Vladimir Moiseev ("Vladimir Popov"), a GRU officer who alongside Eduard Shishmakov unsuccessfully attempted to start a coup in Montenegro.
Eduard Shishmakov ("Eduard Shirokov"), a GRU officer who alongside Vladimir Moiseev unsuccessfully attempted to start a coup in Montenegro.
Several other undercover personas named by the New York Times story have been identified by us and are subjects of ongoing investigations
A Commander Without a Face
Russian military units are usually incorporated as legal entities, which provide a certain degree of transparency as to its location and commanding officers. This fact permitted us – and many Russian media – to quickly identify in public databases the commander of unit 29155 as Major General Andrey Vladimirovich Averyanov.
However, no other public references to Gen. Averyanov could be found in official sources, and it appeared that previously published information – including postings by him on web forums – had been cleansed in the years after the establishment of unit 21995.
By scouring a collection of previously leaked Russian offline residential and car-ownership databases, as well as residual citations of previous posts by Maj. General Averyanov on public internet forums, we were able to partially recreate his background.
Andrey Averyanov was born in 1967 in Turkmenistan, and graduated from the Taskhent Military School (TVOKU) in then Soviet Uzbekistan in 1988. In the 90's he lived – likely as a result of military deployment – in a village near the southwestern Russian city of Samara, and later in the southern Russian city of Krasnodar. As of early 2000's he was already deployed in Moscow, and resided with his family at the dormitory of the GRU Academy, at Narodnogo Opolchenia 50.
The character of his military services in the early 2000's is yet unknown to us; however, he continued posting under his own name at the website of his alma mater, and displayed an energetic activity in keeping tabs on its former alumni – and even publicly arranging help for ill or injured former classmates. While many of these posts were deleted after 2011, some snippets of his posts remained in quotes by other military school alumni – one even included his telephone number.
A reverse search in contact-list sharing apps under this and other telephone numbers linked to his name shows that he was listed under names such as "Director 1", "Andrey Crimea", and "Andrey – Senezh". Notably, our investigative team has been able to establish that Andrey Averyanov – just like Colonel Chepiga and Dr. Mishkin – is a non-disclosed recipient of the Hero of Russia award, which was bestowed namely for his participation in the Crimea annexation operation.
Contrary to what New York Times' sources indicated, Maj. General Averyanov does not reside at a Soviet-era flat, nor does he drive a modest Soviet car. By consulting various real-estate ownership and car-insurances databases, we have identified that while his official residence is indeed in a two-room flat near the headquarters of his military unit, he in fact lives at an exclusive closed compound in Moscow's suburbs, and in the last 10 years has owned and used at least two luxurious Western cars, including most recently 270-HP Range Rover, which replaced his 2012 Land Rover Discovery.
Bellingcat and Radio Svoboda have studied dozens of online accounts of Averyanov's classmates from the Tashkent Military School (TVOKU) that he attended in the mid-late 1980s, including those whom he mentioned on message boards and digital guest books. We noted that Averyanov was not present in any of the frequent reunions of TVOKU graduates, including at Moscow events, and Averyanov was also not mentioned on TVOKU's website listing out "Our Generals" and its alumni who received the Hero of Russia award.
However, while he was apparently not physically present at these reunion events, he was there in spirit. In a video (see 5:38) showing a June 2018 event commemorating the 100th Anniversary of TVOKU, a booth is visible with the description "School Graduates – participants of wars and military conflicts, dead and those who fell while carrying out combat missions". A silhouette with the name "Major General A-V, A.V." can be seen, with a description listing this man as receiving a Hero of the Russian Federation award and the holder of three awards for courage. While it cannot be unequivocally proven that this "A-v, A.V." is "Averyanov, Andrey Vladimirovich" (the way his name would be written in formal Russian) , the biographical details and name structure match up to him. Additionally, despite the title of the exhibit, not everyone in this graphic is a "fallen hero", as Sergey Voronin — the right-most person in the screenshot below — is still alive.
Bellingcat is continuing its investigation into the background and possible operational involvement of Maj. Gen. Averyanov in overseas missions.
The GRU Wedding Crasher
In the New York Times report, a fascinating anecdote is mentioned — Chepiga was apparently at Averyanov's daughter's wedding in 2017, a year before the Skripal poisonings, thus providing additional proof of Chepiga / "Boshirov" being more than a mere nutrition salesman, as he claimed in an interview with RT.

The New York Times chose not to publish this photograph or further information about the wedding. Bellingcat and Radio Svoboda sought open-source information about this wedding, and after a week of searching, found numerous photographs, videos, and accounts of the wedding — alongside new, unexpected information about Chepiga and Averyanov's close ties.
Luxury Wedding Provides Countless Clues
After dozens of hours of searching, we were finally able to determine Averyanov's family tree, and locate his daughter and son-in-law on social media. These findings led to a wealth of photographs and videos of the GRU commander's daughter's luxury wedding that took place in late July 2017, with guests that include Anatoliy Chepiga and his family.
Videos shared on Instagram by the guests at the wedding provided quick glimpses at Chepiga during the wedding. For example, in the video below (now deleted from Instagram, but achived here), a blurry Chepiga can be seen while GRU commander Averyanov walks his daughter to the altar, to a befitting music accompaniment.
The couple hired a videographer to film the wedding, with the final product found on Averyanov's son-in-law's YouTube account, as well as on the YouTube account of an employee of the wedding venue. Chepiga can be seen a couple of times throughout the video, but only for brief moments and with his back and fragments of his face. Averyanov's son-in-law made the video private, but we archived it and saved it here, and can also still be found on a hotel employee's YouTube account:
During this video, Averyanov can be seen in the exact position as the photograph from the New York Times piece, showing that this is the source for report's image of the GRU commander.
While these guest snapshots and the glamorous video show fragments of Chepiga's face, high-resolution photographs from a wedding planning company, Zvonova Weddings, leave no doubt that he attended the wedding. The website for the wedding planners published a whimsical design showing the wedding table arrangements, revealing (alongside photographs of them at the wedding) that Chepiga and his family attended the wedding. While Anatoliy Chepiga is not present on the guest list under his real name, he apparently used the pseudonym of Aleksey Chepiga, while the rest of his family attended under their real names. In fact, one of Chepiga's children even participated in the wedding ceremony and his family sat at the same table as the father-of-the-bride. Arguably, the humble "sports nutrition salesman" was no wedding crasher, but is close enough Maj. Gen. Averyanov to be invited to an all-important family event.
On the wedding website, Chepiga and his family are visible in multiple photographs throughout the ceremony, including a fairly clear shot of Chepiga's face below.
The clearest views at Chepiga's face come from the wedding photographer's personal website (archived here and here), with three shots of Chepiga's face during the wedding.
Below, we attempted to artificially colorize one of the key photographs showing Chepiga (original black & white photograph found here), with Averyanov walking his daughter down the aisle:
Previous images of Anatoliy Chepiga ("Ruslan Boshirov") compared to the new ones can be found below, revealing a clear match with the facial hair pattern, a distinctive mole above the right brow, hair, and general facial features. Other distinctive features also align, such as exactly matching ear lobes and wrinkles from Chepiga and "Boshirov".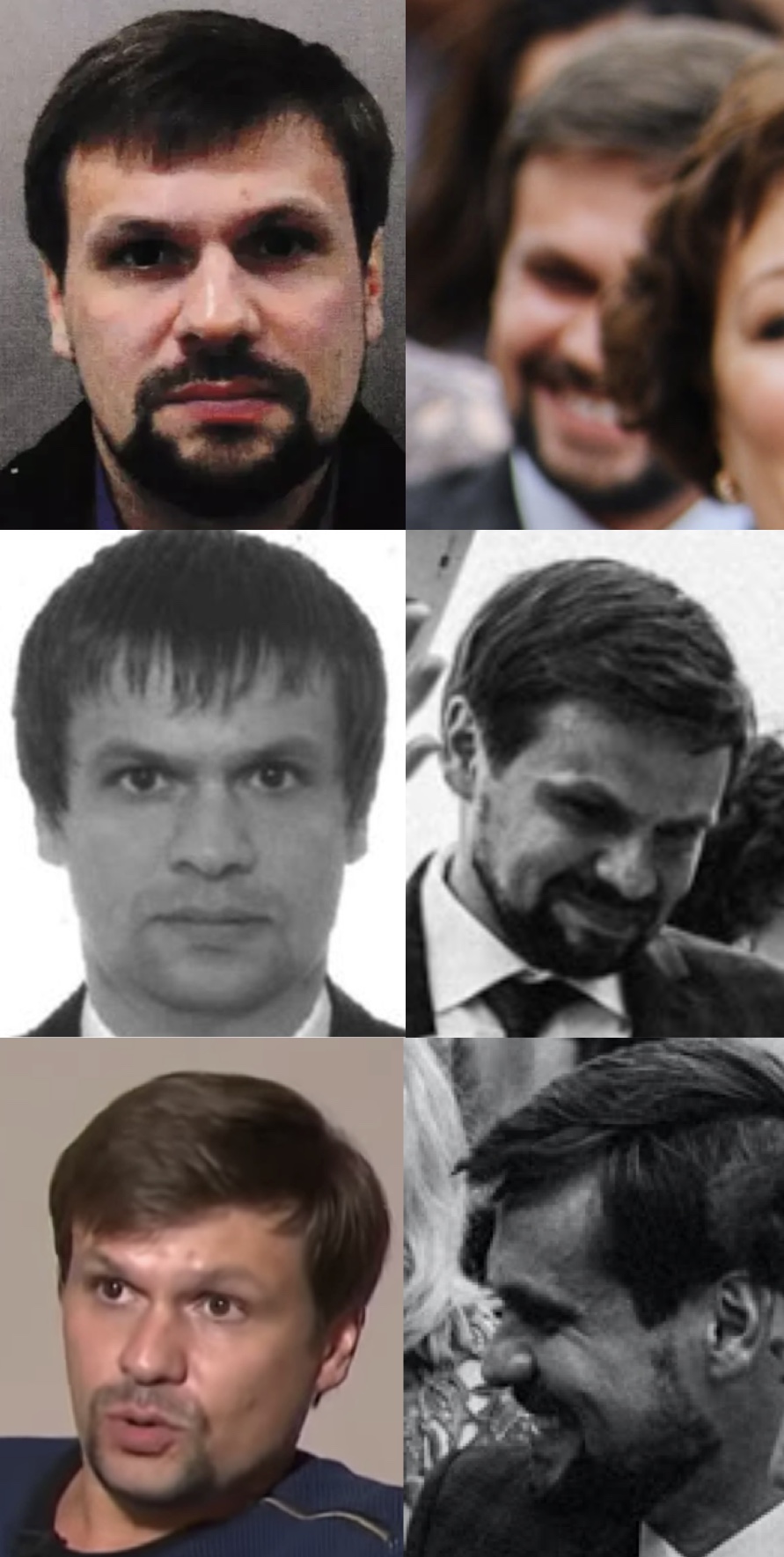 The now confirmed presence of the key suspect in the Skripals poisonings, Anatoliy Chepiga – and not of Ruslan Boshirov – at the wedding of GRU Maj. Gen. Averyanov's daughter, is nothing short of damning evidence against Russia's implausible attempt to deflect any links to the Novichok poisonings. Crucially, this evidence is open source, and available for anyone to verify with their own eyes. Any further prevarication from the Kremlin – which, if history is any sign, will be quick to follow – will need to account for a coincidence which is likely to prove too improbable to swallow, even for the most ardent denialists of Russia's role in this botched extrajudicial assassination.