Exposing the Past Anti-Semitic Tweets of the Man Crowdfunding a "Giant Sadiq Khan Balloon" to Fly Over London
On July 5th 2018, a crowdfunder named Yanny Bruere launched a campaign to fly a giant-sized baby balloon with the head of Sadiq Khan, mayor of London, in response to the Trump baby blimp which made headlines worldwide. Gathering 50,000 pounds in about a week's time, the campaign quickly gained popularity. In the meantime, however, members of the recent Bellingcat workshop in London discovered anti-Semitic trolling attacks from Bruere's old Twitter account that he has actively tried to hide.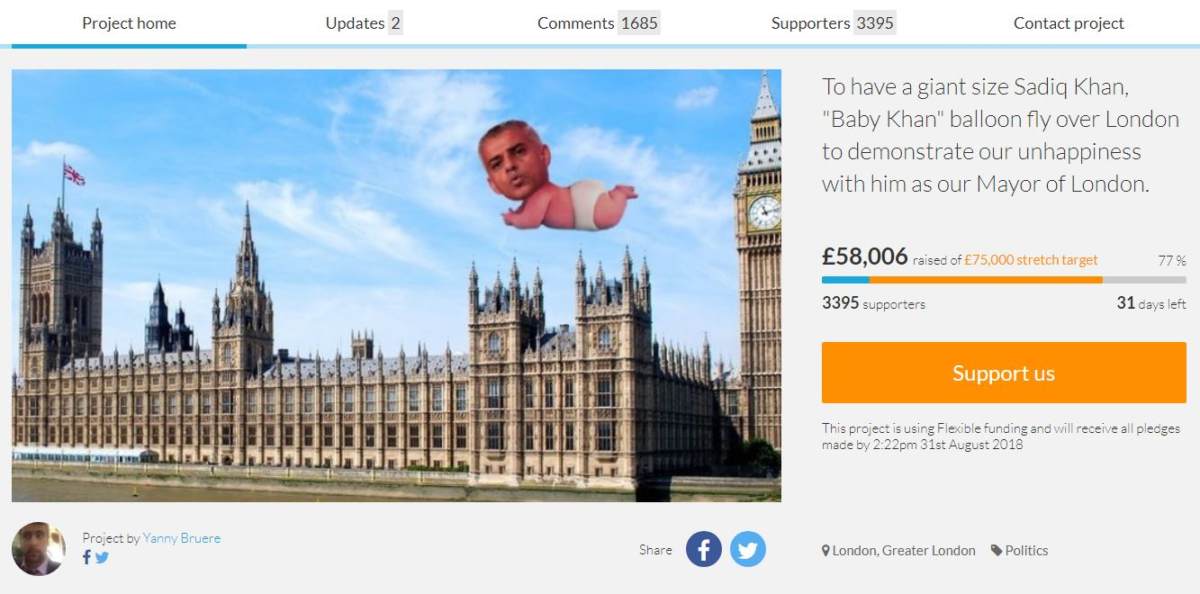 Yanny Bruere had launched his campaign in response to a similar crowdfunded anti-Trump balloon protest which had received approval from Khan's office and took place on July 13th 2018, the day of Trump's visit to London. US President Donald Trump had criticised the UK government for allowing the blimp to happen, a view often bitterly shared by many of his supporters. Bruere's counter-campaign initially began with a target of only 10,000 pounds, but after the target was met in less than two days, it was stretched to 20,000 pounds, and again to 50,000 pounds. He then stepped up his game after raising more than 75,000 pounds, by announcing that the balloon will fly during a "Make London Safe Again" demonstration. A Facebook page recently created for the event displays a banner originally designed by a "Leave.EU" group and has begun to promote the sale of anti-Sadiq Khan T-shirts.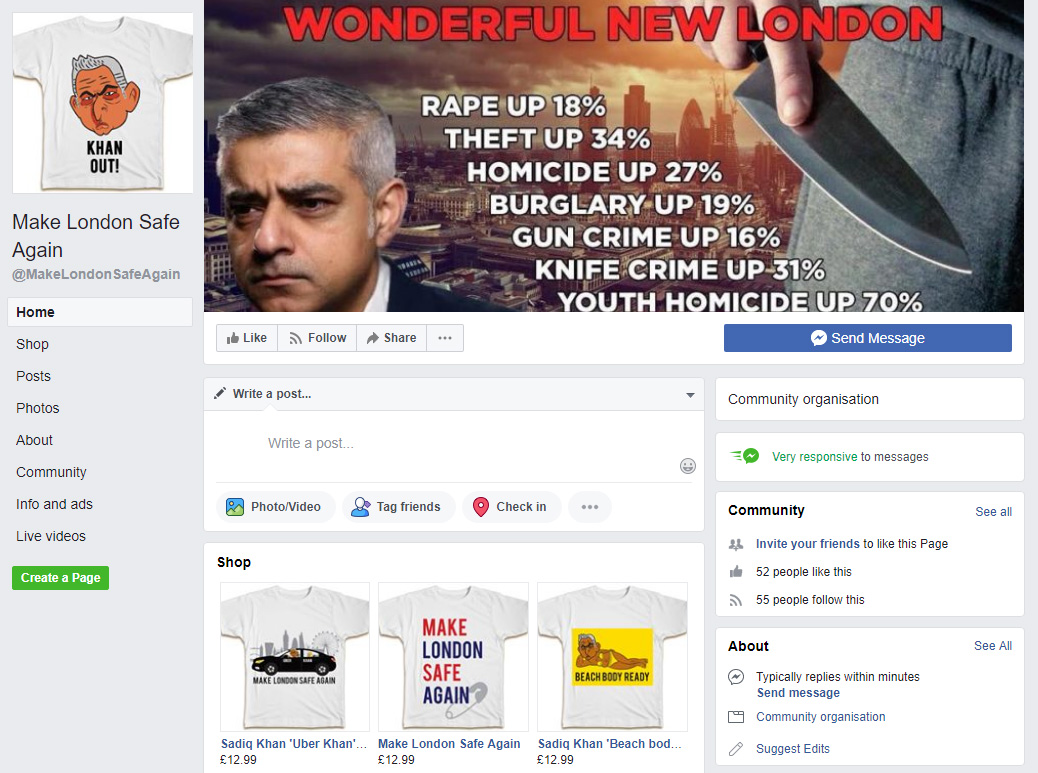 Bruere recently announced that, if approved by the mayor's office, the demonstration will take place on September 1st at London's Parliament Square. His new plan is that the balloon will resemble Sadiq Khan wearing a bikini rather than nappies (a reference to Sadiq Khan's policy of cracking down on "body shaming" adverts on the Tube).
SUBJECT TO @SadiqKhan APPROVAL. 1st September,Parliament Square. 1pm. More info to come. pic.twitter.com/aPi4D47NOS

— Yanny (@YannyBruere) July 28, 2018
The anti-Khan crowdfunding campaign has been far more successful than the one preceding the anti-Trump balloon protest, a feat achieved, perhaps, because it was covered by right-wing partisan media outlets such as Fox News and Russia Today, and promoted by far-right and anti-Muslim groups such as the Democratic Football Lads Alliance, The Rebel Media, and The Voice of Europe. The pro-Brexit platforms Westmonster and British Voice also shared news about the campaign.
Right-wing activists such as Paul Joseph Watson (YouTuber and editor of InfoWars); Jim Hoft (founder and author of The Gateway Pundit); Pamela Geller (political activist and president of the American Freedom Defense Initiative); and Mark Collett (author and former chairman of the youth division of the British National Party) also jumped on the promotion bandwagon. In addition, the campaign was shared by various anonymous Twitter users that resemble typical pro-Russian troll accounts.
It seemed odd that the individual who managed to raise more than 50,000 pounds in about a week's time was hitherto unknown, with barely any previous social media activity and no clear links with political or ideological groups. Shortly after Bruere launched his crowdfunding campaign, his online activity seemed limited to a one-year-old twitter account with less than 800 followers (a number which has since doubled), and a newly created Facebook page with less than one hundred followers. According to his current Twitter, Bruere studies an online Law degree at Open University and was recently residing in Spain. His Twitter doesn't show any sign of wrongful activity and his reputation seems clean.
However, after studying the activities of the first Twitter users followed by Bruere, we found Bruere's old twitter account @yanny1112. Archived screenshots of this account revealed that his Twitter avatar used to be an old photo of Bruere surrounded with friends. The authenticity of the account can be further verified by the fact that some of his friends used this Twitter handle when tagging Bruere in other photos: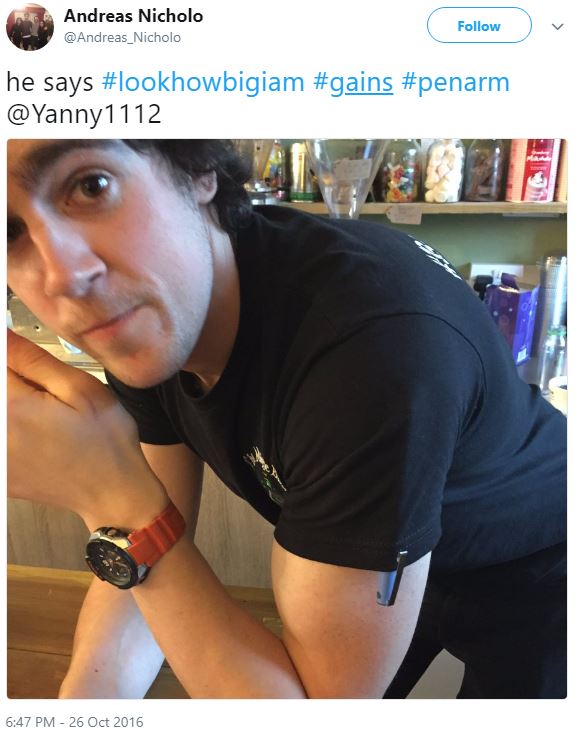 Searching for @yanny1112 on twitter shows a number of old screenshots taken by other Twitter users of some of Bruere's tweets which have since been deleted. These tweets reveal that Bruere sometimes acted like a troll who used to respond with well-known anti-Semitic conspiracy theories such as "ISIS was created by Israel and the United States" and that "Jews run the world":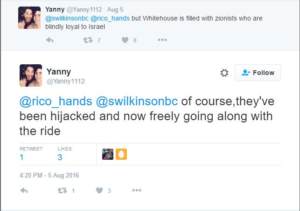 We managed to further verify some of the screenshots by contacting Giles Peaker (@nearlylegal), a solicitor in Housing and Private Law. Peaker explained that he wanted to report Yanny Bruere to his Law school and that, in response, Bruere locked his account, changed his profile picture, and renamed his account several times thereafter.
Well he had his chance… Any law profs following me recognise this charming anti semite? pic.twitter.com/aYXgSuyRgi

— Nearly Legal (@nearlylegal) April 5, 2017
Until recently, Bruere's old account carried the handle @allequal117. This account was no longer locked and was used to further promote the crowdfund campaign. While this account showed most of his old tweets, his anti-Semitic comments had been deleted since the confrontation with Giles Peaker.
Our research member contacted Yanny Bruere and asked him about the authenticity of @Yanny1112, as well as the reason for some of the anti-Semitic tweets. However, Bruere's only apparent response was to completely delete his old Twitter account.
Yanny Bruere's crowdfunding campaign has so far managed to raise more than 58,000 pounds out of the 75,000 pounds target. Although the growth rate has dramatically decreased, he might still hit the target by the end of August. Unlike Trump baby balloon protest, Bruere wants to fly the Khan balloon high over London which means he needs to get special permission from the UK's National Air Traffic Services (NATS). While NATS has previously given approval for the anti-Trump protest, they also stipulated that the Baby Trump balloon had to remain below thirty meters (however, the organizers didn't bring it higher than five meters). NATS informed Bellingcat that, so far, they haven't received any application regarding the Khan balloon protest.
Special credit for this research goes to Abdullah Ahmed, Manisha Ganguly, and other members of the Bellingcat workshop in London. Details of upcoming Bellingcat workshops can be found here.