The Straight-Edge Neo-Nazi Group that Attacked a Ukrainian Roma Camp
According to Ukraine's Zaxid.net, the recent lethal attack on a Roma camp in Ukraine has been linked by the law enforcement to a popular VKontakte (VK) community called "Sober and Angry Youth" (Твереза та зла молодь Ukrainian, or Трезвая и Злая Молодежь in Russian). The largest page linked to this straight-edge, neo-Nazi group has over 85,000 followers, while there are numerous local "chapters" of the organization across Ukraine, Russia, and other Slavic countries.
Straight-Edge Nazis
The name of the group is from a popular slogan with youth neo-Nazi movements in former Soviet countries, especially Russia and Ukraine. These groups in particular are connected with the straight-edge movement (though not welcomed in any way by the vast majority of straight-edge communities), eschewing drugs and alcohol. In the case of straight-edge neo-Nazis, this abstention from substances is seen as a practice of purity and preparation for attacks on their opponents, including leftists, minority communities, and the government. Notably, the phrase "sober and angry youth" was used as a song title by the St. Petersburg straight-edge punk band Prohibition (Сухой закон), with the lyrics:
While you are sitting around on Vkontakte

Or hanging out with your friends

Every day I'm training,

To fuck up my opponent in a fight.

We are the sober and angry youth!

Fuck off!
This slogan is used by a very popular VK page ran in the Russian language that has been active since 2014, but is actually operated from Ukraine, not Russia. However, this is far from the only "Angry and Sober Youth" group on VK, which almost all use the same logo of a hockey mask, baseball bats, and 14/88, referring to the 14 words.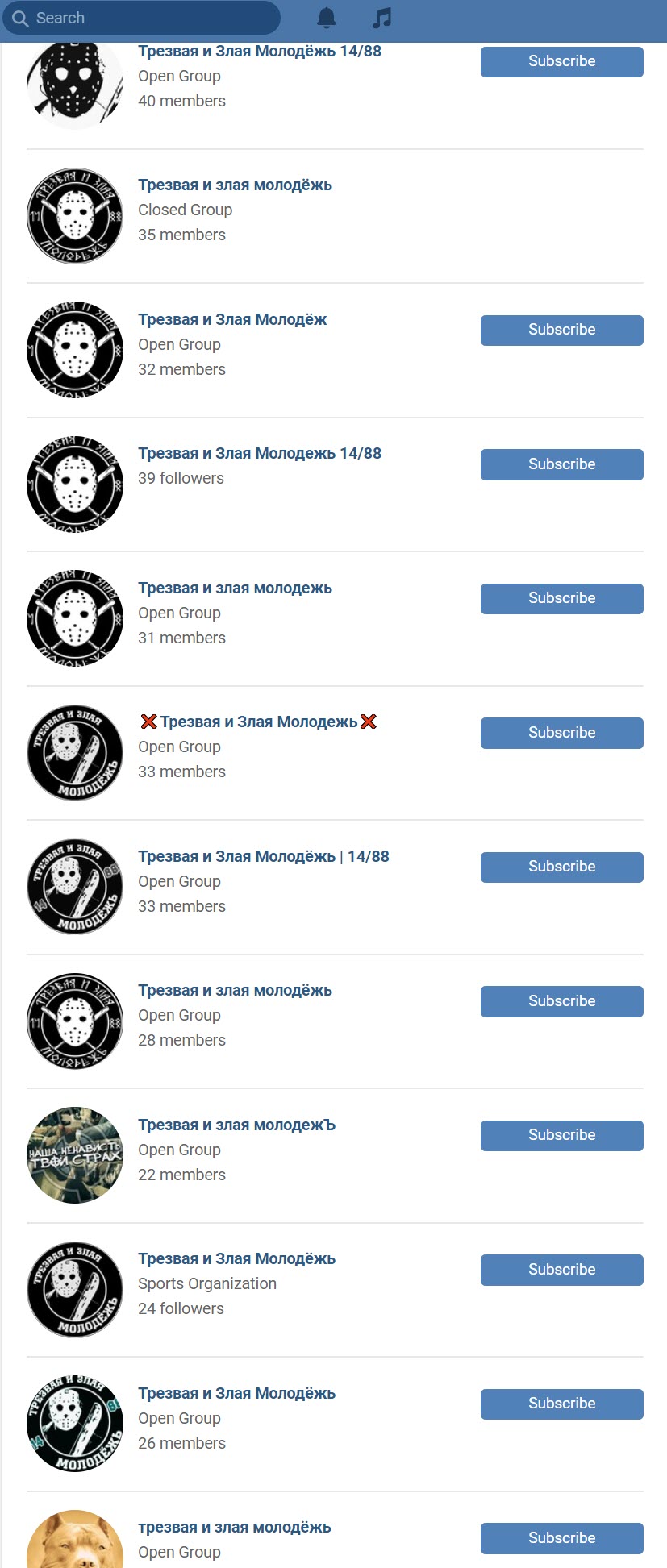 There are smaller "cells" of the Sober and Angry Youth across Ukraine, Russia, and Belarus, such as in Cherkasy, Kyiv, Dnipro, Kryvyi Rih, Minsk, Nizhny Novgorod, and many other cities.
These groups all have similar practices and beliefs in common–neo-Nazism, white supremacy, abstention from alcohol and drugs, hatred towards immigrants, anti-Semitism, fitness and health, and, often, pit bulls. Some of the racist, fascist, and anti-Semitic memes shared in these groups can be seen below, with an emphasis on carrying out violence against migrants and Roma populations.
While many of the pages are pro-Russian to some degree, the more dominant strain that runs through the Sober and Angry Youth pages, including those based in western and central Ukraine, is pan-Slavism, or a veneration of Rus' of the Middle Ages. In the image below, from one of these groups, the flags of Russia, Ukraine, Belarus, and Serbia are together, with the phrase "One Blood, One Belief."
L'viv Youth
Zaxid also claims that the group that carried out the attack on the Roma camp also operated a number of social media pages with the name "Lemberg Jugend", translating to the Nazi-linked "L'viv Youth" in German. Hromadske has provided screenshots of the group, which has been taken down from YouTube, Telegram, Instagram, and other platforms.
Though Hromadske was not able to independently confirm that Lemberg Jugend is the group linked to the attack, their YouTube channel shared videos showing footage of men attacking Roma camps, and one video is entitled "A small video report from a Gypsy safari" (Маленький відео доклад з сафарі на циган). While many Sober and Angry Youth groups do not have a local focus, this group clearly is meant for neo-Nazi youth in L'viv, matching the attackers who carried out the deadly incident in a L'viv Roma camp.
Largest "Sober and Angry Youth" VK Page
The VK page referenced by Zaxid was run and launched by an individual who uses the name "Svyatoslav Popovich" online.
On June 25, this VK page posted a message that denied involvement with the attack:
"Hello! You may have heard about the "Sober and Angry Youth", on behalf of which young men in L'viv, Ukraine carried out a pogrom in a Roma camp on June 24. They plagiarized our online resources. Possibly unwittingly, they helped discredit the Sober and Angry Youth in the eyes of the media. We officially state that our organization has no relation to what has been done. Any statements regarding participation of the Sober and Angry Youth in the act that took place on June 24 are lies and slander."
This page is by far the largest Sober and Angry Youth VK page, and helped spawn the dozens of smaller groups across Ukraine, Russia, and Belarus. As Popovich explains on his personal VK page in 2017, he started the large VK page in 2014 in order to spread the "propaganda of all-around self-improvement, dignity, courage, healthy lifestyle, and so on." Popovich describes how he was hoping to spread these messages "to the youth of Ukraine, Russia, Belarus, and Serbia, along with other brotherly peoples", echoing messages of pan-Slavism in neo-Nazi youth movements.
Multiple social media profiles (including Facebook and Instagram) connect Svyatoslav Popovich to Bedevlya, a village on the Ukrainian side of the Ukraine-Romania border and not far from both Lviv and Uzhgorod, the sites of the recent attacks on Roma in Ukraine.
Popovich's connection to Ukraine appears wholly real, as his multiple Instagram pics are tagged to locations in Ukraine, and he appears in them with individuals from Bedevlya. A Skype account for Svyatoslav Popovych linked to his VK page is also tagged to Bedevlya, Ukraine, further confirming his identity and residence.
Ukraine's Zaxid.net first reported that a source in the police linking the attackers to "The Sober and Angry Youth" formation, later confirmed by others in Ukrainian police and security services. There are no indications that Popovich is directly related to any of the individuals who carried out the L'viv Roma camp attack, or to the attack itself, though the movement he helped popularize is linked to this attack.
On Monday, Head of Ukraine's Secret Service, Vasyl Hrytsak remarked that "Russia could be behind it."
"We really understand that Russia could be behind it, but I can't say it with 100% certainty, because it wouldn't be a correct thing to do," Hrytsak said at a joint press-conference with Ukraine's Minister of Foreign Affairs.
Hrytsak stated that "a namesake organization was registered in Russia in 2014," although it's not clear if he meant if it was formalized in Russia or popped up on the radar there. If he was referring to the large VK group, Hrytsak is mistaken, as Popovich is and was Ukrainian. While the Kremlin has directly funded and supported numerous far-right and neo-Nazi groups in Europe and Russia, most notably through the proxy of billionaire Konstantin Malofeyev, there are no apparent links between the Sober and Angry Youth and the Kremlin other than typical links of pan-Slavism present in many far-right and neo-Nazi groups in the region.
Ukraine's Minister of Foreign Affairs also claims that, regarding the lethal attack on Roma, Russia has an interest in presenting Ukraine as "a certain radical reality that doesn't adhere to human rights."
A report from Zaxid.net also unearthed a Telegram channel in Ukrainian language in connection with the attack and spotted visual parallels with the Misanthropic Division neo-Nazi platform. However, it is not clear how Zaxid determined the link between this particular Telegram channel and the attackers. The Telegram channel is mostly a collection of verbatim translations from a series of uniform and popular Russian-language VK pages under the same banner of the Sober and Angry Youth.
Like with the dozens of other Sober and Angry Youth VK pages, Popovich's VK page, with over 85,000 followers, openly advocates for Nazism, pan-Slavism, white supremacy, homophobia, and racism, wrapped up in admonitions regarding the dangers of alcohol, drugs, and tobacco. Popovich also sells Sober and Angry Youth merchandise on the page.
Recently the page revealed an interest in recruiting a larger following in Kyiv. A June 22nd post on the popular page encouraging online readers in Ukraine's capital to get in touch with one of its admins a certain "Ilya Sysoev".
"Greetings, Sober and Angry Youth! We're calling on residents of Kyiv: If you're over 16, you're healthy and willing to develop the idea, yourself and get new comrades, and you have free time – join us. If you're willing to join the Stronghold of the Sober and Angry youth, write him."
The post links to Ilya Sysoev's VK page. There is little information available on Ilya Sysoev, but his VK page links to a private Instagram profile.
Sober and Angry Youth in Relation to Other Far-Right Groups
The Sober and Angry Youth page's content, as summarized by Leonid Ragozin on Twitter, shows ideological proximity with the Russian-Ukrainian neo-Nazi platforms Misanthropic Division and WotanJugend, and much of the material on the VK page derives from another group called Rusich, which appears to be run out of St. Petersburg.
The content manifests ideological proximity with the Russian-Ukrainian neo-Nazi platforms Misanthropic Division and WotanJugend. This is basically the radical wing of pre-2014 Russian March which has largely fled to Ukraine and joined their old friends in Azov.

— Leonid Ragozin (@leonidragozin) June 24, 2018
The pages under the brand of Sober and Angry Youth prominently feature slogans that can be traced back to both the Russian and Ukrainian far-right. In particular, the ideology, which includes neo-Paganist symbols and practices among prominent members along with the aforementioned fascist and far-right themes, propagated by The Sober and Angry Youth online group in Russian is not unlike that of prominent members of Ukraine's C14 and the Azov Regiment and its affiliated structures, the National Corps political party and the National Militia street patrols. C14 specifically carried out a brutal attack on a Roma camp in Kyiv in April 2018, drawing a delayed reaction from Ukrainian authorities. As Christopher Miller at RFE/RL reported, a prominent member of C14 commented on the attack after it took place.
Yevhen Karas of C14 appeared to distance his organization from recent Roma camp attack, which he called a "jostle leaving dead and wounded." Speaking about the attack on Roma, Karas speculated about "hundreds of Ukrainian women robbed" by Roma.
"Neither violence nor silence on the issue [meaning Roma crime] will solve the problem," he posted on Facebook. Karas also remarked that he believes his organization's methods regarding Roma were working, and led the Roma community to address the issue of "criminality" that he claims exists inside the community.
"Tradition and Order," another far-right group in Ukraine mentioned previously by Human Rights Watch regarding violent attacks on minorities in the country, made light of the lethal attack on Roma. The head of the group, Bogdan Khodakovsky, posted the following message on his Facebook page:
"They call it Nazism and pogroms. But how many Ukrainians were stabbed, poisoned, robbed by Roma in recent years? 100? 200? 1000?"
Many Ukrainian far-right groups have a fervent anti-Russian position in relation to the war in the Donbas, including the formation of armed battalions, as seen with Right Sector's "Volunteer Ukrainian Corps," Azov Battalion, the St. Mary's Battalion, and so on. In contrast to these groups, the Sober and Angry Youth groups across Ukraine rarely express strong feelings one way or another in relation to the war, instead focusing on issues related to white supremacy, driving out migrants from Ukraine, and outing and attacking LGBT individuals. Ragozin summarized their position succinctly in a recent tweet, saying that the concerns of the Sober and Angry Youth "transcends borders and national loyalties," with their battle for white supremacy in the region overriding the war between Ukraine and Russia in the country's east.
Russian neo-Nazis blend into Ukrainian ones in the same way as Russian language blends into Ukrainian via Surzhyk. It's another dimension, in which common Nazi ideology transcends borders and national loyalties. They are fighting a different war from that of Ukraine & Russia.

— Leonid Ragozin (@leonidragozin) June 24, 2018
To explain his pages' focus on reaching youth with neo-Nazi propaganda, Popovich quoted from Russia's neo-Nazi Dmitry Borovikov (1984-2006) and Aleksei Voevodin (currently serving a life sentence in Russia), creators of the Combat Terrorist Organization. Both are cult figures for Russia's far-right as well as for some in Ukraine.
"So why is it 'The Sober Youth' and not society as a whole? As it was said by the right warrior who's no longer with us, Dmitry Borovikov – 'You can no longer be changed, we need your children, we'll cultivate them into the right race.'"
He also cites Hitler — something you will not see among Ukraine's own high-profile far-right groups — to explain his focus on the youth:
"There's also a man, still in the hearts of millions, an Austrian painter by the name of Adolf. The following words are attributed to him: 'He alone, who owns the youth, gains the future.'"
Though Popovich and his VK page have denied involvement with the attack, these quotations, combined with the hostile actions of other far-right groups in Ukraine against Roma camps, fostered an environment both online and on the ground that enabled the tragic attack that took place in L'viv.
Aric Toler and the Conflict Intelligence Team (CIT) contributed research in this article.