Full Report: Russian Officers and Militants Identified as Perpetrators of the January 2015 Mariupol Artillery Strike
The full investigation can be downloaded here 

A collection of intercepted phone conversations that were used as research materials in this investigation can be accessed here
Our directory of archived videos of the Mariupol shelling and its aftermath can be accessed here
Our map summarizing the estimated trajectories and potential firing sites near Mariupol can be accessed here
A joint investigation between Bellingcat and McClatchy DC has determined the identities of eleven men, including nine Russian commanders and officers of the Russian Armed Forces, in the 24 January 2015 artillery attack on Mariupol, which killed at least 29 civilians and wounded more than 90. Earlier this week, we published a summary of our findings in this investigation, including the names of the eleven identified individuals tied to the incident. This artillery attack struck densely-populated segments in the northeastern section of Mariupol due to inaccurate use of multiple rocket launch rocket system (MLRS) fire. Our investigation used materials submitted by Ukraine as part of an International Court of Justice (ICJ) case, which were made available to a small group of investigators, including Bellingcat and McClatchy DC. We verified and analyzed these ICJ materials by conducting in-depth open source research to identify the individuals and circumstances described in this evidence.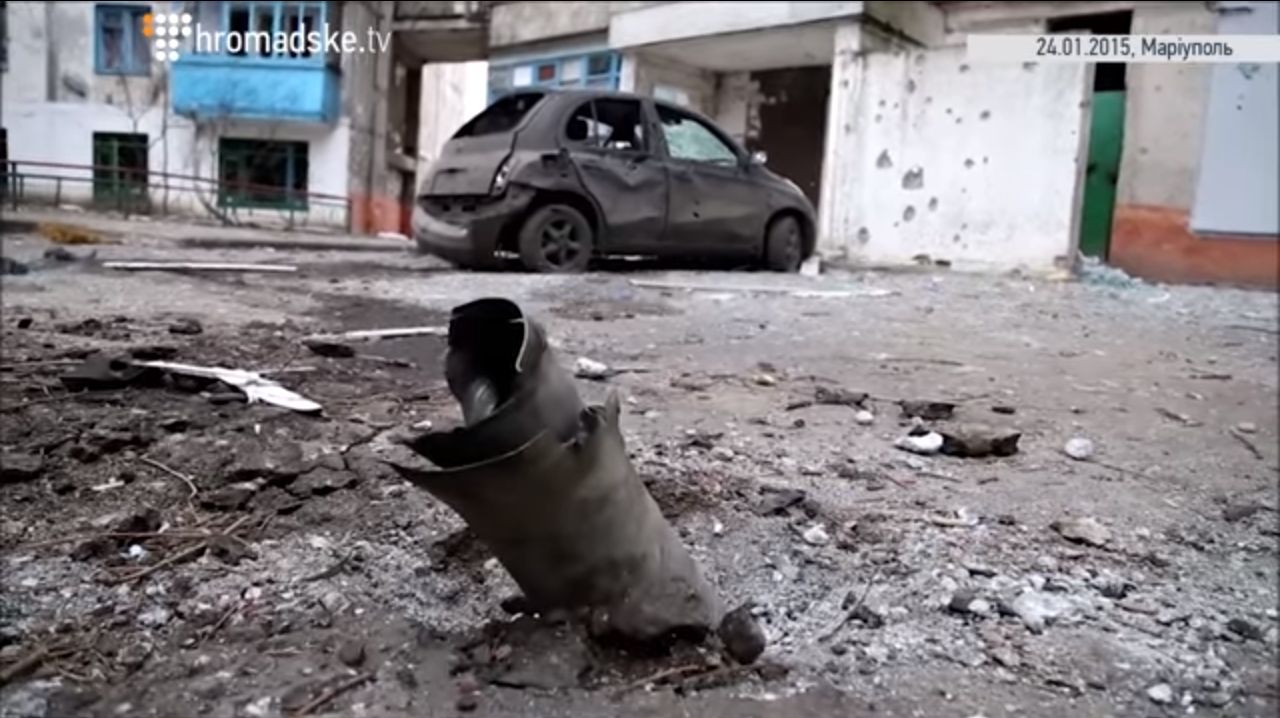 We are making available many of these materials, which include drone videos of the aftermath soon after the shelling and a number of intercepted telephone conversations between those organizing and conducting the artillery attack. As of publishing, we are still working on adding subtitles to intercepted telephone conversations, and will continue to publish these over the coming days. We encourage our readers to also analyze and verify these materials and share any new findings in the comments of this article or on social media.
Call at 07:55:22 on 24 January 2015. "Gorets" gives first command to fire at will.
A database of archived videos from the shelling and its aftermath was compiled and saved by Bellingcat. These materials served as the data for our analysis of the craters and potential firing sites east of Mariupol.
Bellingcat analyzed all available public videos and private drone footage to establish estimated artillery trajectories and potential firing sites, which we visualized on a map.
Key findings
Bellingcat has determined conclusively that the artillery attack in the Ukrainian town of Mariupol on 24 January 2015, which resulted in civilian loss of life, came from Russia-controlled territory. Bellingcat has also determined that the shelling operation was instructed, directed and supervised by Russian military commanders in active service with the Russian Ministry of Defense. Bellingcat has identified nine Russian officers, including one general, two colonels and three lieutenant colonels, involved directly with the military operation.
Furthermore, Bellingcat has determined that two artillery batteries of Multiple Launch Rocket Systems were transported from Russia into Ukraine the day before the Mariupol operation. In the early morning of 24 January 2015, these batteries were deployed near the village of Bezimenne exclusively for the shelling of targets in and around Mariupol, after which they were repatriated back into Russia.
In the course of analyzing the events in the eve of and on 24 January 2015, Bellingcat additionally identified two Russian generals involved with selection and assignment of Russian artillery specialists to commanding roles in Eastern Ukraine.
This investigation was made possible due to access to raw video and audio data made available by the Ukrainian government to a small group of international investigative media for the purposes of independent assessment. Bellingcat and its media partners analyzed a large volume of intercepted calls from and to participants in the armed conflict located in the area of Bezimenne at the time of shelling. Bellingcat conducted detailed cross-referencing of events, names and locations, as well as metadata from the calls, to open source data, including satellite photography data, social media posts, and voice samples from public statements of certain of the identified persons. A detailed analysis permitted the identification of persons and military units, and the reconstruction of events leading up to the shelling of residential areas in Mariupol.
While previous reports, including the OSCE SMM report from 24 January 2015, have identified that shelling of Mariupol's residential areas came from separatist-controlled territory, Bellingcat's investigation is the first to identify the role of active Russian military units, as well as the direct commanding role of active Russian army officers in this military operation.
The full investigation can be downloaded here 

A collection of intercepted phone conversations that were used as research materials in this investigation can be accessed here
Our directory of archived videos of the Mariupol shelling and its aftermath can be accessed here
Our map summarizing the estimated trajectories and potential firing sites near Mariupol can be accessed here