Hunting the Berlin Christmas Market Attack Suspect on Social Media
This article was written collaboratively with additional participation of Bellingcat contributors Timmi Allen and Aric Toler.
On December 21st, Bellingcat found several Facebook profiles of Anis Amri, the main suspect in the killing of 12 and wounding of 49 people in the December 19th Berlin Christmas market on Breidscheitplatz. The fingerprints and documents of 24-year-old Anis Amri were found in the truck of Polish transport company Ariel Zurawski that he is suspected in hijacking. Amri is suspected in the death of a Polish truck driver named Lukasz Urban, one of the twelve victims.
One of the profiles, found via a Facebook profile of a man who appears to be one of Amri's brothers, shows a recent video of the suspect. This seven-second video was uploaded on 26 September 2016 and filmed on May-Ayim-Ufer near the Oberbaumbrücke bridge in Berlin. The profile background photograph shows the same bridge, photographed from the same location as the video.
Google Street View shows that the video was filmed in northeast direction from May-Ayim-Ufer near the Oberbaumbrücke. The river Spree, the Wall Museum East Side Gallery and the building of BASF Services Europe are all visible in the video.
Apart from the video, his recent Facebook check-ins make clear he was apparently in Berlin on 26 September 2016.
Bellingcat first found an archived version of a Facebook profile of Anis Amri. This profile was deleted soon after the name of the main suspect of the Berlin attack was made public, sometime after December 21st, 13:01 GMT.
His contact list, which was also archived, shows two other people with the same surname Amri: W. Amri and K. Amri, who both live in Kairouan near Sousse in Tunisia. One of these contacts, W. Amri, who commented on his profile photograph, is Anis's brother. His photo album on Facebook shows several photographs of Anis Amri that were uploaded in April 2016 and July 2013.
Along with several other people with the same surname in or around Kairouan, Tunisia, the contact lists of family members W. Amri and K. Amri also reveal two additional Facebook profiles of Anis Amri. In both of these profiles, Anis gives himself a different surname. One of these profiles is the one where he uploaded the seven-second video on 26 September 2016 in Berlin. The first of these additional profiles is connected to four of Anis Amri's family members, and the second profile is connected to two of his family members.
The second profile describes himself being in Dortmund in Germany, with a photograph of white houses and a castle on a hill, likely photographed from a boat. The second profile, with contacts listed as living in Paris, include several IS sympathizers. One of these contacts is directly connected to IS sympathizers and fighters in Syria.
Four additional profiles of Anis Amri were found by Bellingcat, with several having the same family members in the contact lists and some contacts in Germany. The first of these two profiles describes himself as a lawyer on the Faculty of Law of the University Paris V-Descartes in Paris, France. A photograph of a man who is by all indications Anis Amri in front of a fountain was posted on this profile on 6 August 2015; however, we have not been able to geolocate this photograph to Paris or any other location. The second profile shows a photograph of a boat, the third a photograph of a desert, and the fourth does not show any photograph or information at all, except several family members from his contact list.
All seven profiles of Anis Amri are connected to the same six family members and several family members are connected to two or more profiles of Anis Amri. The seven-second video from one of these profiles has been confirmed to be of Anis Amri by one of his brothers, per BBC News.
Currently, Bellingcat is trying to geolocate the exact location of the photograph (shown below) of the Paris profile. This photograph was posted onto an account that uses the suspect's name and has only six friends–two of whom are known family members of Anis Amri, and two others who are common contacts with other profiles operated by Amri. The photograph may have been taken in Paris, or perhaps Berlin, but we are still unsure. If you believe you have found the location, please comment below or tweet at @Bellingcat. Click the photograph to view it in full resolution.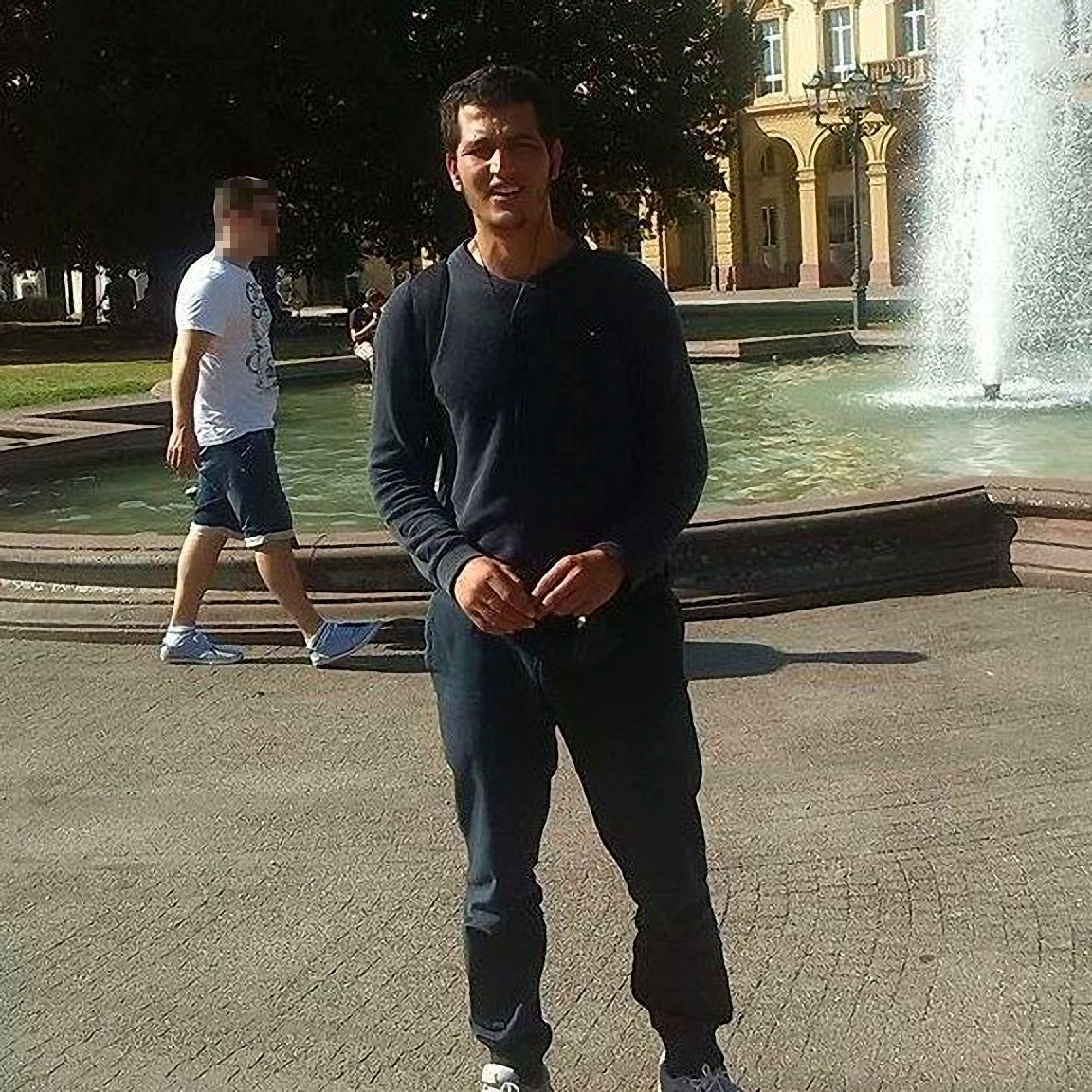 Update: Twitter user @unverbittert successfully geolocated the photograph to Friederichsplatz in Karlsruhe, Germany. Several photographs on Google Maps show a similar fountain and yellow building in the background with arches.