How These Adorable Puppies Exposed Russian Involvement in Ukraine
Данный отчет также доступен на русском языке.
On March 2, Elena Kostyuchenko of the Russian independent newspaper Novaya Gazeta published an explosive interview (English) with Dorzhi Batomunkuyev, a 20-year old tankist from Mogoytuy in the Zabaykalsky Krai, bordering Buryatia. Batomunkuyev is a member of military unit 46108, the 5th Tank Brigade, based out of Buryatia, lying between Lake Baikal and Mongolia in the far east of Siberia. However, Batomunkuyev is far from home, now recovering from serious injuries in Rostov after being transferred from a burn recovery unit in a Donetsk, Ukraine hospital. Like many other Russian soldiers, Batomunkuyev sustained injuries while fighting against Ukrainian soldiers in eastern Ukraine. In this case, the Mogoytoy native and his fellow 5th Tank Brigade soldiers were firing upon Ukrainian soldiers in the "Debaltseve pocket" on February 19.
This report will verify and expand upon the claims made in the Novaya Gazeta report through open source information, including satellite photos, social media reports, and photographs from reporters working in and near Debaltseve in mid-February. Each claim from either Batomunkuyev, the Russian tankist, or Novaya Gazeta is presented below in bold. The English translation of the interview from Euromaidan press is used in each quotation.
Firstly, there is the issue of Batomunkuyev himself. Was he truly a Russian tankist in the 5th Tank Brigade, and if so, was the injured man that Novaya Gazeta spoke to really Dorzhi Batomunkuyev?
On February 27, the local news site Zabmedia.ru reported that the mother of Batomunkuyev was traveling to Rostov to see her injured son, who sustained injuries while fighting Ukraine. This news release was published a week before the Novaya Gazeta interview came to light. Additionally, as mentioned in the Novaya Gazeta report, the Russian singer Iosif Kobzon did indeed visit Batomunkuyev in a Donetsk burn ward on February 23. A video of this meeting, showing Batomunkuyev in the same bed as in the Novaya Gazeta report, can be viewed here [warning: graphic content]. Lastly, many online sleuths quickly confirmed the tankist's identity after the Novaya Gazeta interview surfaced by finding Batomunkuyev's VK (VKontakte) profile. Batomunkuyev's VK profile has since been deleted, but numerous screenshots and archived versions of the profile are available:
(Novaya Gazeta) I know he was wounded in Lohvynove. Lohvynove – the bottleneck of the Debaltseve pocket – was cleared and secured in the early morning of February 9 by a DNR special forces company (90% of which were Russian organized volunteers). The pocket was closed so fast that Ukrainian soldiers in Debaltseve didn't know that. In the next few hours the troops of the self-proclaimed Donetsk Republic burned cars running from Debaltseve with impunity. This is how a deputy ATO head was killed.
The claim that 90% of the soldiers were Russian cannot be verified or disproved. However, it can be confirmed that heavy fighting took place in Lohvynove on February 9, as seen in a documentary from Russian state television on "Vesti."
On February 9, separatists released a video claiming to have killed the deputy ATO head near Lohvynove, as seen in a separatist video where a bloody document supposedly belonging to him is displayed. The Ukrainian military has not confirmed this claim, but supposed video evidence of the claim exists with this document and the separatist boasting of the feat.
(Batomunkuyev) On February 19, I got blown up. …
(Novaya Gazeta) The special forces fell back, replaced by rebel cossacks that were then shelled by Ukrainian artillery. Meanwhile, Ukrainian troops started preparing a breakthrough. A Russian tank battalion was sent to hold the position, after staying in Donetsk for several days before.
The specific battle that led to Batomunkuyev's injury during dusk of February 19 is difficult to verify; however, fighting was reported as Ukrainian troops withdrew near Lohvynove on February 19.
A dispatch from separatist fighters on February 19 describes how the road between Debaltseve-Artemivsk in the area of Lohvynove has become a "road of death" for Ukrainian soldiers. From the other side, Ukrainian military blogger Dmytro Tymchuk wrote on the morning of February 19 that separatist forces, including about a dozen tanks, were positioned near the Debaltseve-Artemivsk road near north Lohvynove. Lastly, a member of the Ukrainian military claims that his 1st Tank Brigade damaged or destroyed three separatist/Russian T-72b tanks on February 19 near Lohyvnove, but this information cannot be independently verified and only appeared after the Novaya Gazeta report.
The specific skirmish that led to Batomunkuyev's injuries cannot be confirmed through reliable open source information written on or shortly after February 19. However, numerous sources from that day indicate that separatist forces were positioned in the area where Batomunkuyev suffered his injuries and engaged with Ukrainian forces on the Debaltseve-Artemivsk road near Lohvynove throughout the day.
We painted our tanks over back in Ulan-Ude. Right on the train. We painted over the numbers, those who had Guards markings painted them over as well.
When searching through photographs of tanks on the Kuzminsky training ground, where the 5th Tank Brigade and others were stationed, numerous images of tanks with obscured numbers on the hull can be easily located.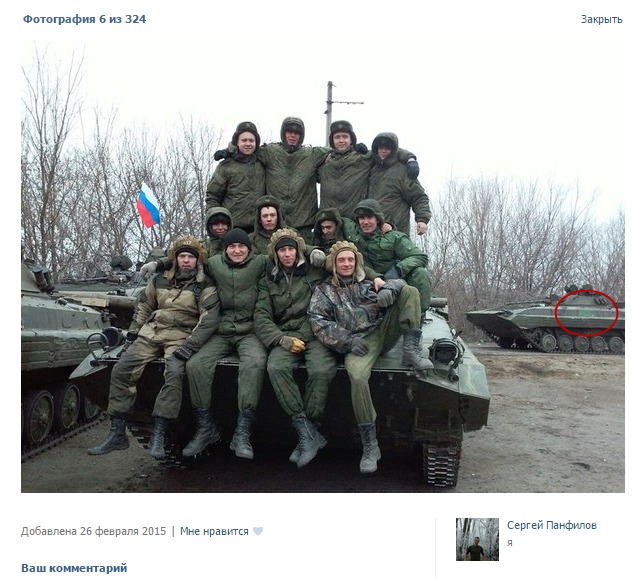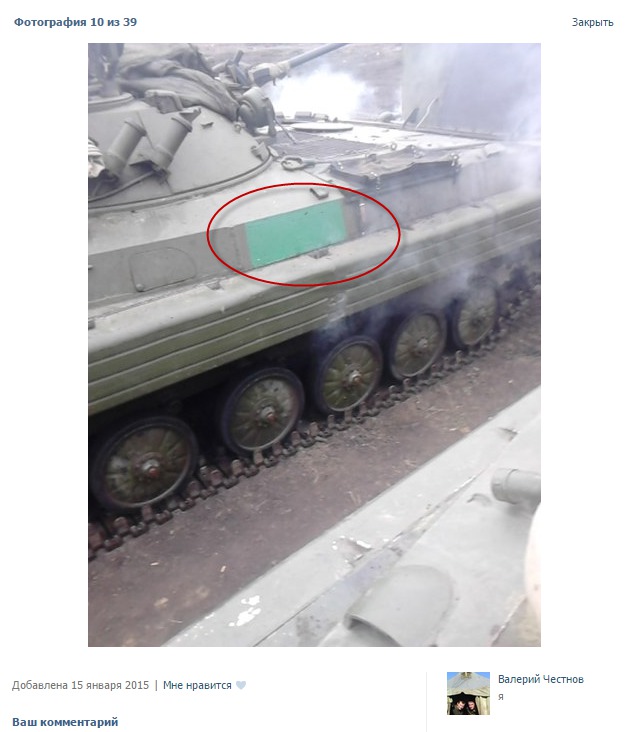 However, not every identifying number on tanks at the Kuzminsky training ground was obscured: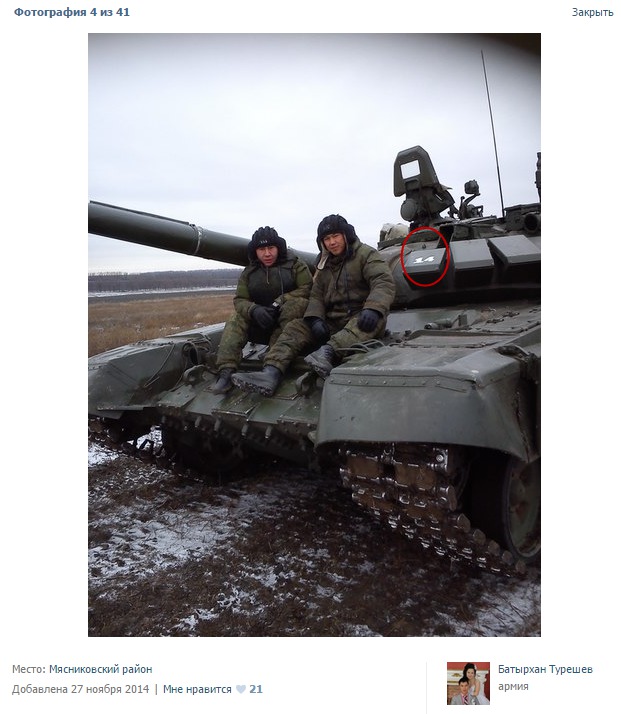 The unloading ramp was at Matveev Kurgan. As we went from Ulan-Ude to Matveev Kurgan, we passed lots of cities. It took us 10 days to get there. 
A number of 4th and 5th Tank Battalion soldiers photographed themselves in throughout the Winter at the Matveev-Kurgan railway station, marking it as a key rail yard for transporting military equipment.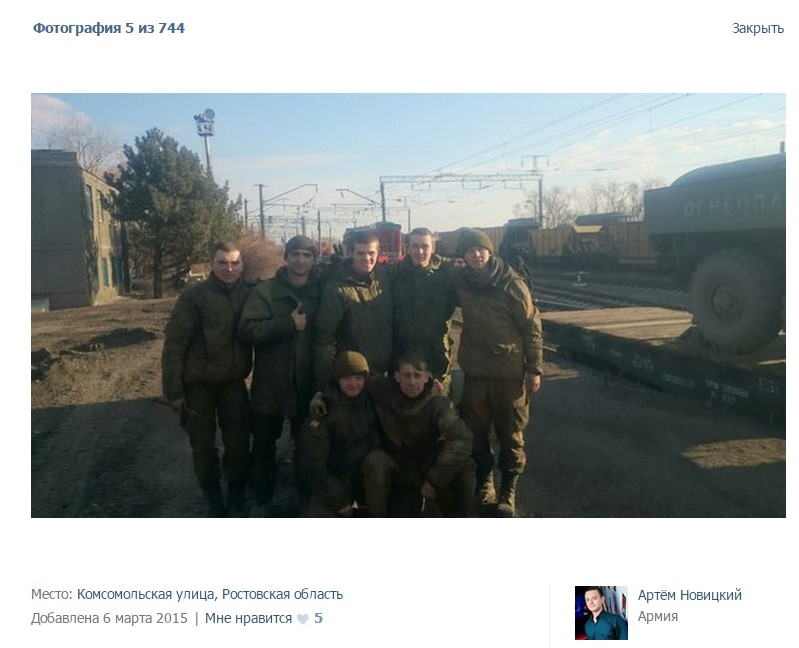 Additionally, one 5th Tank Brigade soldier photographed himself and his comrades on the way to Matveev-Kurgan in key cities along the railway, including Poletayevo and Saratov:
Kuzminsky. There are lots of such training grounds there. Tent towns. Some went out, some went in. They greeted previous trains there. After us, there was the Kantemirovskaya brigade from Moscow Oblast. They had paratroopers and a weak tank company.
A large training ground near Chkalova, located at the coordinates 47.403252, 39.227971, grew out of nothing in 2014. The first satellite below is from 2013 with no trace of a training camp, while the others are from the most recent available imagery on Google Earth, clearly showing military build-up and signs of training exercises:
Recent satellite imagery, available on Google Earth at 47.403252, 39.227971
A number of 5th Tank Brigade members were photographed at this camp, along with members of military unit 19612 of the 4th Tank Brigade and unit 54096 of the 6th Tank Brigade, among others.
Geotagged locations on VK are often unreliable, but there is a common thread that links many soldiers together to confirm that they were at the same place at roughly the same time: two Siberian husky puppies. Many tank brigade members photographed themselves with these two huskies at the Kuzminsky base over the winter. In the background of the photographs with the dogs, various elements of the camp—tents, military equipment, trenches—are visible., allowing us to confirm the existence of the camp and the specific military units stationed there.
It is quite rare to have a common identifying feature that is unique to a specific date and time when conducting geolocation, but this is such a case. And yes, much like some camouflage patterns on uniforms and tanks, the fur patterns of the puppies match perfectly in each photograph.
Through the satellite imagery, geotagged photographs of soldiers at the base, and the common thread of two Siberian huskies, it is safe to say that members of the 5th Tank Brigade, and other Russian tank brigades, were stationed at the Kuzminsky base throughout the winter of 2014-15. This verifies a key detail from the injured tankist's account, bolstering the veracity of his more explosive claims.
There were 31 tanks in the battalion. We went in company by company. Ten tanks in each company. Each 10 tanks got three BMPs, a medical MTLB and 5 Ural trucks with ammo. This is the composition of a company tactical group.
No one has verified the location or makeup of the exact convoy that Batomunkuyev entered Ukraine with, but the Bellingcat Vehicle Tracking Program has identified videos of two convoys in Makiivka uploaded on February 17 similar to those the tankist described (1198 and 1199). In video 1198, there are 4 BMPs, 10 tanks, 1 MTLB, 7 trucks, and 4 fuel trucks with white rectangles (keep this in mind for the next section). The second video, 1199, is filmed in the same location as the first video showing the part of the same convoy, with the same vehicles visible from a different angle. This Makiivka convoy is not Batomunkuyev's, but the similarity between his description of a convoy's makeup with BMPs, MTLB, and trucks accompanying the tanks reflect his familiarity with the organization of Russian/separatist military convoys in eastern Ukraine.
About 300 went in. All from Ulan-Ude. Most of us were Buryats. Locals saw us and said: "Well, you are sure reckless guys."
While the presence of Buryats in eastern Ukraine is only circumstantial evidence, it is worthwhile to note that local residents remarked upon a large presence of Buryat soldiers who arrived around Debaltseve in early/mid-February. Ilya Barabanov of Kommersant published an article on February 19, weeks before the Novaya Gazeta article, describing how a number of Buryats (dubbed the "Donbass Indians") were fighting in Debaltseve. Andrey Borodulin, a photographer who contributes to Agence France-Presse (AFP), photographed a small group of soldiers near Vuhlehirsk identifying as volunteers from Buryatia. These volunteers were wearing helmets typical for tankists. These Buryats playing football were located at around 48.3094917,38.2968535 in East Vuhlehirsk, next to a Russian T72b and BMP, both of which had white squares drawn on them (also seen here). As pointed out by Ukrainian open source investigator Askai, these white squares are in the same spots as the outline of squares on a T-72b tank photographed by a 5th Tank Brigade member. The 5th Tank Brigade member later deleted this photograph, but kept the rest of his account active. It may be circumstantial evidence that there are Buryat tankists in Deblatseve near tanks with squares in the same spots as tanks earlier photographed by a 5th Tank Brigade member, but it is quite a circumstance for these facts to overlap.
However, not all Buryats fighting amongst separatists in Ukraine are enlisted with the Russian military. There is not a very large Buryats population around Debaltseve, thus they raised considerable attention from both journalists and locals, but one cannot automatically accuse every Buryat in Ukraine of being an enlisted Russian soldier. One separatist fighter using the pseudonym "Vakha Donbass" has given interviews describing how he has traveled from Ulan-Ude in Buryatia to fight in Ukraine. Unlike those in the 5th Tank Brigade, this particular Ulan-Ude native is a bona fide volunteer to the separatist forces in eastern Ukraine.
Minakov got his leg torn off in the tank? It went off with the whole boot. He lost a toe on his right foot, also torn off. The battalion commander was burnt, Chipa the gunner, Spartak… that's what I recall.
Ukrainian blogger Anton Pavlushko did not just confirm that some of the characters mentioned by Batomunkuyev exist, but that they were in the 5th Tank Brigade with the interviewed tankist. There is no open source evidence available  proving that Aleksandr Minakov lost a foot, but we can say that he is a 21-year old contract soldier of the 5th Tank Brigade. Minakov's VK page has been deleted, but a screenshot of his account remains:
Spartak also exists: a 32-year old man from Ulan-Ude seving in military unit 46108, the 5th Tank Brigade. His Odnoklassniki (Russian social network) profile is still working (archived version).
I had a very good tank. Not just a T-72, but a T-72b. The T-72b is different in that it has a 1K13 aiming device, intended for night shooting, night surveillance, shooting guided missiles.
Journalists have photographed numerous T-72b tanks around Debaltseve in mid-February, including a piece for Buzzfeed from Max Avdeev. Graham Philipps, who has given numerous video dispatches from eastern Ukraine throughout the conflict, gave one of the best available looks at Russian T-72b3 tanks near Debaltseve (more information here with identifying features of the uniquely Russian T-72b3). His useful video provides solid proof that this Russian tank is a part of the separatist arsenal, as reflected from Dorzhi's claim of transporting T-72b tanks across the border.
In conclusion, the details of this interview stand up to scrutiny of open source research. Not every detail of Batomunkuyev's story is indisputably verifiable or entirely damning to the Russian narrative of non-involvement in Ukraine, but the cumulative effect of all of these details is hard to dispute. Members of the 5th Tank Brigade of Ulan-Ude were indisputably at the Kuzminsky training ground throughout the winter, starting in November, but it is difficult to determine how many of the 5th Tank Brigade fought in Ukraine. Regardless, one of these tankists was in a burn unit in Ukraine from battlefield injuries, and nearly all of the verifiable details provided in his interview can be confirmed through open source data. It would have taken either an inconceivably talented conspirator or a cosmic coincidence for this interview not to be considered key evidence of Russian military involvement in Ukraine after the adoption of the February 15th Minsk cease-fire accords.
Special thanks to Kirill Mikhailov and Anton Pavlushko for contributions in research in this article.