A Kyrgyz Custom Official's Luxury Getaways
"You can't forbid living beautifully!" wrote Amanda Turgunova.

Judging by her online presence, Turgunova should know. The social media accounts of this Kyrgyz jet-setter show a gilded life, in which she wears Dolce & Gabbana dresses, dines in extravagant restaurants and enjoys a new Lexus SUV — a "gift from ❤️❤️❤️."

That ❤️ refers to her husband Raimbek Matraimov, the former deputy head of Kyrgyzstan's National Customs Service. His name has become a byword for scandal in this Central Asian country. Many people in Kyrgyzstan have long believed the Matraimov family to be extremely rich, earning him the popular nickname "Raim Million." The exact extent of that wealth was never clear — until recently.
A previous series of investigations has revealed how Matraimov enabled and profited from a smuggling empire run by a secretive Uighur family. Last year, investigations by OCCRP, RFE/RL's Radio Azattyk, and Kyrgyz investigative website Kloop demonstrated how Matraimov became the patron of this smuggling empire which raked in millions of dollars in illicit profits.
Matraimov may have lost his position in the customs service in 2017, but he retained his riches — and converted them into influence.
This is perhaps why, whenever Matraimov came up in conversation, former President Sooronbai Jeenbekov, would merely ask to be "given the facts". Responses like these triggered outrage at the perceived inaction of Kyrgyzstan's government.
But during parliamentary elections this October, a party associated with Matraimov won just under a quarter of the vote. Violent protests erupted across the country, inflamed by reports of voter fraud. Demonstrators stormed the presidential residence and the election results were overturned. The politician Sadyr Japarov, who had been imprisoned in 2017, was released and became acting prime minister.

Initially, Japarov promised that Matraimov would go behind bars. But in October, a deal was struck by which Matraimov would pay the Kyrgyz state US$24 million in damages and live under house arrest. On 9 December, the US sanctioned Matraimov under its Magnitsky Act, citing human rights violations and significant corruption.
But he is far from a defeated man.

Despite the turbulence of recent years, social media posts by his wife (whose legal name is not Amanda, but Uulkan) and the family's Filipina nanny show that the Matraimovs' luxury lifestyle has continued apace.
This week, a series of investigations by OCCRP, Radio Azattyk, Kloop and Bellingcat revealed the enduring scale of Matraimov's political power and wealth. Here's how Bellingcat reporters used open-source investigative techniques to discover three more residences linked to Raimbek Matraimov.
A Cottage by the Lake
Between 2015 and 2019, Turgunova posted multiple collages on Instagram and the Russian social network Odnoklassniki showing her and her children at the Karven Four Seasons resort.
We know where these photos were taken because she added the label "Karven 4-Season":

But are they just visiting the beach, or does the Matraimov family own one of the cottages at the Karven resort?
Some of Turgunova's photos show her with a friend, Cholpon Mederova. The two women frequently appear in each other's photos and exchange comments.
One photo posted by Mederova in August 2014 shows her posing with a pregnant Turgunova, with a caption saying "Thanks to Amanda for a beautiful vacation." In another photo from the same summer, Mederova posts a photo of a boy surrounded by bicycles with the caption, "Amanda has a whole parking lot."

Both comments imply that Mederova is staying at a place she considers to be Turgunova's.
A photo posted on Instagram by Turgunova last summer offers additional clues. The brick pattern is the same as in the photo posted by Mederova years earlier. The yellow bricks, the white arch, and the distinctive brickwork are identical to the architecture of a typical cottage at the Karven resort (pictured on the right from a real estate ad). Moreover, the glass wall installed under the white arch is a modification not common in rented cottages, leading reporters to suspect the cottage was owned by the family.

Now we know that Turgunova appears to have frequented one of the Karven cottages, and that she was unlikely to be renting it.
But which one?
A satellite map of the resort from 2014 shows that half of the currently existing cottages had not yet been built. The left side of the image, in shadow, shows the still uncompleted houses.

Reporters focused on the cottages on the right side.
Another photo posted by Turgunova at the cottage, along with one of Mederova's photos, provide an additional clue: a green hedge that surrounds the house. A screenshot from a drone video posted on YouTube shows that only a few of the Karven cottages are surrounded by greenery:

Examining a different drone video, reporters found that one of these cottages is clearly surrounded by a similar-looking hedge, making it a likely candidate to be the Matraimovs' property:
Finding this cottage on Google Maps, reporters found that its driveway, which is not directly perpendicular to the walls of the house, appears to match the photos by Mederova and Turgunova:

Having identified the cottage, reporters requested land records, confirming that it belongs to the Matraimov family. It's registered to Dinarkhan Alaichiyeva, the wife of Raimbek Maitraimov's older brother Tilekbek Matraimov.
While reporters have not seen Turgunova posting from Karven since 2019, at least one member of the immediate family visited the resort this summer.
In June, a Twitter user posted that he saw Matraimov's son Bakai driving an Aston Martin into the Karven resort. He also posted a photo of a Porsche Cayenne in the Matraimovs' driveway.

The Resort that Doesn't Exist
This summer, reporters noticed that Turgunova appeared to be holidaying closer to home — at a lakeside resort village connected to one of Kyrgyzstan's most notorious criminal figures.
On August 11, she posted an Instagram photo of her son's birthday celebration. As the ice cream brand shown here is not sold in Kyrgyzstan, reporters initially assumed that the photo was taken abroad.
However, the cake suggested otherwise. The same cake was found advertised on the Instagram account of Sisters' Sweets, a  company based in Kyrgyzstan's capital of Bishkek.
A week later, Turgunova provided another clue to her surroundings. In this Instagram post, she poses on a well-manicured path flanked by two rows of identical villas and a distinctive streetlight.
This is no average suburban street in Kyrgyzstan — the houses, or villas, are particularly distinctive. These buildings have identical brown gable roofs. The photo shows a recently constructed wall with a black barrier gate, with a tall tree visible behind it.
Where could this be? Another Instagram image posted by Turgunova four days later narrows down the location. She sits on the side of a pier, looking out onto a lake. By now, we are reasonably sure that Turgunova is in Kyrgyzstan, a landlocked country which has only one large lake: Issyk-Kul.
Browsing through Instagram for similar locations, reporters stumbled across the following image, posted by another user. The same brown gable roofs can be seen in the background, as can the distinctive street lamp.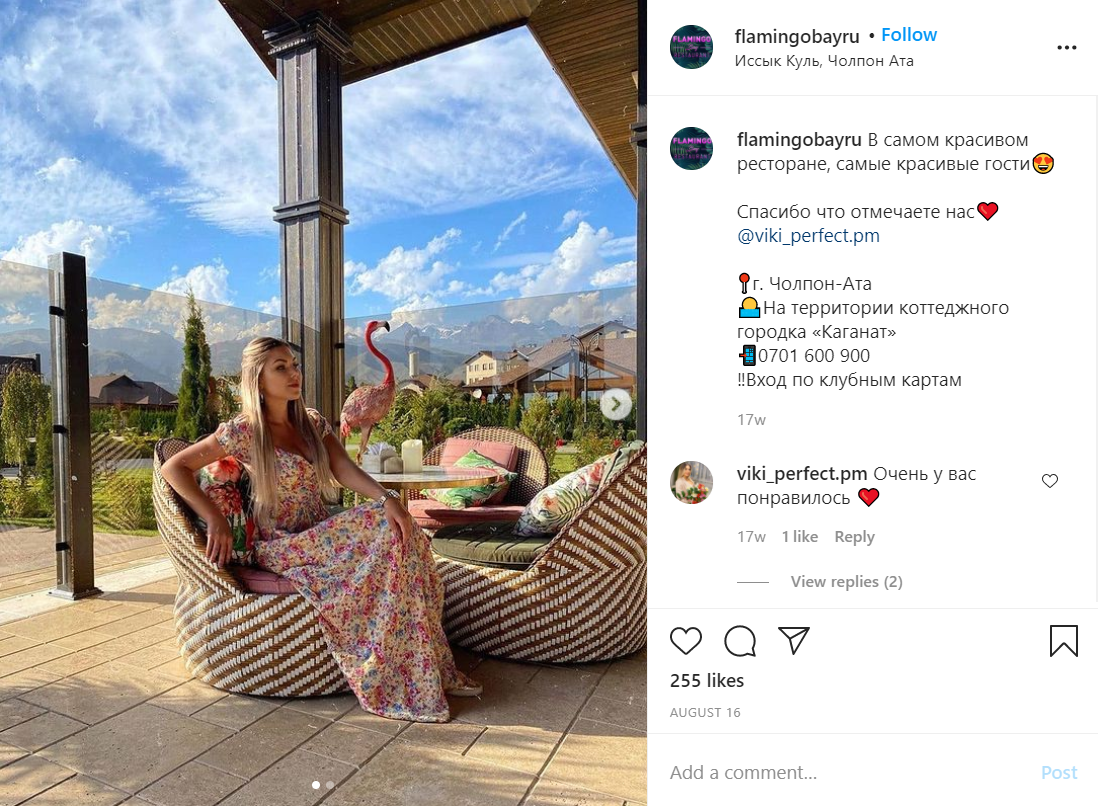 Credit: Flamingobayru/Instagram
This is the official Instagram account of Flamingo Bay, a restaurant which gives its location as inside the Kaganat resort in the town of Cholpon-Ata, on the shores of Lake Issyk-Kul. Satellite images of this elite resort allowed reporters to geolocate the aforementioned image of Turgunova — with its black gate, rows of gabled houses, and that same distinctive streetlamp.

This confirmed that Turgunova was staying at the Kaganat development, an exceptional place for many reasons. On a satellite image of the shoreline, it stands out for its lush greenery, the size of its houses, and its exclusivity.
The name of the resort, which means "Khanate" in Russian, doesn't display on Google Maps. It has no website and does not advertise. The territory is guarded and protected by a fence. Its two dozen villas cannot be rented, a manager told journalists. Instead, they can only be purchased, and only with the approval of the owners. None are currently available.
Gaining access in person is no easy feat. The resort is a private, fenced development protected by security guards. In addition to about two dozen villas, it hosts the exclusive Flamingo Bay restaurant, a swimming pool, a playground, a private beach, an unusual gym on the lake, a football field, and an apartment building under construction.
According to property records, the entire territory was initially owned by Imidzhstroi, a construction firm owned by former member of parliament Sergei Ibragimov. The company, which still operates the resort and owns some of its common facilities, has sold most of the villas it built there to various buyers.
However, though his name is not connected to the development by any public documents, the true owner of Kaganat is known to be Kamchy Kolbayev, who was born in the area and wields significant political influence there. Four Cholpon-Ata locals, who are not being named for their safety, told reporters on a recent visit that the resort belongs to him.
A senior Imidzhstroi representative, speaking to a reporter who posed as a potential buyer, confirmed the connection explicitly.
The development was an exclusive one, he explained. "We're a closed little town, and the residents are members of the club," he said. "We don't advertise. We come to every client individually, and plus we don't sell to just anyone."
Asked to clarify, he said anyone who wanted to buy a villa in Kaganat needed high-level approval. "We have an owner of this little town, an owner of the land. He's the one who decides," he said.
"That is, I need to speak with Kamchybek Asanbekovich [Kolbayev]?" the reporter asked.
"Not only with him," the Imidzhstroi representative said. "He has partners, and you have to agree with all the members of the club." However, he apologized, none of the villas in the resort were currently available for purchase.
According to land records obtained by reporters, four of the villas have not been formally sold, and are still owned by Imidzhstroi, at least on paper. It is one of these homes, a larger building with a direct view of the water, that was used by the Matraimov family this summer.
Another photo of Turgunova posing in a yard next to one of the villas shows a bed of white rocks or gravel, which helped pinpoint the family's specific villa on satellite photos.
On a visit to Kaganat, a reporter found confirmation that the family was still at the resort, seeing that Turgunova's son Bakai was among several men playing on the football field. Unlike the other villas in the development, the villa the Matraimovs used, from which loud music was playing, is gated and surrounded by thick vegetation.
On a subsequent visit, when a reporter approached the guards to drop off a letter for Raimbek Matraimov, the guards initially agreed to pass it along. But when the reporter insisted on making the hand-off personally, a guard went inside to make a phone call. When he returned, he said no one by that name lived in Kaganat.
With no documents linking either Matraimov or Kolbayev to the resort, or to each other, the facts surrounding the Matraimov family's stay at Kaganat remain elusive. Neither has responded to requests for comment.
An Apartment in Dubai
Open source investigative techniques also revealed a more distant property linked to the Matraimovs — this time, in the UAE.
On November 7, 2016, a Facebook user named Teresita posted a video tour of what she described as her "boss's" new apartment. "We've just bought it," she says.
The boss she was referring to was Uulkan Turgunova, the wife of Raimbek Matraimov, Kyrgyzstan's former deputy customs chief. Among friends and on social media, Turgunova goes by the name "Amanda."
In June 2017, Teresita posted a comment under a now-deleted Instagram post by a Kyrgyz woman named Cholpon Mederova who frequently appears in photos with Turgunova. In the comment, she says she misses her "boss Amanda" and asks how she's doing.
Teresita has also posted several Facebook photos of herself with the couple's children:

She also posted a collage of photos of herself in a personal gym. In the comments, she describes it as being inside the house of her "amu," which means "boss" in Filipino. Turgunova and one of her sons have also posted photos in the same gym.
What is the evidence that the Matraimov family bought the Dubai apartment?
Once again, social media posts offer some useful clues. In her video, Teresita says: "This house is very new. That's why we're here in Dubai, to clean it, because it's a new purchase."
Before November 2016, Turgunova's photos in Dubai showed her staying in expensive hotels, such as Le Royal Méridien and Atlantis The Palm. After Teresita's video, Turgunova's Dubai photos show no more hotels. Instead, she is repeatedly seen in the same apartment.
The day before posting the video tour, Teresita posted nearly a dozen photos of herself in the apartment with the caption "My boss's house…"

The following year, Turgunova posted a collage of herself in the apartment with one of her children. The same staircase is visible next to her.

She posted photos of herself inside the apartment on several more occasions:
This photo of Teresita in front of a window in the apartment helped us determine where exactly the building is located: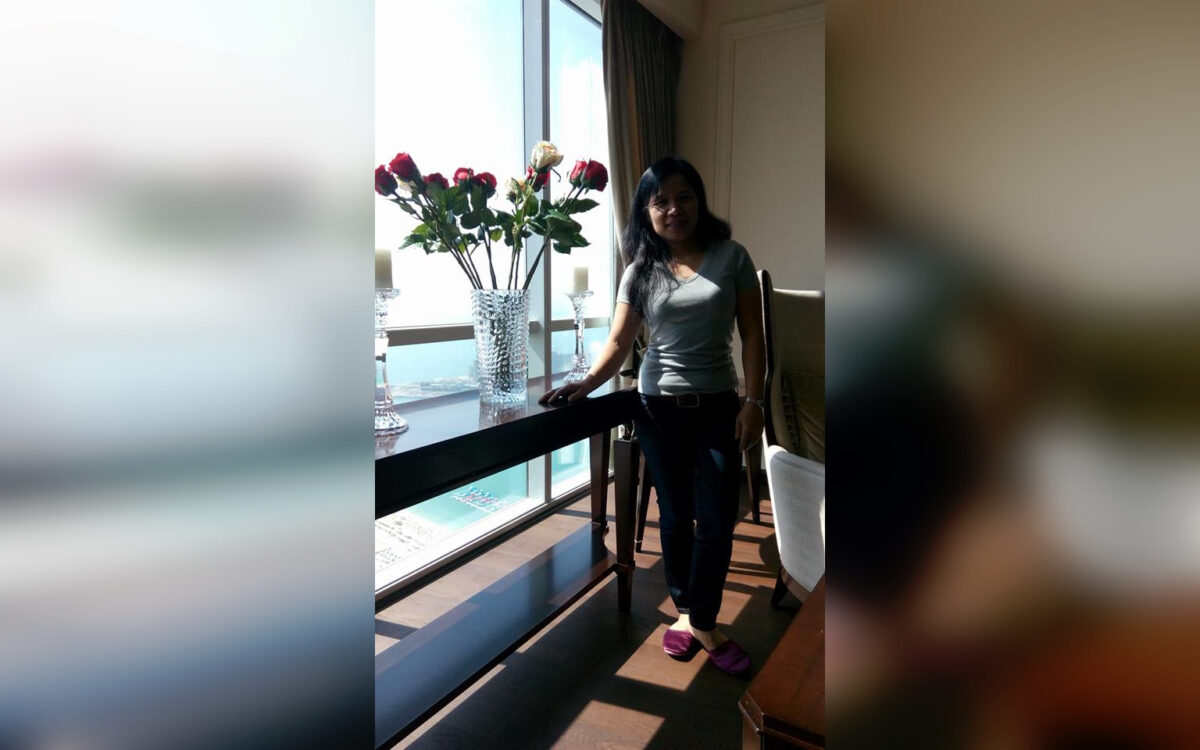 Some of the notable features in the photo are the peninsula and beach visible in the background and some green and pink objects in the water.
One area in Dubai — the luxurious Jumeirah Beach Residence development — had all three. The objects in the water, it turns out, are a water park shaped like the words "I ❤️ Dubai."

Having identified the area, it's time to look for the specific building. There are many residential towers nearby. But based on the view of the water park, the height from which the photo was taken, and the angle of the building relative to the beach, only one building matches:
This 50-story building is one of the two Al Fattan Marine Towers, which has large, panoramic windows that match Teresita's photo:

As added confirmation, an Instagram photo tagged with "Al Fattan Marine Towers" as the location offers a similar view of the beach and water park, and also shows a similar panoramic window:
Having identified the building, can we find the apartment? Teresita's video shows her walking up the stairs, indicating that the apartment is a large duplex. According to the building's floor plans, only the 50th floor penthouse matches.
As a final confirmation, a photo Turgunova posted of herself in an elevator — with the 50th floor button pressed — matches another photo of the Al Fattan Tower's elevator:

This January, Raimbek Matraimov's okul bala (A traditional Kyrgyz form of 'godson'), Munarbek Saipidinov, appeared in an Instagram story in which he hops out of a $200,000 Mercedes Brabus G700 in Dubai:
A Google Maps view confirms that he was visiting the Al Fattan tower.
Since property records in Dubai are not publicly available, there is no documentary evidence of how much the Matraimovs paid for their luxury penthouse.
A similar penthouse in the same building is currently on sale for 3,850,000 UAE Dirham (about $1 million).
At the time the photos were taken, Turgunova's husband, Raimbek Matraimov, was receiving an official monthly salary of 71,000 Kyrgyz Som ($1,000). This raises the question of how his family was able to afford such a luxurious property.
Much the same question can be asked for many more of the items Turgunova's social media posts, from expensive watches to holidays in the Maldives.
They are hallmarks of a life which most in Kyrgyzstan could never afford — those same people who, to paraphrase Turgunova, are forbidden from living quite so beautifully.
See OCCRP's interactive map of further properties linked to Raimbek Matraimov here