Kazakhstan Has Received Four Russian SU-30SM Fighters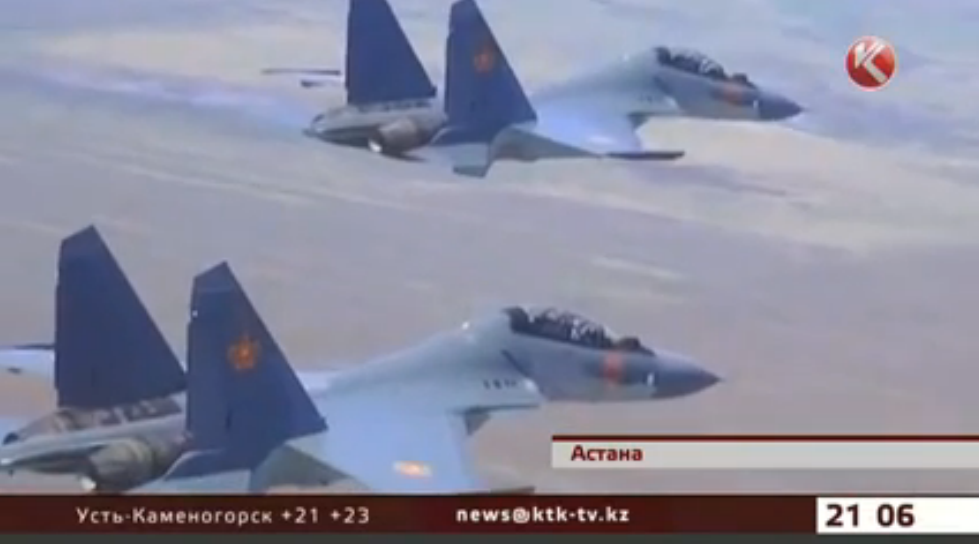 In case you missed it, Kazakhstan's recent military parade in May confirmed that the central Asian country is operating at least four Su-30SM aircraft. The parade, which took place in Astana, commemorated the 70th anniversary of the Soviet victory in World War II.
The Kazakhstan Air Defence Forces took delivery of the 4++ generation Russian-built fighters at the Taldykorgan Airbase also known as the 604th Airbase. Satellite imagery from April also confirmed that KADF had received four fighters.
The SU-30SM is a variant of the Indian Su-30MKI featuring an improved radar, communications system, ejection seat and weapons system. Back in February, Major General Nurlan Ormanbetov made the acquisition public during a visit to the Irkutsk Aviation Plant where the Su-30SM is built.
The KADF has been in desperate need to acquire new aircraft and modernize its aging force as most of its aircraft were acquired from older Soviet stocks in the 1990s. Its most recent efforts include a 2007 agreement with Belarus' 558 Aircraft Repair Plant to modernize 10 of its Russian made SU-27. [1]
The repair plant reportedly modified the KADF aircraft to the SU-27M2 and SU-27UBM2 standard featuring both Belarusian and Israeli systems. Those aircraft are now joined by Kazakhstan's latest acquisition of SU-30SM fighters.
Imagery from earlier this year shows both platforms along with KADF's MIG-27 parked on the operations apron at the airbase.
Kazakhstan is part of Collective Security Treaty Organization where Russia has been promoting a unified air defense system with allies in the region. Over the years Russia has worked bilaterally to bring nearby states into the fold. Kazakhstan's acquisition of SU-30SM help support that goal.
Notes:
[1] Media reports from Sept 2014 said that "two senior pilots" were killed in a crash involving an Su-27 near Almati. Although the variant of the aircraft wasn't identified, imagery would suggest this was one of the upgraded Su-27UBM2. Recent imagery from 2015 only shows nine of the different camo scheme aircraft on the operations apron. However, this doesn't discount that the other aircraft could have been in covered storage.