INS Vikrant Makes Progress at Cochin Shipyard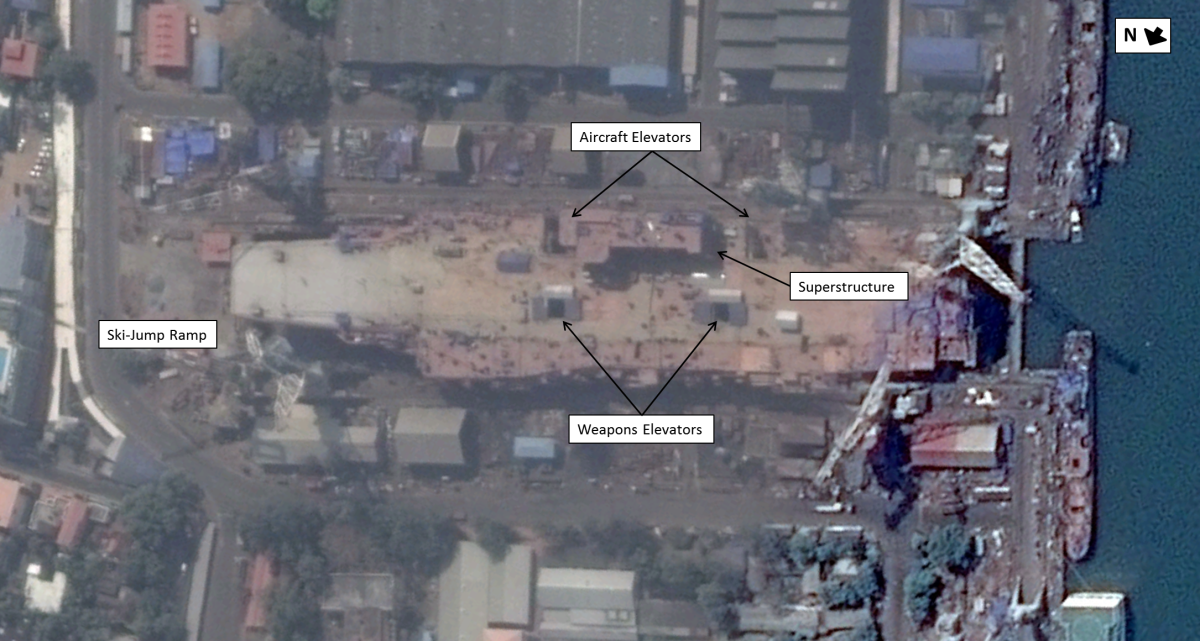 New satellite imagery shows that India's first indigenous aircraft carrier has made significant progress since it was launched in August 2013, helping India inch towards the goal of a two carrier battle group.
Imagery acquired by commercial satellite firm DigitalGlobe in February 2015 shows further assembly on INS Vikrant, a 40,000 ton aircraft carrier and India's soon-to-be largest vessel once commissioned. Additional ship modules now welded to the hull have enlarged the deck width — measuring almost 60 meters. The erection of the superstructure reported last November was also confirmed. India's first domestically produced carrier is currently under construction at state-owned Cochin Shipyard Limited, the country's largest shipbuilding and maintenance facility located in Kerala on the west coast.
Like other vessels built in India, significant cost overruns and delays have hampered shipbuilding progress. The South Asian country is already four years behind schedule on the project with the latests estimates pushing an operational date closer to December 2018, if not beyond. However, the Indian Navy expects that the vessel will "undock" sometime this month after mounting the propellers on the engine shafts, according to an April statement from Vice Admiral Ashok Subedar. Afterward, the shipyard will continue with the fitting out process.
Originally, India was to have fielded her carrier by 2014, eleven years after the government approved the build. Last July, the Cabinet Committee on Security released an additional Rs 19,000 crore (approx USD 3.18 billion), the lion's share, to complete the vessel's construction — on top the USD 585 million already spent. Due to India's extensive bureaucracy, the funds languished for almost a year halting progress on the project.
"As much as 95 per cent of its hull is complete as is 22,000 tons of [its] steel structure," Subedar went on to say. That's 3,500 tons heavier than its August 2013 launch weight though significantly less than its planned 40,000 tons. Of course, much of the that weight will be comprised of two fixed wing squadrons (12 x fighters each) of Russian-built MIG-29K and Indian-built Tejas Light Combat Aircraft, 10 x Ka-31 ASW helicopters as well as necessary ammo, fuel, and other supplies.
Featuring a STOBAR (short take-off but arrested recovery) configuration with a ski-jump, India's indigenous carrier will push naval pilots to master a new launch and recovery system, one very different from its existing STOVL (short take-off and vertical landing). Luckily, Russia helped India build a shore-based testing facility which became operational early last year. Imagery shows that Indian pilots are already hard at work. (INS Vikramaditya also features a STOBAR configuration).
Aircraft aside, India's latest carrier will be powered by four General Electric LM2500 gas turbines capable of cruising speeds around 18 knots. With an endurance of 7,500 nautical miles the Navy should have few problems projecting force throughout the Indian Ocean region, especially given India's previous proficiency in carrier operations.
But if issues do arise, the United States has proposed a joint working group to help support Indian ops, share best practices and even possibly, technology. All of which may lead observers to conclude that India's naval capability has become increasingly important. Prime Minister Modi made that clear while visiting Mauritius in March: "India is becoming more integrated globally. We will be more dependent than before on the ocean and the surrounding regions. We must also assume our responsibility to shape its future. So, [the] Indian Ocean region is at the top of our policy priorities."
As perhaps it should be. India is already advantaged by its unique geography, jutting out in the Indian Ocean with its 7,500km coastline and island territories. Given India has short distances to travel to manage any regional conflict or rivalry, it only makes sense that India would focus resources on protecting national interests in its own backyard.
In the maritime space, few regional contenders are making a splash, though emerging challenges from China are certainly on India's radar. China's People's Liberation Army Navy (PLAN) commissioned its first aircraft carrier, the Liaoning, in 2012 and has already started construction on a second. With recent infrastructure established in the South China Sea and additional PLAN deployments in the Indian Ocean region, China appears poised to take a more aggressive maritime stance, a clear departure from India's Cold War experience.
In response, India is planning a 160-plus-ship navy as it seeks to constrain what it sees as a Chinese incursion into its sphere of influence. Unfortunately for the navy, India is still predominately a land force with the Army maintaining the biggest share of the defense budget. Regardless, India expects that its homegrown carrier program will eventually allow it to maintain two carrier battle groups supporting its respective Eastern and Western Naval Commands.
Named after India's first aircraft carrier recently scrapped, the INS Vikrant is one of two homegrown carriers planned for the Indian Navy. The second carrier, INS Vishal is currently being fast-tracked—though it's unknown what this means for Vishal's construction timeline. In the meantime, India's lack of experience building carriers and the uncertainty of outside assistance may impede India's pressing strategic goals, probably pushing the operation of its second carrier to 2025 or beyond.