How Instagram Celebrities Promote Dubai's Underground Animal Trade
The monkey squirms while a woman holds it up with one hand and records it without speaking. The TikTok video is brief and has no description; the only audio is the infant animal's cooing. Other videos posted on related social media channels show young tigers, lions, cheetahs and pumas, but also monkeys, sloths, and meerkats, all recorded and shared without comment.
While still young, these animals make their way to influencers and celebrities who use them as props in their own social media content. Rappers, movie stars, business magnates, TV-presenters, models, vloggers and even a fugitive criminal have all posted images of themselves posing with them. But there's a problem — these same pets can be traced back to a small group of anonymous individuals who may be engaged in illegally leasing out, and perhaps even selling, exotic animals.
This is a multi-million dollar industry. Much like cars and watches, exotic animals such as tigers have a long history of being used as status symbols, particularly in the United Arab Emirates (UAE).
However, keeping animals such as lions and tigers as 'pets' is problematic, causing harm to the animals' physical and social well-being.
It can also be illegal, sustaining poaching and international organised crime. In 2017, the UAE adopted a law that prohibits individuals from owning, trading or transporting dangerous or exotic animals such as primates and big cats, placing heavy restrictions on facilities such as zoos and breeding centres that keep them.
Unfortunately, despite this law the trade continues. In social media posts to their millions of followers, celebrities continue to show off their tigers, cheetahs and monkeys.  Those posts may provide illegal traders with free advertisement — but they also allow journalists to apply open-source techniques, revealing more about this shadowy trade.
Passing Around Cubs
Photos with lion or tiger cubs are particularly sought after. Most of these photo shoots take place within the first few months of the cub's life. That's because they are expensive to acquire, expensive to care for — and they don't stay harmless for long.
White tigers are among the most popular. These animals are in fact Bengal tigers with a pigment condition that is extremely rare in the wild. They therefore tend to be the result of continuous inbreeding in captivity, so are prone to severe genetic defects.
In August 2019, Esha Gupta, an Indian film actress and model with five million followers on Instagram, posted a picture of herself holding a white tiger cub. Her post has since been deleted, but we can still find traces of it in Google's cache and on Pinterest.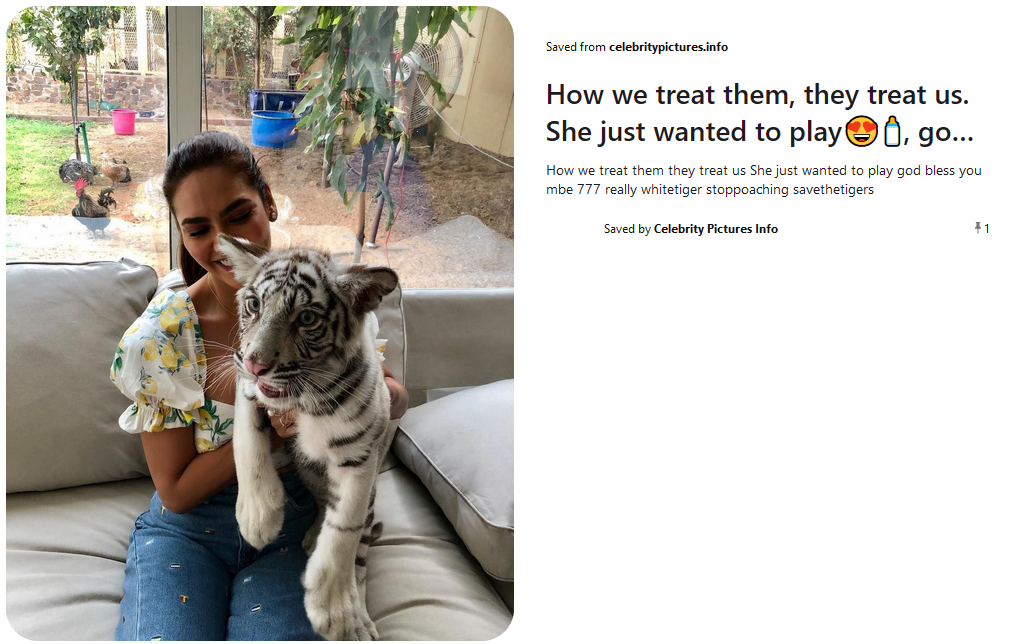 That same month, MoeMoneyOfficial, a social media manager who assists several celebrities and has over 400,000 Instagram followers, posted several stories featuring a tiger cub.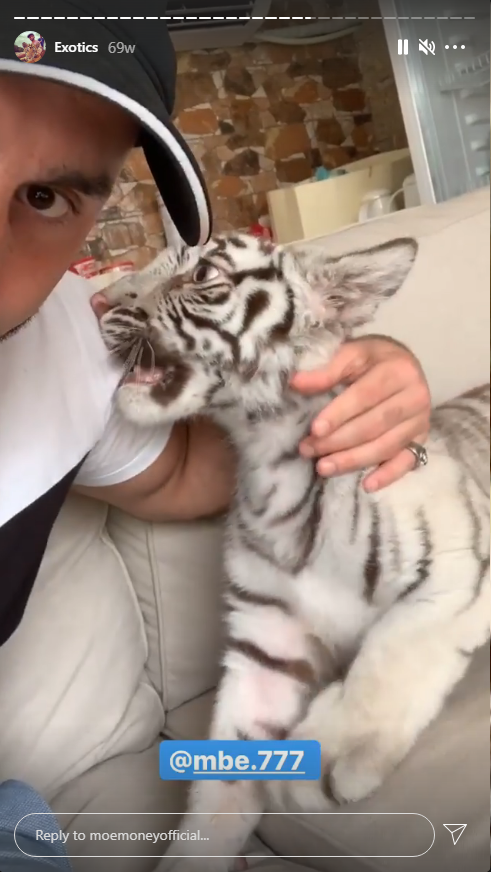 Then on September 1, 2019, MoVlogs, a vlogger with over 10 million YouTube subscribers, uploaded a video entitled "Swimming with Baby Tigers". It shows a white tiger and white lion cub at his home.
Helpfully, tigers don't change their stripes, allowing us to establish whether these three videos feature the same cub. In the comparisons below we have highlighted some of the matching stripes and spots for reference. Accounting for differences in lighting, resolution, and angle, all other stripes and spots as well as eye colour and whisker spots should match as well.
It's a match. Though subtle, the patterns of all the stripes fit, as do the whisker spots and spot on the nose.
The Mysterious MBE
Apart from featuring the same cub, these three videos had something else in common. They all tagged "MBE.777" in their post, story, or description. MBE.777 is the handle of a private Instagram account which has been tagged in many other celebrity posts and stories involving tigers, lions and cheetahs.
For example, British rapper Fredo (1.1 million followers), Saudi celebrity Dyler (2.7 million followers) and Egyptian TV presenter Sara Khalifa (738k followers), all posed with another white tiger cub in November 2019. These Instagram posts all tagged, MBE.777, virtually advertising the account to their followers.

The comparison below indicates that the same white tiger cub appeared in these three Instagram posts:

The same account is tagged not only by celebrities, but also by photographers who appear to hire exotic animals to embellish their shoots: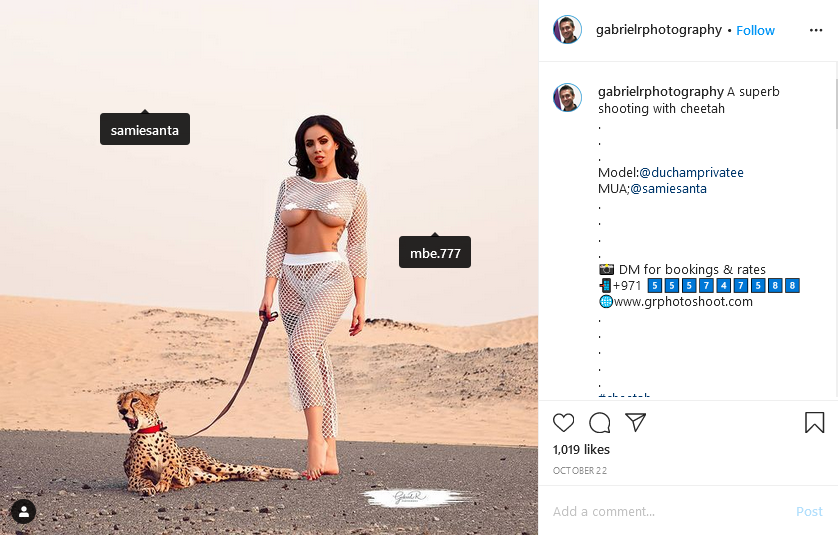 In the same month, when the aforementioned pictures of the second white tiger cub were posted, the UK's
Birmingham Mail
newspaper reported that British fugitive Zahid Khan had posed with a tiger cub while hiding in Dubai. Khan has received a prison sentence for fraud in the UK, whose authorities are reportedly in contact with their counterparts in the UAE to secure his extradition.
Although Khan did not tag MBE.777 in his post, the cub's features clearly indicate that it was the same animal which appeared in the three celebrities' posts shown earlier.
These two cubs have helped celebrities rack up thousands of much sought-after views. But where do they come from?
The Room Where it Happens
Not much is known about Mr. MBE.777 — and he wants to keep it that way. He reveals neither his face, name, nor voice in his Instagram posts. This effort to remain anonymous may suggest that he is aware of the laws in the UAE regarding exotic and dangerous animals.
Despite its private setting, MBE.777's Instagram account has nearly 15,000 followers. It follows about 15 people at the time of writing — but MBE.777 regularly prunes his list of subscribers. Followers of this account frequently ask "How much?" or "DM", requesting to message privately with MBE.777.
MBE.777 has kept young animals on a rolling basis since at least October 2019, with a continuous supply of new lion and tiger cubs, as well as other exotic animals. MBE.777 shares photos and videos of these animals, all of which were taken in the same couple of rooms:
Even though MBE.777 is very privacy conscious, more details about him can be gleaned through the other individuals also involved in this network. These people are sometimes tagged together with MBE.777, posting from the same location, or we can catch glimpses of them in the background, including reflections.
For example, although MBE.777 only reveals indoor spaces, we can still geolocate these thanks to the social media posts of a Russian woman appears to be close to him, who frequently photographs the same furniture and rooms. As it cannot be established that this woman plays a direct role in facilitating the sale of these animals, we have redacted her personal details.
In this image, the view from the window — showing a blue sign on the adjacent building — can be used to geolocate it to an apartment about 20 storeys high, at the Jumeirah Beach Residence in Dubai.
Other information about this particular building further confirms the accuracy of the geolocation. For example, old advertisements for rentals in this block depict an apartment with the same TV model and window view.
The furniture and MBE.777 tag also allow us to identify users who have visited this apartment to pose with tigers and lion cubs. The same couch and TV model appear alongside the MBE.777 tag in photos posted by Indian celebrity Adnaan Shaik (13.4 million TikTok followers), German entrepreneur Saygin Yalcin (717k Instagram followers), and Indian "fashion influencer" Shadan Farooqui (4.2 million Instagram followers).
From this geolocation and the space between Instagram posts, it appears that MBE.777 is keeping young animals in a Dubai apartment for several weeks at a time. It also appears that these animals are also being transported to other locations and homes for celebrity photoshoots.
Cubs for Cash
Beyond photoshoots, MBE.777 also appears to sell animals kept in the Dubai apartment.
Another Instagram account, the aptly-named Exotic_Petsdubai, appears to help MBE.777 in these sales. According to its description, this account is selling the animals in its posts worldwide, taking cash upon delivery to your home. We can connect this account to MBE.777 because its posts feature pictures and videos of the same animals seen on MBE.777's account, on the same furniture:
Mentions of trade can be seen on other accounts in MBE.777's network. The Russian woman closely linked to MBE.777 shares pictures of the same animals, but offers more information. For example she shared pictures of a Cheetah cub on VKontakte, a species listed as vulnerable on the IUCN Red List. There are an estimated 8,000 of them left in the wild, a number that is declining in part because of the pet trade. Like lions, they are a status symbol in the Gulf countries and Saudi Arabia.
When one user asked if it was her cheetah, she replied "used to be mine, sold already".
On Instagram, she shared a video of the same cub, adding that they would soon be joined by an adult cheetah.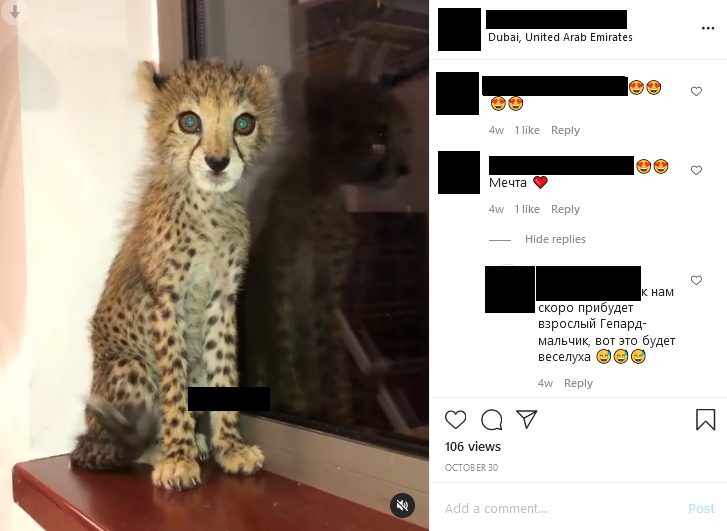 This woman also shares images of these animals on Instagram. Another user asked her if a one and a half month old cub is now her pet. She replies that although the cub spent the entire night with them, it has now flown to a different country. In response, the person says she hopes "the cat will be okay" to which the individual replies with a sad and a praying emoji.
Prayers aside, there is good reason to assume that any cubs kept like this might not be okay. Captive tigers need large, natural enclosures, specialised care and food. To be passed around and treated as playthings with continuous human interaction can be a stressful experience.
MBE.777 is followed by a Saudi man who is also dealing in the same kind of exotic animals. Over a year ago, he posted a photo of what appear to be dead animals, including a white tiger cub and a lion cub, lying on plastic bags. "From the heat", the author commented.
Another person close to MBE.777 who frequently records the same animals, also shared a video of two lions. One is kept in a small cage, the other is chained and suffers from a luxated lens. This medical condition, also common in dogs, is not evidence of mistreatment per se, but would require medical attention.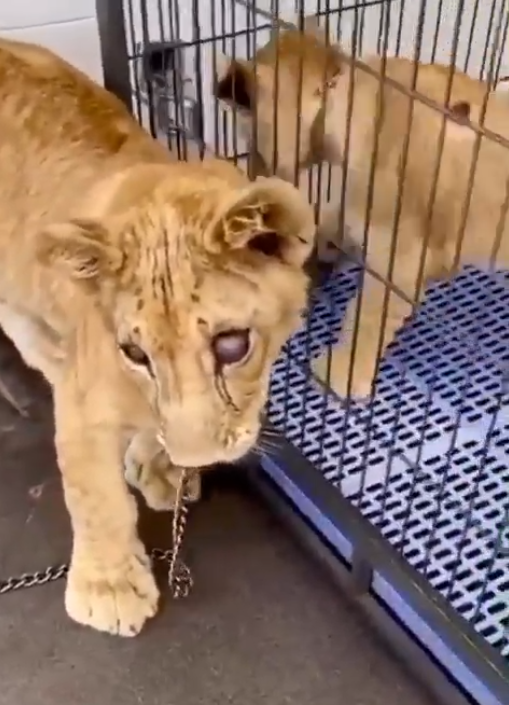 Other exotic animals that were  previously seen in MBE.777's network end up as pets of other individuals.
On March 27 2020, MBE.777 posted a video showing a serval cub. The serval is an endangered wild cat also listed by the UAE's 2017 law as a "dangerous animal" which individuals cannot trade nor keep as a pet. Despite this, one user in the comments asked how much it would cost. Three days later, on March 30, the Instagram account "Dubai_Serval", maintained by someone followed by MBE.777, began posting videos of a similar looking animal.
Is this the same Serval? Allowing for differences in the resolution, angle, and lighting, the spots match in size and relation to one another. The whisker spots are also a precise match.
Before it was even two months old, this Serval was apparently moved from MBE.777's apartment to another person's home, who has been keeping it there as a pet for the past ten months.
This is just one example; a similar case involves a Chinese woman who was followed by MBE.777, and afterwards began keeping a tiger and lion cub as pets in her home.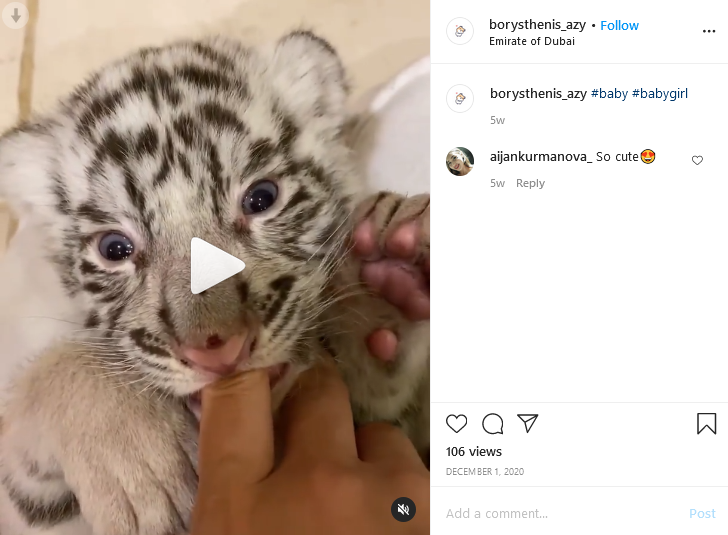 The tiger cub appears to be the same as that previously shared by the Russian woman close to MBE.777, who added the description "My sweetie, happy in a new family".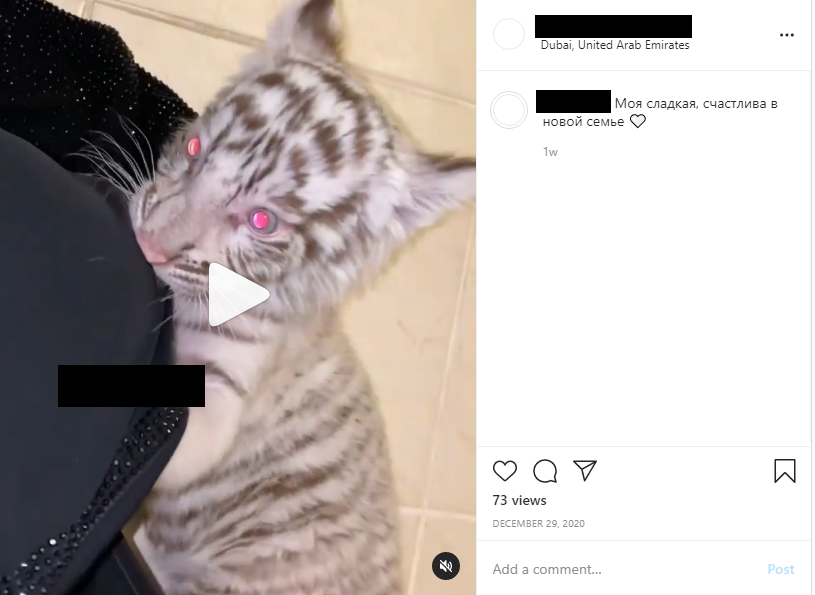 A comparison of the stripes and whisker spots indicates that these photos indeed show the same animal.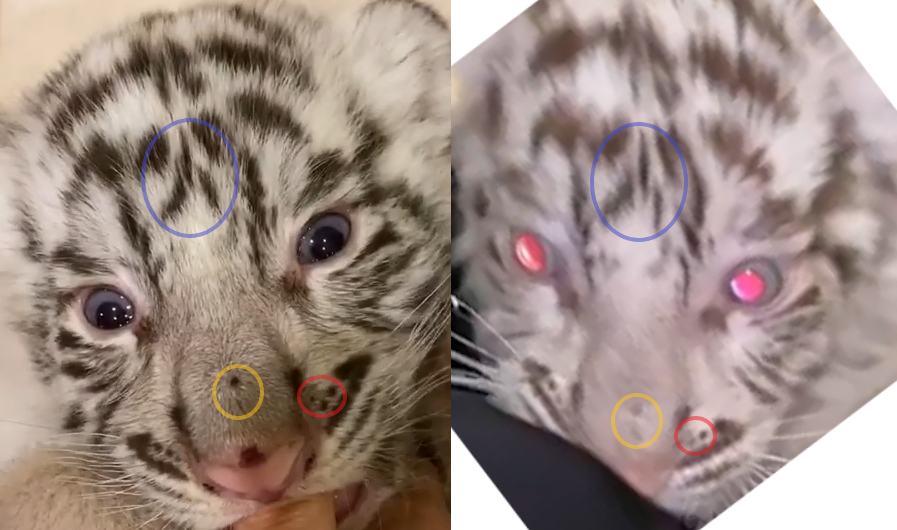 However, this constant supply of cubs requires adults to breed them. As those fully-grown lions and cheetahs could hardly be kept in a Dubai apartment, it is reasonable to suspect the existence of a larger facility that keeps them.
In Plain Sight
Though MBE.777 does not reveal his face, his record of close contacts is visible. Some of these individuals are frequently tagged alongside MBE.777. For example, a close contact, who has visited MBE.777's apartment, posted an Instagram story in which another man is tagged while holding a cub. Could this be MBE.777?
He could be the same man we can spot in the background of MoVlog's video when the cubs arrive. In both pictures, he's holding the same kind of bottle used to feed animals posted on MBE.777's profile:
Another man frequently appears in these photoshoots. In one example from MoVlogs' video, there are a couple of seconds in which the camera pans suddenly as the tiger runs off, inadvertently showing individuals behind the scenes:
And at a photoshoot by DonCasanova, a car collector active on Instagram, we can spot these two individuals again:
The man circled in blue runs the account Safari__Dubai, where he posts pictures of young animals alongside many selfies. According to his Instagram profile, his first name is Abdulla.
Abdulla has a more generous digital footprint than MBE.777. Firstly, his Instagram handle was mentioned by the Daily Mail, in an August 2019 article about a celebrity being accused of animal cruelty for posing with a lion cub. Secondly, on rare occasions, other users have tagged MBE.777 and Safari__Dubai in the same Instagram stories:
And finally, similarly to MBE.777, Safari__Dubai is also tagged in photoshoots on his own. For example, in this picture of influencer Jumana Khan (8.7 million followers on Tiktok, 3,3 million on Instagram) with a lion:
Despite the fact that we can catch glimpses of Safari__Dubai together with MBE.777 in various photoshoots, these two individuals do not follow, mention, interact, or tag each other's accounts.
So who is Safari__Dubai?
Despite his handle, Abdulla does not appear to be in the safari business. With a high turnover, he openly keeps many young animals in a relatively small garden and set of cages. In a brief TV interview he gave and shared on Instagram on March 3, 2020, a reporter remarked that raising animals is expensive, asking if Abdulla thought about making his place accessible to tourists and visitors. Abdulla replied that he supports himself, that it was his home, and that he simply raises and trains animals.
In an interview given to Al-Ittihad newspaper on January 22 this year Abdulla, who gives his full name as Abdulla bin Sabd, says that he is breeding animals, which the 2017 law still allows for. He now keeps two young adult lions, but there are no visible parents for many of the cubs he has held previously (including tigers, white tigers and white lions).
But this may not be the whole story.
In one of his Instagram posts, Abdulla revealed his cellphone number. Prefixed with the UAE's code, this number also appears in online marketplaces advertising animals. In one of these ads, hyena pups are being sold for a little over €900. Moreover, the photo accompanying the advertisement appears identical to the opening shot of a video he also shared on his Instagram on the very same day, but with his head cropped out.
Hyenas are also listed as dangerous animals regulated by the 2017 law. Striped hyenas, which Abdulla appears to be holding, are a near-threatened species whose numbers are in decline.
In other Instagram posts featuring lion cubs, followers comment with questions regarding the price. Just like MBE.777, Abdulla responds by asking for a private conversation.
Social media posts also suggest that Abdulla has links with private zoos which are permitted to openly keep exotic animals.
Remember that first white tiger cub we saw being held by various celebrities in August 2019, which all tagged MBE.777? This cub can also be found on Safari__Dubai's own Instagram account, in July 2019: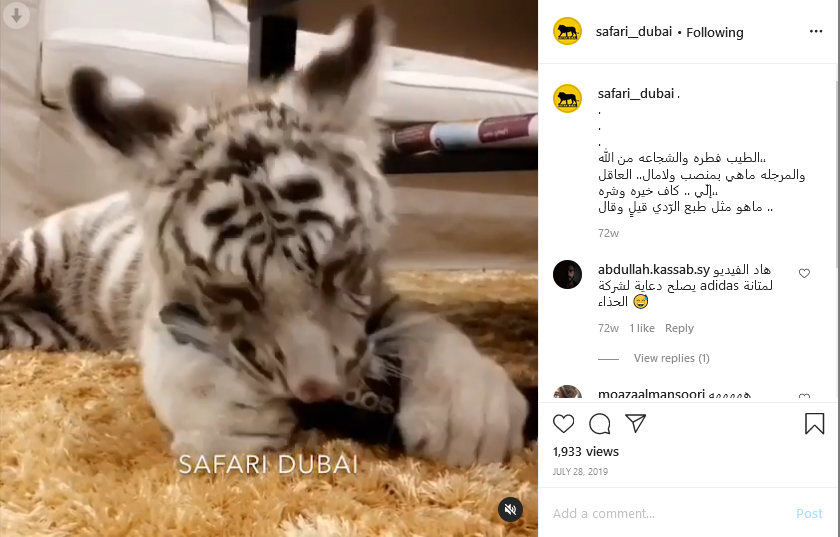 In May 2020, the same tiger could be seen at a private zoo owned by Humaid Albuqaish, an Emirati Instagram influencer known for his lavish lifestyle. Albuqaish has posted several images of himself holding the tiger on a leash, posing with it next to his house, cars and boat.
Once again, the spots and stripes help identify this tiger as it changes hands:
Safari__Dubai also keeps lions, which we can also match to celebrities' social media posts. Though lacking stripes, lions can be identified based on their whisker spots. Throughout a lion's lifetime, the unique pattern and relation of these spots to each other remains the same. Using a method outlined by Living With Lions, we can check if any celebrities might have used animals from Safari__Dubai and MBE.777 without tagging them.
For example, in April 2020 the Dutch soccer star Memphis Depay received criticism for posing with a lion cub on social media and in his music video Dubai Freestyle. On social media posts, Depay wrote that he posed with a liger — the offspring of a male lion and a female tiger.
We can compare the cub which appears in this music video to a young lion recorded by Safari__Dubai in July 2020:
Considering the similarities (as well as the spot on the nose and the eye colour), this comparison suggests that it is very likely to be the same lion — and that Depay may have rented the animal from Safari_Dubai.
According to the Dutch website Voetbal Primeur, Memphis Depay responded in Instagram comments that he had been able to borrow the cub from a "private zoo", seemingly unaware of where these cubs and lions have previously been kept.
Taming the Wildlife Trade

Celebrities and wealthy individuals are posing with tiger and lion cubs, and tag MBE.777 and Safari__Dubai in their posts. MBE.777 has been keeping cubs in his 40-storey high apartment, and appears to be selling or leasing them out online.
Safari__Dubai is using his business to openly keep and raise animals. It is plausible to assume that he does this legally, and at least one of his tigers has ended up in a private zoo.
What raises more questions, however, is his appearance in online advertisements selling exotic animals.
Furthermore, his presence in the background of several photos suggests that Safari__Dubai is working together with MBE.777. The two men have also handled the same cubs.
The use of social media platforms to trade in exotic animals, and the dangers of 'cub-petting' industries, are well-documented. But the direct link of celebrities and influencers to these practices is not. By posing with lion and tiger cubs and tagging these accounts, celebrities advertise a network engaged in the online trade in exotic animals to millions of followers. Some of these animals are brought out for photo shoots several times a month when still young, and end up being kept as a pet in private homes.
Apart from potential legal issues and the well-being of the animals themselves, the trade in exotic animals puts already threatened wildlife populations at risk of poaching. Even when bred in captivity, experts warn, the use of such animals as status items fuels the trade. By pointing out the connections between Instagram photoshoots and this trade, fans and followers may make such posts less attractive, and help protect threatened wildlife populations.
"Our team has recognised a change in behaviour online; more people are calling out exotic pet owners and more are aware of the negative impacts of owning a dangerous animal, to the individual keeping it, the community around it and the wild where the animal comes from", explained Elsayed Mohamed, Regional Director for the Middle East and North Africa for the International Fund for Animal Welfare (IFAW). In an emailed statement to Bellingcat, Mohamed praised the UAE for adopting strong legislation on animal welfare in recent years.
Bellingcat asked MBE.777 and Safari__Dubai whether they were aware of the 2017 law, whether they were selling the animals shown in their images and their origin. Neither responded to our requests for comment.
In January 2021, MBE.777 changed his Instagram handle to _79797_ and deleted several followers. Shortly after our request for comment, MBE.777 also removed the last of his pictures on Instagram. Safari__Dubai blocked us on multiple channels.
Thanks to Sjef van Gaalen and Johanna Wild. Special thanks to participants of the Bellingcat bootcamp, who worked on part of this research as case study, IMPAKT, Residenties in Utrecht, Journallab and the Fontys Hogeschool voor Journalistiek