Burning Borderlands: Open-Source Monitoring of Conflict-caused Wildfires in Iraq
Iraq is on fire. Since late June, media has reported on wildfires in northern parts of Iraqi Kurdistan among the border with Turkey, along the border with Iran in the northeast and in the southeast of Iraq at the Hawizeh marshes, bordering Iran. A hazardous cocktail of climate change-induced increased summer heat, water shortages, military shelling of various armed groups operating in these areas combined with random human errors and spontaneous outbreaks left the earth scorched. This blog will provide a short open-source based overview based on media reporting on various locations in Iraq combined with the use of satellite imagery provided by the European Space Agencies' Sentinel-2, NASA's Visible Infrared Imaging Radiometer Suite (VIIRS) suite and commercial imagery provided with by Planet Labs.
How armed conflict harms the environment
A country already plagued by armed conflict and terrorism, now entering a stage of reconstruction and reconciliation, Iraq is also dealing with scorching heat. It's not just the rising temperatures that are affecting the lives and livelihoods of Iraqi communities, but a multitude of other factors figuratively and literally adding fuel to the fire.
Lack of snowfall this winter and the resulting reduced water flow into the Tigris and Euphrates rivers from Turkey resulted in water shortages in Iraq. Mismanagement of water sources, hydro-politics due to dam construction and the war that damaged existing water infrastructure aggravated the situation, particularly in the south. Violent protests erupted in Basrah against lack of action from the government side to provide clean water and functioning infrastructure to the population.
At the same time, insurgent groups have been carrying out operations against Turkish and Iranian armed forces in the north and east of the country, or else have been under attack by these forces. Shelling with light weapons and artillery resulted in the outbreak of forest and wildfires at the parched borderlands across the north and eastern borders of Iraq. People battling these fires were hindered by landmines and other unexploded ordnance, remnants from the Iran-Iraq war.
The result? Hundreds of thousands of hectares of burned lands, destroyed ecosystems and agricultural lands, air pollution and local communities suffering from smoke and loss of land. Several people were killed by the flames, including local environmentalists, while hundreds had to flee their towns and villages.
Four Iranian #Kurdish environment activists lost their lives on Saturday after a wildfire raged the border mountains of #Marivan in northwestern province of Kurdistan.
the fire had broken out after the Iranian forces bombarded the mountainous region reportedly to target #Kurdish pic.twitter.com/jPsEAB44w2

— Gulbakh Bahrami (@GolbaxB) August 25, 2018
Another factor in the increased number of fires is lack of awareness among people, or else sheer negligence as exemplified by tossing cigarettes, broken glass, or campfires and barbecues in the mountains.
There is also a long history of using arson as a tactic against Kurdish insurgents in this region. A 2007 study by Wageningen University, using remote sensing, found that wildfires caused by shelling of Turkish armed forces in operations in 1994  in the Tunceli province resulted in 26.6% of the forest near villages being burned.
The study further stated that, "The more severe burning around destroyed and evacuated villages is important evidence for the intentionality behind the use of fire against civilian populations and underscores the claim of human rights abuse." More importantly, the decade-old study noted that "satellite images can strengthen the overall case and add to the insight in the scope and pattern of violence and destruction." This is a recommendation we aim to implement with this blog.
Over the last years, public reports have indicated the renewal of such strategies against armed insurgents in the region as the report below from 2016 and this report by news sources associated with the Kurdistan Workers Party (PKK) from 2017 indicate.
As if it wasn't enough with the air strikes – locals believe that the #IRGC is behind the latest wave of #wildfires in #Kurdistan #Iran. pic.twitter.com/tW7TiCieRJ

— Komala (@Komala_english) September 21, 2016
There are serious concerns over whether these kind of tactics violate International Humanitarian Law, where Rule 44 of on "Due Regard for the Natural Environment in Military Operations" states that
"Methods and means of warfare must be employed with due regard to the protection and preservation of the natural environment. In the conduct of military operations, all feasible precautions must be taken to avoid, and in any event to minimize, incidental damage to the environment. Lack of scientific certainty as to the effects on the environment of certain military operations does not absolve a party to the conflict from taking such precautions."
It is expected that the International Committee of the Red Cross (ICRC) will this year update its' 1996 "Guidelines for Military Manuals and Instructions on the Protection of the Environment in Times of Armed Conflict
Methods
We started out with collecting information from Twitter and other open-source media, such as local news agencies, on reports of wildfires, and verified them with ESA Sentinel-2 imagery on the reported dates.
To highlight the burned vegetation, we applied the vegetation index using the Color Infrared option (band 8,4,4) on the Sentinel Hub Playground. The same imagery was also used over the period of July-August and early September to spot other patched of burned lands in the border regions. The results of this were mapped on a Google Maps chart, which can be found at the end of the article. On some occasions, the burned lands can be linked with media reports of shelling by the Turkish or Iranian armed forces, while others we have no data on, and can be a result of multiple causes.
To double check our work, we have also used Planet Labs imagery of the dates for verification purposes. Other means to spot wildfires include utilizing NASA's Visible Infrared Imaging Radiometer Suite (VIIRS) suite, which picks up fires and thermal anomalies. This option can be helpful to track more wildfires, and we have used some of the data to corroborate our findings.
Ideally, all the burned patches of land should be mapped and quantified, as it has been done for the kite fires and affected land around Gaza by Harel Dan, working at Israel's National Nature Assessment Programme. An overview of his findings can be found here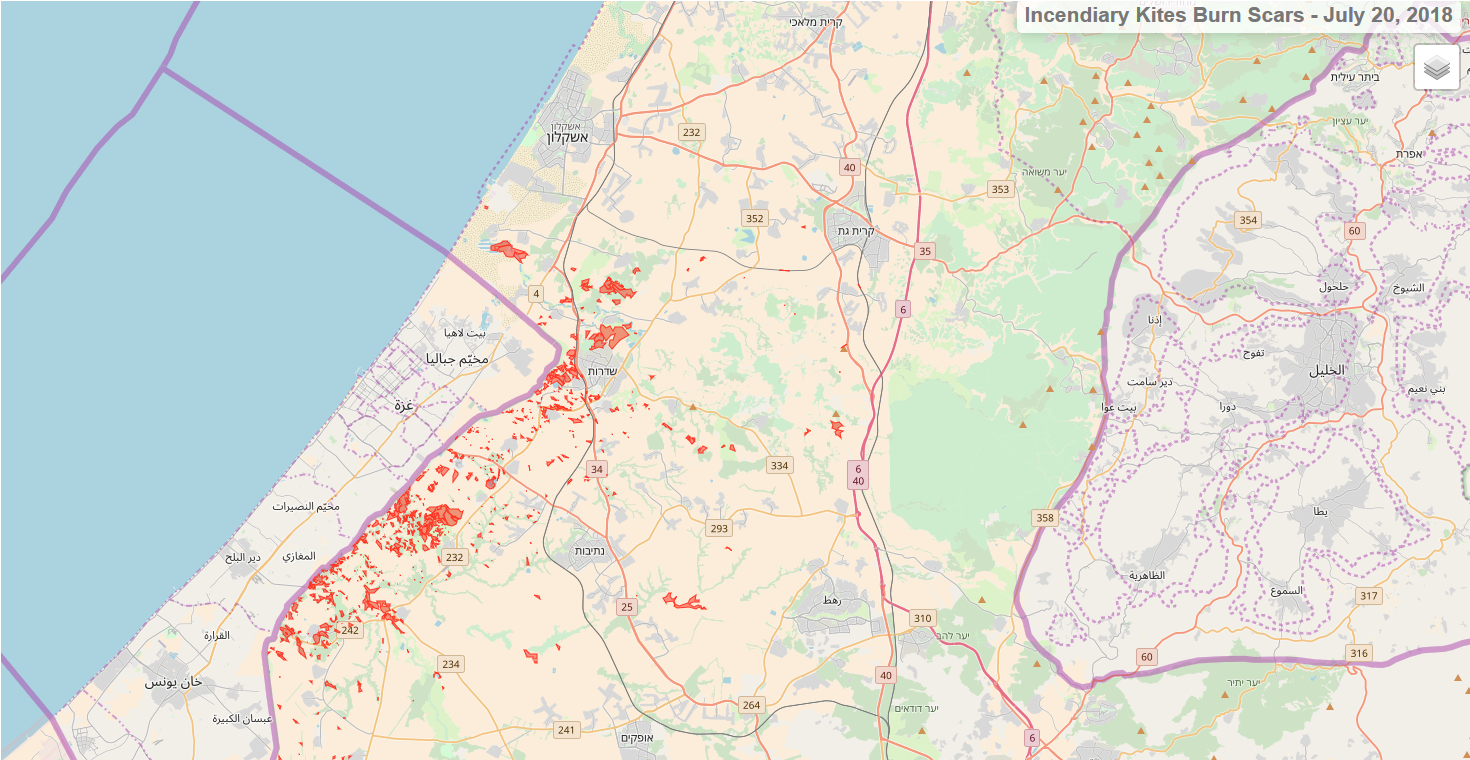 We collected all the points where we could identify burned patches of lands between early July, when the first reports were coming in, and early September. A full overview of identified burned lands can be found on this Google Map:
Impact of wildfires
Wildfires and forest fires can have severe consequences for the environment and for local communities. Wildfires can also have beneficial effects, such as making land fertile again and can be used for maintenance. However, the scale and size of the wildfires in the areas described in this article have resulted a number of direct and long-term health and environmental risks.
Civilians can be directly killed by fires engulfing their villages and houses, or else firefighters have to face life-threatening situations — sadly this has already resulted in the death of 4 Kurdish environmentalists involved in firefighting. Firefighters also face the legacy of past wars, due to the fact that unexploded ordnance (UXOs) and landmines litter the border areas between Iraq and Iran, adding extra hazards. Similar problems also occurred in post-conflict battlefields with UXO legacies in Germany, Ukraine, Georgia and Armenia and have been addressed by UN agencies and international organisations.
Destruction of agricultural land and pastures also inflicts economic damage on local communities, preventing income generation activities, while air pollution from the smoke, adds another risk layer. The latter also has impact on a larger scale, as the burning of forests and woodlands results in the loss of forest carbon sinks and release of extra greenhouse gases into the atmosphere. From an environmental perspective, large-scale and uncontrolled wildfires severely affect ecosystems, flora and fauna which can have long-term impacts for restoration.
Northern Kurdistan/Southern Turkey
Media reports using various sources indicated that some outbreaks of wildfires were caused by shelling between the Turkish army and the PKK in the Kurdish region of Iraq. Satellite imagery from that area shows that that there were at least 12 large scales fires in the border, ranging from the western Iraqi border with Turkey to the north-eastern.  border. Though it isn't clear what the causes of the fires are, some can be attributed to shelling. In the Turkish border town of Çukurca, for example, social media reports showed a fire near a military outpost, which can be seen here and is geo-located to this point of view on Google Earth Pro.
Turkish soldiers set on fire the forests around Kurdish Çele district (Çukurca/Hakkari) to restrict PKK guerrillas' movement. turkish colonial authorities are not putting out the fire and denying Kurdish local civilians doing it themselves. pic.twitter.com/p8FVgJfDuz

— Gilgo (@agirekurdistane) August 8, 2018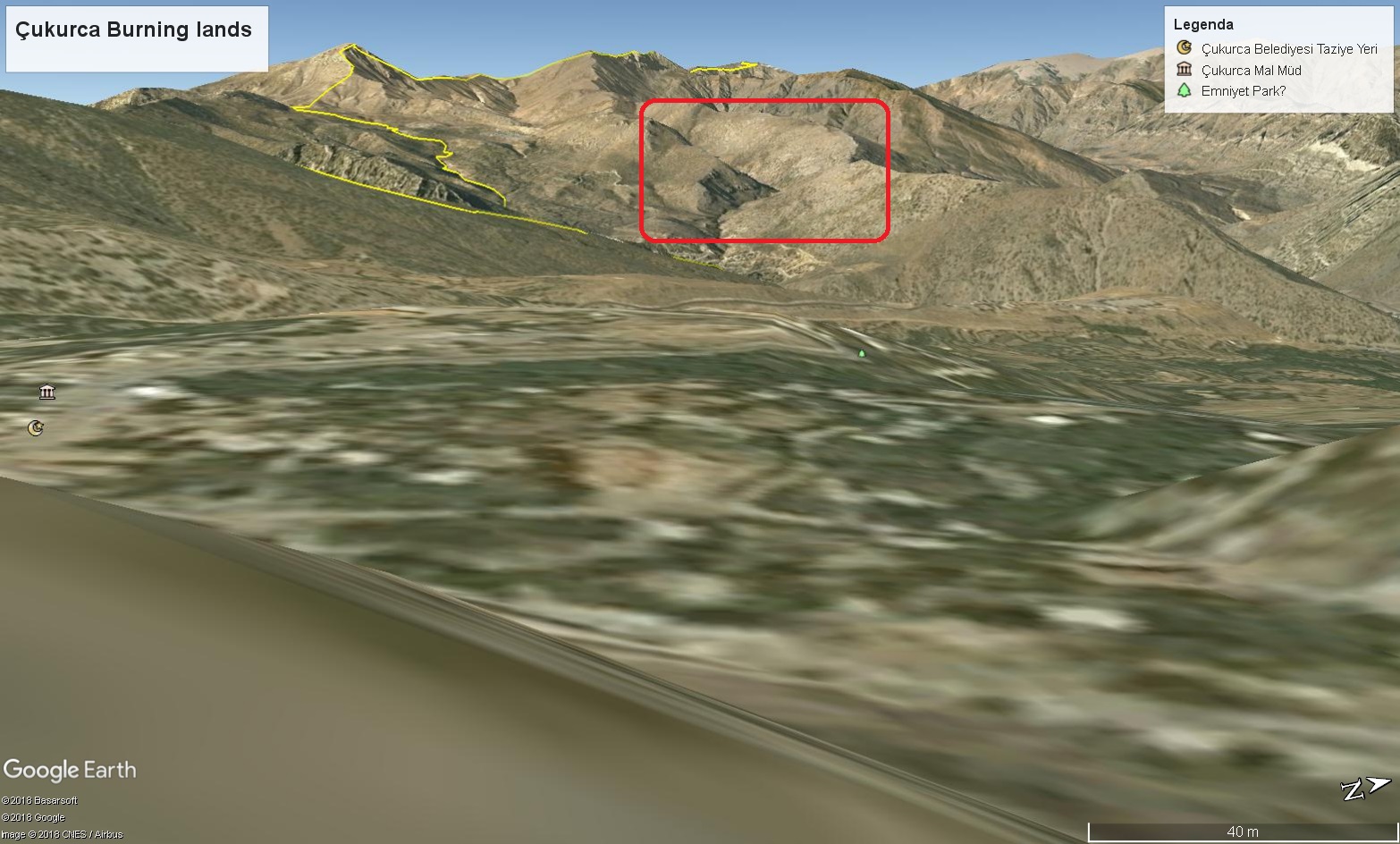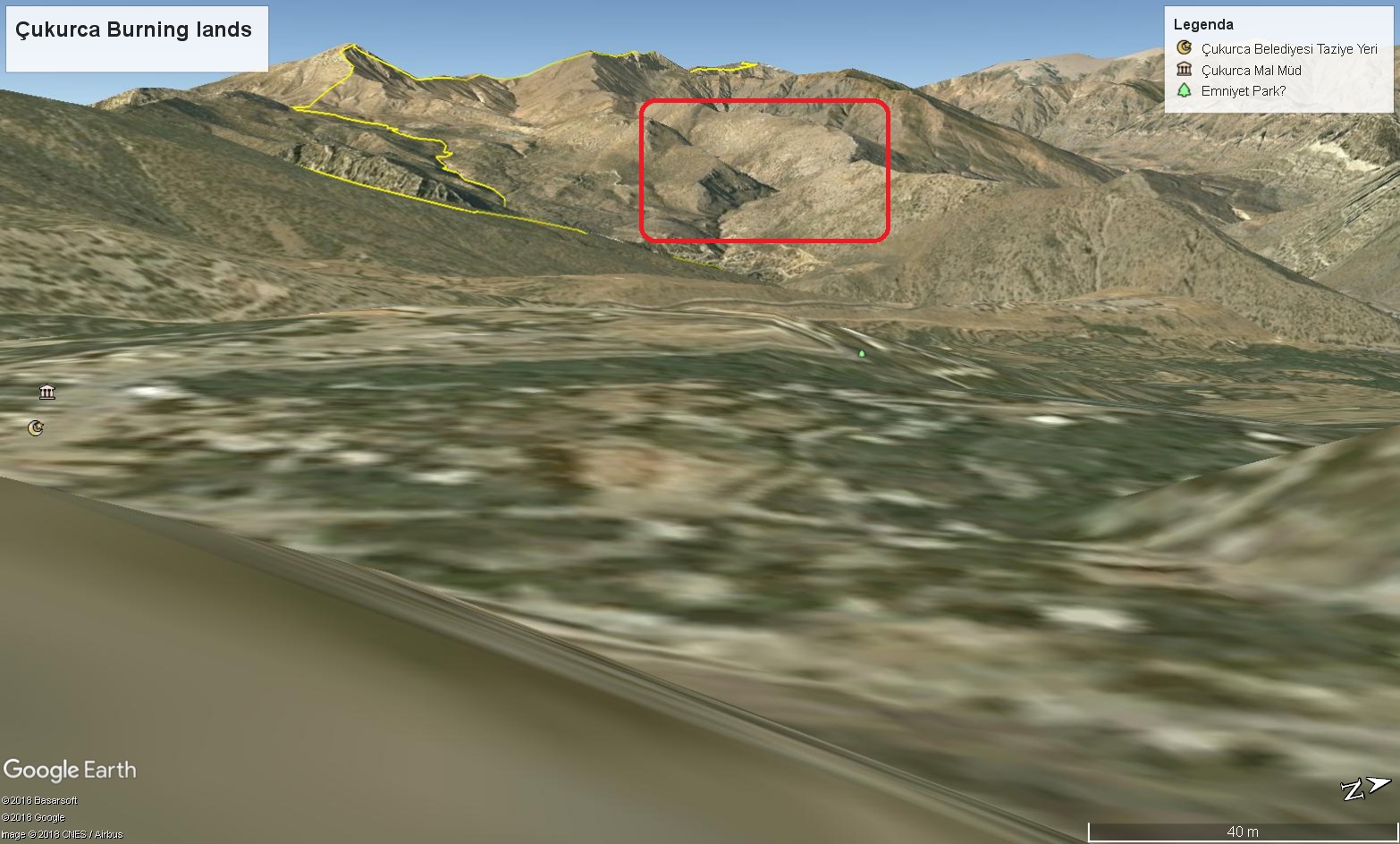 The burned lands can be seen on Sentinel-2 dated on August 15, 2018 and more burned patches from later in August and early September are seen south of the town of Uzumlu, across the Iraqi border.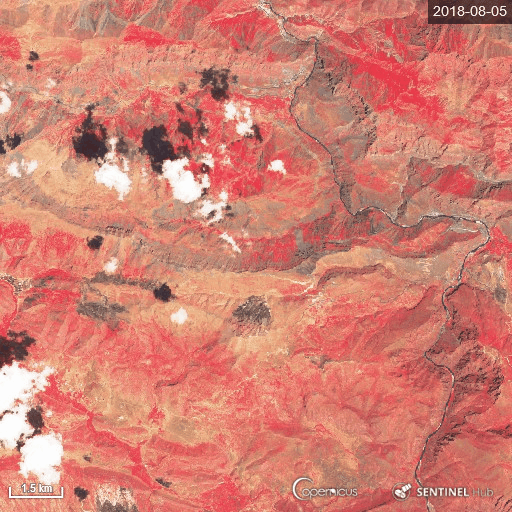 Large scale destruction of forest and land is visible on the northern border between the KRG and Turkey. In particular, the mountain range at the Soran district witnessed many wildfires between June and August, as caught on Sentinel-2 and Planet Labs imagery.
Twitter user @LCarabinier also made an useful overview of the wildfires in this region with Sentinel 2 imagery.
Wildfires in #Kurdistan Region of #Iraq June-August 2018. Satellite imagery: @sentinel_hub pic.twitter.com/qH4z3AlAuE

— le_carabinier (@LCarabinier) September 2, 2018
Southeastern Kurdistan
In early July, reports on Twitter, which were later followed by a report in Al Monitor by Fazel Hawramy, indicated another war-related problem with the forest, as the deadly remnants from the Iran-Iraq war proved to hamper firefighting efforts.
Across the long Iran-Iraq border, there are still plenty of landmines. In the Kurdistan region alone, the Kurdish Mine Action Agency reports that there are still 3340 minefields. During a fire in the Bafri Miri mountain areas close the Halabja, firefighters found themselves surrounded by landmines, and had to proceed very carefully. In July, shelling by Iranian forces continued in the mountains on the borderland between Iraq and Iran, in efforts to target Kurdish insurgent groups in these areas:
Iran is currently shelling border areas in Sidakan and Choman areas in Erbil province pic.twitter.com/5uyrStxXb6

— Fazel Hawramy (@FazelHawramy) July 17, 2018
Similar tactics have been used for years, are reports from 2016 and 2017 indicated ongoing shelling, while images posted on Twitter linking wildfires with shelling:
As if it wasn't enough with the air strikes – locals believe that the #IRGC is behind the latest wave of #wildfires in #Kurdistan #Iran. pic.twitter.com/tW7TiCieRJ

— Komala (@Komala_english) September 21, 2016
On July 17th, more reports came out on outbreaks of wildfires after shelling. While reports on Twitter stated the fires were located at Bradost mountain, video uploaded by Facebook User Jabir Wasman showed burning lands near the villages of Barchika, an area where allegedly the  Kurdistan Democratic Party, an Iranian-Kurdish opposition group, is active.
The burn scanners from these fires can be seen on Sentinel-2 imagery below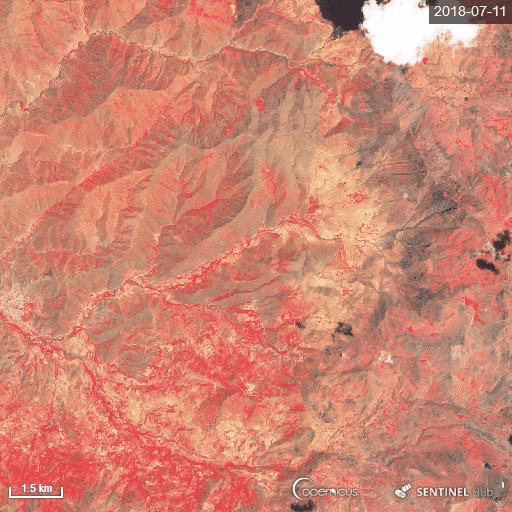 Further reports also came out of the Qandil mountains on August 18, where Turkish aircraft, allegedly both manned and unmanned, were involved in targeting suspected PKK fighters near Qasre village.
Another photos inside Valley of Balayan, smoke has covered over the sky of area. The peoples whom live there says the fire is close up to the orchard & farms.
Photo: Khalid Rasul#TwitterKurds #Kurdistan #Qasre #Qandil @NRTKurdish pic.twitter.com/taVqd3TpTP

— Binyamin Morad (@BinyaminMurad) August 17, 2018
Imagery from Sentinel 2 shows indeed large patches of burned lands near the villages south of Qasre.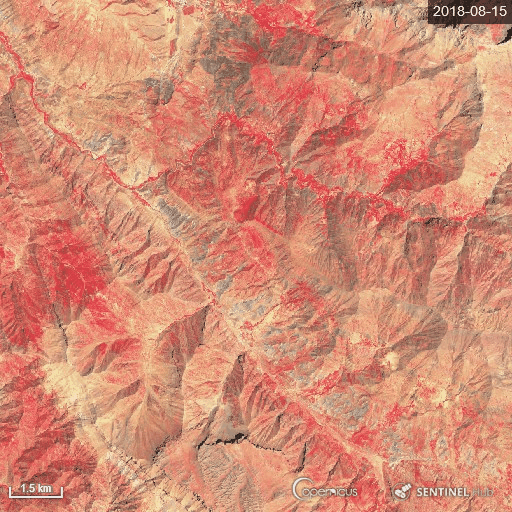 Other fires occurred near the mountain range by the village of Mawat, north of Sulimaniney and close to the Iranian border. According to local sources, these fires were a result of tracer rounds from Iranian snipers.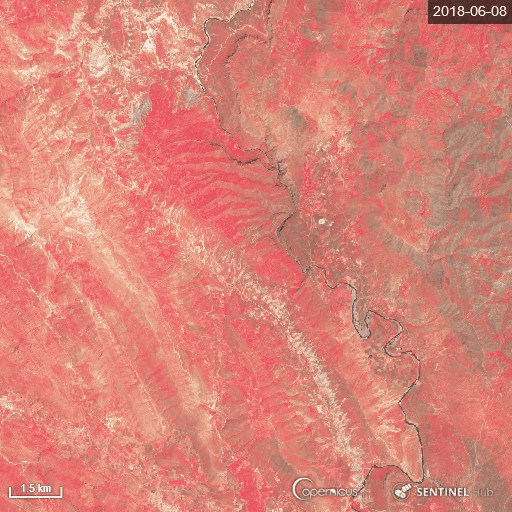 Southern Kurdistan
The city of Sulimaniyeh faced threats from nearby wildfires, which took significant resources to battle, and were caused by human error in combination with a heatwave. In July, it was estimated that over 5000 dunams of land were destroyed, roughly  The fires can be seen basically all around the city, as is visible on this Sentinel-2 image.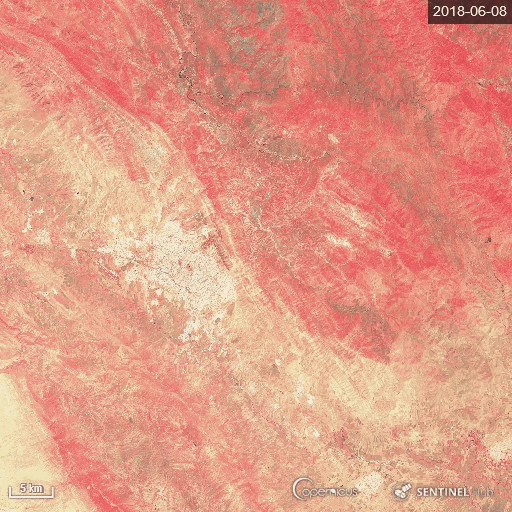 Another fire broke out on Azmar and Goizha overlooking Slemani city @Kurdistan pics via NRT and Rudaw pic.twitter.com/0sLQiVDDfL

— Fazel Hawramy (@FazelHawramy) July 10, 2018
In recent days 5000 dunam of forestation reduced to ashes in Sulaymaniyah in Iraqi Kurdistan according to the provincial Forestation & Environment Police. an environmental disaster is developing as the number of wildfires go up due to shelling/neglect/heat waves (1 dunam=2500 m2 pic.twitter.com/6iqy9e3Rb2

— Fazel Hawramy (@FazelHawramy) July 1, 2018
While more than 1000 dunam (1km2) of land was burned in a fire mid-August south of Sulimaniyeh at Qaradagh, according to this article.
Shelling from by Iranian forces against Kurdish insurgents also sparked wildfires east of Halabja. According to the Ministry of Agriculture, the area around Halabja was the most affected by wildfires in 2017, with over 30.000 acres of forest burned, which amounts to 58% of the total local forest cover.  Some of those fires were caused by human negligence, though the KRG also blamed the Iranian army patrols for deliberately starting fires.
Halabja mountains mentioned in this piece are burning again tonight https://t.co/YbokPSHuT5 pictures from tonight pic.twitter.com/h9BWyedoVv

— Fazel Hawramy (@FazelHawramy) July 6, 2018
In early September, more wildfires were spotted south-east of Halabja, likely caused by Iranian military activities against armed groups in that area.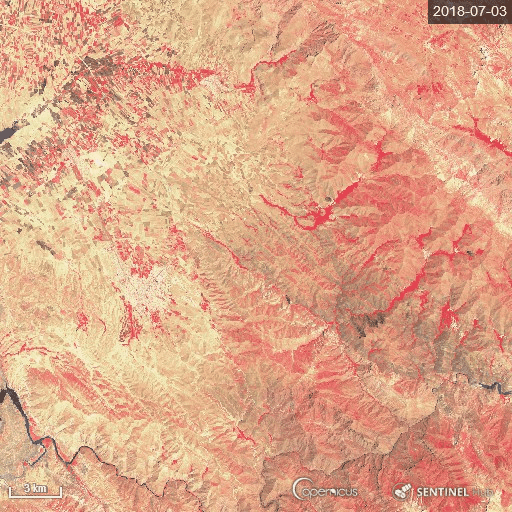 Southern Iraq
The southern parts of Iraq also witnessed severe fires laying waste to Iraq's precious, UNESCO designated protected marshes. The Hawizeh marshes in the Maysan governorate suffered a result of the drought combined with water shortages. Though it is reported that fires at the marshes are common as locals burn reed and papyrus, this time the drought, high temperatures and water scarcity resulted in a conflagration that rapidly expanded.
Satellite imagery shows the extent of the fire over a period of time, using the wild fire script for Sentinel Hub's EO browser made by Pierre Marcuse. Though these fires are not caused by conflict, there were considerable tensions between Iranian and Iraqi authorities over who was responsible for controlling the spread of the fires.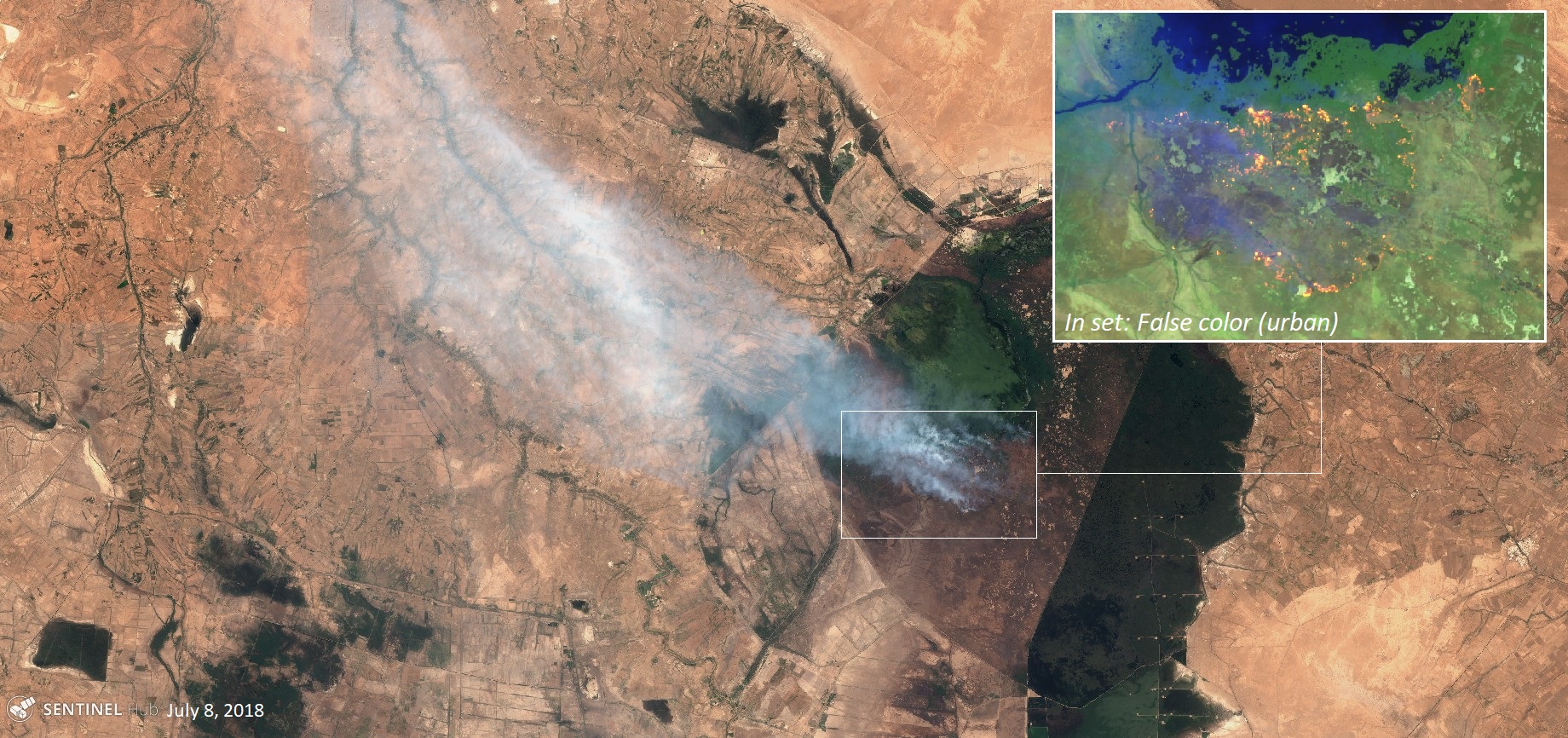 Iran also intervened in support of the Iraqi firefighters, as Iranian civilians in and near the city of Ahvaz complained of health problem caused by smoke from the burning marshes.
There were also concerns that fire would encroach on oil infrastructure south of the marshes.
#Iran sends 2 fire fighting choppers to Khouzastan where fires in #Iraq-i side of #Hawizeh_Marshes continue to burn for days. They flew 60 sorties to put out blazes that resurface in other spots. Flames haven't reached Iranian side of marshes yet. pic.twitter.com/RCY98BgVTq

— Fereshteh Sadeghi (@fresh_sadegh) August 11, 2018
This is how #Ahwazi cities and villages are covered by the smoke of burning fires in Aladaim marshland in the border of #iran – #iraq Due to #iranian policy, holding #water from #Ahwaz by hundreds of dams and diverting it to central #iran area. #environment #Humanrights #PADMAZ pic.twitter.com/R6Fd44nfvo

— PADMAZ.org (@PADMAZorg) August 11, 2018
Video imagery of the fires were upload and show the situation from the ground:
#ايران تحرق هور العظيم وتأجج الكارثة البيئية في #الاحواز pic.twitter.com/mlFH9JKARq

— PADMAZ.org (@PADMAZorg) August 7, 2018
Via Sentinel-2, a timelapse shows how the fires spread all over the marshes. Small fires can still be witnessed in the area as of today.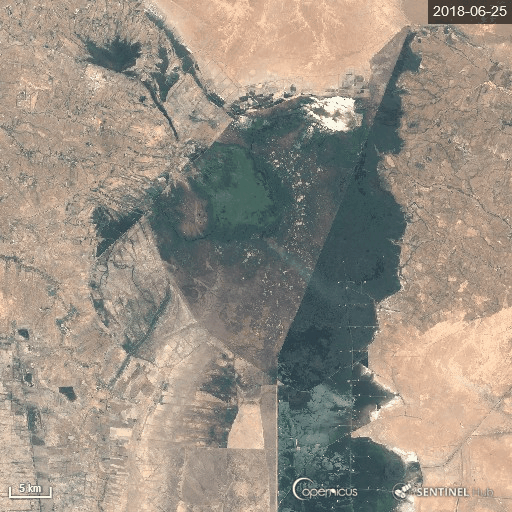 South east of the Jawizeh marshes, more fires were spotted using Sentinel-2, close to the oil fields of Al Qurna, though these could be contained without posing a risk for oil installations.
and here's a version with @Pierre_Markuse Custom script applied to @sentinel_hub of the wildfires in #Iraq's marshes pic.twitter.com/kFrlNZDlg0

— Wim Zwijnenburg (@wammezz) August 13, 2018
Conclusion
With this post we aimed to show how drought, climate change, heat waves and firing artillery and tracer rounds all prove to be a dangerous mix.
Thousands of acres of woodlands, forestry, agricultural and pastoral lands and their vulnerable ecosystems were destroyed. Using open-source data from concerned citizens and local journalists, combined with open-source imagery made available by the European Space Agency, NASA and organisations such as Sentinel Hub, helped us demonstrate the scale of wildfires occurring on the borderlands between Iraq, Turkey and Iran.
Though it's difficult to identify the cause of each individual fire, a substantial amount of the fires identified were likely caused by military action. Moreover, UXO legacies from past conflict added an extra hazard element to the problem, as they hindered firefighters.
Our findings reiterate the need to identify and monitor the ongoing impact of armed conflict on the environment using innovative methods and utilizing an increased number of open-source information systems such as remote sensing. We have further demonstrated how vulnerable ecosystems, such as woodlands and areas affected by drought and climate-change, could be severely affected by ongoing fighting, which has both a direct impact on civilians and long-term consequences for recovery and economic opportunities.
These issues have been part of past discussions in the framework of the UN Environmental Assembly's Resolution 2.15 on armed conflict and protection of the environment, and UNEA Resolution 3.1 on conflict pollution in areas affected by armed conflict. The wider environmental security dimension as a result of military activities and armed conflict and the need for a comprehensive approach towards conflict, human security, environmental change/degradation — all in light of the water crisis in southern Iraq — deserves a prominent place in international discussion on how we want to protect our planet, our lives, our ecosystems, and our future.
I would like to thank Fazel Hawramy @fazelhawramy for his feedback and photo's that we could use for this blog