Crowdsourced Geolocation and Analysis of Coalition Airstrike Videos from Syria and Iraq
A version of this article was also published on Airwars.
The international Coalition fighting the so-called Islamic State (IS) has published dozens of videos purportedly showing airstrikes against targets of the group in Syria and Iraq through the video-sharing social medium YouTube. Bellingcat has crowdsourced the geolocation of these videos, and this article serves as an analysis of those geolocated airstrike videos.
Content
Introduction
Background Information on 'The Coalition'
Geolocation and 'Strike Regions'
Claimed Targets: 'Vehicles', 'Factories' and 'Fighting Positions'
Mapping the Coalition's Region Labels
Highlighted Incidents
Introduction
In reaction to the rapid territorial gains made by the so-called Islamic State (IS) in the first half of 2014, accompanied by the reported human rights abuses and the fear of further conflict spill-overs, the United States (US) started to intervene militarily against the group in Syria and Iraq. In October of that same year, the US started coordinating the military efforts of a dozen of allied countries under the banner of the Combined Joint Task Force (CJTF; often referred to as 'the Coalition') engaging in Operation Inherent Resolve (OIR). Today, May 5, 2017, marks the 1,001 day of the campaign.
While earlier videos were posted by the US Central Command (CENTCOM), the first video depicting an airstrike was uploaded to the Coalition's official YouTube channel on April 11, 2015. Over 200 airstrike videos followed in the nearly two years since, which Bellingcat has aimed to geolocated by using the collaborative crowdsourcing platform Check developed by Meedan, a company that builds digital tools for global journalism and translation.
The Coalition is composed of several countries, but by far the majority (around 68% as of April 24, 2017) of OIR's airstrikes have been conducted by the US Air Force, as the following tables by monitoring organisation Airwars show. The tables are estimates of US and allied strikes in both Iraq and Syria.
It is important to note that Coalition airstrike videos are also disseminated through other channels, such as the Ministries of Defence of Coalition members, including the Brits, the French, the Jordanians, and the Iraqis. Besides, videos have been uploaded by YouTube users seemingly affiliated with US Air Force's F/A-18 Hornets and Rockwell B-1 Lancer aircraft conducting bombing raids above Syria and Iraq. These airstrike videos were not published previously elsewhere to our knowledge. While we have crowdsourcing projects running for those specific MoD videos as well, they are not included in this analysis.
In recent weeks, official videos showing airstrikes against targets of the so-called Islamic State (IS) in Syria and Iraq have been removed from the public YouTube channel of the Coalition. In a written statement to Bellingcat, Coalition says it has removed the videos from YouTube and now posts higher-quality videos to DVIDS for "greater transparency and increased availability". However, an initial assessment appears to show that not all videos have been migrated. Coalition officials have also given a different account to Airwars in the past as to why the videos were removed, suggesting their presence on the official YouTube channel no longer matched strategic goals. Airwars is permanently archiving all known Coalition and CENTCOM videos issued since August 2014, to ensure their continied availability.
Given the recent removal of these videos from YouTube, Bellingcat presents its analysis of all those geolocated YouTube videos. We will continue to monitor, analyse, and geolocate the videos published to DVIDS. You can join the effort via Check's Bellingcat page, where you can register an account.
Overview of Geolocations
So far, 67 percent of the airstrikes shown in the Coalition airstrike videos have been successfully geolocated. You can access all our data, which will be updated as soon as there are new geolocations, including from DVIDS HUB, on Silk.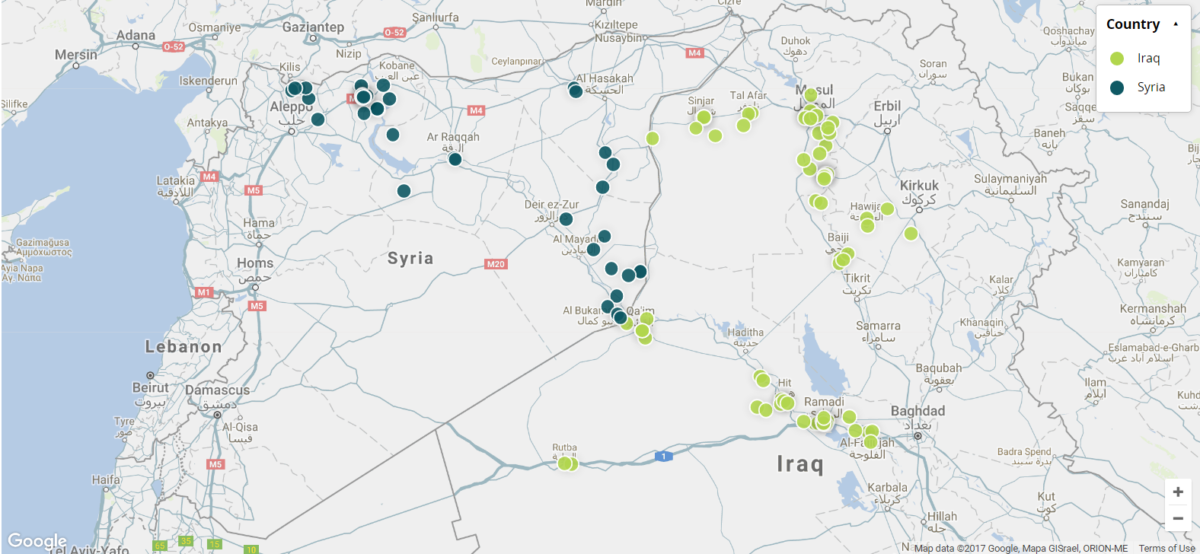 The term 'airstrike' is somewhat imprecise, but in this analysis we consider 'one airstrike' as one or more multiple airstrikes at one location. Geolocation is the determination of the exact locations that are being targeted by airstrikes in the videos. Most of the videos have been geolocated by Twitter users @obretix and @miminas999, as well as the author of this article.
By far most of the strikes shown in videos uploaded to YouTube (as of April 28, 2017) were geolocated to Iraq.
Broken down by provinces, the highest number of airstrikes were geolocated to the Iraqi governorates of Nineveh and Anbar, followed by the Syrian governorate of Aleppo, as of April 28, 2017.
Exploring the Coalition's Location Accuracy
Generally, the Coalition gives an indication of a geographical location by labelling the videos "near [location X]". There are only a handful of videos that do not contain the word "near" but simply mention a location. This analysis considers "near" as being within a 10 km range of the claimed location and is labelled as "accurate" when it falls within that range. Of all geolocated videos, 68 percent was labelled as accurate. The video outside of the 10 km range went up to around 93 km of the claimed location, and for one video no location approximation was given.
Many of the videos with a significant distance from the claimed location are oil-related facilities that are indeed 'near' Deir ez-Zor or Al-Bukamal, such as an oil separation facility at the Al-Ahmar oil field. With the locations being in the desert with no other locations near, these location claims can still be considerate as relatively accurate.
However, there are other incidents that appear to be less concisely located. Perhaps the most interesting incident of all the geolocated videos was a strike on an IS "concealed tactical vehicle" that was claimed to have been conducted on March 23, 2015, which was labelled as "near Al Hawl", a town in north-eastern Syria. However, the targeted building has been successfully geolocated to a building in Jayar Ghalfas, a town in northwest Iraq.
Though this video was labelled as being in a different country than where it actually took place, it is still relatively near Al-Hawl — around 30 km away.
When Col. Steve Warren, at the time the Coalition's spokesperson, gave an "Ask Me Anything" on the social media and news aggregation website Reddit, the author asked him about this particular incident. Col. Warren replied that this was "an administrative error that it's listed as Syria rather than Iraq", explaining that Al-Hawl in Syria "was the nearest identifiable city to the strike."
More recently, the US erred in its labelling once more, when a controversial strike on a group of individuals gathered in a mosque in Al-Jinah, Syria, was initially labelled as being in the Idlib governorate. While close, the building was actually in the nearby Aleppo governorate.
This strike was not an official Coalition attack – and was instead the US unilaterally targeting alleged al-Qaida fighters. The US carries out nearly all of the alliance's anti-IS bombings in Syria, and military assets can be used for both campaigns.
When asked for clarification about this incident, a CENTCOM spokesperson told Bellingcat that they "don't mean to cause any confusion. Different internal reports may have listed this differently."
Either way, the Coalition thus seems to use a limited number of labels for their targeted location areas. The "Al Hawl, Syria" label was probably closer than their nearest other Iraqi location label, "Sinjar", around 50 km northeast of Jayar Ghalfas.
The Coalition's 'Region Labels'
Which region does the Coalition use to label one airstrike as "near Mosul" but the other one as "near Al Hawl"? To get a better insight in which regions are used by the Coalition, the geolocator @obretix mapped all geolocated airstrike videos and then used a Voronoi diagram which is a partitioning of a plane into regions based on distance to points in a specific subset of the plane. In this case, the points are thus all "near" locations mentioned by the Coalition. The geolocations are then corresponding to a region that is closer than any other point.
As the following image shows, Al-Hawl is indeed the closest location to the target struck by the Coalition (circled in red) in the number of areas the Coalition has used.
There are more interesting insights the maps reveals. While the Coalition does use a label for "near Kubaysah", a city in Iraq, some strikes within the city's perimeters were labelled as "near Hit" — a city nearby but still less accurate than using a label there was for that city.
Another example of remarkable region labels is the use of hamlets, such as "near Washiya" and "near Sultan Abdullah" – places with only a few houses, but close to respectively Aleppo and Mosul. It is worth mentioning that  "near Aleppo" is not used in any of the YouTube videos, while "near Washiya" has been twice for a target only a double dozen kilometres away from Aleppo city. Why would these small hamlets be used as a region label, while the case of Jayar Ghalfas could not get its own region label? Is this intentional? This is a question that remains unanswered.
What is clear is that it the publicly provided locations by the Coalition for its airstrikes in Iraq and Syria may be off as much as 90+ kilometres, making it more difficult for outside monitors to verify and report on the civilian death toll of the air war.
In its Transparency Audit of the Coalition, published in December 2016, Airwars noted problems with the public reporting process. Difficult to navigate internal logs "in turn led to quite vague military reporting". Locations, then, could only be taken as approximate. One CENTCOM senior official explained the situation in some detail:
"When the aircrew come back [from a strike mission], as you drill into a geographic location, some of those areas have towns that consist of three or four people. So typically what's going to be in the strike log is going to be the largest city nearby. And they'll annotate, 'Conducted a strike near Mosul.' In fact it's going to be some small town that's 23 clicks [kilometres] outside of Mosul. If they put that on the strike log, once it goes through the 'Enterprise' [slang for the Combined Air Operations Centre] no one knows where that is. Officials were keen to stress that if an incident was being investigated, "we do have the ability to go back and drill down into the detail."
Overall, all location claims were all within a 100 km distance of the claimed location, and all of these claims were relatively accurate as to the location it referred to — unlike the Russian airstrike videos, which were in some cases massively inaccurate.
Claimed Targets: 'Vehicles', 'Factories' and 'Fighting Positions'
With regards to the targets, the most used targets mentioned can be categorised as "fighting positions", followed by vehicles and facilities for improvised explosive devices (IEDs) or suicide vehicle borne IEDs (SVBIEDs).
Most of the targets are classified as 'fighting positions' by the Coalition. These are usually buildings that are, reportedly, used by IS militants as positions in battle. An example can be seen in the following airstrikes on buildings in Manbij, reportedly on July 21 and 24, 2016, and geolocated by @obretix to 36.522428, 37.962093 and 36.517496, 37.955025, respectively. The strikes were in support of the Syrian Democratic Forces (SDF) during the Manbij offensive, codenamed Operation Marty and Commander Faysal Abu Layla by the group. The offensive lasted almost three months and resulted in a major SDF victory on August 27, 2016.
Vehicles are the second-most common target mentioned in the Coalition airstrike videos. One of such vehicles is an IS "technical" in Hīt reportedly on May 30, 2016, geolocated to the outskirts of the town. The date is worth mentioning, as the 2016 Hīt offensive (Operation Desert Lynx) launched by the Iraqi Government claimed the town and its surrounding were already recaptured back in April 2016.
Targets related to IEDs and VBIEDs combined also account for a higher number airstrike videos, and such alleged targets in Mosul have been discussed before in the Bellingcat article "The Battle for Mosul: A View from Space before the Operation".
It is worth mentioning that all of these targets in the Coalition's videos are "clean" targets like vehicles, factories and fighting positions. It almost looks like video game, just like IS's propaganda videos of suicide vehicle-borne improvised explosive devices (SVBIEDs). The Coalition's videos appear only to showcase the precision and efficiency of Coalition bombs and missiles, and rarely show people, let alone victims.
Civilian Casualties
It is important to mention that civilian casualties take place in many of these videos – even the US has admitted to unintentionally killing civilians. Some videos, such as the airstrikes on the University of Mosul in March 2016, may in fact show the airstrikes that caused significant civilian casualties.
Perhaps the most striking example of a video showing potentially significant civilian casualties came from an airstrike on September 20-21, 2015, targeting an IS "VBIED network" according to the Coalition. The video was deleted after questioning, but archived and re-uploaded by others, including investigative journalist Azmat Khan.
But was this really a "VBIED network"? Under the original upload, a commenter starting posting that the houses shown were his family's residence in Mosul.
"I will NEVER forget my innocent and dear cousins who died in this pointless airstrike. Do you really know who these people were? They were innocent and happy family members of mine."
Days after the strike, Dr Zareena Grewal, a relative living in the US wrote in the New York Times that four family members had died in the strike. On April 2, 2017 – 588 days later – the Coalition finally admitted that it indeed bombed a family home which they confused for an IS headquarters and VBIED facility.
"The case was brought to our attention by the media and we discovered the oversight, relooked [at] the case based on the information provided by the journalist and family, which confirmed the 2015 assessment," Colonel Joe Scrocca, Director of Public Affairs for the Coalition told Airwars.
Even though the published strike video actually depicted the killing of a family, it remained – wrongly captioned – on the official Coalition YouTube channel for more than a year.
Airwars lowest estimate of civilian casualties killed by the Coalition is 3,111, as of April 25, 2017. To read more about linking Coalition airstrike videos with IS' videos, please see the article "The Bombers and the Bombed: " published by Hate Speech International. The approximate locations of these civilian casualties are mapped by the author for Airwars.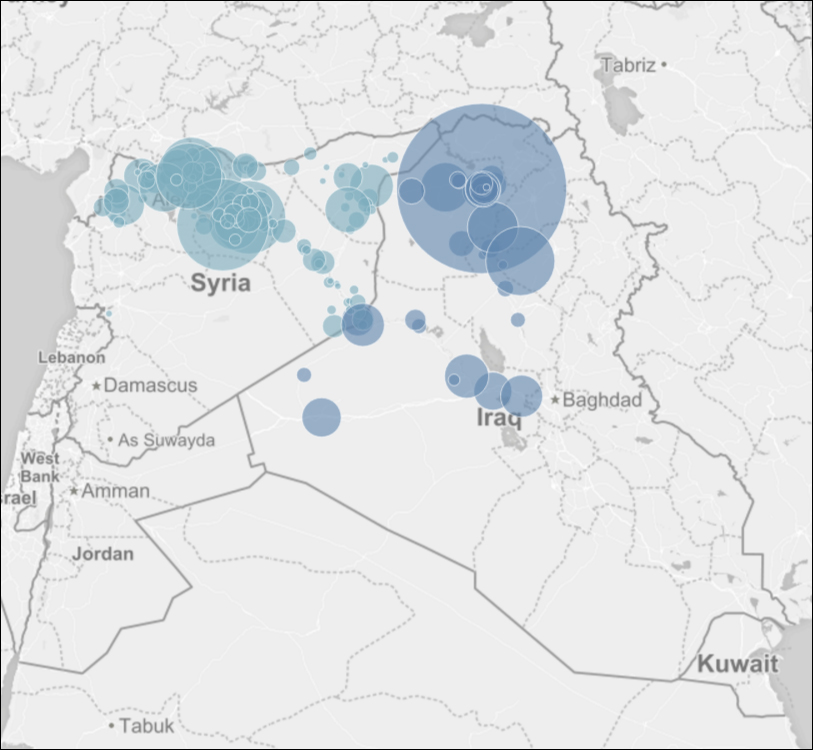 ---
The author can be contacted at christiaantriebert@bellingcat.com. Parts of this article were based on the author's dissertation "A Tale of Two Air Wars" which was submitted in 2016 to complete the Conflict, Security & Development Master of Arts programme at King's College London. The author would like to thank @obretix, Aric Toler, Samuel Oakford, and Chris J. Woods for their feedback.