UAE Relocates SAMs In Yemen
A recent review of satellite imagery shows that UAE forces may be pulling their surface to air missile systems out from key deployment locations within Yemen.
Left: DigitalGlobe imagery of the Patriot site in Aden dated 08OCT16 / Right: 24OCT16
Satellite imagery confirms that UAE Patriots departed from at least two of their three known deployment locations within the country. Equipment previously deployed at Aden International Airport and Al Anad airbase was not visible in recent imagery updates.
The site at the southern coastal airport, established in early 2016, previously featured four Patriot transporter erector launchers (or TELs) and associated equipment. The TELs were no longer in residence on the south side of the airport by late October, according to imagery available in Google Earth. However, UAE armor still remained near the parking apron at the time of capture, but accompanied by a much smaller air element than previously observed.
Similarly, Al Anad airbase, located approximately 30 miles to the north of the airport, had no Patriots on-site as of January 2017. The site, composed of four Patriot TELs, was likely established in early 2016 after the airbase was reportedly attacked by a Tochka ballistic missile in January. We last observed the Patriot system on imagery at the site in November 2016.
As for the third full battery located in Ma'rib, no high resolution imagery was available at the time of writing for analysis. DigitalGlobe imagery from September 2016 still showed the battery in the ad hoc bermed location. However, our friends over at Planet Labs sent us imagery from January 2017 that suggests they've probably been relocated, though it's difficult to be certain due to the lower resolution.
While we wait on future imagery to confirm their destination, it's likely some may make their way over to Assab, given the level of buildup we've monitored recently.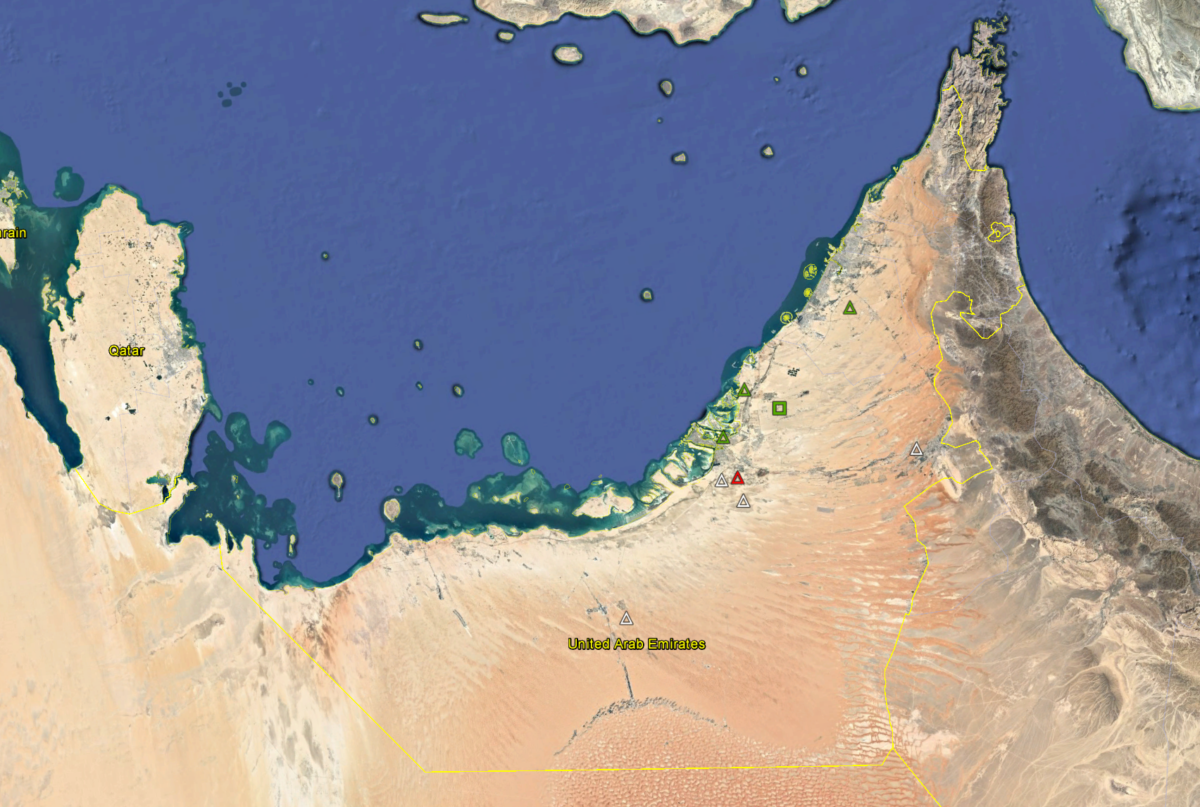 As for the batteries back in the UAE, imagery confirms that four of the seven identified Patriot sites are without units. The empty batteries are indicated on the map as white triangles while the green triangles represent in-residence batteries. The green square is the UAE Patriot garrison located in the heart of Zayed Military City and the red triangle, the U.S.-deployed Patriots at Al Dhafra.
According to imagery reviewed between 2014-2016, the site located immediately south of the UAE Naval College (northwest of the Patriot garrison) often fields up to four additional batteries, possibly a jumped unit from one of the other sites. This may suggest that only three units were deployed to support Saudi-led operations in Yemen.
However, last year Raytheon was awarded a contract to provide technical assistance for the system in the UAE. As a result, those missing units could be undergoing depot level maintenance. The contract, estimated at $21 million, was obligated at the time of the award and expected to finish by July 2017.
A UAE Patriot site is typically composed of 4 TELs and one AN/MPQ-65 target engagement radar. The variant the UAE ordered, a Patriot Advanced Capability 3 (or PAC-3), supports up to four launch canisters, each with four missiles—as opposed to one PAC-2 missile per canister. Therefore, each full strength UAE PAC-3 unit is capable of launching up to 64 missiles without reloading.
The UAE air defense network is setup for point defense with sites positioned around airfields, population centers and important infrastructure.
This article was first published at Offiziere.ch and republished here with permission.
26JAN2017 Update
Working with the wonderful folks over at @planetlabs we can conclusively say that the UAE Patriot battery at Ma'rib was relocated. pic.twitter.com/Tb9ZZgvQi2

— Chris Biggers (@CSBiggers) January 26, 2017