Military Ramp At Abu Dhabi International Is Operational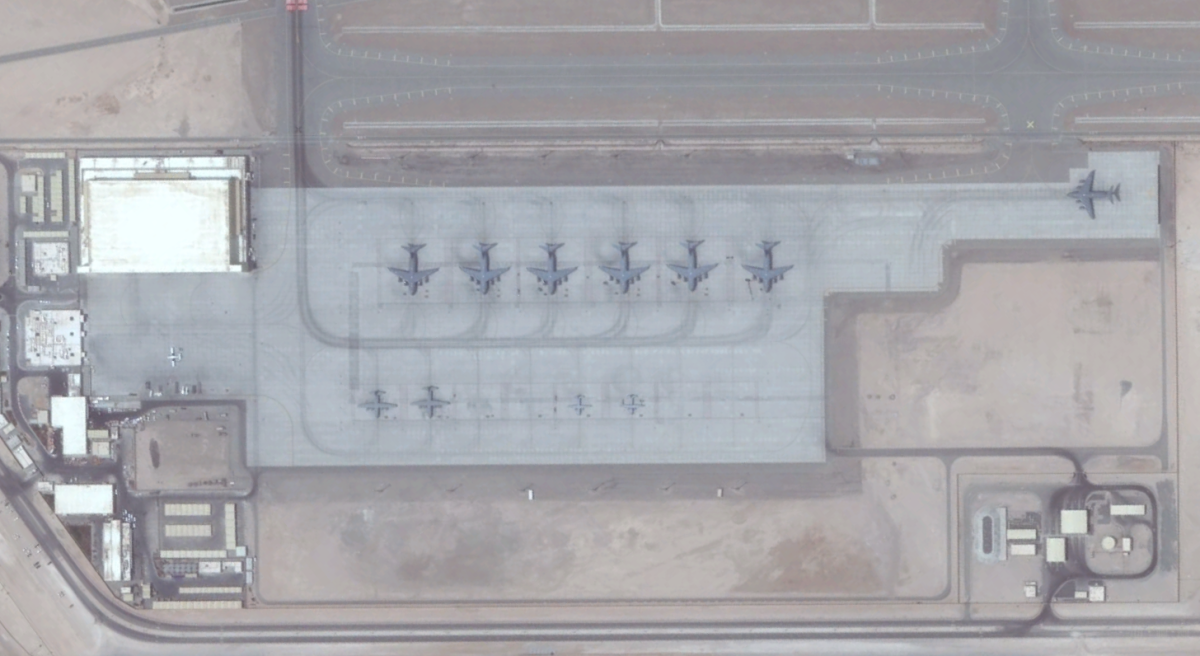 Over the last decade, the UAE has improved its transport capabilities with the acquisition of some of America's best strategic and tactical aircraft.
The latest satellite imagery acquired by DigitalGlobe shows a new operational military ramp dedicated to the country's transport aircraft located on the north-eastern side of Abu Dhabi International.
The Directorate of Military Works Abu Dhabi commissioned the Dorsch Gruppe to construct the approximate 260,000 square meter apron, a parallel taxiway and maintenance hangar. According to work previously posted on the Dorsch Gruppe website, the hangar was built to support the C-17 and A330 MRTT — the latter imagery currently shows based at Al Ain. [1]
Space snapshots from July 2015 show seven Boeing C-17 Globemaster III, two Lockheed C-130 (one H variant, one J variant), 2 Casa CN-235 light transport and a DHC-6 Twin Otter. Previous imagery has shown up to five of the CN-235 and up to four C-130s parked on the apron.
Beyond transport, the Twin Otter is often associated with the UAE's special forces Group 18 out of Sas al Nakhil. Along with the unit's Cessna 208, the DHC-6 is used for reconnaissance missions.
In total, the UAE Air Force has six Globemaster III in its inventory which suggests the 7th pictured above is from one of the country's allies. Currently, Australia, the U.K. and the U.S. routinely use the platform to ferry troops and supplies back and forth to regional conflicts.
In February, the UAE announced the order of two more C-17 which will bring their total inventory to eight. The order comes as Boeing plans to close the C-17 assembly by the end of the year.
In the meantime, deployments to the new area started in early 2015 — though major construction which began between late 2011 to early 2012, was already complete by 2013.
Note
[1] In 2013, the Dorsch Gruppe removed all work related to the UAE's military from their website. The UAE is the company's largest Middle East customer.