Online Campaign to Identify "Erdoğan's Bodyguards" Following Assault
On Tuesday, May 16, nearly a dozen people were injured after a clash between pro-Kurdish/anti-Erdoğan protesters and a group that included both Erdoğan supporters and Turkish security officials, including bodyguards of President Recep Tayyip Erdoğan. The clash happened outside of the Turkish Ambassador's residence in Washington D.C., and marks the second instance since 2016 where Turkish security officials were involved in violence in Washington.
Last year, Turkish security officials assaulted Turkish journalists outside of the Brookings Institution, leading to injuries inflicted on the Turkish journalists critical of President Erdoğan.
During Tuesday's protest, the Turkish security officials did not just hold back or try to protect themselves from the protesters, but sought to hurt them, including multiple officials who deliberately kicked defenseless protesters who were already injured on the ground.
Before the skirmish
Before Turkish security officials were involved in the confrontation, a number of pro-Erdoğan and pro-Kurdish/anti-Erdoğan protesters clashed with one another, leading to injuries and each side rushing at each other. However, after these scuffles, both sides were on opposite sides of the street with traffic moving in between. Immediately before a skirmish broke out, a Turkish security official with a mustache and striped tie (1) was screaming at protesters and had to be held back by police officers (2, 3, 4).
Soon, someone rushed across the street, attacking the dozen or so protesters. It is difficult to identify this official because of a lack of footage in between the police holding back the men, and when the man in a suit rushed the protesters across the street.
Battle of Embassy Row
Soon after the fight started, a Turkish security official was filmed kicking a protester who was already injured, on the ground.
Another Turkish security official also kicked this man while he was on the ground, leaving him bloodied.
This man with the megaphone is later seen walking in a small park, heavily injured and bloodied after the beat-down.
Another man who was previously seen with security officials kicks a woman writhing on the ground as he walks past her.
Twitter user @BmoreBloc filmed a video where this woman was being helped by a police officer, who said that she needed to be taken to a hospital for her injuries (see 1:07 in video below).
Kurdish and Armenian and Ezidi protestors brutality attacked by members of Erdogan security in front of Turkish Emb pic.twitter.com/StrRKgNHfr

— Baltimore BLOC (@BmoreBloc) May 16, 2017
This same man is seen a couple minutes later among Turkish security officials, as he was immediately before the skirmish broke out.
Turkish security officials, or just protesters?
This second high-profile incident of violence between Turkish security agents and American protesters has led to online efforts to identify the bodyguards and, if possible, introduce legal or diplomatic actions against these men. The hashtag #ArrestErdogansBodyguards has picked up steam since the incident, with online activists sharing screenshots of these bodyguards who injured protesters.
Dear @MayorBowser & @DCPoliceDept

Arrest the ones who attacked Americans !
All World is watching you for justice#ArrestErdogansBodyguards pic.twitter.com/FFCKHzhoOn

— UrmiyêMınbêj (@Hanekin1Dersim1) May 17, 2017
PLEASE JOIN ME by asking 4 justice for those of us who were attacked yesterday by Erdogan's bodyguards. #ArrestErdogansBodyguards pic.twitter.com/NQWN8gV5Dx

— Ceren Borazan (@CerenBorazan) May 17, 2017
While it is difficult to prove that some of the men in these tweets are indeed bodyguards or other types of Turkish security officials, some of them clearly were, as shown both in a close analysis of the video and in reports from U.S. officials.
US officials confirm to NBC News men who beat protesters outside Turkish Embassy in DC are Pres. Erdogan's bodyguards https://t.co/jaxfflCu7G

— Andrea Mitchell (@mitchellreports) May 17, 2017
Many of the men who either started the skirmish or injured the protesters were wearing lapel pins, lanyards, and earpieces–all indicating that they were security officials.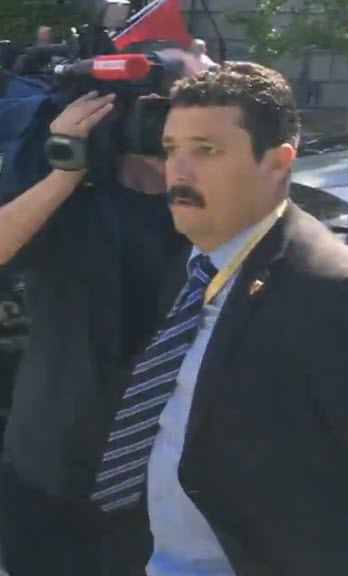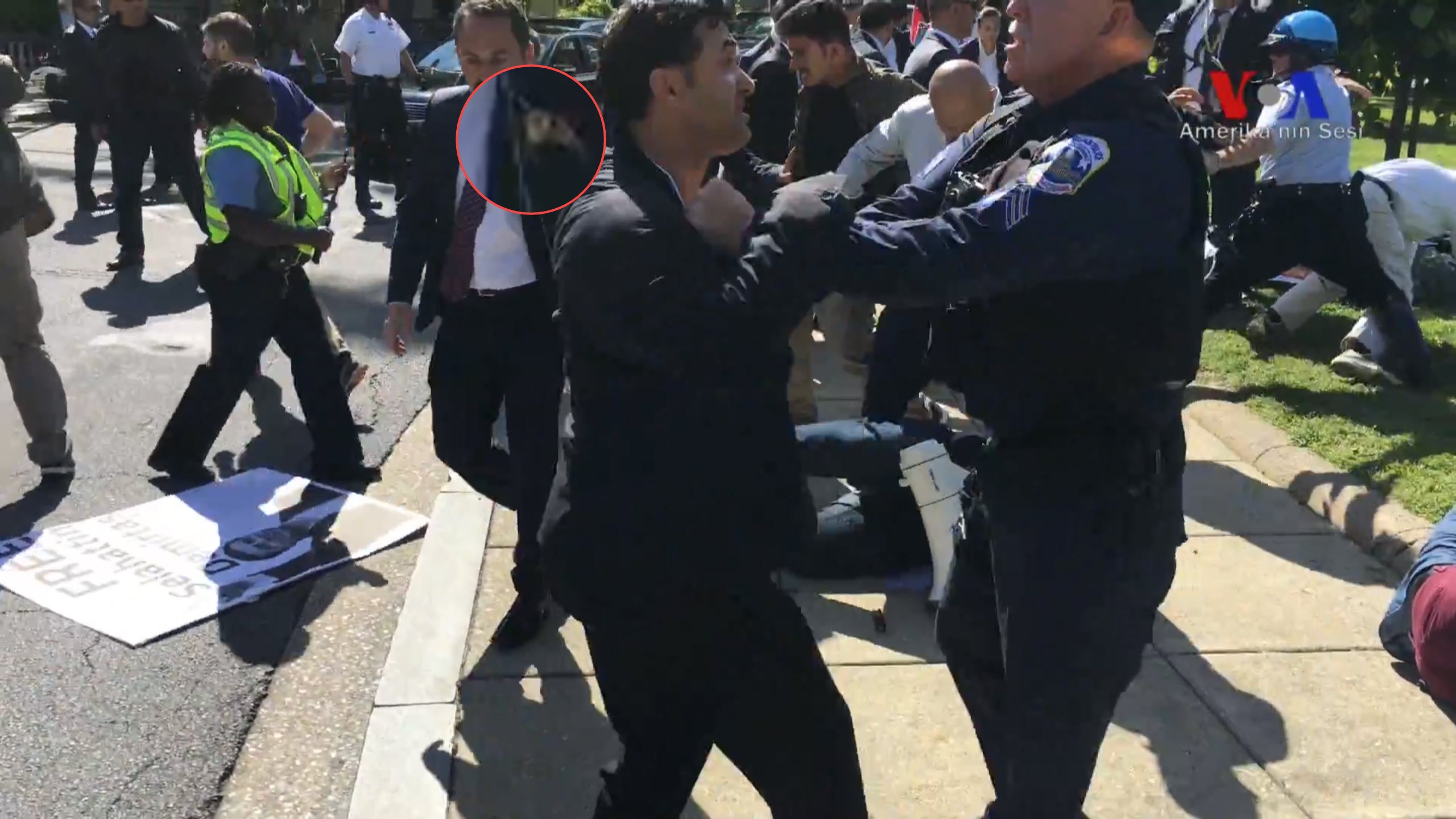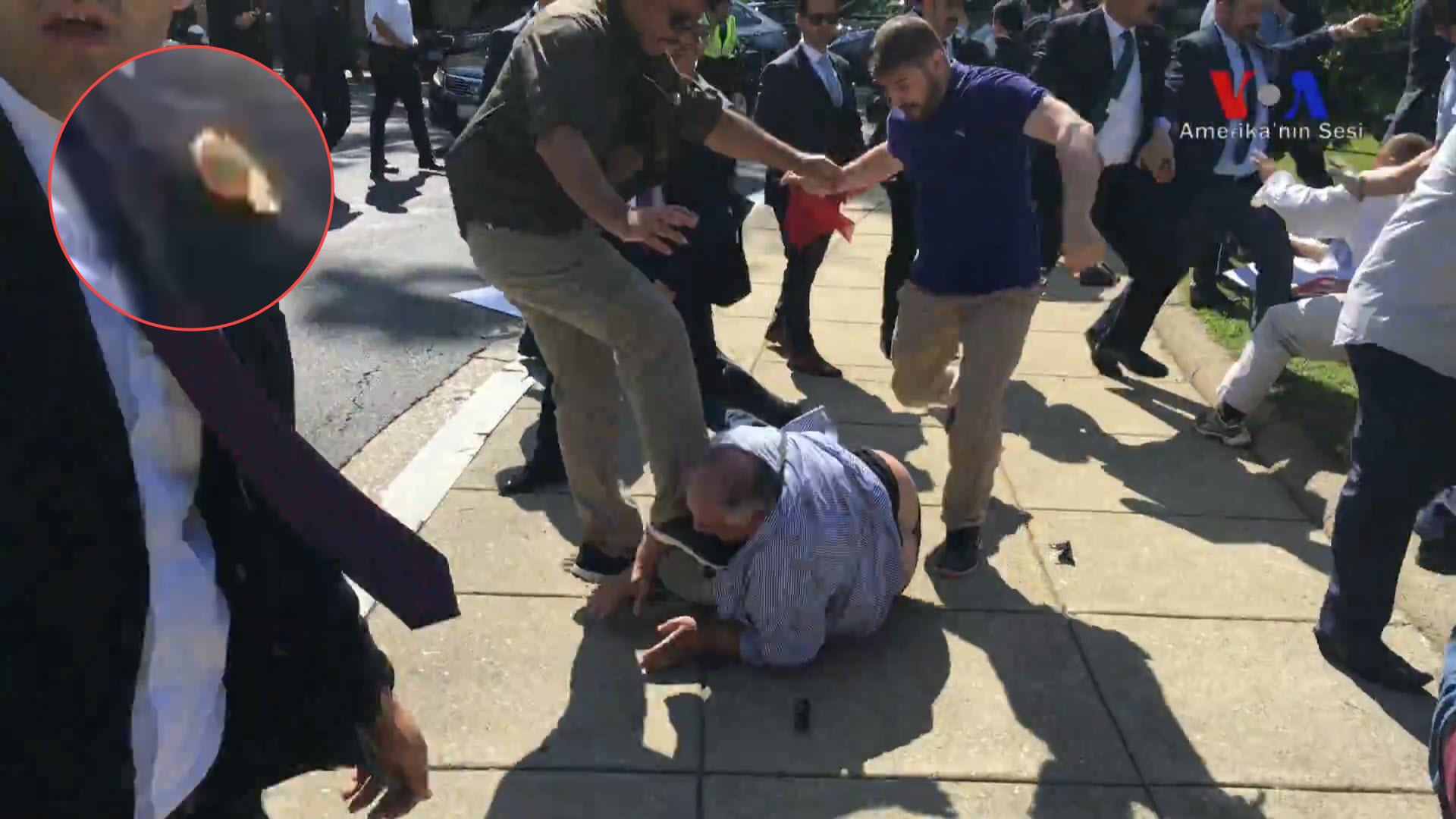 An earpiece can be seen flying on the left side of one of the security officials, after he kicks the man with a megaphone in the face. This detail confirms yet again that among the most violent assailants were Turkish security officials, and not just well-dressed protesters.
If we look through other videos of President Erdoğan and his security detail, we can find some of his bodyguards were present for the brawl. For example, a man in a dark red tie and sunglasses almost kicks the man with the megaphone, but pulls back at the last moment. He has been filmed with President Erdoğan as part of his security detail for his recent American visit.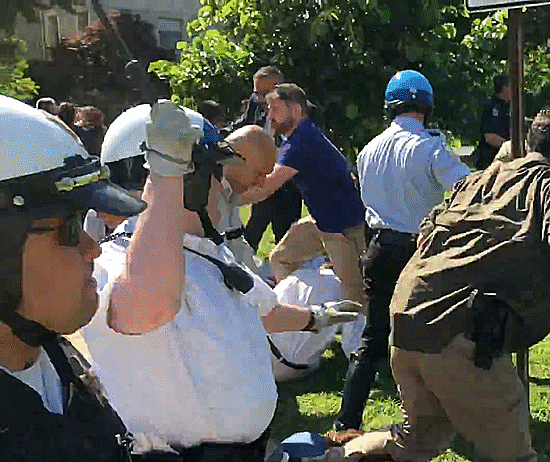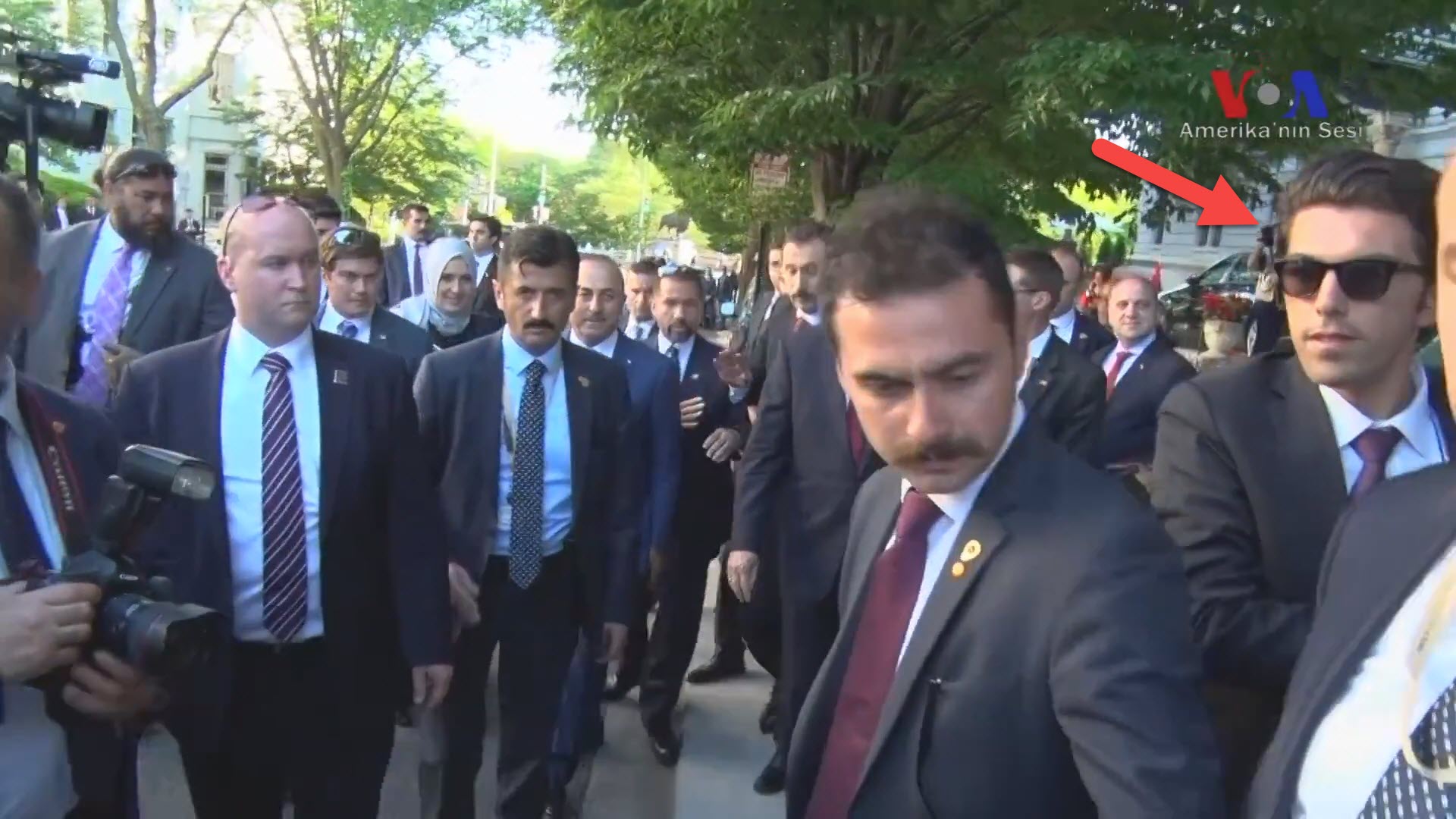 Armed Men Involved
Among the pro-Erdoğan protesters and the Turkish security officials in suits were a handful of men in identical khaki summer suits. These men were aggressively fighting protesters alongside the men in suits.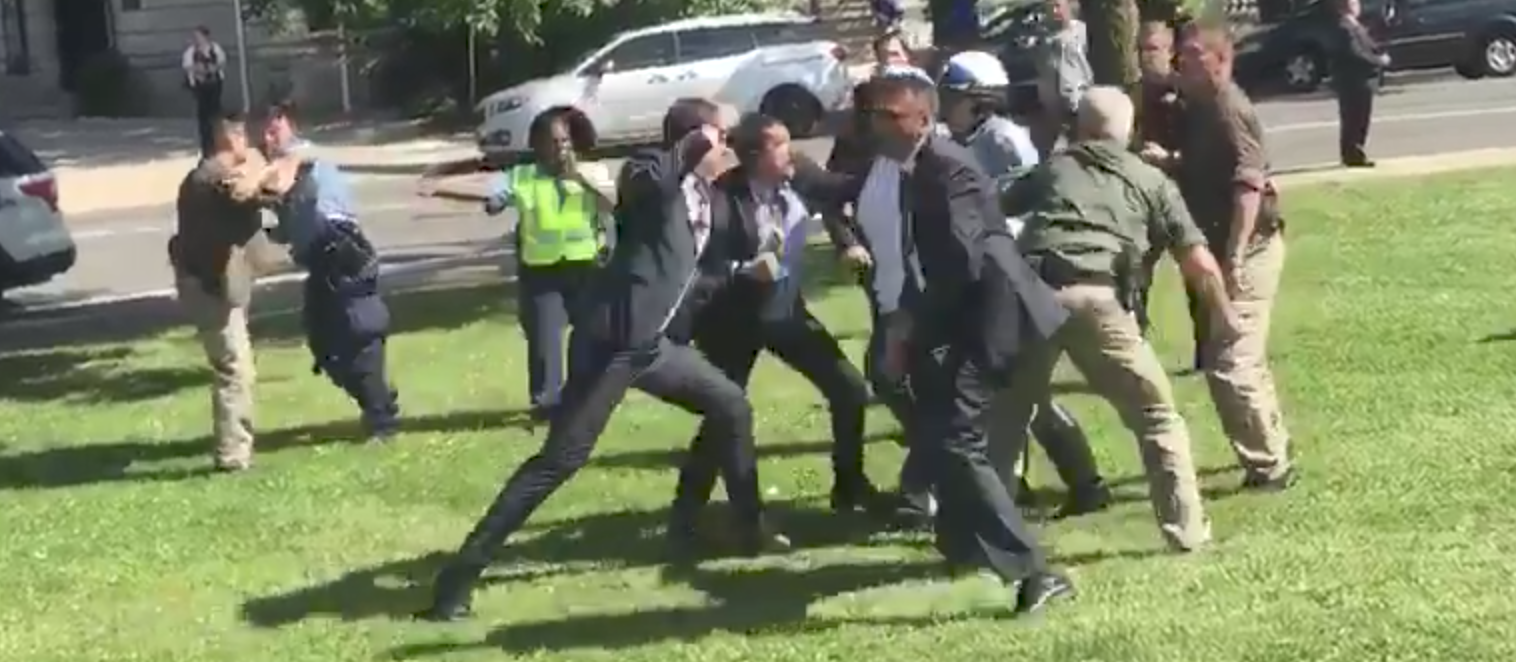 Many of these men were carrying guns, though they were never openly displayed or used during the incident.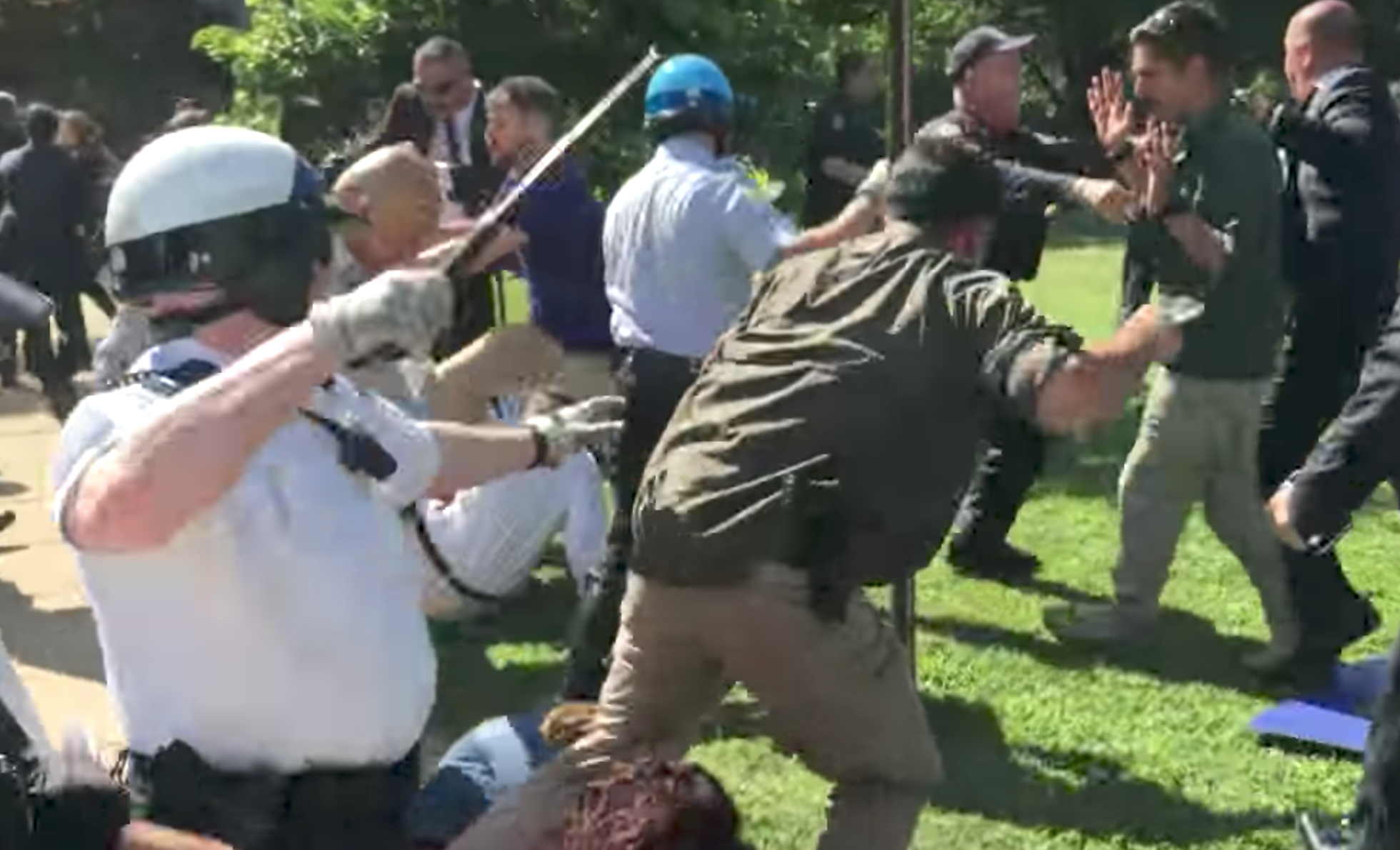 Some of these men in the summer suit were wearing an earpiece, much like the Turkish security officials.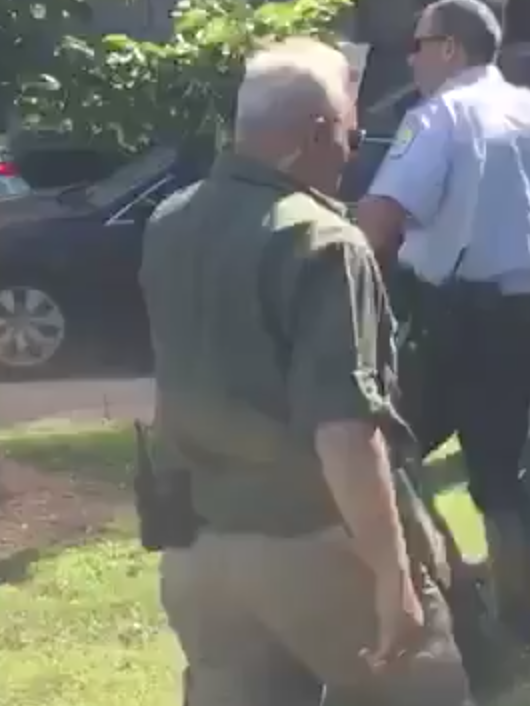 Conclusion and a call to for crowdsourcing
Clearly, Turkish security officials were among the violent participants of the brawl of May 16. U.S. officials have confirmed that these men were involved in the fight, but a close analysis of the available video footage shows us that they were not just present for the incident, but aggressors who attacked men and women lying defenseless on the ground. Many of these victims have been identified as American citizens.
Following the incident, many of the security officials filmed at the protest shared a photograph together, presumably taken while leaving the United States.
Reis önce Allah'a sonra onlara emanet.. pic.twitter.com/mPj6fXdHM7

— İSİMSİZLER (@isimsizler_TR) May 16, 2017
One of the men allegedly in the photograph was described in an interview to BuzzFeed news by a victim at the protest:
Borazan told BuzzFeed News that the man called her a "bitch" in Turkish and told her, "I'm going to kill you, you're dead, you are gone."
A video of the incident can be seen below:
In this footage, one of #Erdogan's barbaric bodyguards is seen strangling and beating up a woman IN WASHINGTON D.C.pic.twitter.com/3VAwfAauAP

— Konstantin Krammer (@KonstantinKlug) May 17, 2017
If you find any additional footage of the events of May 16, or footage of any of the participants in the skirmish in previously recorded footage of President Erdoğan's or the Turkish Ambassador's security details, please leave the information in the comments to this article, or tweet @bellingcat on Twitter. Many of the individuals who were part of the violence on May 16 are suspected of participating in previous incidents, and of being part of President Erdoğan's delegations in the United States and abroad.
For example, Voice of America filmed this video below showing President Erdoğan in New York [emerging around 2:30], with many members of his security detail.