Infiltrating Marines United: Nudes, Confused BDSM Fans, 214, and a Bro Named Mike
We have made certain to censor sensitive materials in this article, while preserving enough information to ensure our readers of its veracity. The majority of the screenshots included in this article are from a Facebook group that has closed, thus making the information inaccessible. However, by the nature of social networks and the internet, some of the information included in this article may be possible to locate online. For more information on the author of this investigation and the Marines United scandal, please see this Buzzfeed News piece featuring the author and his previous work on the subject. 
It started in November 2016. A collective of self-styled hackers and internet trolls calling themselves "214" created a closed Facebook group focusing on BDSM and kink. The first posts in the group included photographs of sex toys along with some memes, and eventually the group began to expand as it gained popularity. Many began to join the closed group and posted pictures of themselves with their name, age, and location, hoping to meet others with shared interests. Some representative examples include a nice-looking guy named James, a self-described dom who likes anime and was looking for a sub. Another member of the group was Joe, a fifty-year-old self-described "daddy dom." Women posted as well in this quiet and well-mannered community of people looking to connect.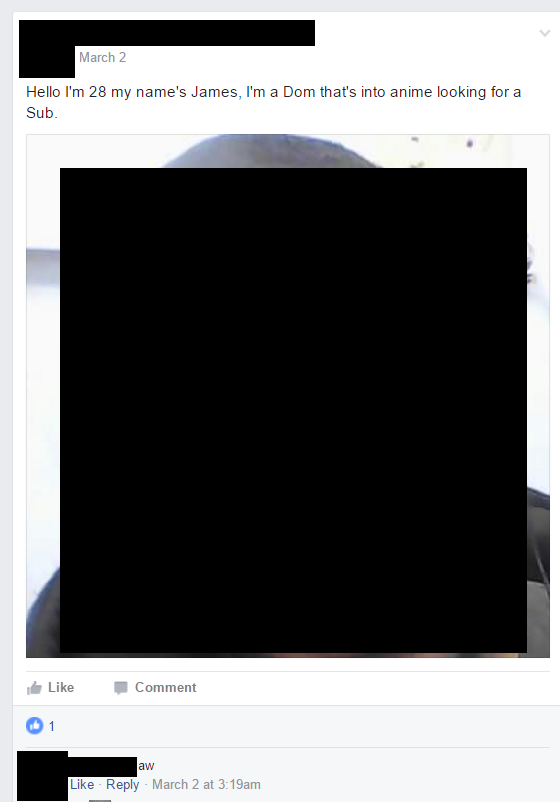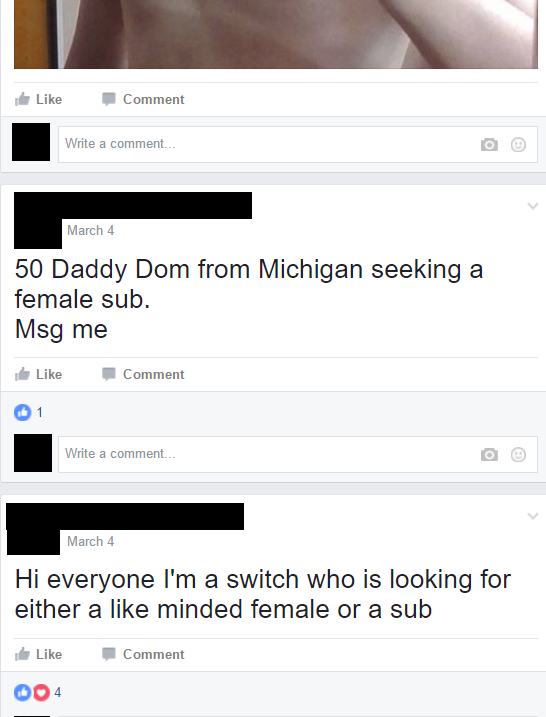 In this closed Facebook group, users continued to interact without major incident for several months. At the time, it was a pleasant example of how a group on Facebook could operate when focused on a topic such as BDSM or kink — a bit different than your typical group, but full of polite and kind users. In a totally different Facebook group, storm clouds of drama began gathering, which would soon reach the "214" BDSM group.
Marines United
On March 4 of this year, Thomas Brennan, a veteran Marine who founded the military journalism site War Horse, ran a story with investigative reporting publication Reveal that garnered international attention. This story published names and detailed the work of a 30,000-member Facebook group called Marines United (MU). The group's membership consisted almost exclusively of men, most of which fell into a few distinct categories: US Marines, Navy Corpsmen, and British Royal Marines. The group was like many other groups, but there was something that filled the pages of the group that brought tremendous scrutiny – pictures of naked women, the vast majority of whom did not consent to these pictures being shared. There were countless of these pictures, with women of every shape, size, and ethnicity. While many of these pictures were of Marines, there were also girlfriends and ex-girlfriends, wives and ex-wives, random girls near base, and a lot of one night stands.
The majority of these pictures were revenge porn — explicit photographs or videos of a former partner distributed online, often after a break-up with the intention of humiliating them. Pictures and videos of women in the military along with those of girlfriends and wives of military personnel were one of the common themes of MU. There were also pictures of women taken secretly or without their consent, pictures of girls stolen from hard drives, and in some rarer cases, women who snapped and shared pictures of themselves to the group purposefully. Members of the group viewed and commented on these pictures, asking for more information about the women: where they lived, where worked, what rank they were, and to which unit they were assigned. They also discussed sexually assaulting the women in the pictures, and what they would do to them if they found them in real life.
Marines United Whac-a-Mole
With Brennan and his Reveal compatriots maneuvering on MU, the whole debacle surrounding the exploitative Facebook group became a media frenzy. Facebook shut down the MU group and many breathed a sigh of relief, thinking that this evil group was gone and America was now safe from sexually deviant Marines online. But things are rarely so simple, and new groups were formed in the shadow of MU, sprouting up on Facebook in attempts to recreate MU. One by one, these groups sprouted up and were in turn uprooted by Facebook, but the social network was not able to work as fast as the displaced MU members. A confidential informant within these groups stated that they kept getting invites to new groups, but by the time they were able to get home from work and join the groups, Facebook had already shut them down. Undeterred, the men of the defunct (but not forgotten) MU group continued creating new groups to share their ill-gotten pictures across Facebook and beyond. Like the hydra, for each group that was cut down, two more would grow in its place.
At this point, any revenge porn with a connection to the military started to be referred to as "MU," with no shortage of like-minded groups popping up online. Marines United became more than just a thirty-thousand member group — it became a concept or movement, and a symbol of rebellion against the Marine Corps chain of command and NCIS (Naval Criminal Investigative Service).
Hostile Takeover
Elsewhere in the BDSM group, all remained quiet, as the members continued to chat and share content that did not include revenge porn, or malicious messages targeting women. Then on March 7th of this year, a very straightforward picture was posted to the group by a man named Ramos Jerome.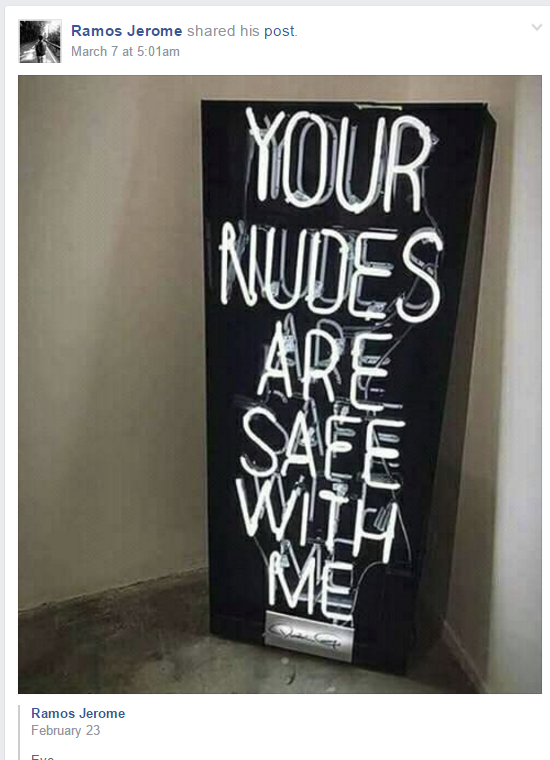 This was the first picture that hinted towards the coming storm, though it's doubtful if the "nudes are safe" with Ramos. A week later, on March 14th, the first nude picture of a female soldier was shared by Mike Sican, an admin of the BDSM group and a member of a mysterious organization called 214.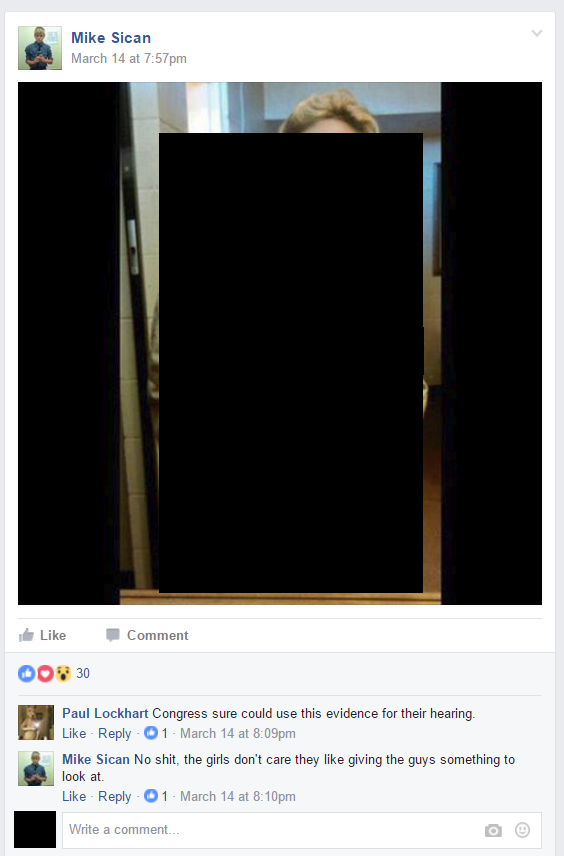 Who was and is this Mike Sican? To the discerning eye it would appear that his name is a play on the word "Mexican," making his identity even harder to discern. Really, it is unclear if he really is a man at all — one person jokingly called him a hacker, and he uses a child as his profile picture.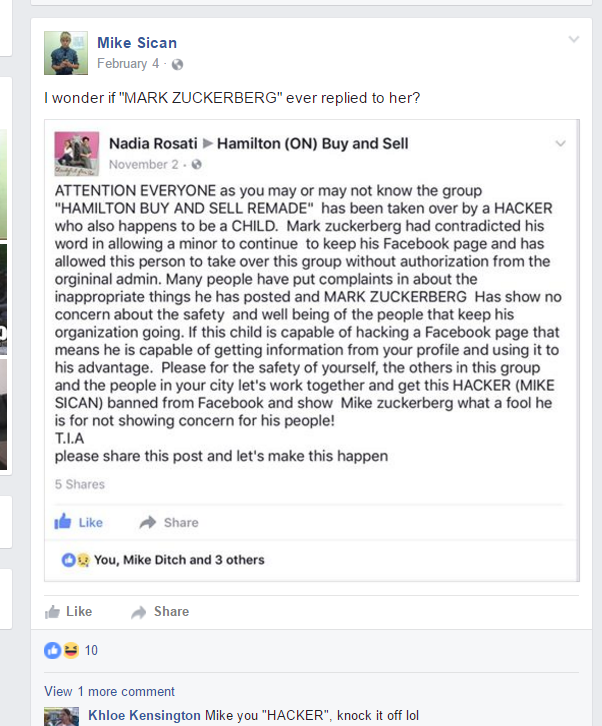 It's very likely that Mike Sican also goes by the name Candace Cox, as well as other burner accounts associated with Marines United (214), the new identity of the old BDSM group. While Mike's identity is hard to pin down, his views on women are very clear. In a post from March 14, Mike writes:
"In case anybody is wondering the girls don't care if their pictures were taken. They know the only purpose they serve is a pin cushion for the guys. The media is trying to get people in trouble and act like marines showing pictures is wrong. All I've got to say is fuck em, the marines can take pictures of the pin cushions and share them. Get over it."
Mike is apparently the person responsible for transforming the BDSM group into a new version of MU, as seen in the post below from March 14. The group name was changed to Marines United (214), and Mike advertised a secret and larger group of 20,000 members "behind" the MU (214) front group.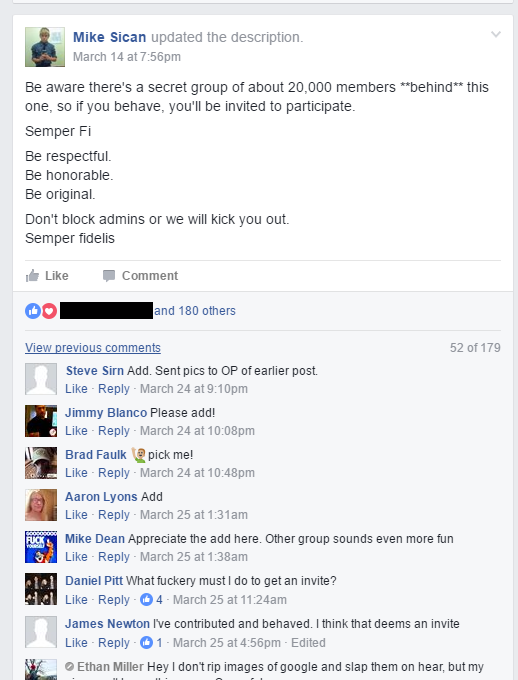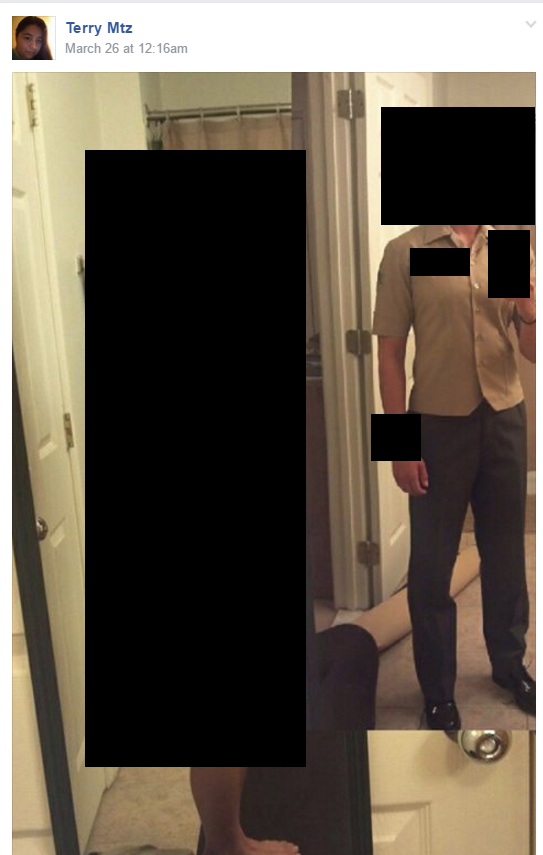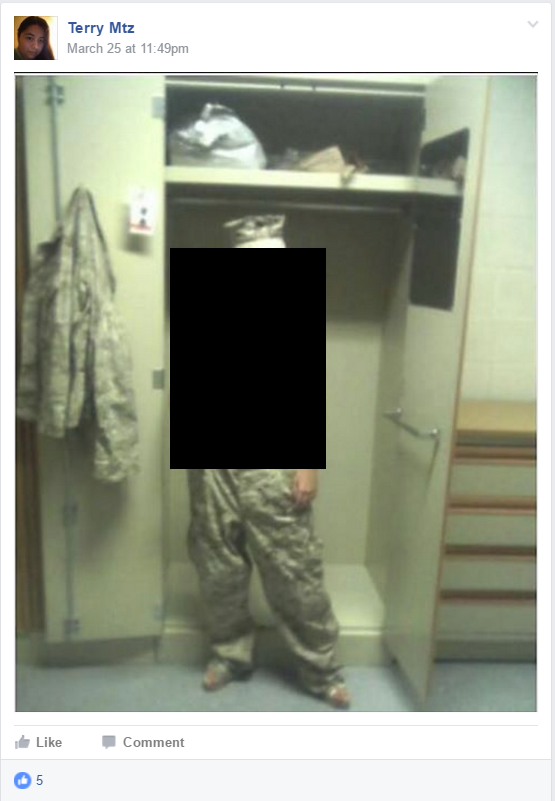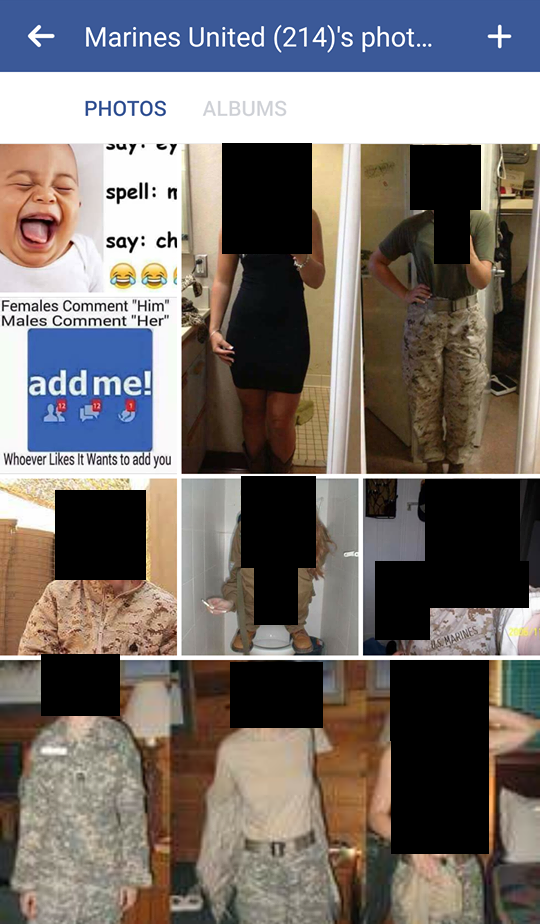 The former members of the BDSM group were quite shocked by the change in the group. They did not understand why there were suddenly hundreds of Marines joining their previously small collection of membrers. One member of the BDSM group was especially distraught, sharing her anger at seeing pictures of nude women in military uniforms, saying that it was "disrespectful to the people that represent that uniform." Mike replied with "They are only pin cushions, someone has to keep the males happy while they are protecting the country." Still, some of the original members of the group continued posting with content related to BDSM and kink, even though this group had been overrun with Marines looking for and sharing nude pictures of female soldiers.
The war between the BDSM members and the horde of Marines United fanboys had reached a boiling point, with each side accusing the other of not deserving to be in the bizarre hybrid group. Military personnel would be accepted into the group expecting a MU clone, and then immediately start wondering why there were non-military members of the group, along with women, as the original MU group was almost exclusively male.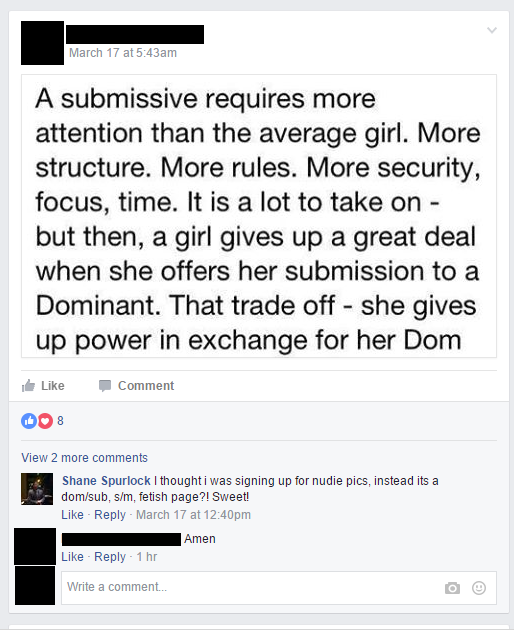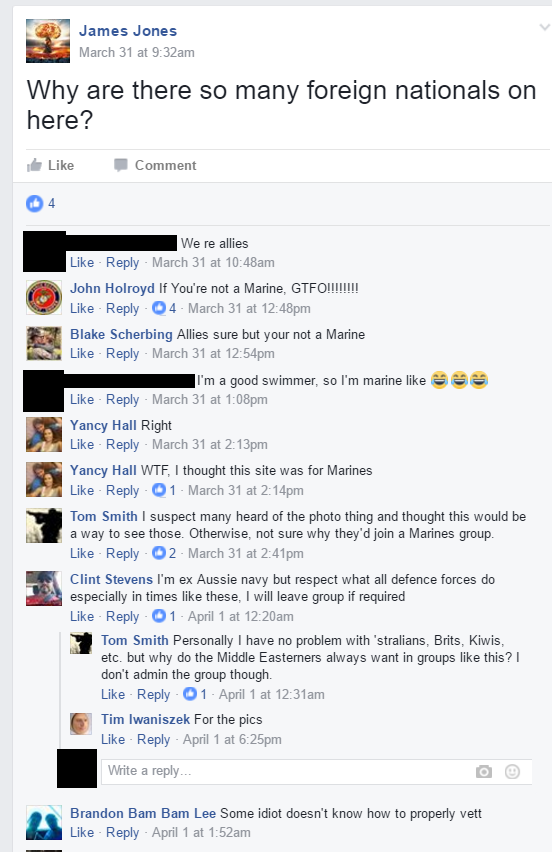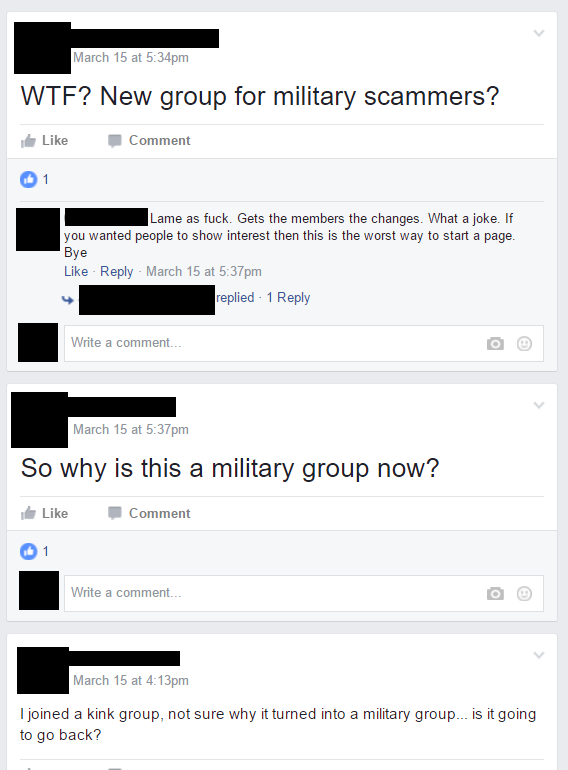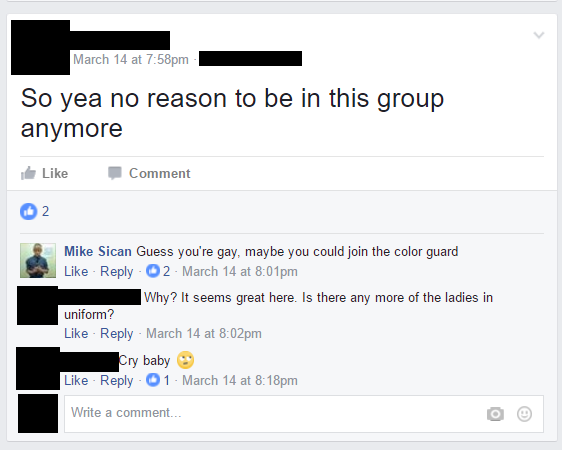 Clearly, the group could not function as both a discrete group for users interested in BDSM and kink, and also a group filled with aggressive men sharing stolen pictures of nude women. Many of the group's admins had references to "214" in their profiles, making clear that the result of the conflict between the BDSM and MU group would be resolved in the favor of the former. But what does "214" mean?
The 214 group started the BDSM Facebook group in 2016 with the intention of using it as a tool for a yet-to-be-determined purpose in the future. Camelot Global (or CG, a collection of active and former military personnel who worked on identifying new MU-type sites) member John Albert (the author of this article) reached out to Kent Dahlgren, one of the admins of MU214, and asked if Kent knew the name of the group when it was first started. He replied,
"Nope. I can't remember what it used to be. Honestly, we have literally hundreds of forums, pages, and web sites. For us it's all churn. Flip groups, or pages, or web sites to align with social memes."
It became clear that this was all just part of a strategy that 214 had used before: using a previously-created BDSM group with a large collection of members, and then flip the group, changing the name and identity of the group. People looking for a new MU group saw this group created by 214 and noticed how many members it had gathered, giving the "new" group, MU214, greater legitimacy. People joined this new group, leading to MU214 becoming what was seen as the true heir to Marines United. Just as with the infamous original group, users exchanged revenge porn and participated in lewd conversation about the women in the photographs and videos.
Infiltration and Investigation
Camelot Global discovered the group and began collecting information. James LaPorta, a Marine veteran and journalist for the Daily Beast, had already joined the MU214 group and was gathering information on the group's activity. On March 24th, he was tagged in a post calling him out:
"James Laporta, come at me, I got 30k worth of pics and vids if you wanna snitch on that. The old saying, snitches get stitches. This is a brother hood, so don't fuck with it."
Thomas Brennan, the War Horse journalist who worked with Reveal on the investigation into Marines United, was at one point a member of MU214 as well. On March 19th he was asked, "So what is the game plan? what are you aiming to do?" Brennan replied, "Continue to protect those who can't protect themselves." On March 25th a post was made on MU214, bragging that the admins had uncovered an "investigative journalist in our midst…" They banned the individual. The post did not identify the specific journalist, but it could have been Brennan. However, at the time of the post, he was no longer a member of the group. Regardless of this ban, people who had infiltrated the MU214 group collected information both on the Facebook group and in other locations, where people would actively share information and attempt to identify and locate the women in photographs.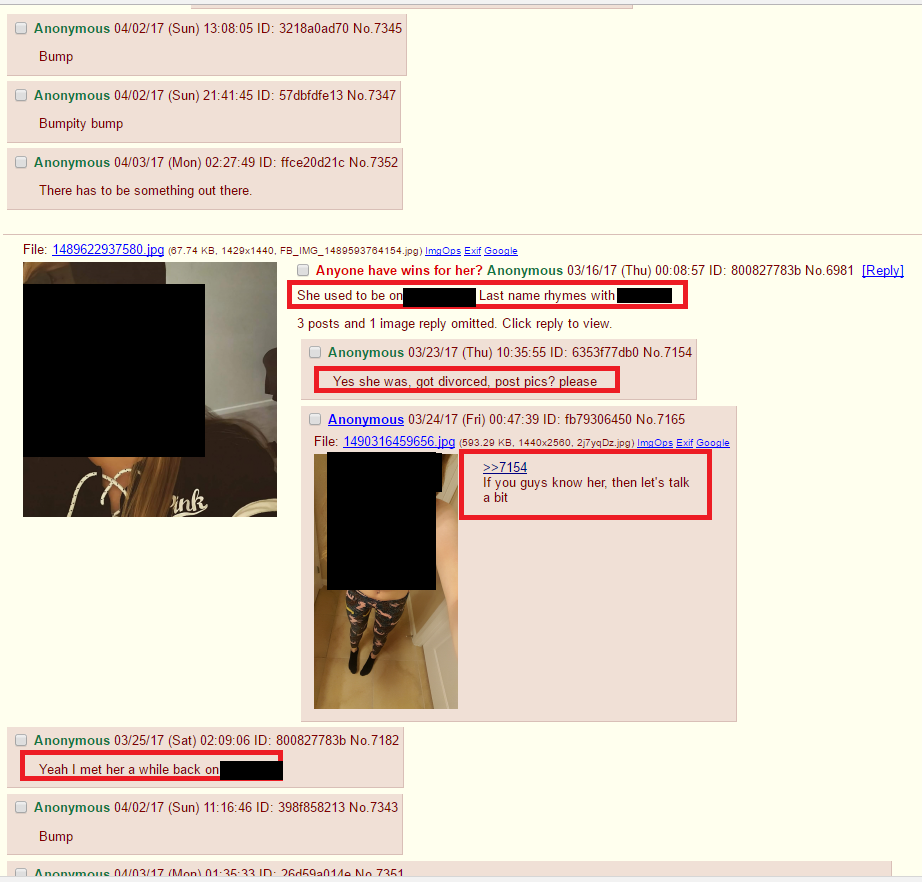 A source at CG was able to talk to one of the members of MU214 who was in the group when it was still just a BDSM community. When asked about the backstory of MU214, she replied, "I don't know much about the group, I was invited by a friend and after I discovered what the group is all about, I stop visiting the group." She went on to say that she had joined the group in 2016, but had stopped being an active participant months ago.
Marines United Hits the Black Market
On March 15, a day after the BDSM group transformed into MU214, a new facet of this story emerged: admins began posting about a way to buy the collection of nude photos and videos connected to the original MU group. Chandra Viswas posted a screenshot about the selling of files on March 15 and 19. Simon Euchner posted the same screenshot on March 22nd.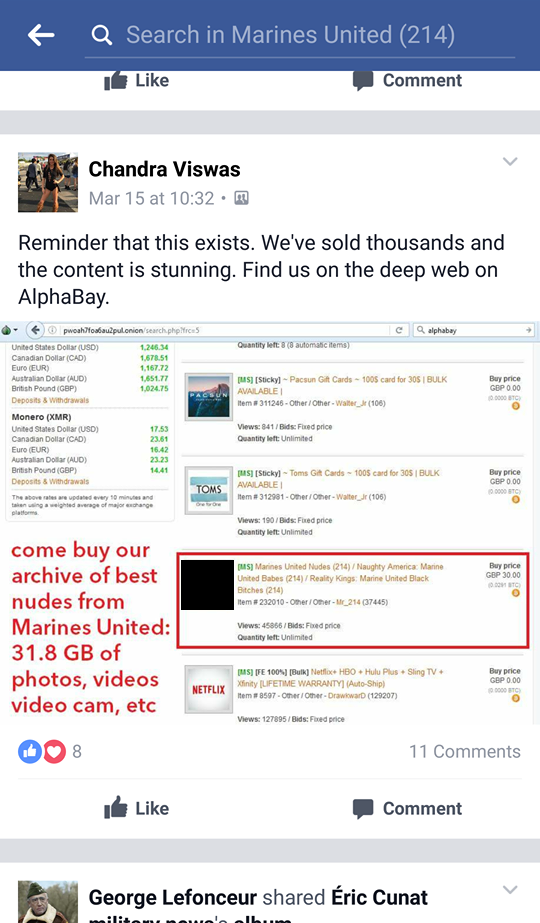 The pictures were being sold on a site called AlphaBay, the largest online darknet market on the Tor network. Over the past few years, there have been rumblings that AlphaBay has close ties with Russian organized crime groups, and by extension, potential links to organs of the Russian security services, as detailed by CyberScoop in a recent investigation. Recently, after reviewing the evidence I helped collect on these photographs being sold on AlphaBay, Military Times raised the possibility of the explicit photographs being used as blackmail against the victims. Due to the professions of many of the victims in the photographs, many of these active duty women have security clearance, giving them access to sensitive information–raising the possibility for "a legitimate national security threat," as stated by a criminology professor quoted by Military Times.
The investigation continues
Since the April 6 article published by the Military Times on MU214 and their potential connection to organized crime, many who have worked as sources and collected information about MU214 and other groups have been targeted with death threats–including the author of this investigation.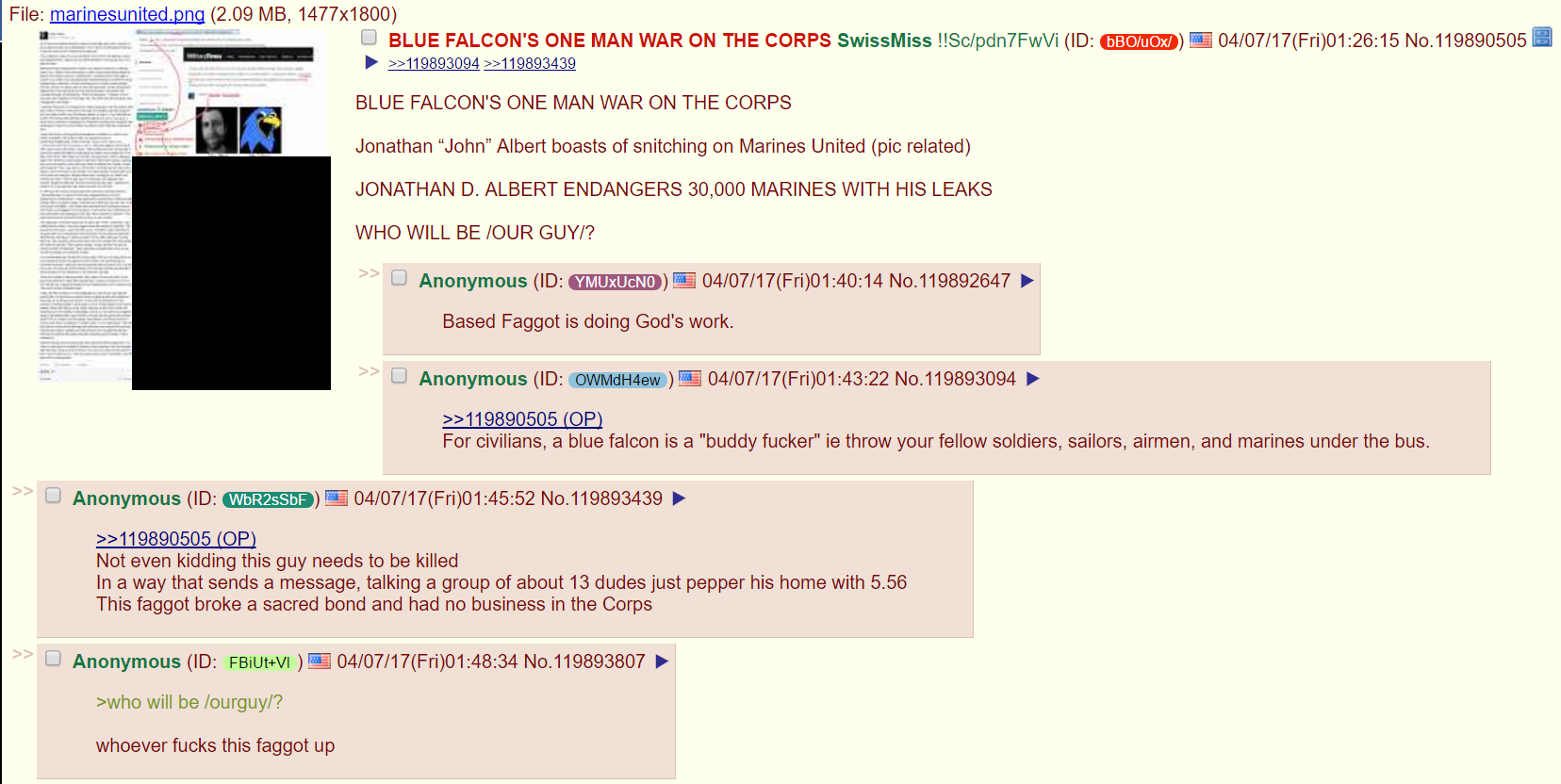 This week, Facebook shut down the Marines United (214) group. They also shut down three other MU-type groups: "MU-1," "Marines United 4.0," and "Veterans Who Don't Give a Fuck (No Wooks)". As of this article's release, the group "Marines United! Florida Chapter" is still active on Facebook.