WikiLeaks, Hillary Clinton, and the Julian Assange Paedophile Smear Campaign - Separating Facts from Fiction
By Iggy Ostanin and Eleanor Rose
When WikiLeaks claimed that silver-haired figurehead Julian Assange had been smeared as a paedophile and Russian shill this week, a thousand keyboard warriors were sent into a flurry of tippy-tapping as they tried to track down the perpetrators.
According to a post from WikiLeaks on October 18th, Assange was targeted by a campaign to brand him a child molester and falsely claim he took money from the Russian government.
The story, which was covered by Buzzfeed, centres around an obscure dating website named toddandclare.com.
WikiLeaks has published a report into toddandclare.com, and efforts to research the site as well as the allegations have been taken up by users of social media sites Reddit and 4chan.
WikiLeaks has pinned a tweet that came from crowdsourced research, claiming it connects the campaign against Assange to individuals linked to Hillary Clinton.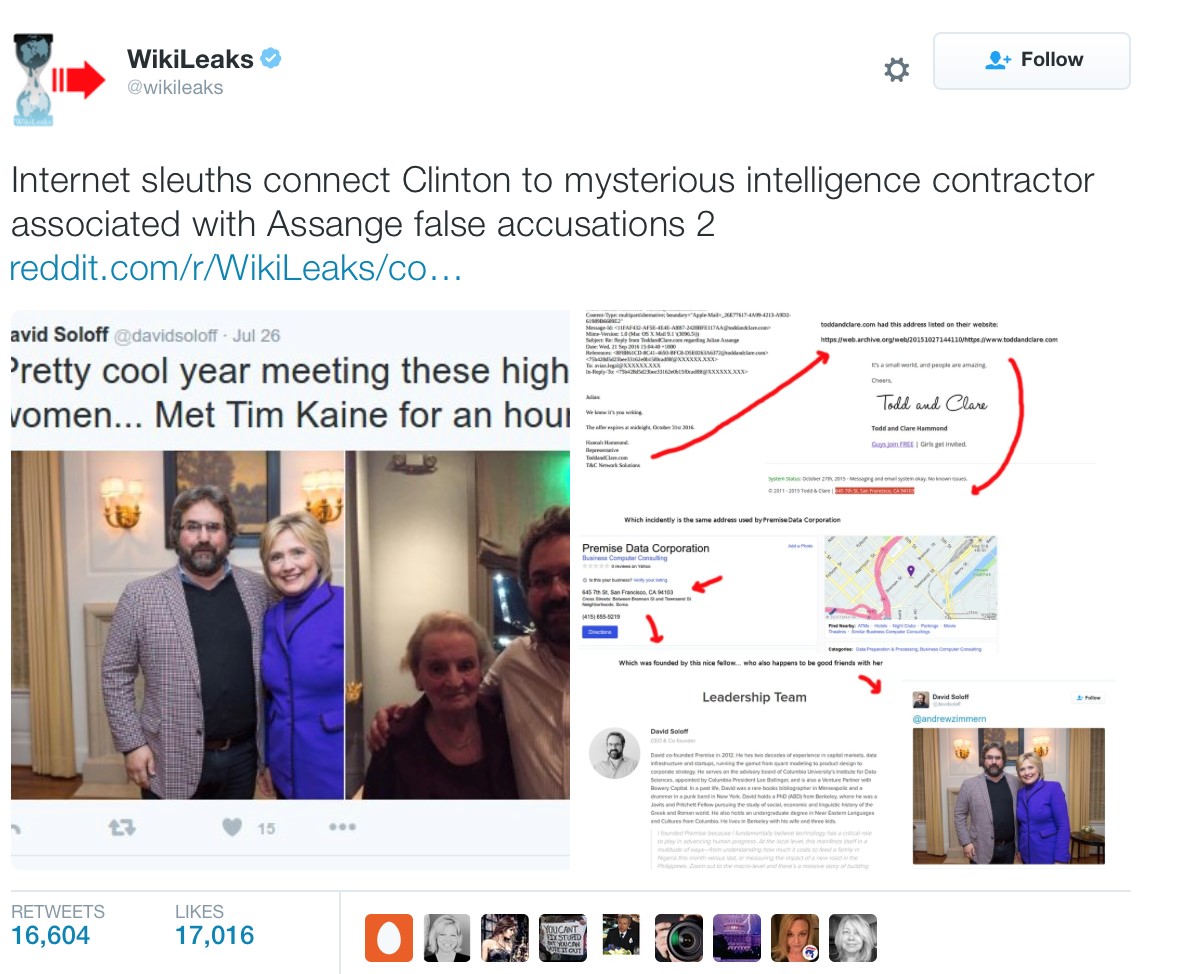 This claim was also spread RT, who ran an article with the headline "Suspicious US company tried to frame Assange as 'pedophile' and Russian spy" and also published images tweeted out by WikiLeaks.
The toddandclare.com controversy is not trivial, particularly because Assange has been evading arrest for sexual assault charges in Sweden at the Ecuadorian Embassy.
WikiLeaks has also come under fire for allegedly taking information hacked from the US Government by Russian Intelligence Services and publishing it with the aim of boosting Donald ­Trump's presidential campaign.
If, as WikiLeaks have suggested, this campaign against Assange is linked to a "mysterious intelligence contractor" and Hillary Clinton, it would boost the arguments made by Wikileaks that longstanding and more recent criticisms of WikiLeaks and Assange are US government propaganda.
So how do the claims stack up?
Claim One: Address Connects Scam with Clinton-Affiliated Firm
An address in San Francisco caught the eye of "internet sleuths" who found a connection between the address and Premise Data Corporation, which is said to have ties to Hillary Clinton and USAID.
645 7th St was the first address used on the domain records for toddandclare.com. (source)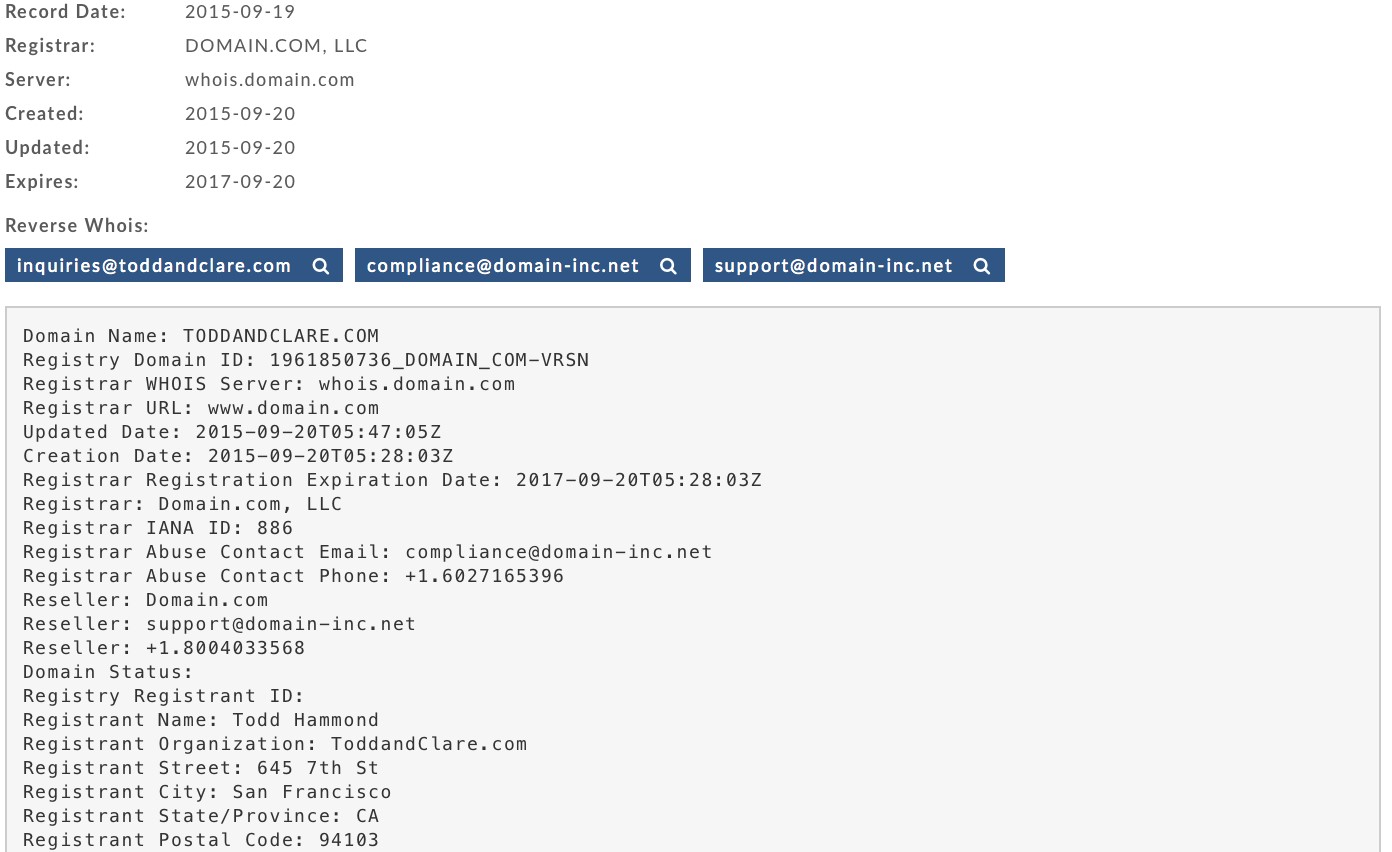 A connection between the address and Premise Data Corporation can be confirmed. For instance, domain records for riosupervia.com from 2016-02-14 to 2016-07-25 show the email address NIKI@PREMISE.COM, which is indeed associated with the Premise Data Corporation website.
Ownership of the property at the San Francisco address is registered to Mark C Raggo Trust while records for tenants of the property show the following information. (source)

This confirms that Premise Data Corp was listed at the address from 2013, and that the address has previously been used by Noise 13, also confirmed by domain records for noise13.com (the website has used the address 645 7th Street address from as far back as 2014-10-27 as the record shows).
Google Street view imagery, however, suggests that Premise Data Corporation has ceased to be linked to the address. For example, Google captured the sign saying "Premise" at 645 7th Street in November 2014. In a June 2016 Street View image, the front of the building appears to have been renovated and the sign is no longer visible.
Claim Two: Another Address Connects the Scam to Clinton Via Panama Papers
Another important address in this investigation is 10685-B Hazelhurst Drive in Houston, which has also appeared in domain records for toddandclare.com.
Ownership of the property at 10685-B Hazelhurst Drive is registered to ELBAR PROPERTIES LLC as tax docs and property records show.

The director of the company is RAUL ELORDUY who is also the head of the USA2ME mail forwarding company that lists the Houston address as its location.
Panama Papers Connection
According to another popular tweet, a street address associated with Toddandclare.com has links to a firm found in the Panama Papers. The claim, made by a pro-Trump account, was retweeted more than 800 times.

But the idea that a Panama Papers link strengthened the theory that toddandclare.com was part of a US plot to undermine Assange did not seem particularly convincing.
While there is a connection between a company listed in the Panama Papers and one of the addresses used to register the domain toddandclare.com, what the pro-Trump, pro-WikiLeaks activist does not mention is that this address is not only linked to a mail forwarding company, but that it doesn't quite match.
The Houston address, which is owned by a mail forwarding company appears in the Panama Papers only in reference to suite number #5830. For example, there is also reference to  someone named Santiago Jaramillo Crespo also being linked to this suite. The same suite, #5830, was also used as a registered address by Brian Alexander Konradi, a Texas-based lawyer whose name appears in the Panama papers.
However, toddandclare and associated websites are associated with a different suite number – 10685-B Hazelhurst Dr. Suite #8575, Houston, TX 77043. Suite #8575 was listed on domain records for the website yamiechess.com on 2012-06-03. The registration details also included the organization name as  "SCHIEL & DENVER PUBLISHING LTD". Both yamiechess.com and Schiel & Denver have a strong connection to toddandclare.com as will be explored below.
Websites and IP addresses linked to toddandclare.com
A number of websites have been found to be linked to toddandclare.com. These are
Yamiechess.com
Findingmeg.com
Trafficsail.com
Toddandclare.com
Eroticfetishclips.com
Schieldenver.com
Xxxnv.com
Rapescreening.com.
What the domains have in common are the use of IP addresses 209.133.202.131 and 209.133.202.133. Further details of the recent IP address changes of website part of this network can be found in this document.
Yamiechess and schieldenver.com can be grouped together because they both appear linked to toddandclare.com and provide further clues.
The first domain record for schieldenver.com from 2008-05-16 shows the registrar as "Simon Hornby".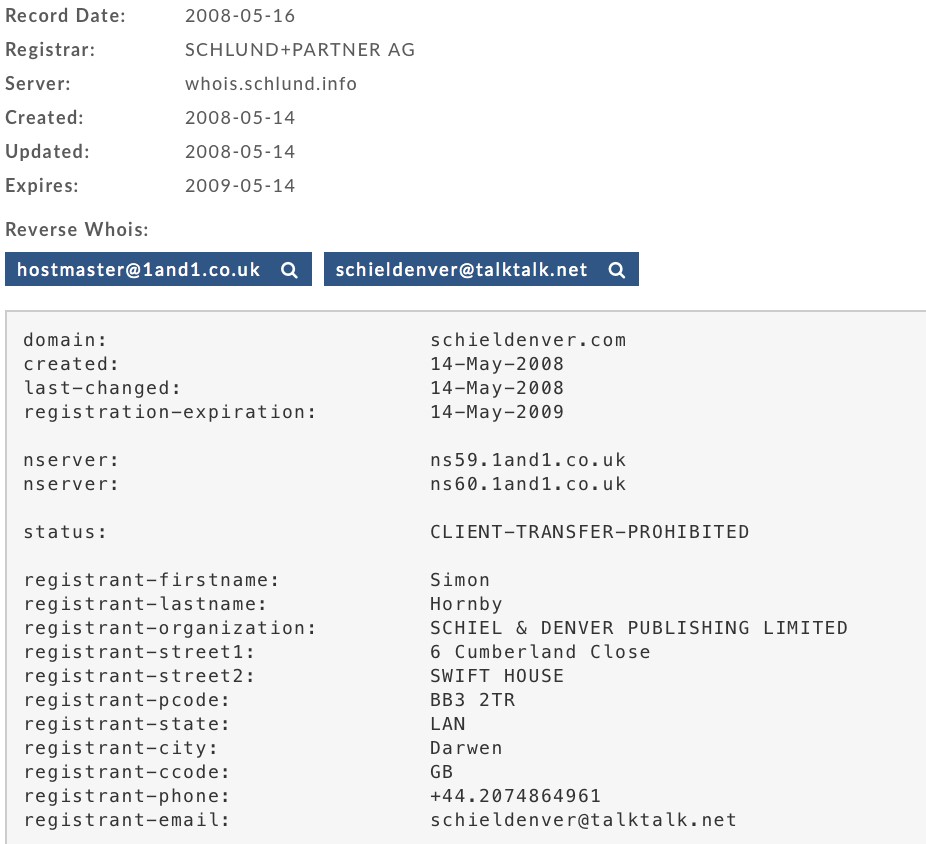 The address used for registration is linked to a company formation agent, and is therefore not associated with the actual owner of the domain.
The phone number 02074864961, however, has been used on the letterhead of "Tunde Reid-Kapo" in correspondence to the United Nations in 2009.
The name "Simon Hornby" has also been given in the contact information for Schiel & Denver in a July 2010 article on the website prnewswire.com.
Both of these points are important. Prnewswire also used by toddandclare.com to discuss the dating's site's disassociation with the UN and the claims against Assange earlier this month. Similarly, toddandclare.com had also contacted the United Nations, and a copy of the document they sent can be seen on unglobalcompact.org.
Yamiechess.com is also very similar to schieldenver.com. A copy of a Trademark/Service Mark Application for yamiechess from 2012 lists contact information for "Tunde Reid-Kapo" alongside the 10685-B Hazelhurst Dr. Houston address.
In a similar vein to the claims against Assange, yamiechess.com have also used another website, prweb.com to claim that they were donating $30,000 to US Military families and that they "received a supportive letter from First Lady Michelle Obama".
Toddadnclare.com also used prweb.com to make allegations against Julian Assange.
As an extra point, it is interesting to note that schieldenver.com has been registered through an anonymous registrar since 2009-12-02, where a Proxy company is listed instead of any contact information. It begs the question why someone who is aquainted with anonymous domain registration would use an address that formerly belonged to Premise Data, which is linked to Hillary Clinton to register a website in recent months.
Who is "Tunde Reid-Kapo"
Tunde Reid-Kapo appears linked to Margo Reid, who was listed as a director at Reid-Kapo's Yamie Chess in the UK.
It has been possible to find an address where Margo Reid was registered on the electoral Roll between 2012 and 2014. This address is at Flat G 95  Marylebone High Street West Central London, which matches an address used by Kapo in the company records for Yamie Chess in the UK.

Margo Reid is listed as being between 45 and 49 years of age on the electoral roll.
Birth records from the UK show Tunde was born "Akintunde Sahara Reid Kapo" in May 1984, with his birth reigtsered in Camden, London. His mother's maiden name is listed as "Reid" on his certificate.

The Australia Link
In February 2014, a disgruntled member of the public who had contact with Schiel & Denver wrote up their experience with the publishing company on ripoffreport.com.
The complainant alleges they paid Schiel & Denver to print copies of their book, and sent a cheque to the Hazelhurst Drive, Houston address. Schiel and Denver confirmed they received payment but told the author they needed more funds to cover Texas sales tax. Further issues are described including Schiel and Denver failing to honour their promises to stock copies of the book in various stores and paying royalties to the author for book sales.
The complainant writes that they started pursuing legal means against Schiel and Denver, eventually travelling to Houston to file a claim in Harris County, where Schiel and Denver were registered. They also visited the registered address of the company but discovered it was just a mail forwarding service. They author even checked with the office of the Secretary of State about the company only to be told that Schiel and Denver had never registered for a business license.
Eventually, the ripped-off author checked with their bank to see where their cheque was cashed. They say the "bank was able to trace the check to it being processed to USD Commonwealth Bank of Australia, Sydney A.C.N. 123 123 124 also there was a stamp on the back of the check stating "Deposit Only".
Surfers Paradise
One of the websites associated with toddandclare.com, eroticfetishclips.com also had Australian contact details in the registration information.
On 2015-07-26, the registrant information was changed to E F CLIPS and the address became U 2 9 Dandaloo Dr, Gold Coast, Queensland in Australia. The registrant email became support@pornxxx.com.au.
On 2015-11-01, the domain registration details for eroticfetishclips.com were changed to Emily Morris, Non-Verbal Communications, 3/126-128 Wolseley Rd, New South Wales. The registrant email became officeemily1989@gmail.com. This email address has also been seen  in the registration details for toddandclare.com in September this year.
The links between toddandclare.com and Australia do not end there, however. Company records for Schiel & Denver in Australia show contact details for Tunde Reid-Kapo. His date of birth is given as 19/04/1984 in London and his address is given as 104, 3 OAK Avenue, Surfers Paradise QLD, 4217.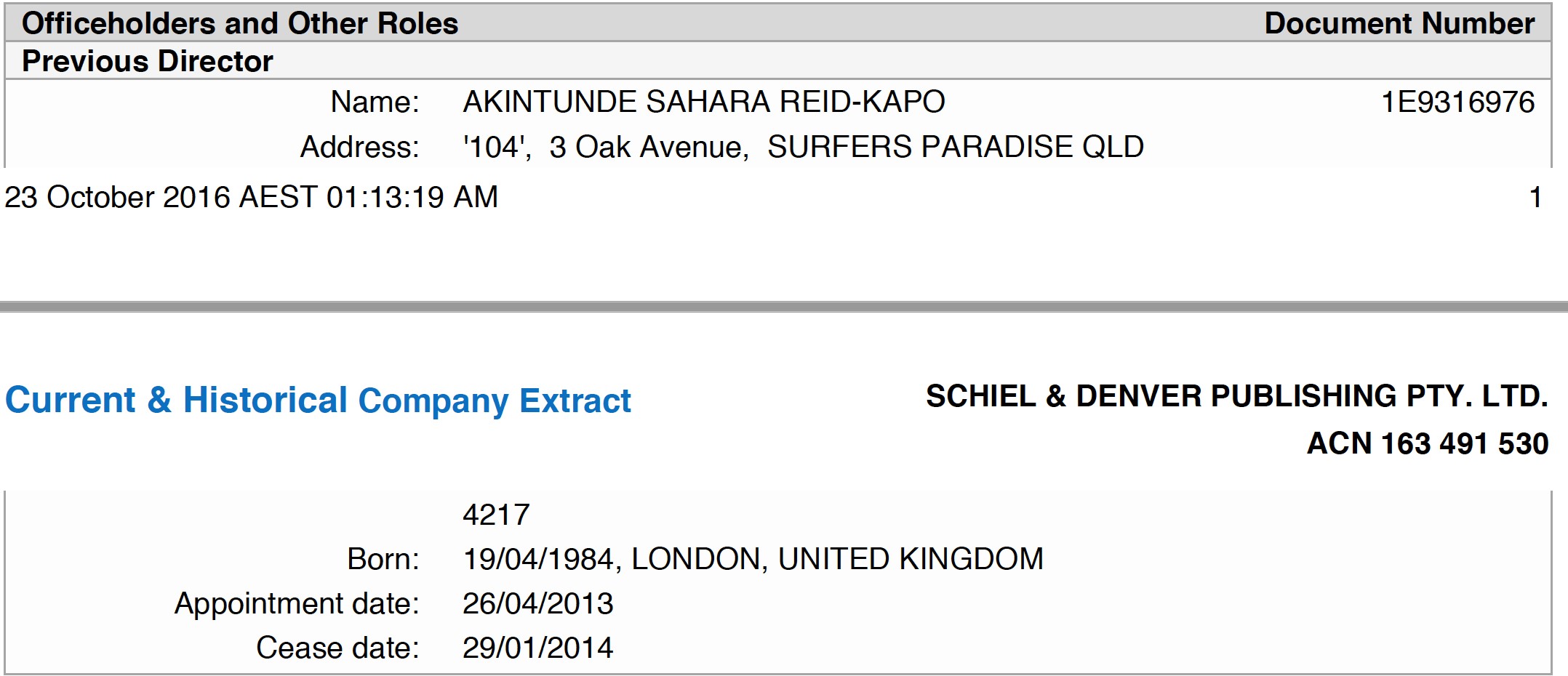 This location is particularly important. On the 30th of August this year, a user with an IP address linked to Australia argued against the deletion of the Wikipedia page for Todd and Clare.
Their defence of keeping an entry on Wikipedia for the obscure dating website was "The article is notable. The company is a bone fide UN Global Compact member, and the only online dating business which has ever been granted membership. Even out here in Australia, that means it has achieved a basic standard of notability. ~Kevin L".
The IP address for the anonymous Wikipedia user who added the comment was logged as 124.191.101.214.
This IP resolves to Queensland 4217; the same postcode as Tunde Reid Kapo's Surfers Paradise address. The Internet Service provider for this IP address is Telstra Internet, which is also significant. One of the threatening emails sent to WikiLeaks by toddandclare.com specifically referred to "Hannah Hammond" of using a "Telstra Computer in Australia".
"Our source has provided information that Julian's stay in Ecuador will not be permanent. Exit visas are imminent onto London streets. This dramatic turn of events is planned to have a "spectacular" conclusion. If Julian wishes to avoid ADX Florence, we suggest he considers, given the extent of restrictions in place in Knightsbridge, how else the Russian government could credibly contact Mr Assange, other than through Hannah Hammond who is based on her Telstra computer in Australia?".
Summary
Research into toddandclare.com by "Internet sleuths"  led WikiLeaks to suggest that the campaign against Assange was associated with a "mysterious intelligence contractor" connected to Hillary Clinton.
This is wrong because the company in question, Premise Data Corporation does not have a proven connection to toddandclare.com and related websites. Premise was formerly based at 645 7th Street in San Francisco, but had ceased using it by the time toddandclare.com and websites in their network started listing the address in their domain registration data. There is also no proof that toddandclare.com ever had a physical connection to that address.
Another popular claim in this saga has been that toddandclare.com are linked to the Panama Papers. However, the Houston address that does appear in the Panama Papers is associated with a mail forwarding company. The address that appears in the Panama Papers is specifically Suite  #5830 at 10685-B Hazelhurst Dr., not Suite #8575 –which is linked to toddandclare.com.
It has been possible to establish a network of websites linked to toddandclare.com using domain registration data and historical IP addresses used to host these websites. It then becomes possible to match this network of websites to a real individual linked to two of these domains, yamiechess.com and schieldenver.com.
This individual is Tunde Reid-Kapo, who was born in the UK and can be linked to a London address. Tunde Reid-Kapo appears to be associated with suspicious business activities. One report written by an unhappy client of Reid-Kapo's publishing company investigated Reid-Kapo after he failed to receive the services he paid for. His bank told him that a cheque he sent to Schiel & Denver was cashed in Australia.
Two of the sites in the toddandclare.com network are also linked to Australian addresses through domain registration data. Tunde Reid-Kapo also registered a company in Australia, and listed his personal address at Surfers Paradise in Queensland, with the postcode 4217.
This appears linked to an anonymous Wikipedia edit made in August this year on the page for toddandclare.com. The IP address of this user resolves to Queensland, postcode 4217. The IP is also tied to Telstra Internet, the ISP mentioned in a threatening email from toddandclare.com to WikiLeaks.
Despite the claims tweeted by WikiLeaks and published by RT, there is no link between the toddandclare.com campaign against WikiLeaks and Hillary Clinton or Premise Data Corporation. However, there is evidence that Tunde Reid-Kapo, who is linked to Australia and the UK, and has accused of running scams in the past could be involved.