Identifying Possible Crater from Gaza Hospital Blast
An explosion at the Al-Ahli Baptist Hospital in Gaza City on Tuesday killed hundreds of people, according to Gaza's health ministry.
Palestinian officials say an Israeli strike caused the blast, while Israeli military say it was caused by a failed rocket launch by militant group Islamic Jihad.
Bellingcat was able to identify what appears to be the impact crater, after analysing footage and images of the aftermath. We believe this crater to be an important piece of information about the attack, what follows is preliminary analysis of the crater.

One video, filmed in the aftermath of the blast and posted on Instagram on Wednesday, does show an impact crater. The apparent impact crater is located at these coordinates: 31.504890, 34.461640.
Other images from the parking lot of the hospital show widespread damage to vehicles in the parking lot, including one that was flipped over onto its roof. Another vehicle nearby shows signs of extensive damage, while others show evidence that they were engulfed in flames.
The ground surrounding one side of the crater shows a cone of scarring and pitting, consistent with the explosion of a munition at this site. Objects within this cone appear to have suffered extensive damage, including a fence which was largely destroyed by the explosion.
As noted by Marc Garlasco, a Military Advisor at PAX for Peace's Protection of Civilians team, the impact point does not appear to be consistent with the 500, 1000 or 2000-pound bombs used in Joint Direct Attack Munitions (JDAMs).
We created a panorama showing the impact crater, based on the video above which helps show the affected area.

A video posted on Twitter on Tuesday night showed a grassy area adjacent to the hospital covered with dead bodies. At least two dozen bodies are visible in this video. Bellingcat is not linking to the video due to its graphic nature.

We geolocated another video posted on Telegram early Wednesday, which was filmed in this same grassy area and shows the site in daylight. That grassy area is located at these coordinates: 31.50503, 34.46167.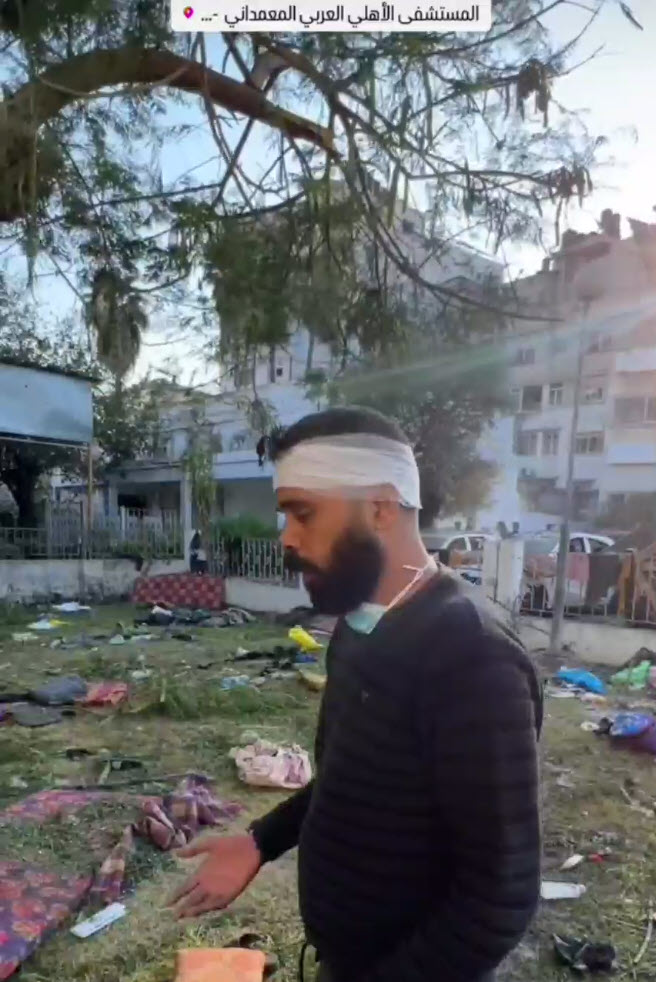 The video shows cots, blankets, and other personal belongings on the grassy area. Taken together, these two videos indicate that it was likely occupied by people who were resting or sleeping there at the time of the explosion.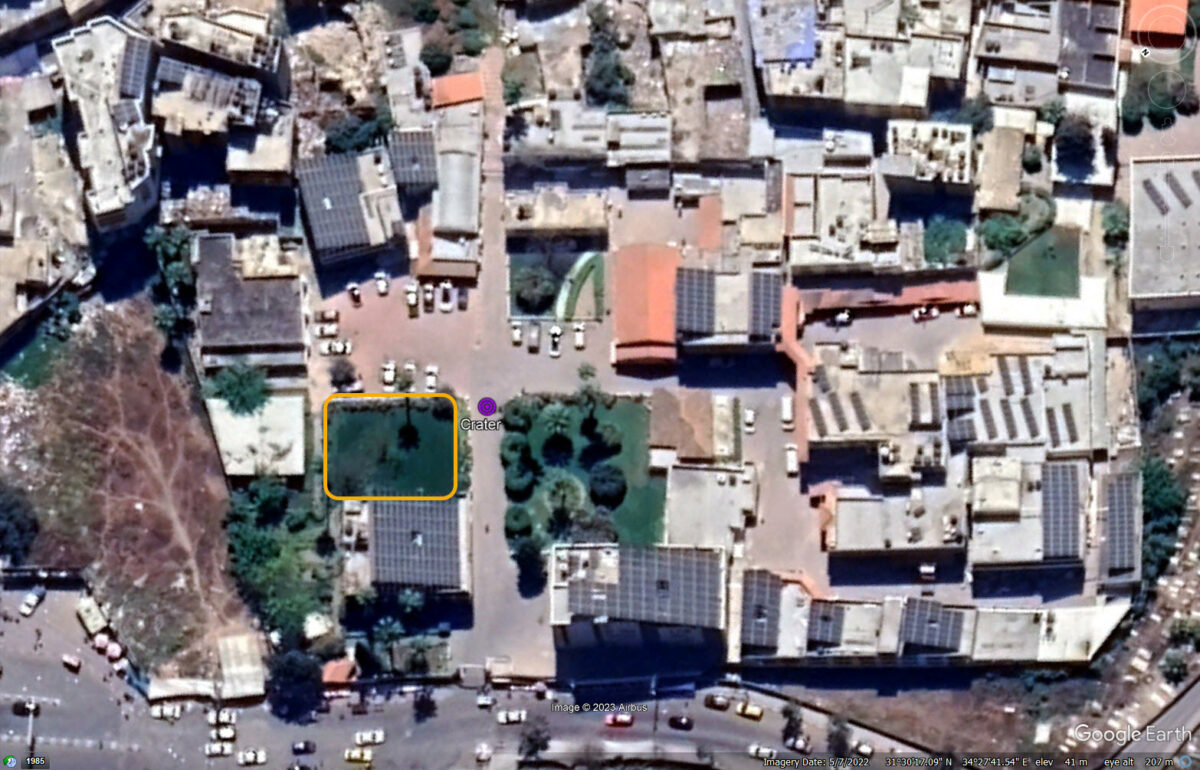 In a press conference Wednesday, Israel Defense Forces (IDF) spokesperson Daniel Hagari outlined their analysis of the blast and why they believe it came from inside Gaza. He also stated that "no craters can be identified" at the site.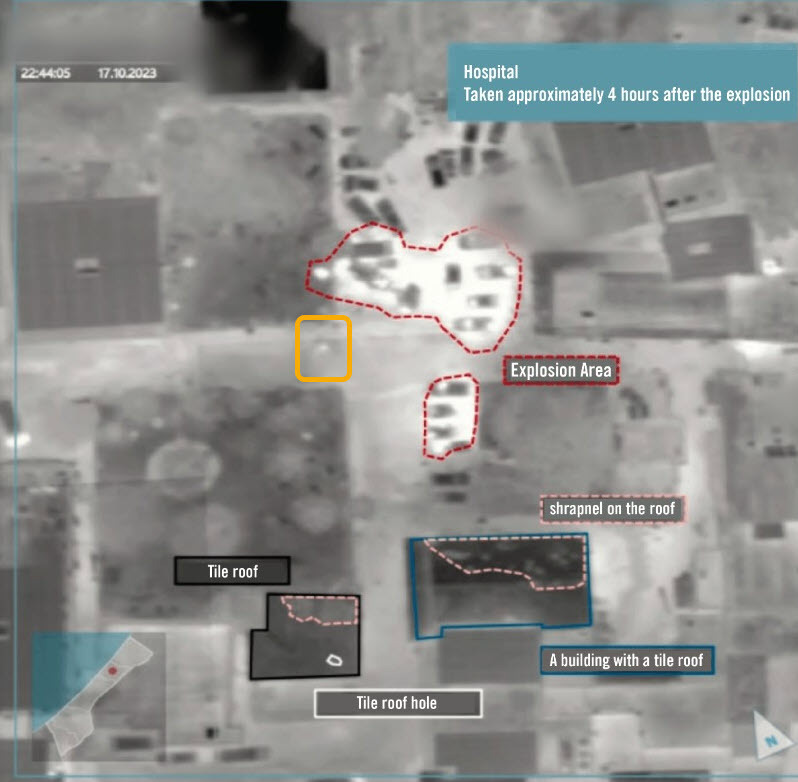 One of the images that Hagari held up during the press conference to support the claim that there were no craters at the site shows what appears to be a crater in a location corresponding with the Instagram video.
In a video posted October 19, the day after Hagari's press conference, IDF spokesperson Jonathan Conricus did note the small crater and said its size indicates the hospital blast was not caused by an Israeli munition. "Scroll through pictures of rockets that impacted in Sderot, Ashkelon, in Be'er-Sheva, you'll see very similar sites," he said. "A small crater, lots of soot and fire remarks and you can see that all of the buildings around are generally intact. If a big Israeli bomb had been dropped here, none of this would have been intact."
The World Health Organisation said the Al-Ahli Arab Baptist Hospital was operational and patients, health care workers and internally displaced people were sheltering there when the explosion occurred.

Bellingcat will continue to monitor the latest war in Israel-Palestine, with the aim of documenting civilian harm.
---
This story was updated on 19 October, 2023, to include an update from the Israel Defense Forces which was provided to Bellingcat after publication.
Bellingcat is a non-profit and the ability to carry out our work is dependent on the kind support of individual donors. If you would like to support our work, you can do so here. You can also subscribe to our Patreon channel here. Subscribe to our Newsletter and follow us on Twitter here and Mastodon