The Curious Case of CIPDH: Fantasy Passports, Misappropriated Identities and 'Human Rights Defenders'
Adam Bandt is a well-known face in Australian politics. He became the first member of the Australian Greens to be elected in a federal election to the country's House of Representatives in 2010 and was nominated leader of the party last year.
As such, Bandt is regularly pictured in newspapers and appears on news broadcasts in his home nation where he puts across the views of his political party and voters.
Yet Bandt's image also appears to have been used for other purposes in recent years without his knowledge.
Alongside two of his former Greens political colleagues, Bandt's profile has appeared on the website of a Paris-based human rights group named the Comité International Pour La Protection Des Droits de L'homme (CIPDH).
Yet here, Bandt was not described as the leader of the Australian Greens. Instead, he has been labelled as "Wacław Kozakiewicz," a CIPDH representative from Poland.
Bandt's colleagues and former senators, Scott Ludlam and Bob Brown, were pictured on the CIPDH website too. However, they were given the names Robert Comune and Zbishik Pakalov respectively. Both were described as vice-presidents of CIPDH.
When contacted for this article, Bandt confirmed that the picture used on the CIPDH site was of him and that he had not given permission for it to be used in this way. He also stated that he had never worked for or even heard of CIPDH. "This is up there for the weirdest thing that's happened in my time in public life, and you can't help but be uneasy about it," Bandt said.
Why CIPDH sought to use the identity of Bandt on its site under a different name or what it hoped to achieve by doing so is not entirely clear. 
What seems evidently apparent, however, is that there's far more to CIPDH than the way it seeks to present itself.
Research conducted over the last year has also found that CIPDH has:
Claimed and advertised that it was a partner of the United Nations and more than a dozen of its agencies when the UN says no relationship existed.

Reportedly used license plates suspiciously familiar to those used by the UN on vehicles without the agency's knowledge or permission.

Been mentioned in a

report

to the UN security council relating to money missing from Libya after the fall of Muhamar Gadafi, although CIPDH denies any involvement in such a scheme.

Seen at least two people affiliated with CIPDH

reportedly

be accused of being involved in criminal activity

Claimed to have held meetings with at least one head of state and other figures in political office.

Issued its own "diplomatic" passports which it provides to members. Some have been stopped at international borders for trying to use CIPDH passports which the European Commission has

described

as "fantasy" documents.
Bandt and his colleagues aren't the only people to have their image appropriated by CIPDH.
After first being contacted for this article, CIPDH removed 16 profiles from its team page. For comparison, versions of the page are archived here on 12 July, 2020, and here on 14 October, 2020.
Among those removed was that of vice-president and chief legal officer 'Anna Bozin' whose profile picture was actually that of singer-songwriter Lia Ices. CIPDH advisers "Stjepan Becic" and "Pawel Walicki," meanwhile, were in reality Bill Crader and David Howard of US-based financial firm TFA Capital Partners. Crader and Howard both confirmed that the photographs were of them and had been used without their permission.  
Furthermore, the image used for the supposed chief of statistics, "Etienne Guillot," was Assistant Professor Bevin T. Etienne at the University of Virginia. It is possible that other misused photographs have yet to be identified. 
When Bellingcat contacted CIPDH about this issue last year, it said that it had opened an investigation into how the images had come to be used and that they were uploaded to their site by "partners" without verification. When asked last month how that investigation was going, an emailed response from the general CIPDH info address signed off with the name of Vice-President Matias Meroving, said information on the individuals in the profiles had been forwarded on to police in Serbia, Montenegro and Poland, alongside the information of the person who was in contact with this group. 
Follow up questions on who that person was and whether there was any response from the police in those countries went unanswered.
The responses also did not explain how the profiles of people in key positions such as "chief legal officer" and "vice president" could have been erroneously included on the CIPDH website without anyone at the entity noticing.
Although Anna Bozin's profile was removed in October 2020 and is no longer visible on CIPDH.fr, a letter addressed to the government of Croatia from CIPDH was signed by one Anna Bozin and posted online just one month later.
Despite this, and a variety of other seemingly questionable events and activities, CIPDH appears to have had no issues expanding its operations or apparently arranging meetings with prominent political figures over the years.
In 2019, CIPDH set up an office in the US under the name IHRDC-CIPDH and claimed to have enlisted Harold Malmgren, a former aide to several US Presidents stretching back to John F. Kennedy, to work with the association.
Yet Foreign Policy reported recently that while Malmgren had fielded a call with IHRDC-CIPDH, he did not agree to work with them. In spite of that, a document signed by CIPDH head of personnel, Milan Kalostrovic, approving Malmgren to work for CIPDH for a period of five years soon appeared on the CIPDH website.
Kalostrovic is reportedly awaiting trial in Montenegro on charges of alleged extortion and assault of a businessman in the Balkan nation late last year. Media reports in Montenegro also stated that Kalostrovic had illegally entered Serbia and that he had been driving a vehicle with UNHCR license plates. He had a French diplomatic passport in his possession, the reports stated. But it is unclear if the passport referred to is an actual French diplomatic passport or a CIPDH passport.
CIPDH does appear to have requested that authorities in Serbia return Kalostrovic's CIPDH passport, as the below document shows. 
However, an emailed response to questions from the general CIPDH email address signed-off with Meroving's name, stated that the license plates were CIPDH plates and not those of the UNHCR, despite the plates bearing the number "UN787CD," as stated in the CIPDH letter. Meroving also added that the trip was not "accepted" by CIPDH and therefore the responsibility lay with Kalostrovic.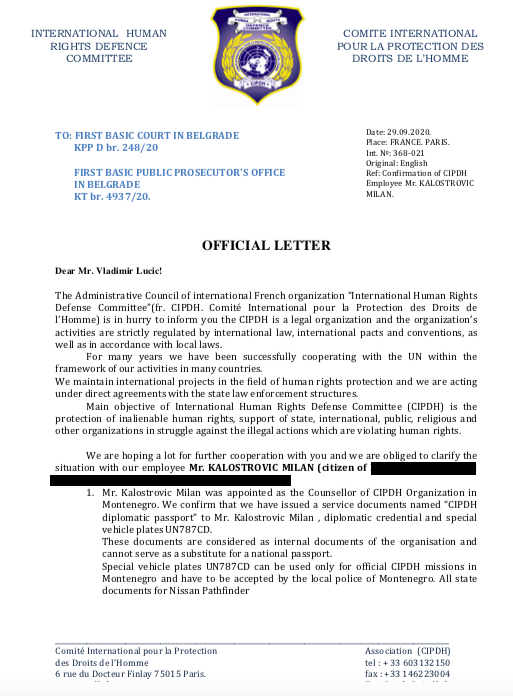 CIPDH's contact with high-ranking authorities did not end with pleas for its self described "diplomatic" documents to be returned.
The group also claims to have secured meetings with high profile government figures, as it did with the President Faustin-Archange Touadéra of the Central African Republic in 2018 and 2019 as well as the Chairman of Russia's Presidential Council on the Development of Civil Society and Human Rights in 2018. Exactly how it managed this given the activities of the group and its members is not entirely clear. 
But CIPDH representatives do put an effort into ensuring a highly professional appearance. Some wear the dapper blue and gold CIPDH uniform, an outfit that seems to be a cross between that of an airline pilot and a Navy commander. Meroving wore this at an event in India in 2020.
CIPDH's primary address, meanwhile, is in central Paris, not far from the Eiffel Tower. A huge compound in Accra, Ghana bears its logo. Google Street View shows an embassy-like building complete with flag poles and gates bearing CIPDH's logo. Other countries its website says it has a presence in include Russia, Kazakhstan, Slovakia and Azerbaijan.
Some CIPDH representatives have appeared to focus on issues that closely followed or aligned with Russian foreign policy, such as backing the annexation of Crimea.
But while Russian-backed NGOs are far from uncommon, including a number reported to have been based in Paris, experts Bellingcat spoke to saw differences in the activities of CIPDH and such groups.
Melissa Hooper, a researcher who has studied suspicious NGO activity, particularly around groups related to Russia, said it was alarming that a group purporting to stand for human rights had seemingly exaggerated links to the UN and appropriated the identities of several unsuspecting individuals. Such practices were beyond anything the Russian-government affiliated NGOs she was aware of, many of which had set up in and around Paris, had ever tried to do. Most of those organisations were tasked with influencing debate on political and social issues, she said.
Mark Galeotti, an expert on transnational crime said it didn't seem plausible that CIPDH was a legitimate human rights group given its activities. He added that he didn't think there was any real Russian political connection based on what he had seen but that the set-up bore similarities to fake and fraudulent NGOs that became common in post-Soviet Russia in the 1990s and were linked to organised crime. 
Bellingcat reached out to CIPDH last year while conducting research for this story and again last month. In an email, sent from the the general CIPDH info address but signed-off with Meroving's name, CIPDH denied suggestions that it was not a real human rights group, stating that Bellingcat should "find other experts" to comment on its stories if any had questioned the group's authenticity. It also said that reports CIPDH was involved in fraud or crime were the work of the "yellow press."
However, Oliver May, a former head of counter-fraud for the humanitarian organisation Oxfam, said the actions of CIPDH could, at the very least, erode trust in the humanitarian sector and make legitimate humanitarian work much more difficult.
Precisely what CIPDH hoped to achieve through its activities and the practices it employed remains unclear. But its actions certainly raise a variety of questions. Not least, why has it exaggerated a role with the UN and its agencies? Why has it used license plates that appear to ape those of the UN? And why has it created passports and asked those holding them to arrange for their use at international borders?
What follows is a detailed look at how CIPDH has operated, some of the people who have apparently been involved as well as the practices it has employed over its years of existence.
What is CIPDH?
CIPDH was registered as an association in Paris in August 2009.
Until recently, its webpage detailed Gerald Salvato, a French businessman, as its President. Listed beside Salvato (again, until recently) as one of the group's vice presidents was Iskander Ioussoupov, a representative of the Russian Republic of Tatarstan based in Paris (although he does not have diplomatic status or, he says, any connection with authorities beyond Tatarstan).
When reached by phone, Salvato said he was in a meeting in Congo and could not speak. He said his email didn't work because of where he was and asked to be called back at a later date when he would be in Paris. When Bellingcat called on the date specified, he did not answer.
Ioussoupov was more responsive to Bellingcat's queries. Although he initially acknowledged holding the title of Vice President at CIPDH in an email, he said that his role was only voluntary. Ioussoupov later stated in another email that he had ceased being a "legal" member of CIPDH last year, although he remained an expert on French and international law to Salvato. His profile appeared to have been taken down from the CIPDH website not long after this correspondence. Salvato's profile also appeared to have been removed shortly before publication.
As well as stating that CIPDH was an open membership association that could not be held responsible for the actions of private individuals who may have broken laws in other countries, Ioussoupov said in his responses that CIPDH did not have offices abroad that it finances. Nor did it have employees, he added.
Yet a list of addresses for CIPDH operations in a number of countries remains visible on the group's website as do references to CIPDH branches around the world. A letter posted to the IHRDC-CIPDH website late last year, meanwhile, described Milan Kalostrovic as a CIPDH "employee."
Ioussoupov said that he assumed all private individuals who were members of the association funded their activities themselves.
Funding for CIPDH in Paris was made by personal donations and the "financial and administrative" activities of CIPDH there were the responsibility of Salvato in his position as President according to French law, he added.
Meetings with the likes of President Faustin-Archange Touadéra of the Central African Republic were also likely down to Salvato's personal connections, Ioussoupov said.
He also reiterated that CIPDH had done nothing illegal under French law which governs associations like CIPDH and that he had never spoken to any of the CIPDH members who had been accused of wrongdoing in various countries around the world. Ioussoupov added that he also had no access to the CIPDH website and was not responsible for any irregularities found there.
Just how aware Ioussoupov, Salvato or any number of others at CIPDH were of its full activities and those of its members is not entirely apparent. Ioussopov repeatedly sought to make clear that he was not and had not been involved in its operational activities.
Yet it is clear from posts on its website and in various media and publications visible online that many others have been publicly discussing and promoting their work at CIPDH.
Over the years, CIPDH has struck up relationships with a number of figures who have an array of interesting and colorful backgrounds. These include Alexander Ionov, who campaigned for the release of the Russian spy, Maria Butina, who was arrested in the US in 2018 before returning to Russia. Butina was recently filmed confronting the imprisoned anti-corruption activist, Alexey Navalny. CIPDH presented a 'Medal of Honour' to Ionov, describing him as a "famous Russian human rights activist" in 2018.
Ionov did not respond to emailed request for comment from Bellingcat but recently told Foreign Policy that he was no longer part of CIPDH (although his profile remains on the site at time of publication). In a video posted to Facebook at the end of March he said he was not part of the CIPDH committee while also accusing foreign media of writing disparaging articles about Russians.
Another CIPDH member previously boasted of giving anti-terrorism training in Xinjiang, China, in 2015 — a strange activity for someone who would become a member of a supposed human rights group given the widespread condemnation of treatment of the Uighur population there.
Others, who the CIPDH website detailed as being involved in its operation, were harder to track down. That's because — like Wacław Kozakiewicz, the Polish alter-ego of Adam Bandt — their actual existence seems questionable.
One such figure was Robert Comune.
This identity used to establish CIPDH's social media presence on Twitter and Facebook.
It has also been used to write CIPDH's Wikipedia page, alongside Matias Meroving.
The Wikipedia article reads, in part: "Comité international pour la protection des droits de l'homme (CIPDH) – is a non-profit association protecting human rights by the organisation of independent community of lawyers of Europe. Established in 2006 and based in France. The Association is a member of United Nations Global Compact. In collaboration with FAO, IFAD, UNIDO, ILO, UNOPS, WIPO, UNRWA, ITC, AFDB, UNDP, UNESCO, UNFPA, UNHCR, WFP, Ministry of Foreign Affairs (France), it works in Russia, Poland, France, Lithuania, Spain, Montenegro, Croatia, Slovenia, Germany, Bulgaria, Ghana, KAZAKHSTAN, KOREA."
As detailed previously, the image of Robert Comune on the CIPDH website was actually that of Australian senator Scott Ludlam.
Whether Robert Comune exists is not something Bellingcat has been able to fully establish. However, his profile was removed from the CIPDH website shortly after CIPDH was made aware of Bellingcat's investigation and the fact that Robert Comune's picture was actually Scott Ludlum.
The name on CIPDH's Twitter account, meanwhile, was changed from Robert Comune to Gerard Salvato after Bellingcat first contacted CIPDH, as can be seen in the difference between this archived tweet in December 2018 and the same tweet re-archived in October 2020.
The UN Connection
CIPDH has also sought to portray itself as a close collaborator with the UN.
It has long stated as much on its website where it listed the UN organisations that it worked with. Posts also detail projects it hopes to establish within "the UN framework." Bellingcat contacted all of the agencies listed on the CIPDH website, including the International Labor Organization, the World Bank and UN Development Programme.
None were aware of ever collaborating with CIPDH.
Official looking documents detailed on the CIPDH website describe a UN registration number, seemingly as evidence of its connection to the UN.
However, that number appears to in fact be registration details for the UN Global Marketplace, something a spokesperson for the United Nations Office for Project Services (UNOPS) said that any company can apply for by filling out an online application form.
Separately, Stephane Dujarric De La Riviere, spokesperson for the UN Secretary General, told Bellingcat that there was "no record of CIPDH's having been engaged by the United Nations to work in collaboration with the UN on any of its activities, programmes or project[s]."
He added that the UN was also looking into addressing the "confusing similarity" of CIPDH's logo with that of the UN emblem.
After Bellingcat first contacted CIPDH for this story last year, references to its collaboration with UN agencies appeared to have been removed from the front page of its website.
However in responses to Bellingcat, CIPDH said that it did have a relationship with the UN, highlighting its participation in the UN Global Compact (another voluntary scheme that any company can commit to). It also said that it was in contact with specialised UN bodies depending on the projects it was working on. It added that Bellingcat could contact the UN to check this, which it subsequently did.
After Bellingcat informed CIPDH that the UN had said it had no relationship with the group, CIPDH responded last month by saying Bellingcat had "coped with this task very superficially. First of all you it [sic]  is better to know where to ask, and for second this relations between UN and CIPDH is our matter."
Ioussoupov sent undated documents he said showed a relationship with the UN and four UN agencies (UNOPS, UNIDO, FAO and IFAD). However, these appeared to be documents that allowed CIPDH to submit applications to supply those UN bodies through UNOPS, something again confirmed by a UNOPS spokesperson as open to any company through an online form. 
IFAD said the document provided by CIPDH did not prove any collaboration.
A spokesperson for UNIDO, meanwhile, reiterated it had no relationship with CIPDH and that it had asked CIPDH to remove any mention of UNIDO from its website. This was something "we might have to follow-up to enforce this request, eventually also through legal recourse," they added.
License Plates
On top of all this, CIPDH associates are reported to have made use of license plates bearing a striking similarity to those used by the UN, an issue previously highlighted by investigative journalists in Kazakhstan in 2018.
In another incident in September 2019, a CIPDH associate was reported to have been pulled over by Spanish police whilst driving a Range Rover Sport with UN-like license plates in the city of Valencia.
Valencia police searched the vehicle before seizing it, the reports stated. CIPDH published a blog post shortly after accusing Spain of disapproving of human rights defenders. Both the Kazakhstan and Spanish stories included images of the vehicles in question.
Images of the plates published by the Central Asian Bureau for Analytical Reporting do appear to show a CIPDH badge, which also bears a remarkable likeness to the UN logo, positioned between the letters and numbers of the license plate which read: "UN 010 CD."
When contacted for this article, the UN said that CIPDH had not received UN license plates.
The UN Information Office in Kazakhstan told Bellingcat that it was aware of these reports and that the issue had been reported to the Ministry of Foreign Affairs in the country.
In its initial response to emailed questions last year, CIPDH told Bellingcat that it always seeks permission to use CIPDH license plates in the countries it operates in and that the idea to use such plates came from its Africa branches. It stated that, in some countries, individual branches may have broken the rules regarding using these without permission. When that happened, it said that the people responsible could be warned or face expulsion.
Ioussoupov said that CIPDH produced its own plates with its own logo which it is entitled to do. When it does this, it does so with the permission of local law enforcement, he added.
A later emailed response to questions on this issue from the general CIPDH address but bearing the sign-off of M. Meroving, asked whether Bellingcat had actual proof from an official source that CIPDH had used UN license plates, something he said it had never done.
Although the license plates visible in reports from Kazakhstan and Spain do appear to show the CIPDH logo, this emblem is almost exactly the same as the UN's. The license plates also prominently display the letters "UN."
'Fantasy' Passports
CIPDH also routinely issues its associates with so-called CPDH 'passports'. The 'Diplomatic passport of Commité International pour la Protection des Droites de Hommes' is included in a 2017 European Commission list of known fantasy passports.
CIPDH does state on its website that these documents are not a substitute for real passports or identification. The claim that the documents are not intended to be passed off as official passports is undermined, however, by the fact that the words "official passport" are written across the top, as can be seen in the above image posted to Instagram by one-tome CIPDH associate Aleksander-Shapiro Suliman. While Shapiro-Suliman's profile is no longer included on the CIPDH website, making it unclear if he is still involved with the association, he has previously backed Russia's annexation of Crimea.
CIPDH also makes a number of references in its correspondence encouraging associates to coordinate with local officials to organise the use of CIPDH passports for border crossings.
Based on publicly available sources, there appear to have been a number of incidents relating to the use, or misuse, of these 'passports'. For example, in March 2020, CIPDH associate Milan Herstek appears to have tried to use his CIPDH passport to cross the Slovakian border, resulting in French police being contacted.
In September 2019, CIPDH associate Alakbarov Firdovsi (to whom the above letter was addressed) was reported to have been arrested in Baku, Azerbaijan, after allegedly posing as a 'general' (using his CIPDH military-style uniform) and defrauding multiple people by claiming he would sell them diplomatic passports and 'military' ranks.
CIPDH told Bellingcat last year that Firdovsi was making counter claims and in such cases it always wins. It added that such allegations can happen when its employees extend information about corruption in state bodies involving police officers and politicians. Firdovsi did not respond to a request for comment from Bellingcat made over Facebook Messenger but recently told Foreign Policy that he had been cleared of any wrongdoing. CIPDH told Bellingcat last month that he had been acquitted.
CIPDH also stated that its passports were used to identify its representatives during their missions and that they ensured their safety when operating in conflict zones.
The details of Firdovsi's arrest, however, appear to bear similarities to a scheme reportedly shut down in Moscow in 2013. According to Russian press reports, the "International Committee for Combating Organized Crime, Terrorism and Corruption" (ICOCRIM) was an organisation which fraudulently presented itself as having links to the UN and to international law enforcement. Before it was shut down, Russian press reports stated that it had defrauded at least $1.5 million from unwitting victims to whom it would sell badges, awards and medals.
At least two individuals connected to CIPDH appear to have also played a role in ICOCRIM. According to company registration data, the founders of OOO "ICOCRIM COMPANY" include Matias Meroving and Vladimir Berezovsky, who is listed as an 'expert on gerontology' on CIPDH's website.
Meroving also appears to have briefly tried to create a third international organisation. From 2015 to 2017, he registered the domain health-org.com, using his own name, a Montenegrin phone number and an email address for someone named Anna Bozin. Until recently, 'Anna Bozin' was listed as the head of CIPDH's legal department and her name appears on much of CIPDH's correspondence. But it seems at least possible that she could also be an invented identity.
Her profile was removed from the CIPDH website after Bellingcat contacted CIPDH for this story and her profile picture was that of US singer-songwriter Lia Ices. As mentioned previously, however, her name then appeared on a document from CIPDH directed to the government of Croatia in November 2020.
Archived versions of the health-org.com domain show that during the time it was registered it was posing as another French human rights agency, including listing its contact details on the site at the same address where CIPDH and IHRC-CIPDH are currently registered. 'L'Organisation Europeene de la Sante' (the 'European Health Organisation' in English) claimed to be an international NGO working with the UN and medical experts to promote health related causes around the world.
The site was built with WordPress, with one registered user account named 'r.comun', a strikingly similar name to Robert Comune.
Attempts to reach Meroving by phone were unsuccessful. When Bellingcat first reached out to CIPDH for comment via the general address on its website last year, an email acknowledging receipt of correspondence was signed off in the name of Matias Meroving.
A subsequent email detailing general CIPDH responses not attributed to any one individual at the association stated that Meroving and Berezovsky left ICOCRIM "many years ago and CIPDH do not have any proof of this accusations [sic]."
Follow up questions sent to the general CIPDH email address last month were answered in an email signed off by "M. Meroving." However, further questions about ICOCRIM and the other websites Meroving appears to have registered went unanswered.
It was not possible to find contact details for Berezovsky.
Panel of Experts Report
CIPDH's documented human rights activities appear small scale from the public information made available.
Images and press releases on its websites show representatives at schools where they are said to be promoting human rights. Others show what are described as observer missions or meetings attended by members.
Such events certainly do seem to have happened even if their impact was likely minor.
In its response to Bellingcat, CIPDH also highlighted a 2018 case it said it was involved that led to the removal of a judge in Kazakhstan who had made a mother of four homeless. This, it added, led to the members of the organisation facing provocations and pressure.
However, one alleged activity not included on the CIPDH website was detailed in a 2011 report by the Panel of Experts on Libya to the UN Security Council. The report was looking at the movement of billions of dollars of wealth and assets out of Libya following the fall of the Gaddafi regime.
The panel reported that a source had informed them that "physical assets" were stored in boxes stamped with the logo of the International Committee of the Red Cross, and held at CIPDH's premises in Accra, Ghana. The panel's source also provided photographs, showing boxes stamped with the ICRC's logo in a room next to a door with CIPDH's logo emblazoned across it.
According to the report, "…the  Panel  has  seen  a  report  on  the  matter  filed  with  the  Ghanaian  police  and  has  subsequently contacted Ghana to ask for clarification. The Panel's letter, and another reminder, have remained unanswered."
The panel's source said some of the assets were later moved to another country, although the report did not reveal any visual evidence of what was inside the boxes that it documented.
CIPDH denied any wrongdoing, claiming that the photograph is a "fake." It stated in it's response to Bellingcat last year that: "Since the publication of this information, not only the UN, its Security Council, but also not a single official structure, not a single country in the world has sent any requests and claims to the CIPDH.
"This confirms the complete absence of any documentary and physically confirmed data on this issue and their fictional and fake nature." It added: "CIPDH has never been accused by the government of Ghana for any illegal activities in the country."
There has certainly been some form of CIPDH presence in Ghana, as can be seen from posts on its website and local press reports that detailed CIPDH's involvement in an award ceremony that honoured the Asante ruler Otumfuo Osei Tutu II in 2019.
Some in CIPDH uniforms have even been pictured alongside people in the uniform of Ghana's police force.
Ioussoupov said the Panel of Experts' report was false and that no proof had ever been provided beyond a photograph.
He also refuted more general accusations of fraud or criminality on the part of CIPDH, stating that he was unaware of the cases highlighted by Bellingcat in Azerbaijan and Montenegro as well as another highlighted previously by Foreign Policy in South Korea.
Again, he stated that anyone was able to become a member of CIPDH if they wanted to share their expert, legal or international experience. According to French law, no member was responsible for the activities of another member of the association, he added.
When asked who approves CIPDH membership and provides paraphernalia such as uniforms, passports and documentation, Ioussoupov did not directly respond.
He stated that CIPDH can only "approve the desire of individual committee members to establish" a private representation in their individual countries that seeks to represent the "objectives and goals of the committee's statutory requirements."
None of these people work officially for the committee and it is not possible to control every member of the association, he stated.
Again, though, these comments did not tally entirely with other CIPDH responses and documents that detailed "branches" and "employees" of the group respectively.
Whatever the truth, CIPDH has been able to appropriate the identities of unwitting individuals, claimed a relationship with the UN when none exists, reportedly used license plates that aped those of the UN and has seen some of its members accused of serious crimes. That, at the very least, raises questions about what the group really is and how it has managed to operate without these indiscretions being highlighted for so long.
How it appears to have managed to secure meetings with heads of state and other public figures is another issue worthy of further inquiry, as is looking into whether any more of its members have been accused of criminal activity.
According to Mark Galeotti, the transnational crime specialist, the claims made by CIPDH on its website and in its documentation regarding its relationship with the UN can be difficult to disprove because of the "byzantine" and "opaque" nature of the UN.
"There are all kinds of different projects, many of which are scarcely known within the big blue bubble in New York, let alone anywhere else," he said.
"There is no one place where you can go and simply check out a list of all the UN affiliated organisations," he said. If there was an easily accessible list, the likes of CIPDH would find it harder to make the claims it has made, Galeotti explained.
As if to prove this point, a graphic on the CIPDH homepage at time of publishing still read "nous sommes partenaires Nations Unites" – we are partners of the United Nations.
For the likes of Adam Bandt, the leader of the Australian Greens, whose image was used to depict "Wacław Kozakiewicz," the imposition is more personal.
"You can't help but be uneasy about it," he said of his image being used. "Seeing a shadowy organisation misappropriate my identity makes me deeply uncomfortable."
While his image may be gone from the site, many questions remain about the activities and true motives of CIPDH.
Contributor's note: Eoghan Macguire contributed additional reporting for this story