VKontakte vs. Facebook: From Open White Supremacy To Stealth
In March of 2019, Facebook banned white nationalist and white separatist statements from its platform. White supremacism had been forbidden for some time, but last year's Christchurch massacre seems to have convinced the social network that a more aggresively anti-racist approach was necessary. This ban is not comprehensive, and there are numerous holes in enforcement. This article is about one such hole: the vibrant community of American racists who "hide their power level" just enough to avoid being banned, while subtly pushing their views on friends and family.
These white supremacists are not particularly coy about their tactics. They plot out in the open, on VKontakte (commonly abbreviated as VK), a Facebook-like popular Russian social medial platform that has much looser moderation. Here's Kevin Beair, Exalted Cyclops for the Keystone States chapter of the Ku Klux Klan, explaining how "public outreach" for the racist cause can be done on Facebook:
"…get on facebook and post links on small tv stations to soft-right stuff to pull people in our direction…the cool thing about facebook is you can reach people nationwide… nothing stops you from posting on a small town local tv stations facebook page 3,000 miles away… i think i'm the only one who does this… just don't get carried away and let yourself get banned by calling blacks monkeys like ive done several times."

We have been unable to locate Kevin's current Facebook profile. But his VK activity gives hints as to his life on Facebook. Kevin suggests posting content from several "soft-right" sources in order to push white Facebook users in more extreme directions. One such source is Colin Flaherty, a writer with WorldNetDaily who helped popularize the "Knockout Game", a myth that groups of teens — generally understood to be black teens — were randomly assaulting American adults. 
Flaherty's goal seems to be popularizing stories of black people assaulting white people. His book, White Girl Bleed A Lot, makes the case that black mob violence is a massive and growing threat to American white people. It contains numerous basic factual errors, but the book's Facebook page is at least modestly popular:

On January 20, 2020, Beair wrote on his VK account that he was banned from posting on the Virginia Citizen Defense League Facebook page (The VCDL is the group that organized the gun rights rally in Richmond, Virginia on that same day). Beair shared the BitChute video he published, called, "New Confederate." He asserted that the Second Amendment rights battle in Virginia was racially and ethnically motivated and directly cited George Lincoln Rockwell (GLR) the original founder of the American Nazi Party.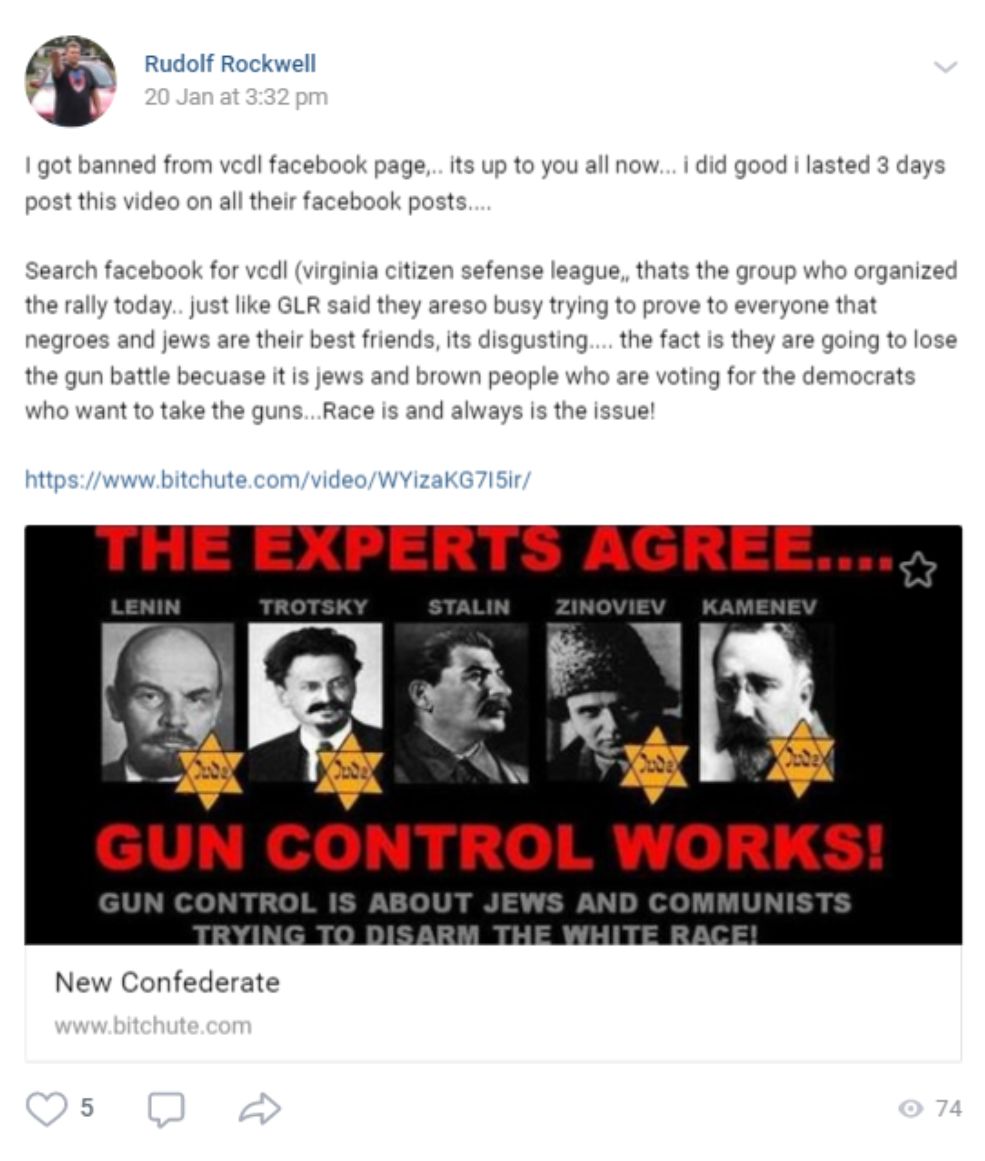 The following day, Beair guided his VK followers, instructing them what to post in the Virginia Citizen Defense  League Facebook group. His content again focuses on pushing the idea that a "black on white" crime wave is sweeping the nation. 
This claim is wildly innaccurate: 82% of white American murder victims are murdered by other white Americans. But the idea that black-on-white violence is an epidemic is enormously powerful to racists. It was this belief that inspired Dylann Roof to murder nine black people at a Charleston church. 
We know that Kevin Beair considers this myth to be well-worth spreading in his efforts to "red-pill" people on Facebook. Unfortunately for us, Kevin's actual Facebook account remains hidden for the time being. But many of his colleagues have been less careful and, by monitoring their activity on both VK and Facebook, we can put together a catalogue of their attempts to mainstream racial extremism on the world's largest social network. 
Daniel Burnside: White & Proud On Facebook, Vicious Nazi On VK
Daniel Burnside has several dozen Facebook friends and does not outwardly advertise his Nazi ideology; however, his byline reads, "white and proud." As is shown below, Burnside "likes" a handful of "White Lives Matter" pages. Burnside's activity has been documented by the media and he is a known personality and active member of the National Socialist party. He hosts monthly meetings at his Ulysses Pennsylvania home for the NSM 2 chapter.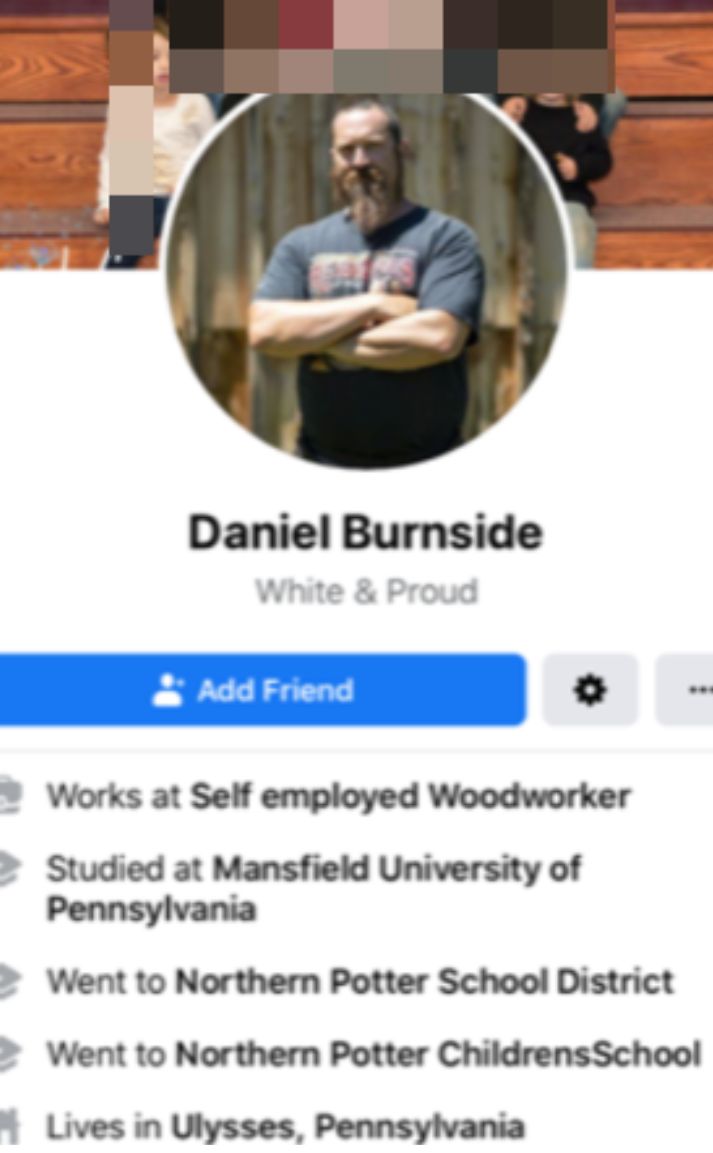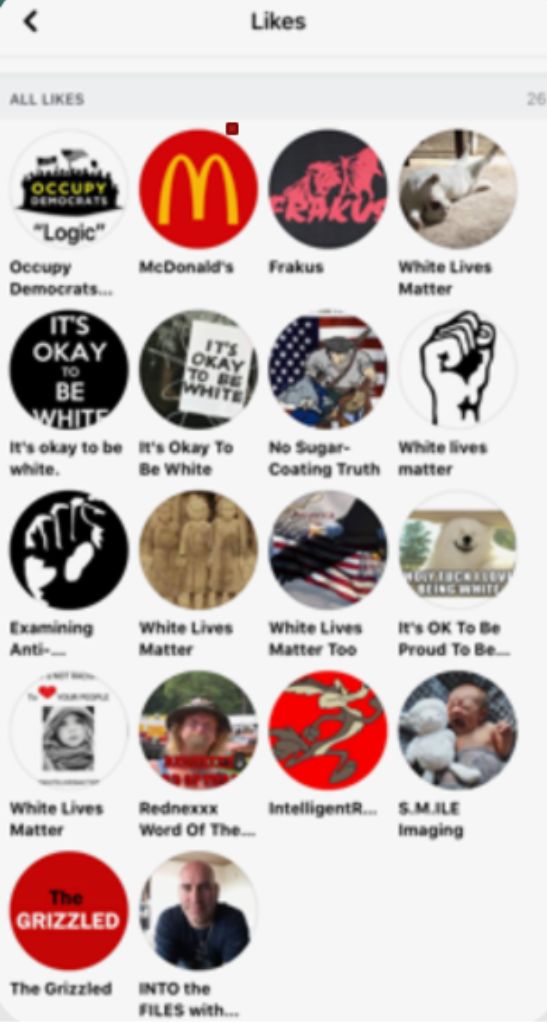 The above images feature a mix of likes for non-political pages, including McDonalds and The Grizzled (a car-focused clickbait site), along with numerous "White Lives Matter" pages. Because Burnside declares himself "White & Proud," we know he is a white supremacist, but his content on Facebook evidently stays just shy of crossing the line that will get him banned. 
Indeed, extremists have found numerous ways to get around Facebook bans. As documented by Buzzfeed, when the Proud Boys were banned from the social network following a series of assaults in 2018, they were able to return to the service by using names like "PB Canada" instead of "Proud Boys Canada". Only very slight amounts of obfuscation are necessary to fool Facebook's censors. 
Daniel's wife Sabrina, for example, has a Facebook account that has so far avoided a ban. It is filled with photos of the couple's nine children, and her byline reads, "Married, White, Straight Momma of 9 Beautiful babies. I live the 14 words to the fullest every day". 14 words is a reference to the popular white supremacist slogan: "We must secure the existence of our people and a future for white children". It should be noted that, as of this writing, Sabrina's VK profile is unavailable and a message reads that her account was removed due to violating VK's policies.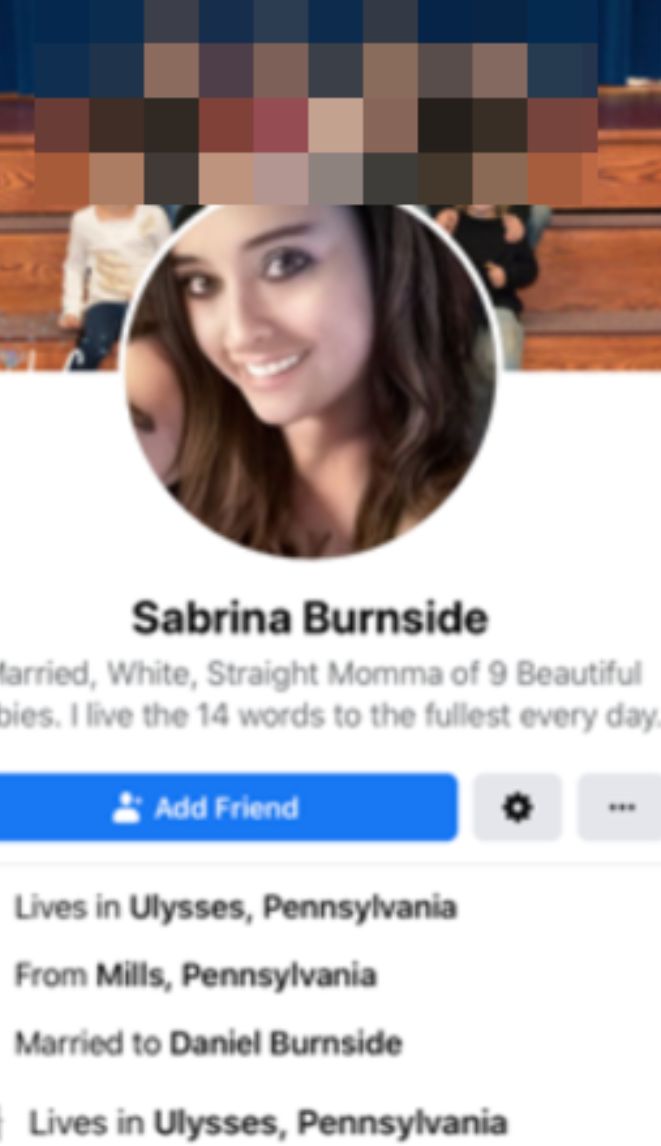 In a May 26, 2019 Facebook post, Sabrina shared a welcome sign which her woodworker husband made for the Ulysses Area Improvement committee. A casual bystander might assume that the Burnsides are a typical suburban family who make positive contributions to their local community without realizing that this family of active Neo-Nazis advocate for racial extermination, no matter how coy they are about their agenda.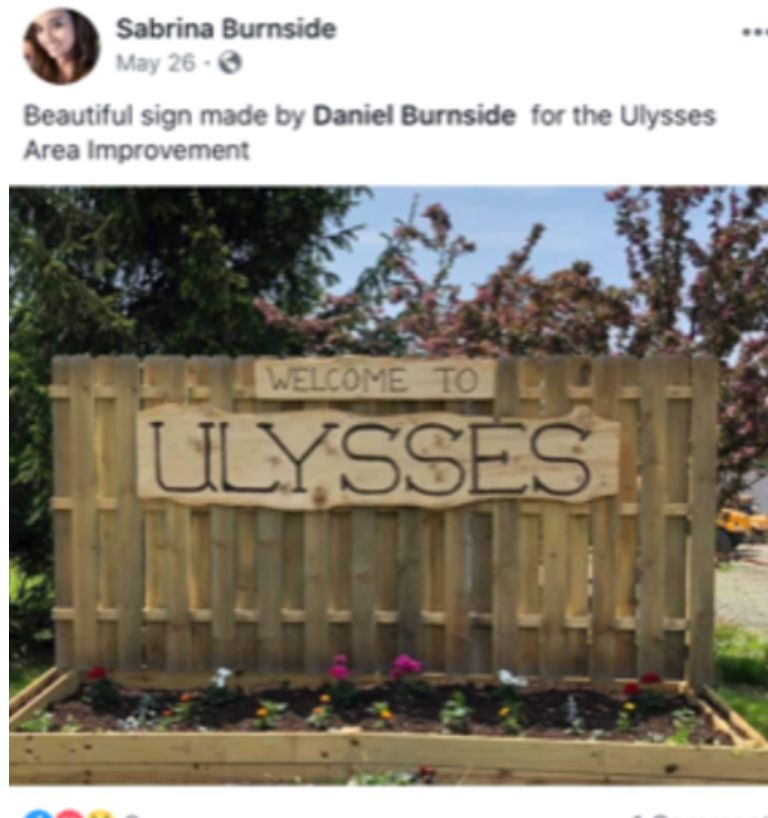 On Facebook, Daniel regularly posts content that would be acceptable to mainstream conservatives, including this picture below. The banner on it reads, "I support the border wall."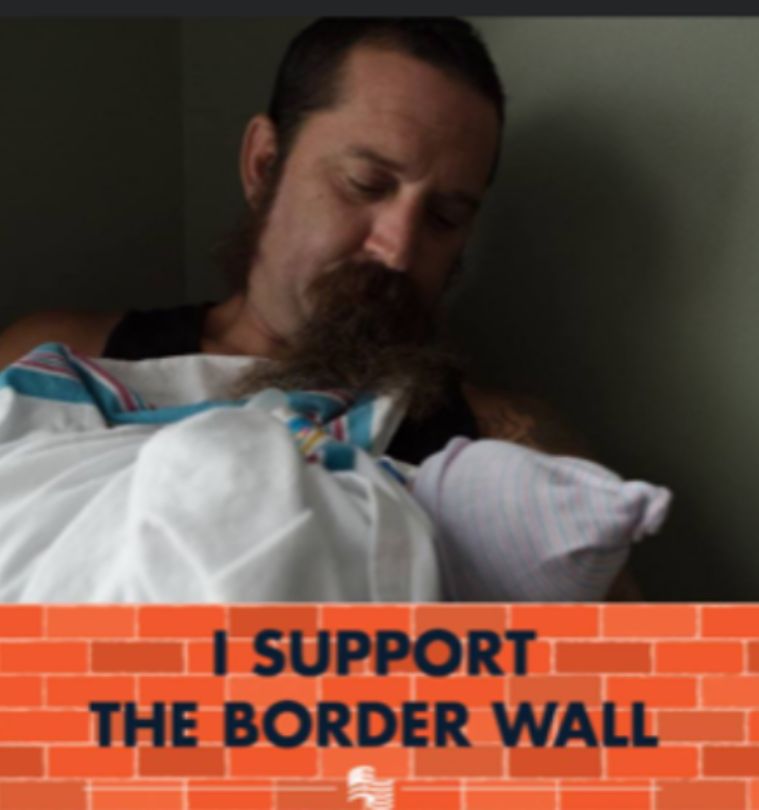 A sizeable majority of mainstream Republicans support substantial barriers on the southern border of the U.S. However, Daniel's VK posts make it clear that he supports the wall for reasons of white separatism, to ensure white children grow up in a "safe White nation."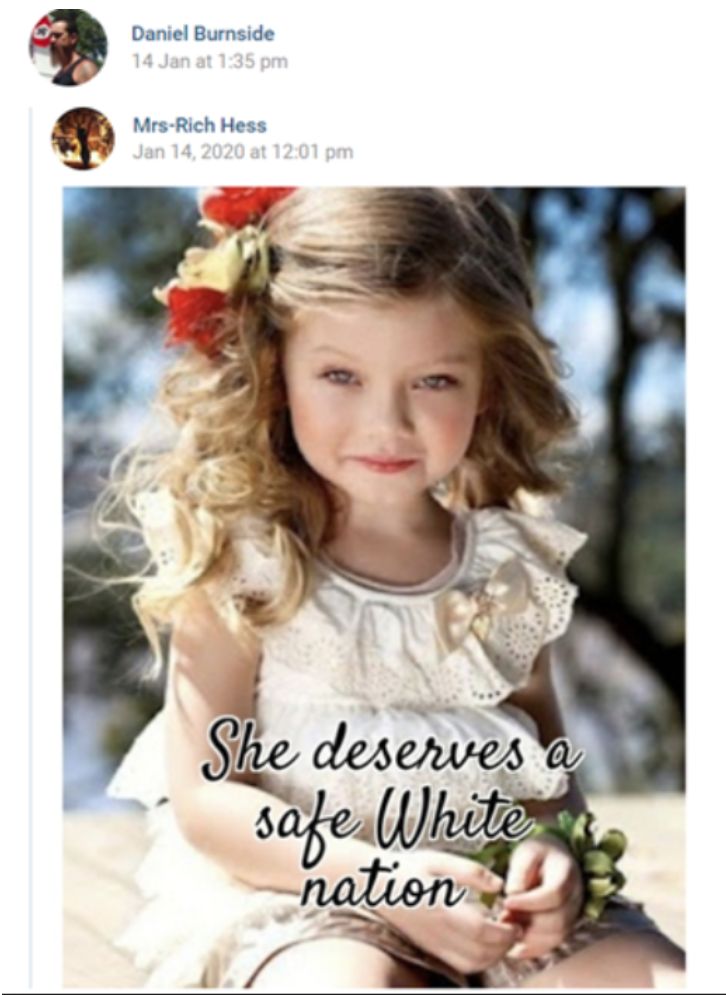 Daniel's Facebook lists his job as "self employed woodcutter", but his VK profile states that he is employed by the National Socialist Movement. His profile picture features him standing in front of a Nazi flag hanging from his house. His byline reads, "NSM Region 2 Director and Radio host of NSM 101."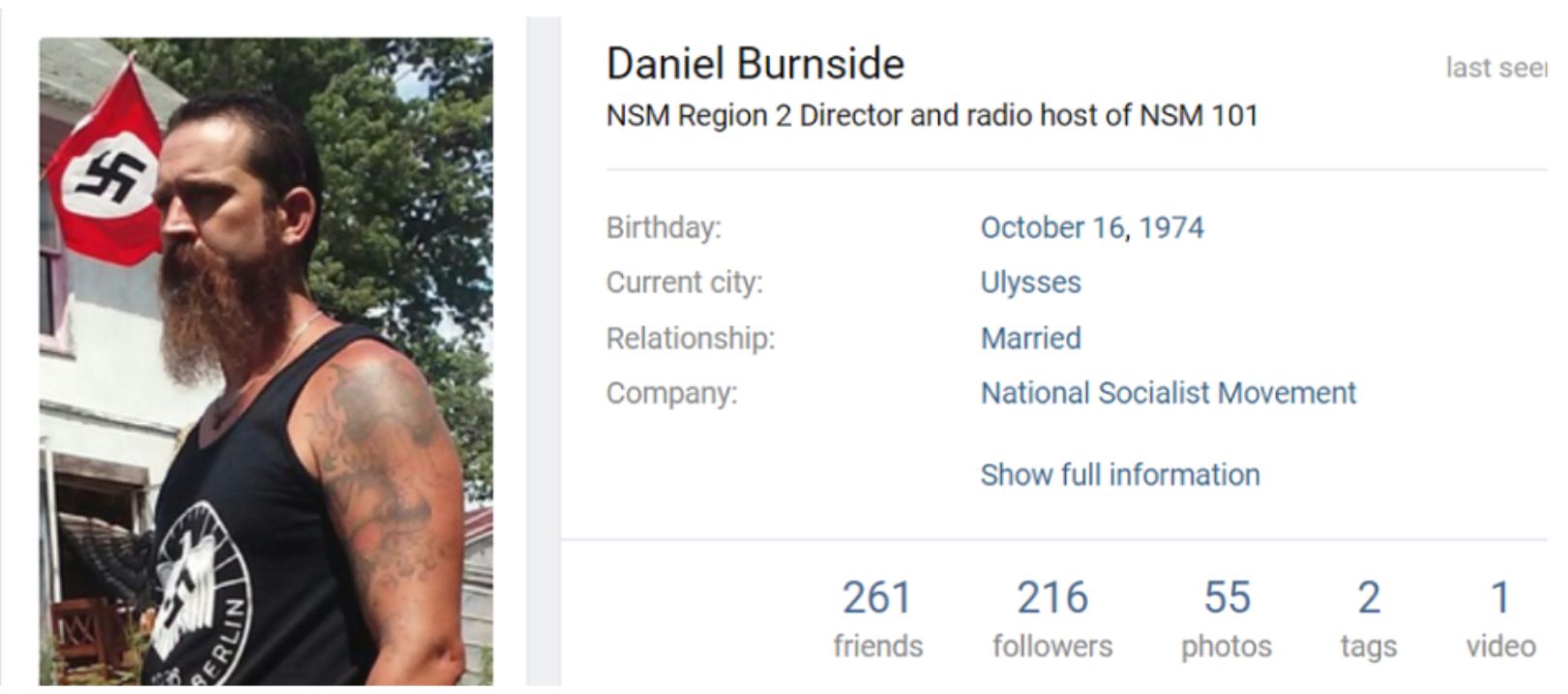 On Facebook, the Burnsides post wholesome family photos of their children which appear to be professionally taken. On VK, their profiles contain images of their children posing with Nazi regalia.
When we add it all up, we see that Daniel Burnside presents his family as wholesome, normal middle-class Americans on Facebook. They show themselves as being active members of their community, who participate in youth sports and volunteer. They express white pride on Facebook but not explicit racism. This may simply be done to avoid running afoul of Facebook's restrictions. 
It is also possible that family members have taken a page out of Kevin Beair's book, and their strategy is more subtle; this may be part of a long game to convince their neighbors that someone can be "white and proud" but not a racist. As long as the swastika-drenched reality stays off Facebook, they have a good chance to do just that.
Christopher Gonynor: "Third Positionist" On Facebook, Nazi On VK
On Facebook, Christopher Gonynor doesn't post many items relating to his ideological beliefs, although he labels himself as a Catholic Third Positionist on his byline. The Third Position  is a neo-fascist political ideology that tends to favor reactionary right-wing cultural views and radical left-wing economic views. Gonynor has posts about his lifer, photos of food, and memes.
His views are softened on the platform, whereas on VK, he states that he belongs to the American Fascist Party and that he is a former Patriot Front member. The Patriot Front is an American white supremacist, neo-Nazi, and neo-fascist group.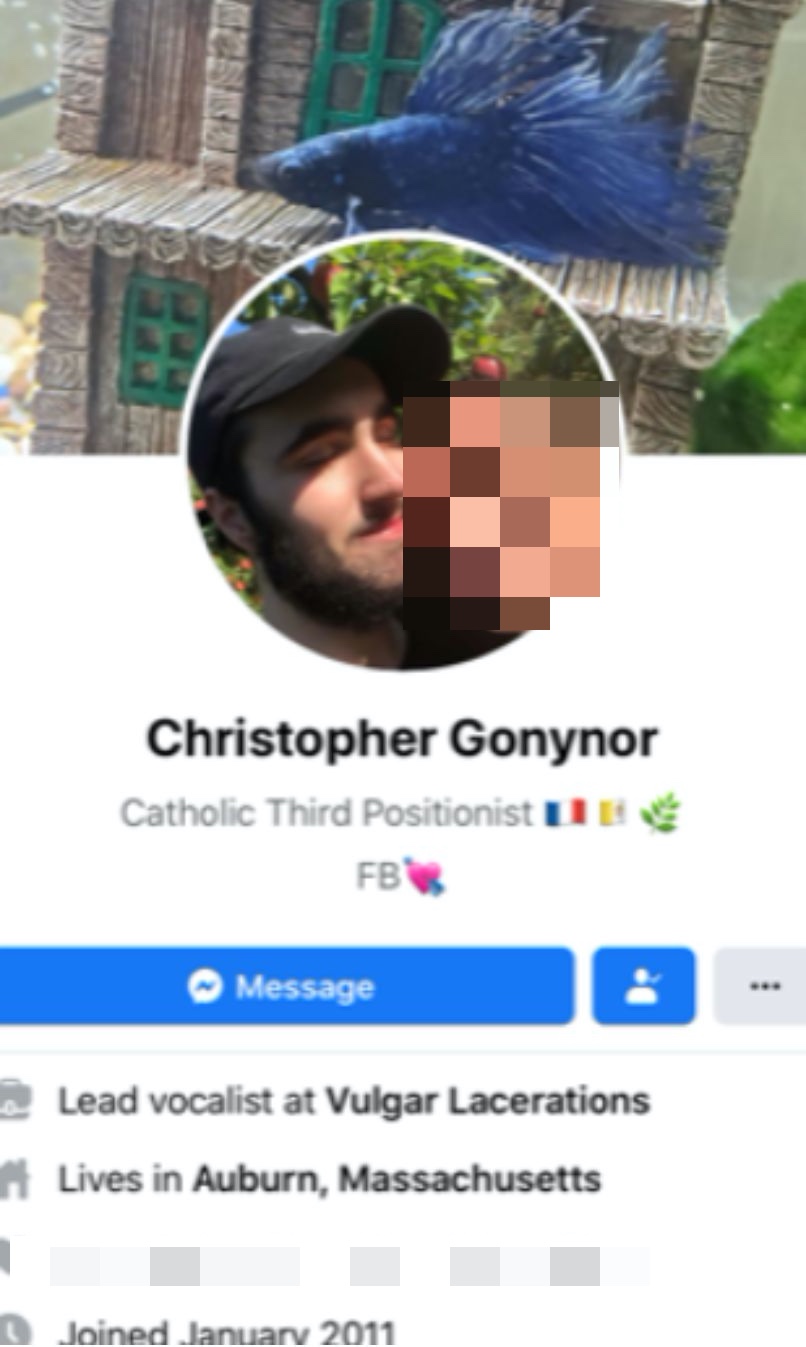 Gonynor's VK profile picture shows him signaling the OK sign, which has been co-opted by white supremacists as a hate symbol.

Gonynor's VK profile also includes numerous Swastika and SS runes, the phrase "Blut und ehre" (Blood and Honor, a Hitler Youth slogan), and the acronym FGRN, a KKK slogan meaning "For God, Race and Nation."
On December 22, 2019, he posted a graphic of Hitler, writing, "Long live the third reich my white brothers and sisters!"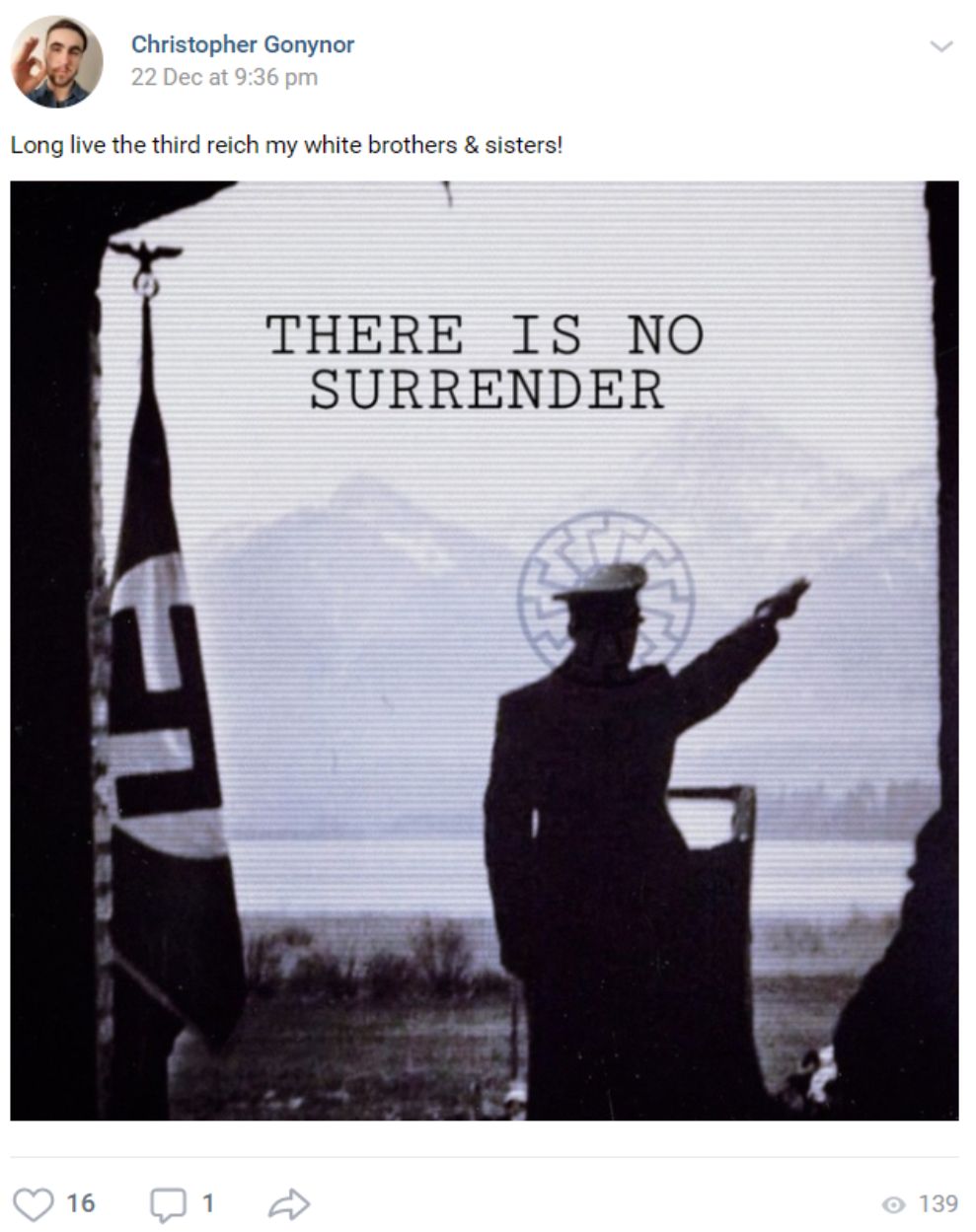 On December 4, 2019, Gonynor posted a graphic image of an African American who was lynched for voting, and added, "Reject Modernity, embrace tradition 14/88". The number 14 refers to the white supremacist slogan as explained above, while 88 refers to heil Hitler, since the letter "h" is the 8th letter of the alphabet.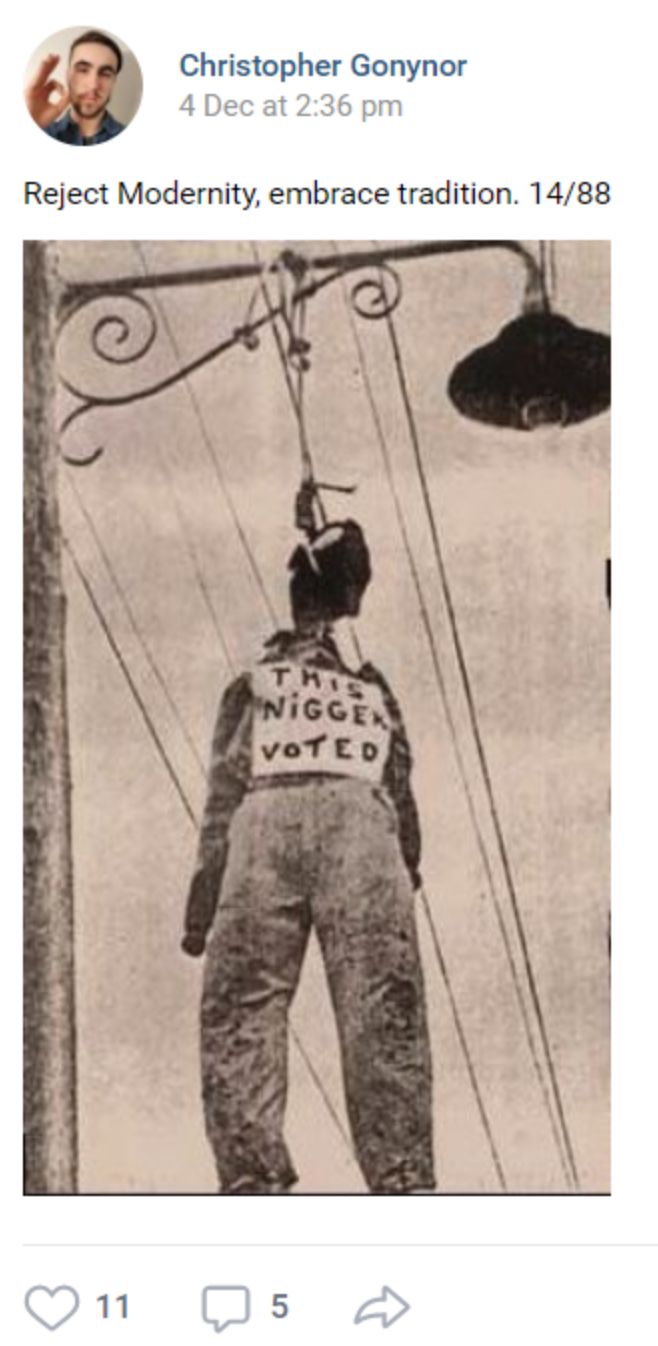 Gonynor's Facebook profile gives almost no hint of these beliefs, and it is entirely possible that they are hidden from many of his friends and family. He had a "hentaigrind" band, Vulgar Lacerations, that does not seem to have been Nazi-inspired. Like David, Chris peppers his feed with relatively mainstream conservative memes: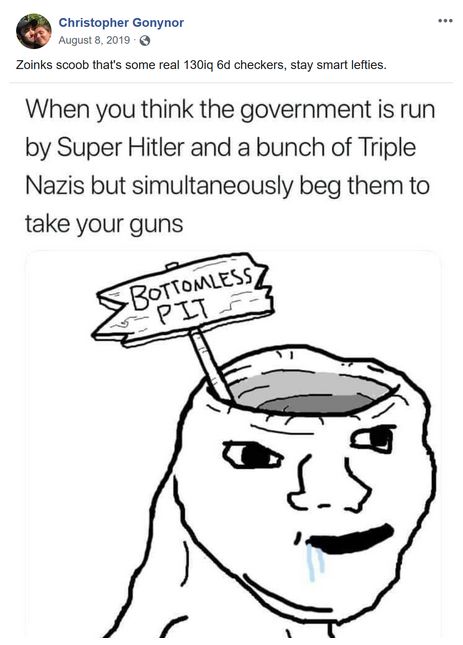 On Facebook, Gonynor does directly reference the Third Reich, but carefully. At one point, his cover photo was one of Adolph Hitler's old paintings, and he seems to enjoy posting illustrations of Wehrmacht tanks. With Christopher's page we again see exterminationist racism covered up just enough to hide in plain sight. 
Alicia Ciamaricone: Etsy Vendor And Animal Lover On Facebook, Hitler Fangirl On VK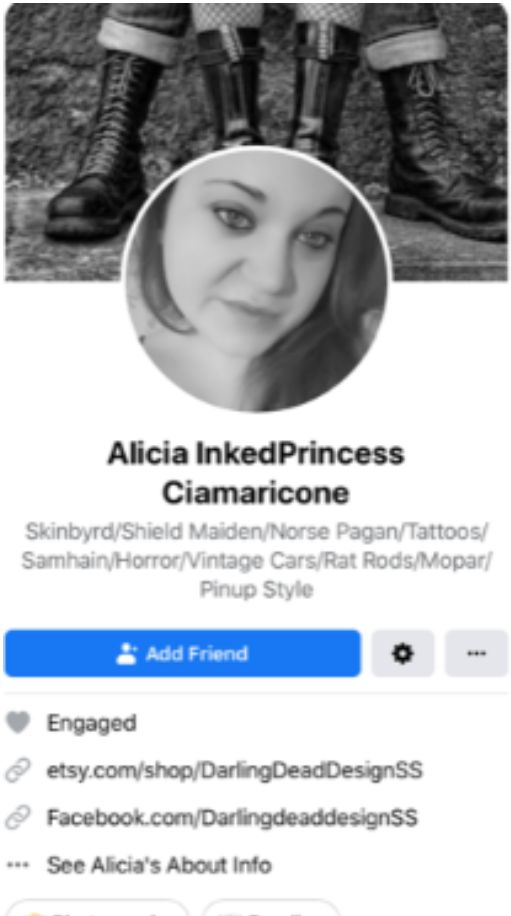 Alicia Ciamaricone goes by the name "Alicia InkedPrincess Ciamaricone" on Facebook. Her account contains innocuous content where she shows off her tattoos and her Etsy wares, as well as raises funds for animal causes.
For example, on November 28, 2019, Ciamaricone was promoting a fundraising event for a senior dog sanctuary.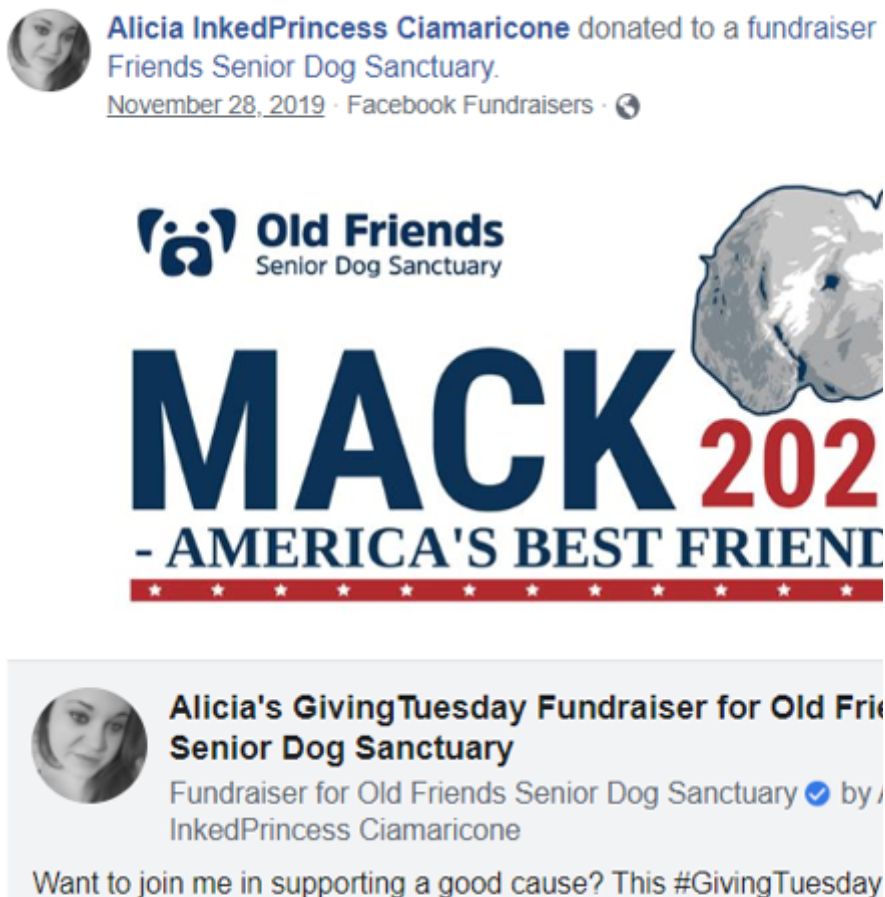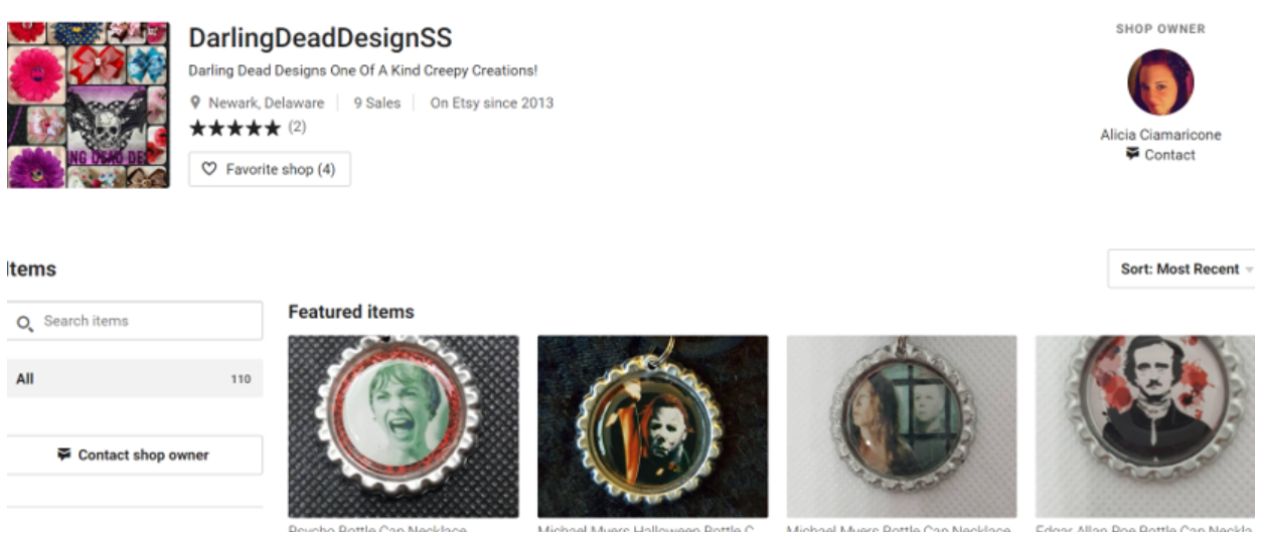 Unlike the other subjects of this article, Ciamaricone provides very few even vague signs of her true beliefs on Facebook. She seems to be a perfectly normal woman with goth-y aesthetic preferences and a small Etsy side business. But on VK, Ciamaricone freely expresses her affinity for National Socialism.
On May 7, 2019, she posted an image in the likeness of Adolf Hitler which reads, "he was right."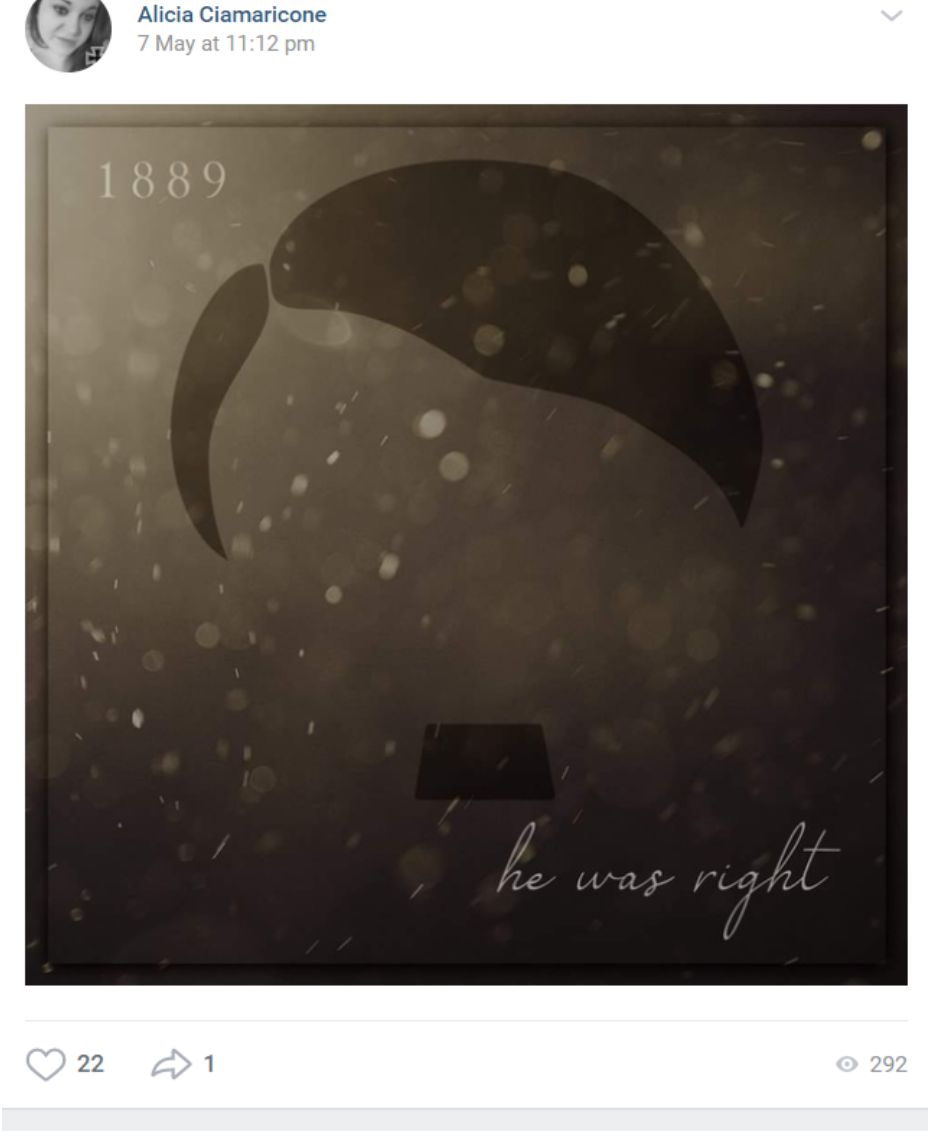 On January 5, 2019, Ciamaricone posted a graphic promoting the fourteen words: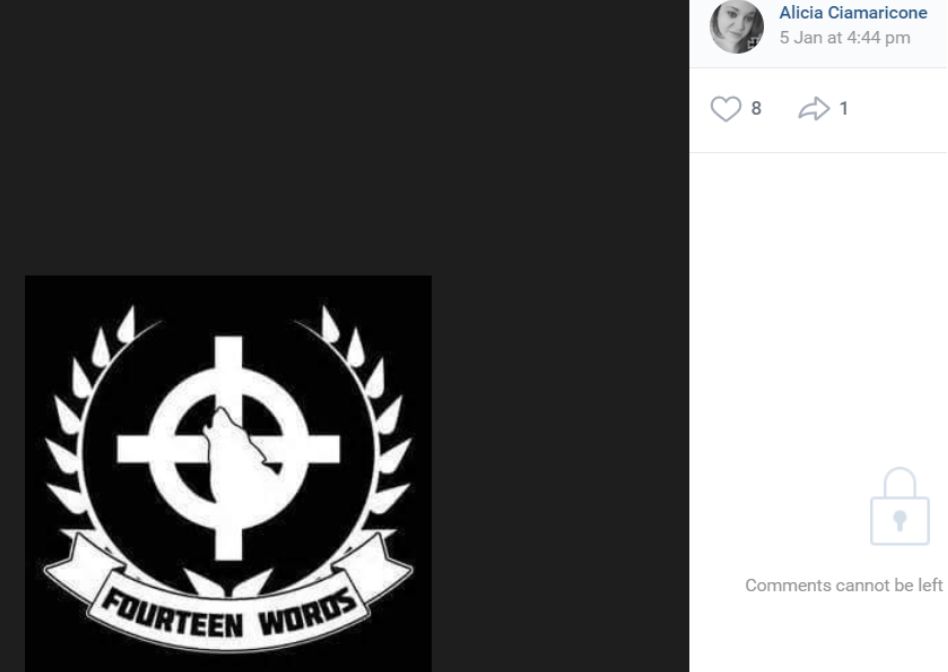 While neo-Nazis like Kevin Beair are quite overt about their desire to convert people using Facebook, there is no evidence that Ciamaricone and the other racists in this article are part of an organized effort to mainstream white supremacy. What we have documented in this article is more than likely a decentralized, acephalous effort to normalize racial hatred and extremist ideology. 
The fact that there is no single organization behind it does not make this effort less dangerous. In fact, it makes it harder to combat. Algorithms can be trained to search for phrases like "14 words", but Nazis are more than capable of inventing new terms in order to evade bans. The fact that there is no central structure to this effort means that only knowledgeable human beings can reliably sleuth out white supremacists. There are no automated shortcuts to dealing with this problem, which makes it less likely to be dealt with at all. 
Ciamaricone may just be a Nazi who likes to keep her racism and her mainstream persona separate. Perhaps she has no plans to convert or radicalize her friends. Or, perhaps, her relatively placid Facebook presence is merely her "testing the waters" before introducing more of her true beliefs to the people outside her circle. 
That may be true of hundreds or thousands of other Facebook users. We know this because folks like Kevin Beair, as quoted in the beginning of this article, say it quite plainly, and we can watch it working every day. Beair's fiance, Lauren Magdaleno, for example, feels comfortable openly identifying as a National Socialist on Facebook.
Despite Facebook's policies, Lauren Magdaleno feels secure posting content that, at the very least, verges on outright white supremacy. It is not hard to find other users who enthusiastically share her feelings.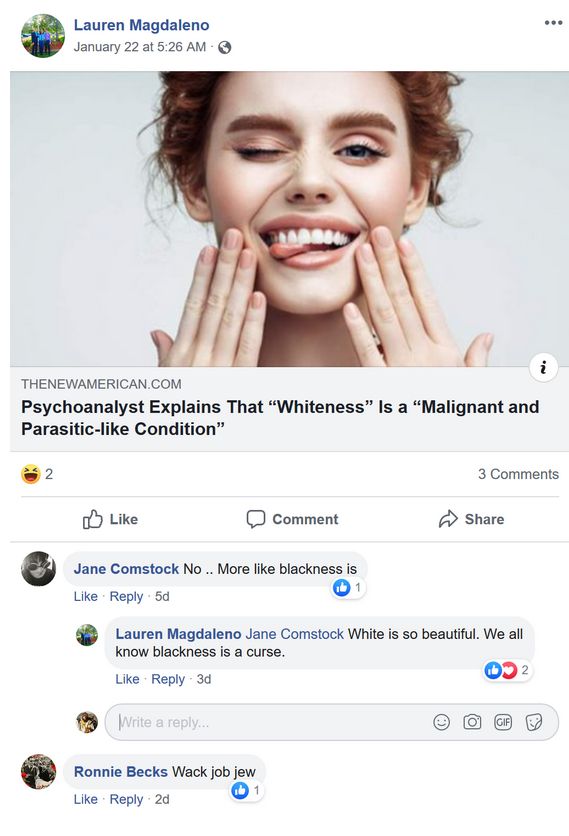 On Facebook, Magdaleno feels safe expressing casual anti-Semitism…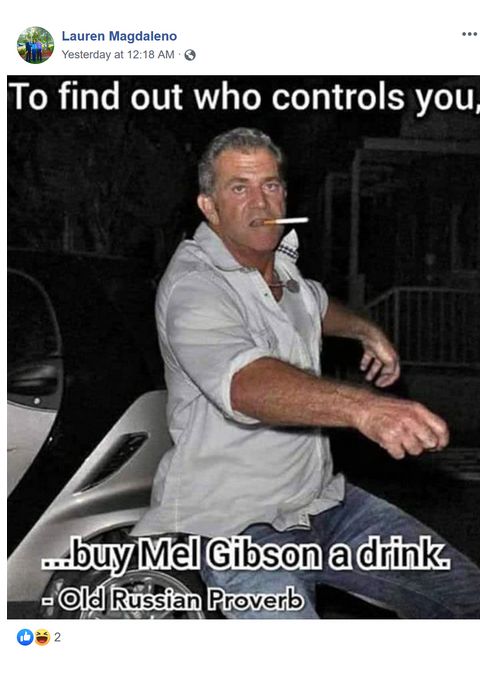 …and even fundraising directly for neo-Nazi Ted Dunn, leader of the "SS Action Group".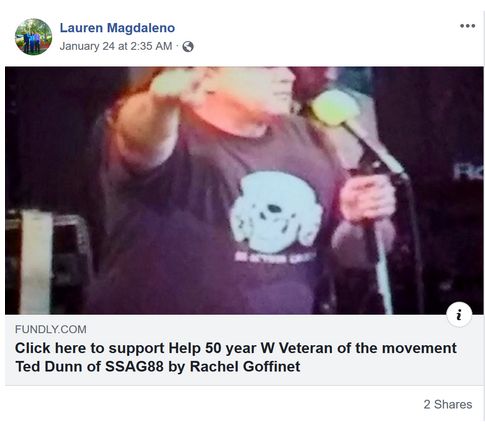 This apparently does not violate Facebook's policies against white supremacy, and it is very difficult to tell where the social network's line even is. Would Lauren have violated their guidelines if she'd gone into more detail about why she supports this man? We don't know. But we can see that she is much more expressive about this issue on VK: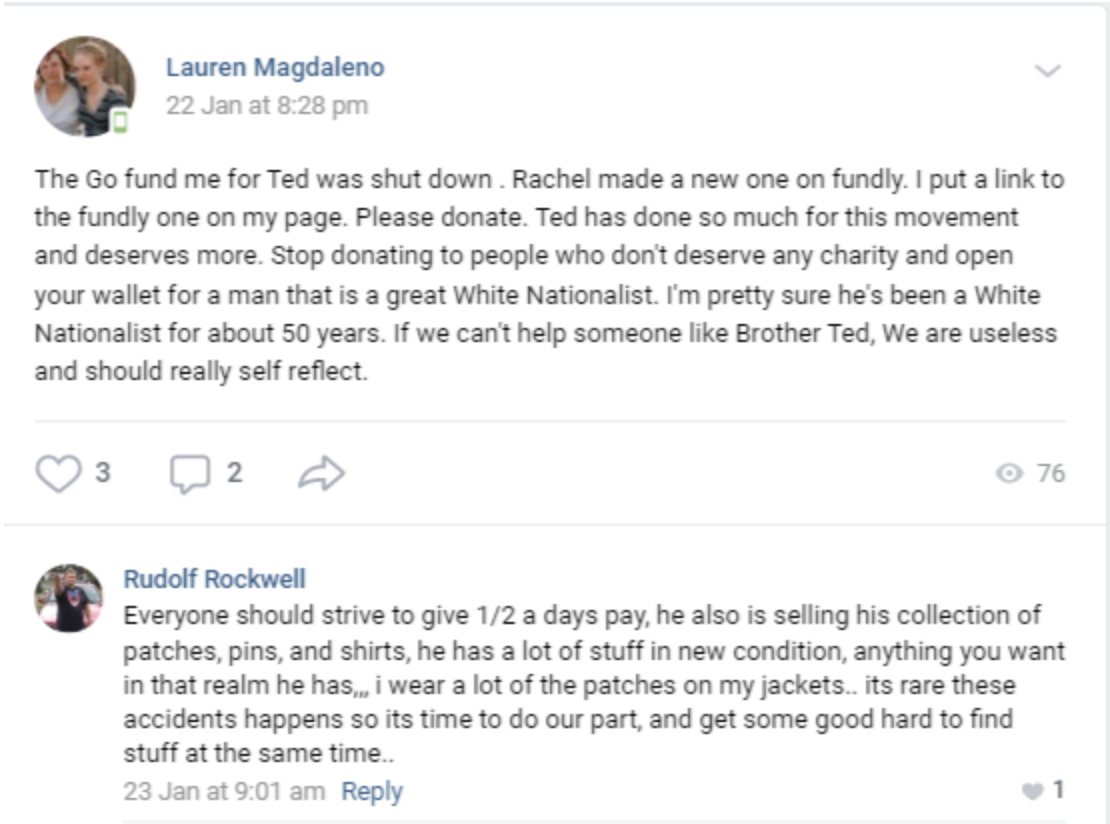 On Facebook, Magdaleno's explicit white supremacist beliefs co-exist with a perfectly milquetoast assortment of more mainstream memes; jokes about the coronavirus, Jeffrey Epstein, and the recent Iranian crisis. More than anything, Magdaleno's account suggests that her fellow Nazis are working way too hard to hide from Facebook. You can apparently raise funds for Neo-Nazi activists and call yourself a National Socialist without being declared a "white supremacist."
This, for the Nazis, has been the goal all along.