U.S. Politicians Can't Stop Taking Len Blavatnik's Money
Last month, leading anti-kleptocracy voices in the U.S., Ukraine, Russia, and elsewhere sounded the alarm about a massive donation that Len Blavatnik, a Soviet-born businessman with close ties to sanctioned Russian figures, made to the Council on Foreign Relations (CFR). Blavatnik's donation was, as one expert said, a clear instance of the "soft enabling of kleptocracy," and fit firmly in Blavatnik's history of using his funds for "image launder[ing]."
As new documents show, Blavatnik's financial offer to CFR wasn't the only substantial donation he's made recently. 
According to new filings with the Federal Election Commission, Blavatnik — who is estimated to be worth approximately $19 billion, and who has U.S. citizenship — has been offering record-breaking donations to American politicians and political committees on both sides of the aisle. Thus far, it appears that Democrats and Republicans alike are willing to take his money, despite major concerns from those who've followed Blavatnik's career and/or those who work in the sphere of anti-kleptocracy. 
As the filings show, just last month Blavatnik issued a $200,000 donation to the "McCarthy Victory Fund," a joint fundraising committee for House GOP leader Rep. Kevin McCarthy (R-CA). Blavatnik additionally offered two further donations to McCarthy's reelection campaign, totaling $5,600. 
McCarthy recently became one of President Donald Trump's most ardent defenders regarding Trump's willingness to pressure the Ukrainian government to investigate former Vice President Joe Biden and his family. McCarthy also famously said in leaked audio in 2016 that he believed Russian President Vladimir Putin "pays" Trump.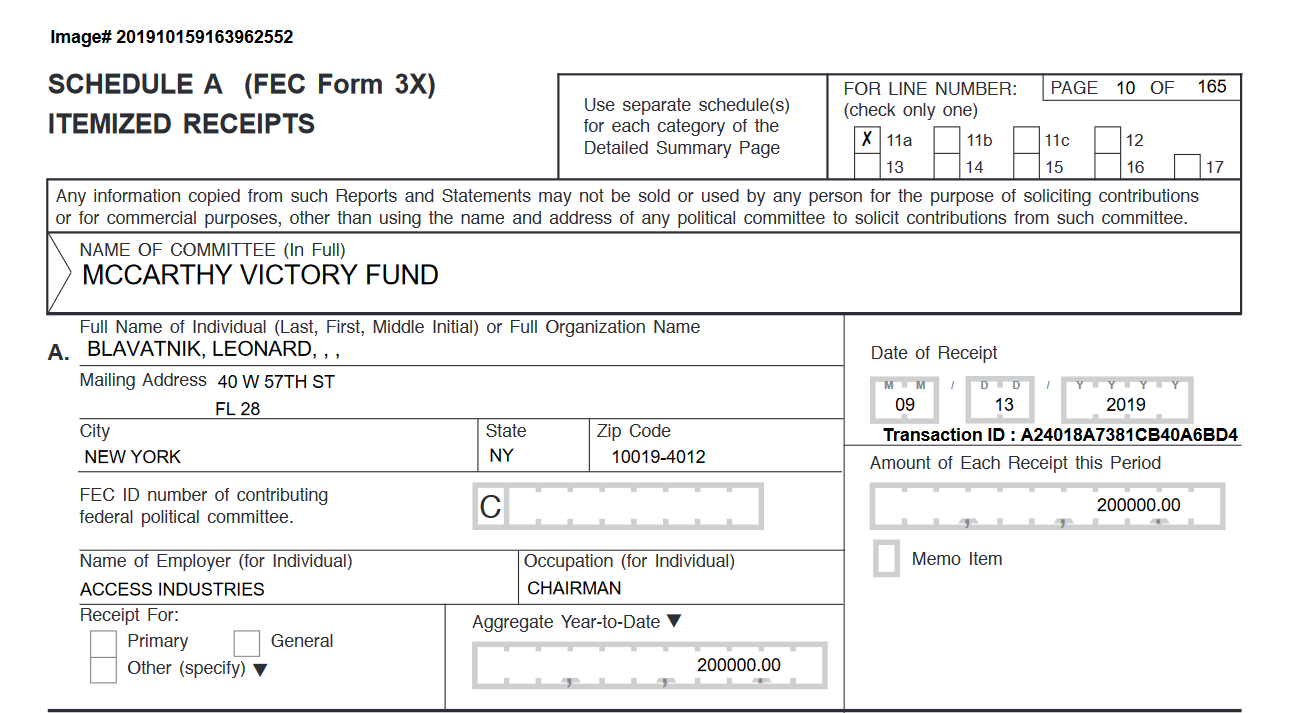 Per FEC records, the $200,000 filing is the single largest donation Blavatnik has ever made to any single candidate or political committee, almost doubling the $101,700 Blavatnik donated to the Republican National Committee (RNC) in April 2017. (Blavatnik filed two separate donations to the RNC in April 2017, each worth $101,700.) 
Blavatnik's donation is also the largest single donation the "McCarthy Victory Fund" has received this election cycle.
Blavatnik, however, is not donating exclusively to Republicans. In late June 2019, Blavatnik and his wife Emily each donated $124,250 to the Democratic Congressional Campaign Committee (DCCC). Not only was it the second-largest single donation Blavatnik has ever made to a U.S. politician or committee, but, when combined with his wife's donation, it totaled as much as any other individual donation the DCCC has ever received in its entire history. (Emily Blavatnik's occupation on the FEC forms is listed as "unemployed.")

Neither the DCCC nor McCarthy's office responded to Bellingcat's questions about why they were willing to take Blavatnik's funds. Access Industries, which Blavatnik oversees and which he listed on his FEC filings as his employer, also didn't respond to Bellingcat's questions. 
A Financial Times profile of Blavatnik earlier this year noted that Blavatnik's "head of press relations asks reporters to confirm that Blavatnik will not be referred to as an oligarch in any article before agreeing to arrange potential interviews. Those who do use that word are left to face complaints from his lawyers, who also protest when the fact of his Ukrainian birth is publicized without clarity about his U.S. and U.K. citizenships." There is no indication any of the entities mentioned in this article committed any illegal acts.
As Bellingcat previously reported, the growing concerns about financing from Blavatnik are impossible to miss. Blavatnik, who made billions of dollars through investments in Russia, appeared, at least until recently, close to Viktor Vekselberg, a Russian oligarch sanctioned last year for his role in Russia's "malign activity" in 2016 and afterward. Blavatnik's other former business contacts include Oleg Deripaska, another Russian oligarch and close ally of Putin, who was also sanctioned specifically by the U.S. (As The Hollywood Reporter noted in a recent profile on Blavatnik, the sources of his wealth "aren't entirely clear[.]")
While the Soviet-born Blavatnik has kept a relatively low profile politically, he has made a concerted effort to financially back both Democratic and Republican candidates over the years. In 2016, though, Blavatnik split with his prior precedent, and poured some $6 million into Republican coffers, as well as donating $1 million directly to Trump's inaugural committee. 
New questions about Blavatnik's wealth were soon asked. Last year it emerged that Special Counsel Robert Mueller's office had specifically investigated Blavatnik's donations to Trump's inauguration. Vekselberg also told the Financial Times that he attended Trump's inauguration at a table Blavatnik paid for, although Blavatnik's spokesperson denied this.
In December 2018, the Washington D.C.-based Hudson Institute accepted a donation from Blavatnik — and then returned the donation, following an outcry from anti-kleptocracy voices. (In the interest of full disclosure, this reporter is a member of the advisory council of the Kleptocracy Initiative, which is housed out of the Hudson Institute.) 
As Ann Marlowe wrote in The New York Times, "Mr. Blavatnik is entitled to spend his money how he pleases. But institutions like the Hudson Institute and Harvard [to which Blavatnik has also donated], which at least in principle stand for the ethical pursuit of knowledge, sully themselves by accepting it." 
As Sarah Chayes, one of the leading anti-corruption voices in the U.S., told Bellingcat about Blavatnik's donation earlier this year to CFR, it illustrates that "it's frankly open season. It broadcasts to the Kremlin that if you just disguise your money a little bit, the U.S. system is still fully penetrable." And as a group of nearly 60 of the leading anti-kleptocracy voices in the U.S. and elsewhere wrote in a letter last month, "We regard [Blavatnik's recent donation] as another step in the longstanding effort of Mr. Blavatnik — who, as we explain below, has close ties to the Kremlin and its kleptocratic network — to launder his image in the West." 
Correction: This story initially noted that Blavatnik had issued multiple donations to the DCCC. After Bellingcat published this story, Blavatnik's spokesperson clarified that the FEC documents show that the DCCC specifically assigned $88,750 to the DCCC's 'Building Fund/Headquarters' account, not that Blavatnik attempted a second donation to the DCCC. We regret the error.