Where's Babiš? Geolocating the Alleged Father-Son Kidnapping Mystery
This is a joint publication with Czech medium Houpací Osel.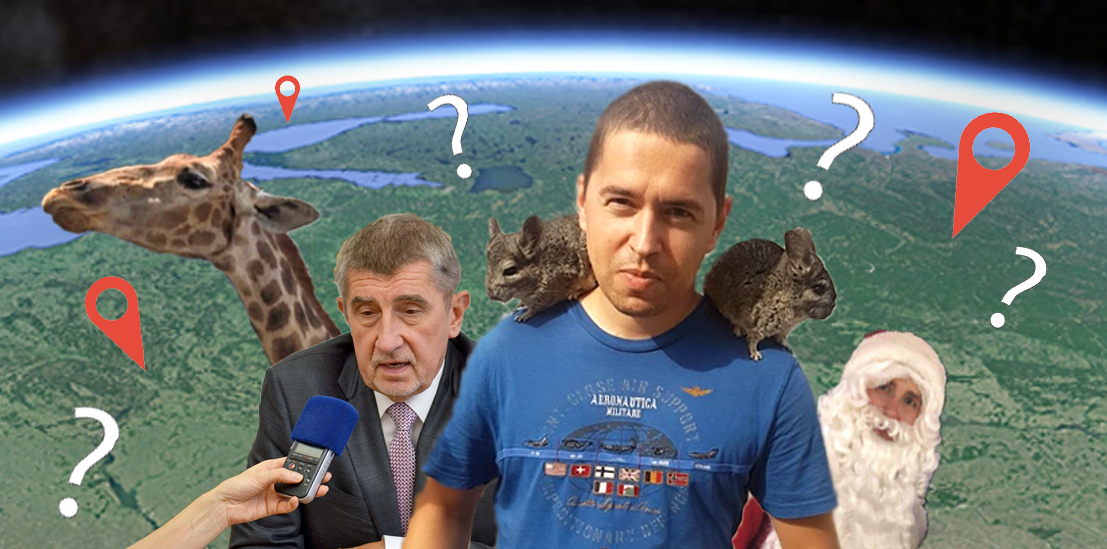 In November 2018, Andrej Babiš, the Prime Minister (PM) of the Czech Republic, came under heavy pressure as thousands of protestors took the streets and demanded his resignation.
Days earlier, on November 13, 2018, the Czech media outlet Seznam Zprávy interviewed Andrej Babiš Jr., the eldest son of the Czech PM, who claimed that he had been kidnapped by an associate of his father and held outside of the country to prevent him giving evidence in a corruption case.
Mr. Babiš and two of his children — including Andrej Jr. — are accused of illegally obtaining two million euros of European Union small-business subsidy for a luxury resort and farm known as the "Stork's Nest" (Čapí Hnízdo in Czech), located around 40 kilometers south of Prague. It is suspected that the Czech PM concealed his ownership of the 4-star hotel.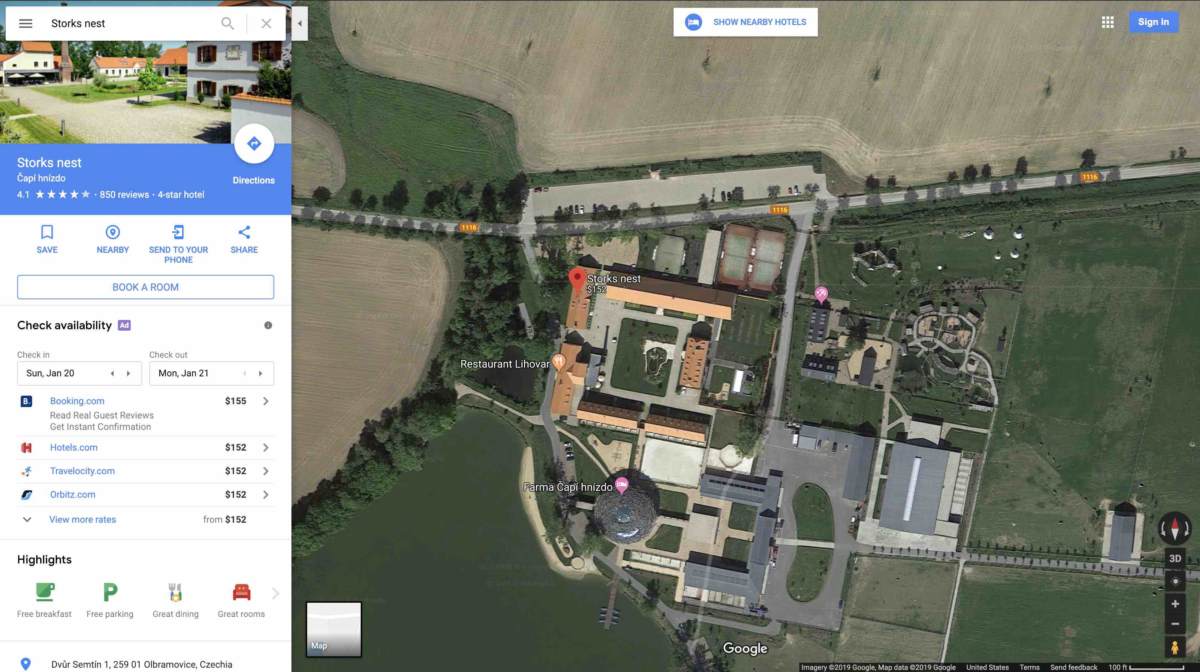 In response to the extraordinary claims of his son, the Czech PM said that Babiš Jr. had been diagnosed with schizophrenia in 2015. He accused the Seznam Zprávy reporters of exploiting his son's mental illness when they tracked him down to Switzerland and interviewed him. "No one kidnapped my son. He travelled from the Czech Republic voluntarily," Mr. Babiš wrote on Facebook.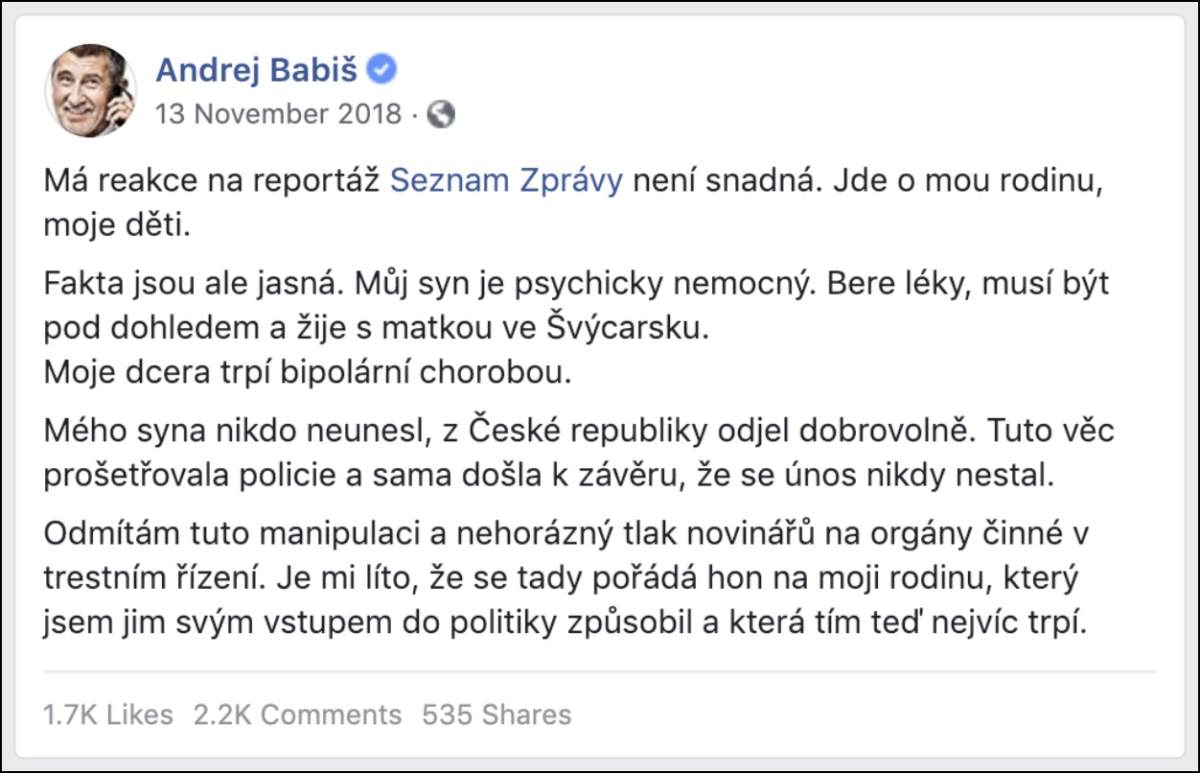 To support the claim that his son was not held against his will, the Czech PM published several photos of his son, allegedly vacationing in Russian-occupied Crimea.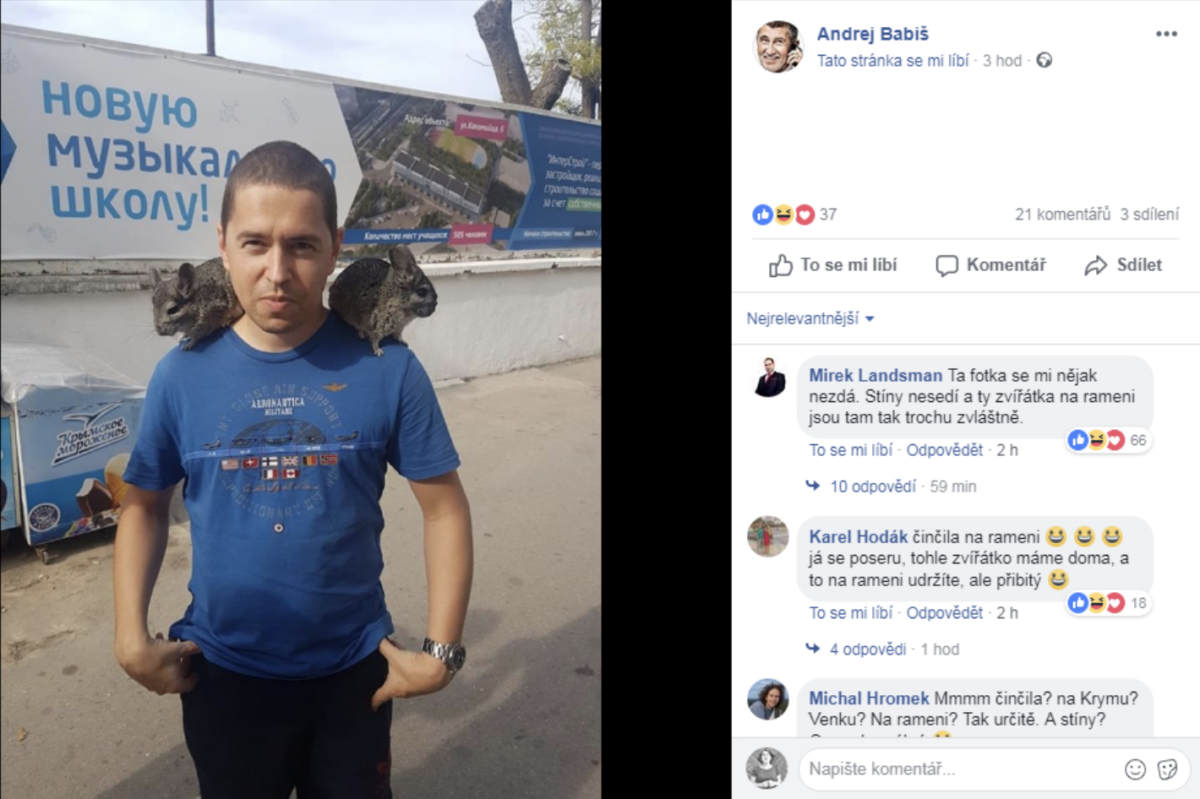 While Babiš's coalition government survived a no-confidence vote in November 2018, it is still unclear whether the claims of Mr. Babiš Jr. are factual, and what the full context of his alleged presence in Russian-annexed Crimea is. On top of that, there have been a variety of wild theories about the origins of the images circulating on Czech social media. Was it Photoshop? Was it manipulated in an other way?
For this reason, Houpací Osel contacted Bellingcat to see if the photos presented as evidence by Babiš can shed a bit more light on the claims. To answer these questions, we decided to crowdsource the geolocation ("Where?") and chronolocation ("When?") of these photos via Twitter.
Before we turn to the results of the crowdsourcing campaign, let's have a look at the specific allegations and statements made in what is by far the most talked-about event in the Czech Republic in 2018 — and perhaps 2019, too.
Allegations and Statements: What We Know
The Son: Andrej Babiš Junior
Andrej Babiš Jr. (born in 1982, currently 35 years old) was tracked down to his current home in Switzerland by Seznam Zprávy, something the Czech police didn't manage to do in two years, the reporters wrote. It's worth mentioning that Czech Radio (Český Rozhlas) later reported that, according to the public prosecutor Jaroslav Šaroch, the Czech police investigative team was told the location of Andrej Babiš Jr.  by the defence when the prosecution's case was launched.
Babiš Jr. told the reporters that he was given the choice of "taking an extended holiday" in Crimea, or being locked up in a mental institution. He chose the former, he says, and claimed to have been held in Russian-annexed Crimea (i.e. Russian-occupied Ukraine), specifically in rented apartments in Sevastopol and Yalta, as well as in Kaliningrad (Russia), Moscow (Russia), and Kryvyi Rih (Ukraine), thereby preventing him from testifying in the "Stork's Nest" affair.
In an email to Czech reporters, Mr Babiš said that he was held against his will "for a long time" in Crimea, but was later able to travel to Slovakia and "eventually escaped to Switzerland by bus." He did not mention specific dates.
The Father: Andrej Babiš Senior
Dubbed the "Czech Donald Trump", Andrej Babiš is the country's second-richest person (number 456 on Forbes), who became PM in December 2017. The 64-year-old billionaire has repeatedly denied any wrongdoing and dismissed the claims of his son, which he attributed to "pressure by journalists on law enforcement authorities".
He said his son was living with his mother in Switzerland, and would require permanent supervision due to his mental illness. It is reported that Babiš Jr. has dual Czech and Swiss citizenship.
The Caretaker: Petr Protopopov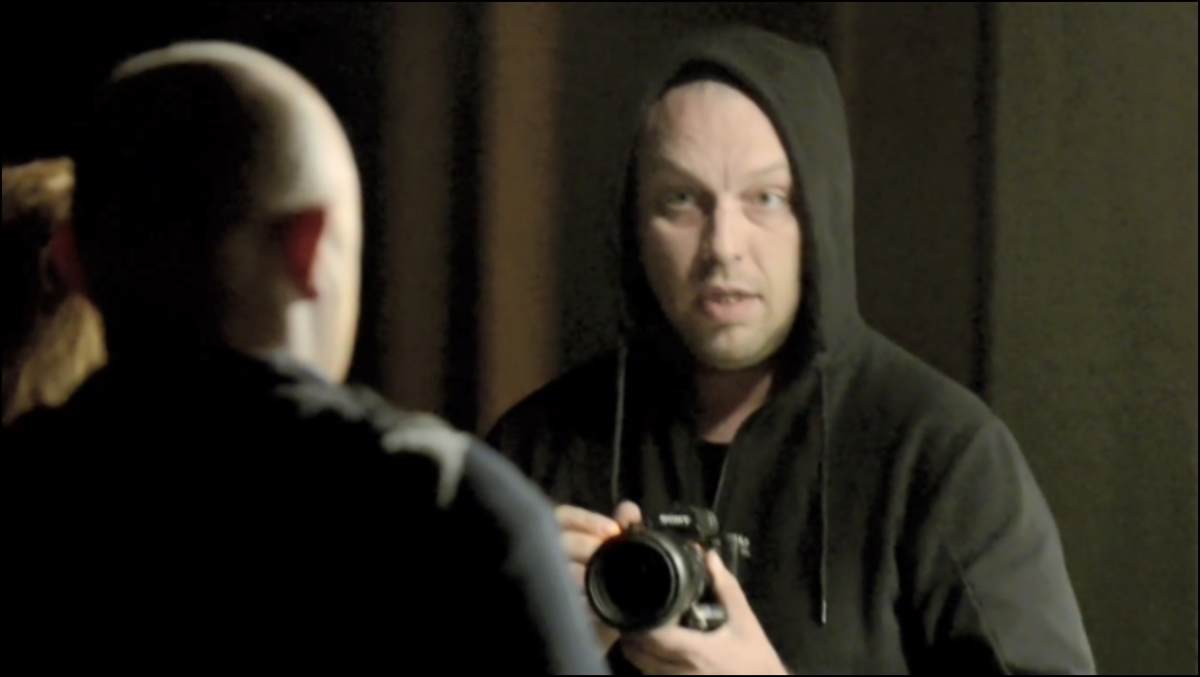 The associate who allegedly kidnapped Babiš Jr. was a man working as a driver at his father's company, Agrofert, Babiš Jr. told the reporters. He identified the man as "Petr Protopopov," a citizen of the Russian Federation, and identified his wife "Dita Protopopova", a psychiatrist who treated him and wrote a medical report that said he cannot testify in the Stork's Nest case. Babiš Jr. said he trusted both of these individuals, and that this trust was abused by them.
Protopopov was also interviewed by Seznam reporters, as well as Novinky.cz. To the latter, he said he had travelled to Russia and twice to Russian-annexed Crimea with Babiš Jr. in 2017.
In September 2017, Protopopov said spent a few days in Moscow and then continued on to Crimea. He said that the choice for these locations was the language barrier, stating that he can only speak Czech and Russian and was afraid that medical assistance would be needed for Babiš Jr. Protopopov's wife arranged for Babiš Jr to go to a clinic in Russia as well as Ukraine, he told Novinky.cz, while stating that he does not considers Crimea to be annexed territory: "Whenever we travelled, my wife ensured that even abroad [Russia and Ukraine] he was going to psychiatry." The newspaper published one picture of Mr. Protopopov.
In November 2017, Protopopov and Babiš Jr. visited the city of Yalta on Crimea, where the former introduced the latter to the woman later identified by Radio Free Europe as Jelizaveta M. from Kryvyi Rih, Ukraine. "My good friend recommended her to me and she knew that [Babiš Jr] is "different". So I left [Babiš Jr.] there and returned to the Czech Republic," Protopopov said.
During the interview, Protopopov said that they took plenty of photos of their trips to Russia and Ukraine — photos that Babiš Sr. would later upload to his Facebook, only to delete them again. These photos will be analysed further down in this piece.
The Psychiatrist: Dita Protopopova
Dita Protopopova is the psychiatrist that took over the care of Babiš Jr. in 2015. We should reiterate that she was the author of the medical report which said he cannot testify in the Stork's Nest case. (After the Seznam Zprávy's report, Cyril Höschl, director of the National Institute of Mental Health said that the institute verified the medical report made by Prototopova and confirmed its findings).
A year later, in 2016, she became an advisor to the Minister of Finance — Andrej Babiš. In 2018, she led the ticket from his ANO party but announced she would step down as a deputy in a district of the Czech capital, Prague 8, after the Seznam report was issued, Radio Free Europe reported. She cited "the pressure imposed in the last few hours" on her and her family.
The Czech Police: Nothing To See Here?
The Czech police said on November 13, 2018, that they had investigated Babiš Jr.'s allegation and concluded that there was no suspicion of a crime.
The Visual Evidence
The PM's Photos
Following the uproar caused by the Seznam report, Mr. Babiš published three of photos his son on his Facebook page as evidence that his son was not kidnapped but visiting those places voluntarily. Three photos show Babiš Jr, and one photo shows Mr. Protopopov.
The three photos that were serving as evidence were removed from the Czech PM's Facebook page within days. For that reason, Jan Zabka of Czech student outlet Houpaciosel.cz and Jaroslav Valůch, a trainer with the journalism education institution Transitions, reached out to Bellingcat to ask for help with determining where (geolocation) and when (chronolocation) these pictures were taken.
The Protopopov Photo
A single photo of Mr. Protopopov was published by Novinky.cz. It is not clear whether this photo is related to the case, but we added it to the crowdsourcing effort nonetheless.
The Girlfriend's Photo
Another eight photos of relevance were posted to the VKontakte (VK) profile of Babiš Jr.'s girlfriend. While the photos have been deleted from the social medium since Czech media reported about it, Czech medium NEOVLIVNI.CZ archived the photos, which will also be analysed.
Geo- and Chronolocating the Images
Facebook Photo 1
Pictured: Andrej Babiš Jr. and Jelizaveta
Geolocation: 44.612319, 33.489343 (Sevastopol, Russian-annexed Crimea)
Chronolocation: around September (before 15 November 2018)
In the first Facebook photo, we see Babiš Jr. hugging a lady — who has been identified by Radio Free Europe as Jelizaveta from Ukraine's Kryvyi Rih — on a rocky beach. A skyline is faintly visible in the background.
The picture was geolocated to the Chersonesus preserve in Sevastopol, Crimea, by Haley Willis, an open source researcher at UC Berkeley's Human Rights Center. Based on the perspective in the photo with some buildings faintly visible in the background, she narrowed it down a few possible locations along the coastline of Sevastopol. Yandex Panorama — the Russian equivalent of Google Streetview — was used to find reference photos that confirmed that it was the same location. In Willis' own words, it was due to, "an unglamorous amount of searching through panoramic and reference imagery."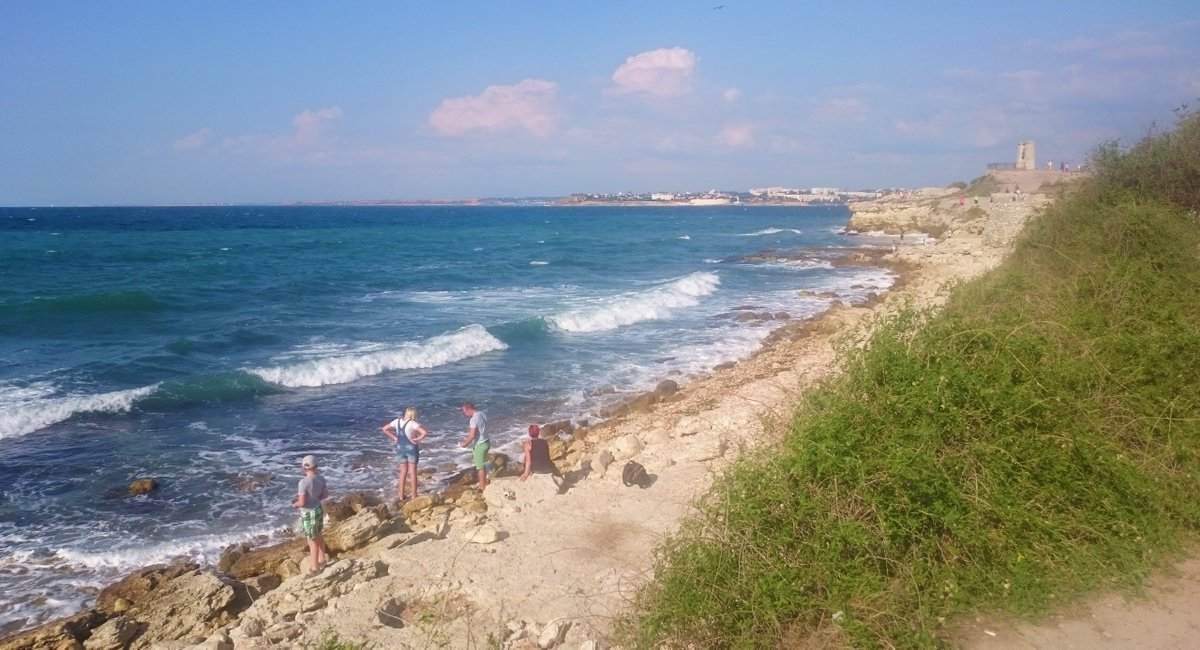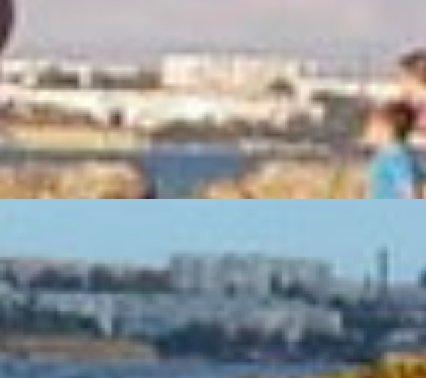 Further reference imagery found via geo-based searches on VKontakte appear to show the same rock formation in the background as well — you can read all about how to conduct geo-based searches on VK and other social media here.
Geolocation (the "where" question) leads to chronolocation (the "when" question), and here's how: the shadow Andrej Babis Jr. is casting is like a sundial. Based on the exact location, we now that the shadow points almost directly to the east.
Using sun movement services like SunCalc.org, we can see that the shadow cannot point to that direction during January, February, March, as well as October, November and December.
We are thus left with a time period between April and September. Twitter-user @Sector035 was able to narrow down the month-frame even more, by estimating the length of Mr. Babiš Jr. and the length of his shadow.
About chronolocation of Photo 1: There aren't a lot of months at all! The angle of the shadow points roughly towards 17:30 in the afternoon. From April till mid August the shadow would not be long enough to be cast. I could get closer, but I bet on mid September ? pic.twitter.com/Ddoa2cDzUs

— Sector035 (@Sector035) February 7, 2019
Given the direction of the shadow, the photo was taken in the evening hours, likely before sunset.
Maximum temperatures in Sevastopol are relatively cold, around 15 degrees, Celsius in April, and are quite warmer in September — around 22 degrees Celsius. Most people in the photo are wearing T-shirts and shorts. However, this information is not enough to conclusively determine whether the photo was taken near the end of the established period — they could have just not minded the cold, of course.
Unfortunately, no visual clues have been discovered so far to determine which approximate year the photo was taken.
Facebook Photo 2
Pictured: Andrej Babiš Jr.
Geolocation: 44.613203, 33.518702 (Sevastopol, Russian-annexed Crimea)
Chronolocation: after 4 September 2017 and before 15 November 2018 (the upload date)
The second Facebook photo shows Andrej Babis Jr. sitting on a terrace, apparently smoking shisha, and enjoying a drink in a large lemonade glass.
There are several clues in the photo which allow for geolocation. The most obvious (but relatively useless) clues are the writings on the net and the chair: кафе (Russian for "cafe") and Балтика ("Baltika"), a leading Russian beer brewery. Such table sets are often featured in cafes and restaurants, making it harder to pinpoint where it may be: the Russian-speaking and Baltika-drinking world is large, and it is the second largest brewing company in Europe. However, it still narrows down the search area to countries where Baltika is consumed.
Some intrepid researchers went on a search to find similar table combinations. For example, Twitter-user Matt McCarthy found a place called "Piccolini" with the exact same chair and table combination, including the warning sign against excessive drinking on the table (thanks @stysin) — in Sevastopol!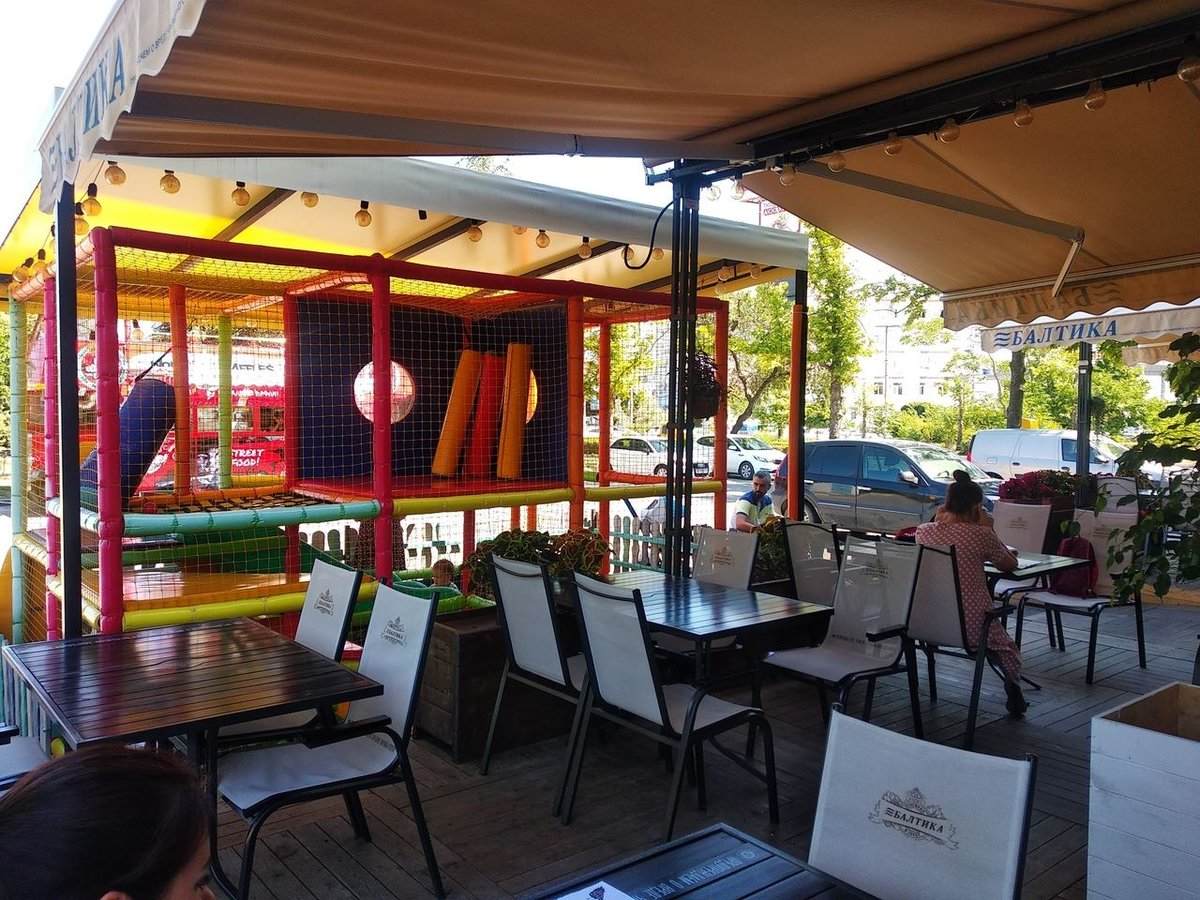 However, further examination showed that it was not possible to find a match with the windows of the Piccolino cafe. The method was interesting though, as Matt McCarthy explained: he read that 4square is often used in Ukraine like how Yelp is used in the United States. He searched for "food" in "crimea" and found user submitted photos. He then continued looking for places with outdoor seating and stumbled upon the photo above. The glasses and straws were a hint too.
But there is a less obvious clue in the photo: The reflections in the windows, as mentioned by Twitter-user Egon de Bruin. We see, for example, distinctive buildings and long stripes (three white, one yellow) painted on the asphalt.
Meanwhile, Bellingcat Investigation Team member Daniel Romein found a cafe in Sevastopol with a matching font type for the word "кафе" (Russian for "cafe). Further inspection of the reflection confirms the location: Namely the stripes on the ground and the "Artbukhta" ferry terminal building give it away, as found by Jason Paladino, a journalist with the Investigative Reporting Project at UC Berkeley.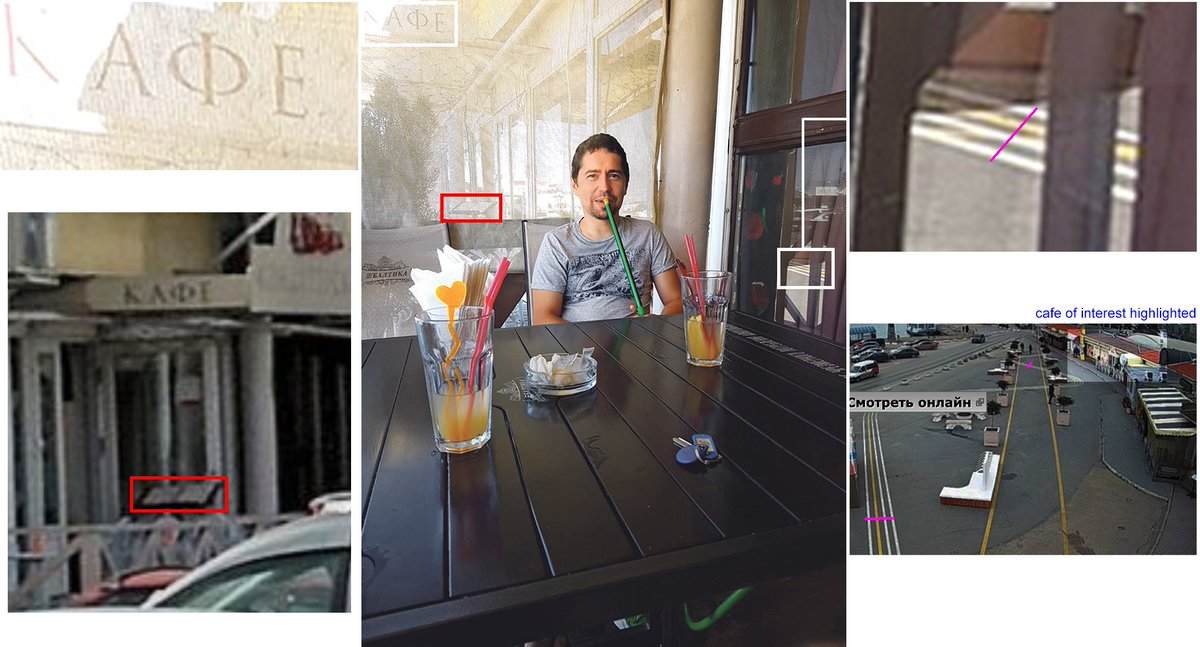 The visual clues in the window reflections lead us to the exact place: Lounge-cafe "Лица." It can be confirmed with reference photos of the location, such as this one from TripAdvisor, which show the same pillar and table, and thus the exact position where Babiš Jr. was sitting. But when exactly? The combination of tables and chairs holds the answer.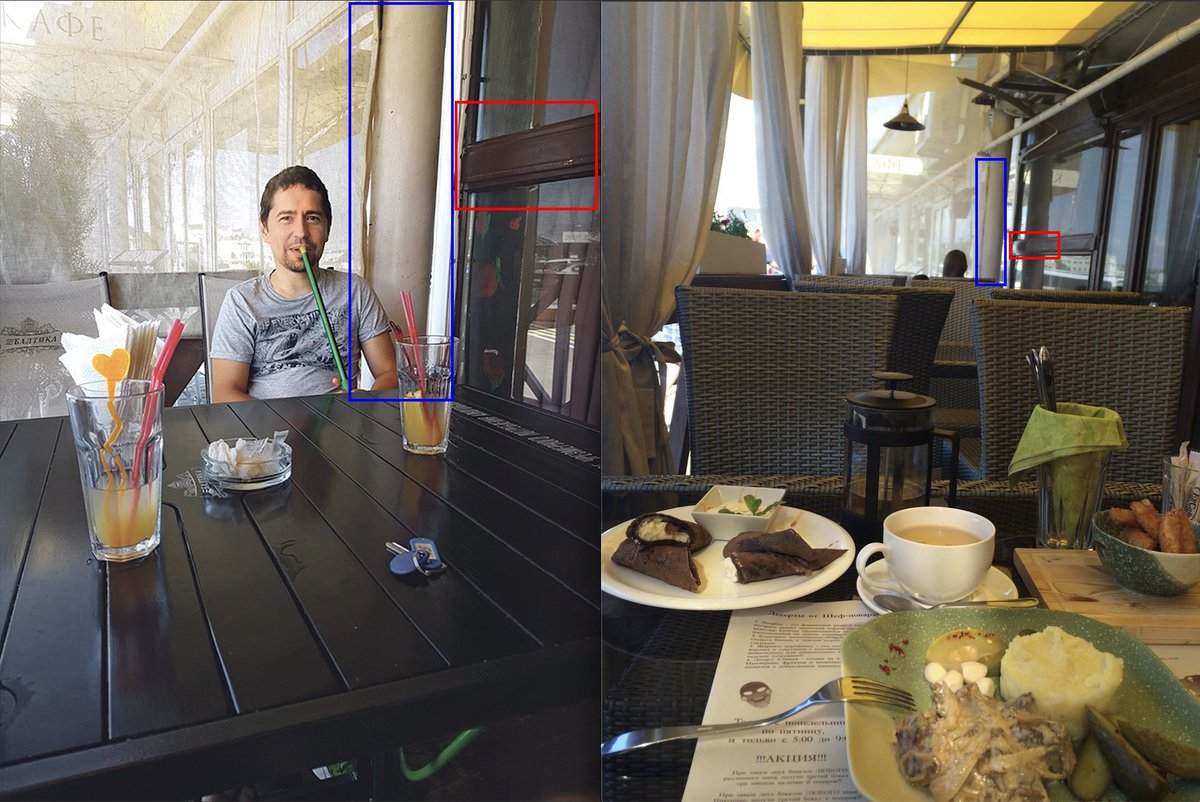 Based on geotagged reference photos from the lounge-cafe, we can see that the table and chair combo changed somewhere between 2016 and 2018. The combination of Baltika chairs and the tables in Babiš Jr.'s photo can be spotted on photos (mostly Instagram and Google Photos) uploaded in the period of June and July 2017. It seems lounge-cafe "Лица" had Warsteiner in 2016 (last photo → "Eine Königin unter den Bieren").
Now that we have a geolocation, we can focus on determining the time-frame in which the photo was taken. Reference photos on Yandex Panorama and 360cities show that the place next to our location of interest was called "Кафе бар АртБухта" (Cafe Bar Artbukhta) a few years ago, but there has been a renovation and a renaming to "Confectionary Hedgehogs" (Confectionary Cafe) — based on Yandex Panorama imagery somewhere in or before 2016.
Satellite imagery is even more helpful in narrowing down the date.
In the window reflection, four lines are visible on the asphalt. Google Earth historical satellite imagery shows that these appeared between 9 August 2017 and 9 September 2017 respectively.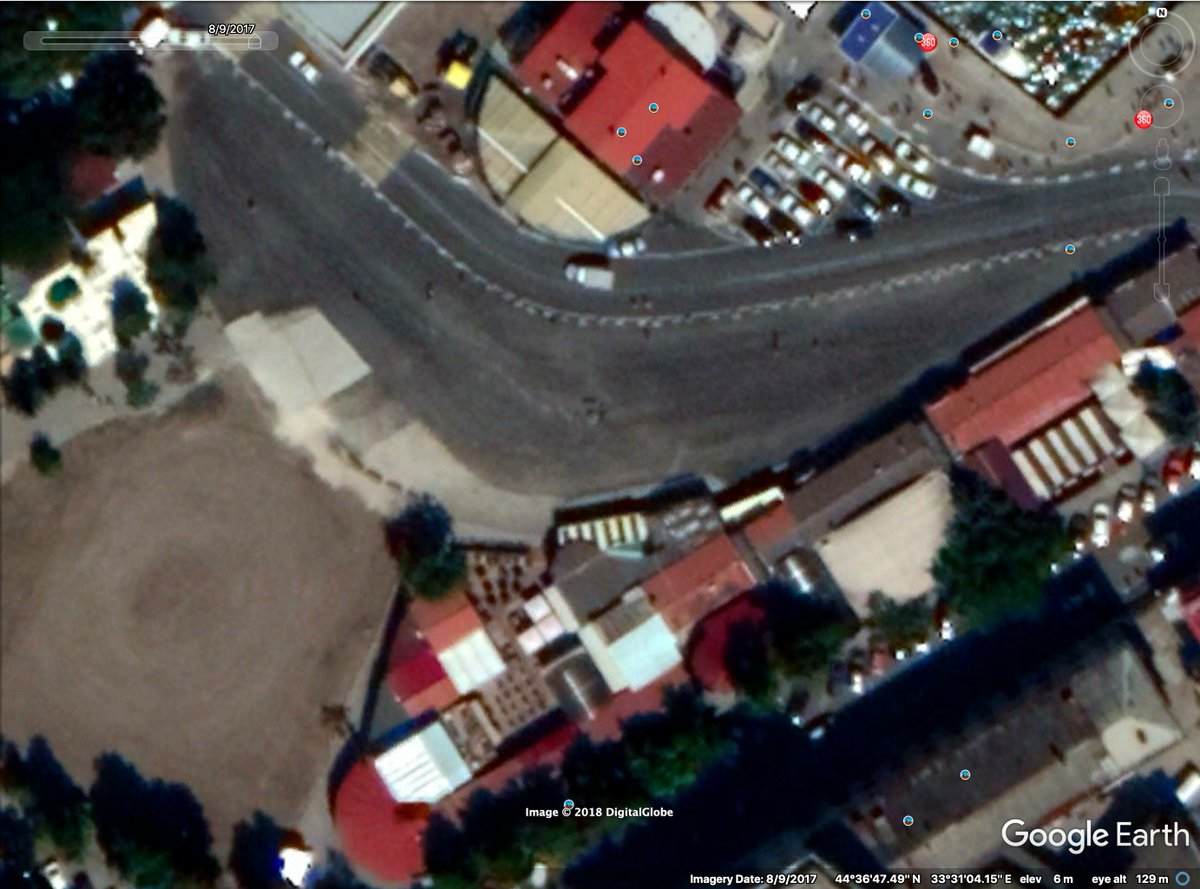 Daria Sazanovich, an artist and illustrator from Minsk, started searches in Russian to narrow down that timeframe by asking when those lines appeared.
Reference photos on a local website Primechaniya show that the striped were not there on 18 August 2017. A local media report  from 4 September 2017 — also dug up by Ms. Sazanovich — shows that the stripes were not visible either. The lounge-cafe is clearly visible in the background.
A local blogger writes on Livejournal that the stripes appeared in early September, showing a picture dated 8 September 2017 featuring the stripes, Ms. Sazanovich found.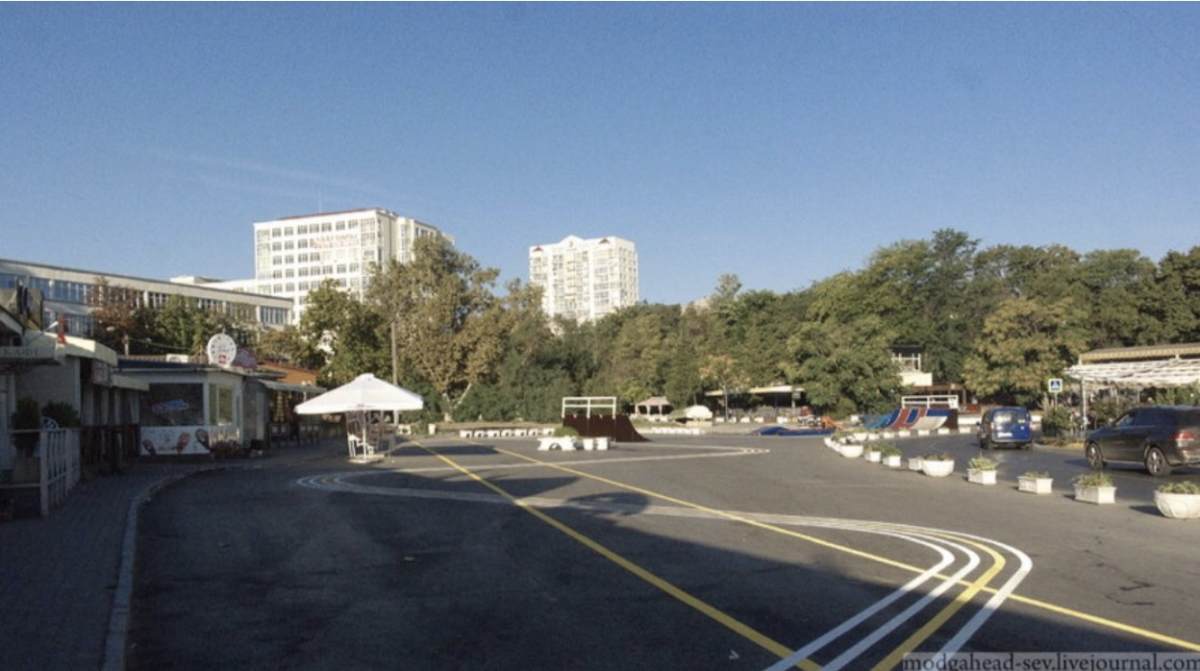 Based on these reference photos, it is thus possible to say that the photo of Mr. Babis Jr. must have been taken after 4 September 2017, as the stripes were not there yet.
Facebook Photo 3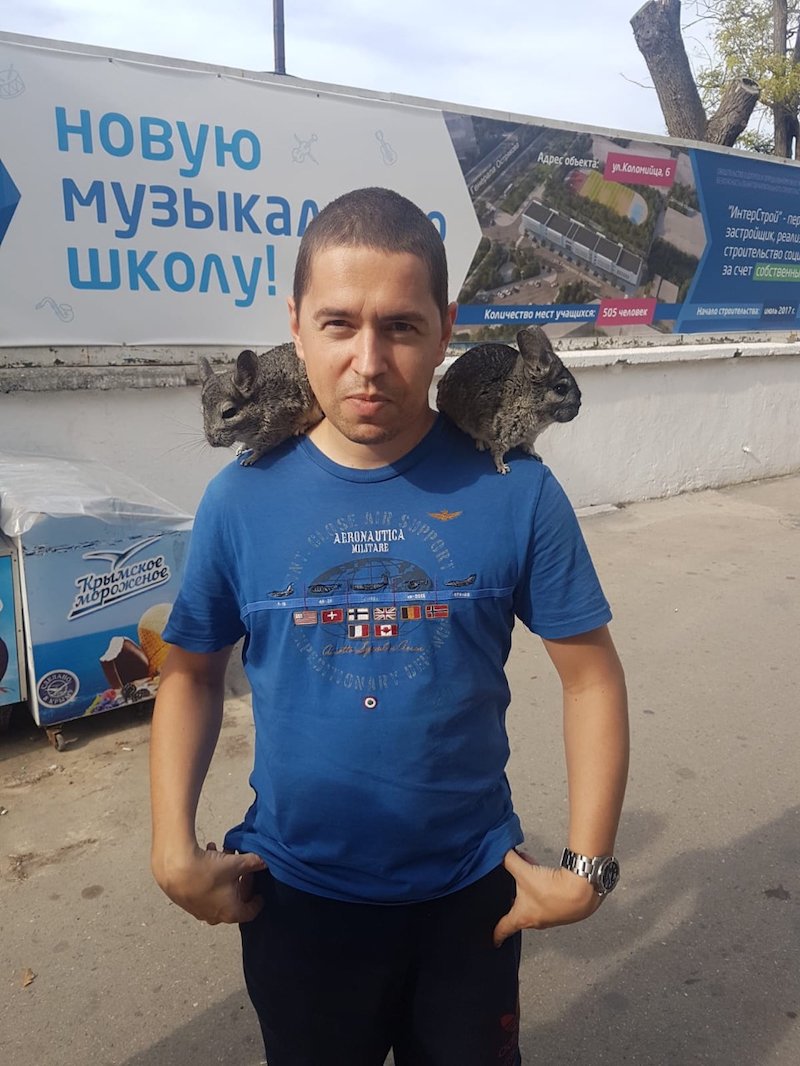 Pictured: Andrej Babiš Jr.
Geolocation: 44.614328, 33.521112 (Sevastopol, Russian-annexed Crimea)
Chronolocation: after Spring 2016 and before April 2018
The third photo shows Mr. Babiš Jr. pictured with what appear to be two chinchillas on his shoulders. There are several visual clues.
Behind him, for example, is an advertisement for a new music school (Russian: Севастопольская Музыкальная школа № 1 Имени Николая Андреевича, Римского-корсакова) in Russian-annexed Sevastopol is visible.  The advertisement includes an address. Daria Sazanovich found that the opening ceremony for the school was held on June 17, 2018. It'd be unlikely that the advertisement for a new school to be constructed to be still hanging there after the opening, but we cannot be entirely sure. Either way, it is a start.
Now that we know that the photo was likely taken in or around Sevastopol (who would place such an advertisement somewhere else?), we can narrow down the location. On top of that, Twitter user @firstkaffee noticed that an advertisement for ice in Crimea was also visible.
Twitter-user Rytis Alekna suggests that having chinchillas on your shoulders may be a paid tourist attraction near the beach in Sevastopol. Googling and Yandexing in Cyrillic for "chinchillas" and "sevastopol" indeed give results, for example in 2013 article in ForPost, a local newspaper in Sevastopol.
Eventually, Twitter-user @zaska12345 was able to geolocate it to the Kornilova Embankment in Sevastopol, Russian-annexed Crimea. Yandex Panorama has good reference visuals of the place, showing that even the pole and the tree match.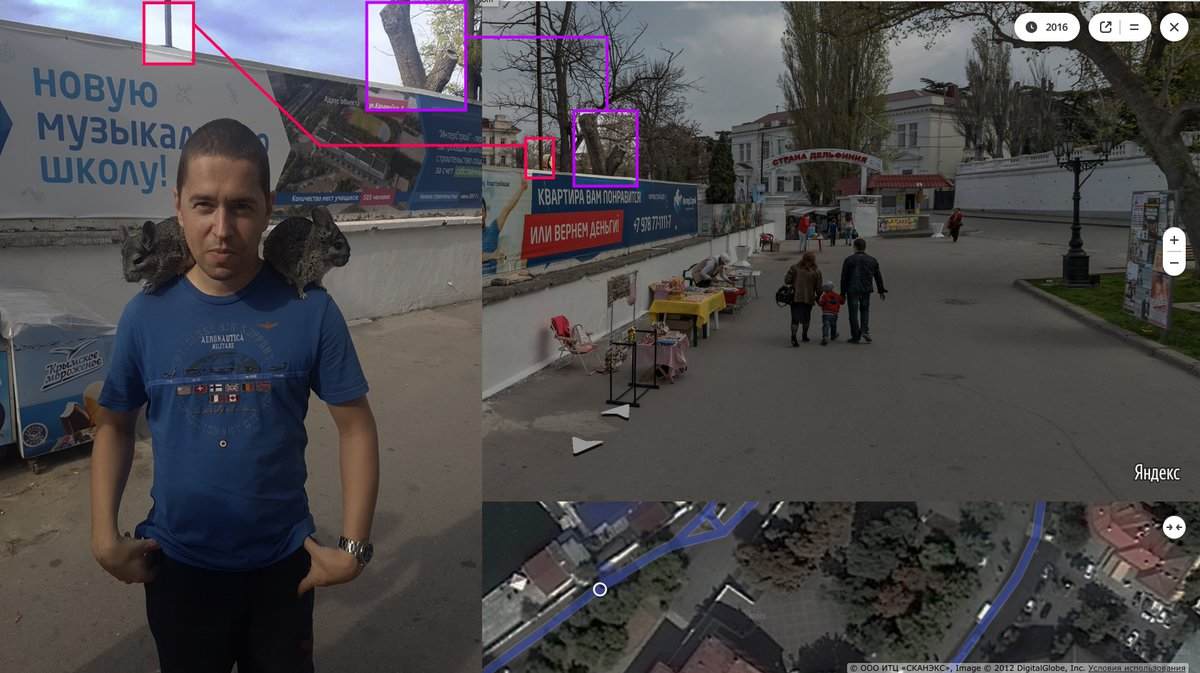 Now that the location is known, time determination can start. Visual clues for the chronolocation are the mural paint (first it was grey, on the photo it is white), the advertisement (the school officially opened on June 17, 2017), and the chinchillas (present in some years going back to at least 2010 and also present in 2013, but may have become illegal over time like in Yalta according to ForPost). These clues have been further examined by @zaska12345, but it has not been possible to further narrow down the time frame.
Taking the mural paint as reference, Twitter user @john_marquee was able to find a reference image from October 2017 showing that the paint on the ledge was there, as well as the advertisement for the music school. The Yandex image does not show the wall painted in white, and is dated early Spring 2016, suggesting the Babiš photo was taken after that.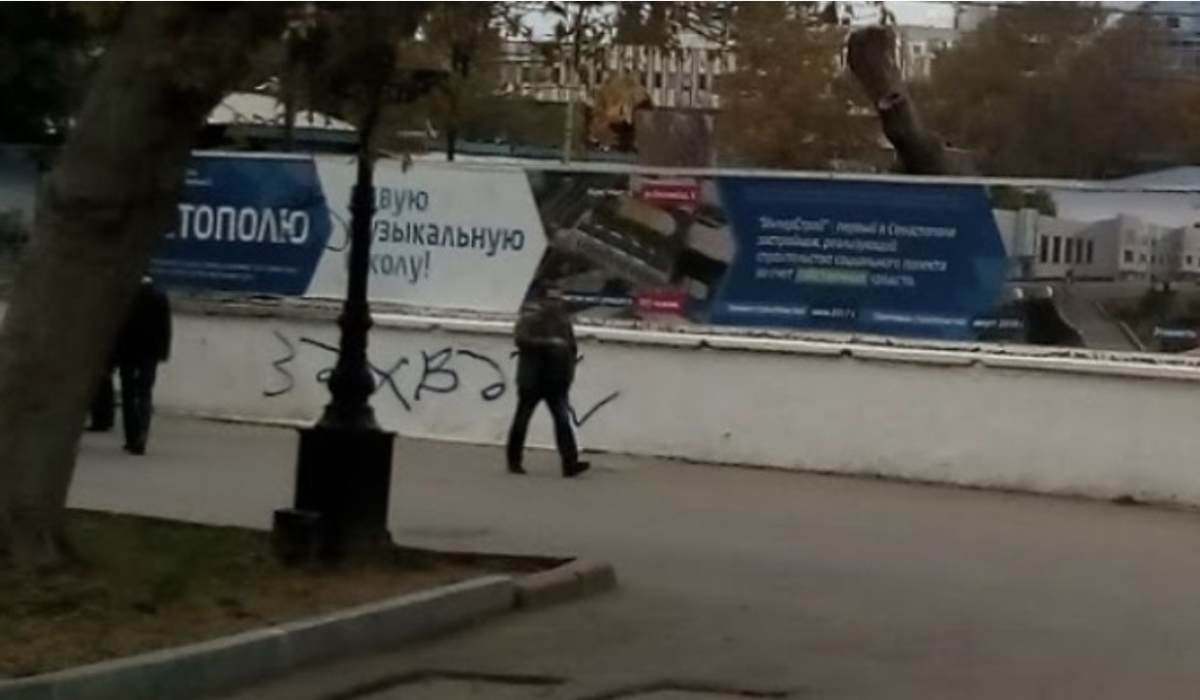 Another Twitter user, @MCantow, found a clue for the last possible time. The second tree in the background (here in Spring 2016) was cut between October 2017 (tree visible on Google Earth) and April 2018 (tree not visible anymore on DigitalGlobe satellite imagery).
Novinky.cz Photo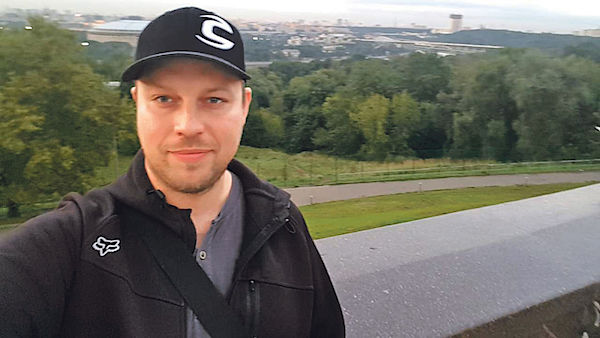 Pictured: Petr Protopopov
Geolocation: 55.709491, 37.542220 (Moscow, Russia)
Chronolocation: unknown
This photo of Petr Protopov was published alongside an interview with him in Czech media outlet Novinky.cz. Though there is no direct relation to the case, we thought it may be useful to geolocate it nonetheless.
The photo can be geolocated to the Sparrow Hills (Vorobyovy Gory) in Moscow, Russia. It is a popular spot for locals and tourists alike, hence many people recognised the view and the famous Luzhniki Stadium in the background.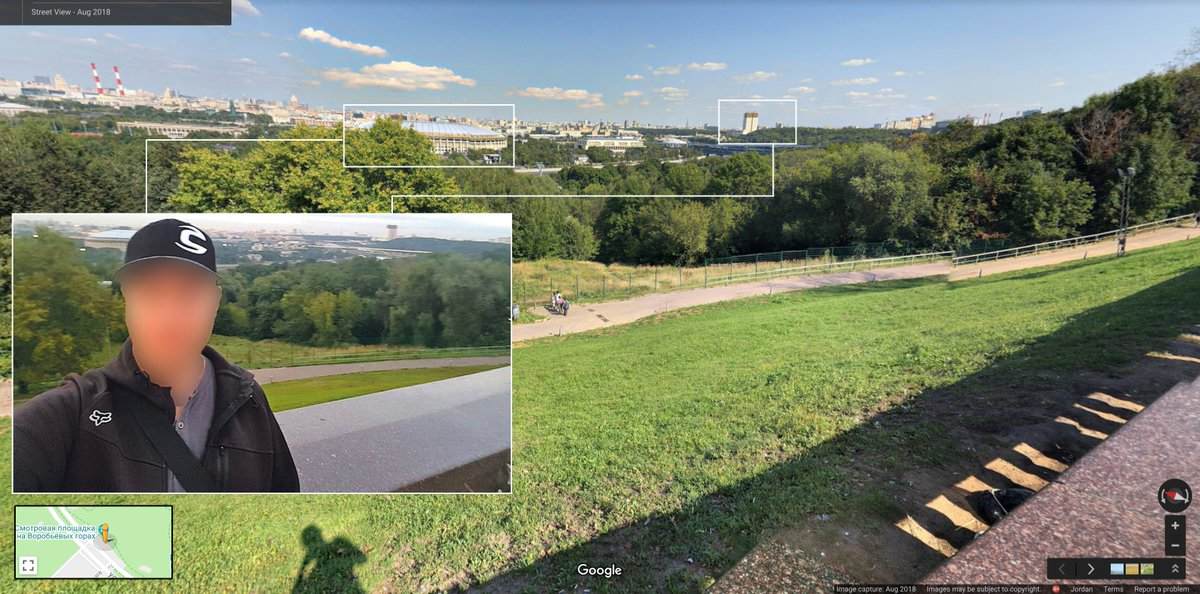 It was the first photo to be geolocated, thanks to several Twitter users, including @ivladdalvi, @en4rab, @thesedentaire, @john_marquee and @zaska12345 — proving the power of the crowd.
VKontakte Photo 1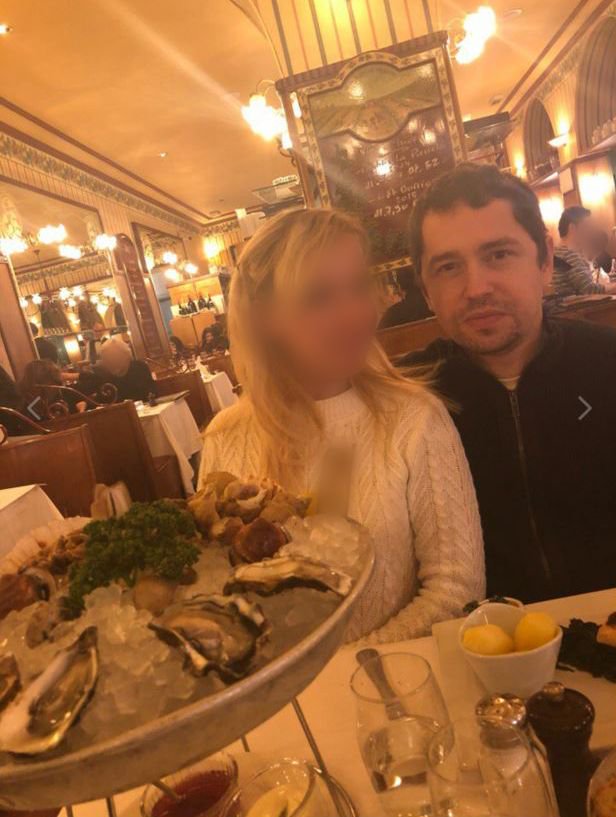 Pictured: Andrej Babiš Jr. and Jelizaveta
Geolocation: 46.203528, 6.148187
Chronolocation: before 5 March 2018
The first photo was uploaded on 4 March 2018 to VK by Jelizaveta, the girlfriend of Babiš Jr. It shows the couple sitting in a restaurant with decorated ornaments, wooden seats, and a plate of oysters.
On Twitter, Mark Reid was quick to notice that it may be a restaurant in Geneva: Café du Centre. Using online reference photos, he and Twitter-users @Sector035 and @cz_smidra were not only able to match the similar plates used for the oysters, but also the lights, ornaments, ceiling, and wooden chairs.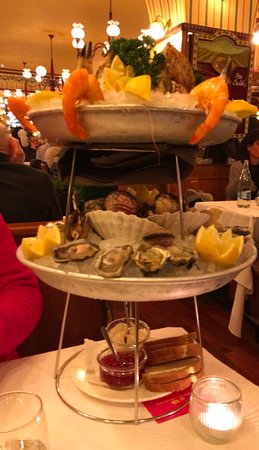 VKontakte Photo 2
Pictured: Andrej Babiš Jr., Jelizaveta, Santa Claus, and unidentified minor
Geolocation: 47.903308, 33.400988 (Kryvyi Rih, Ukraine)
Chronolocation: before 2 January 2018
The second VK photo was uploaded on January 2, 2018, five days before Babiš Jr. wrote Czech police that he was kidnapped by an associate of his father.
An eagle-eyed Twitter-user "Lara van Gaalen" as well as Bellingcat-reader "Sergio.Beer" spotted that the shape of the window shape and style, as well the objects outside of the windows strongly resemble the location shown in VKontakte Photo 7, which is discussed below. The spacing between the vertical loudspeakers match as well, and so does the back side of the canvas banner.
And picture 2 might be at the same location as picture 7. Trough the window of photo 2 you can see two rectangular shapes (looks like speakers to me). These are also visible in picture 7, above the banner. pic.twitter.com/i2wwJlhQye

— Lara van Gaalen (@LaravanGaalen) February 7, 2019
Twitter-user "Abraxas Spa" and Bellingcat-reader "Sergio.Beer" both noticed that Babiš Jr. and Jelizaveta are apparently also wearing similar clothes, and the lady is wearing the same bag. This suggest that it may have been the same time period as VKontakte Photo 7, which was taken between 3 December 2017 and 14 January 2018.
VKontakte Photo 3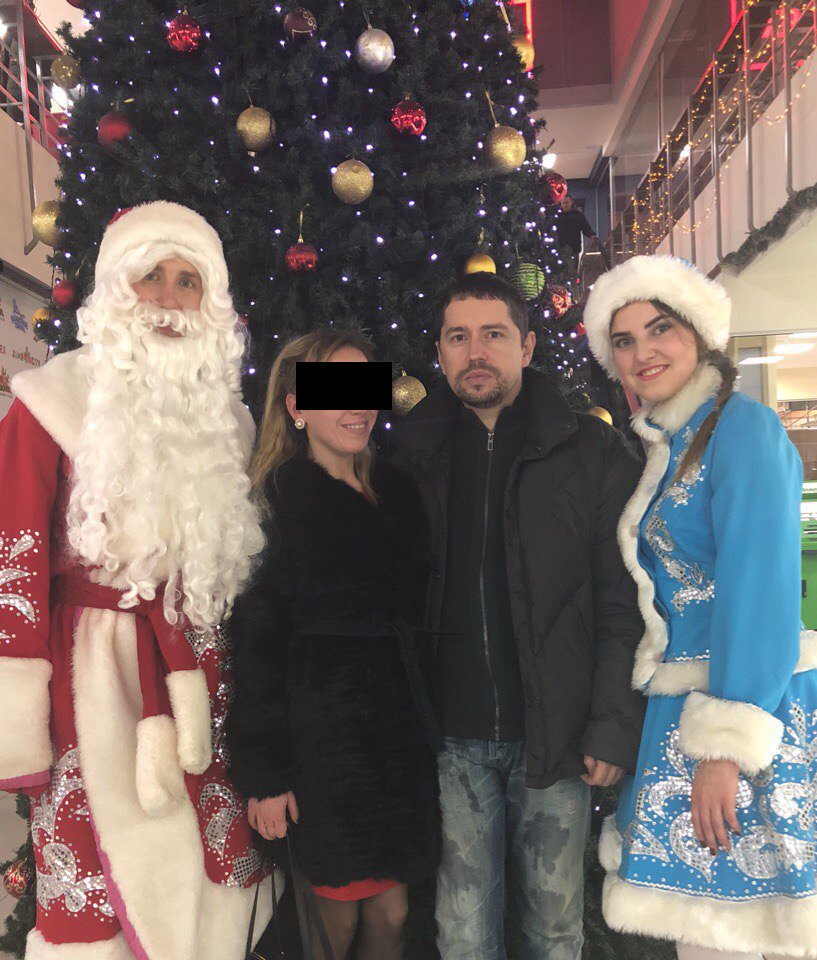 Pictured: Andrej Babiš Jr., Jelizaveta, Santa Claus and Santa's helper
Geolocation: 47.905535, 33.396696 (Multiplex Union, Kryvyi Rih, Ukraine)
Chronolocation: unknown (likely between 24 December and 16 January, the dates which encompasses both Christmas in Ukraine and Russia)
The third VK photo shows the couple posing in front of a Christmas tree and a dressed-up Santa Claus (Ded Moroz, or Father Frost, as he is known in many post-Soviet countries) and his helper, the Snow Maiden (Snegurochka), inside what appears to be a building.
With no distinctive visual clues such as a written text, interior photos are usually harder to geolocate. Nevertheless, Twitter-user @Sector035 was able to find a photo on VK that appears to be the exact same spot. However, no location was mentioned.. So how to figure out where it was taken?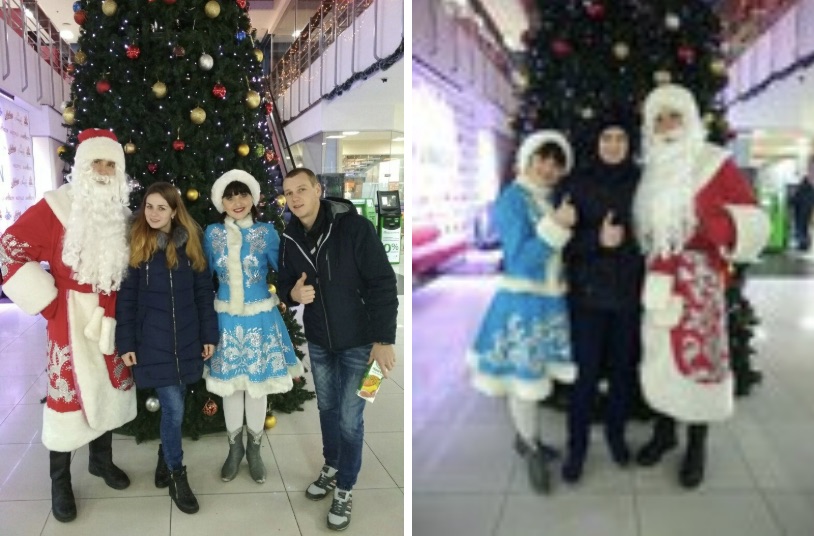 Haley Willis also found a reference photo that was indexed as being from Kryvyi Rih in Ukraine. That was @Sector035's initial hunch as well. Both started looking for shopping malls in the Ukrainian city, looking for red booths with tables as visible on the top left corner of the three photos. Eventually, Ms. Willis found reference photos on Foursquare, and managed to find a matching place: the Multiplex Union in Kryvyi Rih.
Found it! Looks like the Multiplex Union (вулиця Героїв АТО, 30Г, ТРЦ Union, Kryvyi Rih). Saw this first photo going through Foursquare and recognized the banisters. Then found second photo on Google Photos. pic.twitter.com/or4aMkxFxX

— Haley Willis (@heytherehaIey) December 8, 2018
VKontakte Photo 4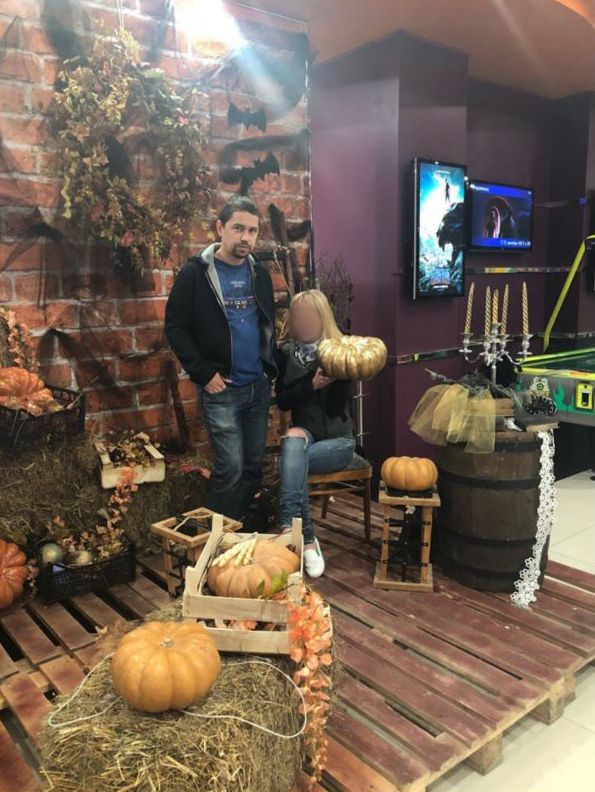 Pictured: Andrej Babiš Jr. and Jelizaveta
Geolocation: 44.498875, 34.167997 (Saturn IMAX, Yalta, Russian-annexed Crimea)
Chronolocation: between late October and early November 2017
This photo was published on VK by Jelizaveta in late October 2017.
A Bellingcat-reader going by the name "Alex" managed to geolocate the photo. Here's how.
To the right of Mr. Babiš Jr. are two monitors, one vertical and one horizontal. By cropping, transforming, and reverse-image-searching the image, Alex identified the image on the vertical monitor as the film poster for "Black Panther", an American superhero film that was released in January 2018.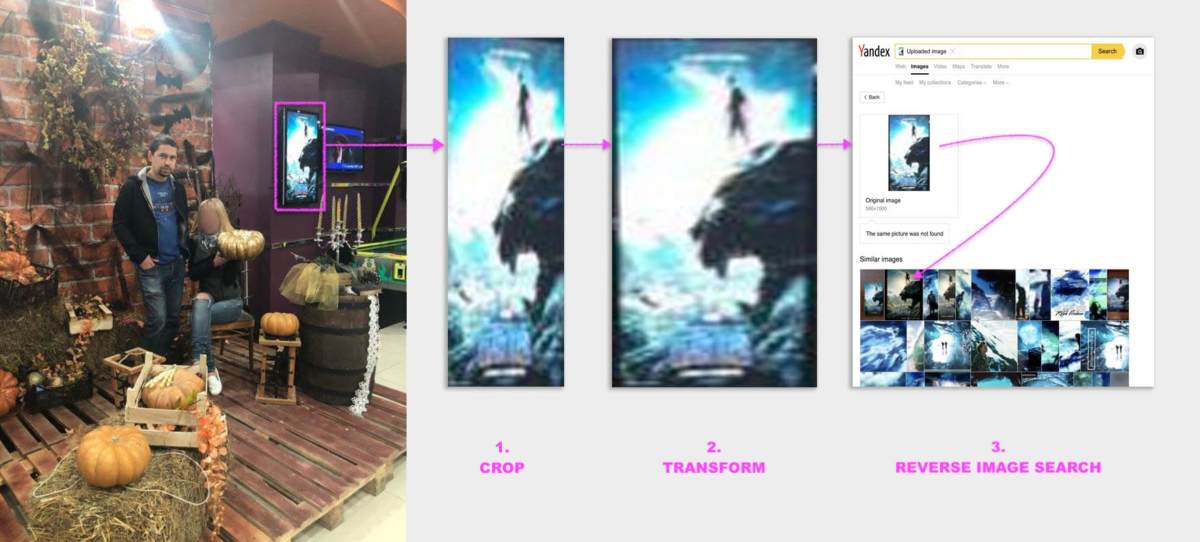 Alex started comparing Black Panther posters in Russian and Ukrainian, and noticed that he white tet under the logo in the bottom of the poster varied slightly in Russian and Ukrainian. The Russian "в кино с 15 февраля" is slightly longer than the Ukrainian "скоро в кіно". While there may be more variations, it led Alex to have a look around cinemas in Russian-annexed Crimea.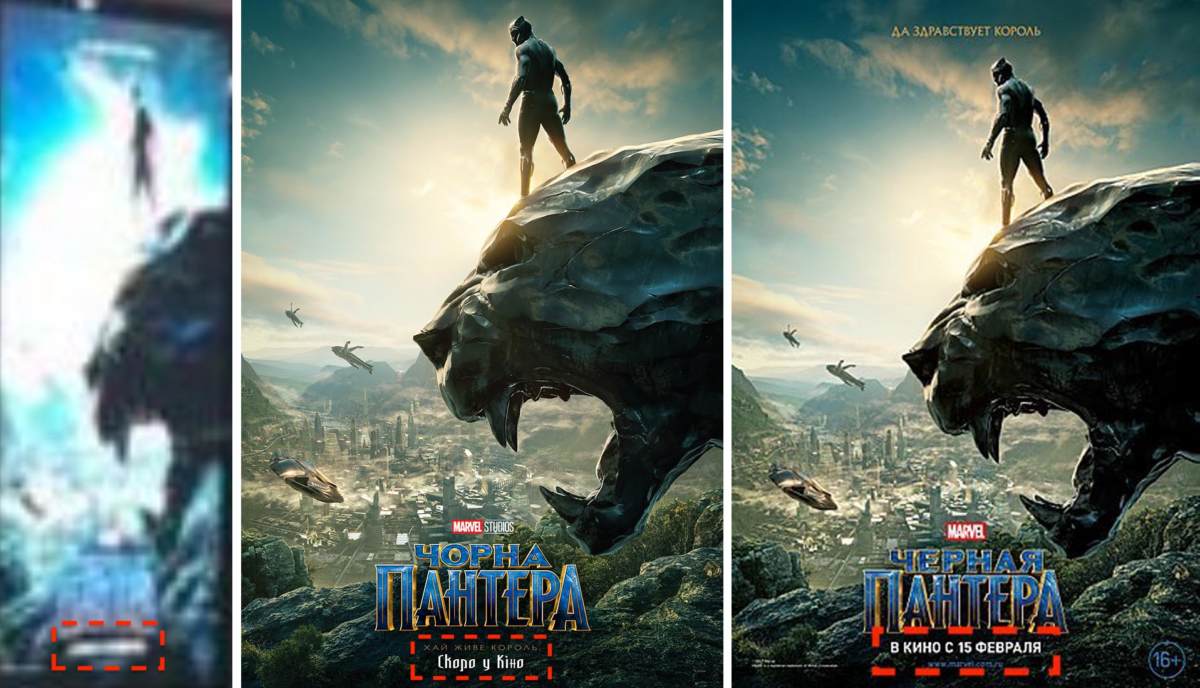 He thought it must be a a "modern" and "trendy" Crimean cinema, given that it looks that way. The air hockey table on the right side may hold a clue as well. Since there are not that many new or renovated cinemas in Crimea, Alex narrowed down to Yalta, as the air hockey tables in cinemas in Sevastopol did not have matching floors or air hockey tables. Eventually, the Saturn IMAX (Russian: Сатурн IMAX) in Yalta was a match, as can be seen below on two reference photos on Google Maps.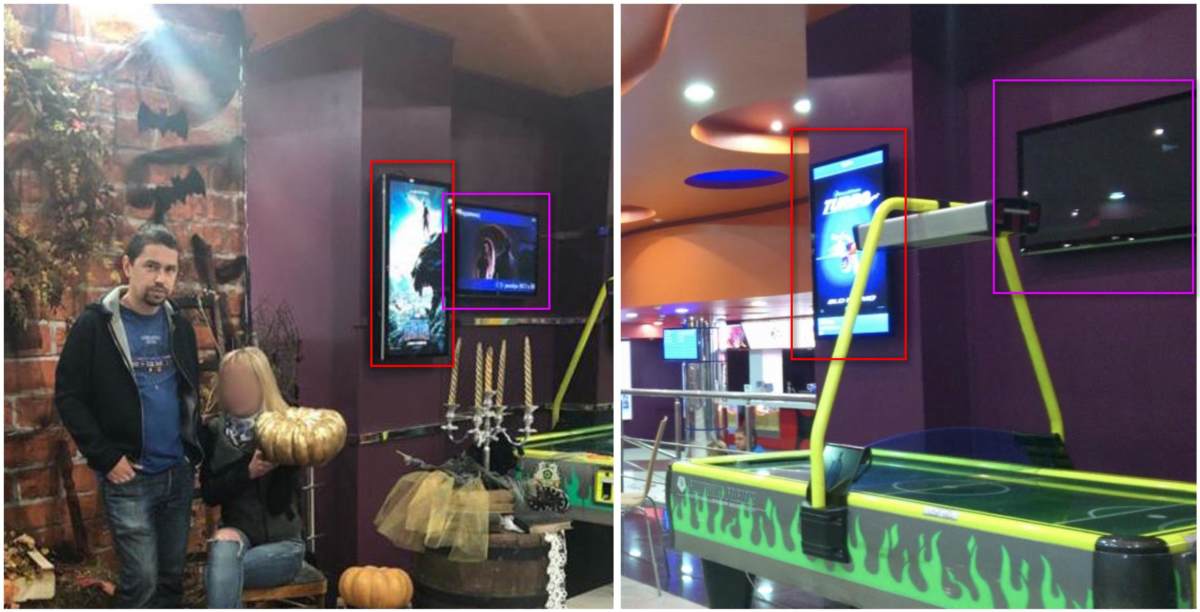 Based on Alex's geolocation, it is now possible to narrow down the timeframe by looking for geotagged photos of the Saturn IMAX in Yalta, and see when the Halloween corner appeared in the building. Instagram was specifically useful, as many users tagged their photos to the Saturn IMAX. The first photo of the setting appeared on 27 October 2017 and the last one in 1 November 2017. As Halloween is celebrated on the 30th of October, these dates do make sense to have a Halloween decor in the cinema.
VKontakte Photo 5 and 6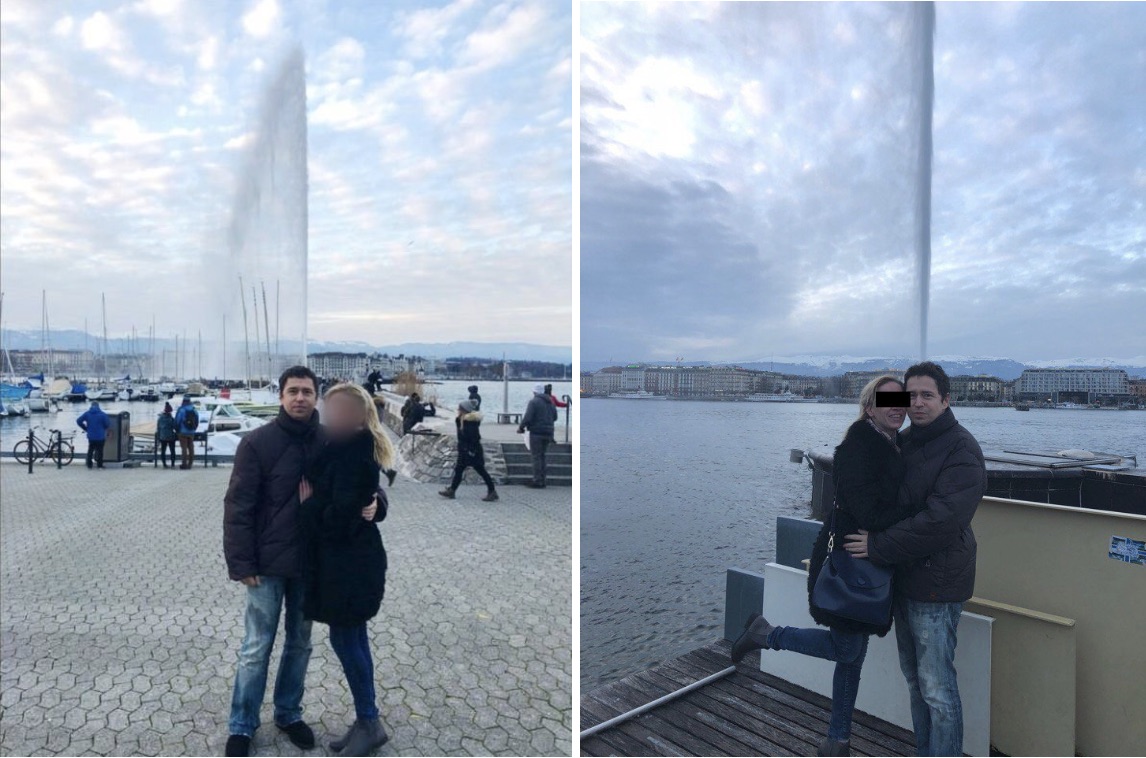 Pictured: Andrej Babiš Jr. and Jelizaveta
Geolocation: 46.205829, 6.157553 (Geneva, Switzerland)
Chronolocation: between October 2017 and July 2018
The fifth and sixth photos were uploaded to Jelizaveta's VK profile in 2018. It shows the couple standing in front of a fountain.
It was publicly known that Babiš Jr. was with Jelizaveta in Geneva, and for that reason it was easier to geolocate these two photos. Houpací Osel's Jan Zabka simply wrote "fountain Swiss" into Google Images, and the first result was the "Jet d'Eau" in Geneva, Switzerland. Using reference photos, it is then possible to geolocate their exact positions to 46.205829, 6.157553 and 46.207357, 6.156086, respectively.
With regards to chronolocation, the stickers next to couple hold a clue (very similar to the Papadopulos case). When was the sticker there, and when was it not? Using reference photos on a variety of online platforms, it is possible to determine that the photo must have been taken between October 2017 and July 2018.
VKontakte Photo 7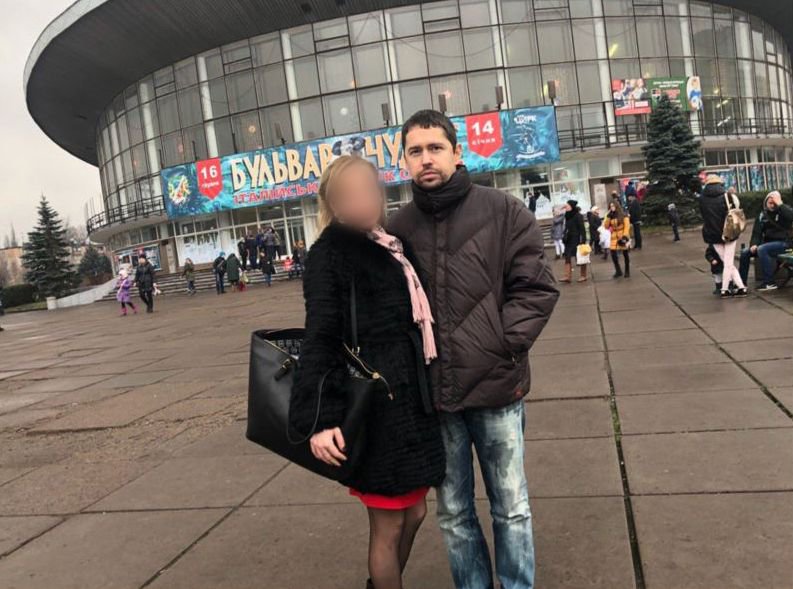 Pictured: Andrej Babiš Jr. and Jelizaveta
Geolocation: 47.903662, 33.401034 (Kryvyi Rih, Ukraine)
Chronolocation: between 3 December 2017 and 14 January 2018
The seventh VK photo of interest shows the couple in front of a large building.
The banner on the background is the first visual clue, as it allows to do a text-based search on "бульвар чуд(…) Італійський (…)" on Google which results in a reference photo of the same poster.
In that way, it is possible to figure out the whole name of the show, and the place where it took place: the Kryvorizkyi Circus in Kryvyi Rih, Ukraine. The couple is tanding specifically at 47.903662, 33.401034. It was geolocated by Houpací Osel's Jan Zabka.
The banner in the background allows chronolocation: the show "Бульвар чудес" (Boulevard of Miracles) only ran from December 16, 2017 to January 14, 2018, the banner reveals. Reference photos show there was a different banner until December 3, 2017.
VKontakte Photo 8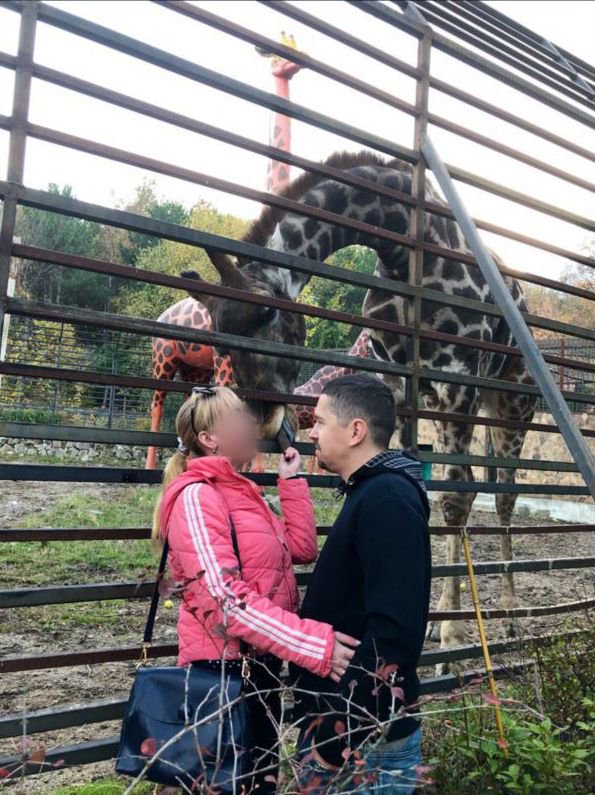 Pictured: Andrej Babiš Jr. and Jelizaveta
Geolocation: 44.494549, 34.117881 (Yalta, Russian-annexed Crimea)
Chronolocation: unknown
The eighth and last VK photo of interest shows the couple standing in front of a caged giraffe. An orange, real-size statue of a giraffe is also visible in the background.
Some Czech media mentioned that this photo was taken in a zoo in Yalta, Russian-annexed Crimea. Houpací Osel's Jan Zabka managed to confirm that this is the "Skazka" Zoo (Зоопарк "Сказка") in Yalta, Crimea, by geolocating the photo to 44.494549, 34.117881.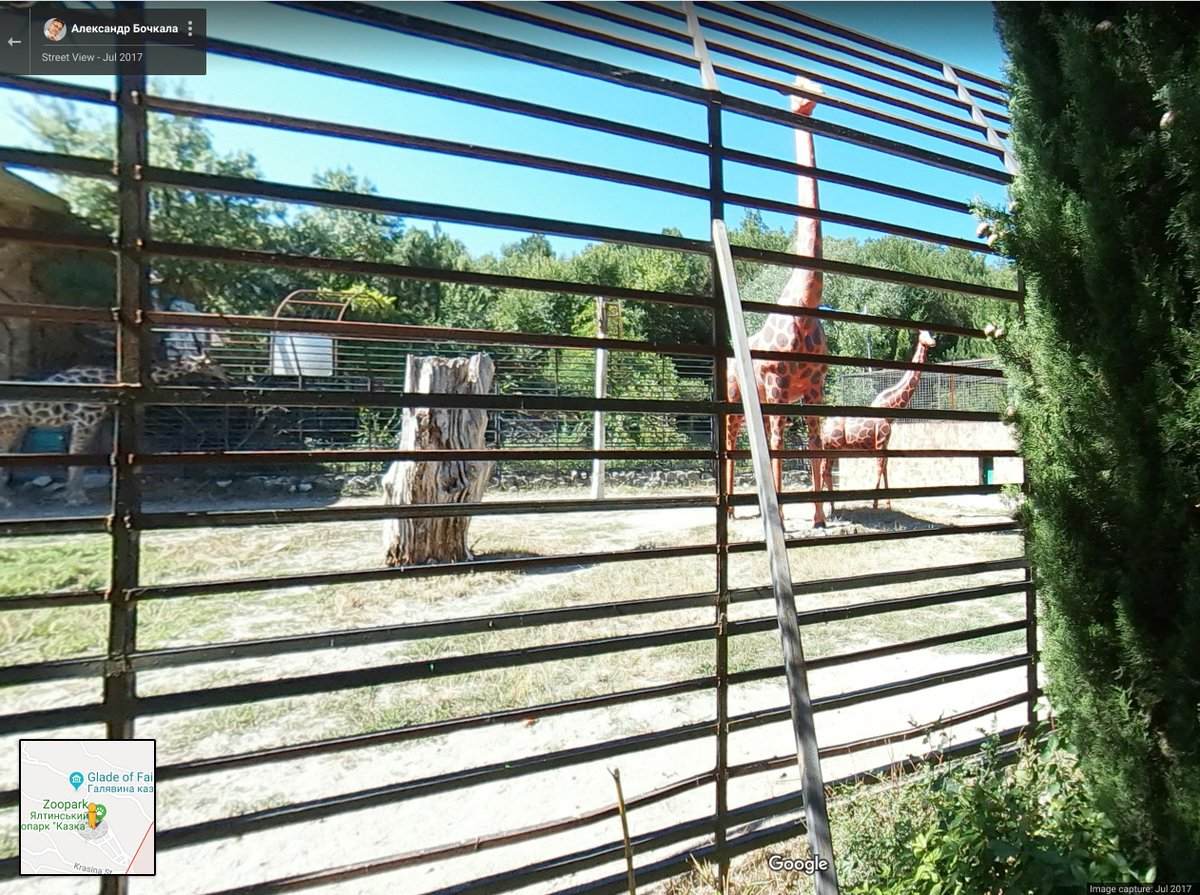 Reference photos found via Google and TripAdvisor allow to match the details such as the fence, the wall, and the orange giraffe, to confirm the geolocation.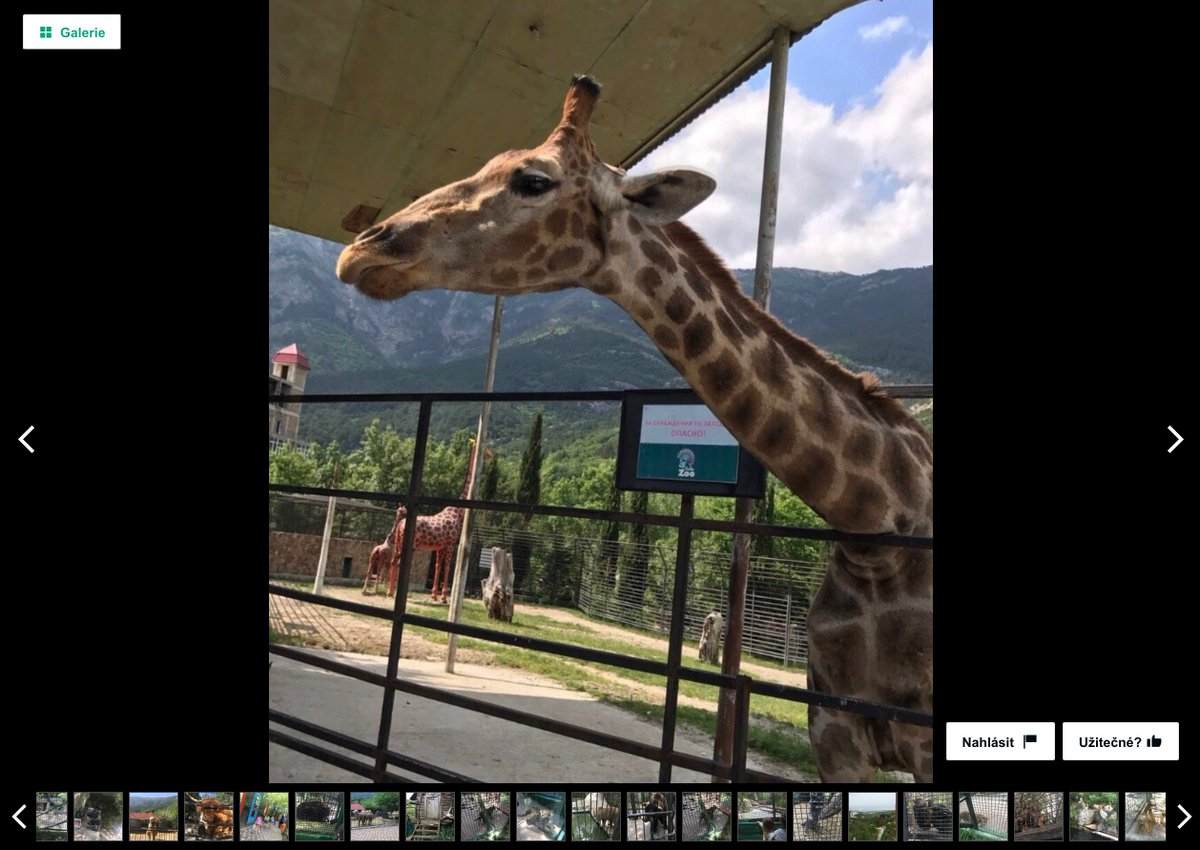 We have not been able to determine the date and time the photo was taken.
Analysis and Conclusion
When the Czech Prime Minister published the three initial photos as a proof to the public that Babiš Jr. did not suffer while being in Crimea, a large discussion about the authenticity of the photos started among Czech citizens. For that very reason, it is important to geo- and chrono-locate the photos. Only then can we establish some facts.
The crowdsourcing campaign resulted in successfully geolocating 12 out of 12 photos, and getting a better sense of time by roughly chronolocating half of them.
The results show that Andrej Babis Jr. indeed visited the Ukrainian city of Kryvyi Rih, as well as Sevastopol and Yalta in Russian-annexed Crimea. With regards to Crimea, it is likely that this was indeed in the latter half of 2017. This backs up the claims related to the three initial photos published by the Czech Prime Minister: the "where" and "when" are correct.
The geolocation does not say anything about the status of Babis Jr. when he was there. It does, at least, authenticate Babis Jr. presence in Russian-annexed Crimea in late 2017. This is an important fact in a highly politicised and sensitive case in which there has been a lot of speculation.
It has been three months the first interview with Babiš Jr. was published. There were mass protests against the government, but it survived a no-confidence vote. Babiš Sr. is still the Prime Minister of the Czech Republic, and the turmoil surrounding the alleged kidnapping case has wound down. In fact, a recent survey suggests that the PM's popularity actually increased as many voters accepted his narrative of "unethical journalists' hunt for sensation" who harmed his "ill son" and "family as a whole."
Correction 7 February 2019: An earlier version mentioned that the location of VKontakte Photo 3 had not been found yet. However, it was already geolocated by Haley Willis on Twitter.

Update 9 February 2019: A Google MyMaps of the geolocated photos has been added to the concluding section of the article. Furthermore, Bellingcat-readers and Twitter-users have found the location of VKontakte Photo 2, as well as a closer chronolocation of Facebook Photo 1. The article has been updated accordingly. An earlier version of the article also mentioned that there was reference photo of a tree in 2014. This should have been 2018.