Tracking Italy's Arms Trade (#ItalianArms)
Italy's arms industry is growing, and the country has already been one of the world's biggest arms exporters for years. Since 1990, thousands of arms exports licences have been granted, with some of the biggest customers being Algeria, Turkey, and the United Arab Emirates.
The European Union (EU) has safeguards in place to prevent weapons ending up in countries where they may be used for internal repression, international aggression, or contribute to regional instability. These safeguards are encapsulated in a common-statement in which the grounds on which arms export licences can be rejected. The full text can be read here.
However, once licences have been granted and the arms have been shipped, there's little monitoring or enforcement of the safeguards. So, where do Italian arms really end up? That's what Lighthouse Reports, Italian broadcasting company Rai, and Bellingcat are trying to figure out during the two-week #ItalianArms bootcamp in December 2018, using publicly available information and crowdsourcing.
The project is initiated by Lighthouse Reports, and can the investigation can be followed via the website ItalianArms.it.
This week is the second and final week of the #ItalianArms project, and several leads are under investigation, including:
Case-Study: T-72s with TURMS-T in Syria
Between 1998 and 2008 Italian company Galileo Avionica S.p.A. produced the TURMS-T modular fire control system, which is an upgrade for the ageing T-72 tank. It enables tank operators to aim and shoot more accurately while moving, even at night. The Italian government authorised the export of the TURMS-T modular fire control system to Syria, a deal worth 206 million euros.
Human rights abuses in Syria have been documented since the 1960s. And during the Syrian Civil War that started in 2011, the Syrian government deployed T-72 tanks with Italian-made fire control systems to suppress the population and retain power.
The #ItalianArms investigation team and crowdsourcing efforts (hi, obretix!) was able to find at least two T-72 tanks with the Italian-built system in Syria, namely in the Qadam neighbourhood in southern Damascus in March 2018, as well as in a Tiger Brigade convoy heading to the city of Daraa during the 2018 Southern Syria offensive, code-named Operation Basalt.
Case-Study: MK-80 Series Bombs in Yemen
Another example, not related to the #ItalianArms project, is the Visual Investigations team at The New York Times in-depth look at how Italian-made bombs kill a family in Yemen.
Want to Help? You Can!
Crowdsourcing is a big part of the project. Follow the hashtag #ItalianArms on Twitter to see research requests being made by the investigation team. Feel free to tag or direct-message Bellingcat investigators Benjamin Strick (@BenDoBrown) and Christiaan Triebert (@trbrtc) on Twitter in case you would like to share information or have questions and/or comments.
Big thanks to @obretix for assisting with the geolocation of a T-72 tank, @Capteur_Ouvert for amazing translation work and awesome investigating by @LeoneHadavi and Bashar. It's great to show the world how the open source community works so well together to share skills. #OSINT

— Benjamin Strick (@BenDoBrown) December 15, 2018
#EUarms: Tracking Arms Trade across the European Union
The #ItalianArms project builds upon the successful #DutchArms investigation, where Lighthouse Reports collaborated with Bellingcat and with the datateam of Dutch public broadcasting company KRO-NCRV. An overview of the those findings can be found at explosieveexport.nl and dutcharms.nl.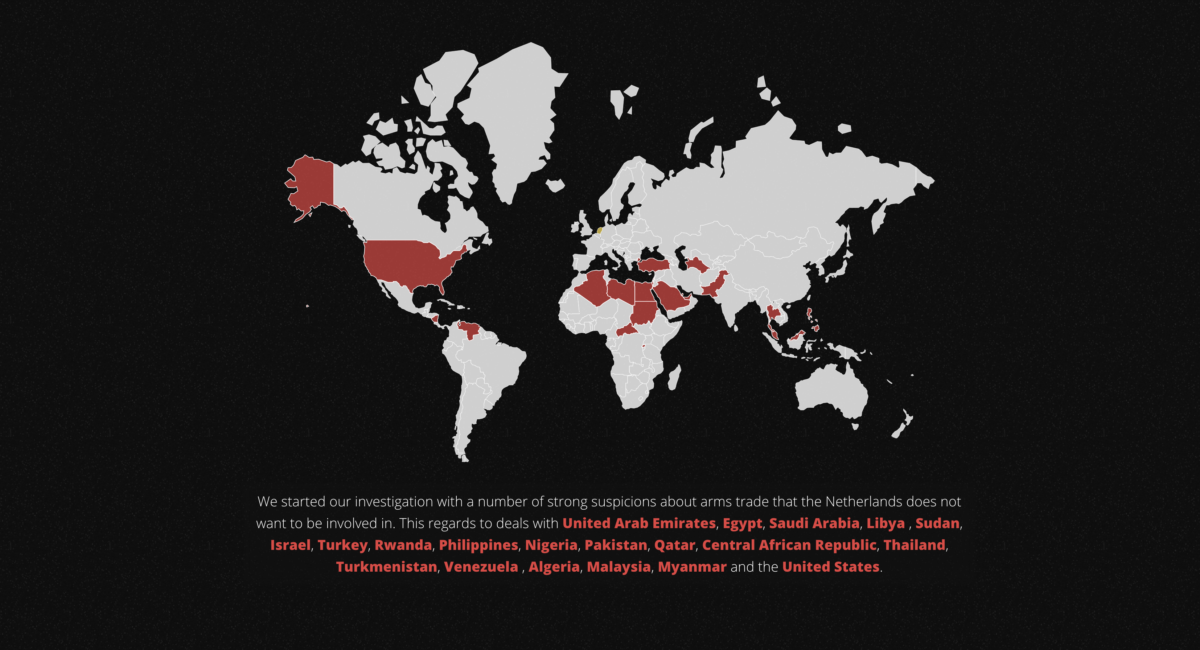 The #EUarms investigations are all initiated by Lighthouse Reports, who set up a bootcamp where Bellingcat investigators work alongside the journalists to trace the links between specific arms of conflict or human rights abuses. The arms exports following countries have been or will be investigated:
#DutchArms (January 2018 — Lighthouse Reports, Bellingcat, KRO-NCRV)
#ItalianArms (December 2018 — Lighthouse Reports, Bellingcat, Rai)
#FrenchArms (TBA)
#GermanArms (TBA)
#BelgianArms (TBA)
Funding
Funding for #DutchArms was provided by the Dutch filmfund. The European follow-up, including #ItalianArms, is supported by the Open Society Foundations, and one investigator is paid by Bellingcat.