Who is Ike Kaveladze, the 8th Person at the Trump-Russia Meeting?
On July 18, 2017, Scott S. Balber, the attorney representing the Agalarov family of Russian oligarchs amid an active United States investigation regarding the Russian influence campaign into the American elections, announced that he had privately named the 8th individual present at the June 2016 meeting between Trump campaign officials and Russian government proxies, which took place at Trump Tower in New York City.
Balber was previously named as representing Aras and Emin Agalarov, leaders of Russian real estate development firm Crocus International, after it had emerged that the developers set up a meeting with the Trump campaign on the promise of providing compromising information on then-presidential candidate Hillary Clinton. Donald Trump Jr., who released emails regarding the meeting, framed the event as gathering of opposition intel. The Russians at the meeting seemingly viewed the meeting as an effort to overturn the Magnitsky Act, and in doing so, hedge influence on matters of policy with the Trump campaign.
After multiple independent investigations announced they would be looking into the coordinated meeting, the Agalarov family released a statement by their lawyer, Scott S. Balber, a partner at the New York-based law firm Herbert Smith Freehills. Later, it emerged, an 8th and unidentified person had been present at the meeting. We now know this person's identity, in part because of a statement released by his lawyer – Scott S. Balber.
The man, an American and likely dual Russian citizen named Irakly Kaveladze – a name which he later Anglicized as "Ike" – was said by Balber to be an "employee" of the Agalarov's real estate development firm. Balber claims Kaveladze attended the meeting simply as a domestic representative of the Agalarov-owned firm Crocus International, and as a translator. However, Kaveladze's history and relationships with the Agalarov family, and his alleged crimes against the United States, are far more complex and deeply rooted than revealed in initial public statements.
Ike Kaveladze, born in the Georgian Soviet Socialist Republic, emigrated to the United States in 1991, according to a 2000 New York Times article citing Citibank and Kaveladze himself. From there, he pursued an MBA at the University of New Haven in Connecticut, and worked extensively to establish thousands of Russian business proxies within the United States, which a Congressional inquiry by the General Accounting Office alleged had been used to launder nearly $1.5 billion through shell accounts at Citibank and the Commercial Bank of San Francisco.
"More than $800 million was wired from abroad to 136 accounts that Mr. Kaveladze opened at Citibank for Russian clients, and most of that was then sent to overseas accounts, said the report, which was provided to The New York Times by government officials who want to see its findings receive maximum exposure."
Kaveladze avoided federal indictment due to Delaware state law, which does not require that the owners and officers of an incorporated company disclose their names. However, Congressional investigators alleged his role in the United States was almost exclusively to facilitate the laundering of money from Russian companies to avoid taxation, assisting Russian nationals in establishing credit card accounts and corporations within the United States by which to launder funds.
Kaveladze's attorney, Scott Balber, has claimed in public statements that Kaveladze is an American citizen who has resided in the United States since emigrating from the former Soviet Union in 1991. However, this timeline appears to be in dispute; Kaveladze's LinkedIn profile lists him as a Vice President for the Agalarov's Crocus Group, a position to which he was named in 2004, and still presently indicates that he works out of the Crocus Group's main offices in Moscow, Russia.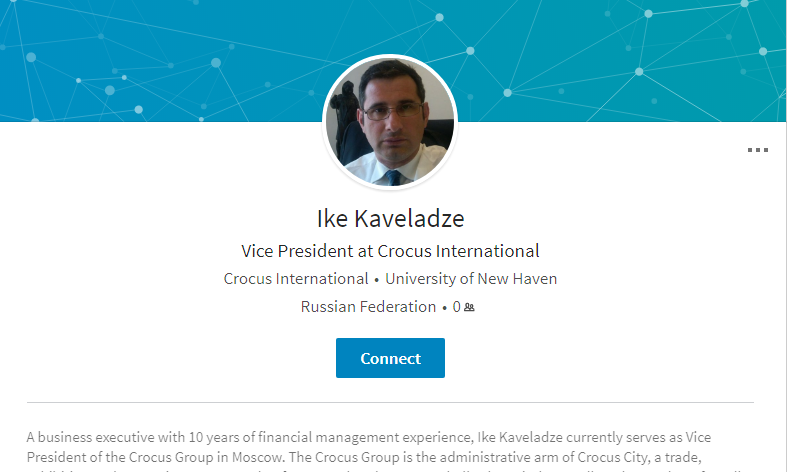 Despite being named as vice president for Crocus International, the Los Angeles Times identified Kaveladze as residing in Huntington Beach, California. A query into corporation registry records shows that Kaveladze presently resides in California, and is the president of Corsy International, an American-based proxy of the Russian real estate development firm Crocus International, for which Kaveladze is said to work. Corsy International was registered in the United States on September 3rd, 2015.
An inquiry into California Secretary of State records shows that Corsy International filed as a "Statement & Designation By Foreign Corporation", which likely refers to the fact that Corsy International was registered as a corporation in Englewood Cliffs, New Jersey. However, importgenius.com, a website which crawls and compiles publicly available bill of lading data, indicates that Corsy International regularly conducts business with the Russian-based Crocus International. A sample shipment bill from November of 2015, two months after the establishment of Corsy International, lists a roughly $21,000 export shipment to Crocus International consisting of 500 traffic barriers at a gross weight of 8,165 kilograms.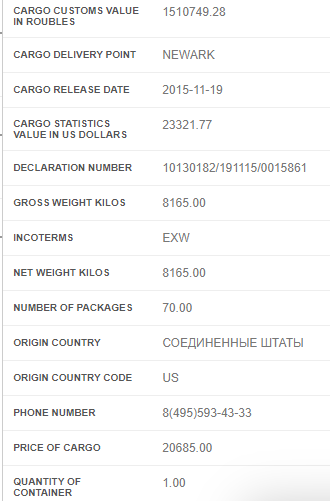 Given the timeline of Corsy International's registration, Kaveladze apparently returned to the United States solely to establish an American-based proxy of Crocus International. This is further evidenced by property management records from Kaveladze's $870,000 home in Huntingon Beach, California, which show that he purchased the property in August of 2015, just a month before he registered Corsy International.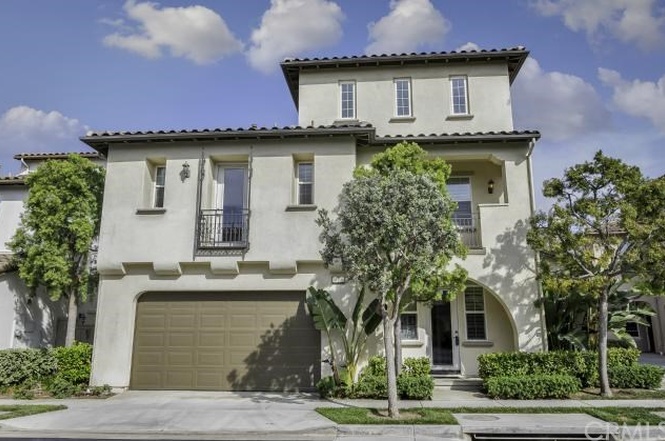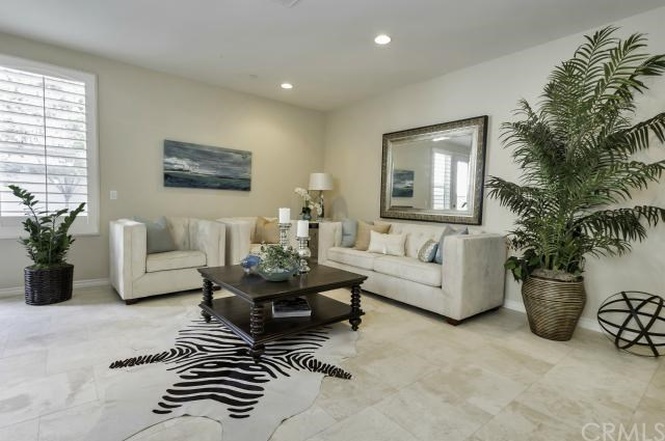 As Congressional and Department of Justice investigations into the Russian influence campaign continue, Kaveladze will likely be cast as a simple proxy for the Agalarov family, as he already has been in statements by the Agalarov family's attorney. Given the Kremlin's notorious penchant for employing proxies to conduct operations – including the Russian intelligence-linked hacking group APT28, which targeted Bellingcat's own investigation into the Russian shoot-down of MH17 with an extensive spearphishing and credential harvesting campaign, and the pro-Russian group CyberBerkut, which carried out a similar SMS interception and website defacement campaign – it may be the case that Kaveladze serves as nothing more than a facilitator for various below-board actions by Russia's oligarchy. There is presently no publicly available evidence to indicate what role,  if any significant one, Kaveladze may have had in the Russian influence campaign. As the public awaits the release of additional information in the case, it may be that Kaveladze's role may be larger than presently known. Given the Russian government's tendency to encourage several degrees of separation between government officials and covert government actions, however, he may also be disconnected in any direct form to any Russian government officials, and may not be of use to investigators attempting to establish direct collusion between the Russian government and the Trump campaign.
Balber, the attorney for Kaveladze and the Agalarov family, defended Kaveladze's apparent ignorance of the meeting. "He's absolutely baffled," Balber said. "Even the Agalarovs are absolutely baffled. Nobody had any expectation this would be what it's become, especially this poor guy, who had not been involved before."
It should be noted that Kaveladze employed a similar defense when accused by the US government of facilitating money laundering for Russian oligarchs. "Mr. Kaveladze vigorously denied that he had done anything wrong," says the 2000 New York Times article on the incident. "'What I see here is another Russian witch hunt in the United States', he said in a telephone interview."
However, given Kaveladze's extensive history in operating as an agent of Russian oligarchs while within the United States, federal investigations into the June 2016 Trump Tower meeting may turn up additional or peripheral evidence potentially incriminating Kaveladze and Crocus International in crimes relating to finance and international trade.