Meet The Far-Right 'Fanatics' Getting Hungary's Football Team in Trouble
Before Hungary hosted England in a World Cup qualifying match on September 2, the Hungarian national team's manager said he supported England's players taking the knee before kickoff to protest against racism.
"I really hope that this [will] not happen," Hungary manager Marco Rossi said when he was asked about the possibility of racist behaviour from a minority of Hungarian fans. "But in case this could happen, we are absolutely on their side, on the side of the English players."
But a voluble section of Hungary's fans didn't listen. As England players took the knee before kick off, Hungarian fans showered a chorus of boos upon them.
After England's Raheem Sterling scored the game's first goal, he was pelted with projectiles from the section of the stands occupied by Carpathian Brigade, an umbrella group of hardcore national team fans. Multiple reports after the match—in which Hungary was convincingly beaten 4-0—indicated that some of them had lobbed racist monkey chants at Black players on the England side, including Sterling.
England's own supporters have not been immune from accusations of racist behaviour, as was made clear in July 2021. After their side lost the EURO 2020 final to Italy, some England fans unleashed racist abuse online against their own players. In addition, fans at club matches in England have themselves been known to boo players taking a knee to protest racism. British Prime Minister Boris Johnson and Home Secretary Priti Patel initially refused to condemn England fans who booed taking the knee before EURO 2020.
Still, Hungary's most hardcore supporters have been making an unfortunate name for themselves. Europe's football governing body, UEFA, fined Hungary's football federation €100,000 and ordered it to play its next two UEFA matches without spectators in response to documented anti-LGBT and racist behaviour from some Hungarian fans during EURO 2020 matches in Budapest and Munich.
As the September 2 match against England was a World Cup qualifying match, it fell under the authority of the global football organisation FIFA and therefore was not part of the UEFA punishment.
According to the MLSZ, Hungary's football federation, the country's fans at EURO 2020 were punished mostly because of anti-LGBT chants and banners. The acts cited in UEFA's decision were:
an anti-LGBT banner and chants during Hungary's first match of the competition against Portugal in Budapest on June 15, 2021;
anti-LGBT chants, as well as an anti-BLM banner, before the match with France in Budapest on June 19, 2021; and
an anti-LGBT banner and chanting during Hungary's final match against Germany in Munich on June 23, 2021.
These chants and banners were displayed shortly after the passing of a controversial anti-LGBT law in the Hungarian parliament, which is dominated by Prime Minister Viktor Orbán's right-wing Fidesz party.
The legislation purports to ban promoting or portraying homosexuality or gender changes to those under 18 and has left LGBT+ Hungarians feeling stigmatised and fearing for their future.
While there does not appear to be any formal connection between Fidesz and the football fan groups involved in racist or homophobic incidents at national team matches, prominent Hungarian politicians have either sidestepped criticism of their behaviour, downplayed their actions or even spoken out in their favour in recent months.
Football in Viktor Orbán's Hungary


For Orbán and his allies, football is not just a game. Fidesz has reportedly "colonised" Hungarian football, using both the national team and club teams as a way to consolidate power. Fidesz allies and associates own 11 of the 12 clubs in Hungary's top league in the 2021-22 season. At least 25 stadiums have been built over the past decade, benefitting from a scheme that allowed construction firms, often linked to Fidesz, to get a tax break if they donated to a sports team.

The spectacle of tens of thousands of roaring Hungarians seems to offer an exciting backdrop to Orbán and a number of his colleagues. One June 2021 article from the political weekly HVG noted that Fidesz politicians "tend to post more photos of the crowds gathered for the national team matches than the match itself."
Orbán was eager to defend fans who booed Irish players who took the knee during a friendly with Hungary earlier this year. And although Hungary's foreign minister, Péter Szijjártó, acknowledged there were racist incidents at last week's match with England, he implied that their significance had been exaggerated, before criticising England fans for booing the national anthem of an opponent during a previous game.
Orbán even suggested that the fans who booed Irish players taking the knee had been provoked. As quoted by CNN, Orbán said "They do not always choose the most elegant form (of reaction) but we have to understand their reasons … I agree with the fans."
When UEFA decreed that the Allianz Arena in Munich should not be lit up in the colours of the rainbow flag prior to Hungary's match with Germany during EURO 2020, meanwhile, Szijjártó welcomed the decision saying such plans amounted to "a political provocation against Hungary."
Despite a lengthy lengthy list of anti-Semitic, anti-Black, anti-Roma and homophobic incidents, some of Hungary's most prominent football hooligans have long claimed they are "fanatics" rather than racists.
That's in spite of fan culture around many of Hungary's football stadiums being dominated by far-right fan groups – though these make up a minority of fans.
Most of the time, Hungary's ultras and extreme fan groups concentrate on their club team rivalries, which can be brutal. But they put aside their differences when the national team plays, with many joining forces to form the Carpathian Brigade.
Formed in 2009, this is an umbrella group of hardcore fans has a long history of racist, anti-Semitic and anti-LGBT rhetoric.
There's enough of a far-right presence at international matches that Carpathian Brigade's Facebook page warned supporters before going to Germany to cover up any tattoos "incompatible with local laws"— a likely reference to an article in the German criminal code which forbids extremist symbols, most prominently those associated with neo-Nazism.
Again, it is important to note that not all fans associated with the Carpathian Brigade are neo-Nazis or that all Hungary fans are comfortable with the boos that met England and Ireland players taking the knee. Hungary goalkeeper Péter Gulácsi, who plays for the German club team RB Leipzig, even spoke out in favour of LGBT rights and same sex marriage earlier this year.
However, an open source investigation by Bellingcat found that some Hungary national team fans who appeared to be in possession of offensive anti-LGBT banners prior to EURO 2020 matches, and which it seems were later displayed in stadiums, have close ties to notorious far-right and explicitly neo-Nazi groups.
"LMBT? Nein Danke"
At the EURO 2020 group stage match against Germany in Munich on June 23, some Hungarian supporters unfurled a banner reading "LMBT? Nein danke" ("LGBT? No thank you" in German but using the Hungarian acronym for LGBT), with a crude hand-painted drawing.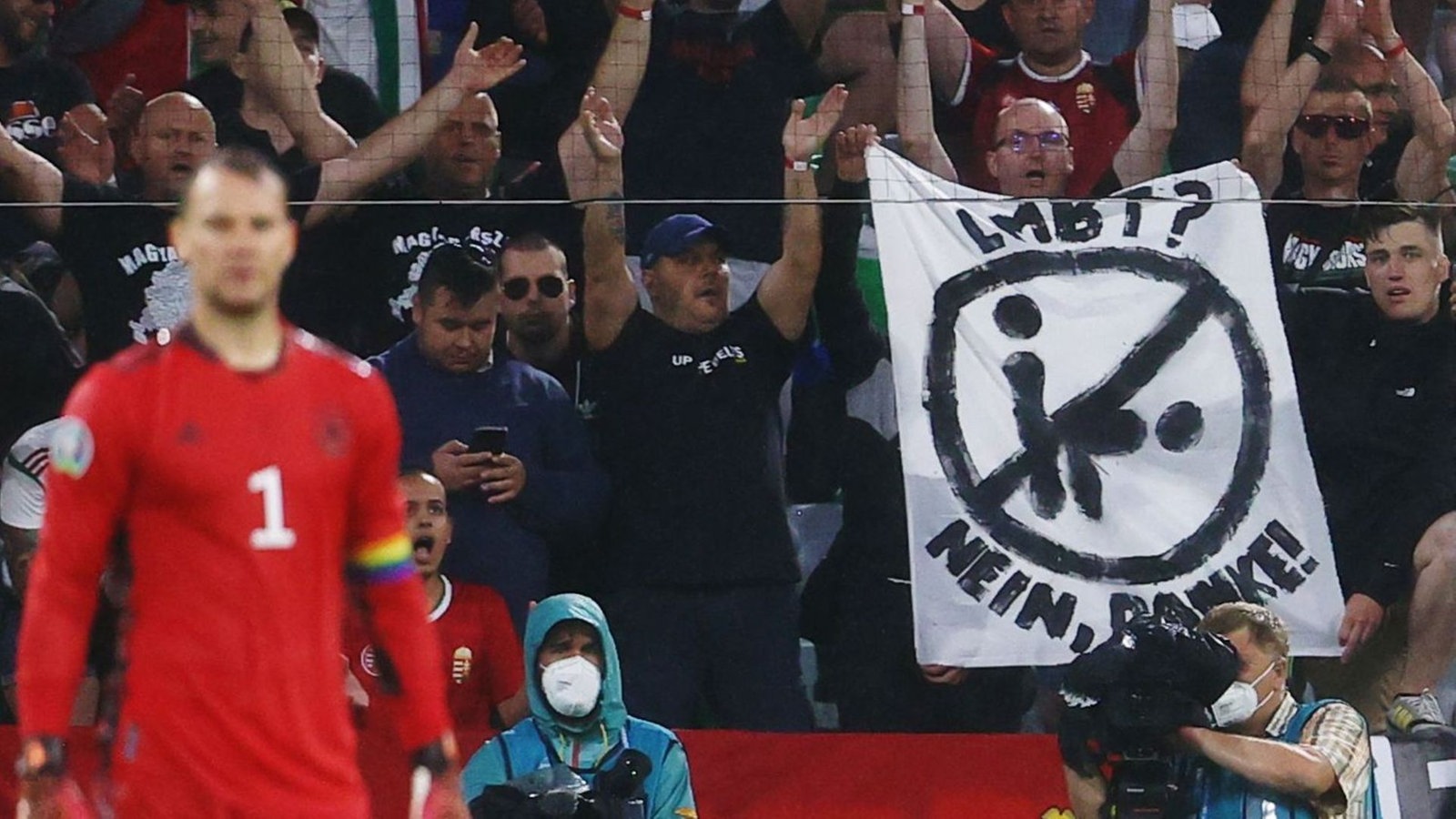 But that evening in Munich wasn't the first sighting of that banner online. Earlier that afternoon, at least eight hours before the match, a photo was posted on a neo-Nazi Telegram channel that states it is affiliated with hooligans from Budapest Honvéd FC, often referred to as Kispest for short.
Hungary's neo-Nazi ultras are spreading homophobic banners during the #GERHUN match in Munich right now.

How will @UEFA respond? pic.twitter.com/OaXyymZ1Wa

— Karim Zidan (@ZidanSports) June 23, 2021
In the posted photo — accompanied with English-language text that ends "Heil Hitler!"— is a man holding up a banner that looks identical to the one that would be held up later that evening at the Germany-Hungary match. The photo was also shared on at least two other English-language Telegram channels popular with international far-right football fans.
Let's take a closer look at the banner at the Germany-Hungary match and the banner held up in the photo on the public Telegram channel:
While the resolution in publicly-available photos isn't as high as in that posted on the Telegram channel, identical imperfections, from black flecks to white smears, are clearly visible. Given that the banner appears to be hand-painted (i.e., not appearing to have been printed professionally, which makes it less likely to have had multiple identical copies produced), the banner seen on the evening at the match and on Telegram earlier in the day are almost certainly one and the same.
On July 27, more than a month after the match, neo-Nazi group Legio Hungaria posted a photo online of a group of their members protesting Budapest Pride, the Hungarian capital's annual LGBT march. At the front of the group were two Legio Hungaria members holding up what once again appears to be the same "LMBT? Nein danke" banner.
The resolution on the photo Legio Hungaria posted isn't as high as that posted by the neo-Nazi Telegram channel. Still, the resolution is strong enough to be able to detect multiple similar tiny imperfections identical to those seen in the other photos of the banner seen in June 2021. These include, for example, the fleck of paint to the right of the "T" in "LMBT"; white spots in the lower-right part of the "B" in "LMBT"; and white spots in the "I" in "NEIN".
As with the above photos, the banner held up in July 2021 by members of Legio Hungaria is likely to be the same banner present at the Germany-Hungary match on June 23.
Even in the unlikely scenario that these are not the exact same banner, a group of Hungarian football fans appear at the very least to be sharing the same messages as a neo-Nazi group on the issue of LGBT rights.
Furthermore, in an article on their website with photos published in March 2021, Legio Hungaria recounts a meeting they hosted with two other far-right organisations. In one of the photos is an individual wearing the same red Kispest t-shirt as the one in the photo posted on the neo-Nazi Telegram channel. This in itself is not enough to match the individual in the photo to the banner. The bearded man wearing the shirt is also too out of focus in this photo for it to be usable on facial recognition search engines such as PimEyes.
Yet in a May 2020 post with extensive photos promoting Legio Hungaria members protesting the deaths of two far-right football fans (a protest, incidentally, commentators dubbed an anti-Roma demonstration because of the alleged Roma background of the perpetrators), a similar-looking bearded man is visible wearing a black "Kispest" t-shirt. Once again, this is not enough in itself to link the two men in the photos.
But looking through news about that event, one can find an article published on May 29, 2020 with the same photo of that Legio Hungaria member. A search of the face in the photo on facial recognition search engine PimEyes revealed a number of images of an identical-looking man on Hungarian far-right websites, including the Sixty-Four Counties Youth Movement (Hatvannégy Vármegye Ifjúsági Mozgalom, HVIM).
Multiple hits give a name for the individual: Tamás Lipták, HVIM's former Budapest region leader and now a current senior Legio Hungaria member and member of the organisation's board.
Moreover, Lipták appears to be connected to the neo-Nazi Telegram channel that posted the photo of the anti-LGBT banner in June 2020. The Telegram channel's first post on October 12, 2020 is a photo of a group of men holding an anti-LGBT banner — one including an individual who resembles Lipták. Another version of the same photo, with this individual's face obscured but the leg tattoo still visible and resembling the tattoo Lipták is known to have (his tattoo is identifiable in other photos of him) was posted on the channel in February 2021.
Once again, this highlights at the very least that far-right groups are among Hungary's supporters and carrying banners that later found their way into and around stadiums at international matches.
This "ANTI LMBTQ" banner looks to have made an appearance months later at EURO 2020. During the match with Portugal in Budapest on June 15, anonymous Hungarian supporters held up a banner reading "ANTI LMBTQ"; the photo was shared on several popular far-right hooligan Telegram channels, one with the caption "Kispest hooligans." This specific banner was noted by UEFA as part of its evidence in enacting disciplinary action against Hungary in July 2021.
These images, inside the stadium in Budapest, come a week after Hungarian fans booed Irish players taking the knee. @farenet anti discrimination campaigner @PiaraPowar says "the situation in Hungary is problematic" https://t.co/6Qf2c9bIYK pic.twitter.com/NnUJb1bTVV

— Adam Crafton (@AdamCrafton_) June 16, 2021
Lipták runs a Facebook page which was public at time of publication, its description reading "the opinion page of Tamás Lipták, Kispest fan, Legio Hungaria activist." On June 15, Lipták published a photo of someone holding up what appears to be the same "ANTI LMBTQ" banner. This could be Lipták holding up the banner; aside from the post being published on his Facebook page, Lipták published a photo nine days later of a retro Hungary jersey identical to that worn by the individual in the photo.
A screenshot of a post on Tamás Lipták's Facebook page of the "ANTI LMBTQ" bannerThe "ANTI LMBTQ" banner displayed at the June 15 match, on Lipták's Facebook page the same day, and the banner displayed on the neo-Nazi Telegram channel in October 2020 appear to be the same banner. While there are far fewer points of comparison as compared to the different photos of the "LMBT? Nein danke" banner, the similar speck of black paint to the top right on the "N" in the first word provides strong evidence that they are one and the same.
Tamás Lipták has had other appearances on the Kispest neo-Nazi Telegram channel. In a photo on June 10, 2021, an individual with his face obscured by a Nazi death's head (Totenkopf) is holding up an anti-BLM banner, itself branded with Legio Hungaria's logo.
We know this photo is of Lipták thanks to none other than Lipták himself. On his Twitter account in August 2020, Liptak posted a photo showing himself holding up the same anti-BLM banner, his face and tattoos unobscured.
It also seems possible that the individual holding up the "LMBT? Nein danke" banner on the Kispest neo-Nazi channel could be none other than Lipták himself. On the right arm of the individual holding up the banner in the June 2021 photo, a faint mark on the skin, like a birthmark, is visible just above the banner. One of the photos of Lipták available on HVIM's website from 2017 shows him with a similar mark on his right arm.
Lipták also posted a photo to his aforementioned Facebook page on July 29 of an individual holding an anti-kneeling banner that appears very similar to the one displayed at Hungary's match with France on June 19.
With multiple identical paint marks and smears on the banners in both photos, it again seems likely that these are the same banner. It also appears to have been folded in exactly the same way.
Identifying the person holding this banner with complete certainty is not possible as fewer distinguishing marks and resemblances are visible. "We have already said what we wanted," Lipták replied to Bellingcat's subsequent request for comment to confirm or deny whether it was him in the photo.
Still, Lipták's social media activity and that of other far-right accounts appears to show he has at least some connection with all three banners that formed part of UEFA's disciplinary case against Hungary.
That Legio Hungaria and far-right football fans have a relationship is no secret; Legio Hungaria has posted about far-right football fans coming to its events.
When Bellingcat approached Legio Hungaria for comment, the organisation would neither confirm nor deny that Lipták was the individual holding up the anti-LGBT banner in this photo on the Kispest neo-Nazi Telegram channel, nor answered Bellingcat's question as to their relationship with Carpathian Brigade (which also did not respond to requests to comment from Bellingcat).
"Football fan society is basically nationalist in Hungary, and we are proud of that," a representative of Legio Hungaria told Bellingcat by email. "Legio Hungaria is in solidarity with all football fan groups who have commitment to the right."
Legio Hungaria also told Bellingcat that they wished all countries in the world had fans like Hungary has — fans who are opposed to so-called "deviance" that, in their words, have made Hungary a "stronghold" where it will never take root.
After replying to our request for comment, Legio Hungaria complained on their Telegram channel about Bellingcat's journalist and his coverage of the group, writing that "if someone's behaving unfairly we try to pay them back, at least to the best of our abilities." Only two minutes after this post was published on Legio Hungaria's Telegram channel, Lipták published the identical post on his Facebook page.
Lipták has a life outside Legio Hungaria—one that has brought him into contact with pro-Orbán media. S​ince March 2021 Lipták has co-hosted a football podcast A pálya jobboldala ("The Right Side of the Track") with vasarnap.hu, a website that has been described by Hungary Today as a "pro-government weekly". One of the co-hosts of the podcast is Kristóf Trombitás, who has been a presenter on the pro-government Hír TV; another is Tamás Horváth, vasarnap.hu's former editor-in-chief who, reports Telex, resigned in August 2021 after his past links with neo-Nazi organisations were revealed.
Vasarnap.hu not only regularly interviews members of the government, including Orbán, but has reportedly been financed by Orbán's own office. The foundation that runs vasarnap.hu, among its other activities, is the Zoltán K. Kovács Foundation (not to be confused with the spokesperson for Orbán's government also named Zoltán Kovács).
In 2019, the Prime Minister's office gave the Foundation 21.5 million Hungarian forint (~US$72,600) and 38 million forint (~US$128,300) in 2020, though apparently did not fund the foundation in 2021. It is not clear how much of this funding, if any, was spent on vasarnap.hu versus the foundation's other activities.
Carrying Water for Carpathian Brigade
The actions of a minority of Hungary's football fans can't be said to reflect on all the national team's supporters, let alone the country of Hungary as a whole. But the way Hungary's government wouldn't criticise offending supporters after UEFA's punishment is illustrative of how Orbán and allies react to international criticism.
The prime minister and his colleagues pride themselves on Hungary's supposed national rebirth, railing against a censorious "political correctness".
Péter Szijjártó's aforementioned comments are a case in point. In a Facebook post, the foreign minister decried England fans' behaviour towards their Italian counterparts during the EURO 2020 final. While Szijjártó acknowledged that racist incidents did occur at the match against England, he nonetheless complained about "double standards" — a mainstay of Budapest's responses to international criticism.
Hungary's rulers may not have any formal links with the sorts of fringe far-right groups which Lipták and his comrades appear to represent. But politicians' eagerness not to condemn the actions of a section of "fanatics" makes one wonder whether they knew just how extreme the supporters holding the banners really were.
Would it have changed anything had they known? After all, according to British author James Montague, football hooligans have been "an important constituency in the rise of populist, illiberal governments, especially in Eastern Europe and the Balkans."
Montague, the author of a 2019 book on football hooligan subcultures, explained that the far-right views of football hooligans made them outsiders for the longest time. But as governments of countries like Hungary, Serbia and Poland changed, "their views weren't so radical anymore. They were mainstream," said Montague. "Many politicians realised this could be harnessed."
As Hungary's national team continues its campaign to qualify for the 2022 World Cup, the rest of Europe and beyond may soon hear even more from Hungary's radical young men on the terraces and in the streets. It remains to be seen what they will do next — and what it will take before they are seen as anything other than a group of tragically misunderstood patriots.
---
Itt található a cikk magyar fordítása telexes kollégáinktól / Click here for a Hungarian translation of this article from our colleagues at Telex